Baking soda, vinegar, and water are all you need to make a revitalizing foot soak at home. Soften hard skin, remove odor, and feel like a brand new human; you're sure to love this all-natural foot soak recipe.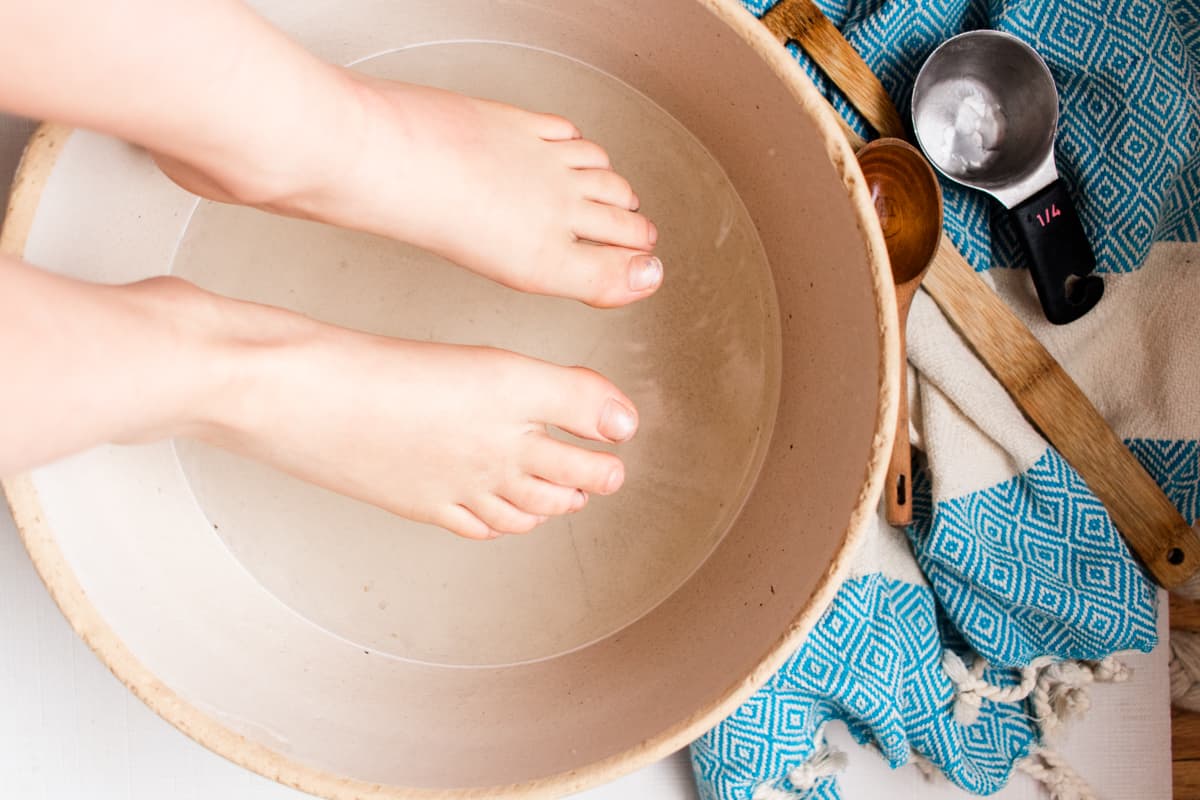 Feet are usually forgotten about, favoring a luscious body lotion on the arms or legs or a face mask instead.
Let's be honest – our feet get totally ignored, especially in winter when they're bundled up in socks and slippers!
Well, I know mine do (cringe as I say that!)
But feet get worked harder than any other part of our body. Just think about it!
You're on your feet all day, walking, climbing stairs, running to meetings, pacing the kitchen floor – it all takes its toll on your soles.
So care for our feet we must.
I love opting for homemade DIY products, and this time I'm sharing a baking soda vinegar foot soak recipe.
Easy to make and super effective on your feet, it will refresh and revitalize, removing foot odor and leaving feet feeling clean and healthy.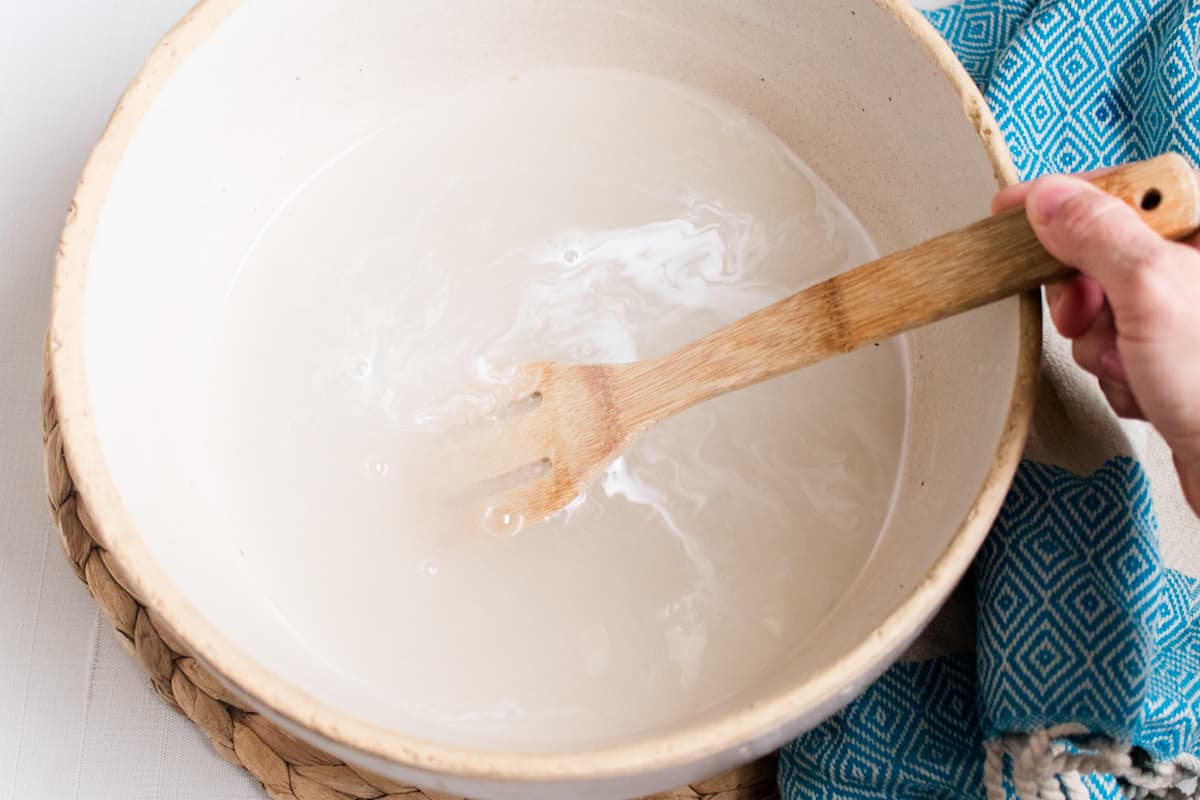 baking soda foot soak
Baking soda is one of those amazing ingredients that can be used absolutely everywhere.
You can use it in homemade cleaners, to whiten clothes, in the washing machine, and of course, in baking goods.
And here – you can use it as a beauty product too!
Perhaps you're a bit apprehensive about using baking soda as a soak, though? It sounds a bit…drying, maybe?
Don't worry. It's fantastic as a skin softener and helps remove dry, flaky skin in a flash (and it shouldn't dry your skin out, either).
Make sure you soak for the full 20 minutes to get the best results, and have a foot buffer on hand to use once you're done.
Your feet will feel amazing and look so good afterward!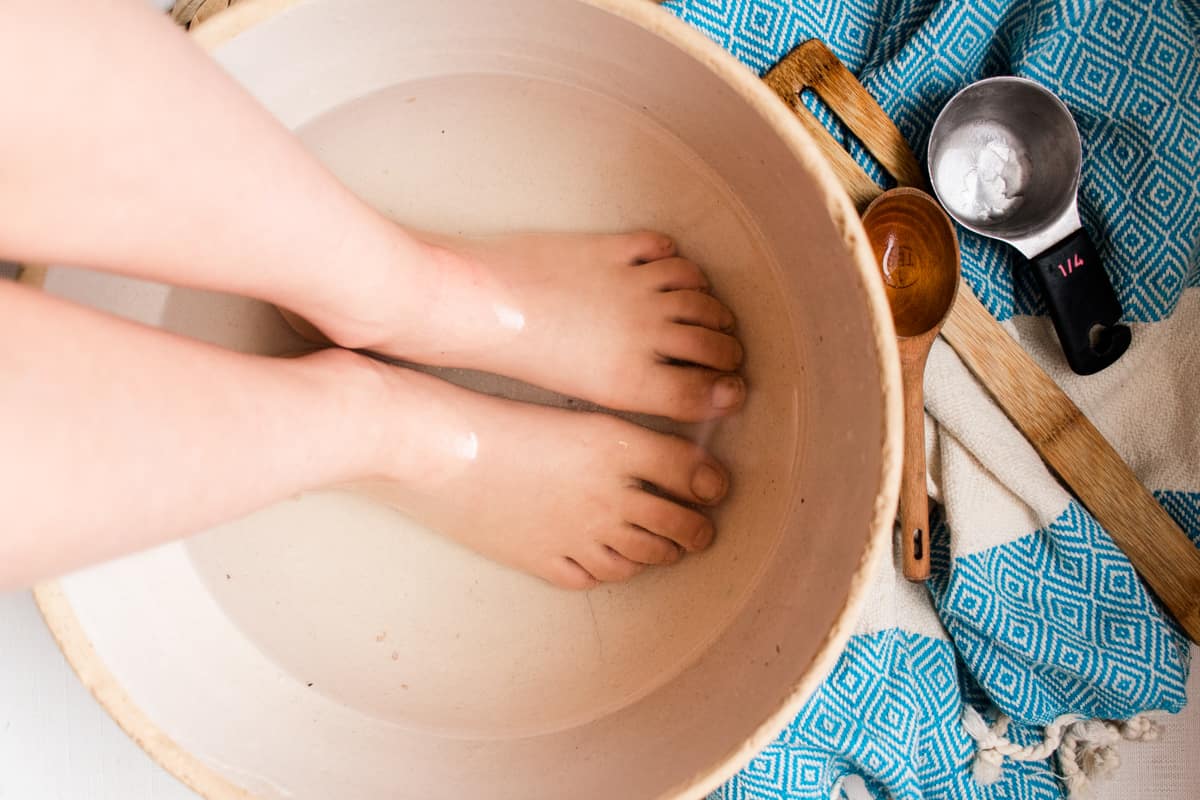 This post contains affiliate links, which means I make a small commission at no extra cost to you. Get my full disclosure HERE.
baking soda and vinegar bath
Let's talk a little about vinegar as an ingredient. Vinegar, much like baking soda, is useful in a variety of ways.
Perhaps you'd never thought to use it as a foot soak?
Vinegar is a great addition to a foot soak because it helps remove foot odor. It also keeps fungal infections at bay from its anti-bacterial and anti-fungal properties. 
The key is to use the correct amount of vinegar. Using too much may cause sensitivity to the skin. Likewise, using too little won't be as effective.
Do follow the recipe and instructions, so you get the best foot soak results possible.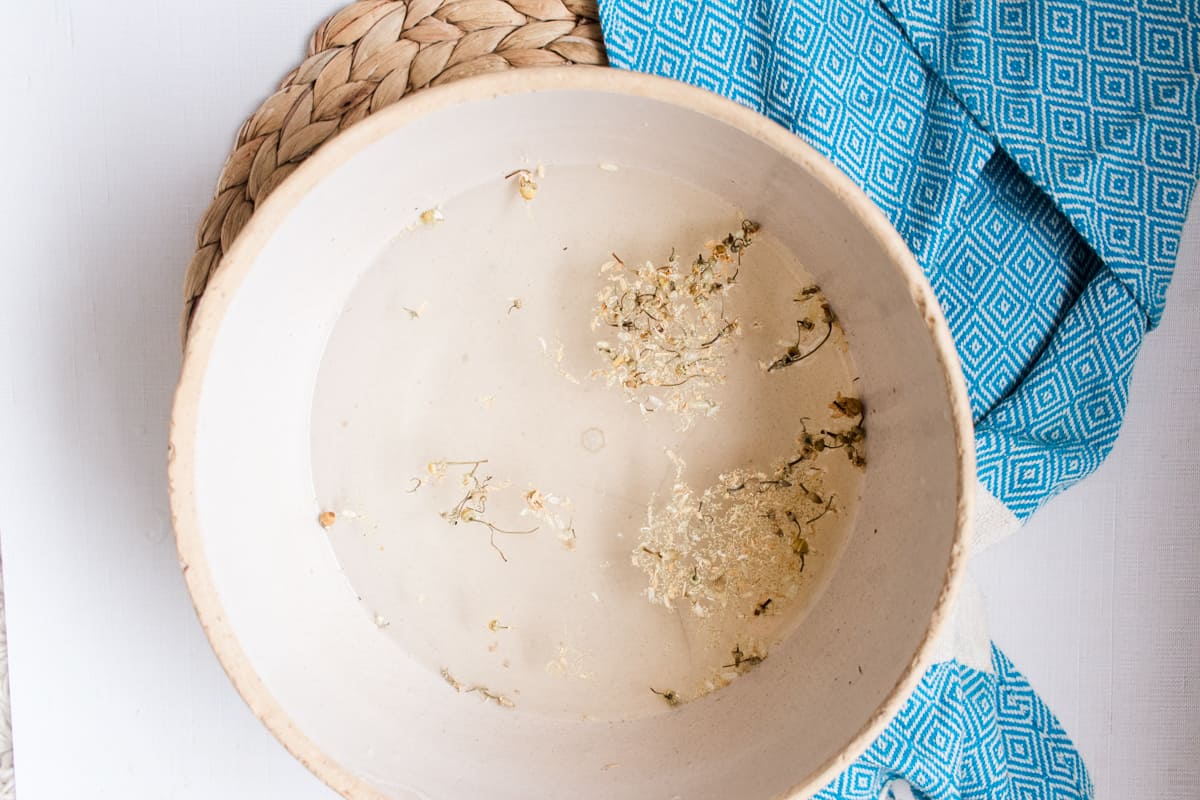 How to make a baking soda foot soak
Here is the baking soda vinegar foot soak recipe. All it contains is vinegar, baking soda, and water! It's easy to make, and you should use it right after making it for the best results.
Ingredients:
6 cups of very warm water
Instructions:
Dissolve the baking soda in warm water in a large foot basin or bucket.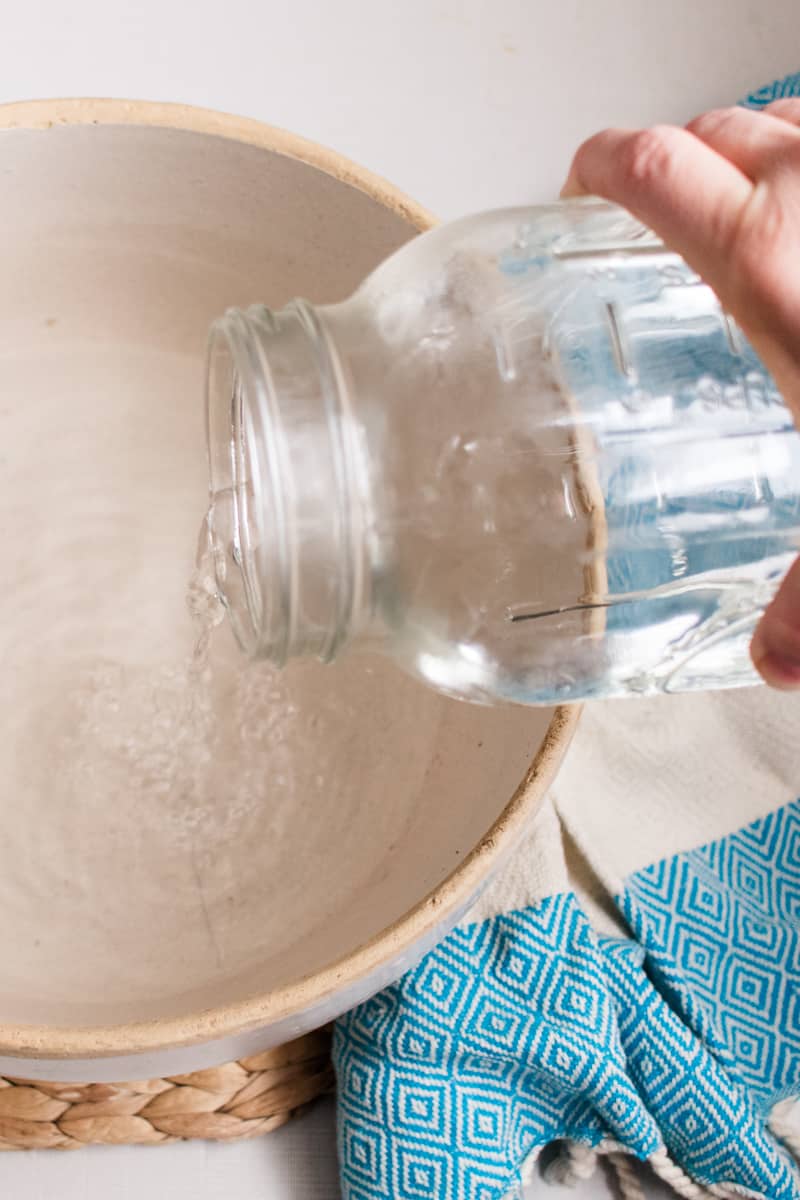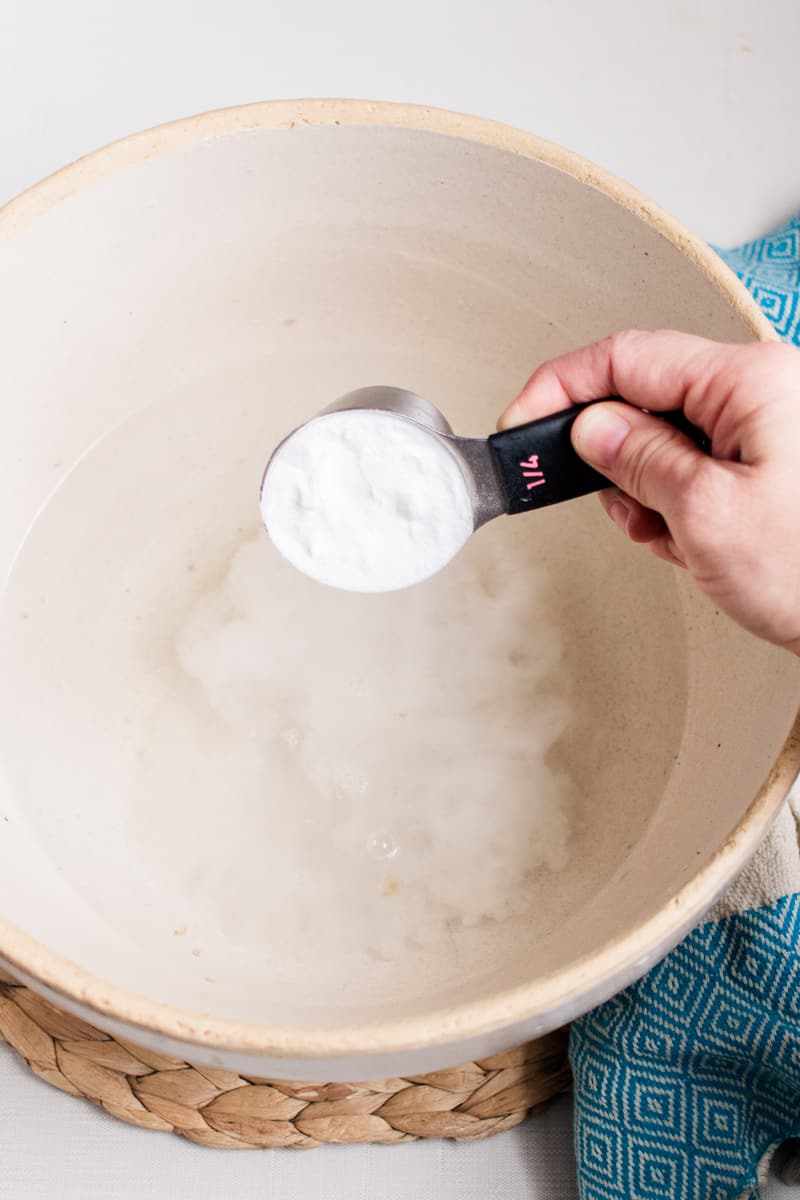 Stir in the apple cider vinegar.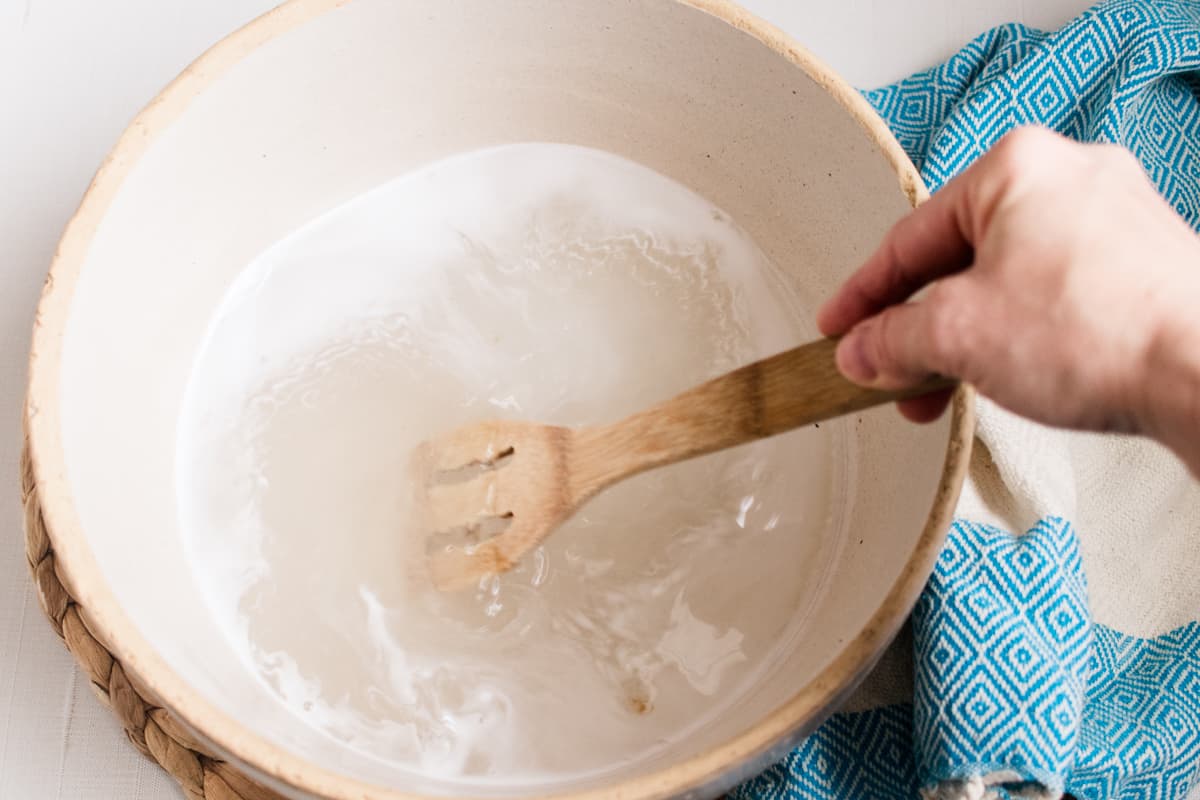 Soak your feet for up to 20 minutes.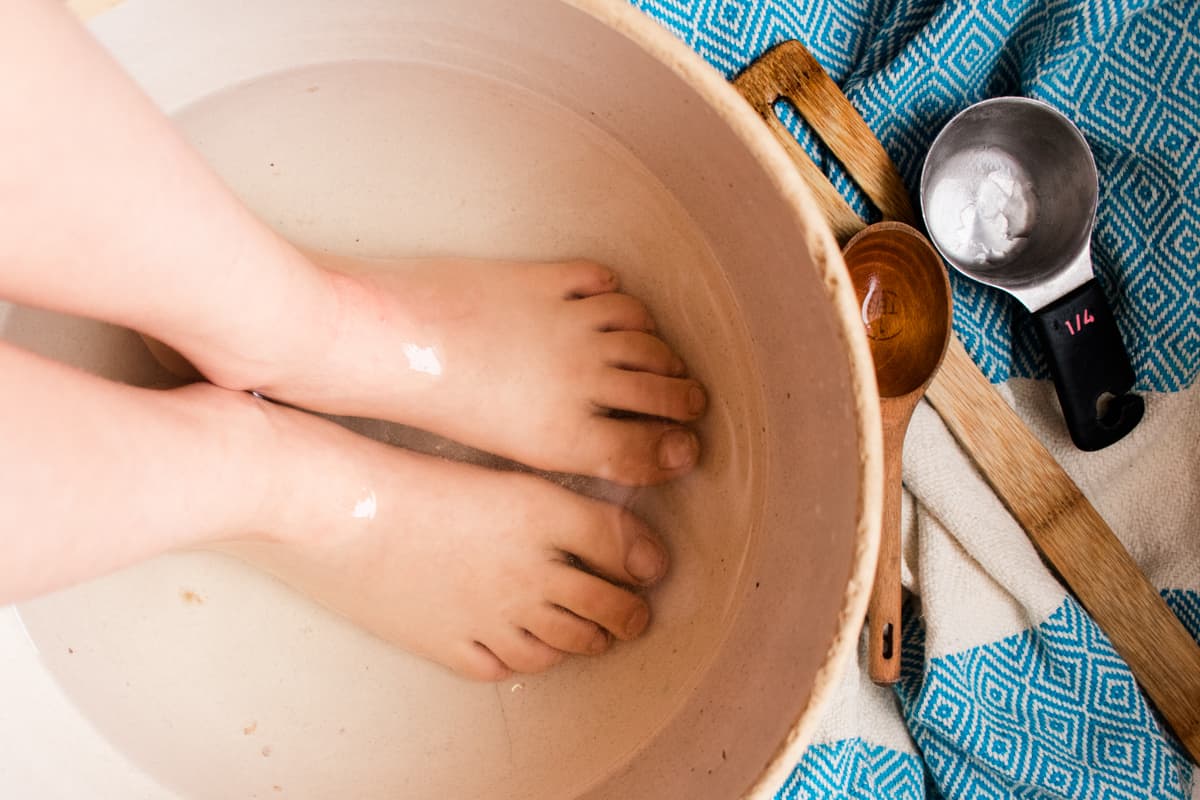 Remove feet and pat dry. Follow up with a pumice stone to remove any dead skin or calluses.
Apply your favorite moisturizer to leave your feet clean and nourished. 
Top tip: Apply a foot mask when you are done for the ultimate spa-like experience!
Baking soda bath benefits
Have you heard about using baking soda baths for itching? I was a bit unsure, too, but I've heard great things about it.
There's plenty of research out there suggesting that baking soda is helpful for the relief of itchy feet too.
You can add it to warm water if you suffer from certain skin conditions, but I recommend running this by your doctor first to make sure it's right for you.
Baking soda can even be used as a detox tool – to relax after a hard day. You can add it directly to your bath water and combine it with essential oils or herbs to promote calm and well-being.
Or try this detoxifying foot bath recipe.
Why you will love this foot soak
This baking soda vinegar foot soak is easy to make and even easier to use, leaving your feet clean, nourished, and healthy.
You just need to mix the ingredients together and submerse your feet for up to 20 minutes. It's a wonderful excuse to stop and pause for a few minutes and bring on a calmer outlook.
It'll also support your feet by adding moisture and removing toxins. Apple cider vinegar (ACV) diminishes foot odor and helps keep fungus at bay, as does baking soda.
You may also personalize this soak by adding your favorite essential oils or perhaps some chamomile flowers or rose petals. These make the soak smell amazing (and look lovely too!)
It's also good for your budget. You'll save lots of money if you make your own foot soak compared to buying one in-store.
Baking soda and vinegar are both inexpensive to buy and tend to be something we all have in our kitchen cabinets!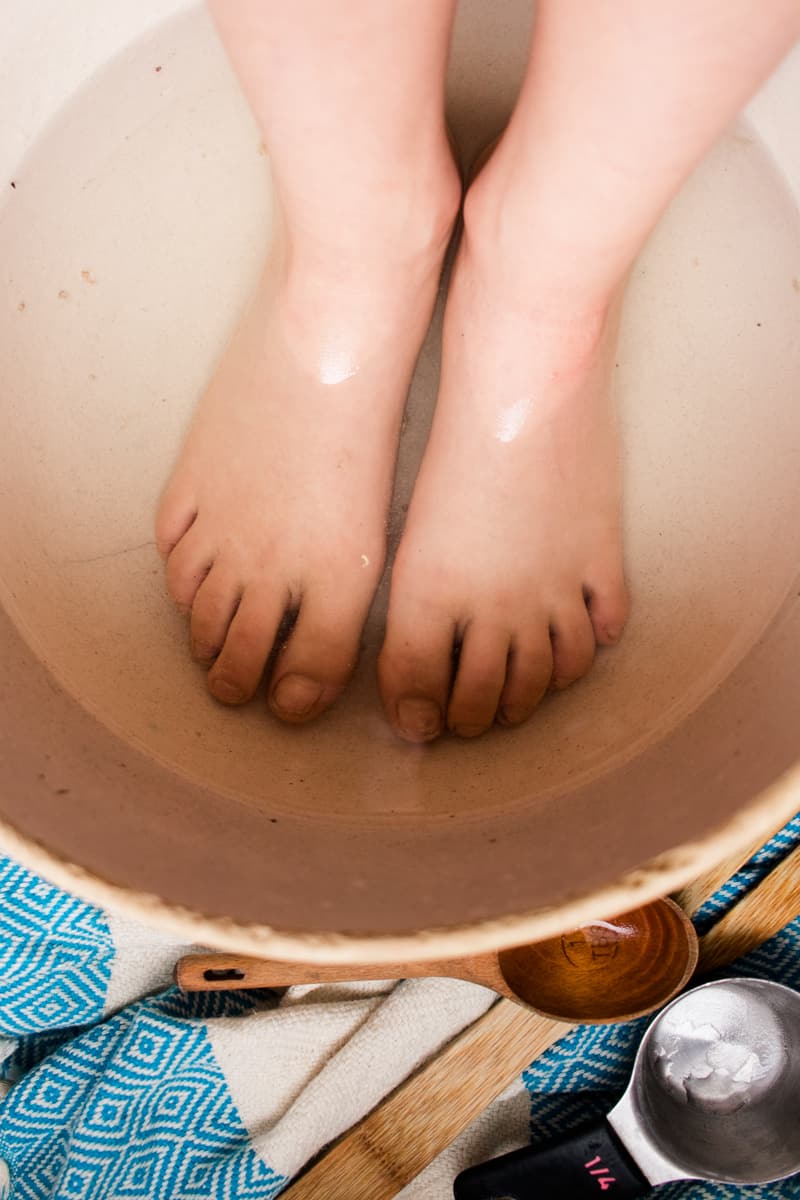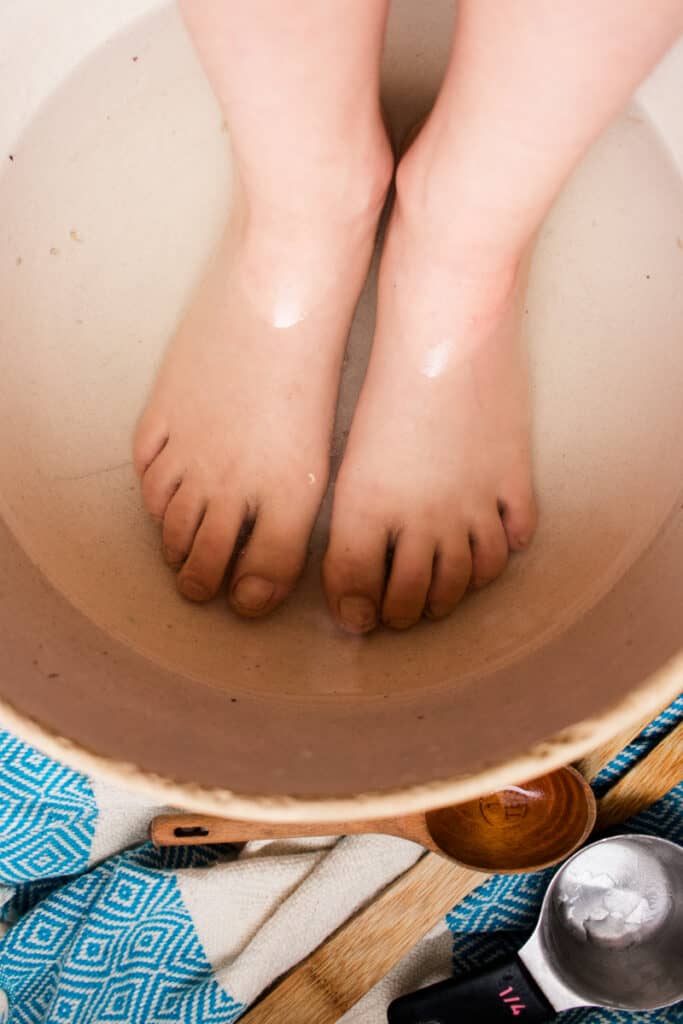 faqs
First off, this is a one-use-only foot soak – to be used once and then disposed of. The great thing is that it's simple to make and takes no time to mix.
I feel like this foot soak is a mini spa – I use it when I'm short on time but want my feet to look and feel good!
You can make it literally in seconds and enjoy that time afterward to soak your feet until they look as good as new.
A bottle of apple cider vinegar lasts a long time, as does a tub of baking soda, so you'll be able to make plenty to keep you going through the colder months.
Be sure to follow the instructions for the amount of baking soda and vinegar. Don't be tempted to add more to the water, as this will disturb the natural qualities of the ingredients.
If you have excessively dry or cracked feet, I would recommend checking out this foot scrub first.
And if you enjoyed reading this post, I think you will like one of these next.
Yield: 1 foot soak
Baking soda vinegar foot soak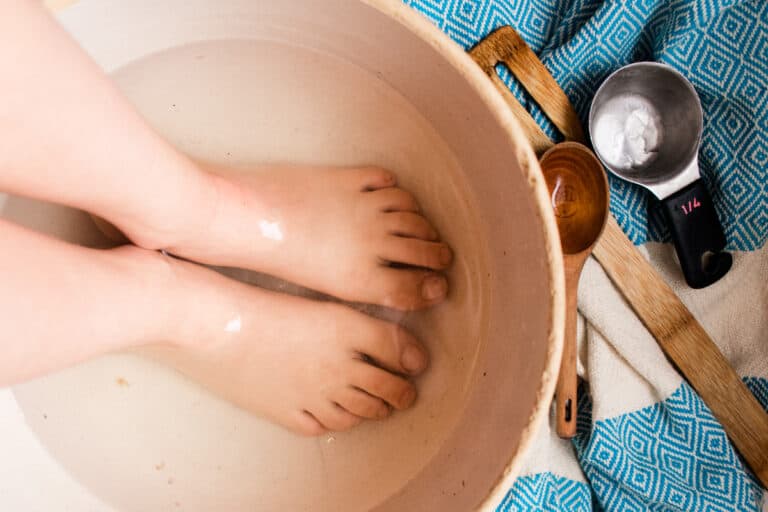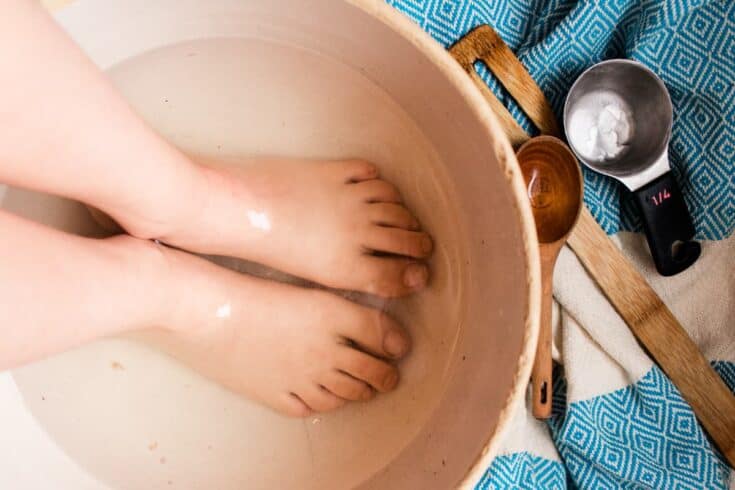 Just 3 ingredients are needed for this baking soda foot soak, and your feet will feel refreshed and renewed. Enjoy!
Materials
6 cups of very warm water
Tools
Instructions
Dissolve the baking soda in warm water in a large foot basin or bucket.
Stir in the apple cider vinegar.
Soak your feet for up to 20 minutes.
Remove feet and pat dry.
Follow up with a pumice stone.
Apply your favorite moisturizer to leave your feet soft and nourished.
Notes
Use once a week or as needed.