100% natural and incredibly versatile in skin care usage, Aloe Vera is a miracle cure when it comes down to many skin concerns.
From burns to sun spots to dryness, Aloe Vera handles it all! Read the post to find out more!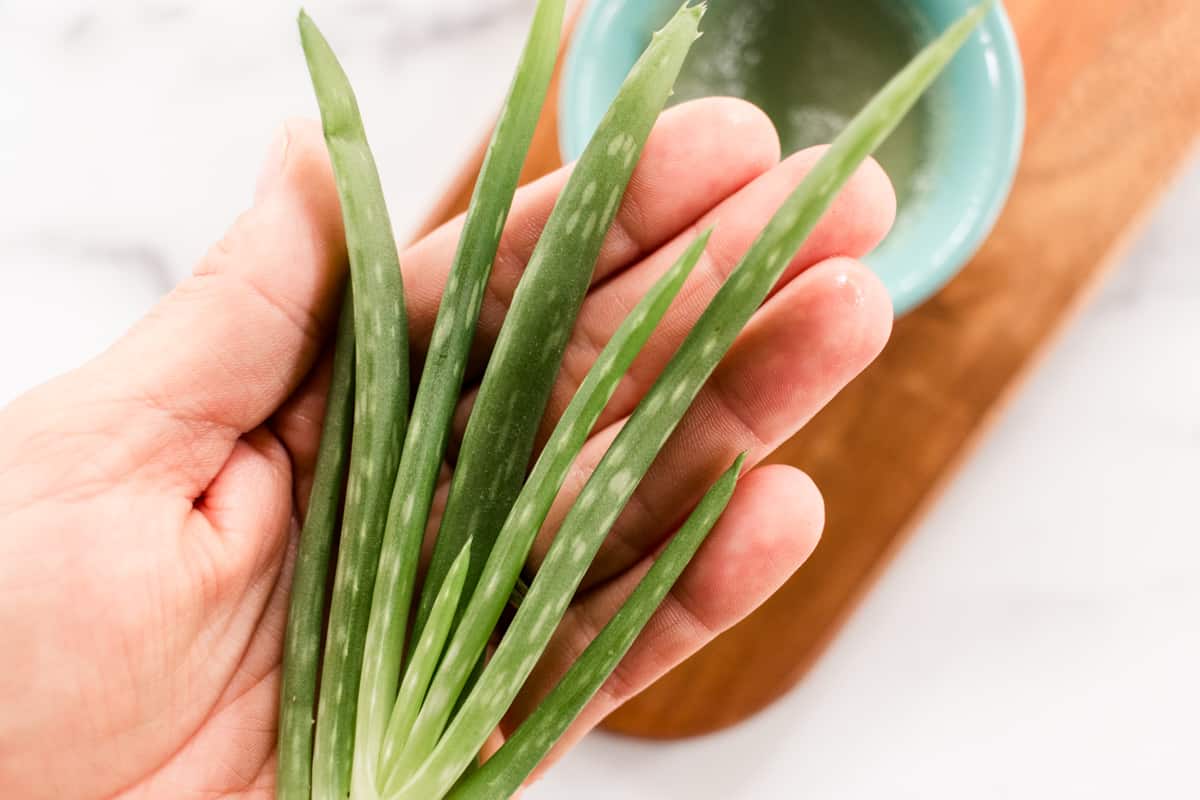 Aloe Vera is incredibly popular in beauty and cosmetics for its stunning effects on the skin. And I don't say that lightly either!
Literally, Aloe Vera is a wonder plant from the earth, full of goodness for the whole body.
I could personally talk about Aloe Vera for days on end. It has so many uses! In skin care alone, you'd be forgiven thinking you could use it on literally everything…
Well – you pretty much can use it on everything!
Aloe gel can be used on your skin, for wounds and cuts, as a moisturizer to restore hydration in the skin, or to treat sunburnt areas and it makes a fantastic health drink – useful to calm the stomach and enhance digestion. 
I love the Aloe plant as well. It's rather addictive! 
Simply snipping a piece off and squeezing out the gel. (Kids love doing this, FYI!)
In this post, I'll share the ten best uses for Aloe Vera on the face. 
You can choose the best way that Aloe Vera works for you, depending on your preferred results. I'll explain each and how to use it in the individual sections below. 
What is aloe vera
Aloe Vera is a plant that is of the succulent variety.
It's widely known as a natural medicinal plant, being used as an antiseptic and antimicrobial, helping to heal wounds and soothe the skin in cases of burns, scrapes, skin inflammation, and dry or aging skin. 
Aloe vera on face everyday results
If you use Aloe Vera daily on your skin, you can enjoy the following:
Deeply moisturized skin that retains moisture much better than conventional moisturizers.
Younger-looking skin. Aloe is jam-packed with antioxidants that smooth out wrinkles.
Reduction of troublesome skin. Acne, inflammation, and redness have all been known to lessen while using Aloe Vera gel.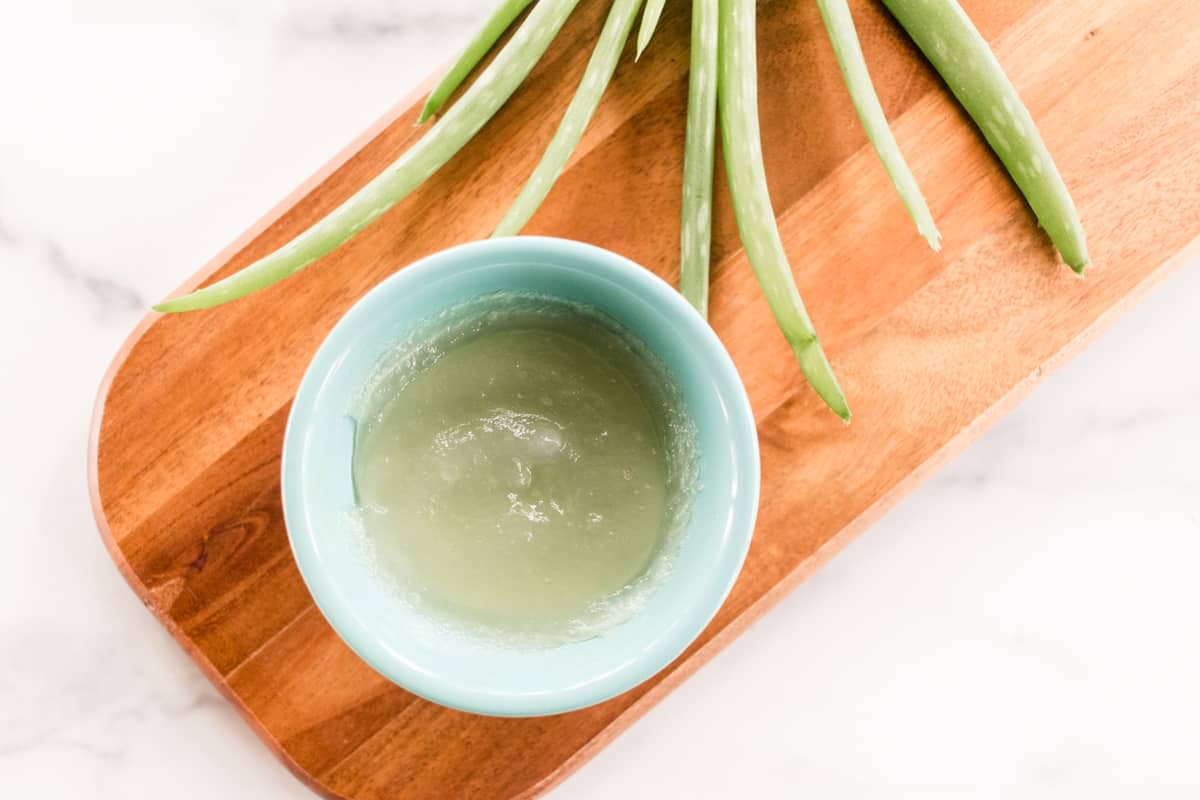 Ten Benefits of Aloe Vera
Shaving cream alternative
Who knew?! That when you run out of shaving gel, grabbing some Aloe gel is the perfect substitute.
No need to mix it with anything either!
Simply squeeze the Aloe gel from the leaf and smear it on the skin you want to shave.
Top tip: Be generous with the amount of gel you use, as the idea is to lubricate the skin for the prevention of razor burns and cuts. 
Healing minor cuts (it's not for open wounds)
Leading on from shaving… Aloe Vera is excellent to put on minor wounds, helping keep the skin clean and supporting the healing process.
I often put a small dab of Aloe gel on my children's grazed knees, and it soothes the pain immediately. 
Reduce burn healing time
As well as cooling the skin down after a burn (which helps to soothe the pain), Aloe Vera helps burns heal faster by stimulating new skin growth.
Aloe gel is believed to act directly on collagen production in skin cells, meaning the burn clears up quicker with less scarring.
It also adds moisture to burnt skin, which is desperately needed to help prevent dryness and peeling.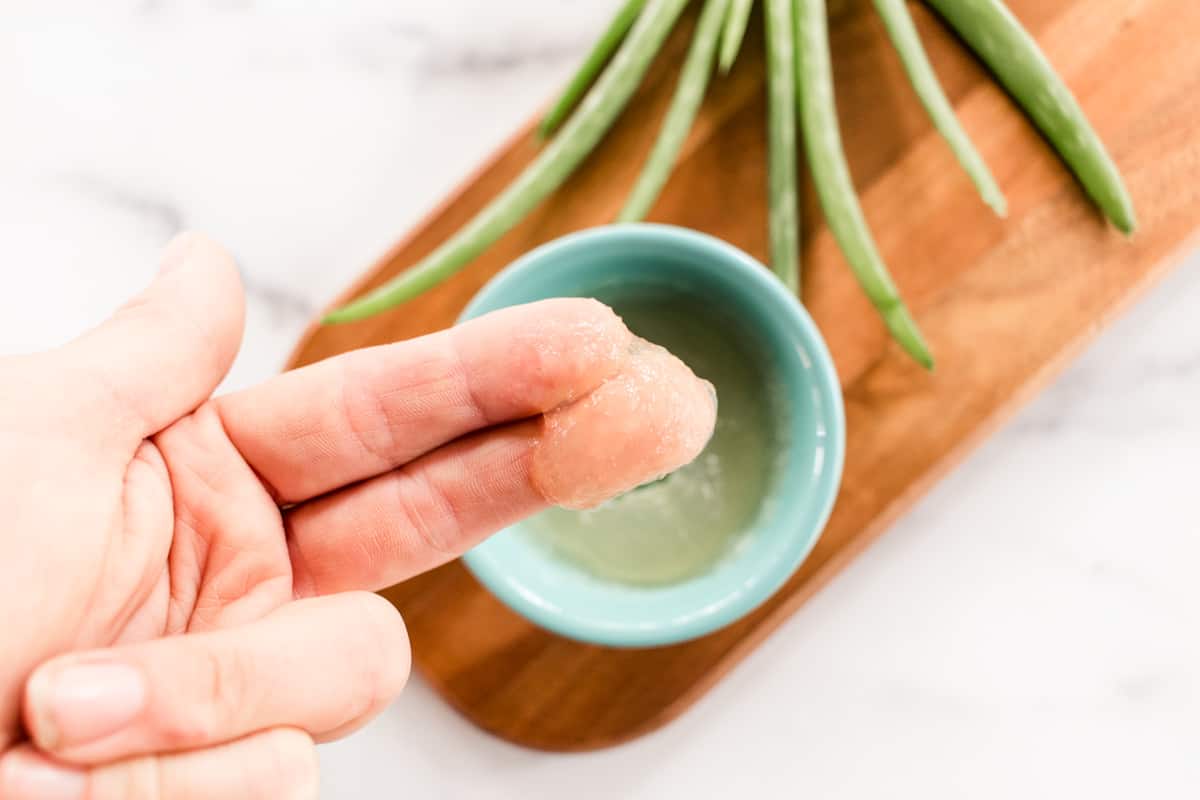 Reduce wrinkles
Partly due to the moisturizing abilities of Aloe Vera and also its antioxidant levels, aging skin can breathe a sigh of relief when they use Aloe gel regularly.
It helps re-plump the skin while keeping deeper skin layers moisturized, all of which add to a more youthful appearance.
Soothes sunburns
We've all felt the sting of red raw skin after a day on the beach, am I right?! All I'll say is – feel the ease when you smear Aloe Vera gel on and let it sink in. 
For even better relief, make sure to refrigerate your Aloe gel so it's ice cold when you apply it. The relief! It's indescribable. 
And it helps reduce peeling too! It makes the perfect after sun spray.
Hydrates skin
In summer, and indeed in winter, we're all susceptible to skin changes to cope with the harsh realities of extreme temperatures and humidity. 
Which is exactly where Aloe Vera comes into its own.
It's such a great, natural moisturizer; being gel in texture, it sinks in and is readily absorbed by the skin, leaving little to no residue. 
The dryer your skin, the better it seems to drink in the Aloe gel if you ask me! Try it on your skin and see for yourself how better nourished and hydrated your skin feels.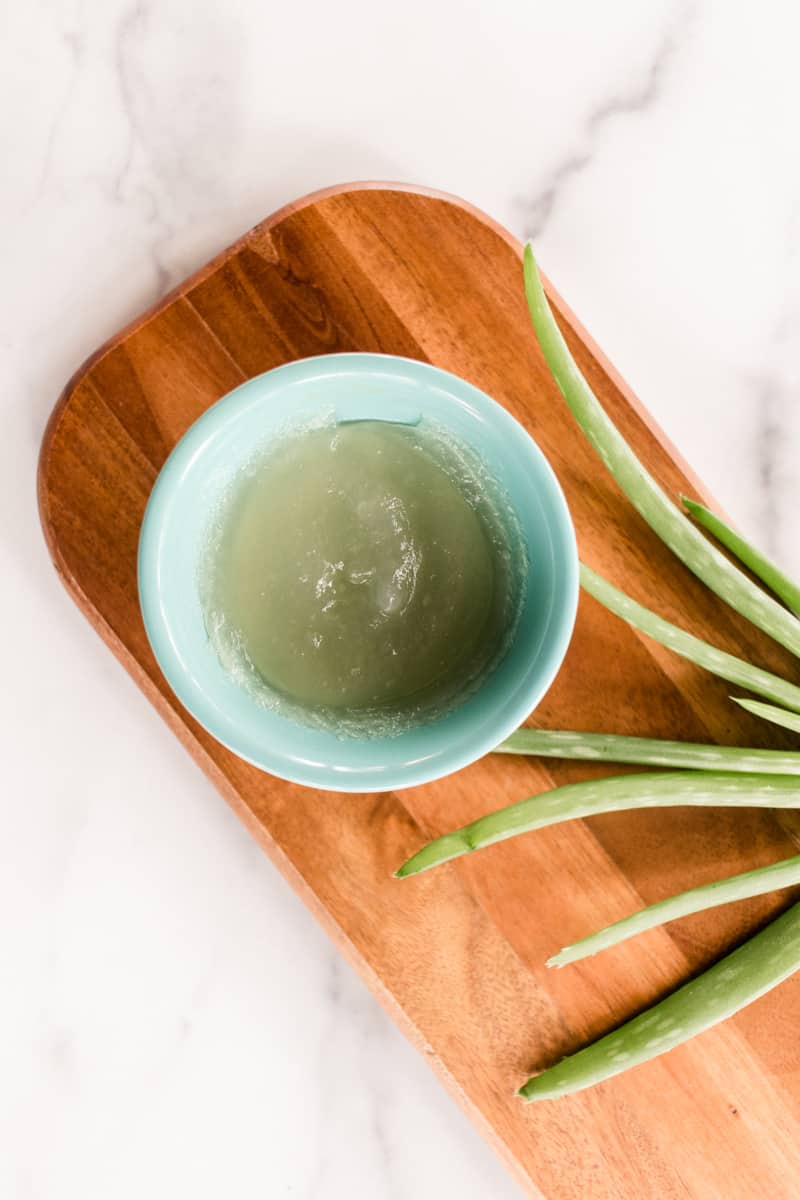 Lighten skin tones
Aloe Vera works great on uneven skin tone, particularly if you're battling age spots or sun spots, as well as sun pigmentation. 
Simply dab a fingertip full of Aloe gel onto the discolored areas every day to notice a gentle lightening effect, smoothing the skin tone nicely and evenly.
Helps with minor skin conditions (like eczema or itchy skin)
Aloe Vera contains anti-inflammatory properties, meaning it works great on troublesome skin prone to breakouts, acne, eczema or itchy or insect-bitten skin. 
Just be careful not to use Aloe gel if there are signs of an infection on the skin. This is because the gel might risk spreading the infection further. 
Reduces the appearance of dark spots
With daily use, Aloe gel helps lighten dark spots on the skin, gradually brightening them so they blend with the rest of the skin's complexion. 
Use twice a day for best results, and leave the gel to sink in. It really works!
Face Cleanser
Lastly, using straight Aloe Vera gel as a cleanser is a wonderful change to chemical filled cleansers in shopping malls.
It's so simple too.
You literally use the gel, apply it gently in a circular motion (avoiding the eyes), then rinse off with warm water, or use a cloth to wipe it away gently.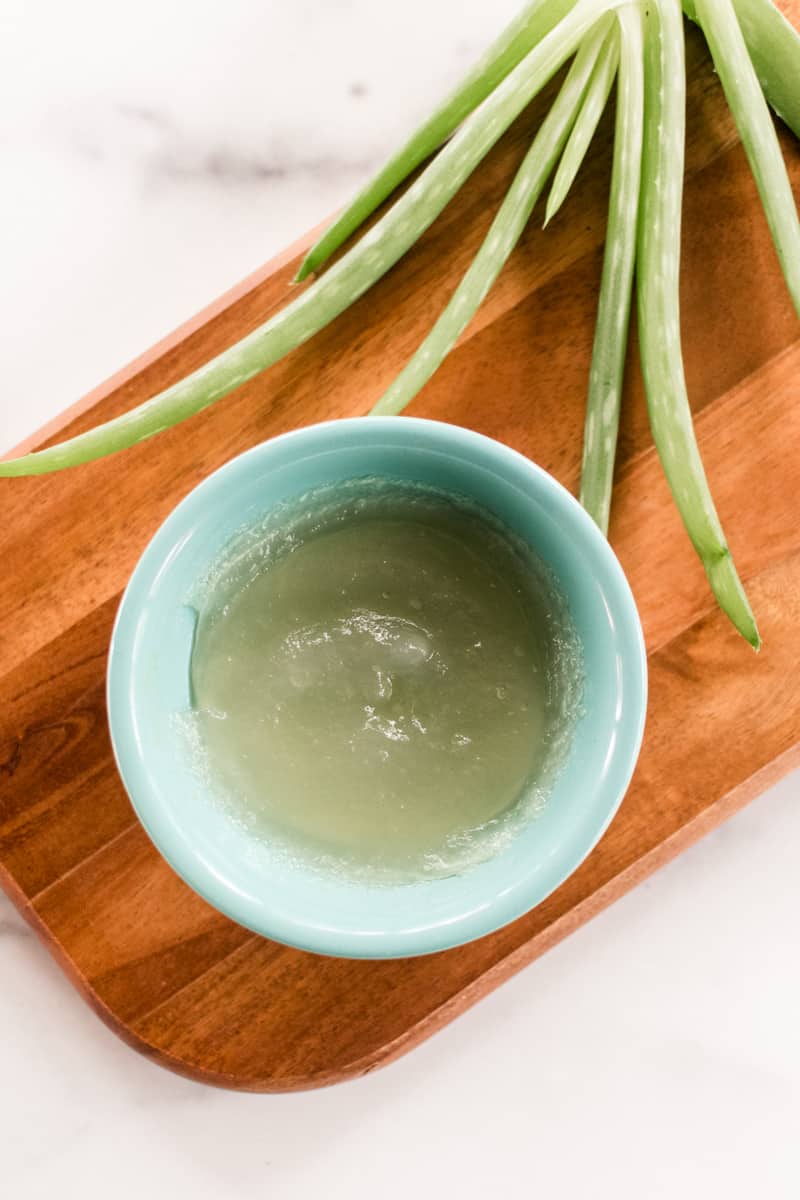 FAQs
How long does it take to see results?
This depends entirely on the results you're after! Honestly though? 
You'll see results after just one application of using Aloe Vera gel on your face. It'll instantly brighten and plump your skin, adding moisture where it's needed. 
Is it ok to leave aloe on the face overnight?
Yes! Aloe Vera is great as an overnight skin soak/moisturizer.
Is aloe safe for all skin types?
In theory, yes, but if you have allergy-prone skin, then it's always best to test on a small, inconspicuous area first…
Key Takeaways
To summarize, Aloe Vera is a fantastic, natural source of antioxidants, vitamins and minerals, all of which give major skin-boosting benefits, helping moisturize, nurture, and calm the skin.
Try it on yourself, and by all means, experiment with it.
Aloe gel has multiple uses, and all of the suggestions in this post work great, in my opinion.
If you enjoyed reading this post, I recommend checking out these other ones of mine too.