Make your own homemade foaming shaving cream with just 3 natural ingredients that will nourish your skin and leave it soft and smooth. This foaming shave cream is super easy to make and cost-effective.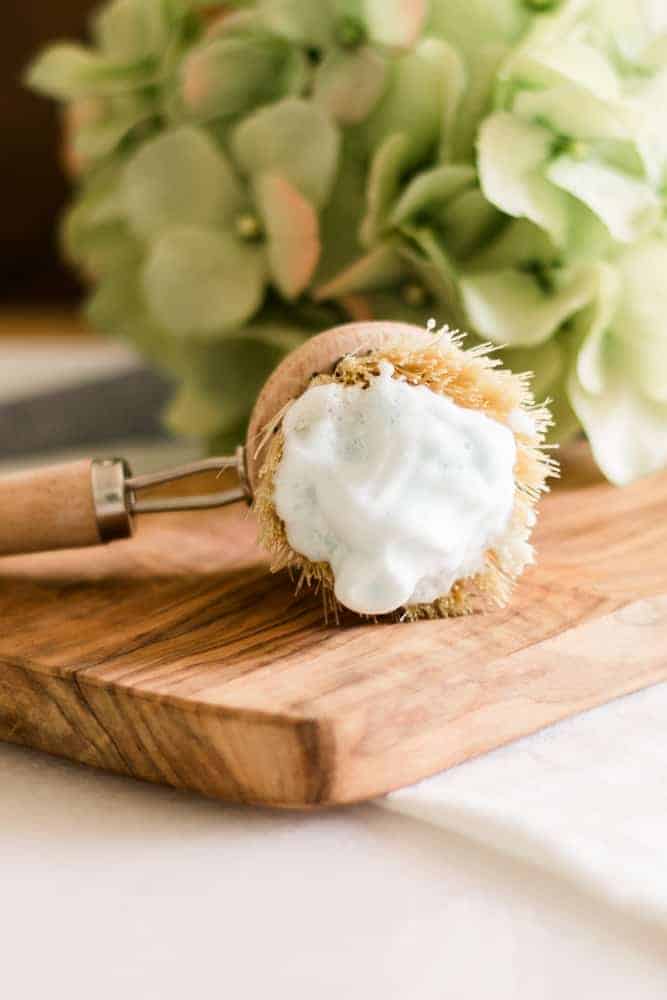 I have been making my own gel shaving cream for several years but have always wanted to try making a foaming shave cream.
With minimal altering to my original recipe, I was able to make a foaming shave cream that I have to admit; I really love the way it turned out.
For this recipe, I am using water, castile soap, aloe vera, and a carrier oil.
You have the option of adding certain essential oils to go for a cooling or soothing effect on the skin.
This post contains affiliate links, which means I make a small commission at no extra cost to you. Get my full disclosure HERE.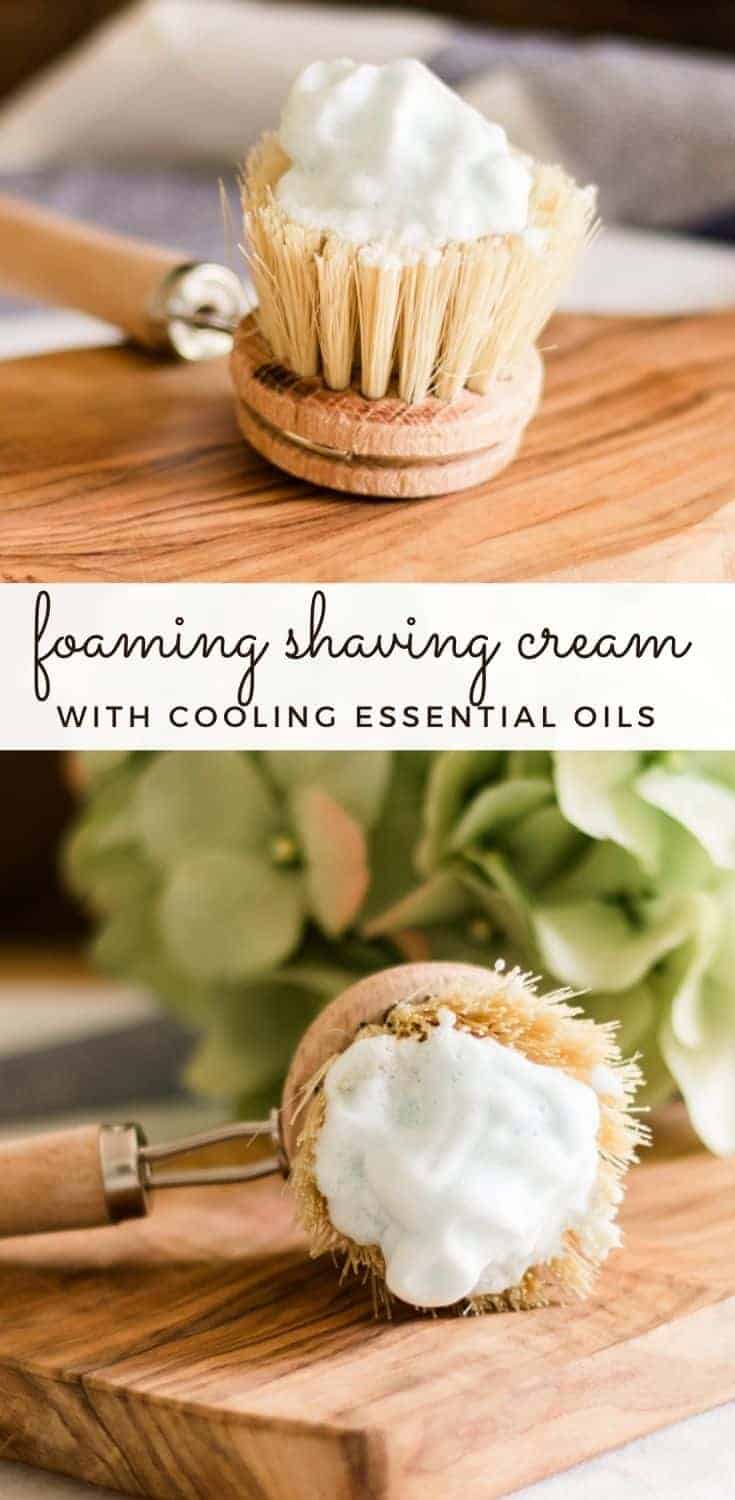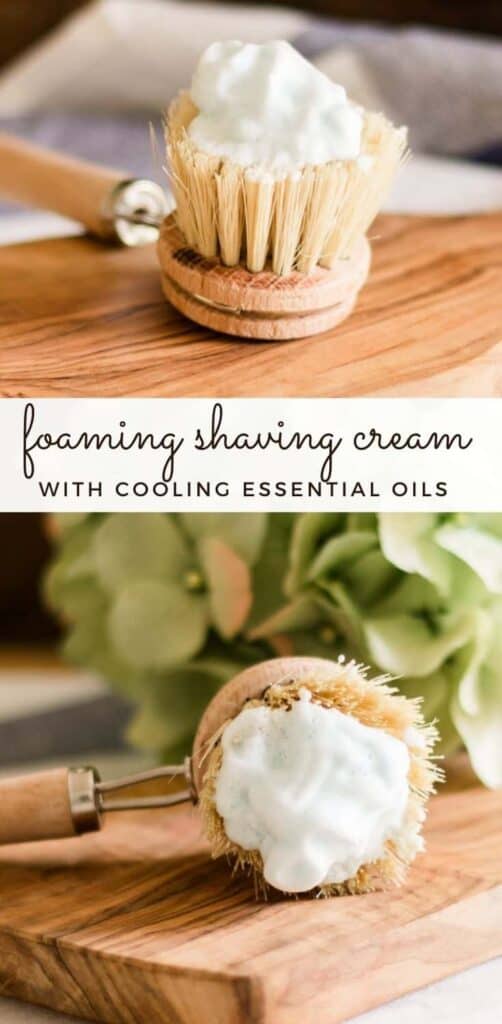 HOMEMADE FOAMING SHAVING CREAM
The easiest way to make this foam is by using a foaming soap dispenser. You can use old empty containers, or you can buy foaming soap dispensers.
I bought a set of glass foaming soap dispensers off amazon 5 years ago and they still work great!
I love that I can just keep refilling and reusing them! If you plan to add essential oils, it is important to use glass, stainless steel, or a thick grade of plastic for your shaving cream.
Essential oils can eat through thinner plastics and pull the toxins out of the plastics.
WHAT INGREDIENTS MAKE SHAVING CREAM FOAM?
The key ingredient to this foaming shaving cream is castile soap. Castile soap is a very concentrated soap made out of vegetable oils.
It is highly effective for cleaning, great for sensitive skin, and safe to use for all ages.
Castile soap can come in many different scents. I always prefer to use unscented and then scent it with my essential oils.
Castile soap comes in a liquid or bar form; for this recipe, you will need to use the liquid form.
Castile soap can be used in skincare products, hand soaps, homemade cleaners, and laundry soap.
Although it is quite concentrated, I still have to buy it by the gallon around here!
BEST HOMEMADE SHAVING CREAM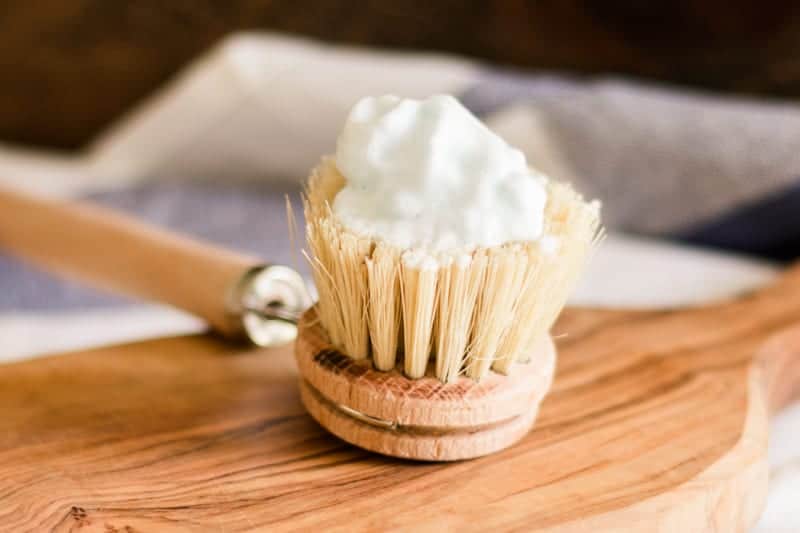 Other than castile soap, you will also need water, aloe vera, and a carrier oil. You have the option of adding in essential oils and vitamin E oil for extra skin benefits.
WATER
I recommend using distilled water in this recipe to help extend the shelf life. Distilled water is water with impurities, minerals, and microorganisms removed.
If you don't have distilled water, you can use boiled water; although boiled water is not the same, it will help to extend shelf life as well.
ALOE VERA
Aloe vera has amazing benefits for the skin and gives this shaving cream the perfect texture.
Both aloe vera gel and liquid will work well in this recipe. I personally prefer the gel when making this shaving cream to give it a more gel-like texture.
Aloe vera is very nourishing and hydrating for the skin. It can soothe skin after shaving and help with cuts, dry skin, and razor burns.
If you have an aloe plant, you can use the gel from the plant leaves for this recipe.
You can do this by cutting a leaf from the plant and putting a long slit in it with a sharp knife. Then, using a spoon, scoop out the gel.
If you cut the leaf from the plant, rather than pulling it off, the leaf will grow back.
CARRIER OIL
The carrier oil in this recipe will help to moisturize and restore the skin. A carrier oil is any vegetable-based oil and is usually light and unscented.
Choose a carrier oil from the list below based on your skin type:
Jojoba oil
Rosehip oil
Grape seed oil
Fractionated coconut oil
Sweet almond oil
Olive oil
Argan oil
CAN YOU ADD ESSENTIAL OILS TO SHAVING CREAM?
Essential oils have amazing benefits for the skin and can be applied topically when diluted properly.
Adding essential oils to your shaving cream will give it a beautiful scent and help with razor burn.
Use peppermint, wintergreen, spearmint, or other cool oil to soothe skin. My favorite oils to add are minty oils such as peppermint, wintergreen, or spearmint.
Other oils that pair well in shaving cream are floral oils, citrus oils, earthy oils, or woodsy oils.
Avoid using hot essential oils to prevent skin irritations. Common hot oils include cinnamon, clove, ginger, and oregano.
This is by no means an exhaustive list, but some of the most common hot oils.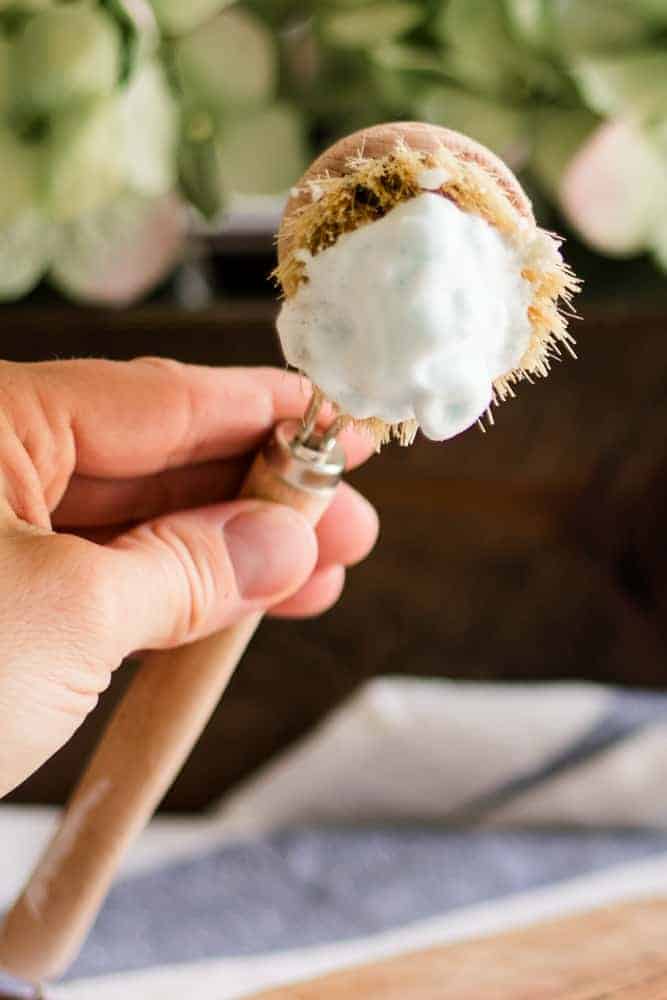 ESSENTIAL OIL BLENDS FOR SHAVING CREAM
COOLING BLEND
5 drops peppermint
3 drops spearmint
2 drops wild orange
GENTLE BLEND
5 drops lavender
3 drops chamomile
2 drops jasmine
EARTHY BLEND
5 drops vetiver
3 drops cedarwood
2 drops patchouli
OUTDOOR BLEND
5 drops sandalwood
3 drops cypress
2 drops bergamot
CITRUS BLEND
5 drops lemon
3 drops grapefruit
2 drops wild orange
HOW TO MAKE FOAMING SHAVING CREAM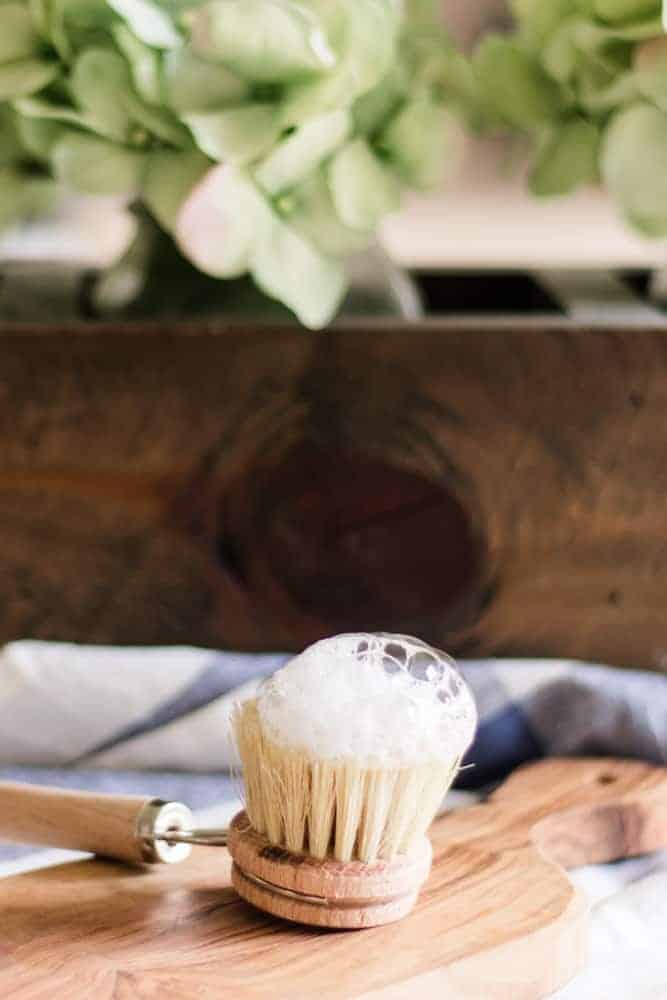 INGREDIENTS
INSTRUCTIONS
Add all the ingredients to the foaming soap dispenser.
Secure lid and shake to combine ingredients.
Use a small amount and apply like normal.
After shaving, rinse excess shave cream off with warm water followed by a cool rinse or towel.
Follow up with an all-natural aftershave.
HOW LONG WILL MY HOMEMADE SHAVING CREAM LAST?
This shaving cream will last for one month if stored in an airtight container at room temperature. Keep out of direct sunlight to ensure ingredients don't lose potency.
You can add an antioxidant like vitamin E antioxidant or rosemary antioxidant to help extend the product's shelf life if desired.
If you enjoyed this post, you may like reading how to prevent ingrown hairs after shaving next.
Homemade Foaming Shave Cream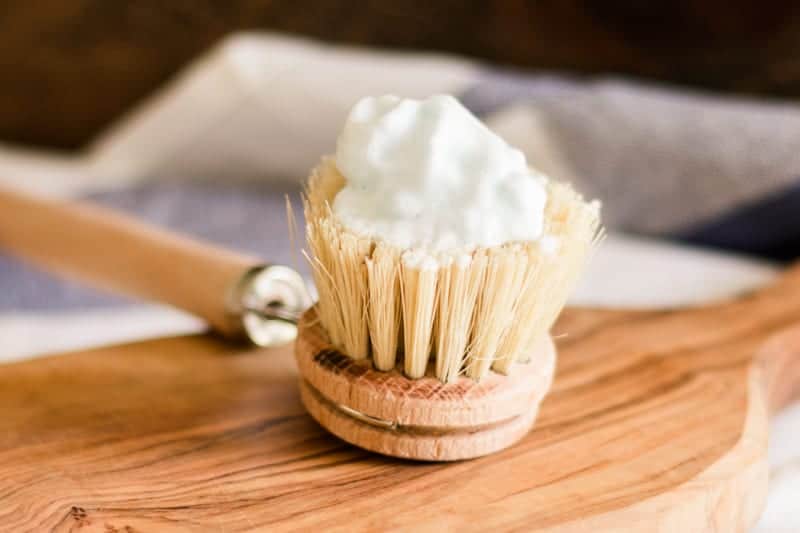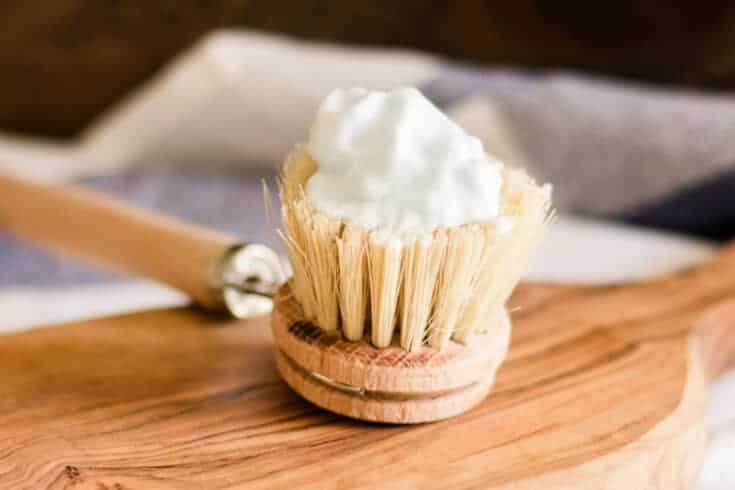 Homemade foaming shaving cream with just 3 natural ingredients will nourish the skin and leave it soft and smooth.
Materials
½ cup water, distilled
¼ cup castile soap
¼ cup aloe vera gel
2 teaspoons carrier oil
10 drops of essential oils (choose from the list above)
Foaming dispenser
Instructions
Add all the ingredients to the foaming soap dispenser.
Secure lid and shake to combine ingredients.
Use a small amount and apply like normal.
Rinse extra shave cream with warm water.
Follow up with a cold rinse or cool towel.