Check out these easy DIY ideas to make your mother a homemade gift this year for Mother's Day. practical gift ideas for mom!
Coming up with a gift for the mama's in your life can be hard. I like to go the practical route with a big emphasis on relaxing. All mamas can use a little R&R, trust me!
I am going to share eight homemade products that your mom will love to receive this Mother's Day. These gifts are simple to make and will be loved by grandma too. Plan a day, whip up a few of these items (or all of them!), and you can put together a cute gift basket in no time.
These items can be given separately too if you rather just make one. They would make a great add-on to a pair of cozy socks, a house plant, or a hanging flower basket. Adding in a homemade product can really add an extra special touch to any gift.
Get access to my online resource library for your free printable labels. I made two color options so you can choose which one you want to use.
This post contains affiliate links, which means I make a small commission at no extra cost to you. Get my full disclosure HERE.
WHIPPED BODY BUTTER
Grab the full recipe HERE.
I whipped up a big batch of this for Christmas gifts a couple of years ago, and everyone loved it! It makes a great gift for anyone, especially moms. I use this daily during the winter to help with dry skin. It is gentle enough to use as a face moisturizer and for babies.
HOMEMADE LOTION BARS
Grab the full recipe HERE.
I am a mom, and I LOVE these, and I bet your mom will too! These are very moisturizing for the skin and can help heal dry, cracked skin.
Add in essential oils for aromatherapy benefits and to make them smell amazing. You can customize the scent by adding in different blends of essential oils. Here are some of my favorite oils to use:
Lavender + Roman Chamomile
Sandalwood + Wild Orange
Bergamot + Patchouli
DIY LIP BALM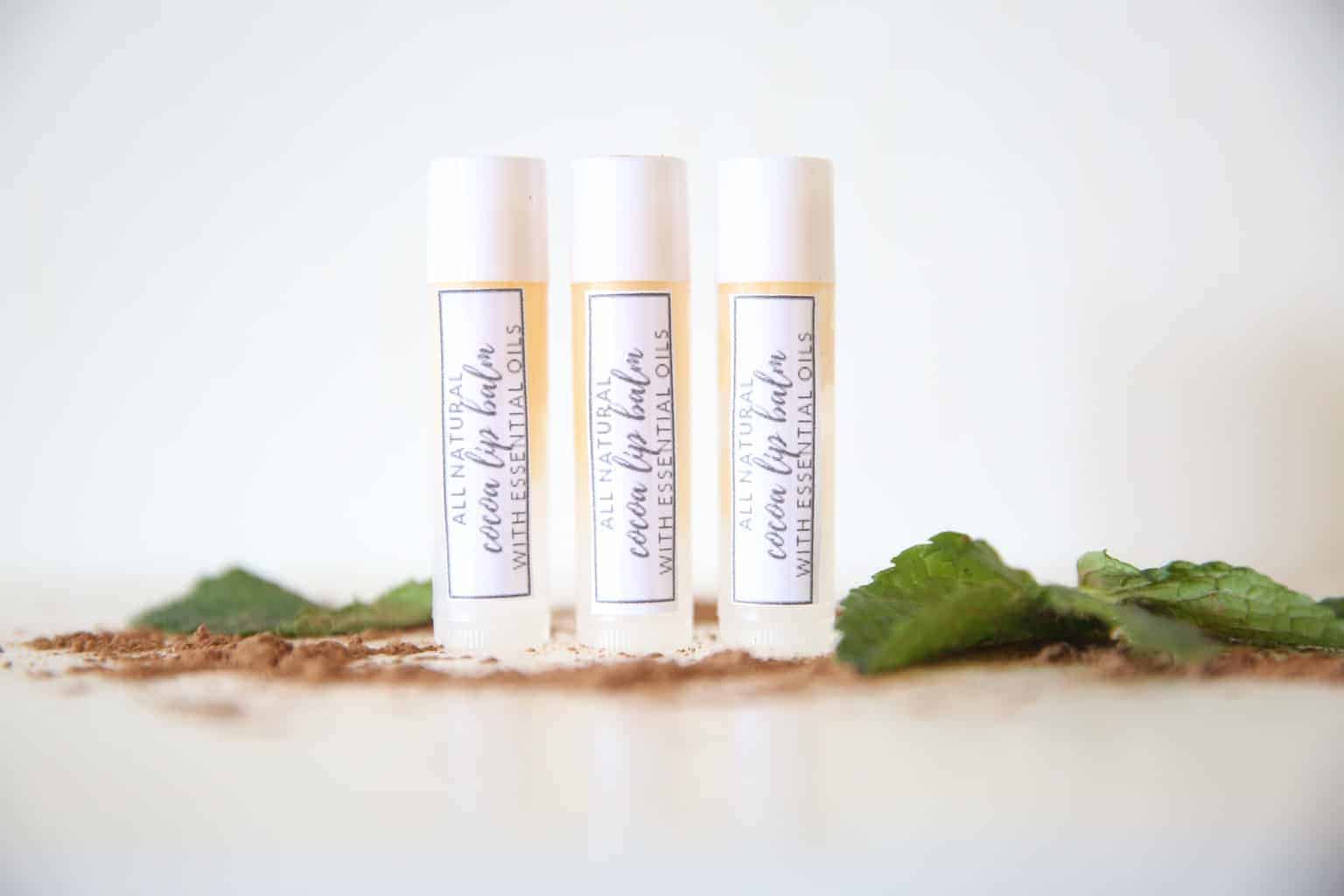 Grab the full recipe HERE.
Everyone can use an extra tube or two of lip balm. Made with cocoa butter and peppermint essential oil, these smell absolutely amazing! This lip balm pairs well with the other products or can make a nice filler to any other gift.
BEESWAX CANDLE
Grab the full recipe HERE.
Making beeswax candles are so simple! You can customize these by putting them in different containers, decorating the outside, and by adding in essential oils.
ESSENTIAL OIL ROLLER BOTTLE
Roller bottles make great gifts for everyone, especially someone that has never used essential oils before. Roller bottles are diluted and are easy to apply, great for beginners! I have shared lots of roller bottle recipes here on the blog that you can choose from. Or simply make a relaxing roller bottle with lavender.
HOW TO MAKE AN ESSENTIAL OIL ROLLER BOTTLE FOR MOM
Add 15-30 drops of essential oils to a 10mL roller bottle and then top it off with fractionated coconut oil.
Here are a few roller bottles you can try:
RELAXATION
5 drops lavender
5 drops frankincense
4 drops roman chamomile
3 drops vetiver
Add essential oils to a 10mL roller bottle and top off with a carrier oil.
ENERGY
5 drops kumquat
5 drops juniper berry
4 drops red mandarin
3 drops lemon
Add essential oils to a 10mL roller bottle and top off with a carrier oil.
MOOD SUPPORT
5 drops wild orange
5 drops frankincense
4 drops bergamot
3 drops lemongrass
Add essential oils to a 10mL roller bottle and top off with a carrier oil.
Or try some of these:
Purchase my favorite roller bottles and fractionated coconut oil.
AROMATHERAPY SHOWER MELTS
Grab the full recipe HERE.
Shower melts are perfect for a busy mom that loves to be pampered but doesn't really have the time for it. Tossing a shower melt into the shower can make for an ultra-relaxing time. As the warm water hits the shower melt, essential oils will be released into the air.
Again, you can customize these for your mom by switching the essential oils around. Check out my shower melt post to see my favorite blends!
SUGAR SCRUB
This will be the easiest project you have ever done, and I bet most of you already have the ingredients needed in your pantry. This recipe is great for dry skin!
INGREDIENTS
1/4 cup olive oil
1 cup organic cane sugar
15-20 drops essential oils (See my favorite blends below)
INSTRUCTIONS
Add all ingredients into a bowl and mix well.
Store in an airtight container.
HOMEMADE GEL AIR FRESHENER
Grab the recipe HERE.
These homemade gel air fresheners are another great idea for mom this Mother's Day. You can add in any essential oils you want to customize the scent. Check out my favorite blends HERE.
MOTHER'S DAY GIFT BASKET
Adding all these items to a cute basket can make the gift all the better. Look for a basket that mom can reuse somewhere in her home. Add in a dish towel if you wish.
PIN IT FOR LATER