Learn how to conditioner leather and clean it with this homemade leather sofa cleaner and conditioner.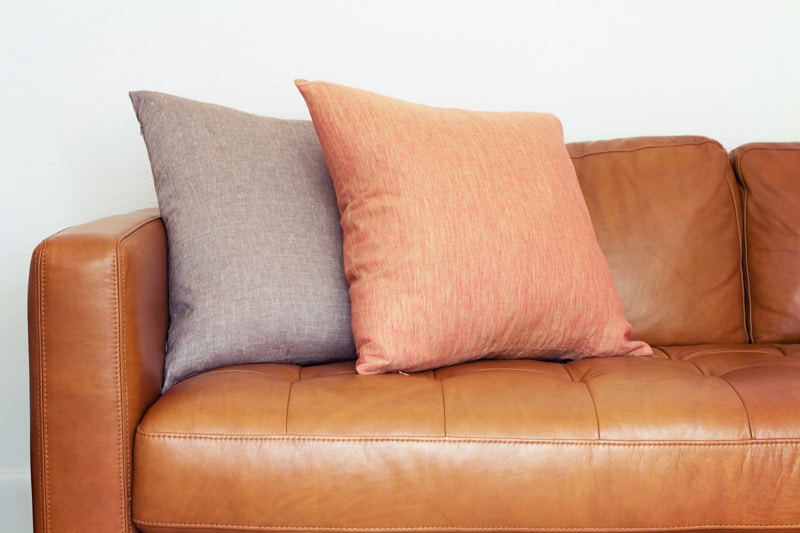 Leather is a very strong, durable, and flexible material made out of animal hide. In my opinion, it is one of the best furniture options in a house with kids.
For one, leather generally stays a little cleaner than cloth furniture and when it does get dirty, it is easy to clean and condition. If you have a leather sofa that has seen better days, no sweat.
A simple solution of vinegar, mild soap, and warm water can do the trick.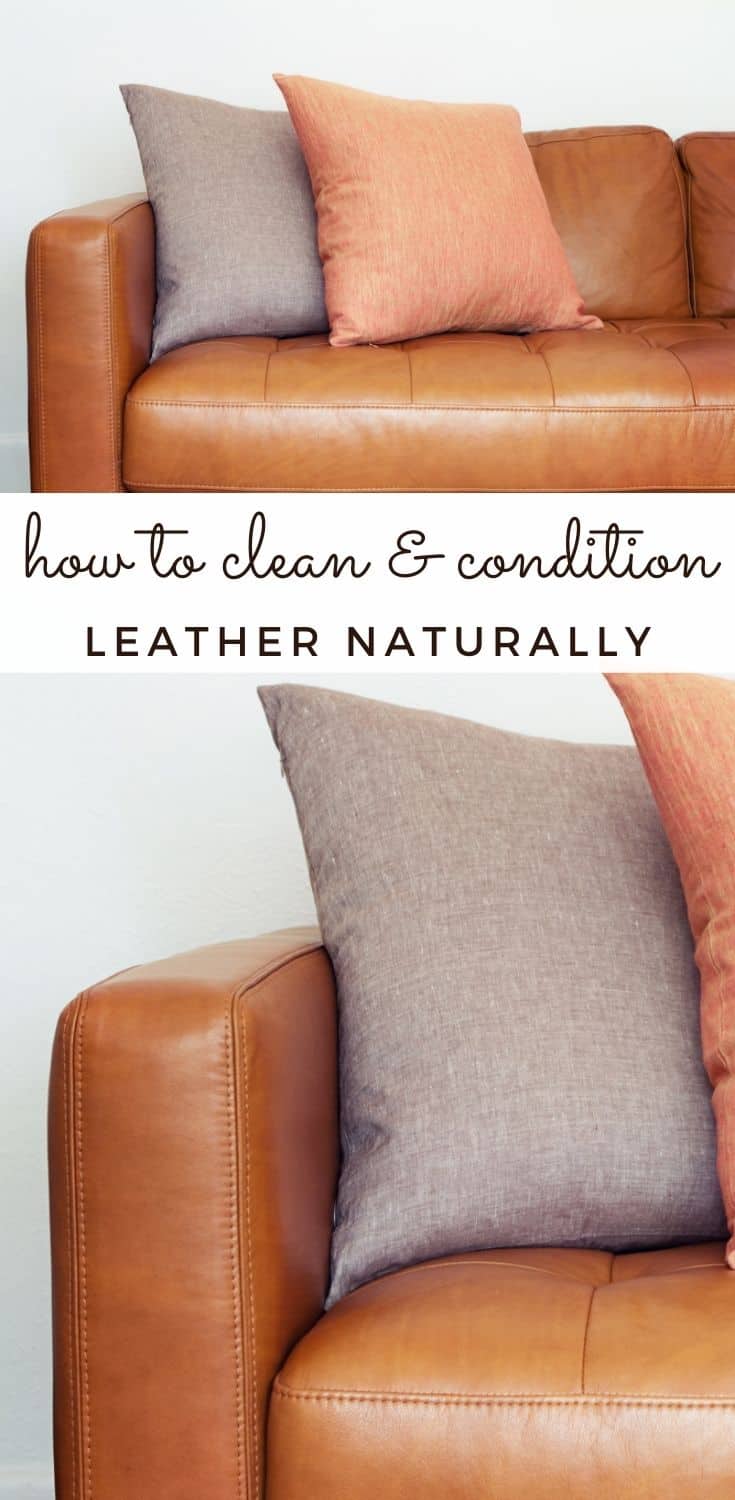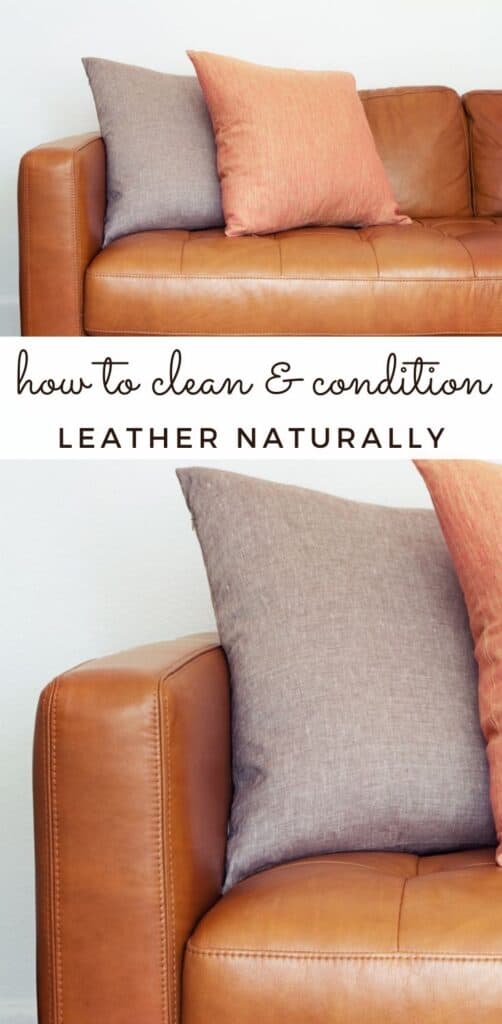 Homemade Leather Cleaner
Before conditioning a leather sofa, you will want to clean it first. If your couch or furniture has stains on it, this cleaner may be all you need to take it out.
To make the cleaner, you will need a very mild soap such as baby soap, castile soap, or homemade soap. Plus, you will need warm water and vinegar.
Ingredients
2 cups warm water
1 teaspoon mild soap
2-3 drops white distilled vinegar
Instructions
Mix all the ingredients in a small cleaning bucket or bowl.
Dab a microfiber cloth in the liquid and ring dry.
Gently scrub the leather to clean.
Allow to fully air dry before conditioning the leather.
Note: there should be no residue left after scrubbing the leather clean if there is, pat dry with a clean cloth.
What can I use to condition leather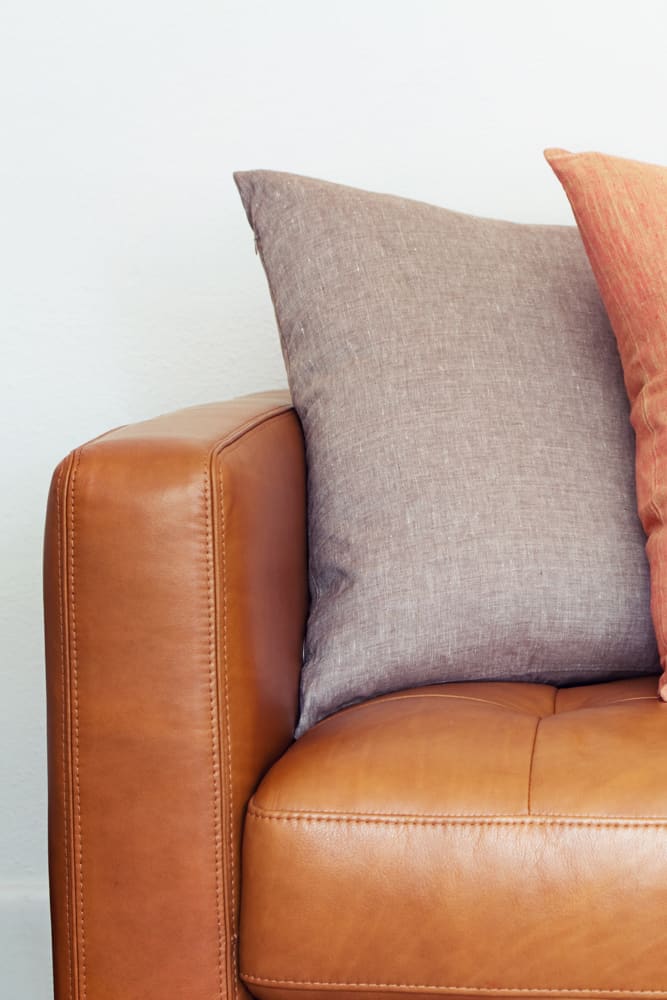 As leather ages, it is natural for it to dry out, crack or appear ashy if neglected. Exposure to sunlight is often the culprit of accelerated wear and tear on leather.
And because it is naturally porous, it is best to keep it clear of dirt and oil. Conditioning old leather can rejuvenate it and restore it to its original shine.
One of the best ways to condition a couch is with natural oils such as coconut oil, mink oil, and essential oils. Olive oil should not be used on leather as it will not nourish the couch and may cause damage.
The best oil to use for conditioning leather is mink oil. Mink oil comes from rendered mink fat and is commonly found in conventional leather conditioners and leather shoe conditioners.
Homemade Leather Conditioner
You can make your own leather conditioner at home with oil and essential oils.
This post contains affiliate links, which means I make a small commission at no extra cost to you. Get my full disclosure HERE.
Ingredients/Supplies
How to Condition Leather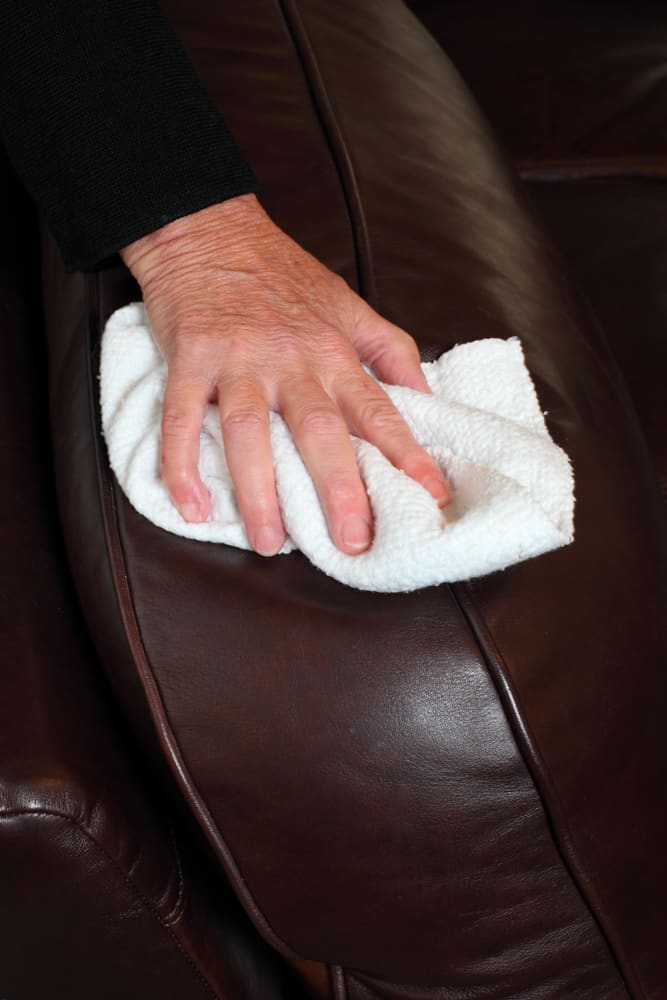 Remove any accessories or decorations from the couch or furniture.
Dust the leather with a clean, soft cloth to remove any dirt or debris.
Clean the leather with the homemade cleaner listed above.
Allow the couch to dry thoroughly. I would suggest doing this in the evening and letting it air dry overnight.
Test a small patch area on the bottom or back of the couch before applying the conditioner over the entire sofa. Not all leather is the same after it is treated with chemicals and colors and may react differently to certain products.
Using a microfiber cloth and leather conditioner, condition the leather.
Wipe off excess conditioner with a clean microfiber cloth.
Allow the couch to air dry.
Repeat if needed.
Best Essential Oils for Leather
Lemon essential oil can be used to clean, condition, and freshen your leather furniture. It has a strong citrus aroma that can keep your furniture smelling fresh and clean.
To use lemon on your leather, you can simply add a few drops to your homemade leather cleaner or conditioner and work it into the furniture. Another way to fill the room with a fresh citrus scent is to make a room spray to mist on the furniture or into the air.
Does Vinegar Ruin Leather
Vinegar is a very powerful cleaner and if misused, it can indeed ruin the leather. However, when diluted, vinegar can be used to clean, sanitize, and condition leather.
Diluting a few drops of vinegar in water or oil can make it safe to use on leather furniture. It is best to use white distilled vinegar, but apple cider vinegar can be used as well.
After using vinegar on your leather, be sure to wipe any excess off as it can dry leather out if used too much.
Be sure to test a small area first before wiping down all the furniture.
Cleaning Protected Leather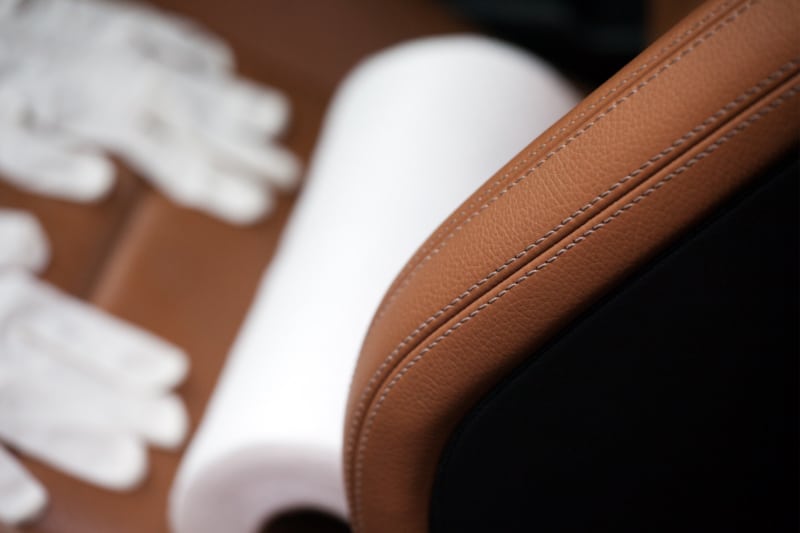 Protected leather is treated leather or colored leather. It is much easier to care for than untreated leather and most often, a damp cloth is all that is needed to remove sticky residue and stains.
If needed, you can use a vinegar and water mixture to clean protected leather. As with any leather, use a microfiber cloth and allow it to air dry after cleaning.
Caring for Leather Furniture
To keep your leather looking its best, it is recommended to condition once a month. Also, avoid eating or drinking on leather to keep it free of stains.
If possible, keep pets off of leather couches to avoid scratches and stains. If scratches occur, try cleaning and conditioning that spot to restore the leather.
Leather Cleaning Hacks
It is so important to dust or vacuum the leather before cleaning or conditioning your leather furniture. Once you get the oil on the couch, it can push the dirt and grime further into the couch cushions.
If something gets spilled on leather furniture, using a dry cloth or baking soda can be a better solution than a wet cloth. This is especially true if something greasy falls onto the leather.
Avoid penetrating stains in a similar way to cleaning carpet by sprinkling a small amount of baking soda directly onto the stain, then wiping clean with a dry cloth.
How to Get Ink Stains Off of Leather Furniture
For minor stains, sometimes all that's needed is a warm soapy cloth. However, for more stubborn stains, you can use rubbing alcohol.
Mix equal parts rubbing alcohol and water in a small bowl. Dip a cotton ball in the mixture and rub it in a circular motion over the area of concern. Do this very gently and slowly. Watch closely as the ink disappears and stop before harming or removing any color.
As always, test a small area on the back of the couch before trying in a more visible area.
For leather car seat stains, check out this post here.
Homemade Leather Sofa Cleaner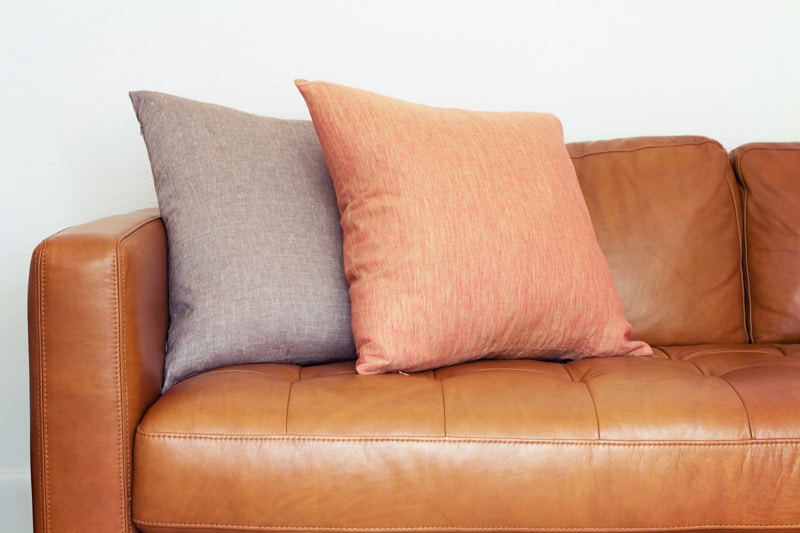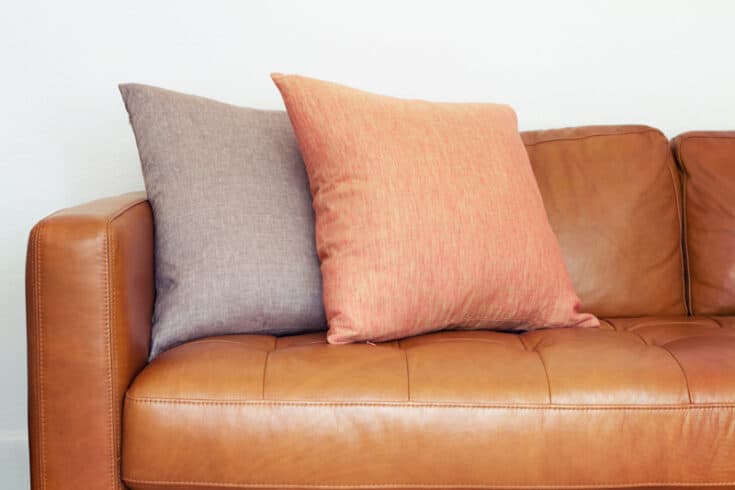 Clean stains and restore leather furniture to its original shine with this natural leather cleaner.
Materials
2 cups warm water
1 teaspoon mild soap
2-3 drops white distilled vinegar
Microfiber cloth
Instructions
Mix all the ingredients in a small bucket or bowl.
Use a microfiber cloth and dab it in the liquid and ring dry.
Gently scrub the leather to clean.
Pat dry any excess liquid residue with a clean cloth.
Allow to fully air-dry before conditioning the leather.