It's not a topic any of us enjoy talking about, is it? Yet bed bugs happen to the best of us!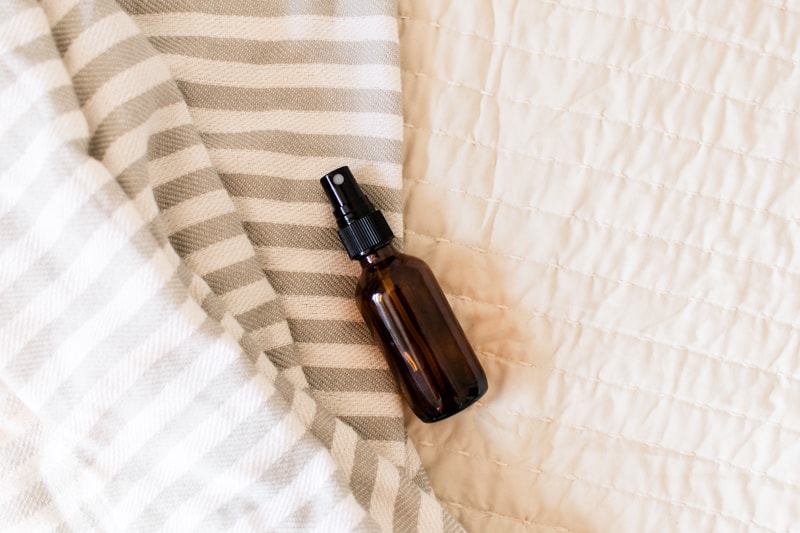 They seemingly come out of nowhere and can wreak havoc on your nervous systems and your house.
It's crucial to deal with them straight away – as soon as you see signs of them in your bed before they spread and start biting. Yuck!
What's more, it's never good to use toxic, chemical-laden products to get rid of them. But unfortunately, this is often what you'll end up with if you defer to your local store for a conventional bed bug treatment.
After all, you sleep in your bed—spending hours in there at a time. You want to breathe fresh air – not be surrounded by nasty fumes coming from your mattress.
Interestingly, I've read that using synthetic products to remove bed bugs is less effective than using natural essential oils.
Now, if you're currently dealing with bed bugs in your home, fear not. You're in the right place.
I'm sharing a great recipe today, which is 100% natural containing pure essential oils. It's a great toxin-free bedbug treatment at home for you to use right away.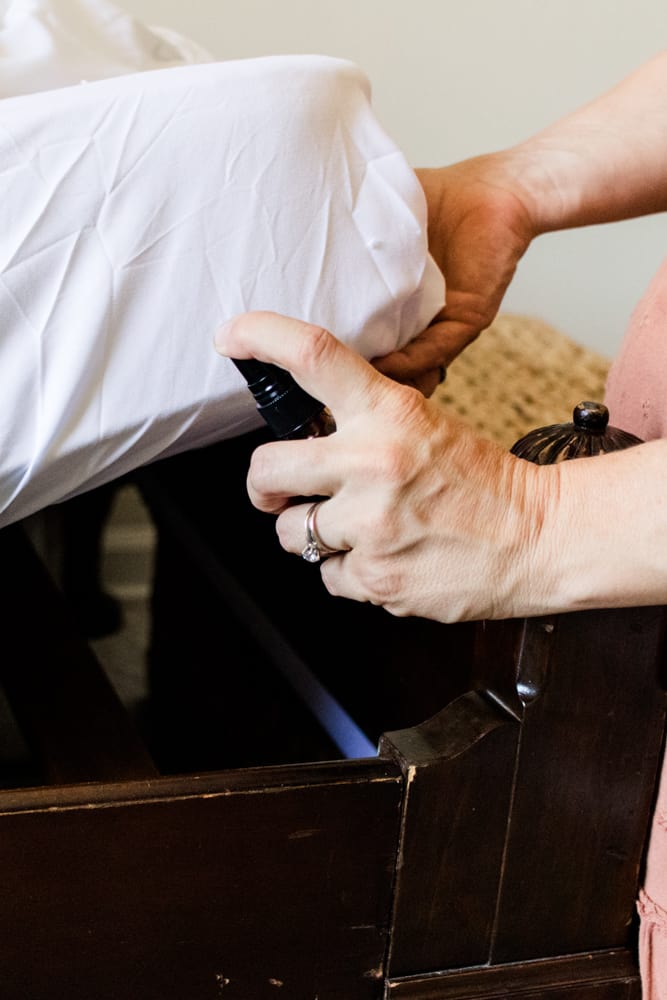 What are bed bugs
Let's take a step back for a moment and make sure you know what are bed bugs – what they actually look like, so you know you're dealing with the right thing.
Bed bugs are very small, usually black to brown in color, and they crawl. They don't jump or fly, so that makes them fairly easy to differentiate from other bugs.
They feed on the blood of mammals and tend to only come out at night; eerie, right?
You may think you've got bed bugs if you find yourself itching while lying down on your bed, but a better telltale sign is if you see bites on your skin or blood spots on your bedsheets – this is a sure sign of bed bugs in your home.
The thing to know, too, is it's not only beds and mattresses that bed bugs attack. They may also lurk in your couch, your clothes, and your carpets.
They are a nuisance and discomfort more than anything else.
Luckily, bed bugs don't spread disease to humans (although some people can be allergic to them) and can be gotten rid of relatively easily with a homemade remedy packed with essential oils, which I'll explain in the next section.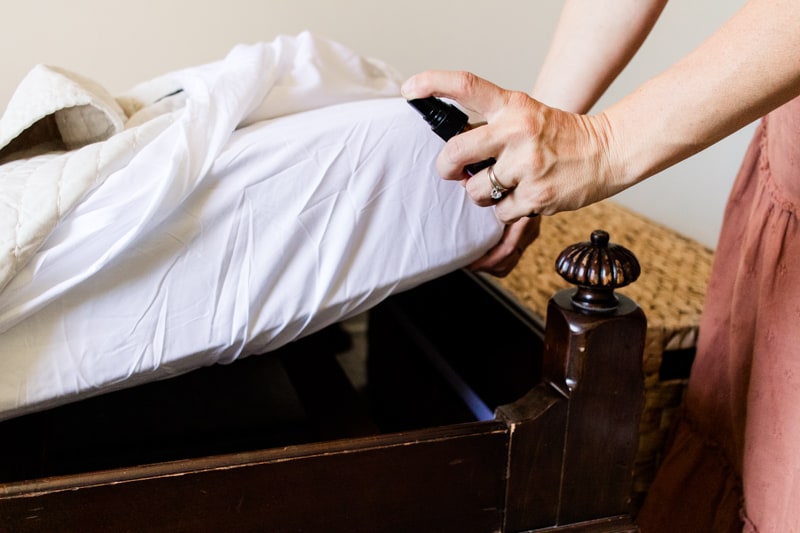 Essential oils for bed bugs
There are various essential oils that are effective in the fight against bed bugs. These are a few of the best I know of, with explanations as to why they work well.
Tea tree
Tea tree is perhaps the most well-known of all essential oils, favored for its antibacterial and antiviral properties. In addition, it emits a pleasant (albeit pungent) smell that repels and kills bed bugs in one sitting. 
In addition, tea tree is also an effective spider repellent, which is a big plus!
Peppermint
As with tea tree oil, peppermint repels bed bugs due to its strong scent. Spray a strong solution of water and peppermint oil on the affected area, and bed bugs will be gone in no time.
Peppermint oil is the number one most effective way to get rid of ants in the house.
Citronella
Citronella will repel bed bugs and also other flies such as mosquitos and wasps. It works great as a summer bug repellent candle to keep pests at bay.
Lavender
Another great essential oil to repel bed bugs and kill their eggs is lavender oil. It's also a nice oil to use in the bedroom due to its relaxing properties, helping to promote a good night's sleep.
Oregano (Carvacrol)
Several essential oils show promising signs of killing bed bugs outright – not just repelling them, and oregano is one of them (it's why I use it in my own homemade spray for bed bugs – see the recipe below)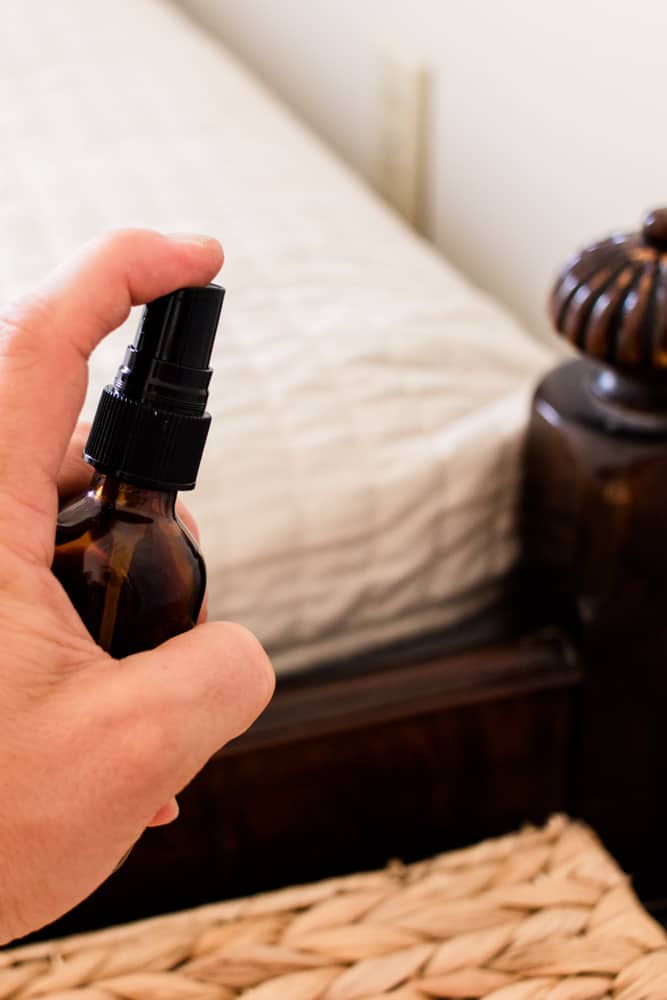 This post contains affiliate links, which means I make a small commission at no extra cost to you. Get my full disclosure here.
Home remedies for bed bugs with vinegar
It's preferable to kill bed bugs using a natural solution at all times to keep you and your family safe.
The recipe I'm sharing here includes vinegar because of its high acidic value. It kills bed bugs and insects instantly on application, and the smell keeps them away too.
It also seeps into the eggs, killing them and preventing the spread.
Ingredients:
8 drops of oregano essential oil
5 drops each of tea tree and lavender essential oils
1/8 cup of vinegar (white vinegar preferable)
1 cup of water
Method:
Combine all ingredients in a clean spray bottle, secure the lid, and shake well.
Spray around the corners and crevices of your bed and anywhere bed bugs may be hiding, such as room corners, closets and floorboards.
In addition, wash your bedding every other day on a hot cycle until the bed bug infestation has gone.
Why do I have bed bugs
Having bed bugs is not a sign that your house is dirty or your sheets are lacking hygiene.
Bed bugs tend to pass from one person to another through contact with upholstery, such as on public transport or in hotel rooms which see a lot of different people staying there.
Don't be disheartened that bed bugs have paid you a visit – it really is very common and can be sorted out quickly if you take action immediately.
How to get rid of bed bugs permanently
My best advice is to observe your living space for bed bug infestations and act as soon as you see signs of them.
Getting rid of them permanently is difficult because they can choose to visit your home anytime.
It's a good idea to have a homemade spray for bed bugs ready and waiting to use just in case you see signs of bed bugs.
Always get to work on them straight away! They won't go away on their own – and they get worse quite quickly, so there's no time to waste.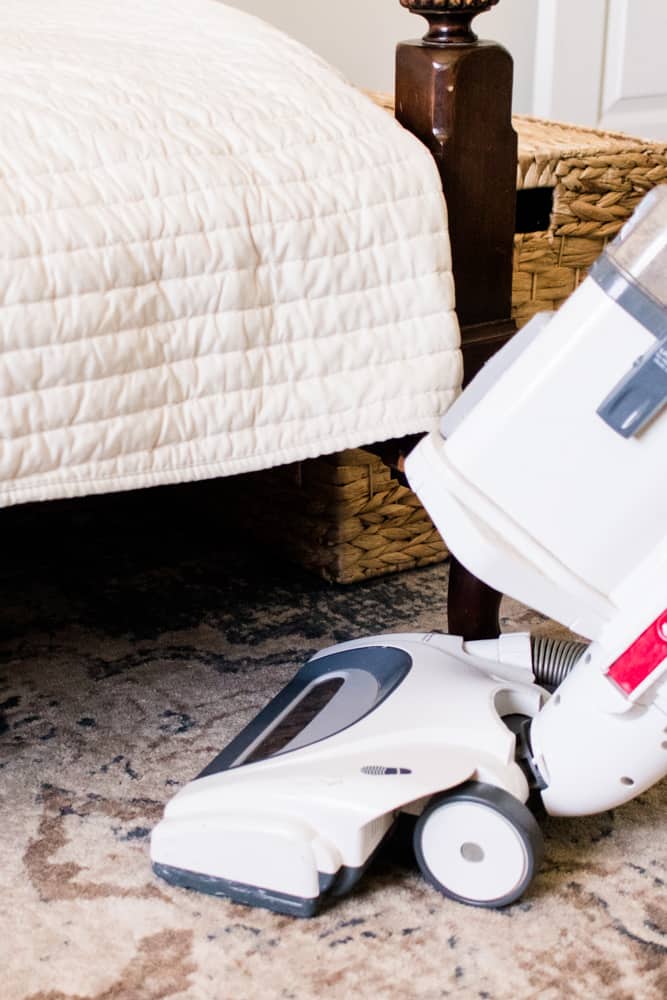 FAQs
In addition to using this homemade bed bug spray, make sure you vacuum your living space often and keep the area tidy.
Keep areas such as sofas and carpets clean.
Also, consider washing your bed sheets on a hot cycle every once in a while. This kills bed bugs instantly.
Another method that can be used in conjunction with a bed bug spray is rubbing alcohol.
Also called isopropyl alcohol, it can be effective when used directly on bed bugs – i.e., the ones you see, but it doesn't repel them. So it's not that practical when trying to eliminate an infestation.
Finally, getting rid of a bed bug infestation can take time, so remember, be patient, but be effective.
Use the bed bug spray every day and be consistent with washing your sheets and keeping the area infested, clean, and tidy.
Wear a bug repellent bracelet at night, or use a bug repellent lotion to keep bugs off of you.
I hope you find this post helpful and enjoy making the recipe. I wish you the best of luck! For more great recipes, check out some of these favorites below.
Bed Bug Spray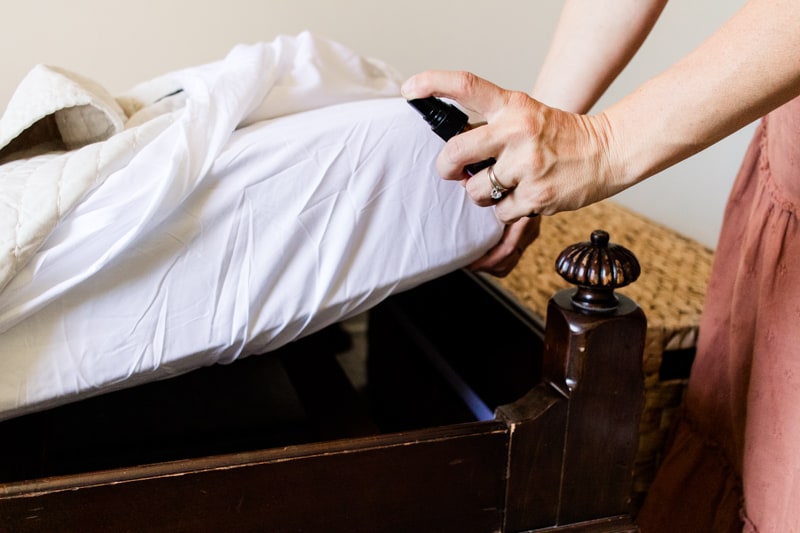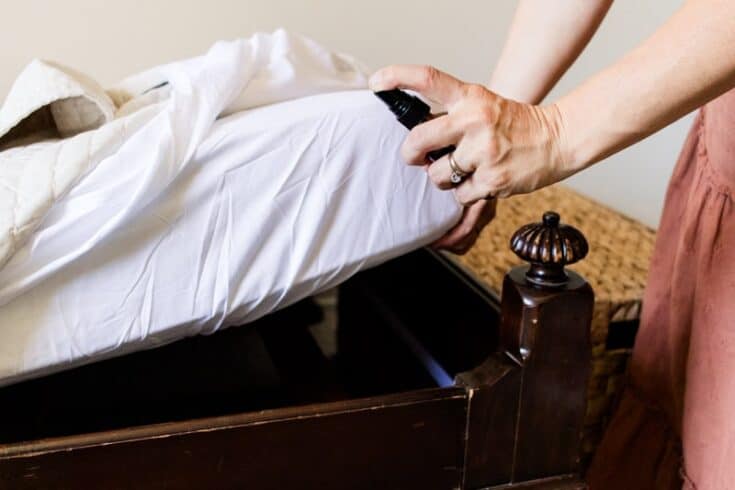 It's not a topic any of us enjoy talking about, is it? Yet bed bugs happen to the best of us, seeming to come out of nowhere wreaking havoc on our nervous systems and our home.
Materials
1/8 cup of vinegar
1 cup of filtered water
Tools
Instructions
Combine all ingredients in the spray bottle, secure the lid and shake well.
Spray around the corners and crevices of the bed or anywhere that bed bugs may be hiding.
Notes
Closets, sofas, and dark corners are all hot spots for bed bugs.