Mice in the house? Don't panic just yet! Try this essential oil mouse repellent instead. It's easy, quick, and works great at repelling mice from the get-go.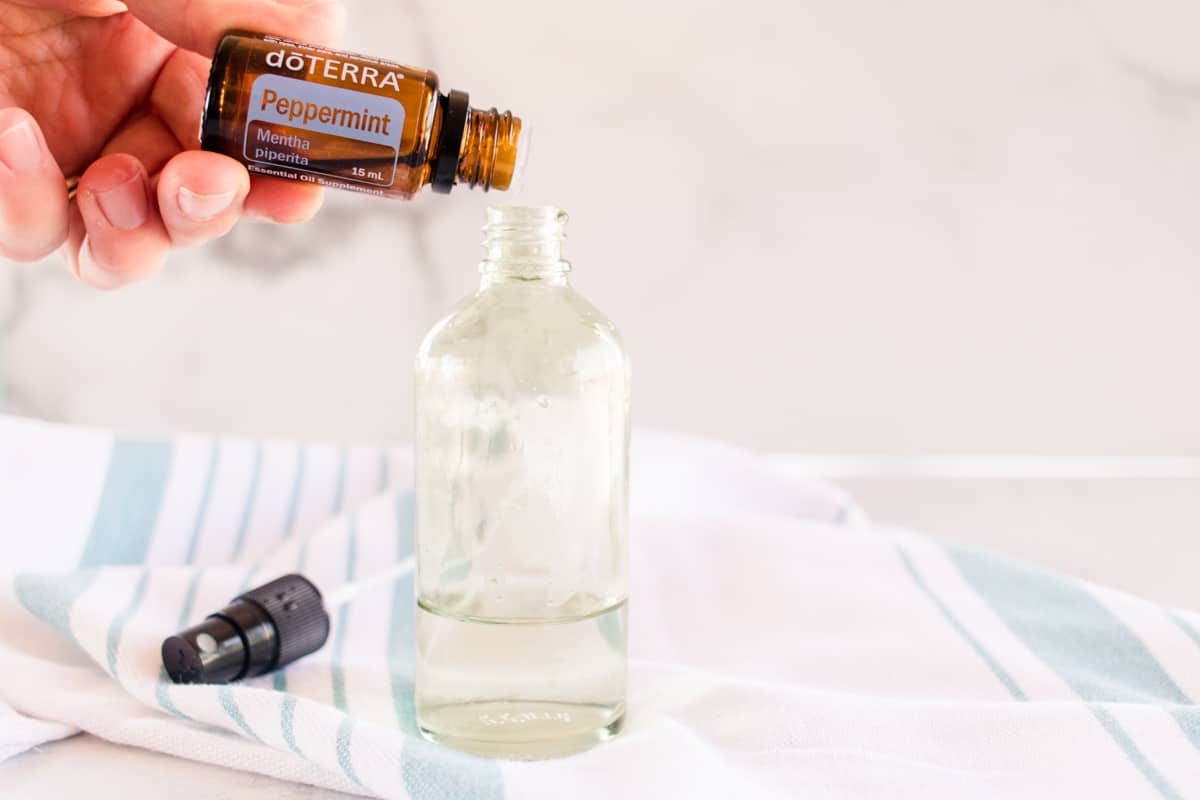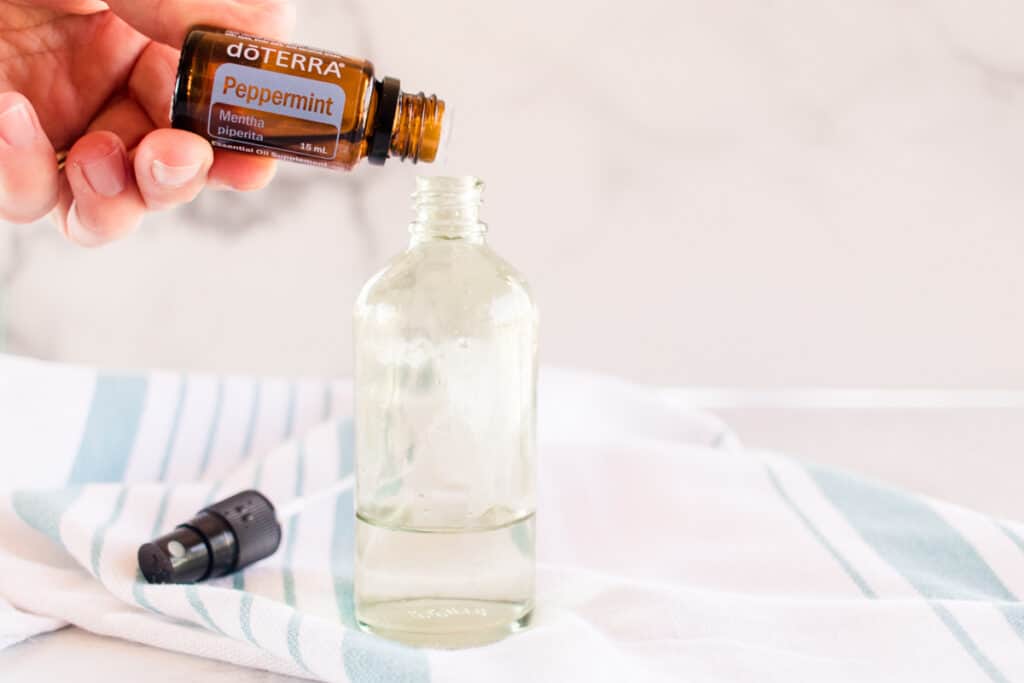 If only we lived in a world where mice didn't crawl into our homes. Wouldn't that be a blessing?
But let's get real. Mice may affect us at some point. And it's essential to get on top of a mouse problem before it spirals out of control.
Mice troubles tend to come with the territory of rural living and cold weather. They seek comfort, sustenance, and safety in the walls and floorboards of your living space.
And now – some good news! Did you know there are fantastic essential oils to eliminate mice?
They work exceptionally well at repelling mice due to their strong scent, which causes sensitivity to a mouse's nose.
The result is mice stay a safe distance from your home – if you use essential oils regularly as a repellent.
I'll explain how to use a homemade mouse repellent, aka strong essential oil repellent, in this post.
After all – we don't want to harm mice if we can help it.
But doing something to move them onward and away from our homes is always a good idea.
Essential oil mouse repellent
First, let's talk about the natural mouse-repellent option. I know many want to expel and exterminate mice the quickest (and deadliest) way possible, but frankly, I think this way is just as effective.
I much prefer the idea of repelling mice. Because repelling means they won't come back in a hurry, and it's kinder to stress levels if you ask me.
Of course, there are different natural mouse repellents out there. Cats are useful if you choose a hunting breed and are one of the more realistic mouse control methods out there.
I've overheard, too, that sonar-type repellents can be effective, but I haven't any personal experience with these.
Essential oils are my favorite method because they work, it's simple, and they make the house smell lovely too.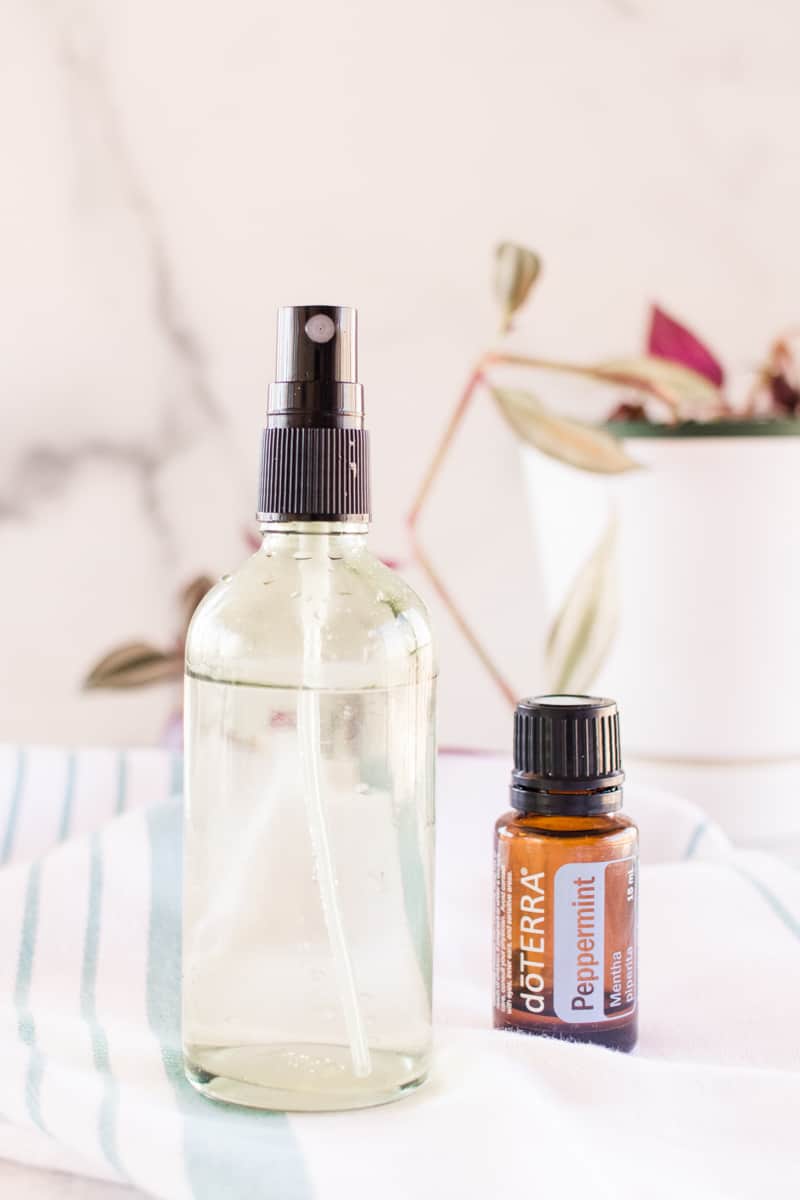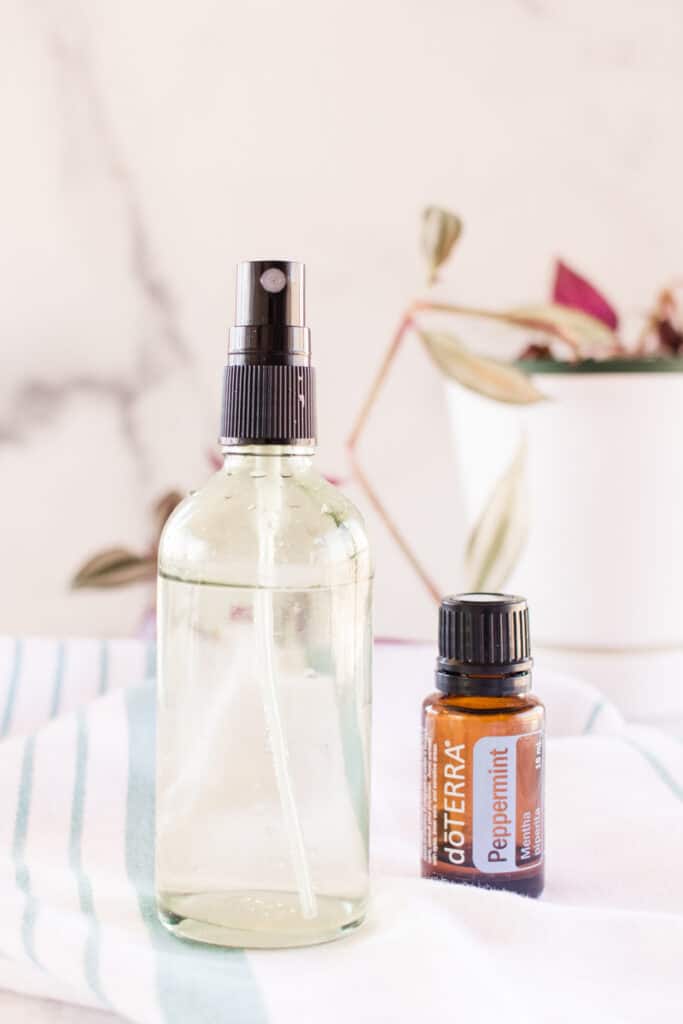 DIY peppermint spray for mice
The essential oil which is by far the best at repelling mice is peppermint oil. It's fantastic stuff!
I'll share how to use peppermint oil for mice in the next section, but I want to explain why this essential oil works so well against mice.
Put simply, peppermint essential oil is highly potent with a strong scent. Even a few drops give off that intense menthol-like smell which makes your eyes shed tears.
I use peppermint essential oil in my bug and tick repellent and ant repellent recipes.
One sniff and the theory is – peppermint essential oil disrupts their nasal receptors, so they struggle to smell and locate food and water.
As a natural response, mice would retract their steps and head back the way they've come to escape the peppermint smell.
How to use peppermint oil for mice
What you'll end up with if you use this natural mice-repellent is a peppermint spray that you can spritz along your baseboards, around your basement, closets, and walls.
Pretty much spray this solution anywhere mice can be found (look out for droppings for clues on their whereabouts.)
You'll need a 4 oz glass spray bottle and a funnel that fits inside the spray bottleneck.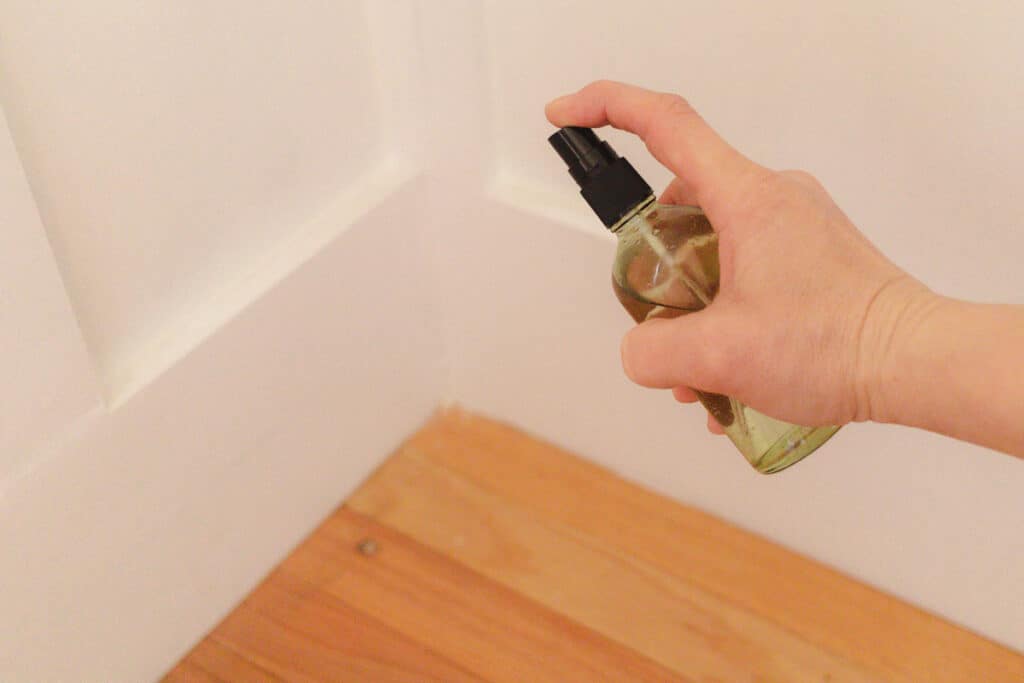 This post may contain affiliate links, which means I make a small commission at no extra cost to you. Get my full disclosure here.
how to make peppermint oil spray to repel mice
For this recipe, you will need
Instructions:
Add the peppermint essential oil to the spray bottle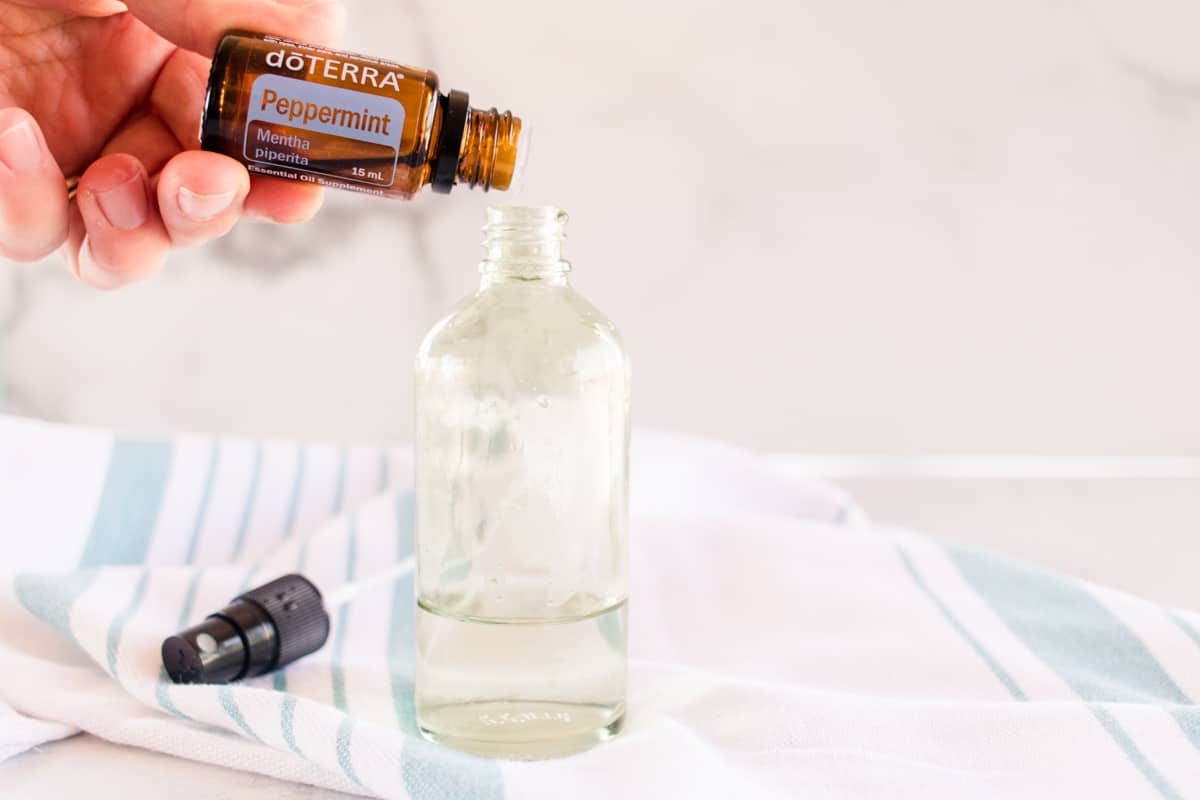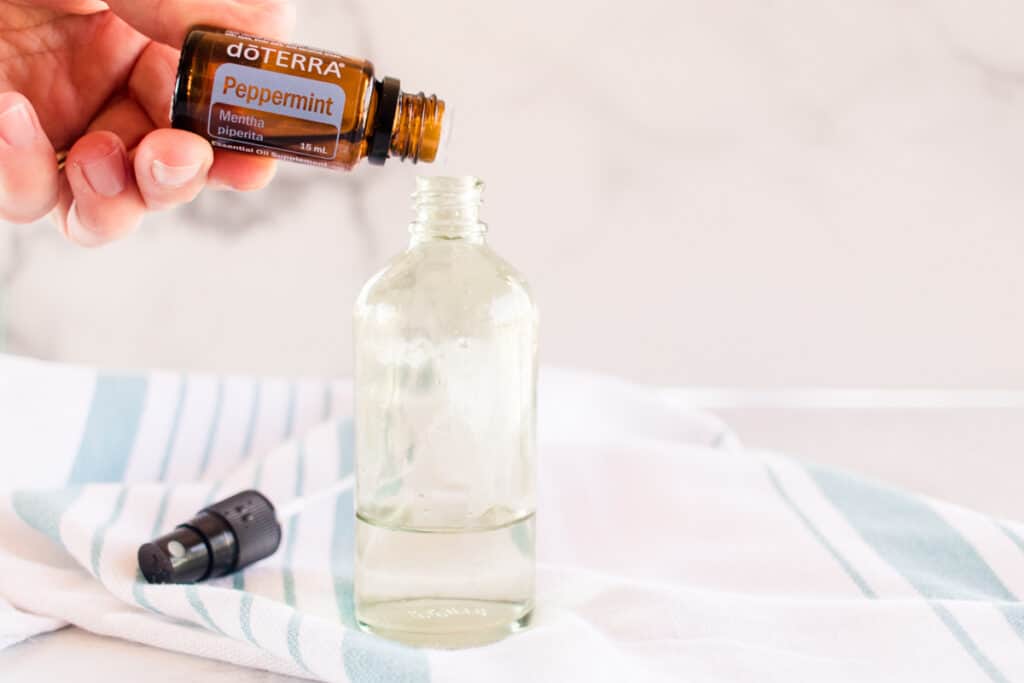 Use the funnel to top off with equal parts (50/50) witch hazel and water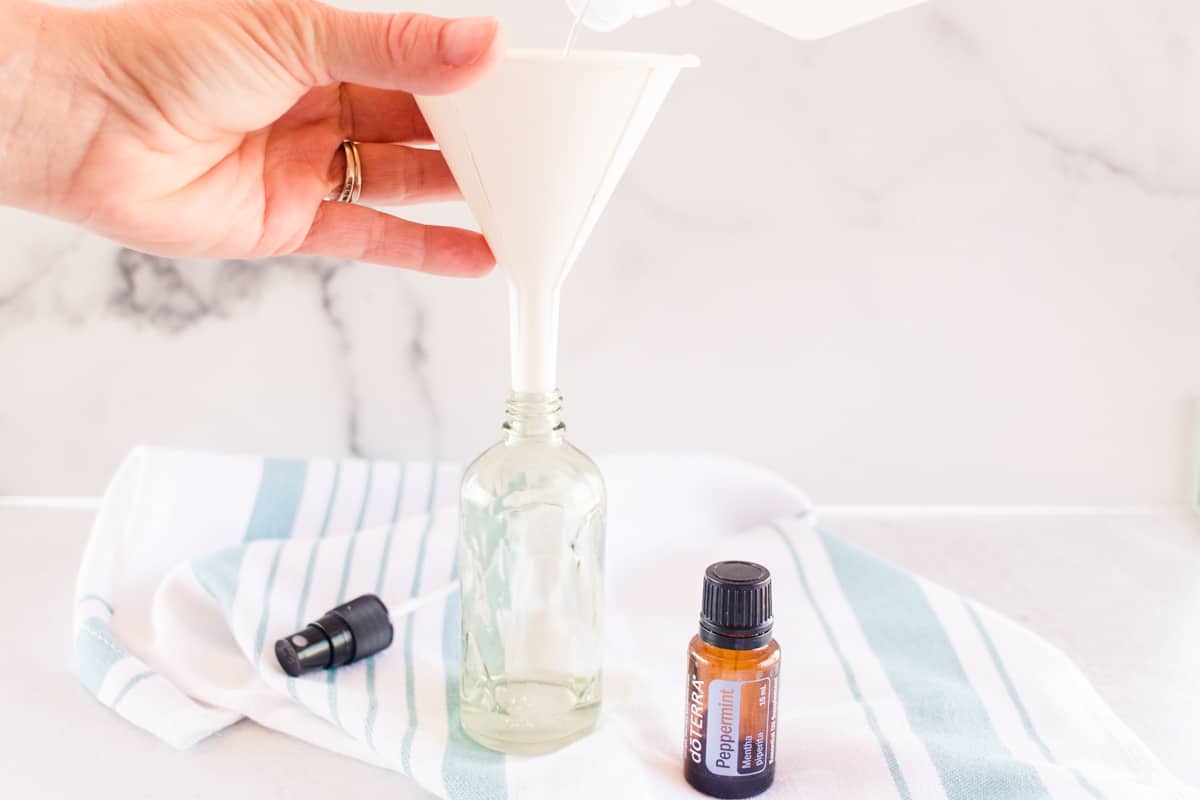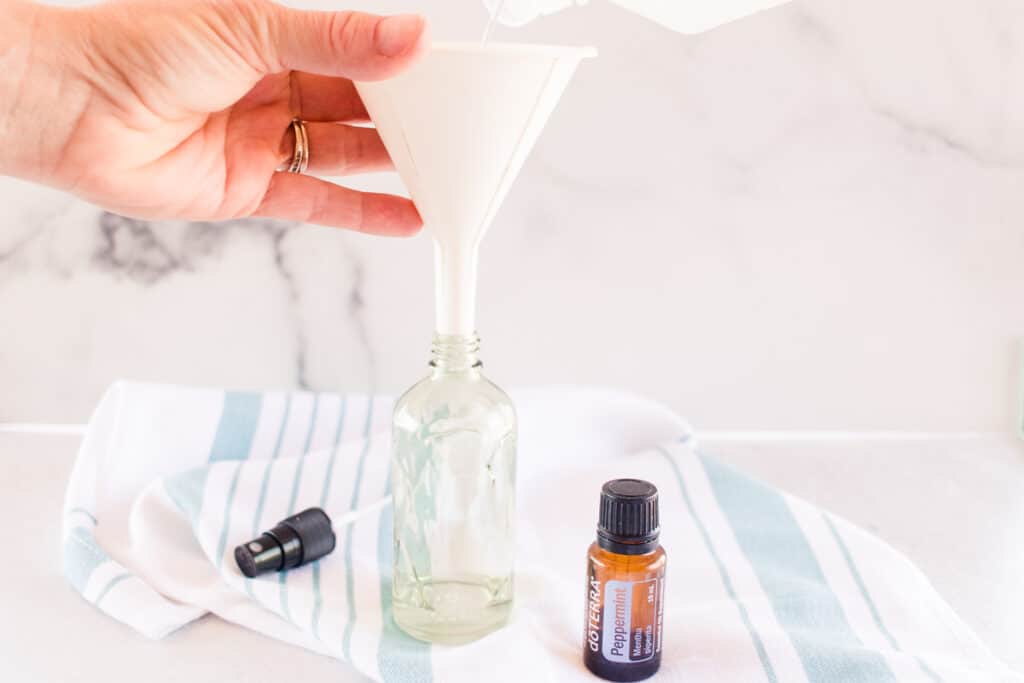 Secure the lid and shake well.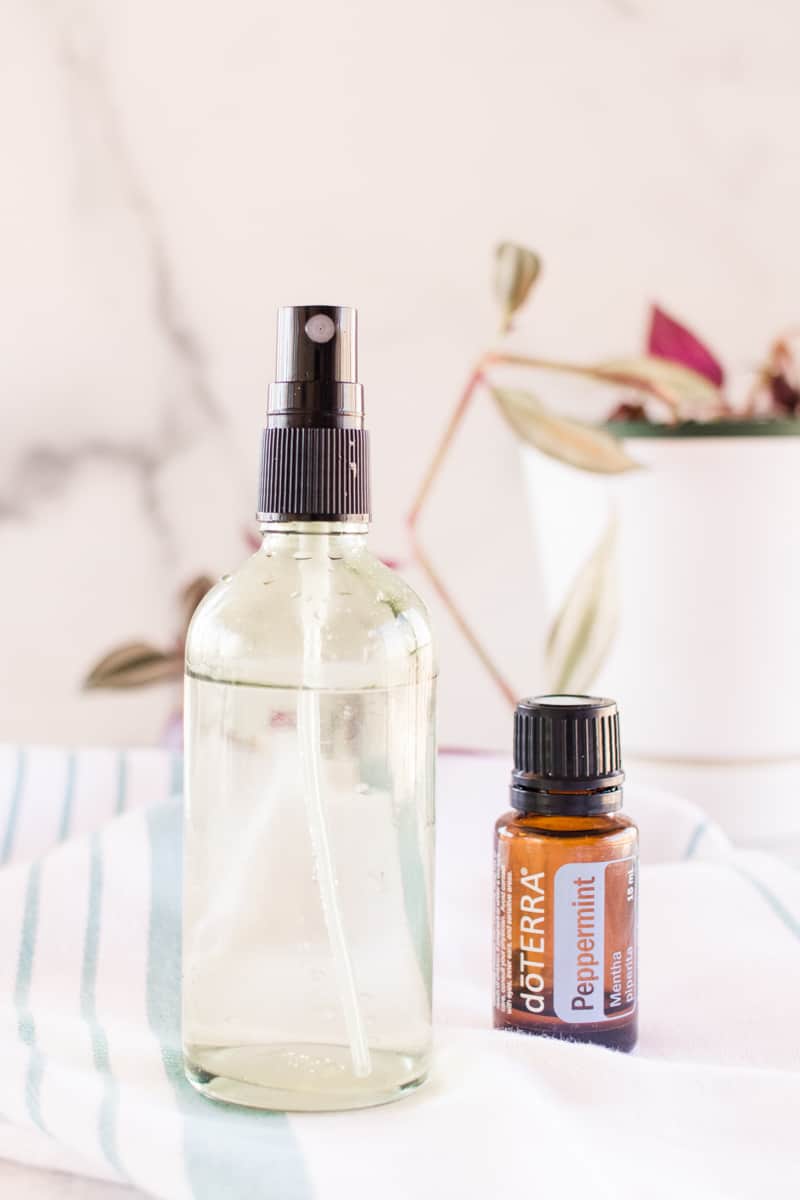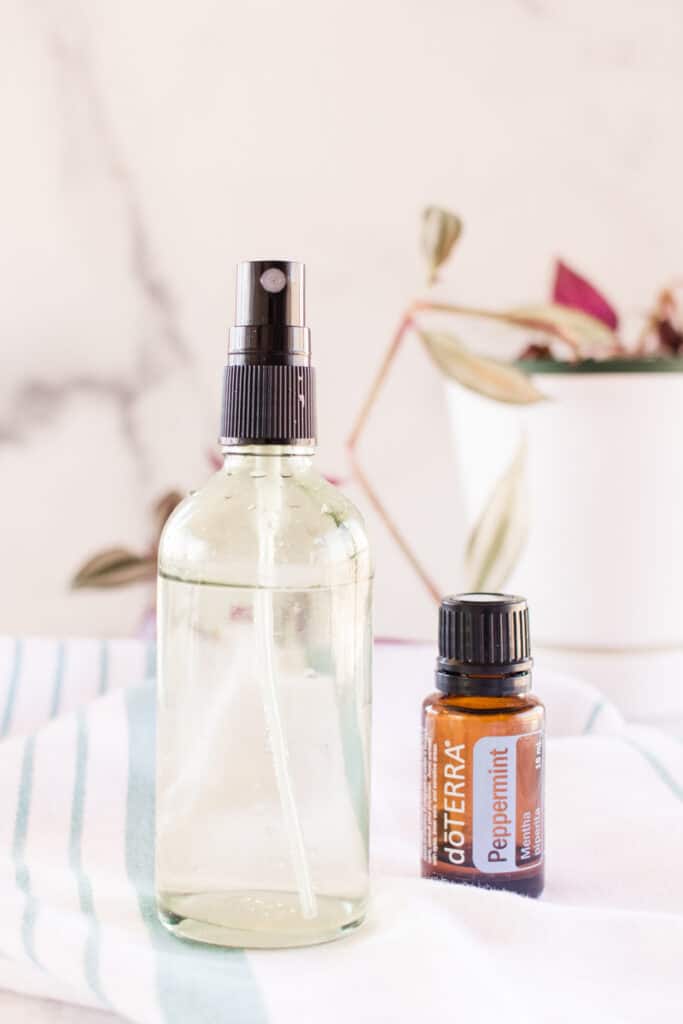 How to use the Peppermint Spray for Mice
Mist along the baseboards, inside closets, around the border of the pantry, and dark corners in the basements.
Mice generally run along walls and not in wide open spaces of the rooms.
Check out the FAQ section below for tips on keeping mice out of the attic.
FAQs
How long does the scent last?
The peppermint spray will start to diminish after it's applied but should be effective for around 24 hours. Much after that, and the smell will be too mild to work.
All you need to do is apply another spritz when you can't smell it anymore.
Read the following section where I mention cotton balls with peppermint oil!
Is the smell of peppermint strong enough to repel mice?
Yes, it is! The scent of peppermint can make areas unattractive and intolerable for mice. As a result, they will avoid the area.
You must spray, or place cotton balls in any area mice may be present to completely remove them from the premises.
Is there anything I can do for enclosed spaces that I can't access (attics etc.)
Peppermint Spray
Yes! I spray this peppermint solution onto a cotton ball and throw them up into attic spaces or any area that's tricky to access.
The scent seems to last longer on a cotton ball than on things like floorboards and baseboards – on cotton balls, the scent lasts around two days, I find.
Peppermint Cotton Balls
Additionally, you could add 3-4 drops of neat peppermint essential oil straight to a cotton ball to give some extraordinary repellent action!
I find cotton balls great as you don't need to reapply the oil daily, and you can leave them up in those hard-to-reach places for as long as you need to.
This method will stay effective for up to 5 days!
Note: Only use peppermint cotton balls in the attic or areas your pets can't get to them.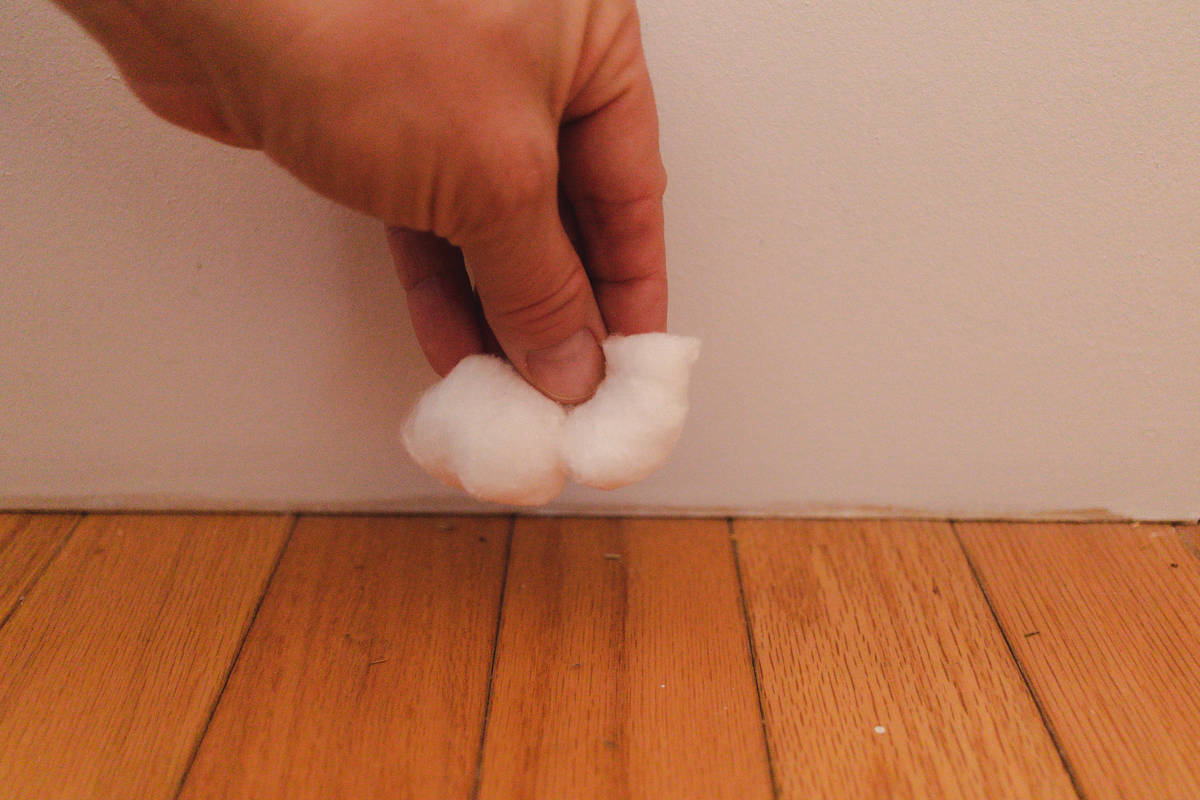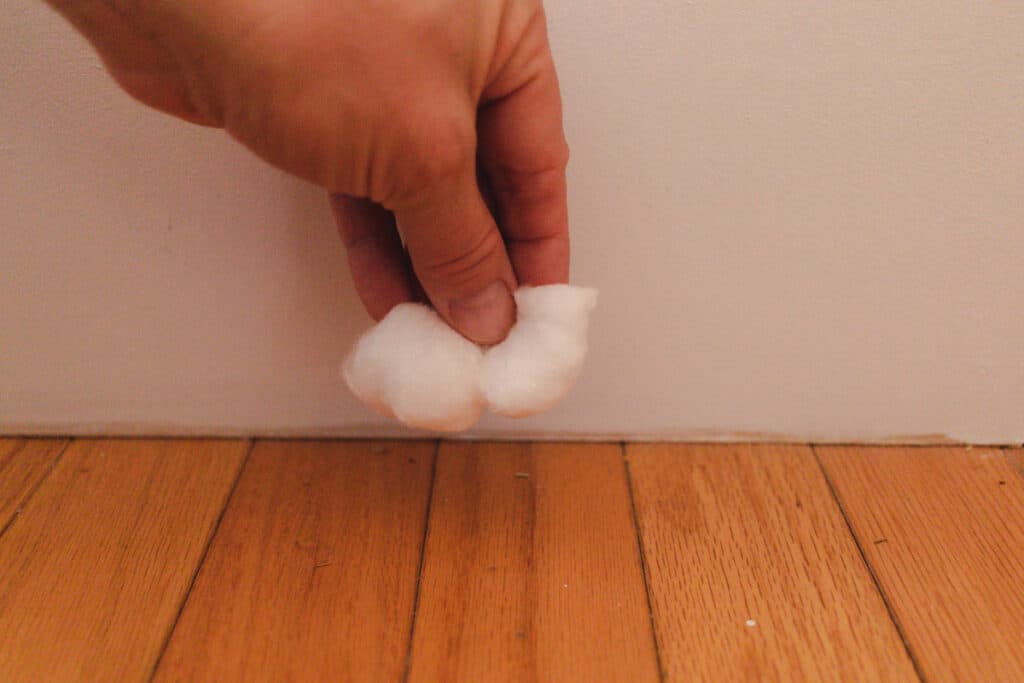 What other smells do mice hate
If, for whatever reason, you don't want to use peppermint oil to repel mice, here are some alternative smells you could try.
I have limited experience with these, but I have heard success stories from others, so there is no harm in trying.
Is peppermint oil safe for use around pets
Pets can be sensitive to peppermint oil, so I advise not using it in the same area as the pet in question.
Important! It can be dangerous if pets eat peppermint oil, so avoid this at all costs.
Of course, if you have a severe mice infestation, it's worth getting a professional to sort out the problem.
Key Takeaways
Pest control with essential oils is a safe and natural way to get rid of indoor mice.
With the right recipes and a few key ingredients, you can make your own effective mouse repellents from the comfort of your own home.
Monitor the area for any signs of activity after your initial treatment and repeat as necessary.
I hope you found this a helpful post and that it helps with any mice troubles you have in your home.
Feel free to ask me any questions or comment below. And if you enjoyed this post, I recommend reading one of these next.
Yield: 4 ounces
Essential Oil Mouse Repellent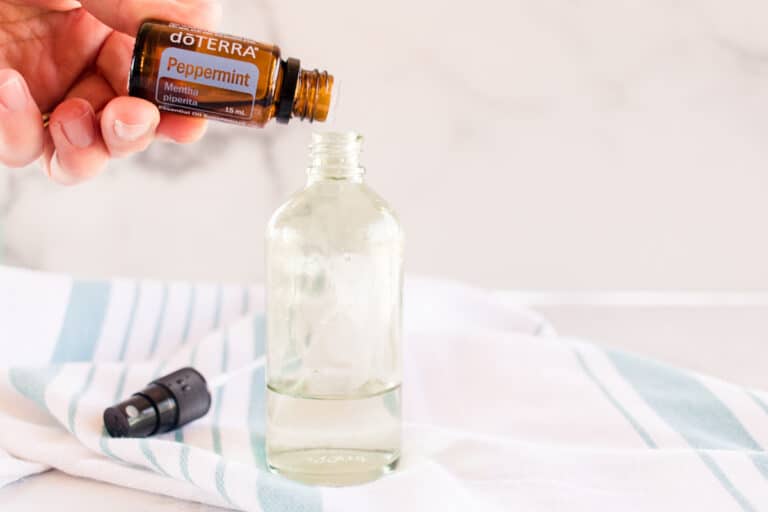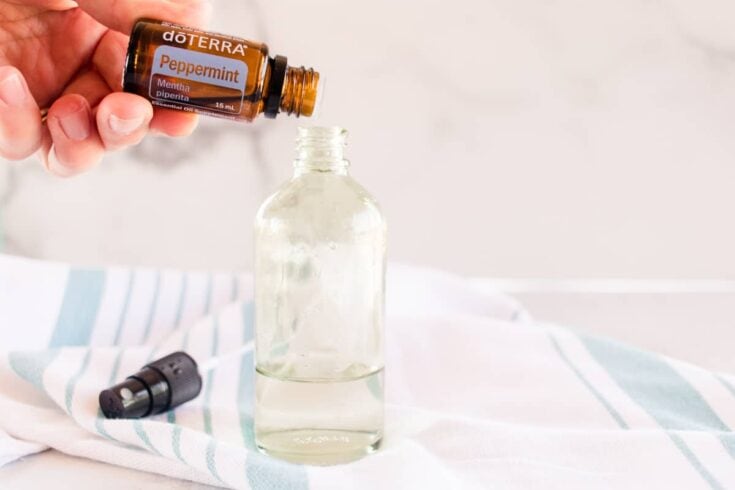 Repel mice and other rodents naturally with this simple, yet effective essential oil mice repellent spray!
Materials
Equal parts unscented witch hazel & water
Instructions
Add the peppermint to the spray bottle
Use the funnel to top off with witch hazel and water
Secure the lid and shake well.
Notes
This recipe will last between 4 and 6 months.
Store the spray in a cool dark area.