Learn how to make mothballs with this simple tutorial. Mothballs can help keep your most precious linens and clothing safe in storage. These homemade mothballs are made using all-natural herbs and essential oils.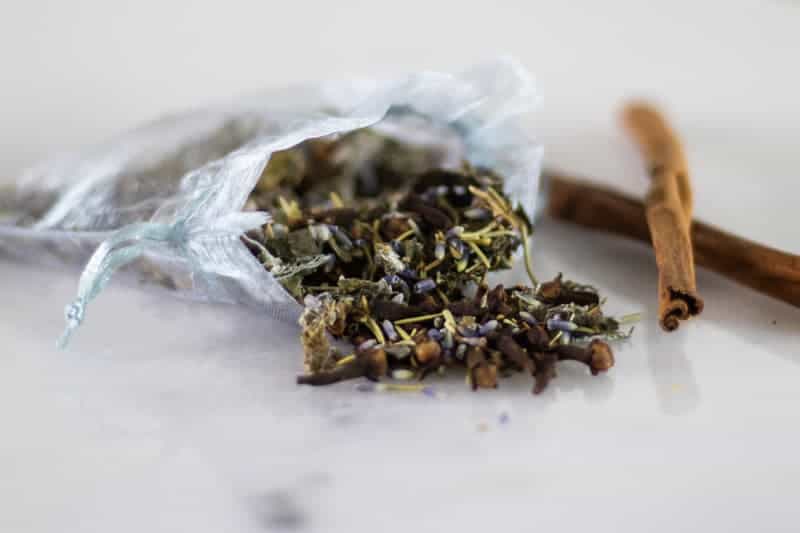 I remember always having mothballs in the back of my dresser as a kid. We lived in a very old farmhouse growing up. I thought it was just another one of those "old house things." If you ever lived in an old house, you know the things I am talking about.
This post was written by request from a reader looking for a recipe for mothballs. As I began researching the topic, I quickly realized, conventional mothball ingredients contained chemicals that are harmful to both humans and pets. So I decided to make my own with all-natural ingredients!
PIN IT FOR LATER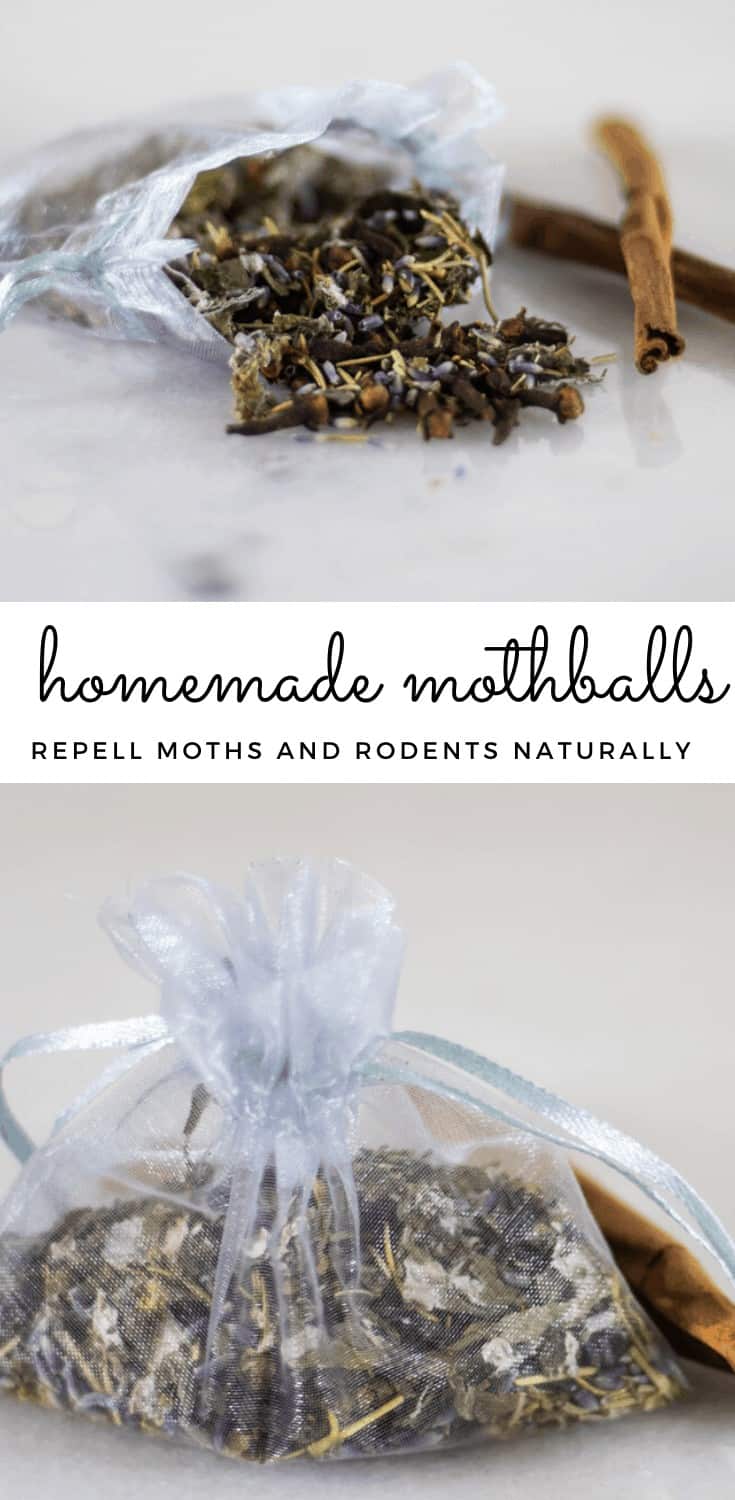 WHAT IS A MOTHBALL?
A mothball is a small ball or pellet that has different chemical pesticides infused into it that give off a scent to repel moths and moth larvae breeding in your clothing. It can also repel other insects, rodents, snakes, and raccoons when placed outdoors.
Mothballs can be placed in the back of dresser drawers, closets, or storage containers containing clothing, blankets, towels, or linens.
Moths larvae that are trapped inside are forced to find food sources. They usually eat clothing made from animal fibers such as silk, wool, cashmere, or fur.
WHAT ARE MOTHBALLS MADE OF?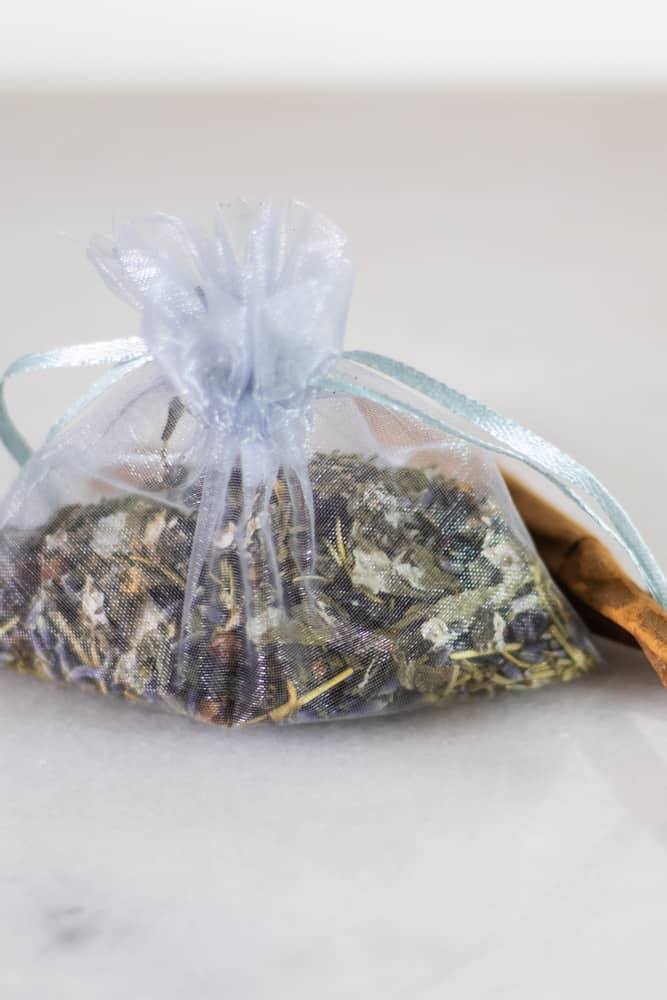 Mothballs are made of chemicals that release fumes when exposed to air. They are commonly made of naphthalene or para-dichlorobenzene, which are both very toxic chemicals, according to the environmental working group.
The chemicals found on mothballs can be toxic to humans and pets. This is why I decided not to use store-bought mothballs in my home. It is suggested to keep them out of the reach of children, which is almost impossible because kids can get to the hardest to reach places. It made more sense to make a natural option to avoid the worry.
If you are using traditional mothballs, be sure to keep them out of reach of pets in the house too. The smell is less than desirable, but like children, dogs can get into things they shouldn't.
HOW TO GET RID OF MOTH LARVAE
During the summertime, it can be hard to keep flies, ants, spiders, and moths out of the house. As the weather warms up, all the bugs come out to play too! We spend a lot of time outside during the summer, and along with that goes a lot of doors being opened and closed.
I am constantly telling the kids to close the door or the never-ending mom saying "IN OR OUT." It is inevitable that we will have insects getting in. I use my homemade bug spray to deter most flying insects. And peppermint essential oil for ants and spiders.
As the months warm up, it is time to put the big blankets and comforters in storage. To keep them safe from mice and moth larvae, you can make your own mothballs.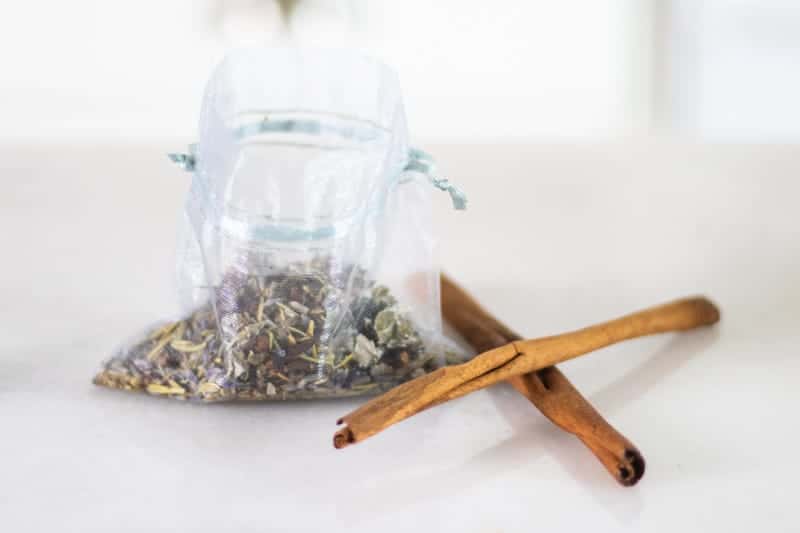 HOMEMADE MOTHBALLS
This post contains affiliate links, which means I make a small commission at no extra cost to you. Get my full disclosure HERE.
Using herbs and essential oils, making your own is a great mothball alternative. Homemade mothballs won't actually be a ball at all, but instead, it will be a little shear bag of fresh herbs, dried flowers, cinnamon sticks, and essential oils.
You can place cotton balls with essential oils on them for a quick alternative, but adding the extra herbs makes them even more effective.
Making your own mothballs (or bags in this case) is very simple. All you have to do is stuff the bag with the suggested herbs and drop the essential oils on top.
It is important to use a breathable bag so the scent can get through easily. Shear material or muslin cotton works great!
HERBS FOR MOTHBALLS
These herbs and spices are great at repelling moths and discouraging them from breeding.
ESSENTIAL OILS TO DETER MOTHS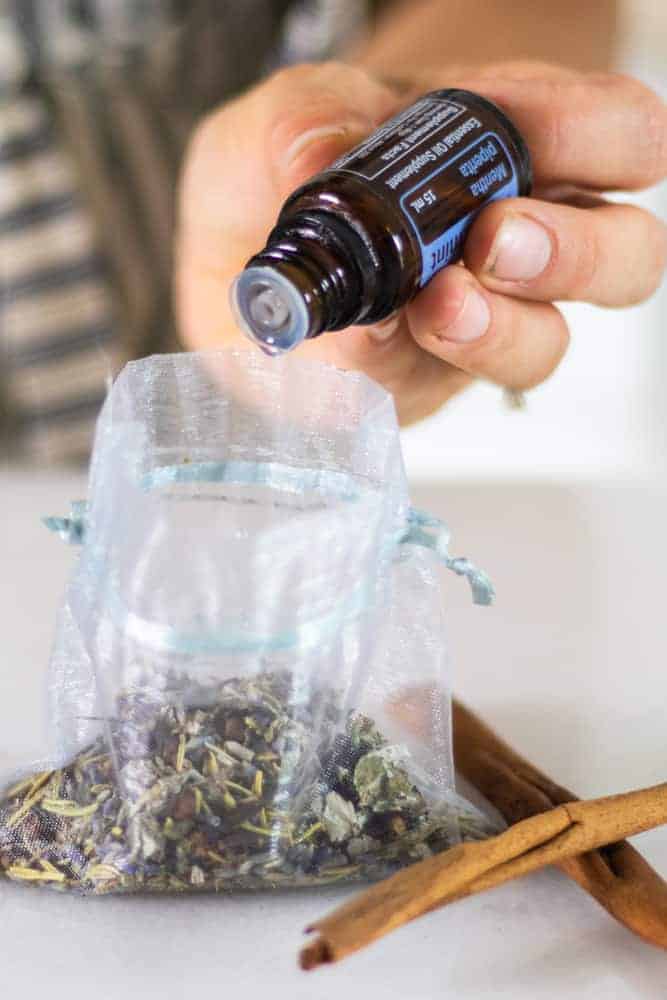 Lavender
Peppermint
Spearmint
Rosemary
Clove
Thyme
Cinnamon
Get all the essentials needed here.
I am using the same essential oils as herbs in this recipe. I added in spearmint, as anything minty will work. Almost all bugs and insects do not like the smell of mint, so in my opinion, the more, the merrier.
Dropping essential oils into the bag over the herbs will make the mothballs much more potent.
As your mothballs start to lose scent or you notice them not working as well, you can add more essential oils on top of the dried herbs.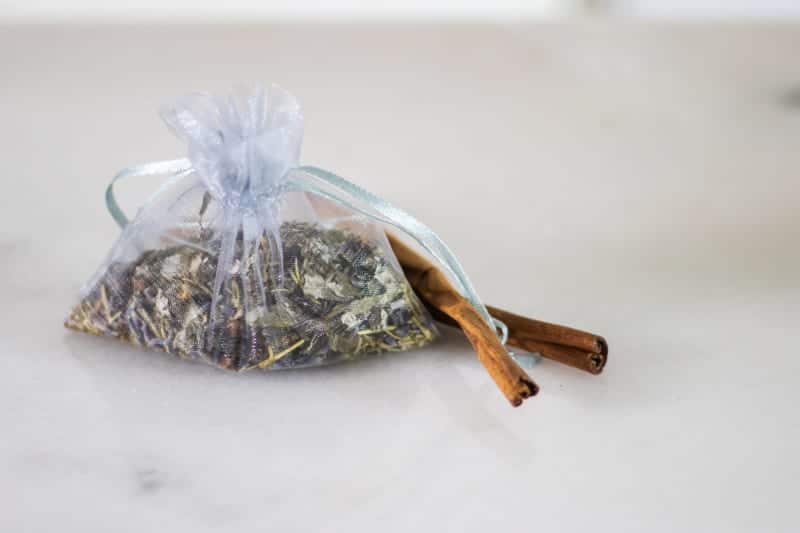 HOW TO MAKE MOTHBALLS
The amount of each herb and essential oils you will need for this DIY will depend on the size of the bag you use. This recipe doesn't have to be exact. It is more of an add a little of this and a little of that type of recipe.
I start off by pouring equal parts of the dried herbs into the small bag. With the little bags I have, I used one tablespoon of each. Then, add a cinnamon stick to each bag.
Add 15-20 drops of essential oils, choosing from the above list, on top of the herbs.
Pull the drawstring on the bag to close the gap slightly, this will prevent anything from falling out, but don't seal it tight. Again, we want the scent of the herbs and essential oils to be able to easily escape from the bag.
HOW TO GET RID OF CLOTHES MOTHS
To discourage clothes moths, place your homemade mothballs in the back of drawers in your dresser, storage containers, and closet. If you are using them to prevent moths and other insects from getting in, you will only need one in each area.
In addition to ridding the area of moths, these little sachets keep the area smelling lovely! Great for musty-smelling closets or dressers
If you already have a problem, you can place multiple bags in one area to help get the problem under control even quicker.
I have been asked if mothballs would be effective in getting rid of bed bugs. While bed bugs will not particularly like the scent of mothballs, the best and really only way to get rid of bed bugs is through direct contact, such as a bed bug spray.
If you made this recipe, let me know how it turned out in the comments below! And if you are looking for more solutions for getting rid of pests, you may like this wasp spray recipe next!
Homemade Mothballs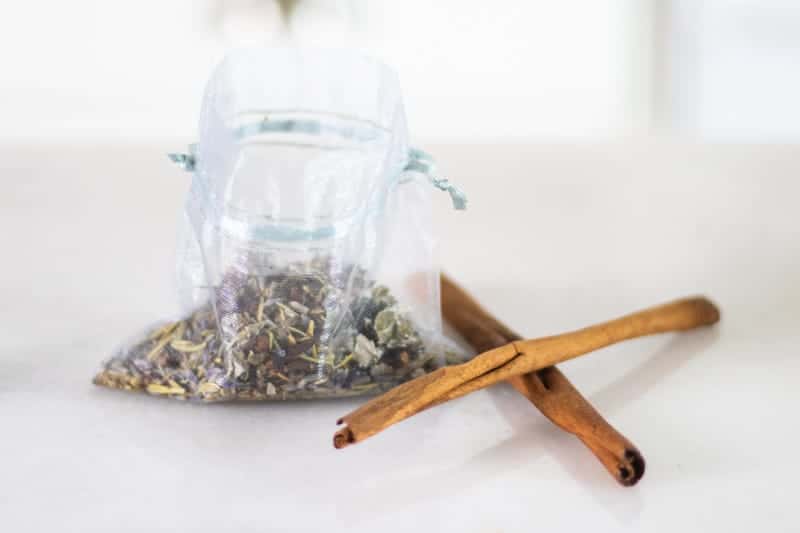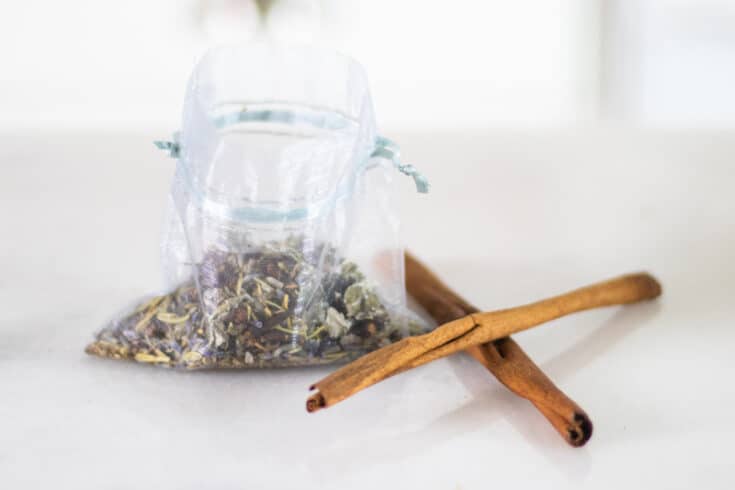 Materials
1 tablespoon dried lavender buds and flowers
1 tablespoon dried peppermint leaves
1 tablespoon dried rosemary
1 tablespoon dried clove buds
1 cinnamon stick
15-20 drops essential oils
Small breathable bag
Instructions
Add equal parts of the dried herbs into the small bag.
Place a cinnamon stick into the bag.
Drop essential oils on top of herbs.
Pull drawstring slightly to avoid any spilling, but don't pull tight.
Place bags in the area of concern.
Notes
As the scent fades over time, simply drop more essential oils over the top of the herbs to extend the life of the mothballs.