Pink Himalayan salt is a known culinary staple, but did you know it is actually good for you? Not just to eat, it also has impressive benefits for the skin and hair. Learn how to use pink salt for more than just cooking!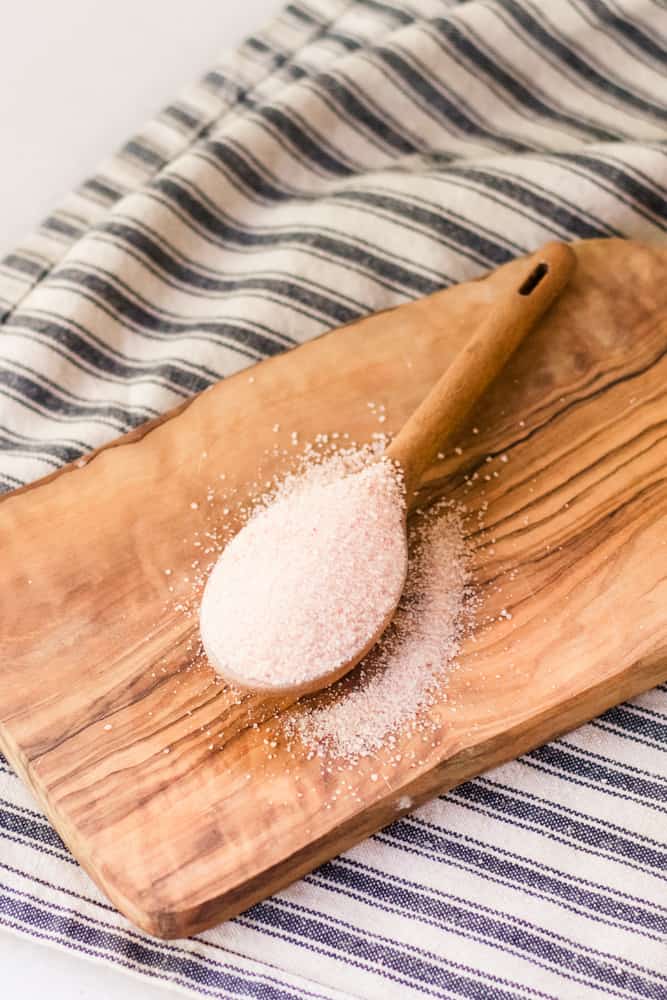 What is Pink Himalayan Salt?
Himalayan pink salt comes from the salt that is mined from the rock crystals near the Himalayas. It is technically sea salt and gets its pink color from the traces of minerals found in the salt.
Pink salt is mined by hand so that there is almost no waste from the manufacturing process. As a result, it is minimally processed and contains more trace minerals than table salt.
Himalayan lamp salts
I'm sure by now; most everyone has seen or heard of a Himalayan salt lamp. Often sitting atop a corner table casting a dim yet beautiful pinkish glow in an otherwise dark room. But do you really know why someone would bother making a lamp out of salt?
True Himalayan salt lamps are mined from the Khewra salt mine in Pakistan. These lamps are used in many households to improve air quality, have been claimed to produce negative ions, which help boost the mood and improve sleep.
Though there is minimal evidence to support many Himalayan salt lamp benefits claims, based on the evidence surrounding pink salt in general and many testimonials, it is likely salt lamps may provide some benefits, though minimal at best.
History of the pink salt
Pink salt dates back to Alexander the Great; it is claimed that while resting in what is now Pakistan, the horses were licking the stones which were found to be salt from the mines. Since then, people have used Himalayan pink salt for spiritual benefits, health, skin, and of course, seasonings. The modern minings of this salt began in the 1800s.
Is Pink Salt Good for You?
Pink salt is a much healthier option over iodized table salt. It is rich in minerals and contains 84 trace minerals. In addition, this salt has a beautiful pink color varying from light to dark pink.
Table salt, on the other hand, is highly processed, refined, and finely ground. During the process, almost all the nutrients are lost, and anti-clumping agents are added. According to this article by Dr. Axe, many table salts contain aluminum derivatives, yellow prussiate of soda and other known toxic ingredients.
How to Use Himalayan Salt
When using pink salt for cooking, it can be used the same as with any salt—substituting equally with table, sea, or any type of salt.
Himalayan salt can also be used to make salt scrubs, detox baths, muscle soaks, or used to remove dead skin.
10 Uses for Pink Himalayan Salt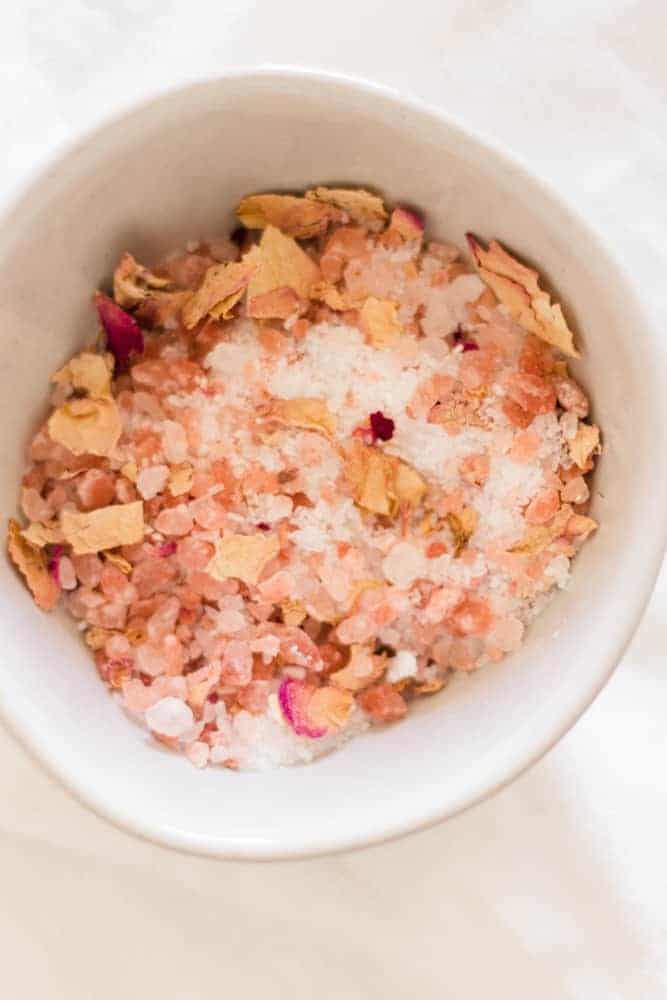 Body Detox Salt Scrub
Detox Bath Soak
Mouthwash to remove bacteria and freshen breath
Balance pH
Help with muscle cramping and aches
Purify the air
May improve sleep
Supports healthy weight
May aid digestion
Support healthy respiratory system
Himalayan Pink Salt Recipes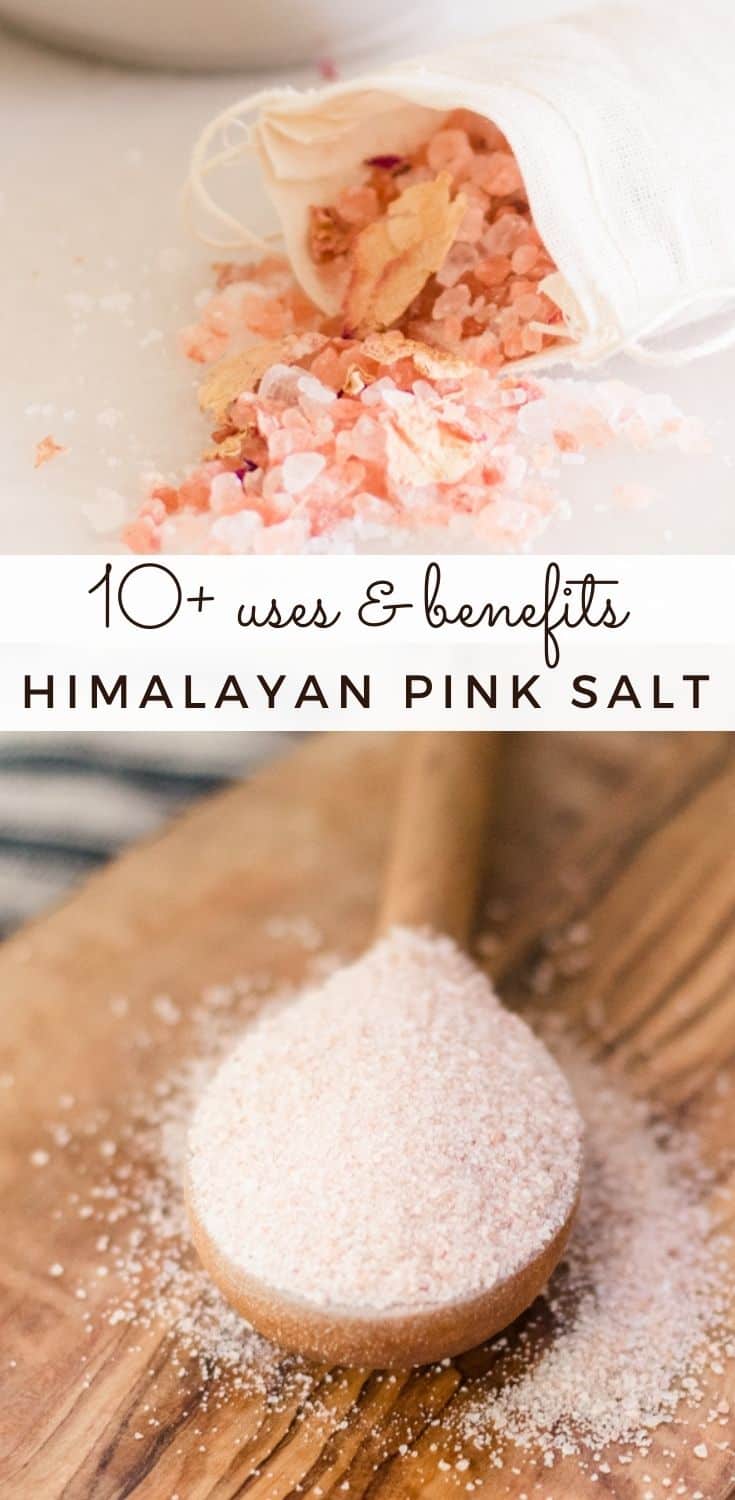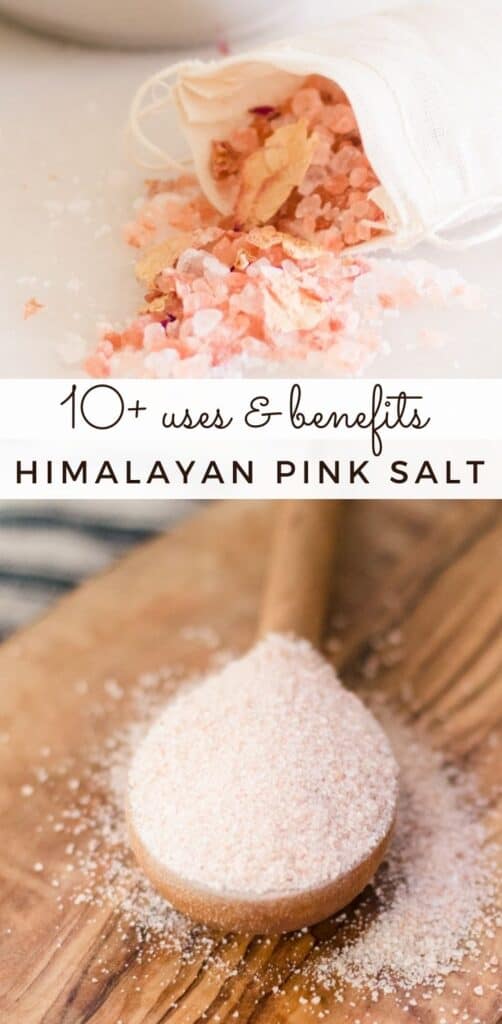 Himalayan Pink Salt Scrub
Making a salt scrub at its most basic form is simply a matter of mixing together salt and oil. Then, for scent and added benefits, similar to my whipped sugar scrub, add in essential oils and vitamin E oil.
Using a salt scrub can exfoliate the skin, remove dead skin cells, and will leave your skin soft and smooth.
This post contains affiliate links, which means I make a small commission at no extra cost to you. As an Amazon Associate, I earn from qualifying purchases. Get my full disclosure here.
Ingredients
Instructions
Add all of the ingredients to a small mixing bowl and stir well.
Store in an airtight container.
Massage a small amount into the skin, focusing on dry areas, rinse with warm water.
Himalayan Pink Salt Mouthwash
Rinsing or gargling pink salt can help remineralize teeth and kill bacteria in the mouth.
Gargling salt water can help alleviate discomfort caused by sore mouths and throats.
It is best to use fine pink salt as it will dissolve better than coarse salt.
Ingredients
1 teaspoon fine pink salt
1/4 cup distilled water
Instructions
Warm the water in a small sauce pan over low heat.
Stir in salt until fully dissolved.
Gargle the salt water for 2-5 minutes and spit out.
Himalayan Pink Salt Muscle Soak
Taking a salt bath can help with muscle cramping and joint aches. I like to use a blend of pink salt and Epsom salt.
Adding in a few drops of essential oils to soothe muscles can be helpful too! Peppermint, lavender, frankincense, or marjoram are great essential oils to help with cramping and discomforts.
Ingredients
Instructions
Add all the ingredients to a mixing bowl and stir to combine.
Pour 1/4 cup of the mixture into a warm bath.
Soak for 20 minutes.
Store the rest of the bath soak in an airtight container to use at a later time.
Himalayan Salt Benefits for the Skin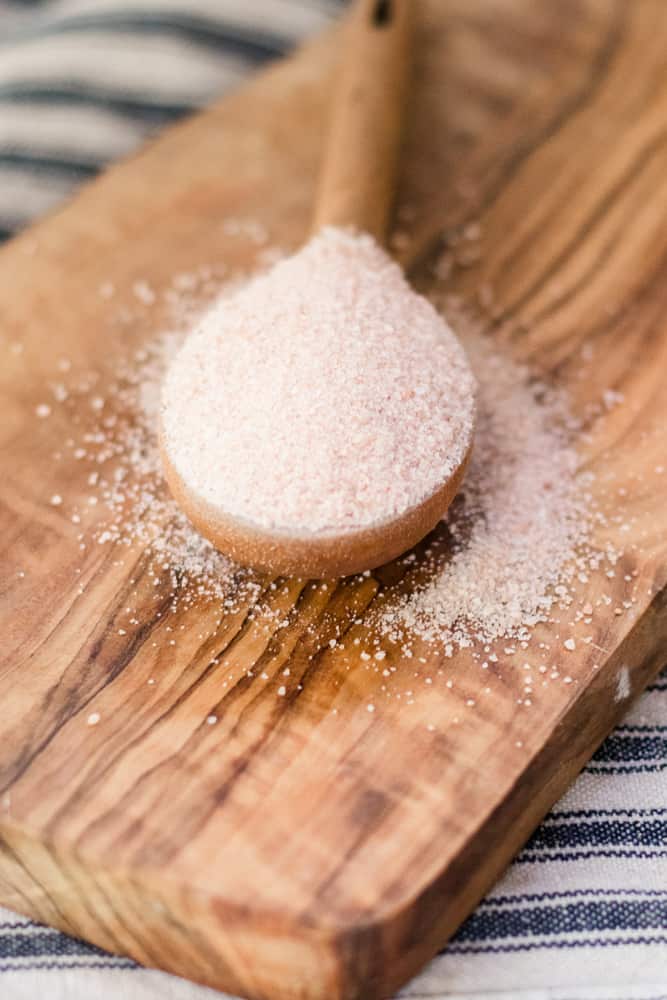 By now, we know pink salt is a healthier alternative in the kitchen for seasoning dishes. But, there are still a number of beneficial ways to use this salt for the whole body.
Pink salt is a natural antiseptic, so it can be used to cleanse and purify the skin. In addition, when used on the skin, either in salt scrub or bath soak, it can hydrate and exfoliate the skin.
It can reduce swelling and itch that is caused by skin irritation and rashes. The minerals found in pink salt can help your skin keep a healthy barrier and retain moisture.
Himalayan Salt Benefits for the Hair
When used in the hair, pink salt can help exfoliate your scalp and reduce dandruff. It can help loosen flakes of skin and stimulate hair follicles. The salt will absorb excess oil, leaving your hair clean and soft.
To use salt in your hair: sprinkle a teaspoon of salt on your part line, massage the salt into the scalp, allow it to sit, then wash out with a natural shampoo and conditioner.
Note: wet the tips of your fingers before massaging the salt into your hair.
Himalayan Salt Benefits for the Face
Using salt on the face can have some benefits, but you need to be careful doing so. Salt can be very abrasive for sensitive skin, such as the face, so take it slow and use your own judgment.
Be sure to use fine salt rather than coarse salt on the face. And always mix with a carrier oil or into a face wash.
Using a fine salt facial wash or facial toner can soften the skin on the face, remove impurities and blackheads. The anti-inflammatory properties found in salt can soothe damaged skin, reduce acne, and calm skin irritations.
In Summary
Himalayan pink salt is anti-inflamatory, antibacterial, and antiseptic.
Pink salt can be used to cleanse, purify, and soothe skin irritations.
Himalayian pink salt is full of minerals that can improve skin, reduce muscle cramping, or be used to freshen breath.