Easy meal prep to go for healthy lunches or dinners. These healthy meal prep ideas are simple to make and only require a few ingredients which can be eaten cold and on the go. Watch how I prep one week's worth of healthy lunches in one hour using a whole chicken.
MEAL PREP TO GO
Coming up with healthy meal ideas can be hard. Those ideas are even harder when you are trying to meal prep on the go! If you work outside the home or attend school, finding healthy meals for lunch is extremely important. I eat most of my meals at home, but I pack a lunch for my husband every day.
Most days, I send him leftovers from the night before, while other days, I might make him something different. He prefers simple meals due to his busy schedule, which frequently results in him multitasking while eating. A simple meal that does not need to be warmed up is a must for him.
It takes so much stress off me if I can meal prep all of his meals in one day, having them packed and ready in the refrigerator.
PIN IT FOR LATER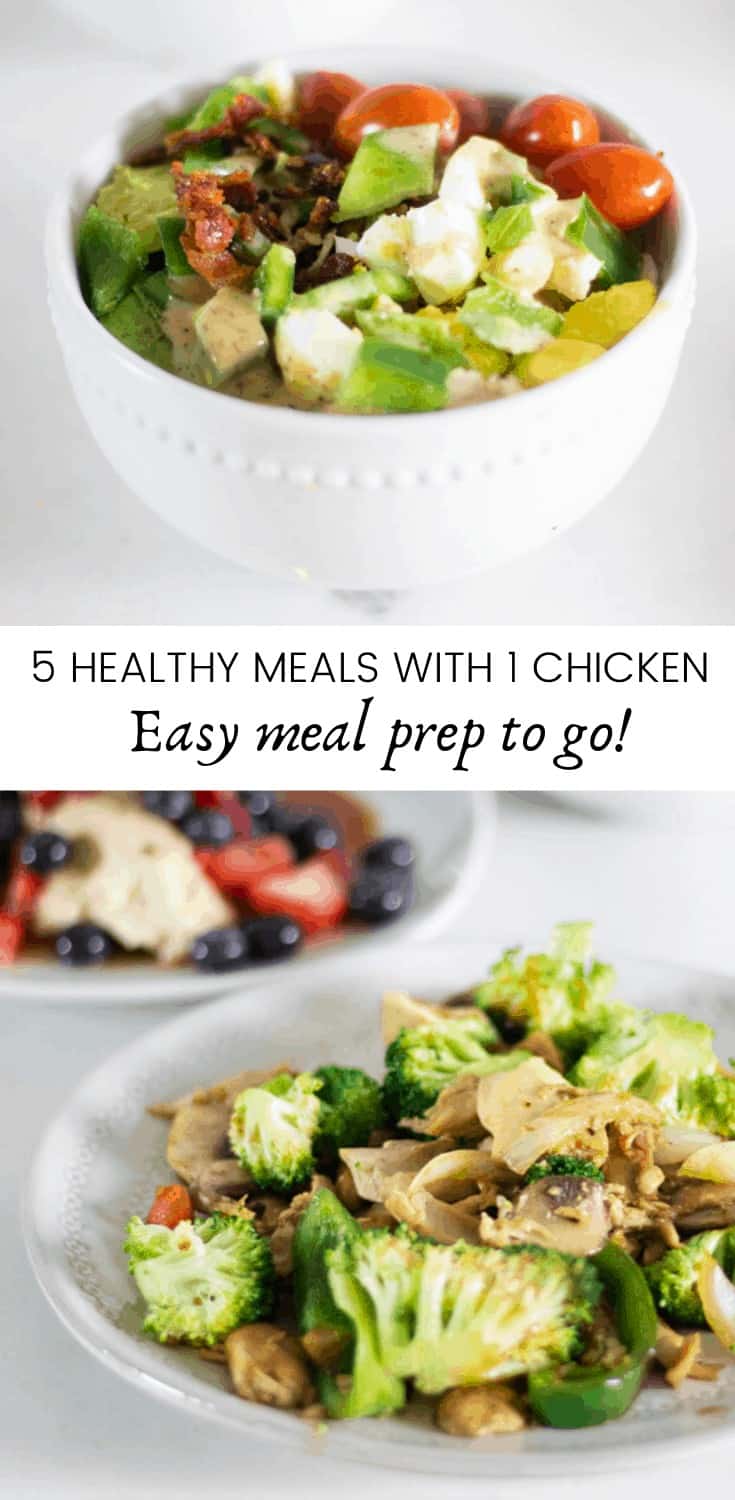 This post may contain affiliate links, which means I make a small commission at no extra cost to you. As an Amazon Associate, I earn from qualifying purchases. Get my full disclosure here.
EASY MEAL IDEAS
Like most people, I am busy, and whipping up fast meals is a must. I like to keep them simple but healthy. Making several different meals with similar ingredients makes it easier, but still gives a lot of variety.
Below I share 5 healthy meal ideas that can be eaten cold and on the go. These meal ideas are perfect for packed lunches at work or school. I like to use glass storage containers with locking lids for packed lunches. It keeps the food fresh longer and keeps anything from leaking or spilling.
These meals are designed for working adults, and each meal is a single serving. I have shared healthy meal ideas for kids and my top 10 tips to get picky kids to eat healthy if you are looking for lunch ideas for the kids.
MEAL PREP COOKBOOK

For more meal inspiration and the ultimate meal prep guide, check out my printable 30-days of healthy eating meal plan. It has over 100 easy and simple recipes, weekly grocery lists, and a one-month menu plan. The menu plan includes breakfast, lunch, dinner, and snacks.
HOW TO MEAL PREP LUNCH FOR THE WEEK WITH ONE CHICKEN?
Ok, so here I am going to show you how to make five very different meals out of one whole chicken. These meals are loaded with vegetables or fruit, lots of flavors, and let's not forget the chicken.
If you are eating a whole chicken for dinner, it is best when roasted in the oven, in my personal opinion. I love that crispy skin! However, oftentimes I make whole chickens in the instant pot. This is especially convenient if you forget to defrost it since it can be cooked from frozen in the instant pot.
For the recipes below, you will want to cut off the two chicken breasts, then shred the rest of the meat into a large bowl. You can then use the bones to make homemade bone broth for soups.
HOW TO MAKE A WHOLE CHICKEN IN AN INSTANT POT
Remove the neck and giblets from the inside cavity and place the chicken in the instant pot.
Add 1/2 cup of water or broth.
Sprinkle with your favorite seasonings. I use salt, pepper, garlic, and onion.
Cook on high pressure for 30 minutes and let it release pressure naturally.
#1 GRILLED CHICKEN WITH BERRY SALSA

INGREDIENTS
1 grilled chicken breast
1 cup strawberries, diced
1 cup blueberries
1/2 cup balsamic vinegar
2 tablespoons red onion, diced
1 teaspoon salt
1 lemon, juiced
Fresh rosemary, chopped
INSTRUCTIONS
Add all the ingredients (leaving out chicken, lemon, and rosemary for now.) Stir until well combined.
Sprinkle with rosemary and squeeze the juice of the lemon over top the salsa.
Pour over grilled chicken breast.
Place in a lunch container and store it in the refrigerator.
#2 GRILLED CHICKEN SALAD

INGREDIENTS
1 grilled chicken breast, sliced
2 cups Romaine lettuce, chopped
Chopped cherry tomatoes
1/2 red onion, chopped
1/2 cup diced green pepper
1 avocado
2 slices bacon, diced
1 hard-boiled egg, diced
1/8 cup avocado oil
1 tbsp apple cider vinegar
1/4 tsp salt
1/8 tsp black pepper
1/4 tsp dried oregano
INSTRUCTIONS
In a large salad bowl, combine lettuce, cherry tomatoes, onion, green peppers, bacon, egg, and avocado.
In a small bowl, mix together oil, vinegar, salt, pepper, and oregano. Pour over salad and toss to coat.
Top with grilled chicken.
Place in a lunch container and store it in the refrigerator.
MORE SALAD DRESSING OPTIONS
#3 CHICKEN SALAD LETTUCE WRAPS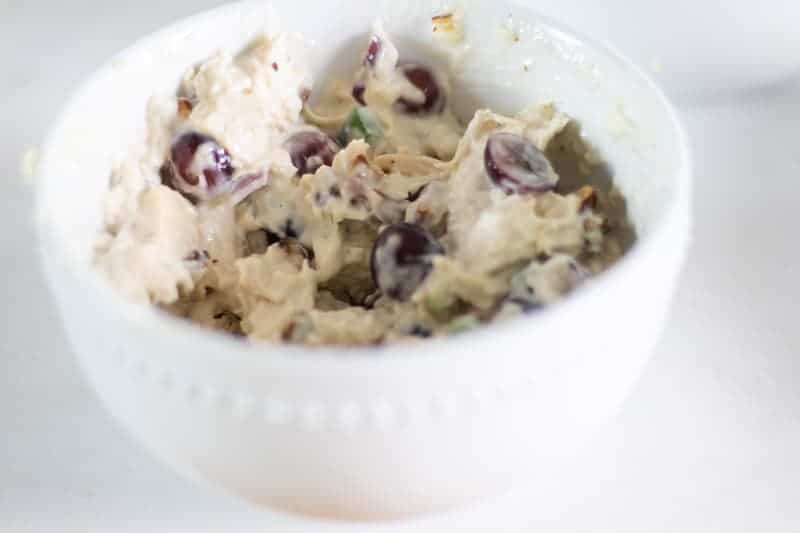 Chicken salad is always on the summer meal plan, but it can be eaten at any time of the year. It is the perfect meal to prep to go! You can easily customize it to your liking by adding in nuts, fruit, celery, or onions. It can be sweet or savory and always delicious.
INGREDIENTS
1 cup shredded grilled chicken
Avocado mayonnaise (or make homemade)
Grapes (optional)
Chopped nuts (optional)
3 large romaine lettuce leaves
INSTRUCTIONS
Place the desired amount of chicken in a bowl and mix it with mayonnaise.
Add any extra fillers, stir well.
Lay 3 lettuce leaves on a large plate.
Scoop chicken salad into the lettuce leaves and spread evenly.
Tightly roll the lettuce up.
As you wrap, tuck the ends of the wraps towards the middle.
Continue to roll the lettuce wrap tightly.
Place in a lunch container and store it in the refrigerator.
#4 CHICKEN STIR FRY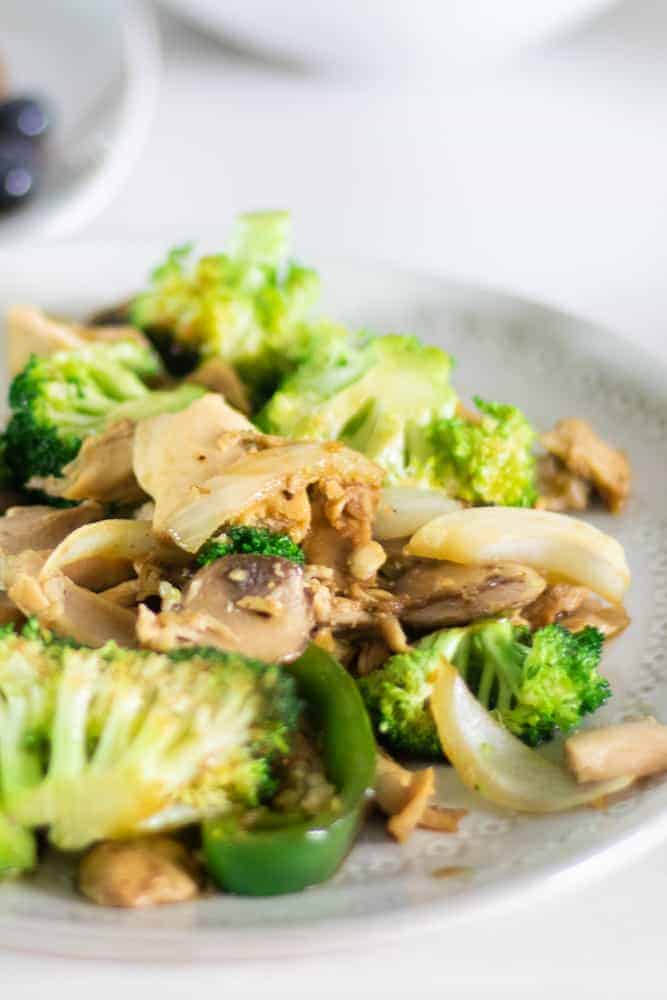 INGREDIENTS
1 cup shredded chicken
2 tbsp avocado oil
2 garlic cloves, minced
1/2 cup onion, sliced
2 cups broccoli florets
1/2 red bell pepper, sliced
1 cup mushrooms
1 carrot, diced
2 eggs
INSTRUCTIONS
Heat oil in a cast-iron skillet. Once it is hot, add onions, broccoli, garlic, and bell peppers. Cook until vegetables are tender.
Add in shredded chicken, mushrooms and coconut aminos. Simmer with the lid on for about 3 minutes or until mushrooms are cooked.
Place in a lunch container and store it in the refrigerator. Eat cold or warm up in the microwave.
#5 MEXICAN CHICKEN BOWL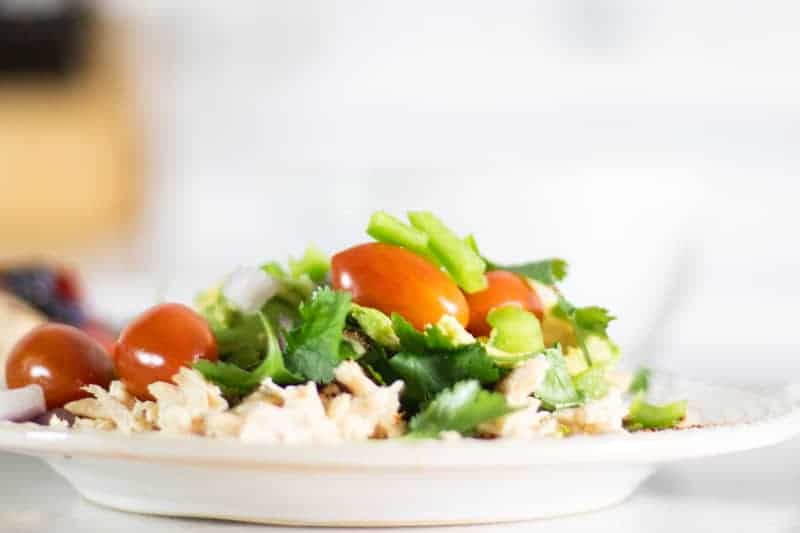 INGREDIENTS
1 cup shredded chicken
1 tablespoon paleo taco seasoning
1 lime
1/2 cup pico de gallo
Avocado slices
INSTRUCTIONS
Sprinkle taco seasoning over chicken and squeeze the juice of one lime on it. Place in a bowl.
Top chicken with pico de Gallo and avocado slices.
Place in a lunch container and store it in the refrigerator.