This lemon honey mustard makes the perfect dressing sauce, or dip. Made with natural ingredients you feel good topping your salad, chicken, or vegetables.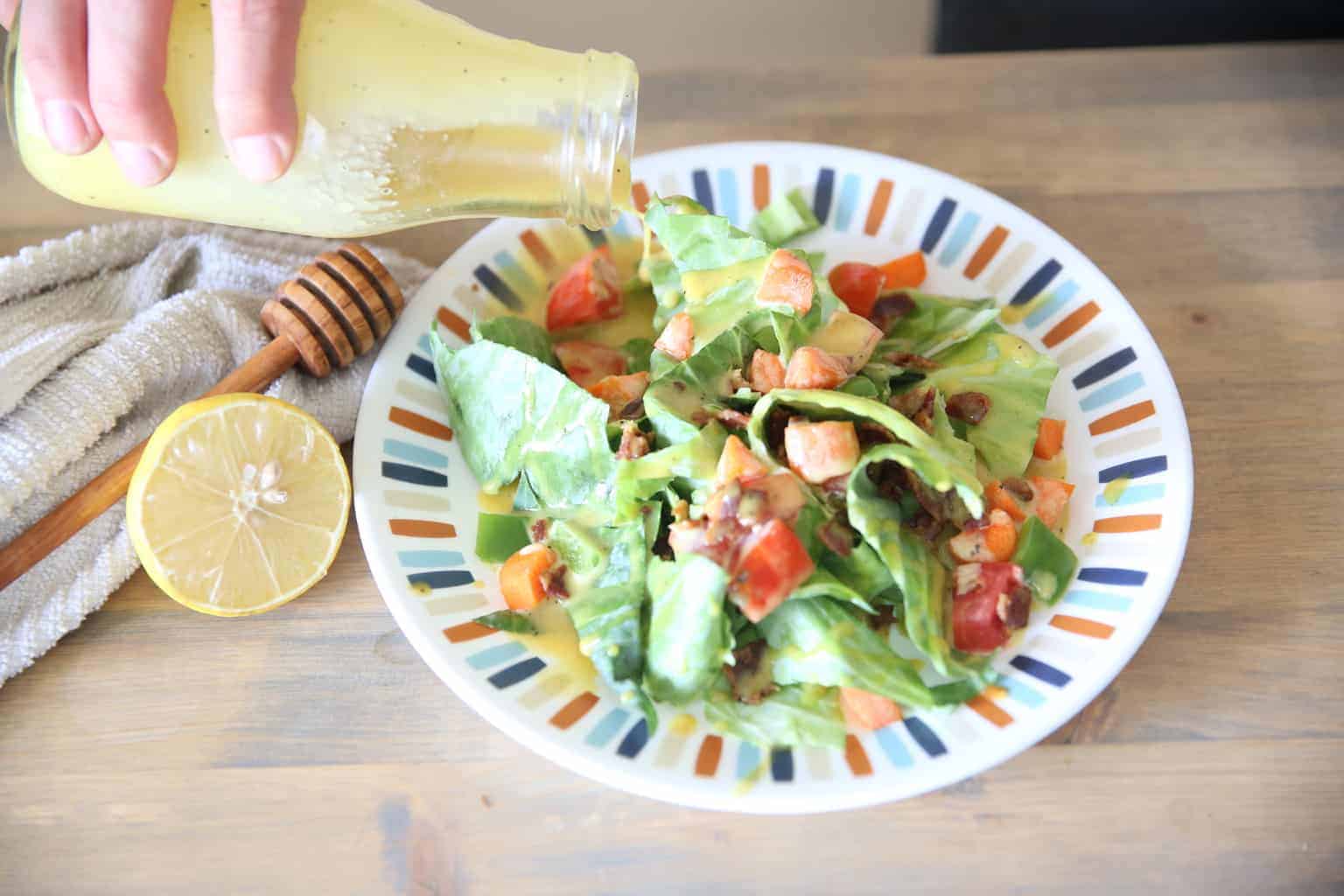 We planted a huge garden this year and to be honest; it didn't go so well. Gardening always seems fun to me in early spring, but by the end of summer, I can't wait to mow it down. Every year I forget all that goes into gardening: weeding, planting, weeding, picking, weeding, preserving, oh, and did I say weeding?
I never have the time to keep up with the garden, yet I convince my husband to make it bigger every year. Maybe when the kids are older, I will master gardening, but for now, someone, please remind me to go smaller next year!
My garden is slowly dwindling as summer comes to an end, but we are still harvesting tomatoes and squash. And I will be planting some fall crops, such as lettuce and herbs. During the summer months, we eat a lot of fresh salads from the garden. Topping it with this lemon honey mustard adds flavor without compromising our health.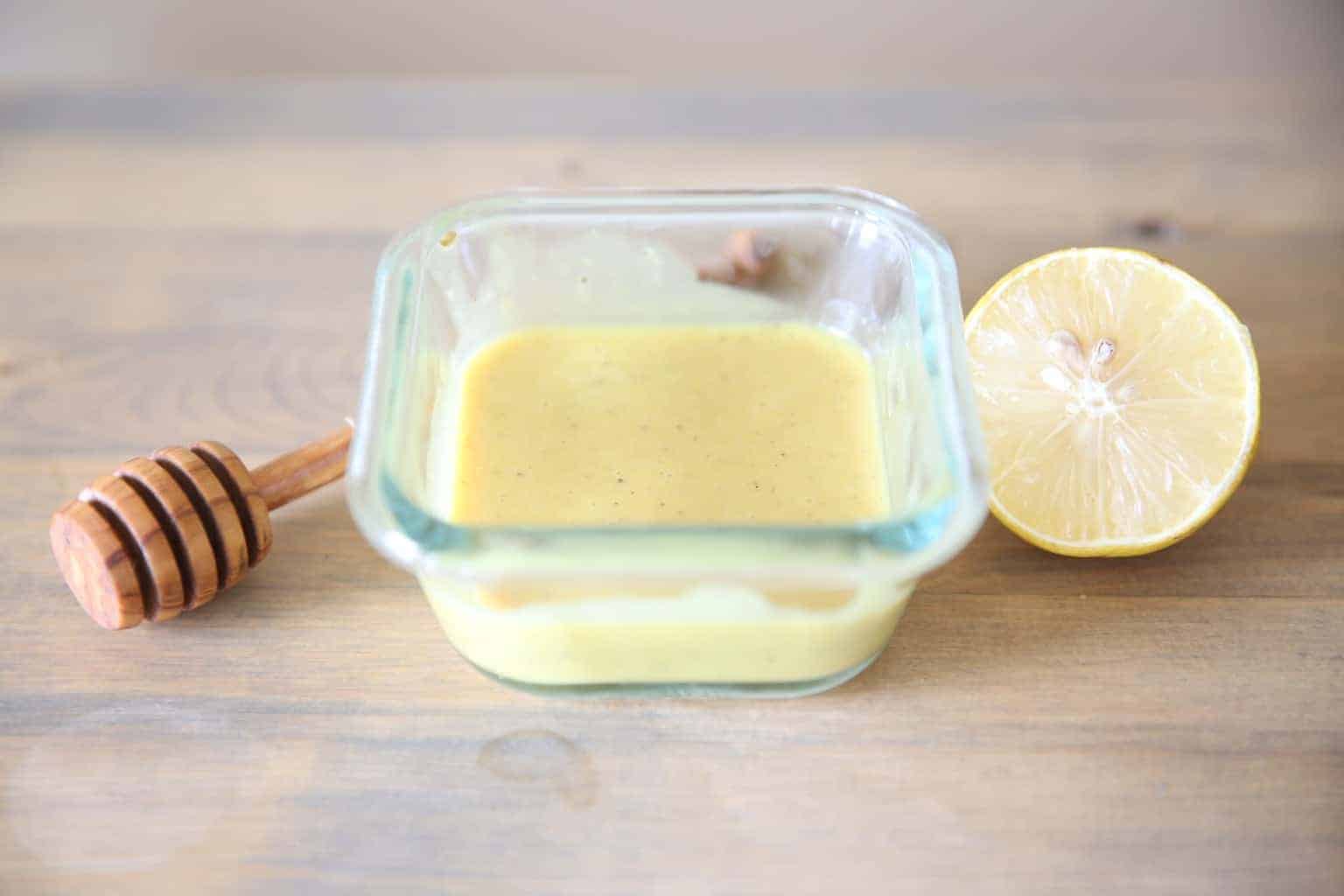 STORE BOUGHT DRESSINGS ARE FILLED WITH INGREDIENTS I LIKE TO STAY AWAY FROM
Soybean oil is likely the first ingredient in any dressing or condiment you pick up off the shelf; unfortunately, it is also high up on the list of worst foods to consume. It is found in almost all processed foods and it is commonly genetically modified (unless you are buying a product made with organic ingredients.) Studies have shown that the consumption of vegetable oils is the leading cause of cancer and heart disease.
You will also find added sugar on your dressing and condiment labels. With all the diet fads circulating (paleo, keto, whole 30, the list goes on), one thing is consistent; sugar is a no go! Sugar is addicting, suppresses the immune system, and the main cause of obesity.
Artificial dyes and flavors are often added in dressing and condiments as well. Did you know that several other countries have banned red40 food dye?! Research shows that it can cause hyperactivity in children and contains p-Cresidine, which is a carcinogen. When certain dyes were tested on mice, they caused tumors in the liver and immune system.
Among these ingredients, you will find others you will want to stay away from. It kills me to smother a healthy dish with a store-bought dressing or sauce. But if you are a condiment lover like me, don't worry; this homemade lemon honey mustard is a healthy alternative. It makes the best dressing, sauce, and dip that pairs nicely with most meals.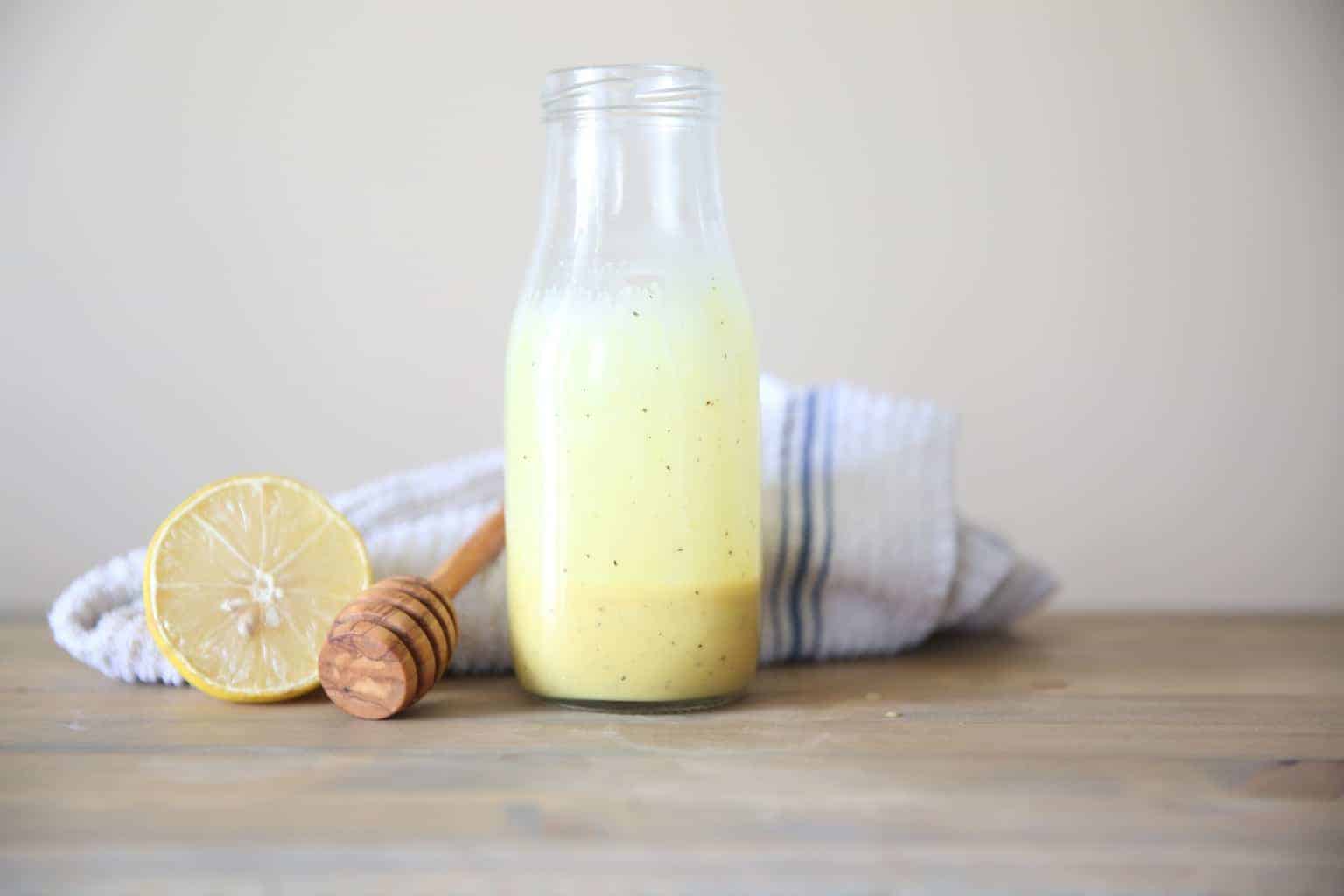 BENEFITS OF LEMON ESSENTIAL OIL
Lemon essential oil is cold-pressed from the peel of a lemon fruit. It is a very versatile oil and one of the most popular essential oils on the market.
Often added to food to enhance the flavor of desserts, sides, dips, drinks, and main dishes.
Provides cleansing effects for the body and is good for the digestive system.
Supports a healthy respiratory function.
Uplifting oil and gives a natural energy boost.
BENEFITS OF RAW HONEY
I live an hour away from an Amish community and I love visiting them every few months to stock up on raw honey. Better yet, it is local raw honey. I buy it by the gallon because it tastes amazing and has so many health benefits.
Raw honey is a good source of antioxidants.
It has antibacterial and anti-fungal properties.
It is great for the digestive tract and respiratory issues. A spoon full of local raw honey is very soothing for a sore throat and it can help relieve a cough. Add a drop of lemon essential oil to a spoonful of raw honey for a natural cough syrup.
Honey can counter pollen allergens making it a natural remedy for seasonal allergies.
This post contains affiliate links, which means I make a small commission at no extra cost to you. Get my full disclosure HERE.
OUR FAVORITE WAYS TO EAT LEMON HONEY MUSTARD
ON A SALAD- Add a cup of spring mix and a handful of chopped romaine to a salad bowl. Top with diced tomatoes, onions, avocado, and cucumbers. Sprinkle cheddar cheese and drizzle with homemade lemon honey mustard dressing. Add sliced grilled chicken if you want it to be a more sustainable meal.
WITH CHICKEN- Baked, fried, grilled, or roasted; chicken is delicious when dipped in this sauce. Therefore, after pulling a roasted chicken from the oven, drizzle it with the dressing before serving for added flavor and color.
FRIES- We own a fry daddy and boy, we have fun with it! I fill it with coconut oil, cut fresh potatoes, and fry them. Add salt and a side dish of lemon honey mustard and you will feel like you are having a cheat day. We love eating fried foods in organic coconut oil to make a healthy, tasty meal. If you don't have a frier, you can bake sliced potatoes with coconut oil and serve with lemon honey mustard.
ON A BURGER- I know a cattle farmer that delivers fresh, organic, grass-fed meat close by and we take full advantage. I have a deep freezer fully stocked with healthy beef. Grill some burgers, and serve it with sautéed onions, peppers, and a dash of lemon honey mustard dipping sauce.
WITH VEGGIES- If you have picky kids, sometimes it can be hard to get them to eat their vegetables. Most kids will eat anything when they can dip it in ketchup or ranch. Try serving steamed broccoli or carrots with lemon honey mustard for a healthy side to any meal. Or substitute it for ranch in a veggie tray.
LEMON HONEY MUSTARD INGREDIENTS
LEMON HONEY MUSTARD INSTRUCTIONS
Add all ingredients to a small bowl.
Mix until well combined.
Use immediately or store in an airtight container in the refrigerator for up to 5 days.
PIN IT FOR LATER
Yield: 4
Lemon Honey Mustard | Paleo Dressing or Dipping Sauce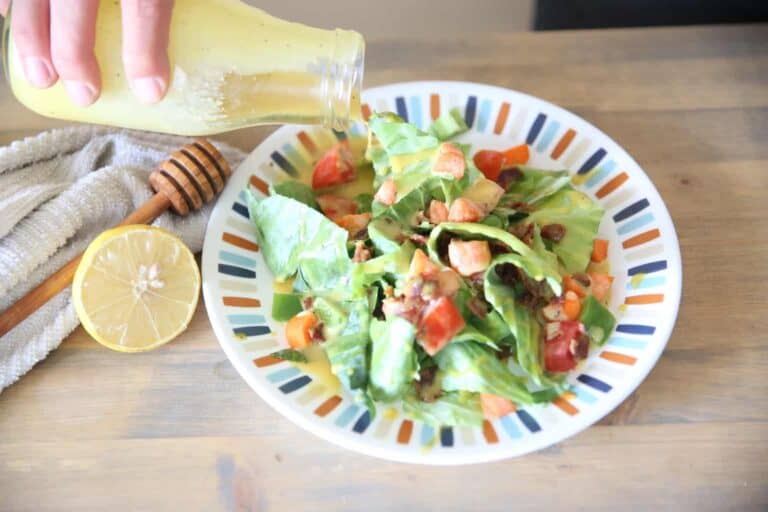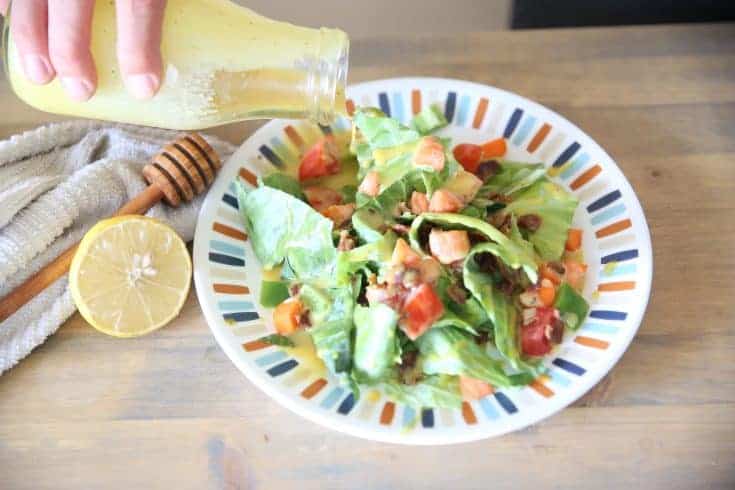 Ingredients
1/4 cup mustard
1/4 cup honey 
1/4 cup avocado mayo
2-3 drops lemon essential oil 
1/2 teaspoon salt
1/4 teaspoon pepper
1/4 teaspoon garlic
Instructions
Add all ingredients to a small bowl.
Mix until well combined.
Use immediately or store in an airtight container in the refrigerator for up to 5 days.
MORE HOMEMADE CONDIMENTS