WE LOVE OUR CONDIMENTS OVER HERE, BUT I DON'T LIKE THE INGREDIENTS FOUND IN MOST OF THEM. COMING UP WITH HEALTHY ALTERNATIVES IS A MUST; THIS HEALTHY HOMEMADE RANCH DRESSING IS DELICIOUS AND SIMPLE.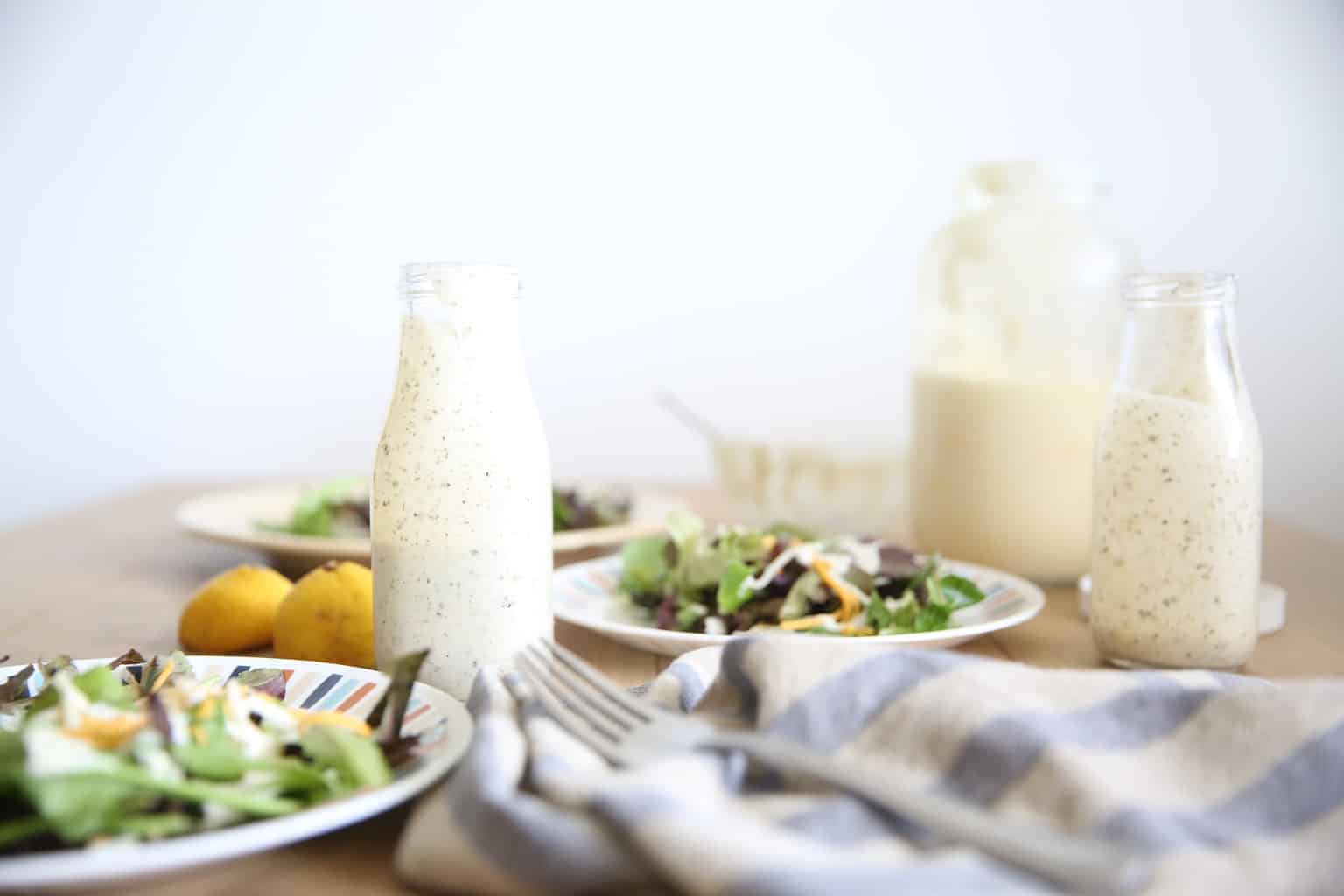 Are you one of those people that dips everything in ranch? I am more of a honey mustard gal when it comes to salads, but chicken wings and even pizza? Ranch dressing is a must.
If you answered yes to the above question and want to feel no guilt about it, this recipe is for you! I came up with this recipe one night when I made a big ol' salad for dinner and then realized I didn't have the ingredients for my homemade honey mustard dressing.
Knowing that I had some homemade yogurt in the fridge and a lot of spices in the pantry, I knew I could whip something up. The whole family loved what I came up with and it became part of the regular rotation.
HEALTHY HOMEMADE RANCH DRESSING INGREDIENTS
1 cup plain yogurt (I have made this with greek and plain, both delicious)
1/4 teaspoon black pepper (or one toothpick drop of black pepper essential oil)
1/2 teaspoon garlic powder
1 teaspoon salt
1 teaspoon onion powder
2 teaspoons of Italian seasonings
OPTIONAL: 1 drop of lemon essential oil
HEALTHY HOMEMADE RANCH DRESSING INSTRUCTIONS
Add all ingredients to a medium-size mixing bowl.
Stir until well combined.
Serve immediately or store in an airtight container in the refrigerator for up to one week.
NOTE: If you prefer a thicker dressing, use Greek yogurt and if you like it thinner use regular yogurt
ABOUT THE INGREDIENTS HEALTHY HOMEMADE RANCH DRESSING
Plain Yogurt
Loaded with health benefits, this healthy snack has been consumed for many years. Be sure to use plain yogurt without added sugars. I make homemade yogurt in my instant pot; find the recipe here.
Yogurt is a probiotic-rich food, making it great for gut health and the digestive system.
It is high in protein, vitamins, and nutrients.
Yogurt is a good source of calcium, vitamin D, and magnesium.
Black Pepper essential oil
The black pepper essential oil is steam distilled from the dried, crushed, but not quite ripened fruit of P. nigrum. Black pepper essential oil can be used to add spice and enhance flavor in many dishes.
Most known for its ability to enhance food flavor.
Loaded with antioxidants, therefore, it can boost the immune system.
Ability to help with healthy circulation throughout the body.
Black pepper can aid digestion.
Lemon essential oil
Lemon essential oil is cold-pressed from the peel of a lemon fruit. It is a very versatile oil and one of the most popular essential oils on the market.
Often added to food to enhance the flavor of desserts, sides, dips, drinks, and main dishes.
Provides cleansing effects for the body and is good for the digestive system.
Supports a healthy respiratory function.
Uplifting oil and gives a natural energy boost.
Spices
Read your labels when purchasing spices. A lot of spices will contain dangerous adders and fillers. Be sure to buy organic! Here are ingredients you will want to stay away from:
Monosodium Glutamate
Soybean Oil
Caramel Coloring
Genetically modified organisms (GMOs)
Gluten and dairy (This is really important to check if you have an allergy.)
STORE BOUGHT DRESSINGS
Soybean oil is likely the first ingredient in any dressing or condiment you pick up off the shelf; unfortunately, it is also high up on the list of worst foods to consume. It is found in almost all processed foods, and it is commonly genetically modified (unless you are buying a product made with organic ingredients.) Studies have shown that the consumption of vegetable oils is the leading cause of cancer and heart disease.
You will also find added sugar on your dressing and condiment labels. With all the diet fads circulating (paleo, keto, whole 30, the list goes on), one thing is consistent; sugar is a no go! Sugar is addicting, suppresses the immune system, and the main cause of obesity.
Dressings and sauces often contain artificial food dyes. Did you know that several other countries have banned red40 food dye?! Research shows that it can cause hyperactivity in children and contains p-Cresidine, which is a carcinogen. When certain dyes were tested on mice, they caused tumors in the liver and immune system.
Among these ingredients, you will find others you will want to stay away from. It kills me to smother a healthy dish with a store-bought dressing or sauce. But if you are a condiment lover, like me, don't worry; this homemade ranch dressing is a healthy alternative. It makes the best dressing, sauce, and dip that pairs nicely with most meals.
Have you ever made your own ranch dressing? How did you make it? Share your favorite recipes below!
PIN IT FOR LATER
Follow along with our oily house:
Thanks for stopping by our oily house!
PRINT HEALTHY HOMEMADE RANCH DRESSING RECIPE
Yield: 16 tablespoons
HEALTHY RANCH DRESSING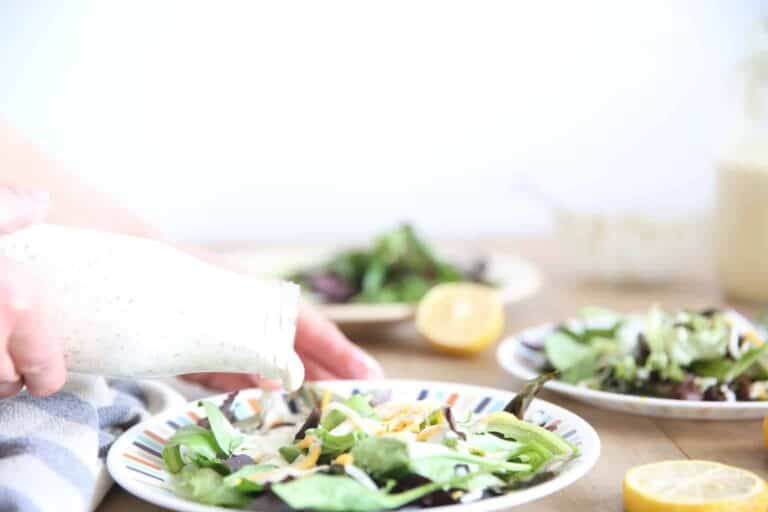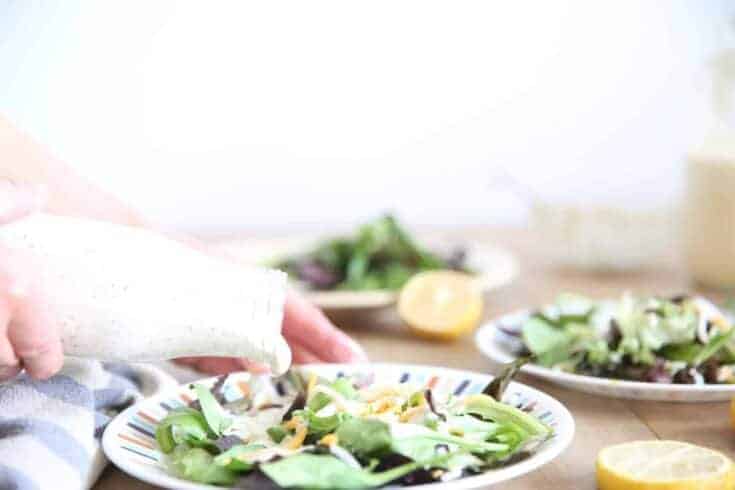 Additional Time
5 minutes
Ingredients
1 cup of plain or greek yogurt.
1/4 tsp black pepper
1/2 tsp garlic powder
1 tsp salt
1 tsp onion powder
2 tsp Italian seasonings
1 drop lemon essential oil, optional
Instructions
Add all ingredients to a medium-size mixing bowl.
Stir until well combined.
Serve immediately or store in an airtight container in the refrigerator for up to one week.
Notes
If you prefer a thicker dressing use greek yogurt and if you like it thinner use regular yogurt.