Check out our healthy summer meal plan! These meals are delicious, require no baking, and are simple enough to make any night of the week.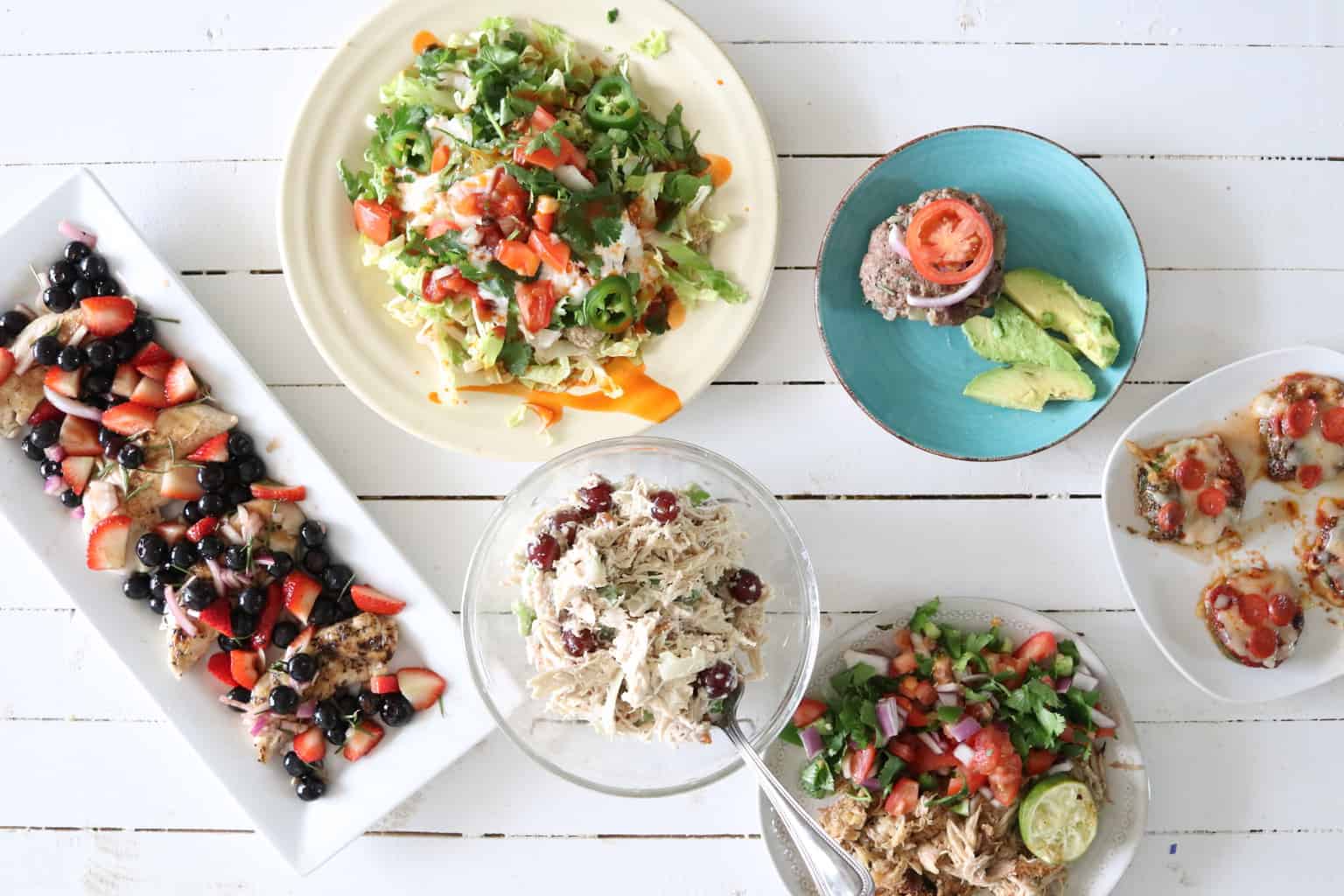 I came up with this healthy summer meal plan so I don't have to spend my days in the kitchen cooking. And I definitely don't want my oven on all day. I like to stick to easy, cool meals that are loaded with summer vegetables.
During the summer, we have a large garden full of fresh tomatoes, summer squash, zucchinis, peppers, and cucumbers. Even if you don't garden, I bet your local grocery store has a lot of these vegetables on major sale! I know mine do.
I like to stick to pan-frying or the instant pot for making meat. This avoids heating the house up with the oven. I like to have meals that are easy to make and easy to pack for all of our summer outings.
Grab my whole 30 meal plan and complete grocery list ebook for more healthy meal plans!
PIN IT FOR LATER
ONE WEEK OF HEALTHY SUMMER MEALS
#1 TACO SALAD
This is the ultimate summer meal, and I could eat it every night of the week! It is so simple, and I have most of the ingredients growing in my backyard.
On top of a large bed of lettuce, I add shredded chicken, beef, or pork. Sprinkle the meat with my homemade taco seasoning.
Top the salad with fresh diced tomatoes, onions, avocados, salsa, sour cream, jalapeños, and cheese. Add a handful of chips to crush on top or to dip into the toppings. Squeeze fresh lime juice over the top. You can't go wrong with this dish!
Like this recipe? Check out a couple more variations HERE and HERE.
#2 CHICKEN SALAD
This post contains affiliate links, which means I make a small commission at no extra cost to you. Get my full disclosure HERE.
This is another meal I often make during the summer months. I bake a whole chicken in the instant pot, allow it to cool then shred it. I then add diced celery, onions, grapes, nuts, salt, pepper, and homemade mayo. Stir it together and serve it with sliced avocados.
So delicious and easy to pack for a day out at the park or beach.
HOW TO MAKE A WHOLE CHICKEN IN AN INSTANT POT
Remove the neck and giblets from the inside cavity and place chicken in the instant pot.
Add 1/2 cup of water or broth.
Sprinkle with your favorite seasonings. I use salt, pepper, garlic, and onion.
Cook on high pressure for 30 minutes and let it release pressure naturally.
HOW TO MAKE HOMEMADE MAYO
INGREDIENTS
1 cup avocado oil
1 egg
2 teaspoons vinegar (or lemon juice)
1/2 teaspoon salt
INSTRUCTIONS
Add all the ingredients into a wide-mouth mason jar.
Blend with an immersion blender. Start at the bottom, and as you see the liquid turn creamy and white, work the blender upward towards the top. This takes about 3 minutes total.
This is the immersion blender I have.
#3 BURGERS AND SEASONAL VEGETABLES
Grill up some burgers on the barbecue pit or pan fry them inside. Serve them with garden-fresh sliced tomatoes, onions, and avocados.
If you are gluten-free, place the burger and toppings on top of a large leaf of lettuce. This is our favorite way to eat it!
#4 MINI ZUCCHINI PIZZAS
During the summer, I have zucchini coming out of my ears. I literally add it to everything! I shred it and throw it in meat, eggs, bread, soup, etc., you name it, and I have done it. It is a great way to add more vegetables to our diet.
I have made zucchini lasagna many times, and we all love it. One night, when I didn't have much time to make dinner, I came up with this recipe. I had planned to make zucchini lasagna but found this to be faster, and everyone loved it! It has since become a regular.
INGREDIENTS
4 zucchinis, sliced in 1/4 inch circles
1 cup mozzarella cheese
1 cup marinara
Pepperonis, cut into small pieces
2 tablespoons Italian seasoning
1 tablespoon avocado oil
INSTRUCTIONS
Heat the avocado oil in a cast-iron skillet and add the sliced zucchinis.
Cook for 5 minutes on both sides or until slightly browned.
Top each zucchini slice with marinara, mozzarella cheese, and pepperoni. Sprinkle with Italian seasoning.
Place the cast-iron skillet in the oven and broil on high for 1-2 minutes or until cheese is melted.
These are great for leftovers, as a snack, or for an appetizer.
#5 MEXICAN CHICKEN AND FRESH PICO
I'm breaking out the instant pot for this recipe too! Can you tell I love this thing? It is especially handy during the summer months when I don't want to use my oven and heat up the house.
Following the same recipe that I shared above, cook a whole chicken in the instant pot. When it is finished, let it cool, and then shred it. Add a couple of tablespoons of paleo taco seasoning and fresh lime juice. Serve with avocado slices and fresh pico de gallo.
PALEO TACO SEASONING
With a few spices in your pantry, you can whip up a taco seasoning that is healthy. I try to avoid taco seasonings from the store because most of them have gluten, MSG, artificial dyes, and some form of sugar. Try mixing up a batch of this for the next time you are enjoying tacos.
INGREDIENTS
1 tablespoon chili powder
1 teaspoon cumin
1/2 tablespoon salt (I use pink Himalayan.)
1 teaspoon black pepper
1 teaspoon garlic powder
1/2 teaspoon onion powder
1/2 teaspoon cinnamon
1/4 teaspoon paprika
1/4 teaspoon red hot pepper flakes
INSTRUCTIONS
Add all the ingredients to a small bowl and stir until well combined.
Store in an airtight container.
We store ours in a small mason jar. I like to make a large batch of this while I have all the spices out.
PICO DE GALLO
1 tomato, diced
1/2 onion, diced
1/2 green pepper, diced
1 jalapeño, diced
1/4 cup fresh cilantro, chopped
Juice from one key lime
Mix all the ingredients in a small bowl and pour over the chicken.
#6 GRILLED CHICKEN WITH BERRY SALSA
You will love this dish if you are into sweet and salty. Grilled chicken can get boring, but topping it with this berry salsa will add so much flavor!
INGREDIENTS
1 cup strawberries, diced
1 cup blueberries
1/2 cup balsamic vinegar
2 tablespoons red onion, diced
1 teaspoon salt
1 lemon, juiced
Fresh rosemary, chopped
INSTRUCTIONS
Add all the ingredients to a mixing bowl, except the lemon and rosemary. Stir until well combined.
Sprinkle with rosemary and squeeze the juice of the lemon over the top of the salsa.
Pour over grilled chicken breast.
#7 FISH TACOS
1lb salmon
1 cup sour cream
1 diced jalapeno
1/8 cup onion, diced
1 avocado, diced
Juice of one key lime
1/2 cup fresh cilantro, chopped
Tortillas (If gluten-free or paleo, you can buy cassava flour tortillas.)
Chipotle mayo (you can make your own with homemade mayo, hot sauce, garlic, and lime juice)
Shredded purple cabbage for topping
INSTRUCTIONS
Grill salmon until it can be easily flaked apart with a fork, about 4 minutes per side.
While salmon is cooking, lightly fry tortillas in coconut oil.
Combine all other ingredients in a bowl (except mayo).
Place grilled salmon on one half of the tortilla. Top with the sauce mixture, chipotle mayo, and shredded cabbage.
What are your favorite things to make during the summer?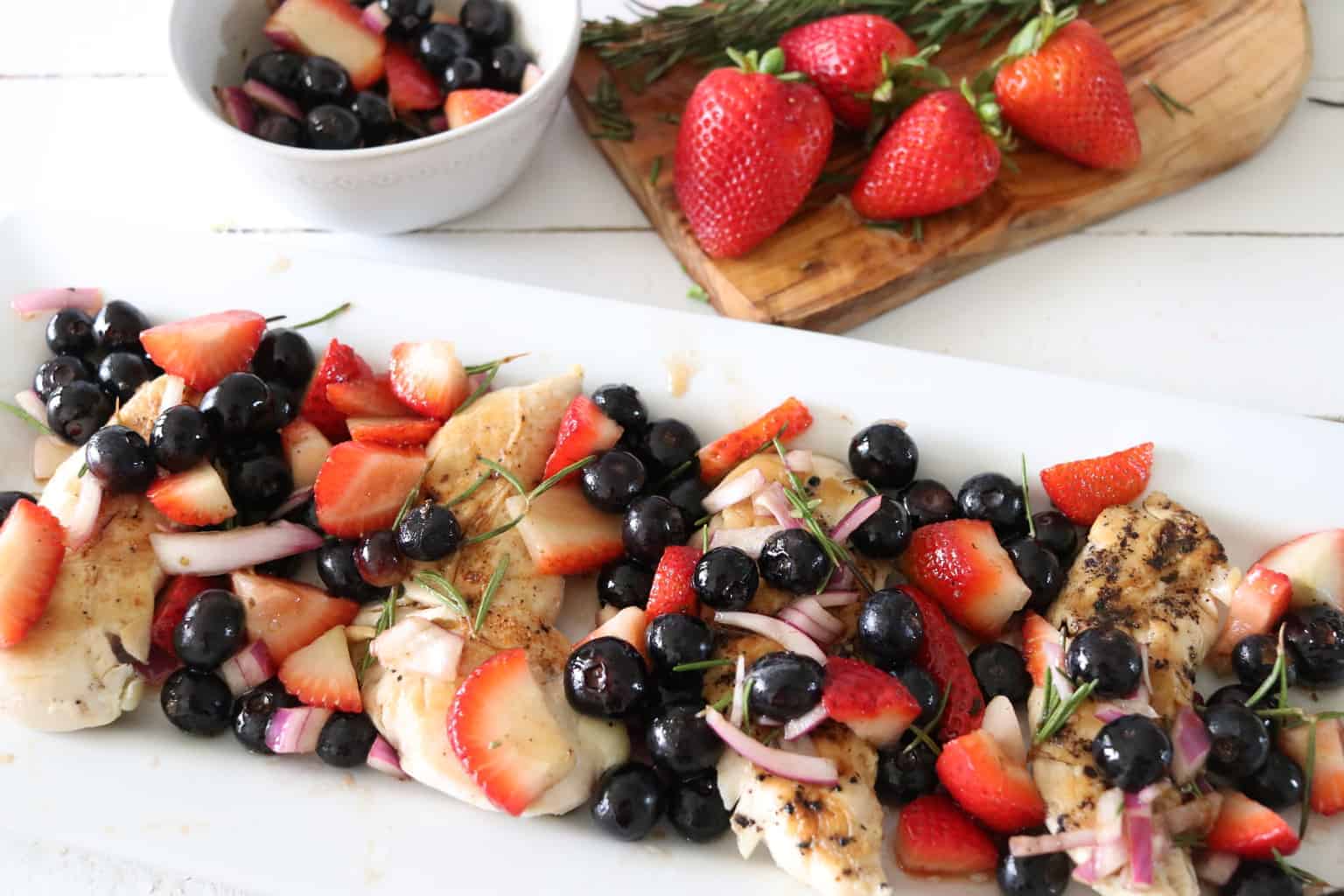 I hope this post gives you some summer meal inspiration!