I am excited to share a few simple and healthy lunch ideas for kids. These are kid-approved, easy to make, and completely healthy to keep your little one growing strong.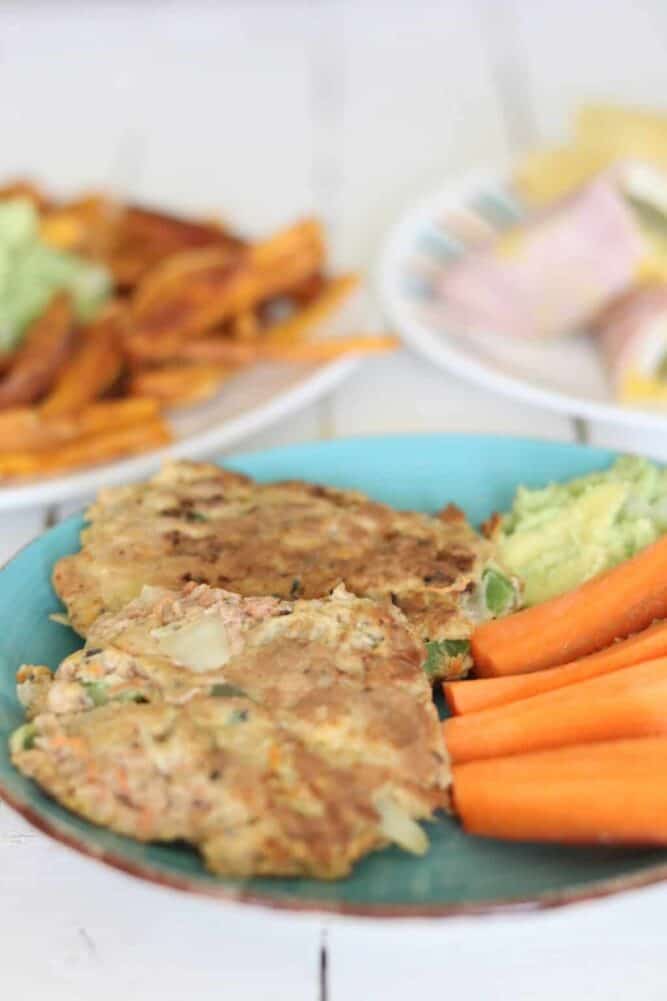 This post was requested by several of my subscribers on youtube, and I was really excited to add it to the list of blog posts. I love getting ideas from my followers; it is you I am writing for!
I have 4 children, and feeding them feels like a full-time job most days. As soon as I am done getting one meal cleaned up, someone is complaining they are hungry again. It is never-ending! In fact, as I am sitting here writing this post, my son comes up to me and says he is hungry. Noooooo! We literally just finished lunch!
As much as I complain, it's mostly a joke. I am very thankful that my littles eat so well, and I know they must be growing. If you have picky eaters, check out my tips HERE.
This post contains affiliate links, which means I make a small commission at no extra cost to you. Get my full disclosure HERE.
PIN IT FOR LATER

First off, I must say lunch with my kids is very different than lunch when my husband is home. My husband isn't picky and never complains about what I cook, but there are certain "kid meals" I just wouldn't make when he is home.
I am a stay-at-home mom, so most of our lunches are eaten at home, though I do think all of these would be fine for a packed lunch if your child is in school.
For lunches, I like to stick to easy and lots of vegetables. I am not opposed to meat at every meal, but I try to stick to meat once a day just to save on the grocery bill.
This isn't set in stone, and we do have plenty of lunches with meat.
EGGS AND AVOCADOS
This is my go-to lunch. It is simple to make and requires zero planning. You can make scrambled eggs, fried eggs, omelets, or hard boil eggs. Whatever your child likes best.
Serve it with fresh avocado slices and encourage your child to eat the two together. We eat a lot of avocados in our home. My oldest is starting to refuse plain avocado. If I tell her to eat a bite of avocado with her egg, she likes it more.
SWEET POTATO FRIES AND GUACAMOLE
This is definitely a kid favorite!
Slice sweet potatoes in the shape of fries and fry them in coconut oil or avocado oil. You can use a cast-iron skillet for this. If you'd rather bake them, that works too.
Place the sweet potato fries on a baking dish, cover them with oil of choice, add salt, and bake in a 400-degree oven for 30 minutes or until soft.
Serve with a side of guacamole for dipping.
SALMON BURGERS AND AVOCADO SLICES
If your kids aren't big on seafood, try these! They are delicious, and salmon is so great for growing kids.
INGREDIENTS
1 can salmon (This recipe is for a 15-ounce can.)
1 carrot, shredded
1/2 cup diced onion
1/4 cup diced green pepper
1 egg
1 tablespoon arrowroot powder (Find it here.)
Salt and pepper to taste
5 drops lemon essential oil (or the juice of one fresh lemon)
Coconut oil for frying
INSTRUCTIONS
Add all the ingredients into a medium-size mixing bowl.
Stir until well combined. I find this easiest to do with my hands.
Add about one tablespoon of coconut oil to a preheated cast-iron skillet. (You can also use a non-stick pan.)
Get about 1/4 cup of the salmon batter in your hand and shape it into a patty. Then place it in the hot skillet. Repeat this step until all the meat is in the skillet.
Allow it to cook for about 5 minutes and then flip them.
You want them to be crispy and browned slightly.
Remove from the pan and serve with avocado slices, mayo, or ketchup.
HOT DOGS AND VEGETABLES
Just like most kids, my kids love hot dogs! Having hot dogs is a real treat.
I have found several stores that sell 100% healthy dogs! This was really exciting the first time I discovered these. Applegate is the brand I buy, and they are made out of organic grass-fed beef. These are pretty pricy, so I don't do this one very often.
I like to serve these with, you guessed it, avocados. We have also served them with peas, broccoli, and raw carrot slices.
I recently found that Heinz makes ketchup sweeten with honey. I will give them some as a dipping sauce.
HAM AND CHEESE ROLL UPS
When we go to the park for a picnic lunch, this is my go-to. I put a hunk of cheese, an avocado slice, and a pickle inside of a piece of deli meat ham. I add a squirt of mustard and then roll it up. You can secure it with a toothpick to help it to stay together until it is time to eat.
My kids think these are a real treat, and I usually serve this with a handful of chips.
LET'S TALK ABOUT THESE INGREDIENTS
DELI MEAT
This is a loose term, and it is very important you are getting a good source.
Here are a few things to check for:
Be sure the package says it is free of nitrates.
It is always best to strive for organic when buying meat.
Make sure to check the ingredients for sugar. It is hard to find deli meat without sugar, but I have found them at a few healthy grocery stores.
I have found that some Applegate deli meats that meet these requirements, and you can find them in a store like Whole Foods or Fresh Thyme.
CHEESE
Always choose block cheese over sliced or shredded. Sliced and shredded cheese will have added ingredients to prevent clumping.
Again, go for organic!
Look for a cheese that is made from grass-fed cows; Kerrygold is a great option.
If you can find local raw cheese in your area, that is the best, in my opinion.
PICKLES
When shopping for pickles, be sure to buy ones that do not have food dyes in them. I know this is crazy, but most pickles have yellow food dye in them! Urg, even a fermented cucumber can be unhealthy.
Look for pickles that are colored with turmeric instead.
CHIPS
Chips are a treat and should be served sparingly. A few things to look for when buying chips:
The biggest problem with chips is the oils used to make them. Look for chips made in 100% coconut oil or avocado oil. These oils have a high smoke point and are much safer than vegetable oil or canola oil.
Be on the lookout for added sugar, gluten, corn, and soy. Several of these ingredients can be a common allergy for kids.
I like to stick to potato chips or sweet potato chips cooked in good oils.
I have found healthy options at my local health grocery store. My favorite is the boulder brand that is made with potatoes, salt, and avocado oil. That's it!
CHECK OUT THESE HEALTHY RECIPES FOR MORE IDEAS
I hope this post was helpful and gave you a few new ideas for lunch. Leave a comment if you liked this type of content and share some of your favorite lunch ideas for kids.