Learn how to make candle wax melts with this simple 3-ingredient recipe. These homemade wax melts can really cozy up the home during the fall and winter months.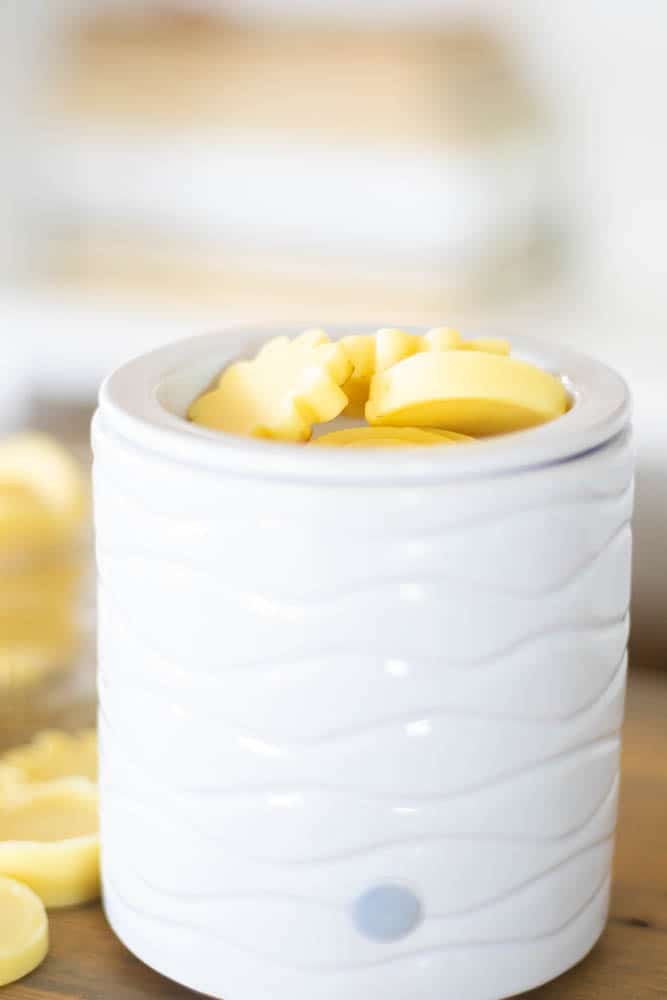 Making your own homemade candle melts is so easy to do, and they smell wonderful! In this post, I am going to show you how to make candle wax melts using several different blends of essential oils so you can get the scent that fits your mood.
By using essential oils in our candle melts, we can receive the added benefits of the aromatherapy the oils give off.
I remember my mom was really into candle melts when I was little. It makes sense that all moms would love these, same great smell, without the fire hazard. Now that I have 4 little ones running around, I totally see the draw of these.
Several of my readers have asked for a recipe for these, and I am so excited to share this one because it is that simple. It is similar to my beeswax candles recipe, just on a smaller scale and no wick, of course.
PIN IT FOR LATER
This post contains affiliate links, which means I make a small commission at no extra cost to you. Get my full disclosure
here.
HOMEMADE CANDLE MELTS
For this recipe, you will need a candle warmer to place the essential oil wax melts in. You can make your own if you prefer, using a mason jar and tea light candle. Or you can find candle warmers that plug straight into the wall; these are perfect for small spaces.
Candle warmers simply warm the wax, and as it melts, it gives us the scent. For the homemade candle melts, I use essential oils for the scent. This will leave your home smelling lovely and give off aromatherapy benefits.
ESSENTIAL OILS FOR CANDLE WAX MELTS
You can use one oil or a blend of essential oils for your melts. I like to make a few different batches at a time with different scents so that I can switch it up. If you are looking for something pretty and simple, just use lavender. It is lovely.
You can make different blends for the season or to help with a particular ailment. I find these to make a wonderful birthday or Christmas gift for anyone on your list!
CALMING
10 drops lavender essential oil
10 drops roman chamomile
5 drops vetiver essential oil
5 drops wild orange essential oil
CITRUS
10 drops lemon essential oil
10 drops wild orange essential oil
5 drops bergamont essential oil
5 drops tangerine essential oil
FLORAL
10 drops lavender essential oil
10 drops ylang ylang essential oil
5 drops geranium essential oil
5 drops cypress essential oil
FALL SCENTED
10 drops cinnamon essential oil
10 drops wild orange essential oil
5 drops clove essential oil
5 drops cardamom essential oil
Find more fall essential oil blends here.
CHRISTMAS SCENTED
10 drops white fir essential oil
10 drops cinnamon essential oil
5 drops peppermint essential oil
5 drops grapefruit essential oil
Find more Christmas essential oil blends here.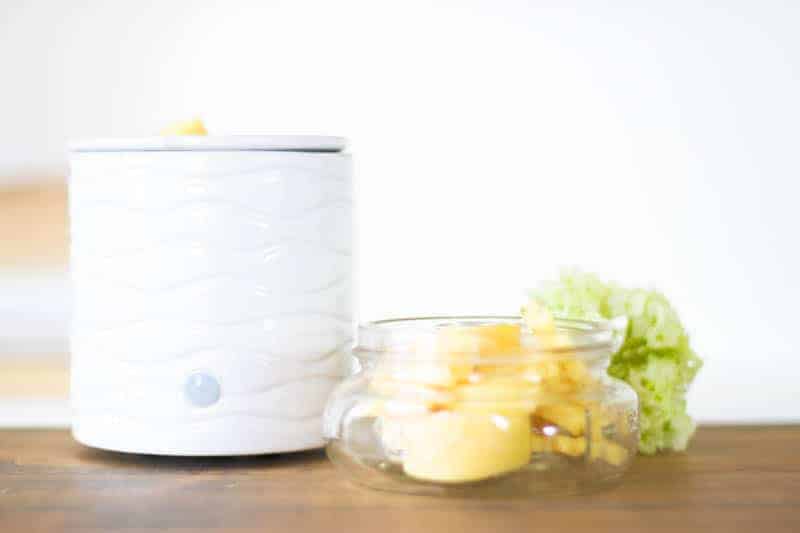 HOW TO MAKE CANDLE WAX MELTS
All you need to make your own wax melts is beeswax, coconut oil, and essential oils. The coconut oil is optional but will make it last longer.
You can use white or yellow beeswax. They are the same other than the color, so it really doesn't matter which one you use. If you are wanting to color your melts, then it would be best to use white to make the color easier to show up. You can use soy wax if you prefer. The recipe will still be the same, just substitute the beeswax for soy wax.
For this recipe, you will need a double boiler to melt your ingredients together. If you don't have a double boiler, don't go out and buy one. Making your own is easy and is what I do for all of my DIY projects that call for one.
Set a glass bowl over a pot of boiling water, and you have yourself a makeshift double boiler. Simple as that.
CAN YOU HEAT UP ESSENTIAL OILS?
It is best not to heat up essential oils. Heating up essential oils will remove some of the therapeutic benefits. However, most candle warmers don't get too hot. When making your beeswax candle melts be sure to let the ingredients cool slightly before adding the essential oils in.
HOW TO USE CANDLE WAX MELTS
Place 1-3 homemade wax melts in your candle warmer, depending on the size of the warmer and the room you are trying to scent. They can melt and re-melt several times before losing the scent. When the scent has weakened, wipe the candle warmer out and add in new wax melts.
Or add in a few drops of essential oils on top of the melted wax to give it one last run.
The recipe will call for a silicon mold, but you can also make these in icecube trays if you don't have any molds.
How to Make Candle Wax Melts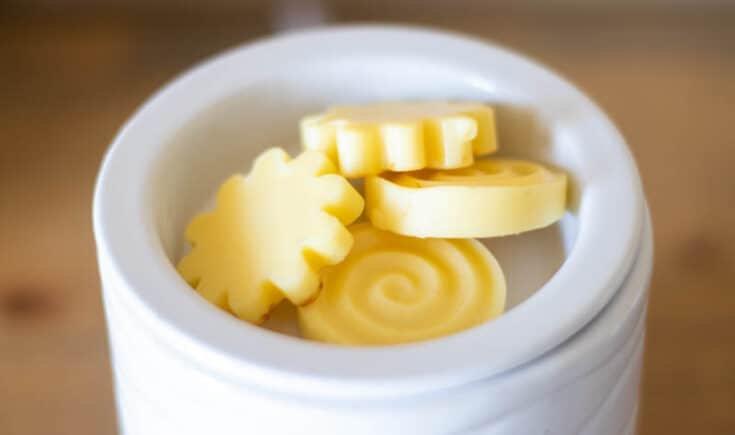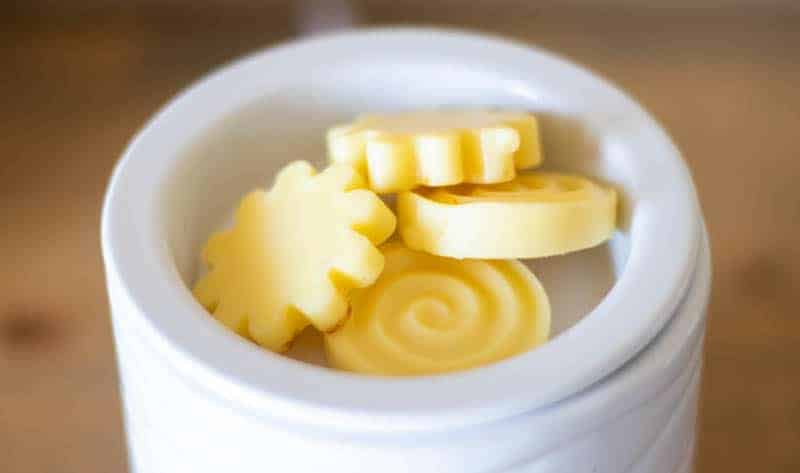 Ingredients
1 cup beeswax
1/4 cup coconut oil 
30 drops essential oil
Instructions
Place the beeswax and coconut oil in a double boiler. Melt over medium to high heat.
Once all the ingredients are melted remove from the heat.
Allow it to cool slightly, and then add in essential oils.
Whisk together and then pour into silicon molds.
Let them sit overnight and then pop them out of the molds.
Store in airtight container.