Learning how to make aftershave has never been easier with this simple recipe.
This homemade aftershave looks great, smells even better and feels fantastic on the skin! Plus, with its natural ingredients, this is the perfect way to remedy that pesky razor burn.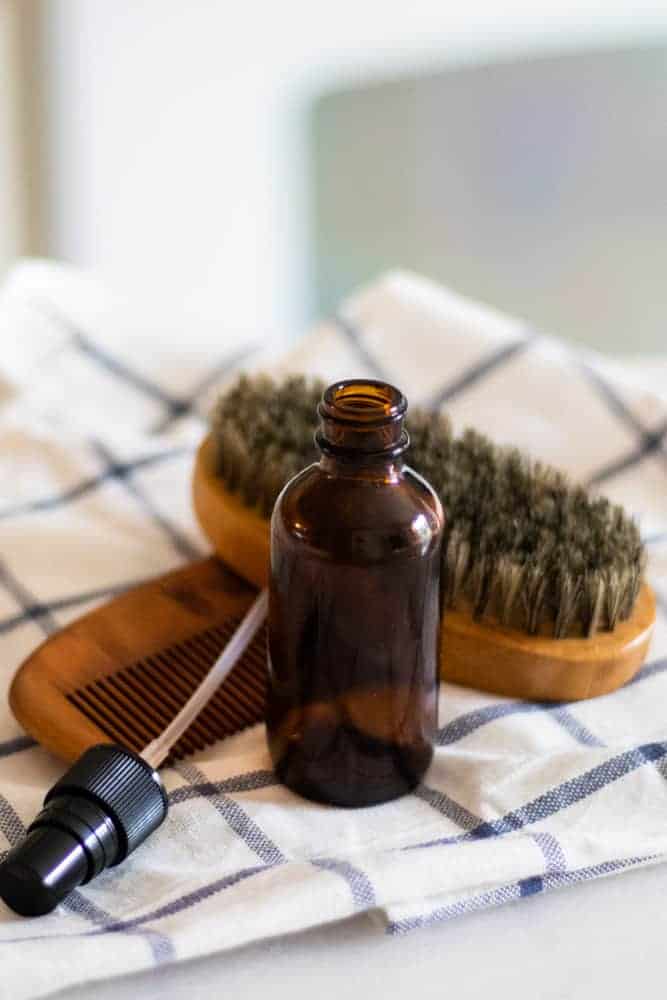 This post was originally published in December 2019 and updated in October 2022
Whether you are a man or woman, if you're looking for an incredibly soothing aftershave, especially one to help close pores and reduce the chances of razor burn, you've come to the right place.
I originally made this recipe for my husband over 10 years ago, and while he has been rocking a bead the last few years, I've transitioned to using it on me and I couldn't be happier with the results.
What is aftershave & what does aftershave do?
Aftershave is designed to be applied after shaving to soothe the skin.
This is especially important because the skin is raw directly after shaving, which is ample time for unwanted dirt and bacteria to enter the opened pores.
Aftershaves occasionally contain moisturizing properties to hydrate the skin directly after shaving.
However, the primary purpose of aftershave (in my opinion) is to prevent bumps and razor burns by rapidly closing the pores after shaving.
So that is just what we did here with this aftershave recipe.
Applying it on the skin can help eliminate razor burns, protect the skin against infection, shrink pores, and leave behind a lovely fragrance. Aftershave can even double as a light cologne.
This post may contain affiliate links, which means I make a small commission at no extra cost to you. As an Amazon Associate, I earn from qualifying purchases. Get my full disclosure here.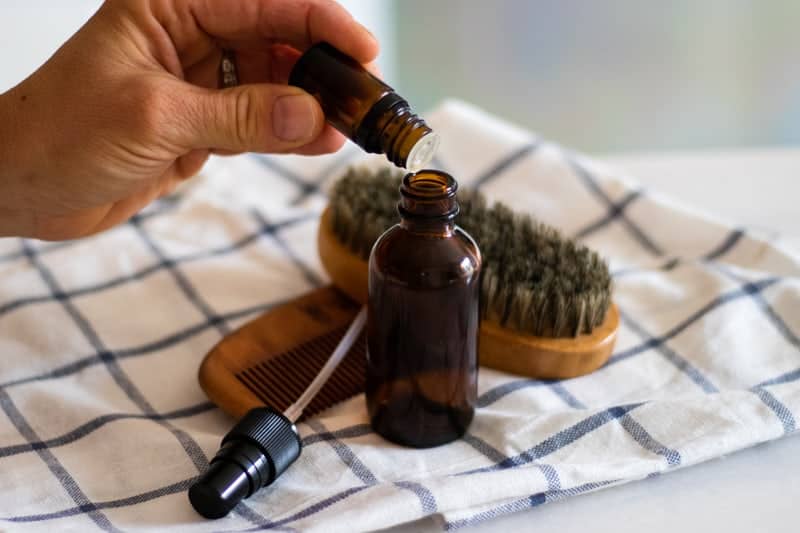 How to make aftershave
With a simple base of witch hazel, aloe vera and vegetable glycerin, making your own aftershave has never been easier.
Ingredients:
Aftershave Recipe:
Combine the ingredients, except essential oils, in a glass spray bottle and shake well.
Add in essential oils, secure the lid and shake well. (see oil combinations below)
How to use aftershave
Spray directly onto the shaved area, avoiding the eyes and any other sensitive areas.
Why you will love this homemade aftershave
1) This recipe is made without alcohol to avoid drying out the skin over time.
2) It contains no artificial fragrances or synthetic ingredients. (see below why I avoid conventional aftershave)
3) It Is incredibly soothing and cooling to the skin.
4) And each of these fragrance blends will leave you smelling incredible!
Ingredients to avoid in aftershave
Benzyl acetate and ethyl acetate are often found in conventional aftershaves with side effects ranging from irritated skin and eyes to respiratory systems issues.
Synthetic fragrances are found in nearly all aftershaves, many of which have been known to cause allergic reactions, contain hormone disturbers, carcinogens, and have been linked to damaged sperm.
Most aftershaves contain isopropyl alcohol or ethyl alcohol. While these alcohols are not all bad, they are drying to the skin and shouldn't be used daily.
I made this aftershave without alcohol, substituting it for witch hazel which has similar benefits without the drying effect.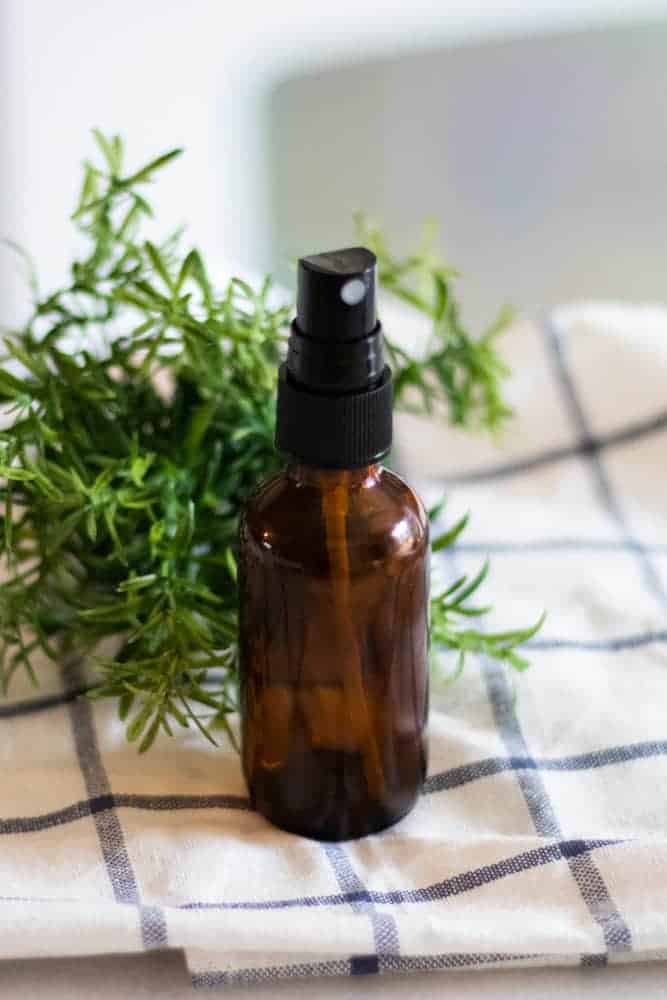 Essential oils for after shaving
In addition to the incredible cologne-like fragrance these oils provide, they also contribute plenty of benefits to the skin as well.
Pick from one of these blends below and add it to the recipe. Hint: my husband's favorite is the natural forest blend.
Simple Earth
4 drops of cypress
3 drops of cedarwood
2 drops of frankincense
Get this blend here.
Natural Forest
4 drops of sandalwood
3 drops of bergamot
2 drops of patchouli
Get this blend here.
So Fresh
4 drops of lemon
3 drops of tangerine
2 drops of rosemary
Get this blend here.
Gentle and Soothing (best for sensitive skin)
4 drops of lavender
3 drops of tea tree
2 drops of frankincense
Get this blend here.
Cool and Refreshing
4 drops of peppermint
3 drops of eucalyptus
2 drops of wintergreen
Get this blend here.
Feel free to adjust the number of drops to your preference. However, do not exceed 10 drops per 2-ounce bottle.
If you have sensitive skin, I'd suggest diluting down to 5 drops per bottle.
And as always, perform a patch test first to see how your skin reacts.
Touching on the key ingredients
Witch Hazel – has astringent and antiseptic properties similar to alcohol, but it doesn't dry out the skin.
It can improve skin irritations, reduce swelling, reduce the chance of ingrown hairs, and reduce bleeding from minor shaving cuts. 
The antiseptic properties will keep the skin clean and free of bacteria. This is an important element for aftershave because shaving leaves pores open for 24-48 hours.
Aloe Vera Juice – We will be using aloe vera juice for this recipe, not the gel.
Aloe vera is very moisturizing for the skin and is full of vitamins A and C, which are needed to help keep the skin firm and healthy. Aloe is also suitable for reducing inflammation, soothes skin, and helps with redness.
Applying aloe vera gel can be very effective as a razor burn remedy and even works as a shaving cream substitute.
Vegetable Glycerin – is a key component in this recipe to keep the ingredients well-combined and provide moisture to the skin.
Vegetable glycerin is very gentle and soothing, helping keep the skin soft and smooth.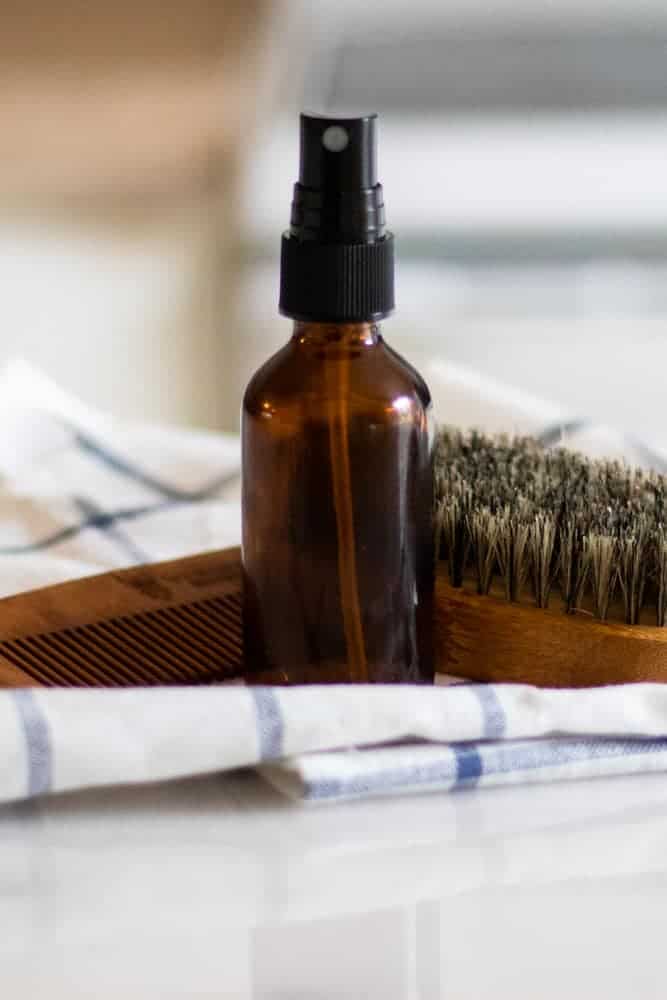 Razor burn remedies
Applying aftershave to the skin directly after shaving is essential in preventing razor burn.
However, try one of the hacks below if you develop razor bumps or irritated skin after shaving.
Coconut oil
Massage a small amount of organic coconut oil onto the affected area to help reduce inflammation and redness.
Baking soda paste
Combine baking soda and water to create a paste. Cover the irritated area, allow it to dry and rinse off with cool water.
Cool compress
Grab an ice pack, cool rag, or a bag of frozen veggies to apply to the razor burn to reduce skin swelling and soothe any irritations.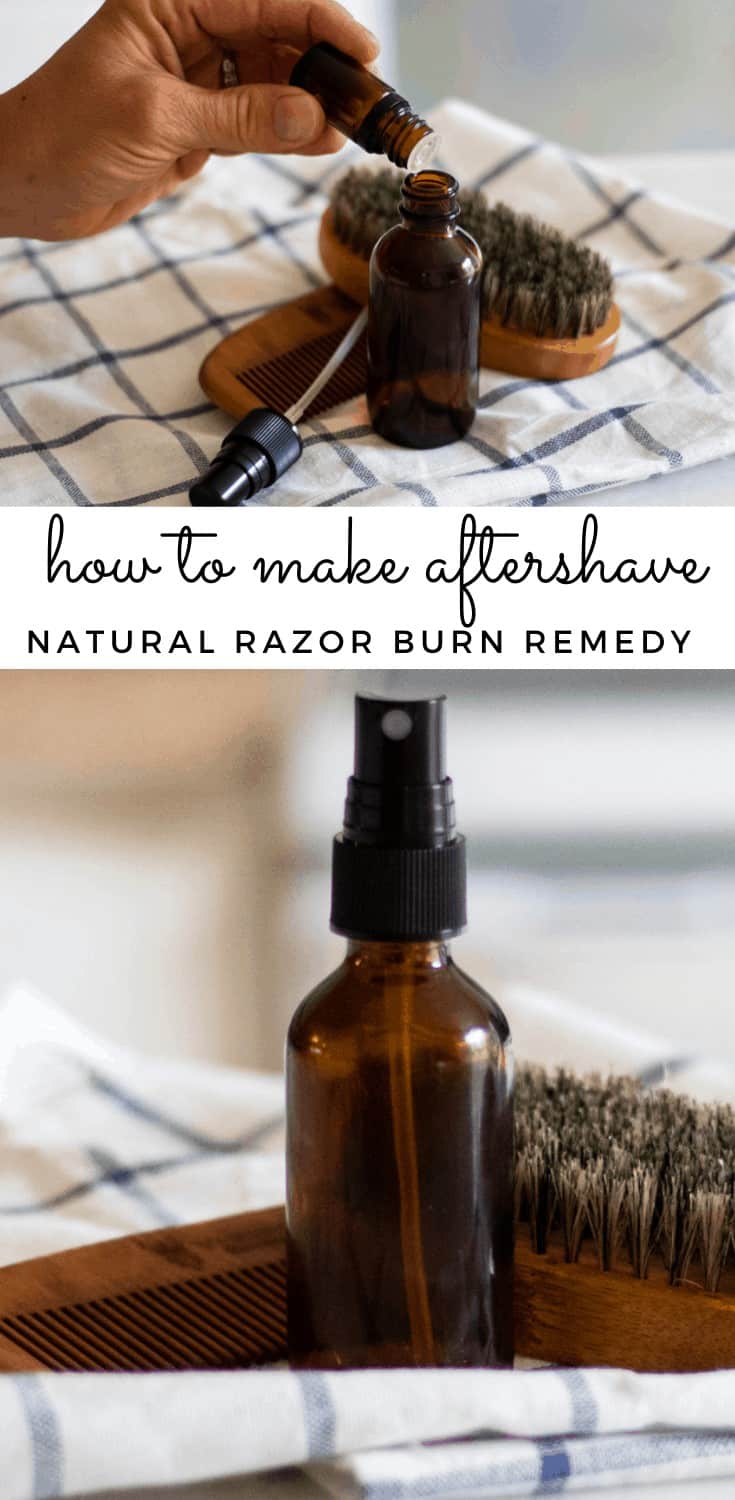 Wrapping up with a few tips & tricks
1. A sharp razor and shaving cream are essential for a close, smooth shave.
2. Wash and moisturize before shaving to prevent irritation.
3. Apply aftershave immediately after shaving to close the pores.
I hope you were able to glean what you needed from this post. Be sure to leave a comment with the essential oil aftershave blend you chose.
MORE RECIPES YOU MAY ENJOY
Head over to Our Oily House Subscriber Library for your free printable labels. If you are already a member, click here for your freebies.
Yield: 2 ounces
Homemade Aftershave for Razor Burn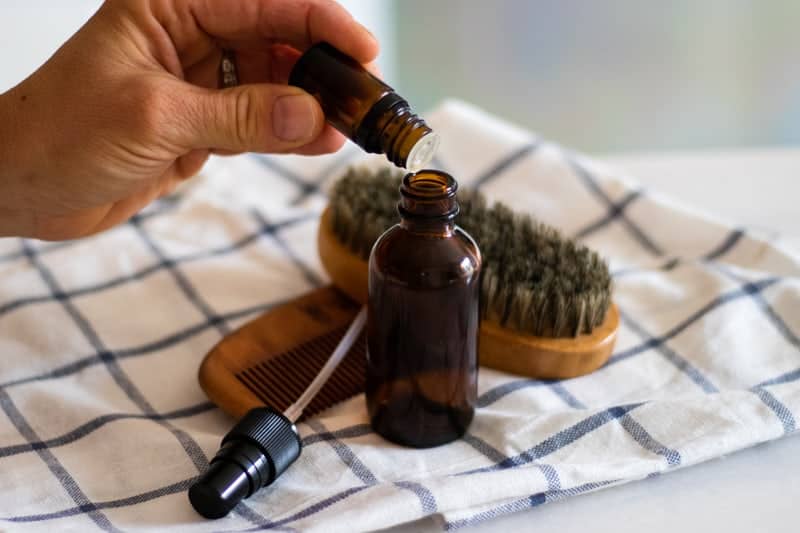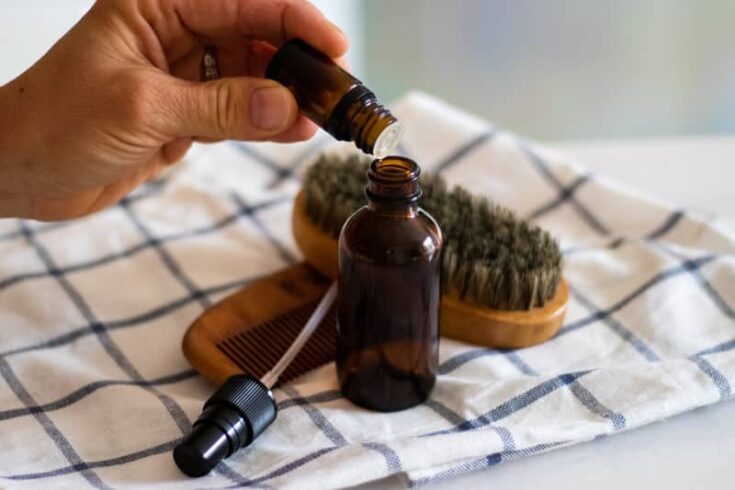 You must try this crazy simple aftershave recipe using natural ingredients for an incredibly smooth shave.
Materials
5-10 drops essential oils (see suggestions in post) 
Tools
Instructions
Combine all the ingredients except the essential oils into the spray bottle.
Add in essential oils, secure sprayer nozzle, and shake well.
Notes
Spray directly onto the shaved skin, avoiding the eyes and any other sensitive areas.