Making your own aftershave at home will save you money, time and leave your skin extra smooth. Learn how to make aftershave with this simple recipe. Made with essential oils, this all-natural aftershave is the best razor burn remedy.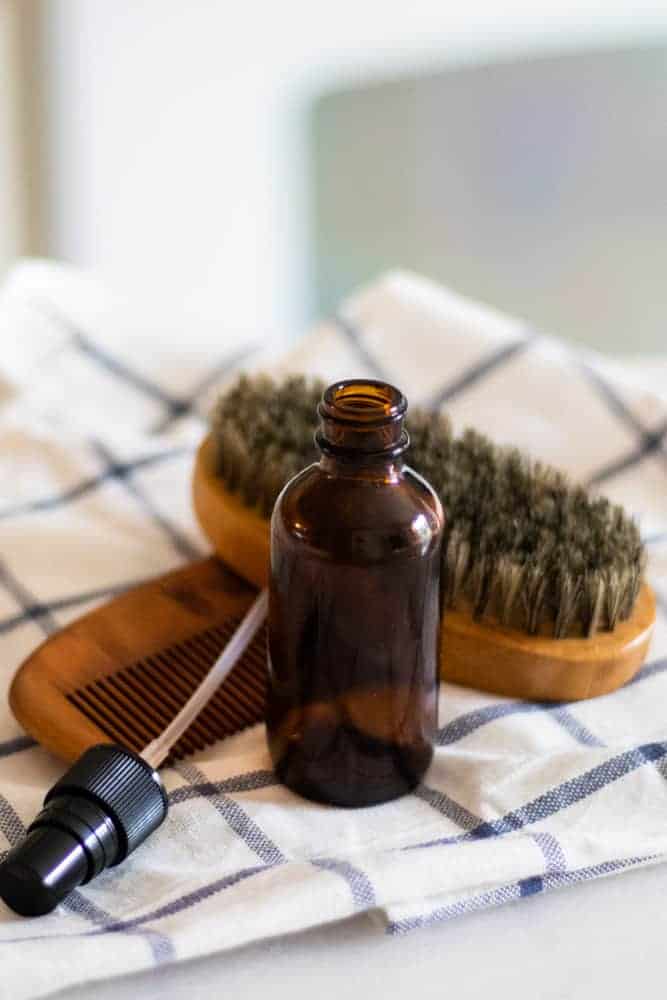 This all-natural homemade aftershave is made with witch hazel, aloe vera, vegetable glycerin, and essential oils. Homemade aftershave can help close pores, reduce razor burn, and help with other skin imperfections.
I have been making homemade aftershave for my husband for years. Recently he went through a no-shave phase, so when he asked me to whip up another batch, I couldn't remember exactly how I made it.
I went straight to my blog and searched for the recipe. Well, apparently, I never put it on here! Seriously Laura?! So I had to do a little bit of guesswork, but my husband said I nailed it. So this time, I am sharing it here, partially for you and partially for my records. 😉
This aftershave is made with a few soothing ingredients making it great for the skin and as a razor burn remedy. I added in a few essential oils for men for scent as well as added benefits.
GET YOUR FREE PRINTABLE LABEL
Our Oily House Subscriber Library
Already a member of my online resource library? Click here to get your freebies.
PIN IT FOR LATER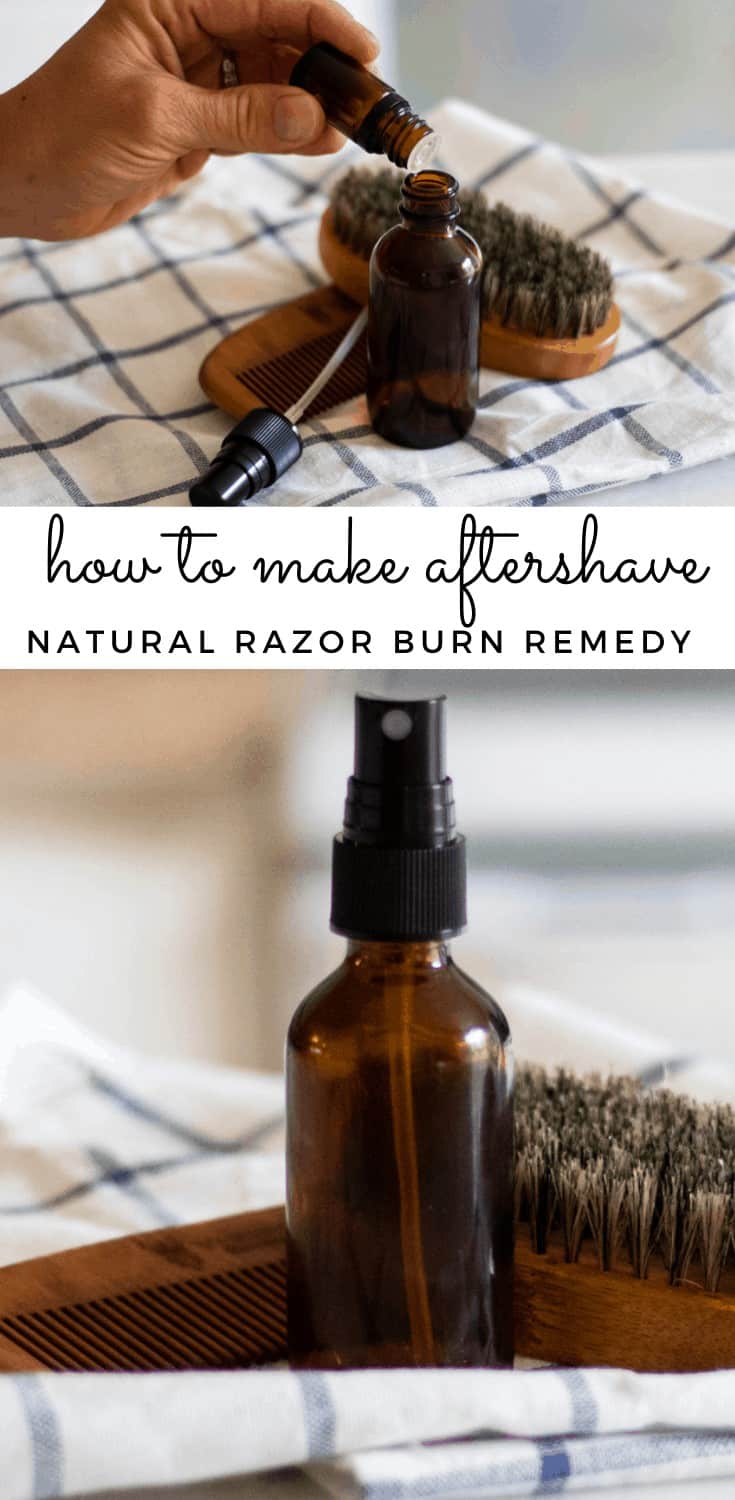 WHAT DOES AFTERSHAVE DO?
Aftershave is designed to be put on the skin after shaving; I bet you already knew that much. It soothes the skin, cleans areas that may have been cut, and protects irritated skin.
Applying it on the skin can help eliminate razor burn, protect the skin against infection, shrink pores, and leave behind a scent. Aftershave can be used as a light cologne.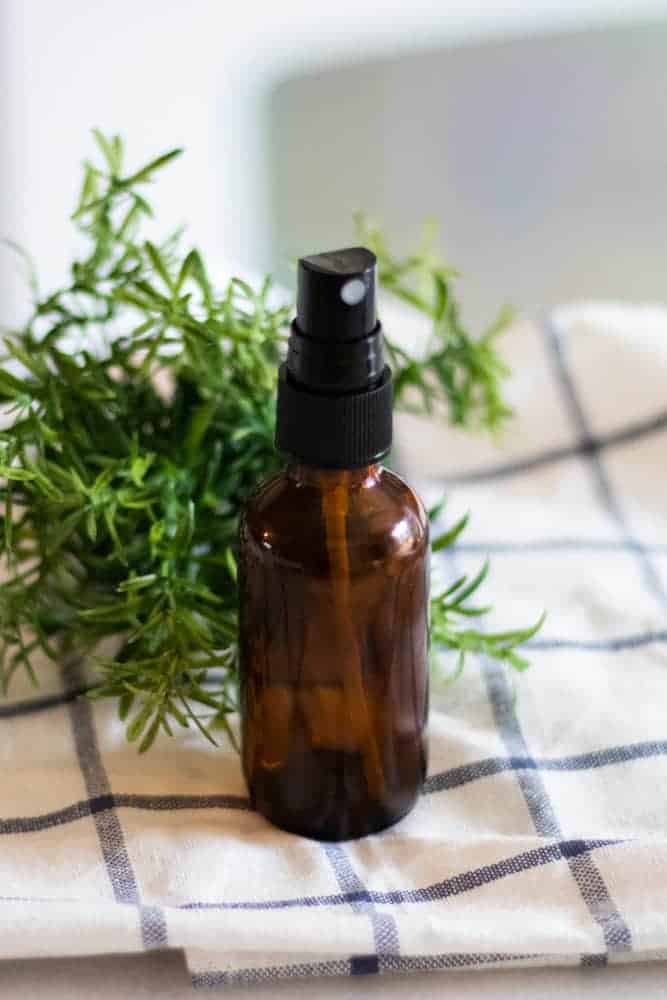 IS AFTERSHAVE BAD FOR THE SKIN?
Well, yes, it can be! It is very important to use an all-natural aftershave because you are applying it to a sensitive area that has just been stripped of oils from shaving. This is why I chose to make my own.
You won't find alcohol in my recipe because alcohol can dry the skin out over time. Remember, this is something most men will use daily. It is also important to stay clear of artificial fragrances and synthetics. After shaving, your pores are open, and soaking them with chemicals is not a good idea.
Homemade all-natural aftershave can be very soothing for the skin and have many benefits for you!
INGREDIENTS YOU WILL WANT TO AVOID IN AFTERSHAVE
Benzyl acetate and ethyl acetate are oftentimes found in conventional aftershave; when used, they can irritate the skin, eyes, and even the respiratory systems.
Synthetic fragrances found in aftershave can cause allergic reactions, contain hormone disturbers, carcinogens, and have been linked to damaged sperm. Using pure essential oils to scent your aftershave is a much better and safer option.
Most aftershaves contain isopropyl alcohol or ethyl alcohol. These ingredients can be very drying to the skin and shouldn't be used daily. Try looking for aftershaves made with witch hazel instead, as it can have the same benefits without drying the skin.
HOW TO MAKE NATURAL DIY AFTERSHAVE
The base of this recipe is witch hazel, aloe vera, and vegetable glycerin. Then you can add in essential oils based on your preference. I will list a few of my favorite blends below that you can pick from. Or make your own; that is the beauty of DIY!
This post may contain affiliate links, which means I make a small commission at no extra cost to you. As an Amazon Associate, I earn from qualifying purchases. Get my full disclosure here.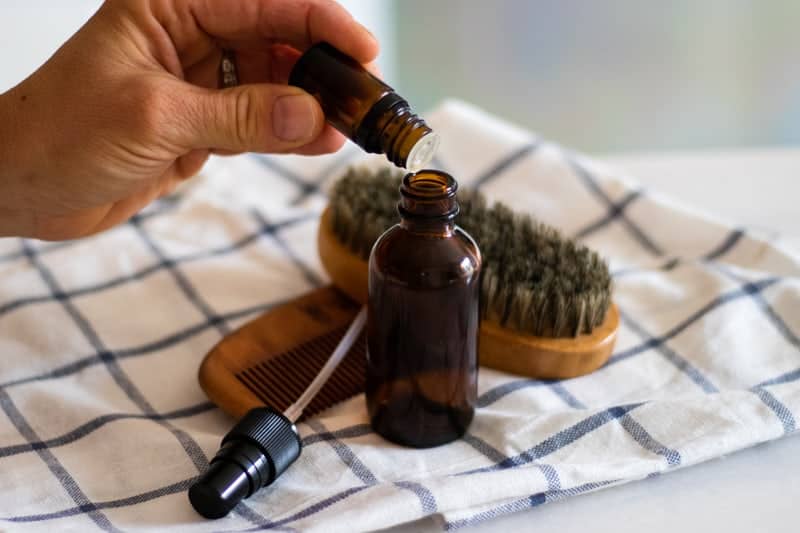 WITCH HAZEL AFTERSHAVE
Witch hazel has astringent and antiseptic properties similar to alcohol, but it doesn't dry out the skin. It can improve skin irritations, reduce swelling, tone the skin, and reduce bleeding from minor shaving cuts.
The antiseptic properties will keep the skin clean and free of bacteria. This is an important element for aftershave because shaving leaves pores open for 24-48 hours.
DIY AFTERSHAVE WITH ALOE VERA
We will be using aloe vera juice for this recipe, not the gel.
Aloe vera is very moisturizing for the skin. It is full of vitamins A and C, which are needed to help keep the skin firm and healthy. Aloe is also good for reducing inflammation, soothes skin, and helps with redness.
Applying aloe vera or aloe gel straight from the plant can be very effective for a razor burn remedy. Aloe vera can also be used instead of shaving cream.
DIY AFTERSHAVE WITH VEGETABLE GLYCERIN
Vegetable glycerin is moisturizing for the skin too! It is also a key opponent in this recipe because it helps to keep everything mixed together.
Vegetable glycerin is very gentle, making it great for sensitive skin. It is very soothing and can keep the skin smooth and soft.
ESSENTIAL OIL BLENDS FOR AFTERSHAVE
Adding essential oils to your DIY aftershave can add a lot of benefits for your skin, plus it will add a beautiful scent. My favorite is the woodsy blend! I absolutely love the smell of sandalwood and bergamot together. Thankfully, my husband likes this one too!
EARTHY
4 drops cypress
3 drops cedarwood
2 drops frankincense
Get this blend here.
WOODSY
4 drops sandalwood
3 drops bergamot
2 drops patchouli
Get this blend here.
FRESH
4 drops lemon
3 drops tangerine
2 drops rosemary
Get this blend here.
SOOTHING
4 drops lavender
3 drops tea tree
2 drops frankincense
Get this blend here.
MINTY
4 drops peppermint
3 drops eucalyptus
2 drops wintergreen
Get this blend here.
ESSENTIAL OIL DILUTION RATE FOR HOMEMADE AFTERSHAVE
When applying essential oils to the skin, it is very important to dilute them first. If you are using essential oils on the face, you may want to dilute them even further. I suggest using 5-10 drops of essential oils total in 2 ounces of liquid. This aftershave makes about 2-ounces, so don't exceed 10 drops per bottle. If you are prone to sensitive skin, you can use fewer essential oils.
ALL-NATURAL RAZOR BURN REMEDIES
Applying aftershave after shaving can really help with razor burn. The ingredients in the aftershave will help to shrink pores and soothe the skin.
MORE NATURAL RAZOR BURN REMEDIES
COCONUT OIL
Massage a small amount of organic coconut oil onto the affected area. Coconut oil can help to reduce inflammation and redness.
BAKING SODA PASTE
Combine baking soda and water together to create a paste. Rub it on the inflamed area and allow it to dry. Rinse with cool water.
COOL COMPRESS
Applying a cool compress to razor bumps can help reduce skin swelling and soothe the skin.
WHAT IS A GOOD SUBSTITUTE FOR AFTERSHAVE?
Apple cider vinegar and water mixture
Aloe vera
Natural toners
MORE RECIPES YOU MAY ENJOY
Yield: 2 ounces
Homemade Aftershave for Razor Burn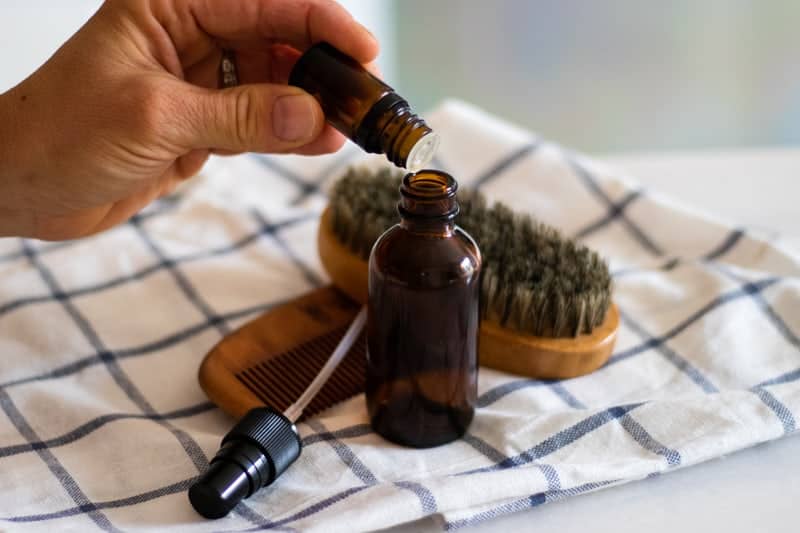 You must try this crazy simple aftershave recipe using natural ingredients for an incredibly smooth shave.
Materials
5-10 drops essential oils (see suggestions in post) 
Tools
Instructions
Combine all the ingredients except the essential oils into the spray bottle.
Add in essential oils, secure sprayer nozzle, and shake well.
Notes
Spray directly onto the shaved skin, avoiding the eyes and any other sensitive areas.