Eyelashes are crucial for keeping our eyes clean and they are a focal point of the face. Caring for them the right way will ensure healthy long lashes.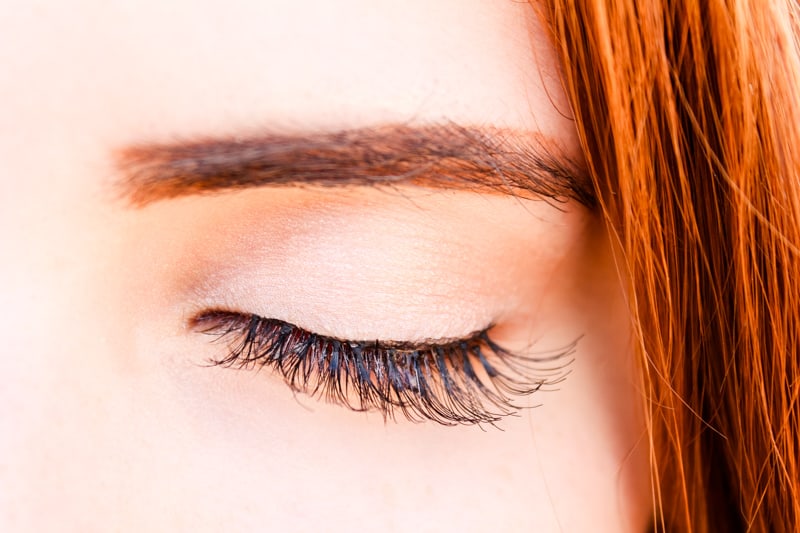 How Eyelashes Protect Your Eyes
Normally, when we think of eyelashes we think of ways to make them long, thick, or what mascara to use on them. But did you know that your eyelashes have a very important job?
Your eyelashes are your eye's first line of defense and protect your eye tissue from dirt, dust, and debris. Eyelashes are hard at work when you are awake and when you are sleeping.
When your eyes are open, your eyelashes will catch most dirt and dust from touching the eye when you blink or even when they are wide open.
When your eyes are closed, your eyelashes form the perfect barrier keeping even the smallest particles from getting into your eyes.
Eyelash Care
Believe it or not, if you leave your eyelashes completely untouched they will continue to do their job and most likely be able to do it flawlessly.
However, when we "mess" with them by wearing eye shadow, eyeliner, or extensions, your eyelashes may end up requiring a little TLC.
It is important to keep your lashes clean so they can protect your lashes properly, this means getting all mascara and eye makeup removed at the end of each day.
Coconut Oil for Eyelashes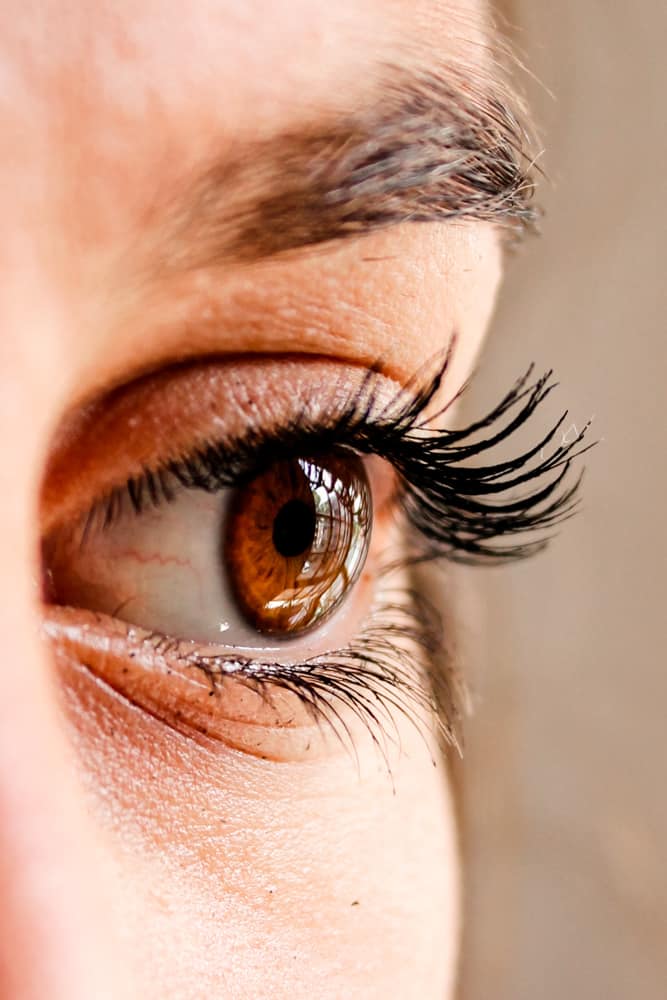 When comes to cleansing eyelashes, coconut oil is one of the best ingredients to use. Coconut oil is very gentle, safe and doesn't burn the eyes when it gets close to them.
Add a small amount of fractionated coconut oil or regular coconut oil to a clean cloth, rub around the eye, on the eyelids, and on the eyelashes to remove all eye makeup and mascara.
This is not only a simple way to remove makeup naturally, but coconut oil can also help with eyelash growth.
Eyelash Growth Serum DIY
If you desire longer or thicker lashes, there are a few natural things you can do to help with that.
Making a natural eyelash growth serum is very simple to make and only takes seconds to apply. To make an eyelash serum make sure you have some castor oil, coconut oil, vitamin E oil, and lavender essential oil on hand.
Having a dropper bottle or better yet, an empty mascara tube will be ideal for storing and applying the eyelash growth serum.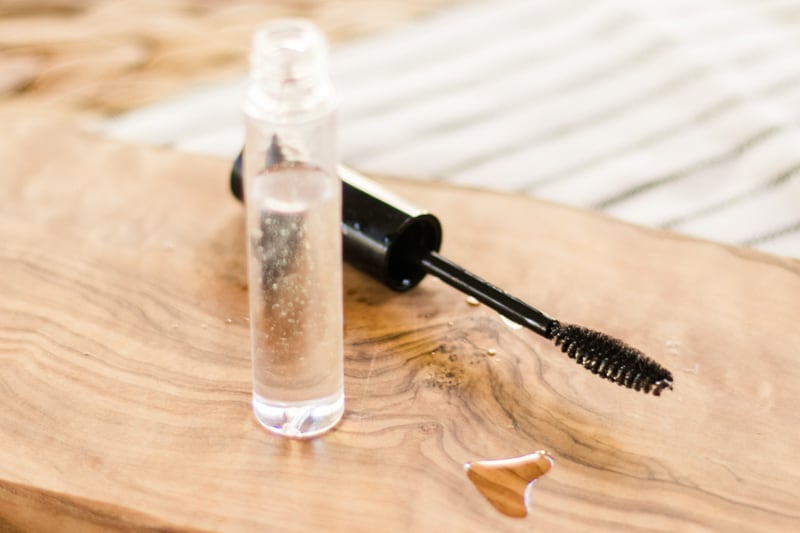 This post contains affiliate links, which means I make a small commission at no extra cost to you. Get my full disclosure HERE
How to Make Eyelash Growth Serum
Ingredients
Instructions
Add all the ingredients to a small dropper bottle or empty mascara tube.
Secure the lid and shake to combine all ingredients.
If using a dropper bottle, get a drop or two on your finger and massage it into the root of the eyelash. If using a mascara tube, apply like mascara.
Apply twice daily. Once in the morning and once in the evening.
Best Oils for Eyelashes
When it comes to natural eyelash care there are several carrier oils and essential oils that can help strengthen and lengthen your lashes.
Castor oil and coconut oil are some of the best carrier oils to use to stimulate hair growth and thicken lashes or eyebrows.
Other carrier oils such as rosehip oil, olive oil, or emu oil are other carrier oil options to try.
Rosemary, lavender, peppermint, and cedarwood essential oils can be used to stimulate hair growth and thicken the hair, however, not all those essential oils are safe to use around the eyes so be careful when choosing oils for your eyelash serum.
Can You Use Essential Oils on Eyelashes?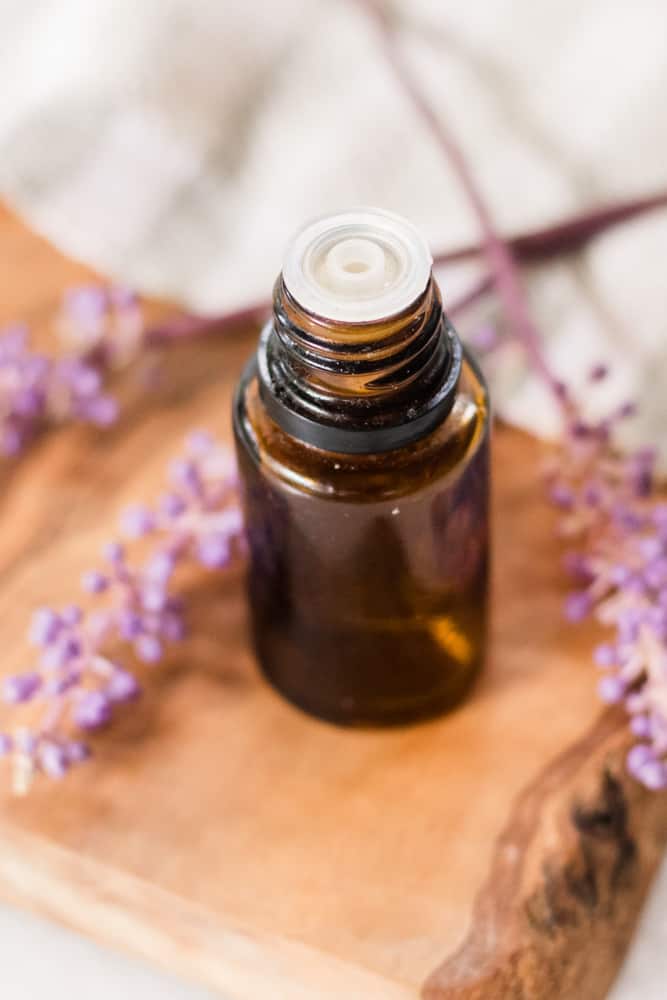 When using essential oils it is important to keep them out of the eyes, the inside of the nose, and the ears. Even though essential oils can help with natural eyelash care, it is crucial to keep the oils out of the eye.
When choosing essential oils to use close to the eyes, avoid minty oils and hot oils, make sure the essential oils are completely pure and safe to use near the eyes.
Lavender essential oil is very gentle and beneficial for sensitive skin, which is why I added it to the serum.
If you are concerned about using essential oils close to your eyes, you can make the eyelash serum without the lavender.
The serum will still have plenty of benefits for the lashes with castor oil, coconut oil, and vitamin E oil.
Coconut Oil vs Castor Oil for Eyelashes
When talking about hair growth, castor oil is typically the oil that comes up! Castor oil can stimulate hair growth, reduce split ends, help with hair breakage, add moisture, hydrate dry hair, and repair damaged hair.
Castor oil is a thick, light yellowish, odorless oil that comes from the seeds of a castor plant. It is commonly used as a laxative, for its antiviral properties, to help with skin issues, and for hair growth.
Fractionated coconut oil is heated up coconut oil that has been separated from the solid so it will remain liquid even at cooler temperatures.
It is clear, thin, and odorless. Fractionated coconut oil is often used in hair products to add moisture and leave a beautiful shine.
Both castor oil and coconut oil can benefit the lashes, which is why I use a combination of both in the serum. If you only have one, you can use more of the other one in the serum and omit the other.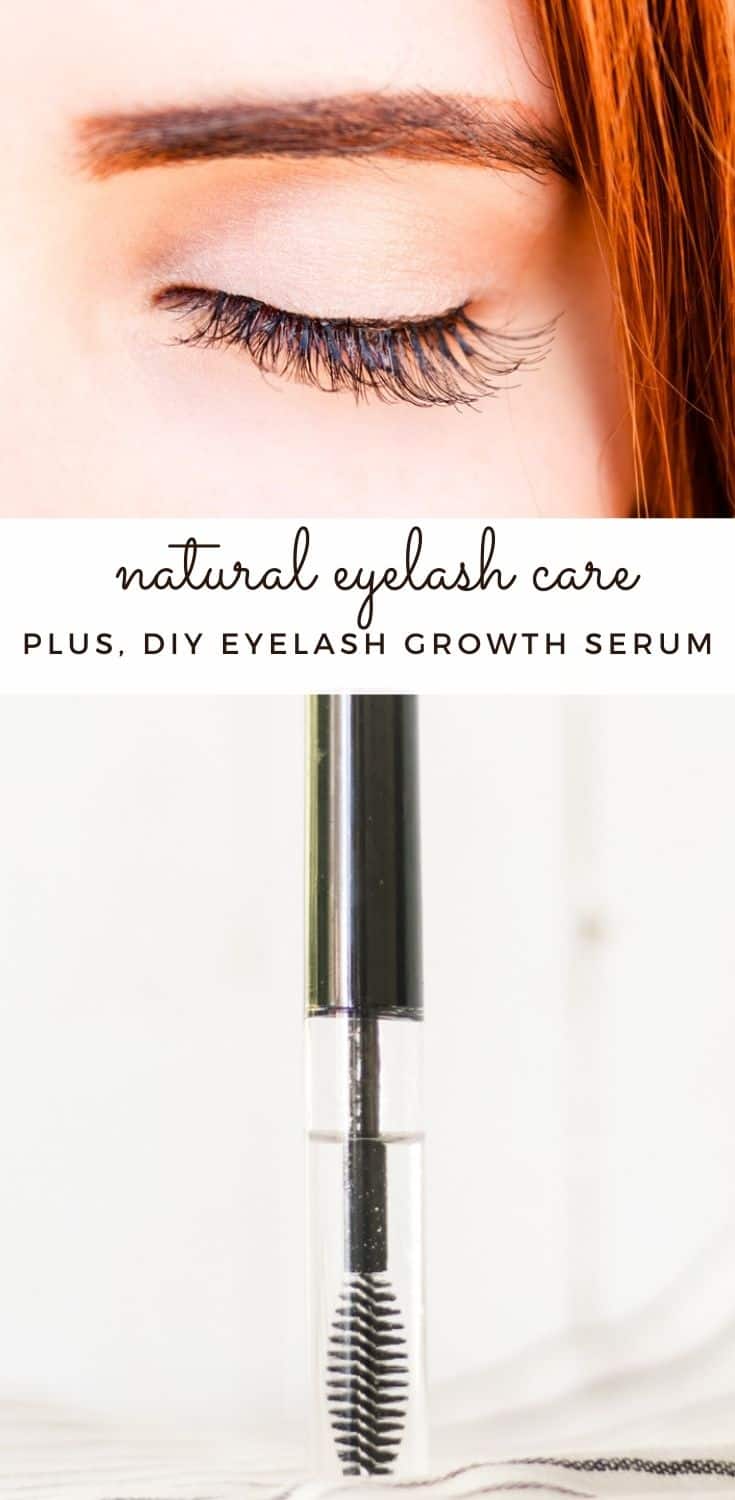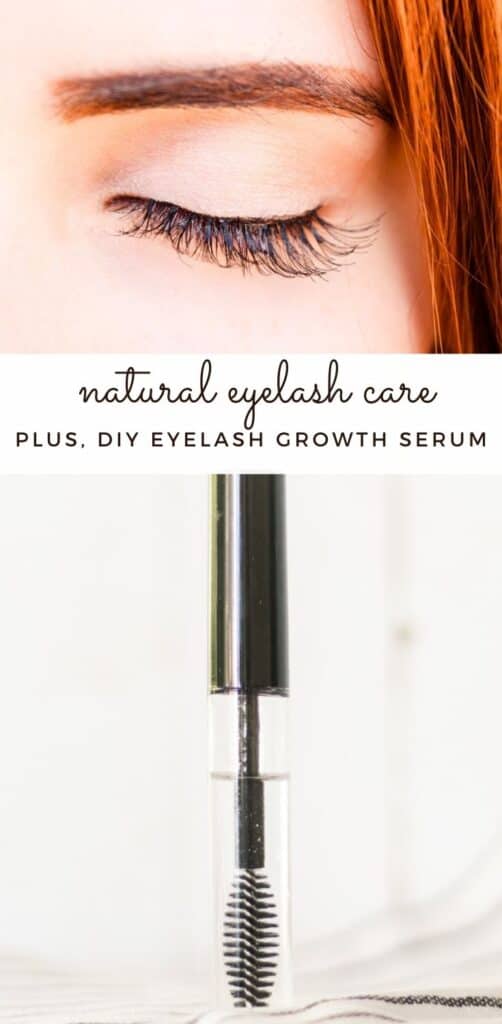 Does Coconut Oil Help Eyelashes to Grow?
Coconut oil itself doesn't necessarily make the eyelashes grow, but what it does is allow them to grow to their fullest potential by keeping the hair moisturized and hydrated.
Coconut oil strengthens lashes reducing the chance of hair falling out.
Does Eyelash Growth Serum Work?
Eyelash growth serums really can work, however, some people may see slow results.
It will gradually strengthen your lashes and the added moisture can reduce the chance of lashes falling out, over time making them thicker.
If you are trying to grow your lashes with a serum, be patient. Some people won't see results for a month and will give up before they do.
Be consistent with applying the serum and most likely you will see positive results!
Eyelash Extension Aftercare
When your eyelash extensions start to grow out, it is important not to pick or pull them out. The best way to remove extensions at home without harming your lashes is with steam.
Fill a pot with water and place it over the stove to heat it up. Carefully put your face over the steam for a few minutes. The steam will loosen the glue making it easy to remove lashes.
Be careful not to burn yourself on the pot!
After your extensions are removed, apply the eyelash serum to your eyelashes daily to restore moisture and to thicken your own lashes.
Make sure to check out these other popular DIY beauty products
Yield: 1 tube
DIY Eyelash Growth Serum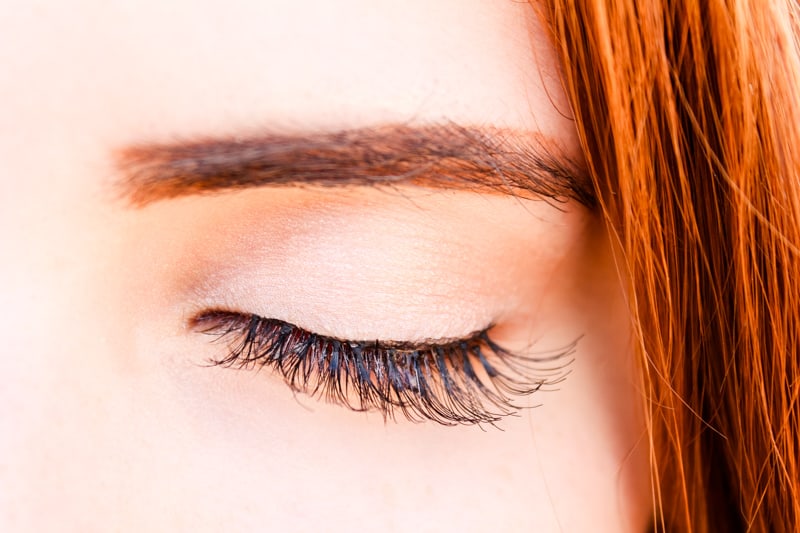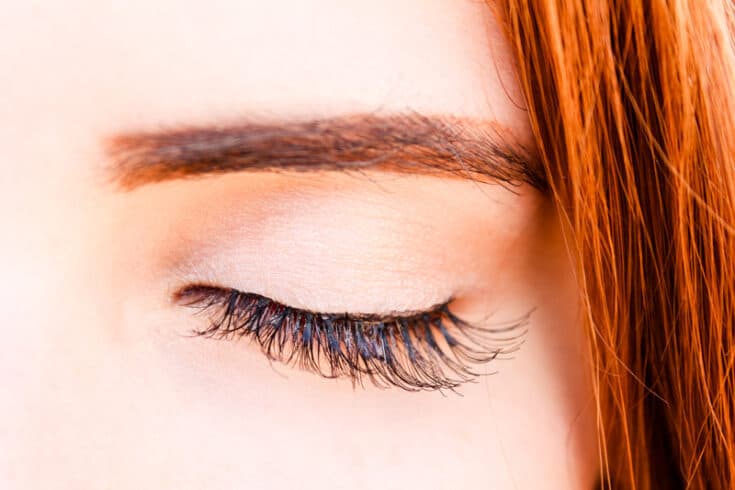 Easy and all-natural eyelash growth serum to strengthen and lengthen lashes.
Materials
1 teaspoon castor oil
1 teaspoon fractionated coconut oil
5 drops vitamin E oil
3 drops lavender essential oil (optional)
Tools
Mascara tube or dropper bottle
Instructions
Add all the ingredients to the small dropper bottle or empty mascara tube.
Secure the lid and shake to combine all ingredients.
If using a dropper bottle, get a drop or two on your fingertips and massage it into the root of the eyelash. If using a mascara tube, apply the same way you would mascara.
Apply twice daily. Once in the morning and once in the evening.