Learn how to make and use some of the best, if not top 5 essential oil roller bottles to improve mood, reduce stress, and brighten your day.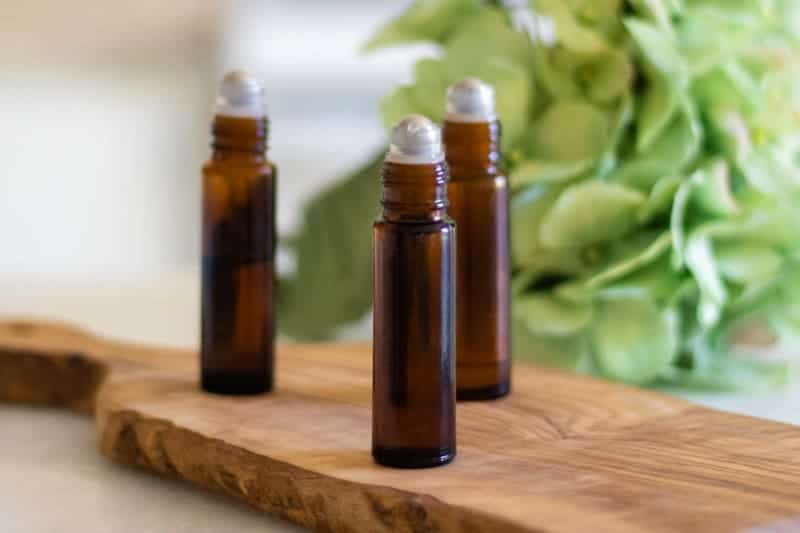 Essential oils are becoming extremely common as more people are finding how effective they really are. One of the ways oils can be used is for improving mood. Just by breathing in essential oils, they will enter into the limbic system, which is the part of the brain that controls stress factors and mood.
What better way to stay ahead of the game than by having a few essential oil roller bottles made up and ready to use when you are having a bad day? It is a perfect, quick solution to help with improving the mood.
Each of these blends can also be diffused for aromatherapy benefits, but sometimes having a roller bottle is an easier option, especially if you are out of the house.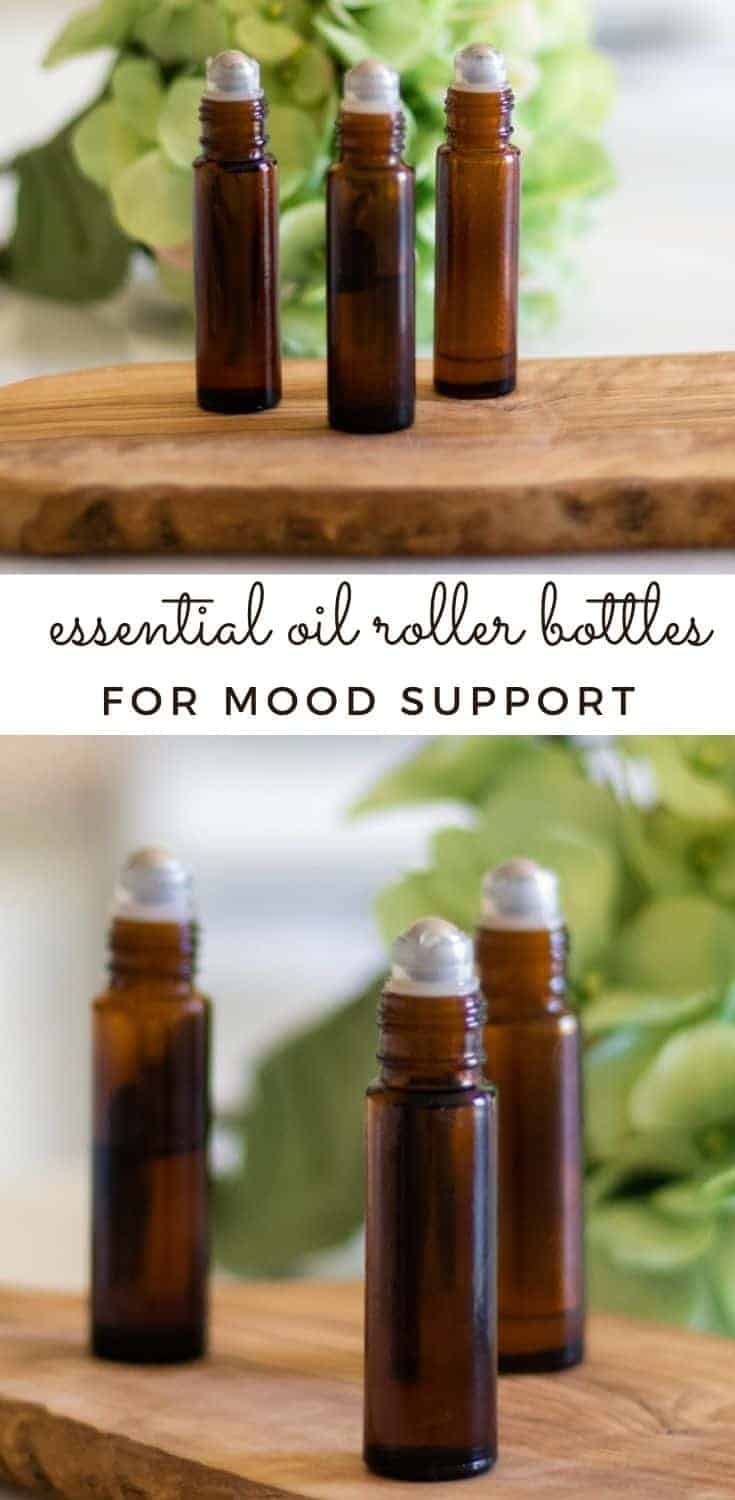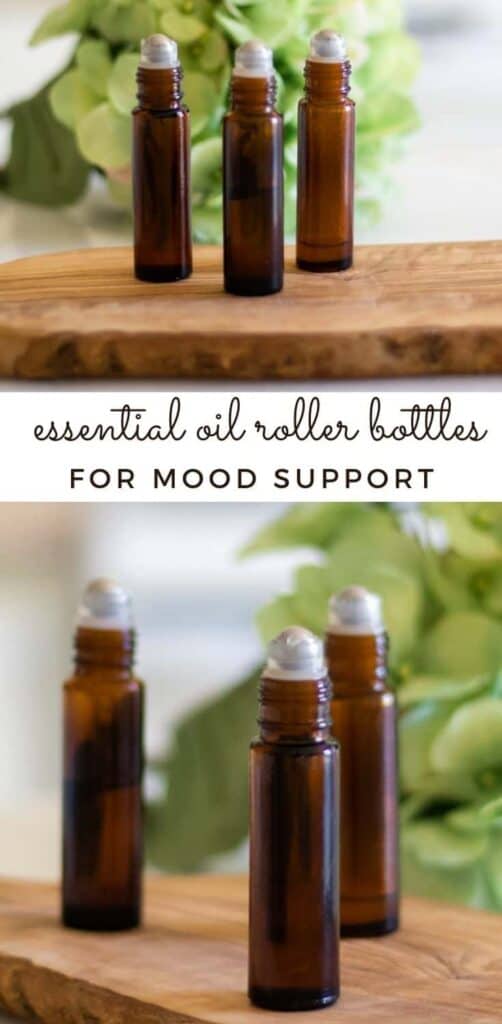 WHAT ESSENTIAL OILS ARE BEST FOR MOOD SUPPORT?
Floral and citrus oils are 100% my go-to for mood support. Almost all floral essential oils can help to calm and relax the nervous system. They can also reduce stress and anxious feelings.
Citrus essential oils can uplift the mood and help to give you a natural boost of energy. When it comes to diffusing, wild orange is one of my favorites to diffuse during the "afternoon slump."
So as I said, pretty much any citrus or floral oil will help with mood support. For these blends though, I will be adding a few additional essential oils: frankincense, copaiba, Siberian fir, and marjoram. These oils can also be used to improve the mood.
HOW TO MAKE AN ESSENTIAL OIL ROLLER BOTTLE
Making an essential oil roller bottle is very easy. All you need is an empty roller bottle, a carrier oil, and essential oils. The standard roller bottle size is 10mL, so all of the recipes below will be for that size; adjust accordingly.
When it comes to carrier oils, there are countless options to choose from. Some of my favorites are fractionated coconut oil, jojoba oil, and sweet almond oil. You can learn about these carrier oils and more as well as which ones are best for the skin here.
For a 10mL roller bottle, you will need about 20 drops of essential oils. Remember that essential oils are very concentrated and a little goes a long way.
If you're making a roller bottle for a kid, you will want to dilute the essential oils further and only use about 10 drops, or half of what the recipe calls for.
ESSENTIAL OILS ROLLER BOTTLES FOR MOOD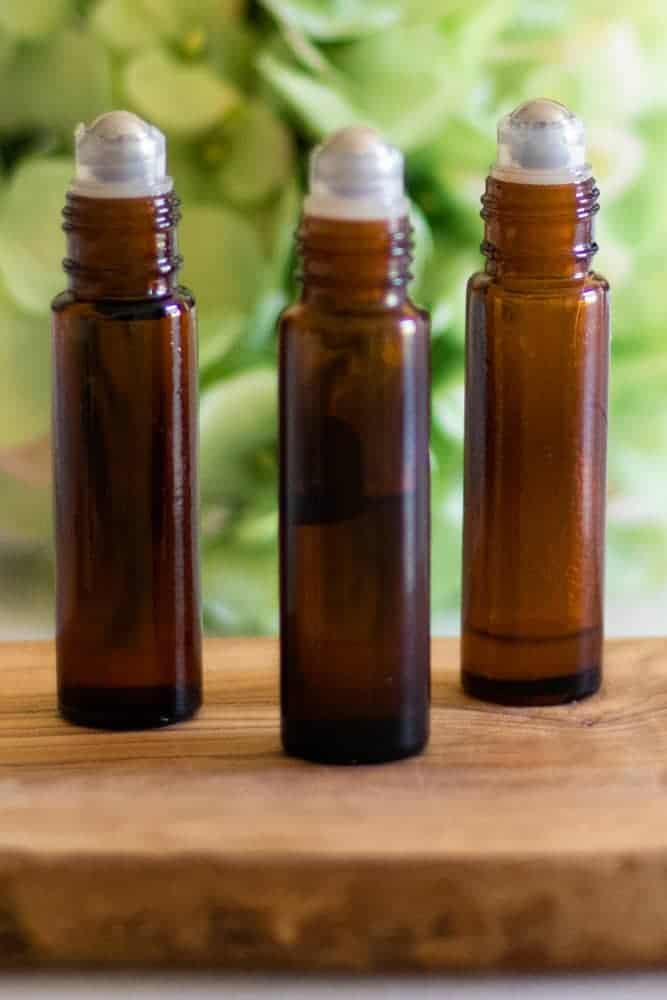 ROLLER BOTTLE SUPPLIES
This post contains affiliate links, which means I make a small commission at no extra cost to you. Get my full disclosure HERE.
ROLLER BOTTLE RECIPES
STRESS AND ANXIOUS FEELINGS
5 drops lime essential oil
5 drops bergamot essential oil
5 drops lemon essential oil
3 drops lavender essential oil
2 drops copaiba essential oil
UPLIFTING
10 drops lemon essential oil
5 drops lime essential oil
5 drop wild orange essential oil
OVERWHELM
5 drops vetiver essential oil
5 drops lime essential oil
5 drops rose essential oil
3 drops chamomile essential oil
2 drops marjoram essential oil
LONELY
10 drops ylang ylang essential oil
5 drops frankincense essential oil
5 drops Roman chamomile essential oil
FRUSTRATED
10 drops Siberian fir essential oil
5 drops lavender essential oil
5 drop grapefruit essential oil
BEST PLACE TO APPLY ESSENTIAL OILS TO SUPPORT MOOD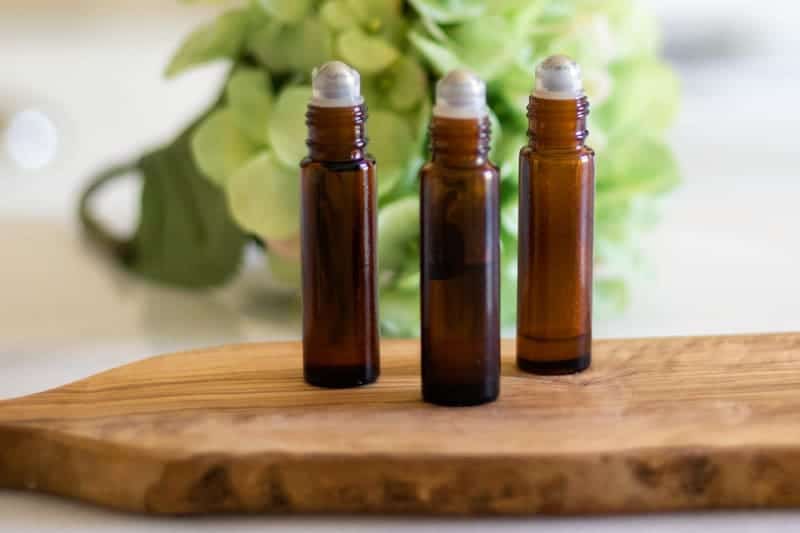 The best place to apply essential oils for mood support is on the pulse points, down the spine, and the bridge of the nose.
I suggest the bridge of the nose because essential oils can be beneficial to inhale when trying to improve the mood. By applying them close to the nose will give you those aromatherapy benefits.
Be careful not to get essential oils in the nose or too close to the eyes. If they get in the eyes, they will burn and they can cause your eyes to water if they get close to the eyes.
If you are using a blend of oils that you don't love the smell of, you can roll the oils on the bottom of your feet and put on your socks and shoes. This is a great way to get the benefits without having to smell them.
HOW TO DILUTE ESSENTIAL OILS
As mentioned above, essential oils are very potent and need to be diluted properly before being applied to the skin. As a rule, I use 20 drops of essential oils for adults and 10 drops of essential oils for kids.
Always consult with your doctor before applying essential oils on a child.
If you are making roller bottles for kids under the age of two, you will want to dilute them even further.
If you ever apply essential oils to the skin and have a reaction, you can apply a carrier oil to the area. Do NOT use water as it will only make it worse.
HOW LONG DO ROLLER BOTTLES LAST?
The good news is that rollerball blends do not expire very quickly, even if you use them often. Remember, you don't need very much to get the effects of essential oils.
If stored properly, your roller bottle should last up to one year. It is best to use an amber or dark blue colored roller bottle and store it in a cool dark place. If you do decide to use clear roller bottles, make sure to keep them out of direct sunlight.
HOW TO SUBSTITUTE ESSENTIAL OILS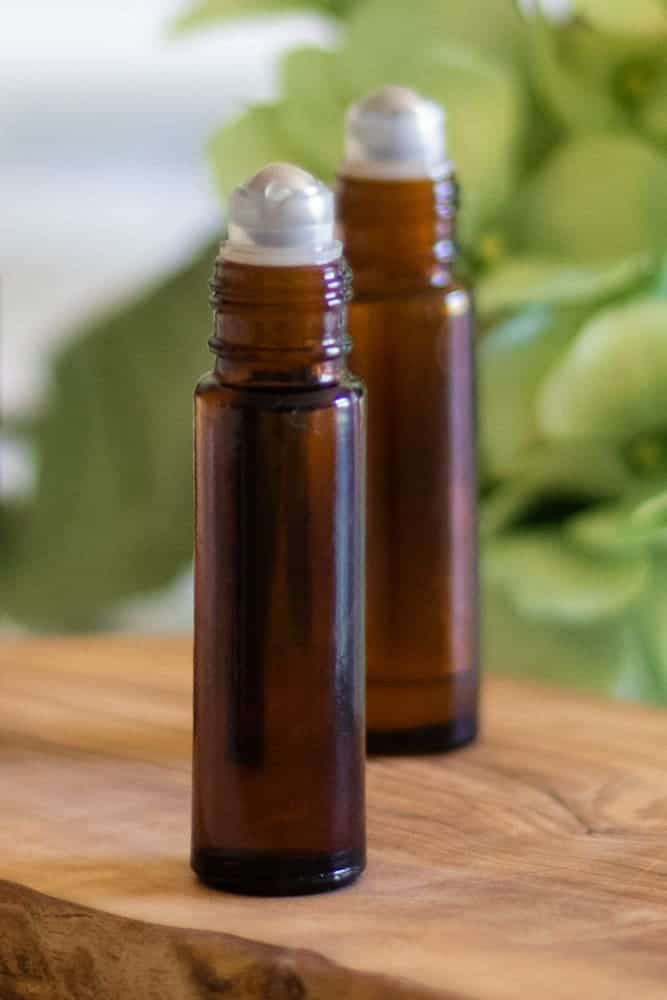 If you don't have a particular oil for a blend that you are trying to make, that is OK. These recipes are what I find to work best, but you can change them up slightly and still get great results.
If you are missing an oil, you can omit it from the recipe or replace it with another oil in the same group. For example, if you don't have lime, try using lemon or another citrus essential oil instead.
Please note, most citrus essential oils are photosensitive and should not be used on skin in direct sunlight.
BEST ROLLER BOTTLES FOR ESSENTIAL OILS
When choosing essential oil roller bottles, it is best to pick a dark-colored glass to preserve it longer. When clear glass sits in direct sunlight, it can affect the potency of the essential oil.
Choose a roller bottle with a rollerball top that is easy to pop on and off so you can reuse the same bottle when your blend runs out.
Apply a printable label to all of your bottles to help keep things straight. Quickly you will realize that it is easy to mix blends up and forget what oils are in what bottles.