100 essential oil roller bottle printable labels for the most common ailments. Beautifully designed roller bottle labels that fit all standard bottle sizes.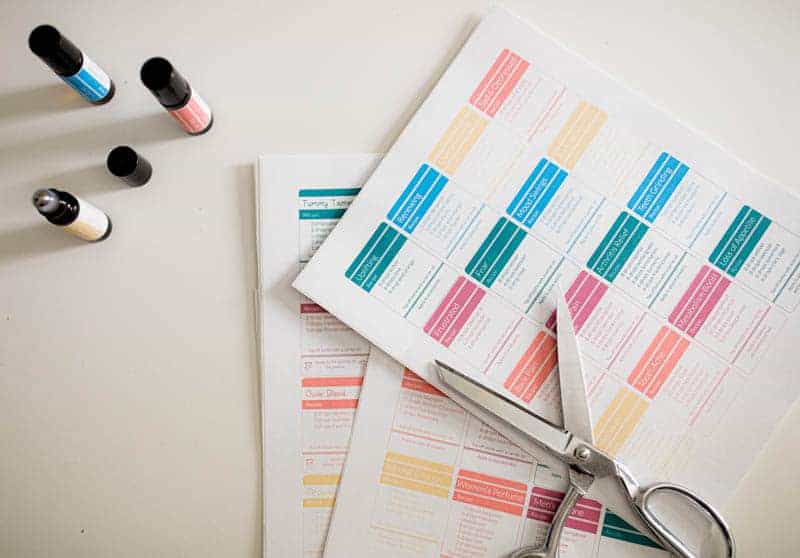 This post may contain affiliate links, which means I make a small commission at no extra cost to you. As an Amazon Associate, I earn from qualifying purchases. Get my full disclosure here.
Have you ever whipped up a roller bottle or two, and by the next day, you forgot what was in it? I am over here, raising both hands and feet. Always thinking I won't forget or saying I'll label it but never do.
I have been dreaming of these printables for quite some time. As an essential oil blogger, I get asked about which essential oils are best for immune support, hair growth, mood support, that time of the month, tension; you name it, I have been asked!
I wanted to find a way to compile all of this information into one printable that could be used as a reference for so many people. My first thought was an ebook, a very long ebook. But then I decided to take the same information and put it on a label to make it even more practical.
These essential oil printable recipe labels have been designed for the user, and I think you will love them! They will make your life easier and a whole lot more organized.
Get your set of 100 essential oil roller bottle labels!
PIN IT FOR LATER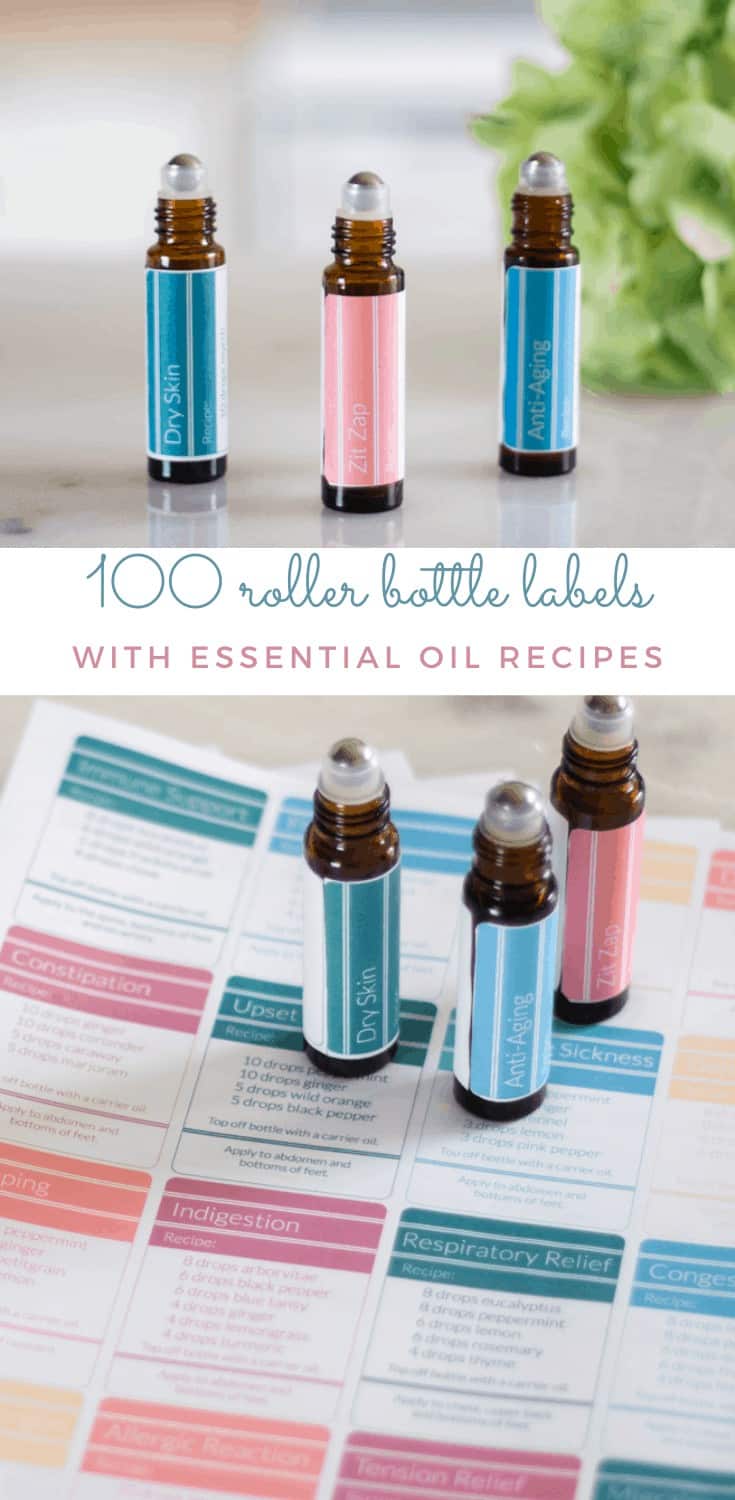 ESSENTIAL OIL ROLLER BOTTLE PRINTABLE LABELS
LABEL FITMENT
Each label will show you exactly how to make the roller bottle, how to use it, and where to apply it. Almost all essential oil roller bottles are made with tops that pop on and off, making it easy to refill. These are my favorite roller bottles.
With the recipe stuck straight to the bottle, it will make refilling them easy. No more searching for the recipe on google, Pinterest, or our oily house. 😉
The labels are made to fit a 10mL roller bottle.
Length 2 1/2″
Width 1 13/16″
ESSENTIAL OIL ROLLER BOTTLE FOR ADULTS

As you can imagine, with 100 printable labels, I was able to cover all the bases. I started with the recipes I get asked for most commonly and then moved on to the ones I use most often.
I have shared a lot of roller bottle recipes on the blog, but this list includes several new recipes that I have never shared before!
ESSENTIAL OIL ROLLER BOTTLE FOR KIDS
As a mama of 4, I decided to add a whole section just for kids. The labels are made slightly different to indicate they are for children and are diluted properly for little ones.
Again, I compiled this list of roller bottle blends with my most commonly asked questions and with ones I use most often on my kids.
If you do not have children, you can still use these blends on yourself. Some of the kid blends end up being my favorite!
BLANK ROLLER BOTTLE LABELS

I also included a sheet of blank labels for any custom blends you may want to add to your collection. You can write in your own recipes and then stick it on your roller bottle.
This will help to keep all your bottles cohesive and organized.
HOW DO I GET THE PRINTABLE LABELS?
You can purchase your own set of printable labels for $9.95. It will be a PDF file that you are welcome to print for yourself as many times as you wish.
I recommend printing on waterproof label paper. This will keep them from smudging, and the printable labels will last much longer.