Making your own laundry soap is a great way to save money and make the switch to natural products. This homemade powder laundry soap only requires 3 ingredients, and it works great!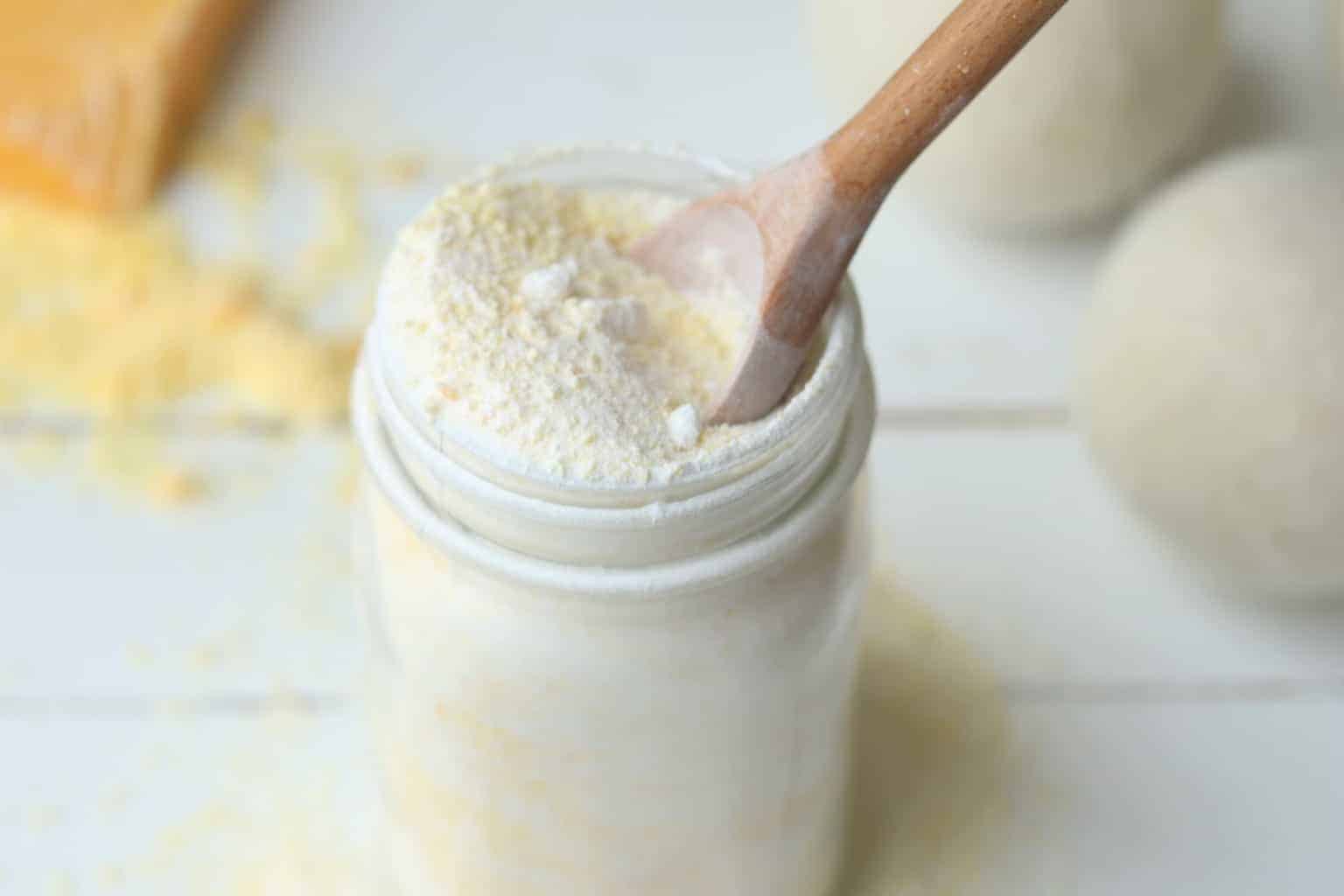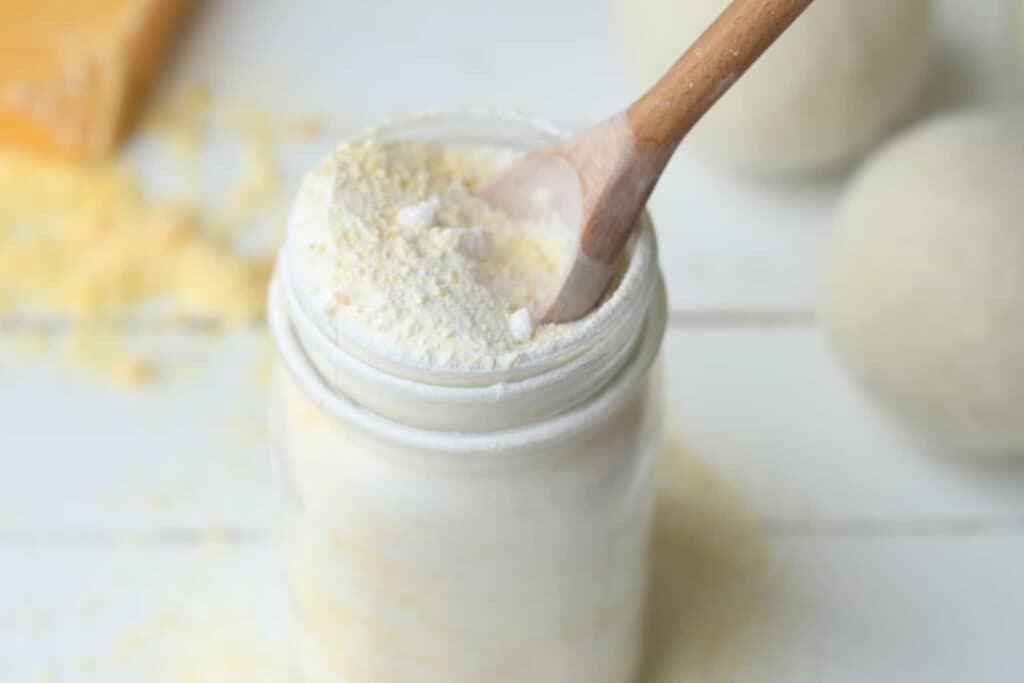 When I first started my blog, my homemade laundry soap was one of the first things I shared. I have been using that exact recipe for over 7 years, and I love that I can make 5 gallons for less than $2.
Talk about a money saver! After multiple requests, I now have a homemade powder laundry soap recipe.  
This recipe uses similar ingredients to the liquid soap, making it very cost-effective too!
It is sensitive enough to be used with baby clothes, delicates, and even cloth diapers! You only need a couple of tablespoons per load.
Looking for more natural cleaning swaps? Take my 3-day email course for FREE for more recipes and tips!
HOMEMADE POWDER LAUNDRY SOAP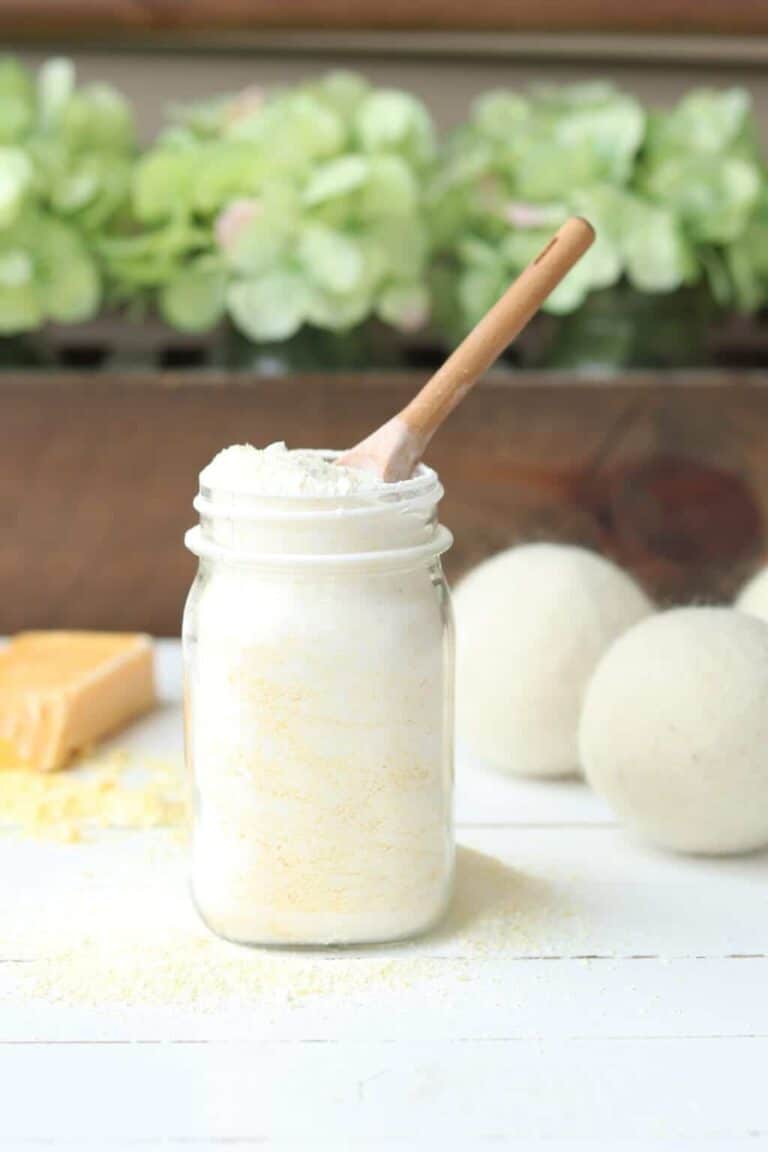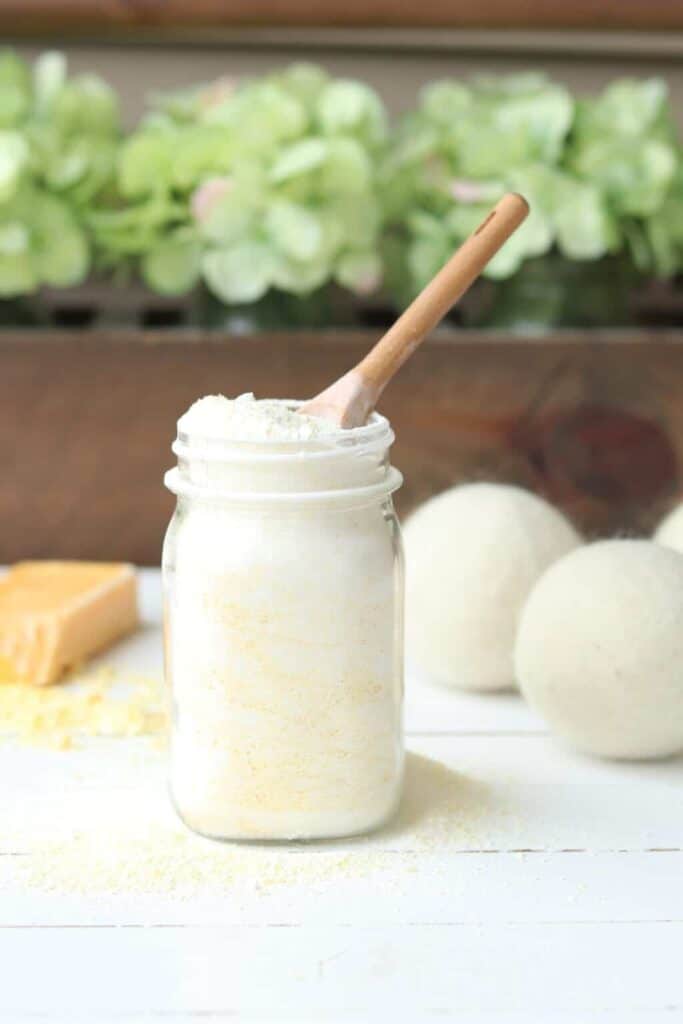 This post contains affiliate links, which means I make a small commission at no extra cost to you. Get my full disclosure HERE.
HOW TO MAKE POWDER LAUNDRY SOAP
INGREDIENTS
INSTRUCTIONS
Finely grate the soap bar using a cheese grater.
Add the shredded soap bar, washing soda, and baking soda to a large mixing bowl.
Stir until well combined
Add in essential oils.
Store in an airtight container.
Use 2 tablespoons per load. This soap is safe to use in high-efficiency washers.
I store mine in a half-gallon glass mason jar, and I keep a tablespoon measuring spoon in the container to make it easy to measure.
A LITTLE ON THE INGREDIENTS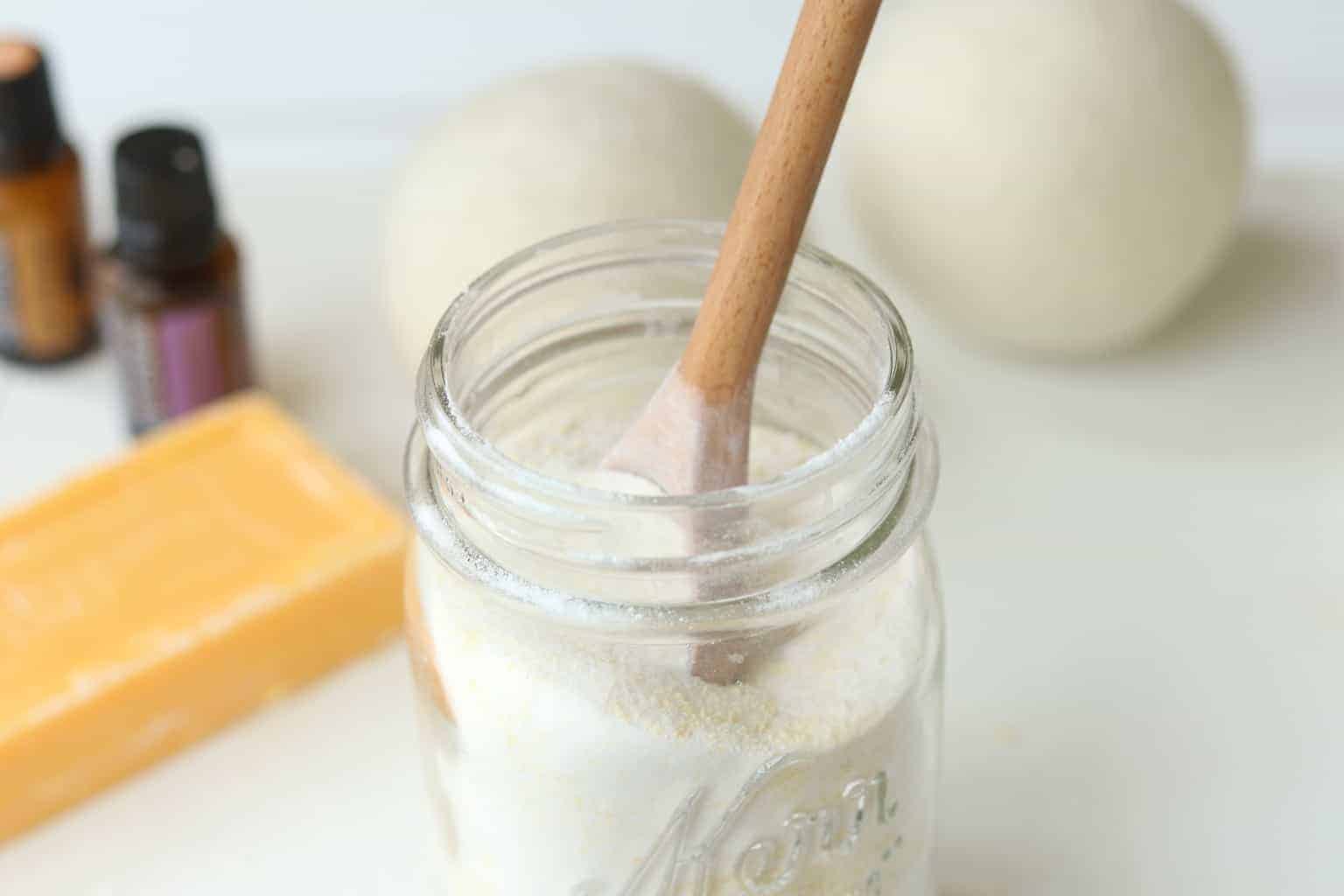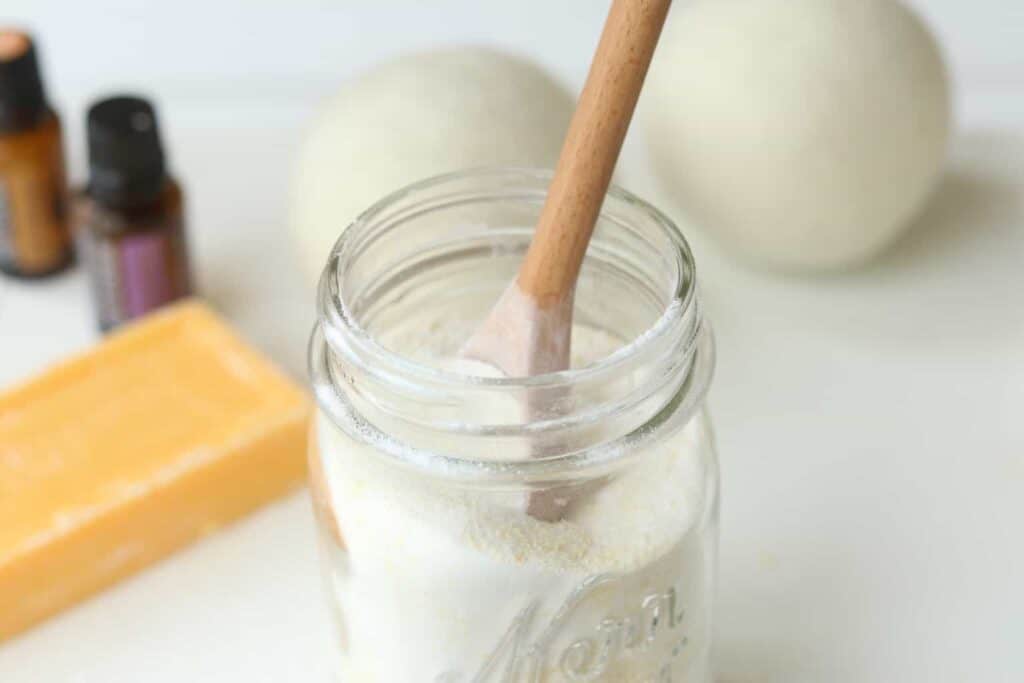 CASTILE SOAP BAR
If you have been around my blog long, you know my obsession with castile soap. I use it in my foaming hand soap, baby wash, shampoo, and cleaning products.
Castile soap is a very concentrated, vegetable-based soap. It is typically made out of olive oil or coconut oil. It has natural antibacterial properties that can help kill infections and germs.
Castile soap is a gentle soap making it safe on sensitive skin and babies. You can buy scented or unscented castile soap, I prefer unscented, so I can scent it how I want with my essential oils.
You can also use a Homemade Laundry Soap Bar, Fels Naptha soap bar or any other natural soap bar.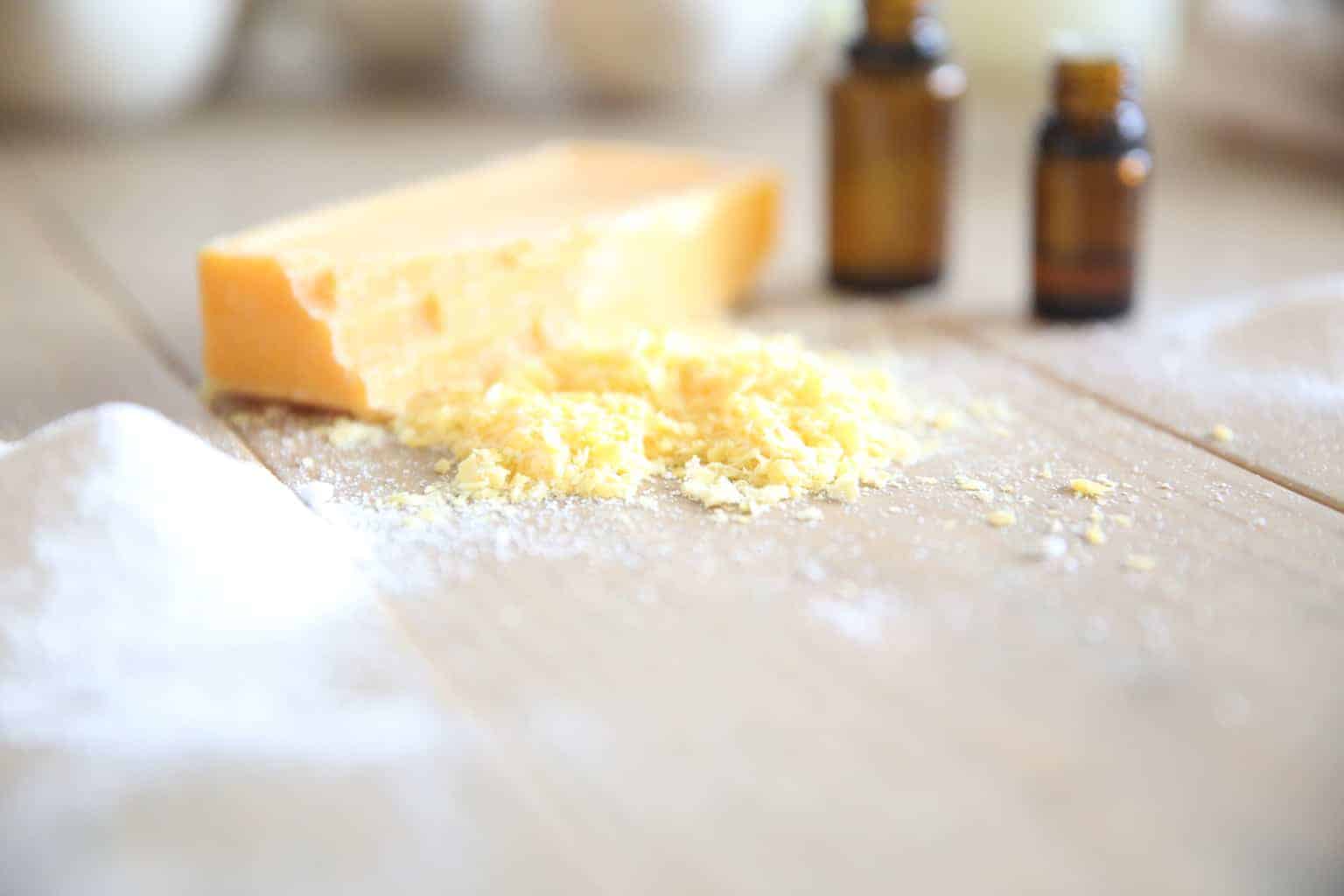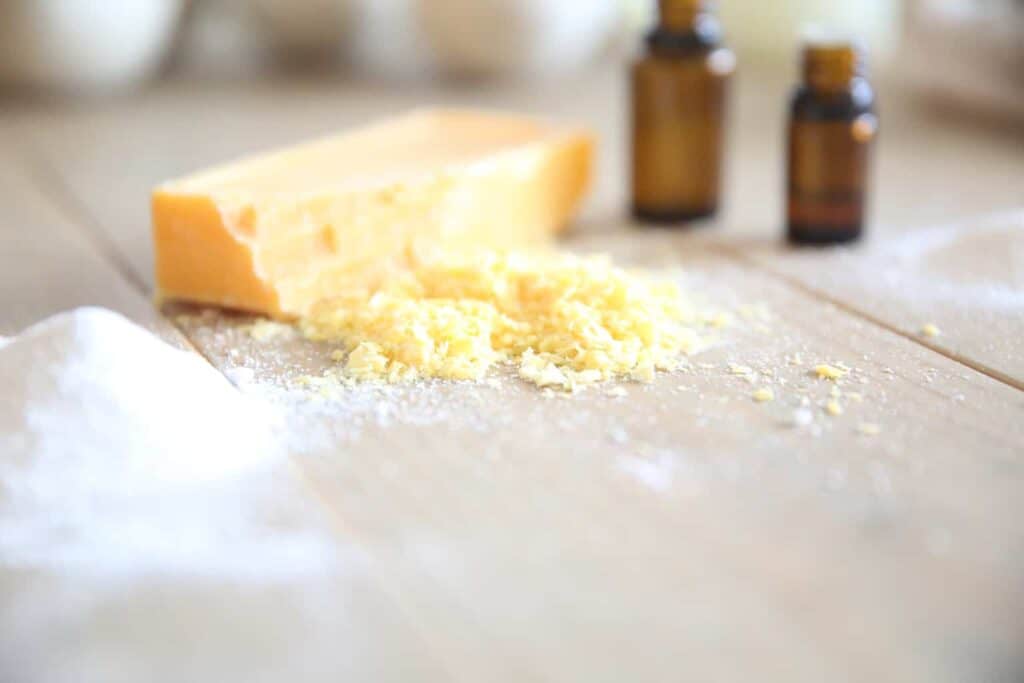 WASHING SODA
Washing soda is sodium carbonate that is dissolved in water for washing and cleaning. It is a natural cleaner and can be used to soften water. Washing soda is also neutralizing and eliminates odors.
Adding washing soda to your laundry can help remove stains and brighten clothes.
BAKING SODA
Baking soda has been used in laundry for many, many years.  Adding it to your soap will help to soften clothes, reducing the chance for wrinkles and bringing clothes out whiter and brighter. 
Baking soda is also very effective at eliminating odors.
ESSENTIAL OILS
Adding in essential oils is optional, but I highly recommend it. Essential oils in the powder laundry soap will have a scent that will linger in your laundry. You can use a single oil or make a blend.
I love adding in lavender or wild orange.
I share some of my favorite blends for laundry HERE.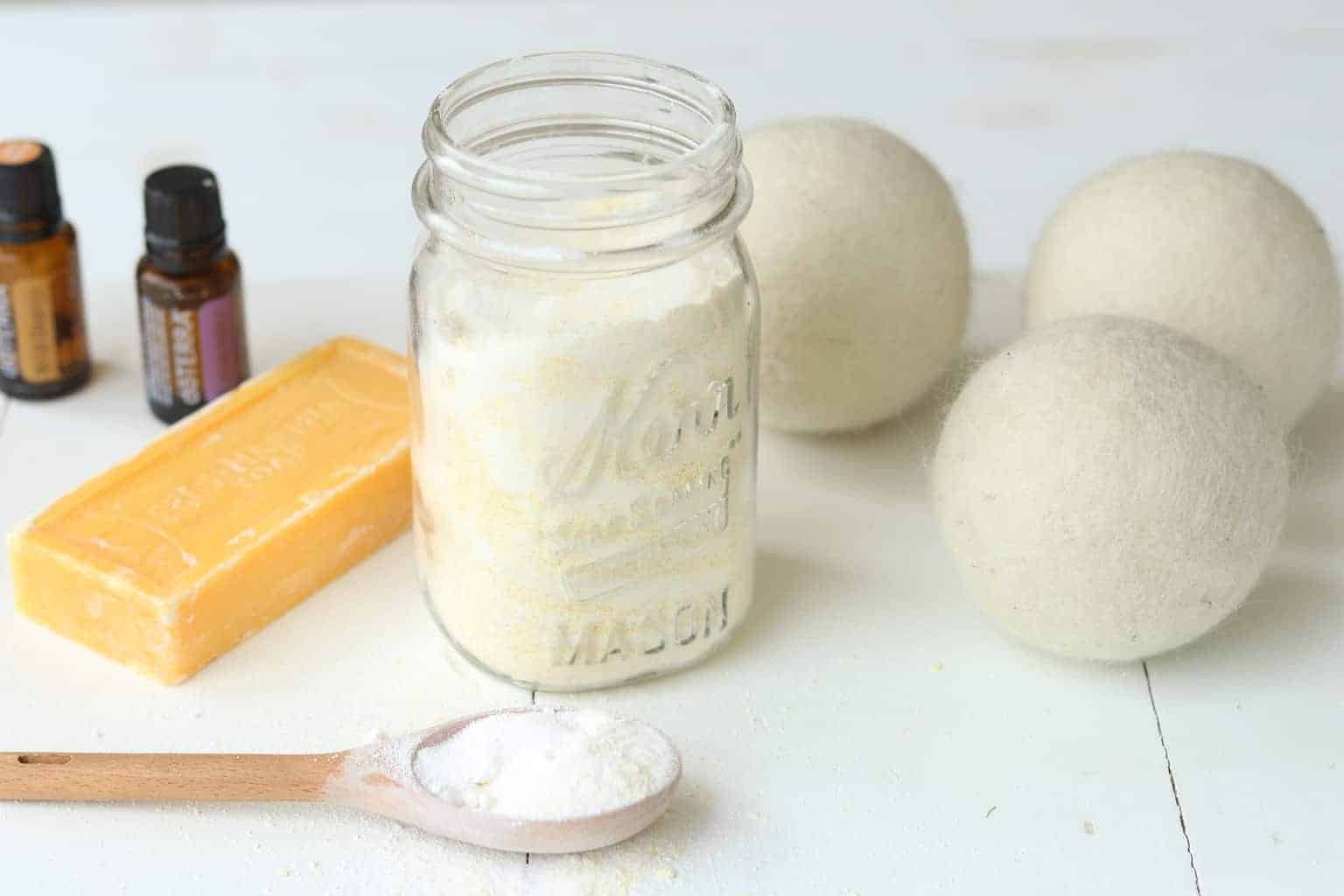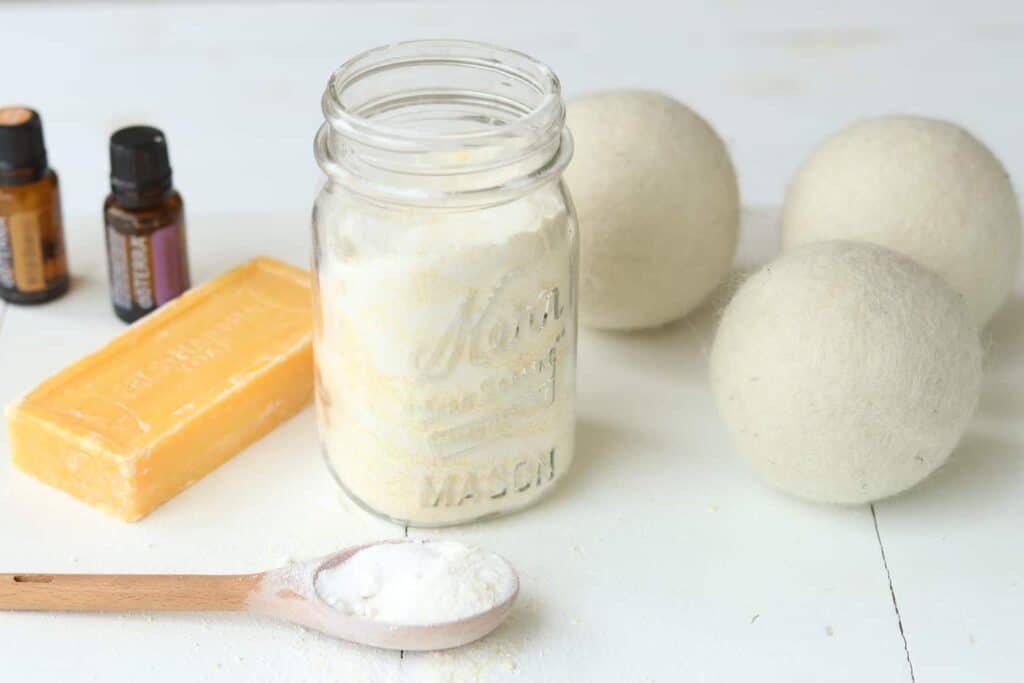 WHY SWITCH TO HOMEMADE NATURAL LAUNDRY SOAP?
First off, it saves a whole bunch of money. We have a large family, and just to keep up, I do at least one load of laundry per day. That doesn't include towels, sheets, blankets, or kids playing in mud puddles.
When I was a nanny, I remember the parents bought special soap for the kids' clothes. When it was on the list, and I had to pick some up from the store, I couldn't believe how expensive it was. This laundry soap is made with ingredients safe enough for babies and those with sensitive skin.
Leading brands' laundry soaps contain harmful ingredients that can cause skin rashes and other issues when inhaled. I love that this powder soap is made with all-natural ingredients.
BEST ESSENTIAL OILS FOR HOMEMADE POWDER LAUNDRY SOAP
LAVENDER- Lavender is a very calming, relaxing essential oil with a lovely floral smell. This one is my favorite for laundry soap.
WILD ORANGE- Invigorating, uplifting, and cleansing; wild orange is perfect for your laundry soap. It adds a fresh scent to your clean clothes.
MELALEUCA- Melaleuca is a purifying and cleansing essential oil. If you ever forgot to put wet laundry straight in the dryer when it is done, add 2-3 drops to the wet clothes and add to the dryer.
PEPPERMINT- If you like a fresh, minty smell, then this will be your oil. Peppermint makes a wonderful scent for your homemade laundry soap.
EUCALYPTUS- Eucalyptus is a great oil to add to your laundry soap during times of sickness. The oil will freshen clothes and kill germs.
LEMONGRASS- This citrus oil has an earthy smell and makes a great scent, especially for men.
ROMAN CHAMOMILE- Another calming essential oil and great for kids. Roman chamomile adds a beautiful floral scent.
CEDARWOOD- Another one for the men in your life. Cedarwood has a woodsy scent that most men enjoy, and it has cleansing properties making it great for your soap.
PATCHOULI- Either you love it or hate it. I am a patchouli lover and am obsessed with the scent. This is another favorite of mine for laundry.
JASMINE- If you want to smell like a bed of flowers all day, then add jasmine to your laundry soap. Jasmine is very calming and can help with stress and anxious feelings.
Get your essential oils HERE.
MORE NATURAL DIY LAUNDRY POSTS
Making homemade laundry products is a great way to cut down on the toxins in your home and save money. Using these products is better for your skin, clothes, and they work great! Thanks for reading. I hope you enjoyed this homemade powder laundry soap with essential oils recipe.
Have you ever made your own soap? Did you add in essential oils? Tell me your favorite blends you use!
PIN IT FOR LATER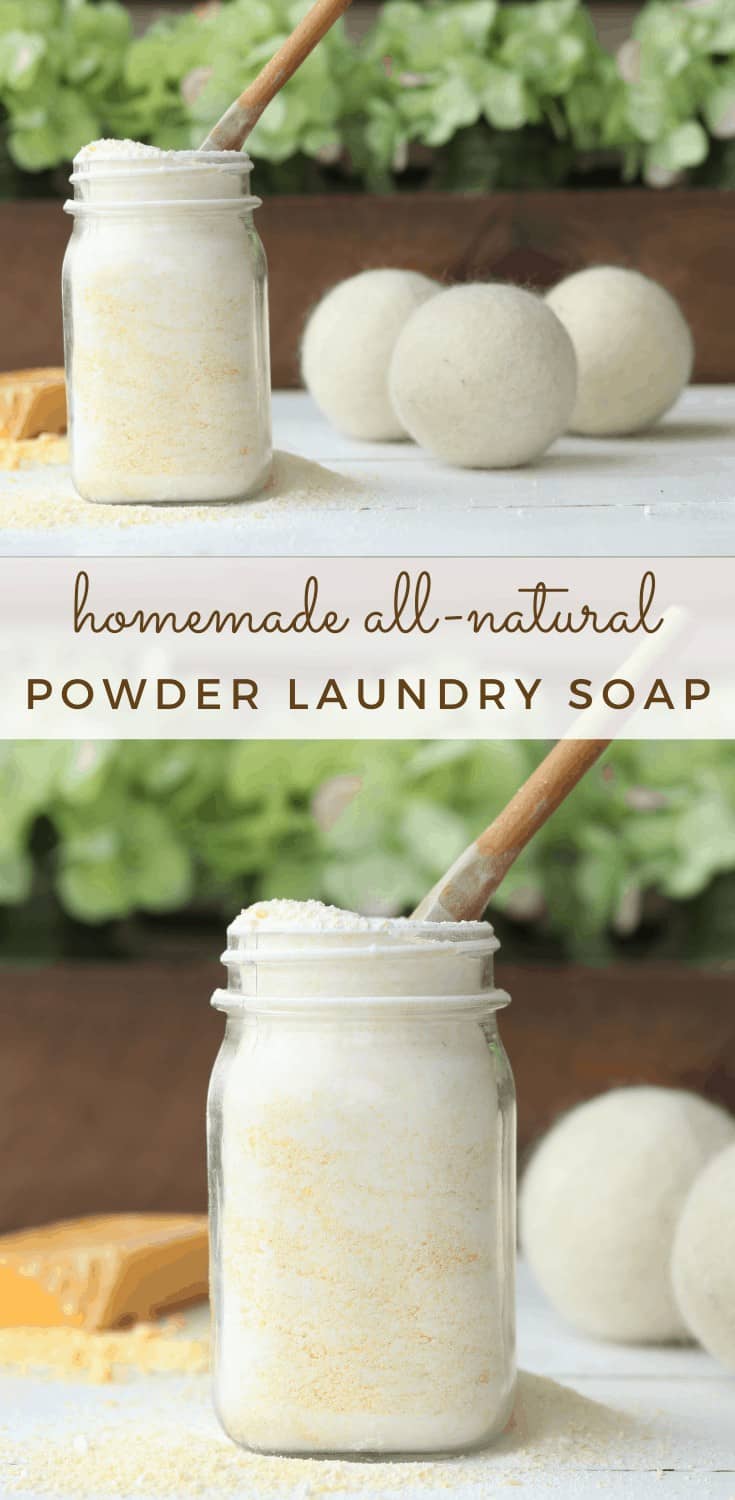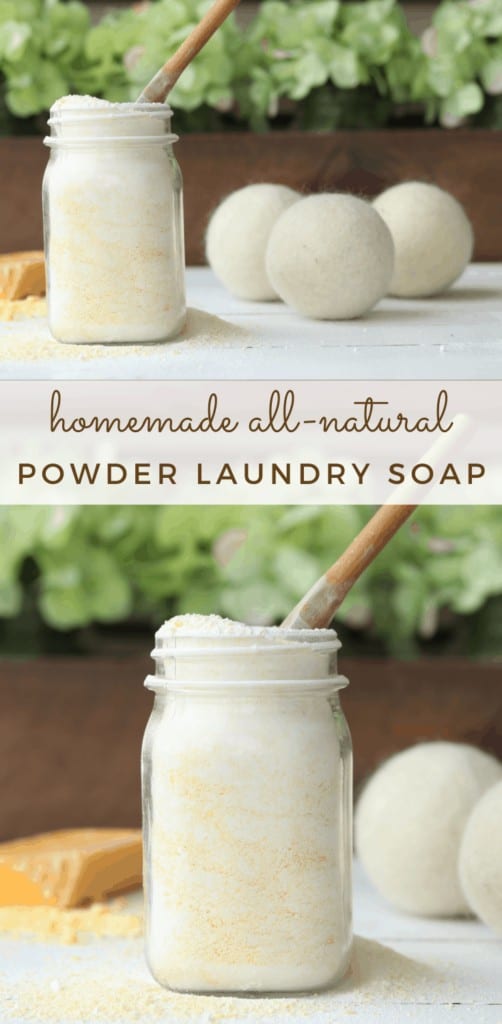 Powder Laundry Soap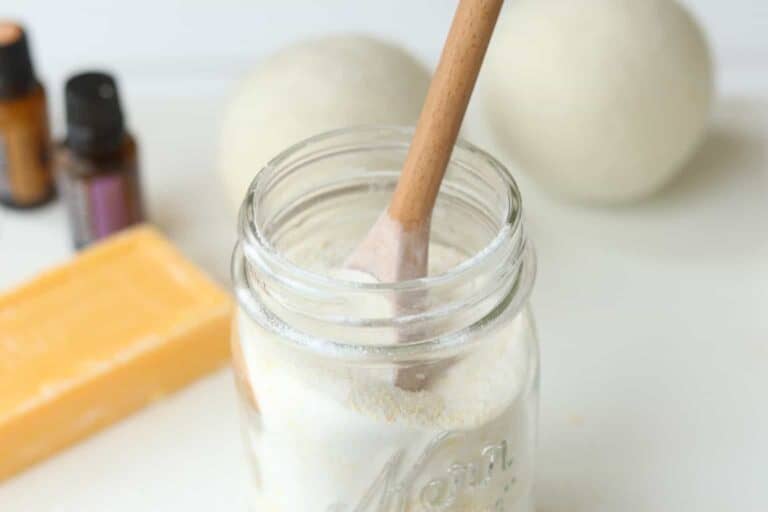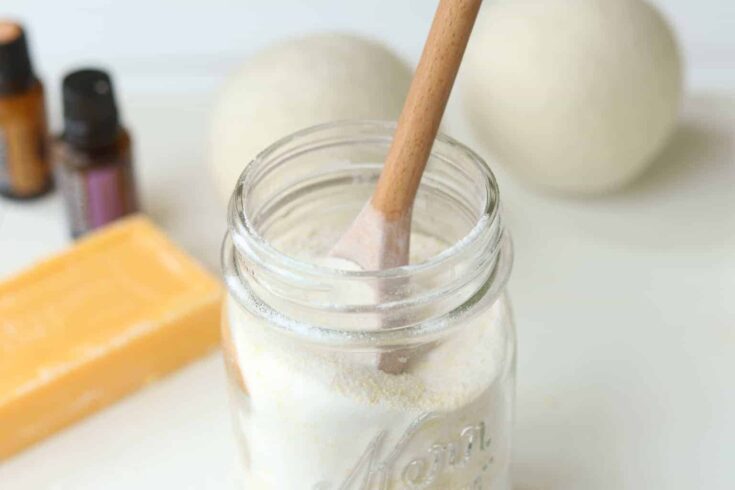 Save money with this 3 ingredient laundry soap recipe made with natural ingredients.
Tools
Instructions
Shred the soap bar using the fine grate of the box grater.
Next, add the shredded soap, washing soda, and baking soda to a large mixing bowl, and stir the ingredients well.
Finally, stir in the lavender essential oil.
Transfer powder laundry soap to a 1-quart mason jar for storage.
Notes
Use 2 tablespoons of the powder laundry detergent per load.