Keep your braided rug looking glorious! Learn the easy, safe way to clean and spot-treat a braided rug to maintain its beauty, coziness, and charm.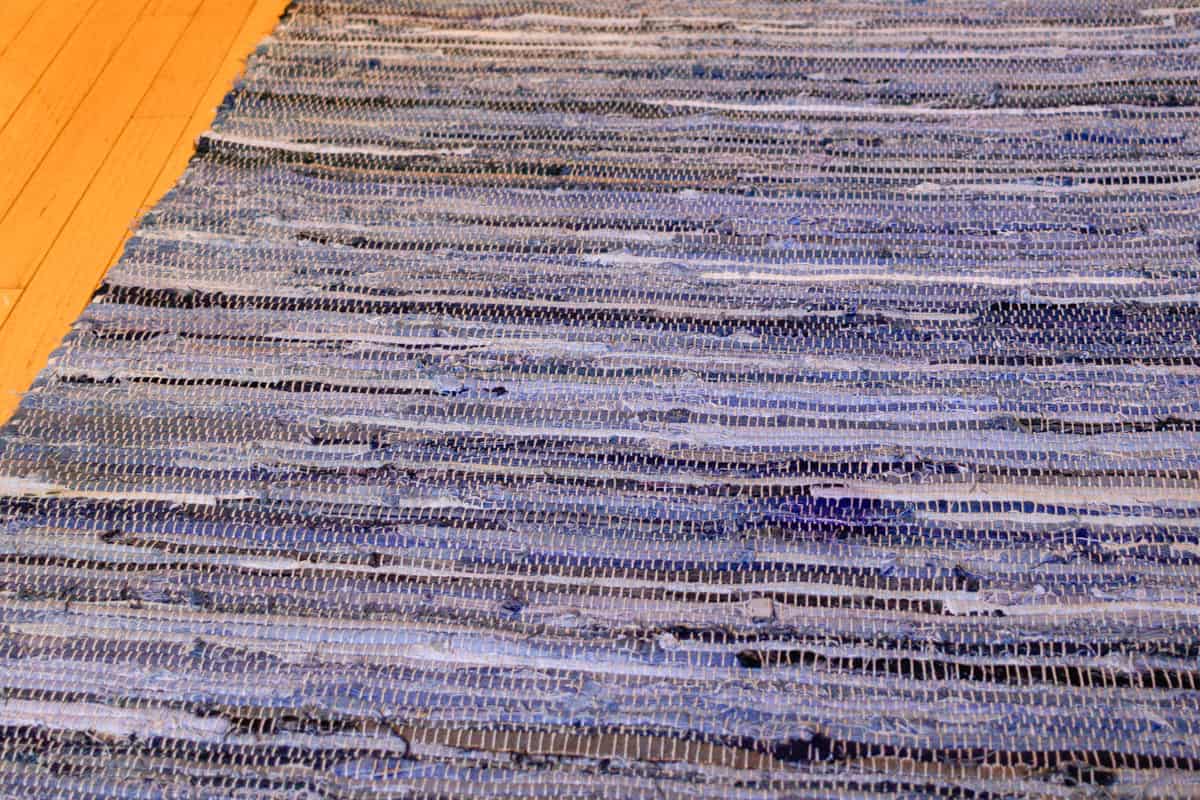 If you've got any kind of braided rug in your home, you'll know firsthand how frustrating (aka heartbreaking) it is when it gets dirty.
I mean, seriously, how are you meant to clean that? The fear thoughts come in, worrying about stains or water damage for sure.
After all, a braided rug is the centerpiece of the home, adding warmth and loveliness to an otherwise barren floor.
Well, worry no more; our goal here is to help with that exact problem. You'll learn how to clean and spot-treat a braided rug safely and effectively.
Simply follow our step-by-step process that will not just clean your braided rug, but it'll save it from unnecessary cleaning-related harm.
This post contains affiliate links, which means I make a small commission at no extra cost to you. Get my full disclosure HERE.
Step 1: Shake your rug outside
This is if you can do this, as some rugs I know are pretty huge to handle, making this step impossible.
It's well worth enlisting help on this so you can give the rug a good shake outside to remove loose debris, dust, and dirt before you start the actual cleaning process.
If you can't shake your rug outside, move ahead to step 2.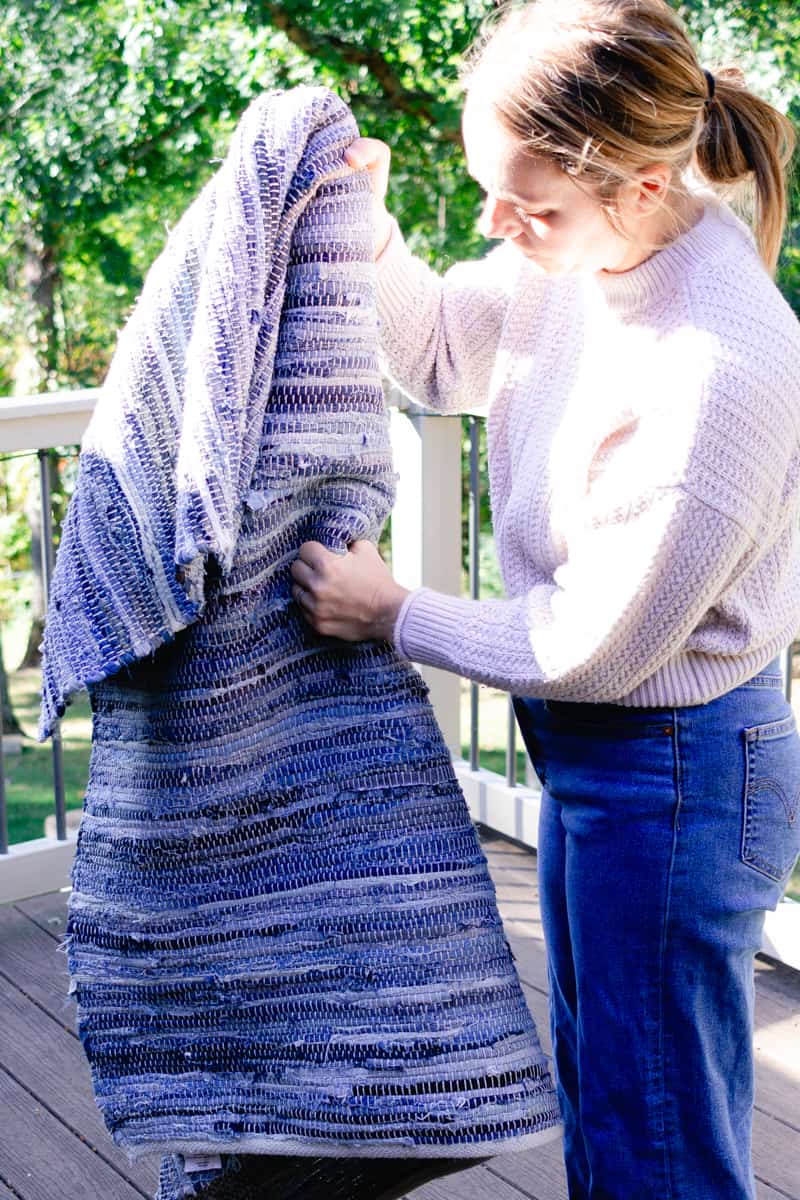 Step 2: Vacuum in the direction of braiding
The next step is to vacuum-clean your rug.
Be sure to only use the suction on your vacuum for this bit – not the rotary brush, as braided rugs tend to be susceptible to loose threads getting caught in the vacuum head, risking tears or rips occurring.
Also worth noting is the vacuum action ought to be in the direction of the braids so as not to cause damage; however, if you can't do this (in the case of round braided rugs), then simply lower the power of your vacuum.
And don't forget to vacuum both sides of your rug for the best cleaning outcome!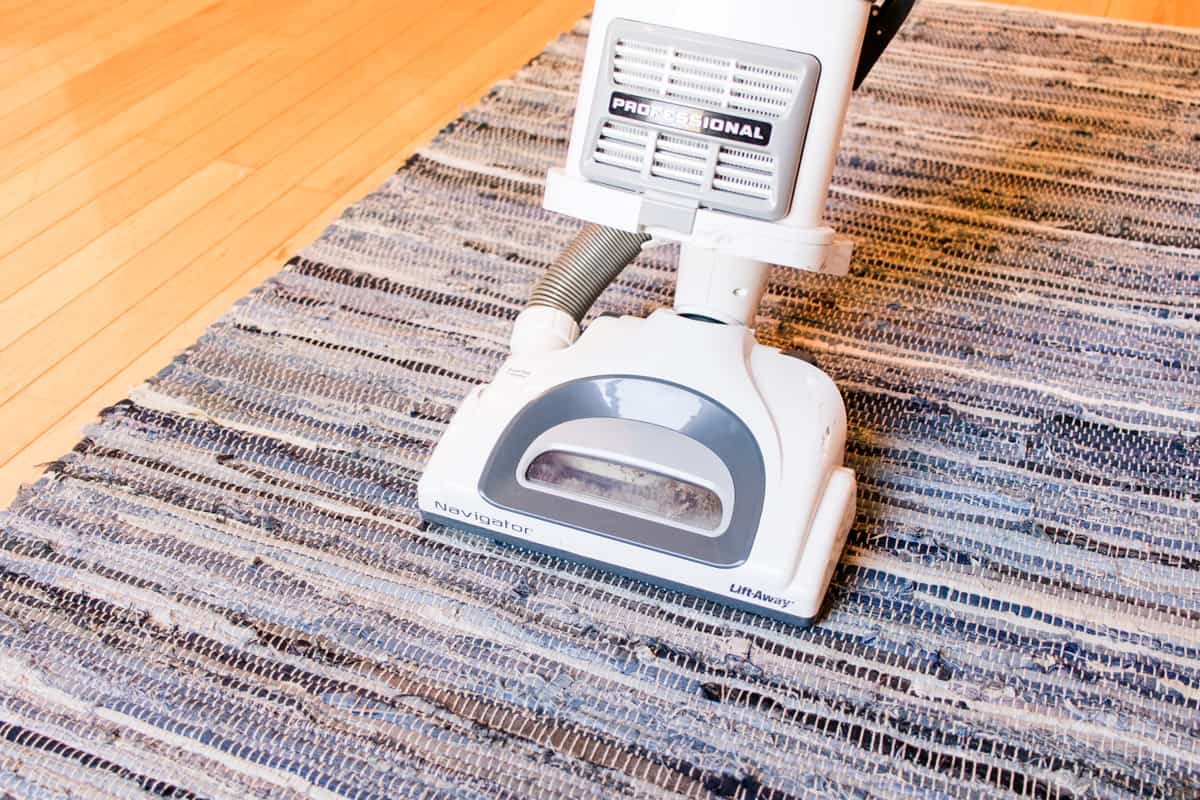 Step 3: Spot-treat any stains or marks
Either use a simple water and vinegar solution to spot-clean any stains you see on your rug or use a mild natural detergent or soap with a soft cloth.
Be sure to cover the stain with whatever cleaner or stain remover you're using.
For this step, be aware of the flooring underneath your rug.
If it's wooden, I recommend moving the rug to a more water-suitable area, ideally outdoors, to avoid water damage to your flooring.
Top tip: Test a small area on the underside of your rug before spot-treating your rug!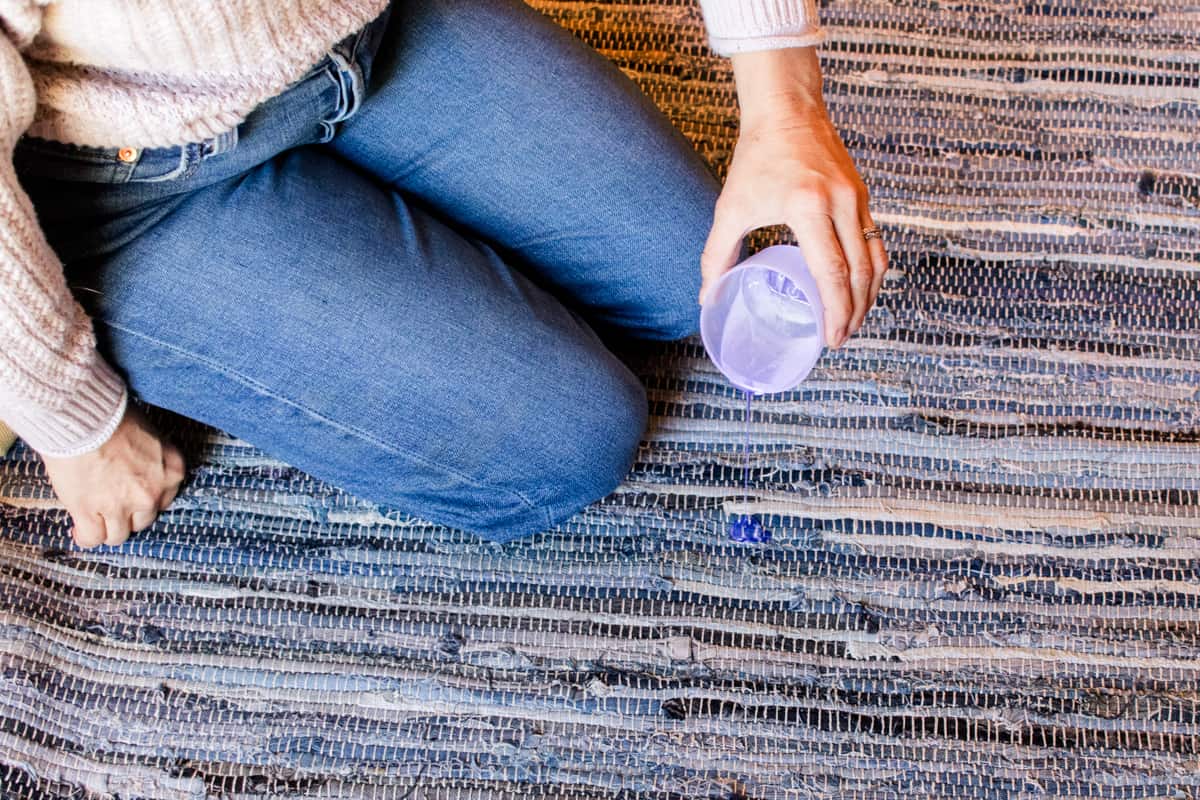 Step 4: Gently scrub the stains
Using a soft cloth, gently rub the stains with your cleaning solution. Don't be so forceful that you rip any threads; just give enough pressure to remove the stains.
Sometimes, you might need to repeat steps 3 and 4 several times to remove stains altogether.
Related: Learn how to deep clean your carpet here.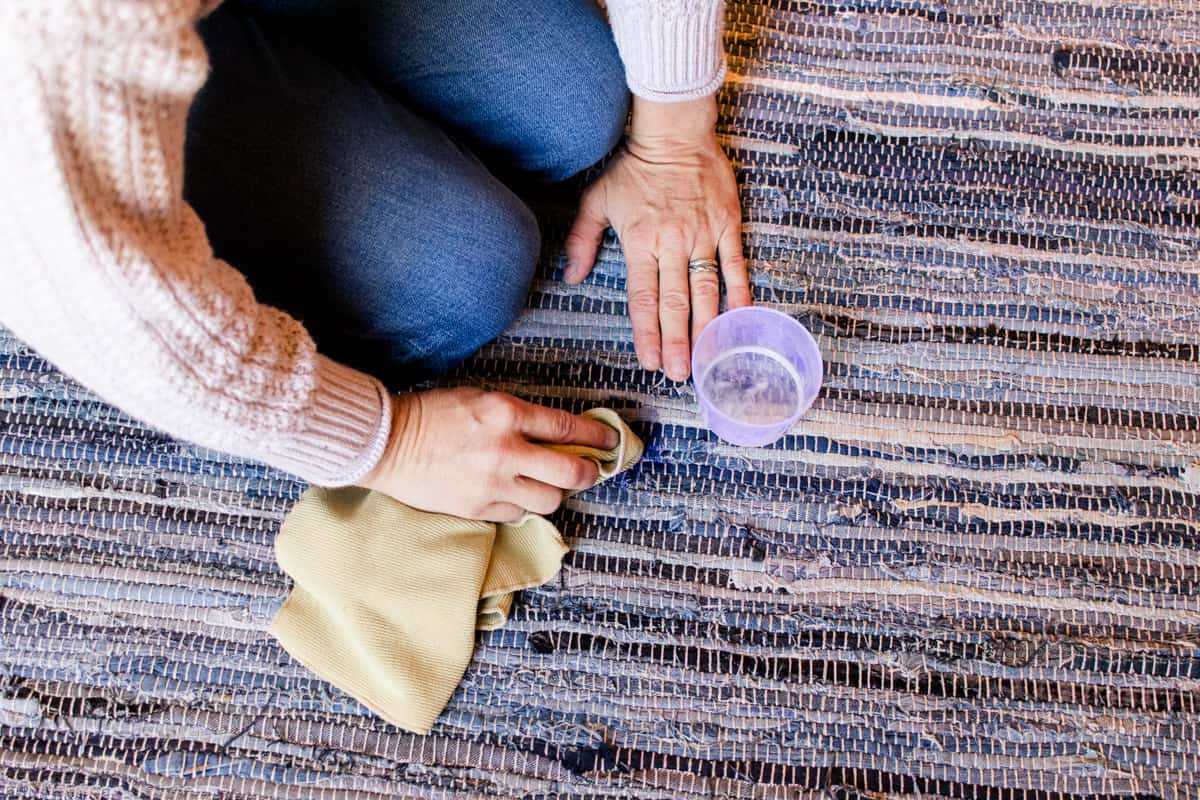 Step 5: Wipe clean
Using a clean cloth soaked in warm water, wipe over the stained area so you remove any leftover stain remover or solution.
I find it easiest to add some water to a spray bottle and lightly mist the area.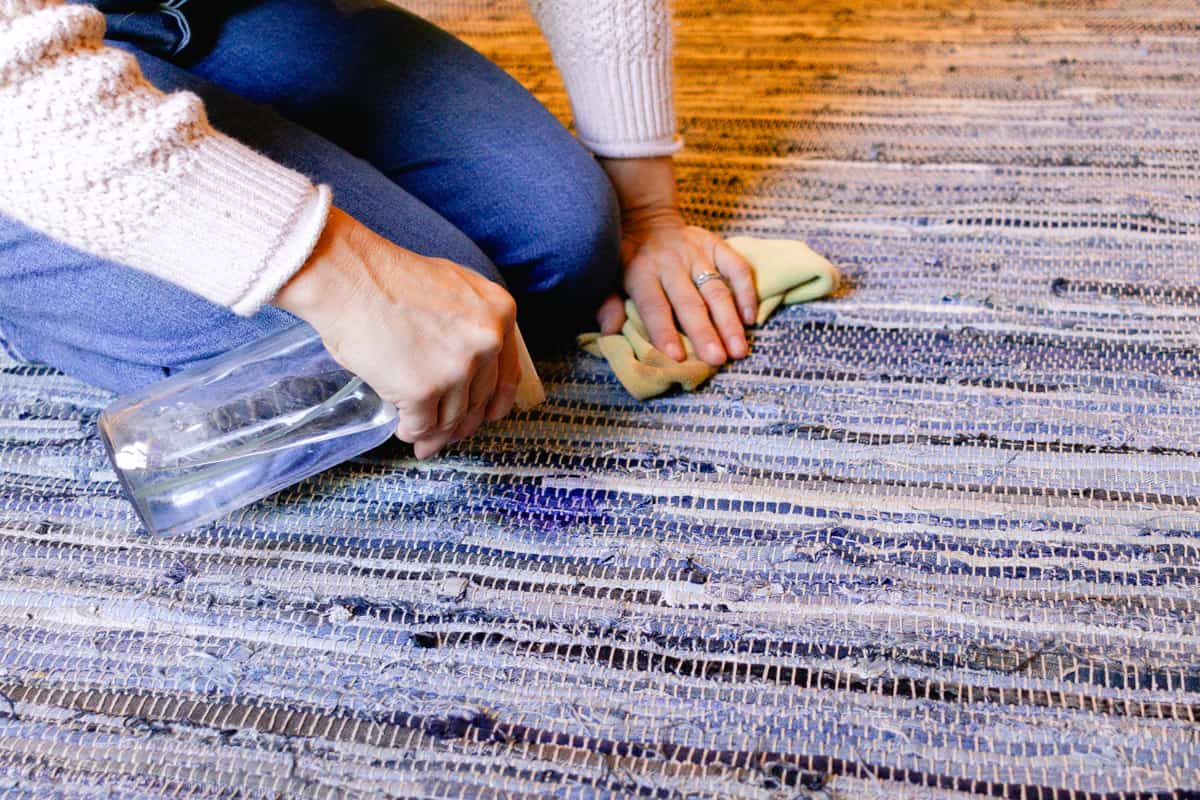 Step 6: Hang outside to dry
Again, if your rug is moveable in size, hang it outside to dry. If you can't lift your rug or have nothing to hang it outside on, simply elevate the damp (cleaned) areas by placing a towel underneath or a stool.
In the case of a large rug, I recommend towel-drying the damp areas as much as possible. You could also use paper towels to blot it dry.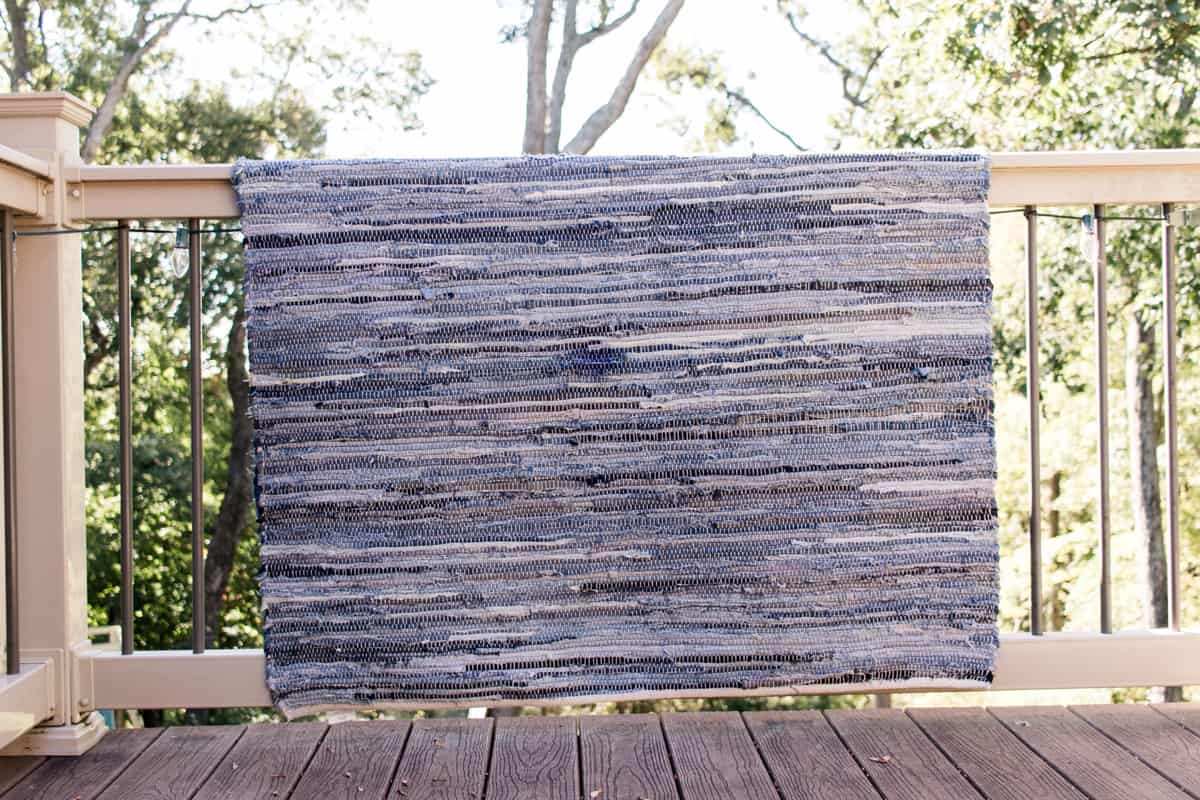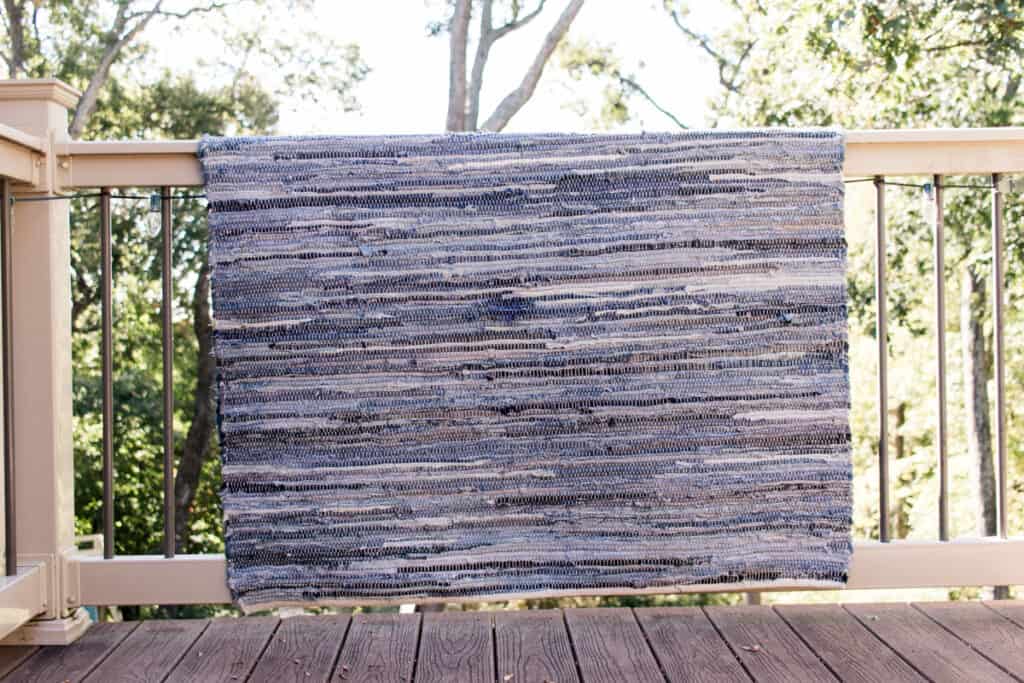 Things to avoid when spot-cleaning braided rugs
Don't be tempted to use blow dryers or heaters to speed up the drying process. This can cause more harm than good! It might shrink or, worse, burn your rug while also being a fire hazard.
Be patient! Your rug won't dry instantly, so please allow sufficient time for your rug to dry completely before walking on or using it again.
Test a small, non-visible area on your rug with the cleaning solution before going for visible areas. This ensures the color on your rug doesn't come off. If it does, then, of course, don't proceed to use that cleaning solution!
Some rugs will need professional cleaning. Always follow the advice on the care label of your rug.
Ensure the vacuum spinner wheel is disengaged when vacuuming your rug to avoid accidental dragging damage to the fibers.
Never soak your rug! The idea is simply to spot clean, which means using minimal water (along with maximum cleaning power from the cleaning solution.)
Microfiber cloths work best on braided rugs, in my opinion. They have a gentle, mildly abrasive nature that is unlikely to cause damage, but they still clean stains well.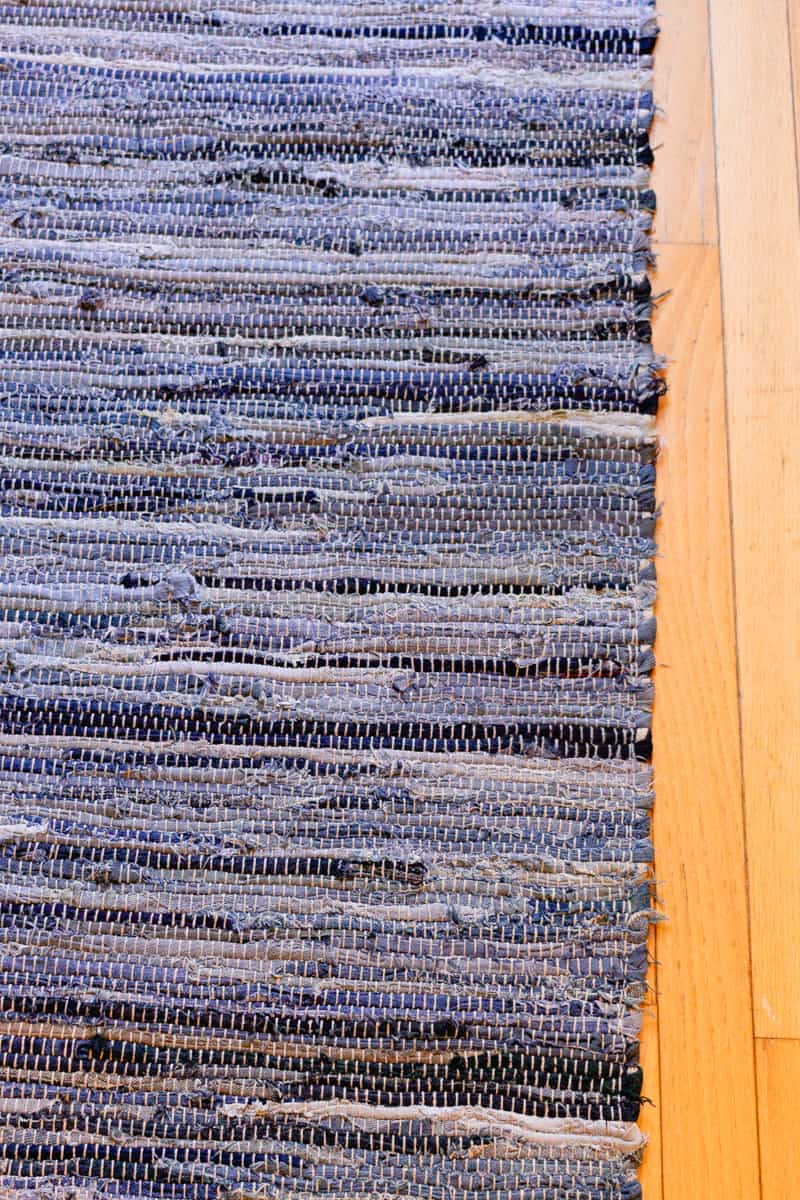 FAQs
Are braided rugs easy to clean?
Braided rugs aren't necessarily difficult to clean, but they do require quite a few steps.
Some rugs can be cleaned in a washing machine. Usually, you can find if they are machine washable on their care tags. However, many woven rugs are made of wool, which shrinks when washed in hot water.
This is why I advocate for spot-cleaning braided rugs only.
Ideally, clean any marks or stains as soon as they happen (or as soon as you see them!) for best results.
Can you pressure wash a braided rug?
I do not recommend pressure washing a braided rug.
You risk causing real damage to your rug if you do even attempt to clean a rug with a pressure washer.
Instead, scroll on up this page and read the simple but effective spot-cleaning method for your braided rug. It works really great!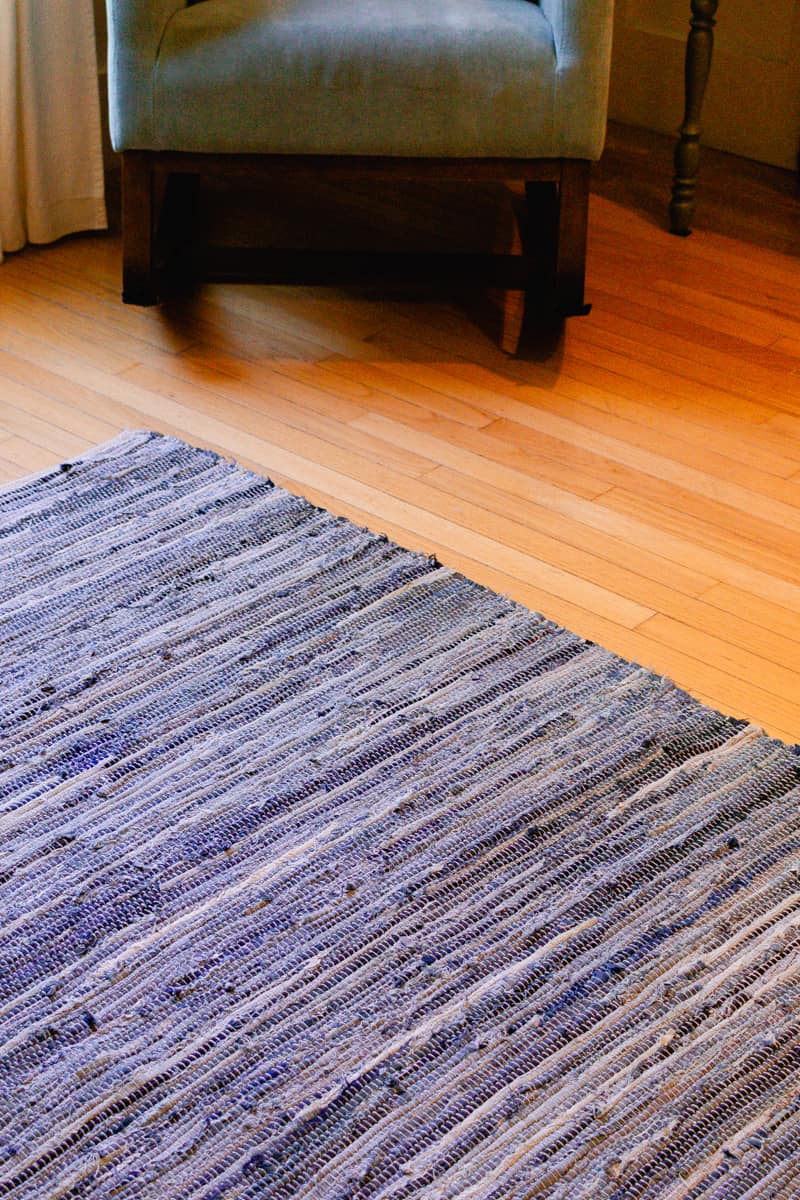 Key takeaways
I have had my fair share of cleaning floors, from getting cat pee out of the carpet to shining wooden floors, and let me tell you, there may be a few steps to this method, but it is still one of my favorites.
So, hopefully, this outline gives you the confidence to clean your braided rug! I admit I don't clean them as often as I should, but when I do, this method always leaves my rug looking clean and refreshed for the season ahead.
Just remember to always spot-treat a small, inconspicuous section before using any stain cleaners on your carpet.
If you cleaned your braided rug, let me know how it turned out by leaving a review below!
Favorite Cleaning Articles
Yield: NA
How to Safely Clean a Braided Rug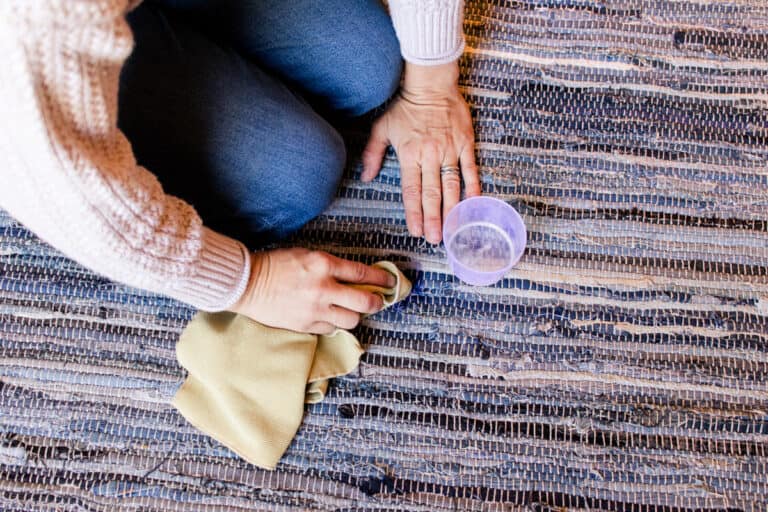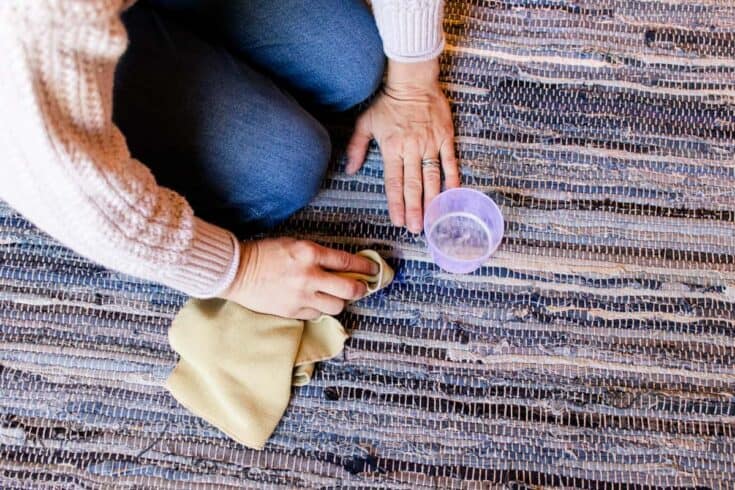 Learn my favorite cleaning method for cleaning and spot-treating any braided rug! This method will restore your rug to its original beauty in no time!
Tools
Instructions
Shake your rug loose of any dirt outside. (for larger rugs, you can skip this step)
Vacuum the rug clean, following the direction of the braiding. (if possible). Many braided rugs are reversible, so be sure to vacuum both sides.
Spot clean
Isolate any stains, then carefully apply a gentle, natural laundry detergent to the area. (always test a small, inconspicuous area first)
Use the cloth to gently scrub the stain loose.
Wipe the area clean with a damp rag.
Hang the rug out to dry, or slightly elevate the rug with a stool or a towel.
Notes
Always vacuum the rug clean before spot-treating any stains.
Read the care label on your rug. Some rugs are machine washable.
You can use a mixture of equal parts vinegar and water to spot treat the stain in place of the laundry detergent.