This whole30 taco bowl with beef will quickly become a family favorite! It is made with cauliflower rice, fresh vegetables and topped with cilantro, making it a delicious and healthy dinner. Best of all, it's whole30, paleo, grain-free, sugar-free, dairy-free, and of course, made with all real food.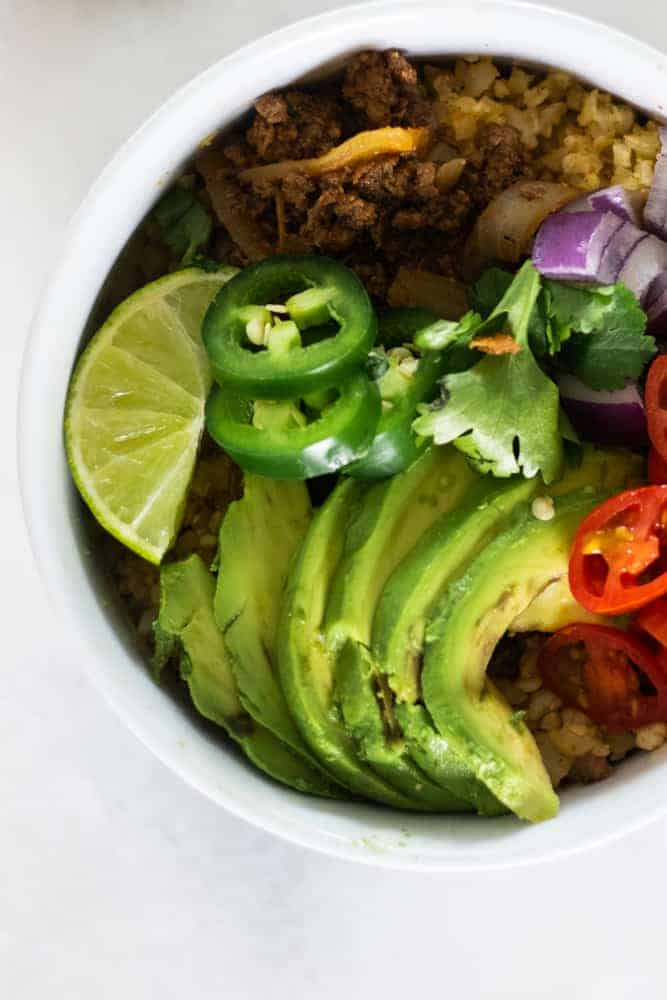 Tacos are always floating near the top of my list of best foods ever! My whole family loves tacos. It is the perfect dish for everyone in the family. I often find myself customizing it for my kids by leaving out the jalapeños and trading it out for fresh lime juice for a more mild flavor.
This whole30 taco bowl is delicious, filling, and completely healthy. It will make the perfect dinner on busy weeknights and the leftovers can be used for weekly lunches.
PIN IT FOR LATER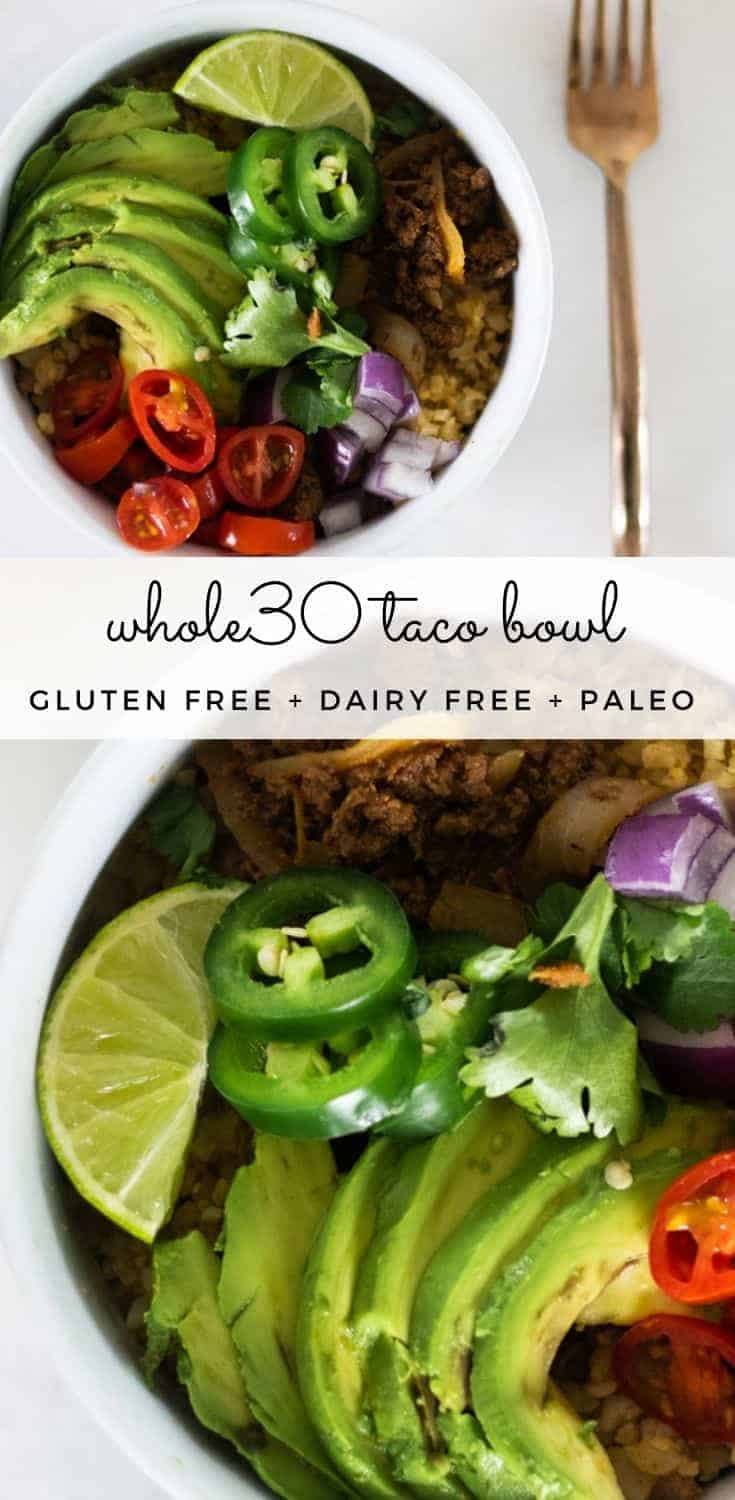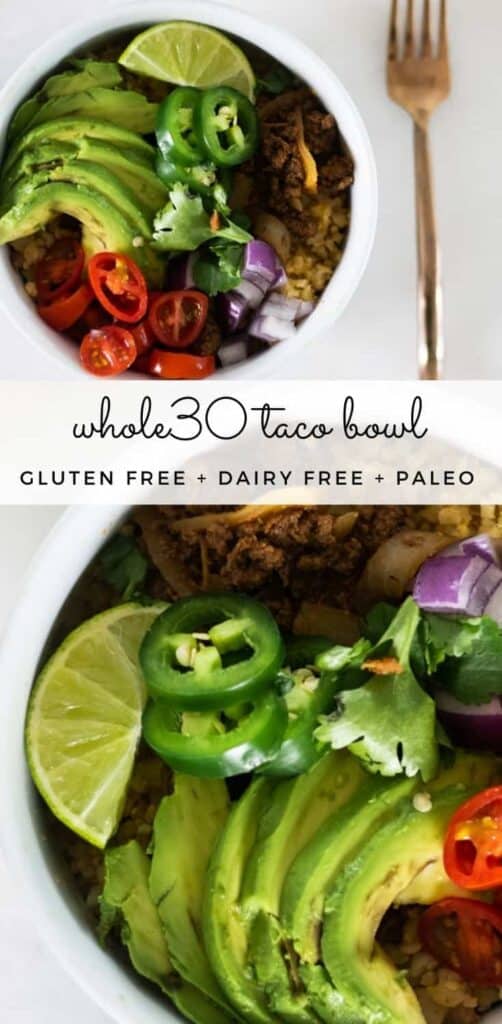 WHOLE30 TACO BOWL WITH BEEF
My favorite meat to use for this recipe is beef, but you can also use turkey, venison, pork, or chicken. Any ground meat, shredded chicken, or pork will taste delicious.
Taco seasonings can have added msg, gluten, and sugar, all of which are not whole30 compliant, so be sure to check the labels before seasoning your meat. Or you can make homemade taco seasoning with a few spices to season your meat and keep this recipe whole30 compliant.
WHOLE30 TACO BOWL TOPPINGS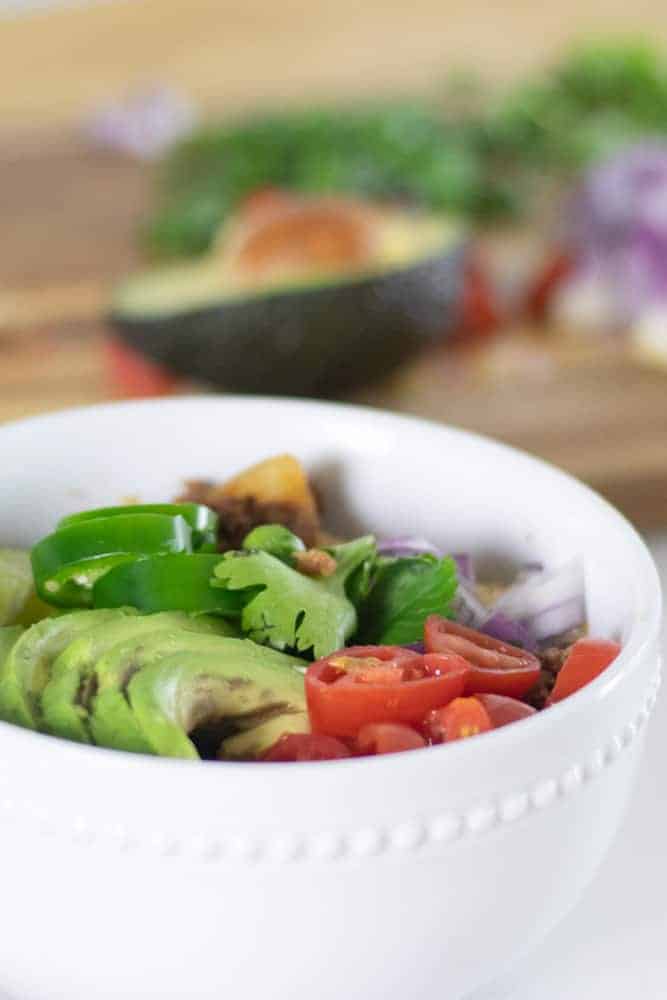 Topping your taco bowl is the best part! I am the type of person that wants all the toppings; the more, the better! Below is a list of some of our favorite toppings.
Sliced avocados
Diced tomatoes
Black olives
Jalapeños
Fresh cilantro
Fresh lime slices
Diced red onions
Sautéed peppers and onions
Shredded lettuce
Guacamole
HOW TO MAKE WHOLE30 TACOS
The only difference between a regular taco and whole30 tacos is ditching the shell or tortilla. To make the bowl more substantial, you can add in cauliflower rice.
I also love adding in fajita vegetables! To make the best fajita vegetables, saute onions and peppers in a little avocado oil. Sprinkle them with salt and pepper and add them to your taco bowl.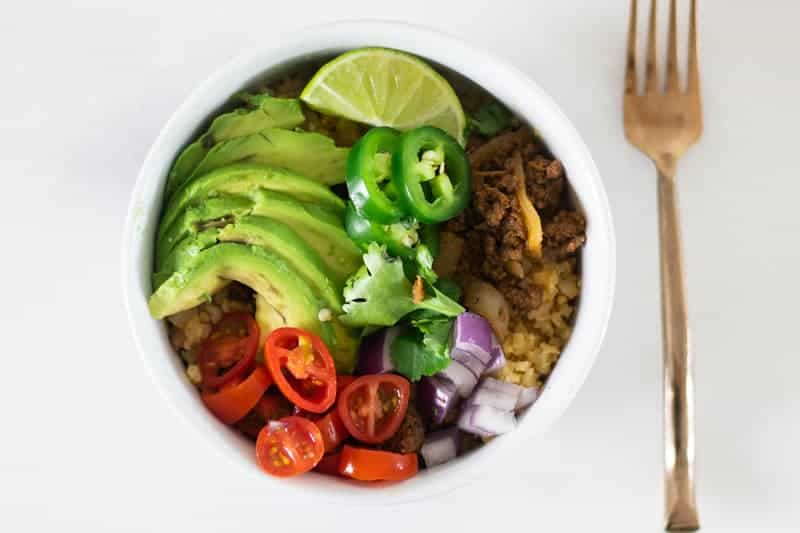 HOW TO MAKE CAULIFLOWER FRIED RICE
Making cauliflower rice is very simple, especially if you use frozen cauliflower rice. You can make your own with a head of cauliflower and a food processor, but buying it already diced makes this recipe even easier.
Add a tablespoon of avocado oil to a skillet over medium heat.
Pour in a 12-ounce bag of frozen cauliflower rice.
Sprinkle with whole30 taco seasoning, salt, and pepper. Stir.
Cook for about 5 minutes or until rice is hot and slightly browned.
Top with fresh cilantro and lime juice.
SUBSTITUTIONS AND TIPS
You can use ground beef, turkey, chicken, or pork in this recipe.
This can be served without cauliflower rice if you prefer.
If you don't have fresh herbs on hand, substitute for dry herbs. Because dry herbs are more potent, use one teaspoon of dried herbs to one tablespoon of fresh herbs.
Make a double batch of whole30 taco bowls and freeze one for another meal or use it for lunches for the week.
More information on Whole30, including rules.
MORE RECIPES YOU MAY ENJOY
Yield: 6
Whole30 Taco Bowls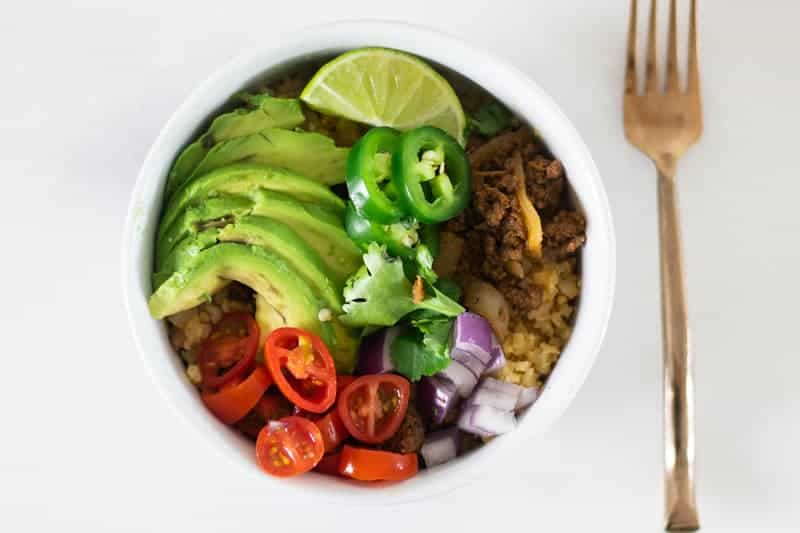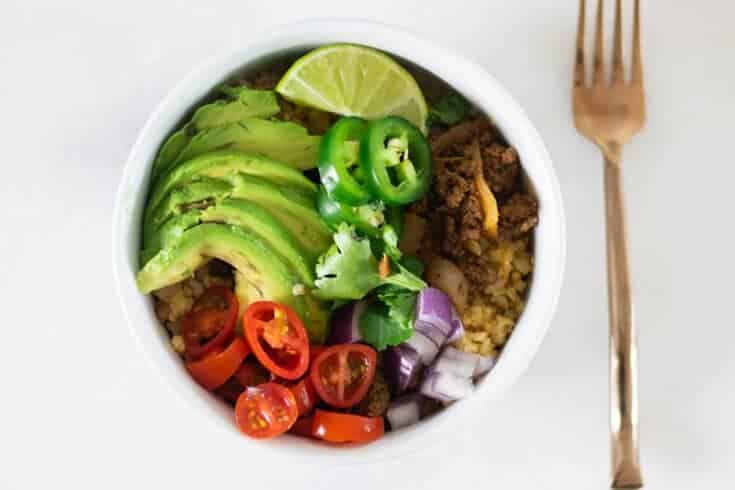 Whole30 taco bowls are a delicious, healthy, and simple meal to make for the whole family. Gluten, dairy, and sugar-free, plus paleo, and whole30 approved.
Additional Time
5 minutes
Ingredients
1 tablespoon avocado oil
1 onion, sliced
1 bell pepper, sliced
1 lb ground beef
1/4 cup salsa
2 tablespoons taco seasoning
1 bag cauliflower rice
TOPPINGS
Avocado slices 
Diced tomatoes 
Diced red onions 
Fresh cilantro 
Black olives 
Jalapenos
Instructions
Saute bell peppers and onions in a medium-sized skillet. Sprinkle with salt and pepper. Remove from skillet, set aside.
Add the ground beef to the skillet and cook until browned. About halfway through cooking the beef, add cauliflower rice and taco seasoning.
Continue cooking until beef is browned and cauliflower rice is hot.
Pour salsa and taco seasoning over the beef and rice, stir well.
Scoop a cup of the rice and beef into a bowl. Top with sauteed peppers and onions.
Top with additional desired toppings and serve.