Sausage and apple whole30 sheet pan dinner is a simple and delicious meal to make on busy weekday nights. Or it can be made ahead of time to make getting dinner on the table even easier and faster.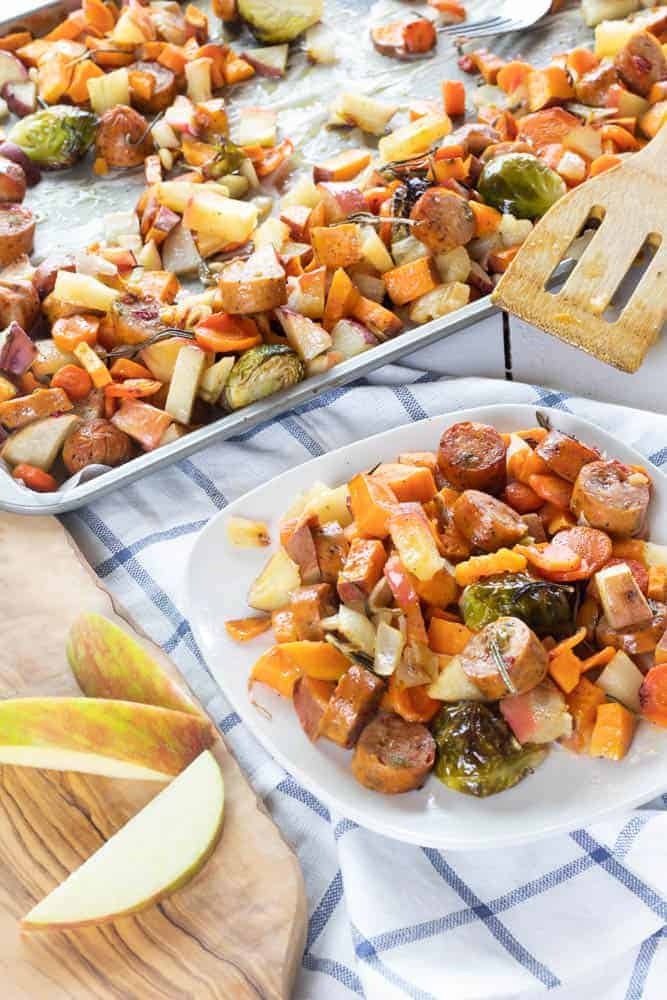 Looking for a whole30 dinner idea? Try out this sausage and apple whole30 sheet pan dinner that can be whipped up for any night of the week. It is an absolutely delicious meal that the whole family will enjoy it. Made with fresh vegetables, whole30 compliant polish sausage, and honey crisp apples, it is bursting with that fall flavor.
Sheet pan dinners always catch my eye on Pinterest because they look so yummy and easy. Since I cook 3 meals a day, I am always looking for simple recipes. Sometimes I feel like I live in the kitchen cooking meals and cleaning up meals.
Once I discovered sheet pan dinners, that changed. Sorry family, this is what you are getting from here on out. Thankfully sheet pan dinners don't sacrifice taste.
Looking for more healthy meal ideas? Check out my 30-days of healthy eating cookbook.
PIN IT FOR LATER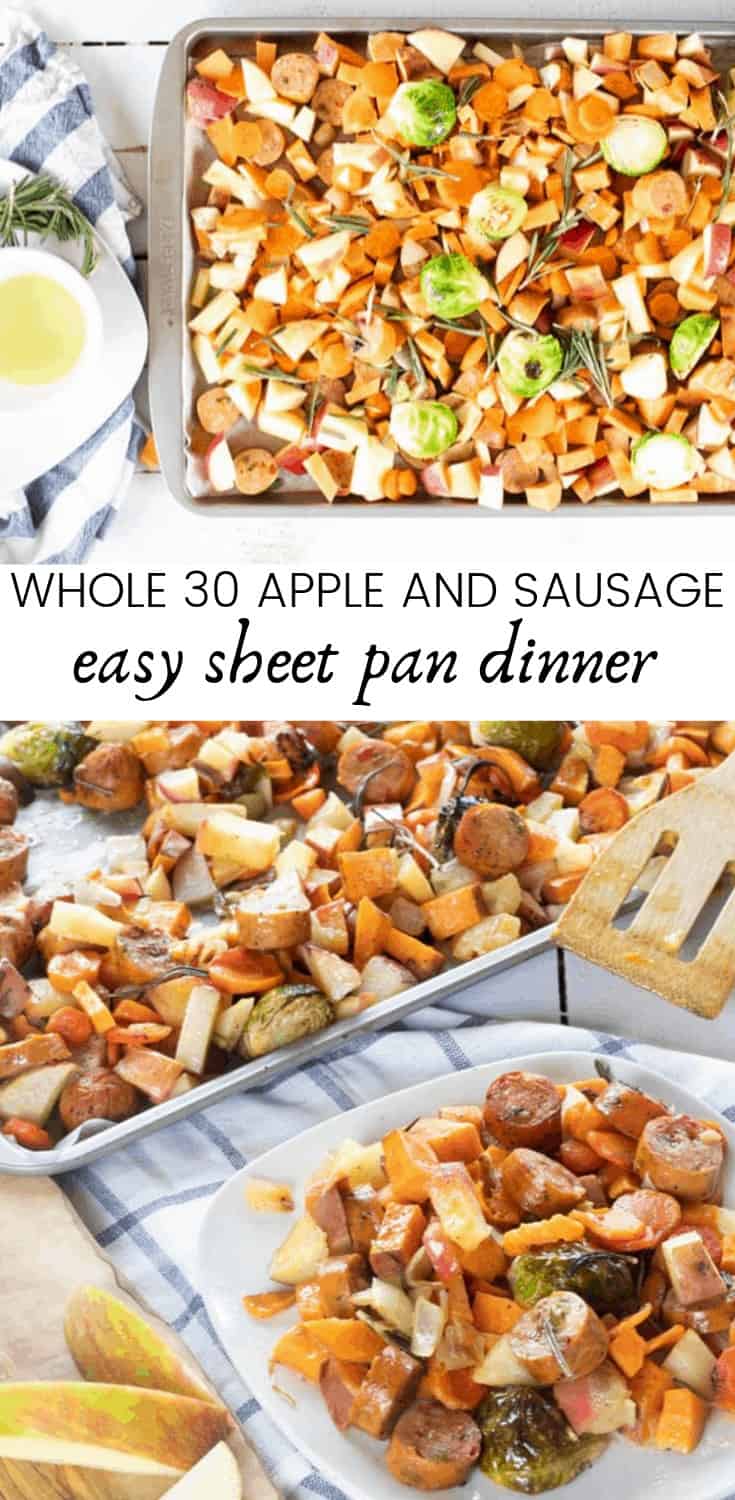 WHOLE30 SHEET PAN DINNER
You can go a million different directions with this one! I am sharing one of my family's favorite, sausage, and apples, but the possibilities are endless. Switch up the meat, vegetables, spices, and you can have a different whole30 dinner recipe every night.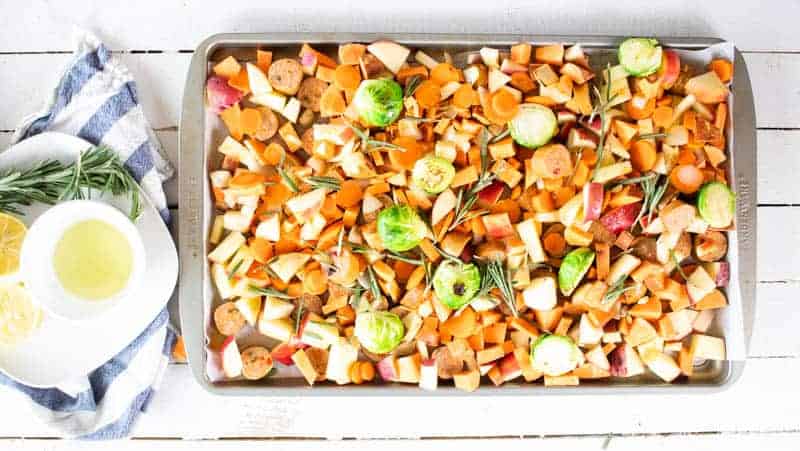 SHEET PAN DINNER IDEAS
CHOOSE A MEAT
Ground beef
Sirloin Steak
Chuck Roast
Chicken Drumsticks
Shredded Chicken
Ground Sausage
Polish Sausage
Pulled Pork
CHOOSE VEGETABLE(S)
Red Potatoes
Sweet Potatoes
Regular Potatoes
Carrots
Celery
Zucchini
Yellow Squash
Butternut Squash
Onions
Broccoli
Cauliflower
Peas
CHOOSE FRUIT(S)
SPICE IT UP
Basil
Oregano
Sage
Rosemary
Thyme
Salt and Pepper
BAKE IT
This post contains affiliate links, which means I make a small commission at no extra cost to you. Get my full disclosure here.
Line a baking sheet with parchment paper. Add ingredients to the pan. Drizzle with avocado oil and top with your favorite spices. Bake in a 400-degree oven for 25-45 minutes, depending on what ingredients you choose.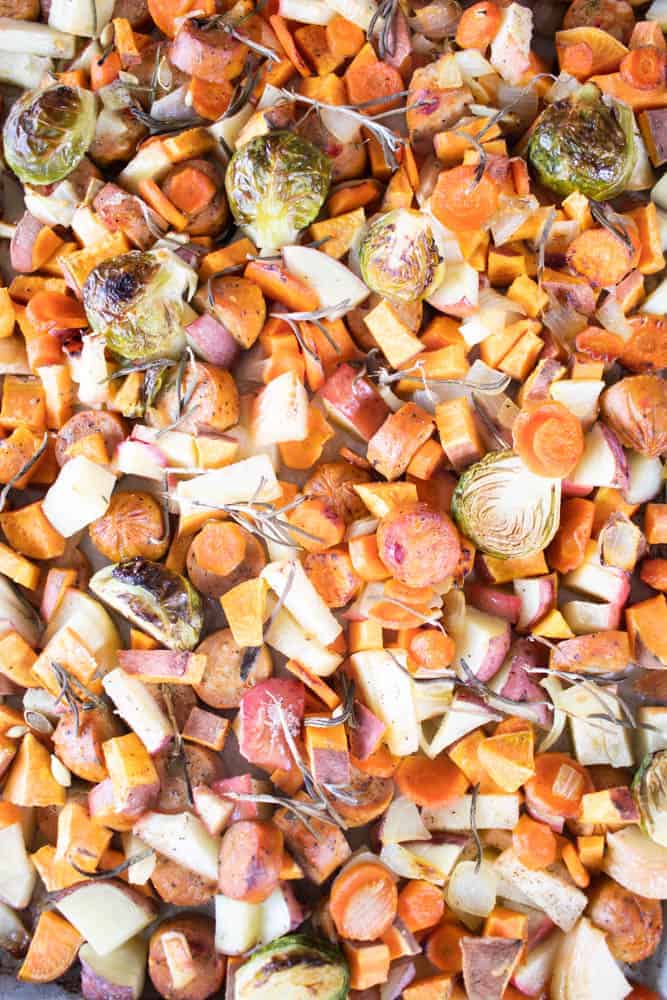 WHOLE30 DINNER RECIPE
Sheet pan dinners are one of my favorite whole30 meals because it is so simple and healthy. I can make these almost every day and still get so many different vegetables into our diet.
If it is garden season, our whole30 dinners will look way different than it does in the dead of winter. Summer squash is delicious in a sheet pan and is a perfect way to use up all that yellow squash and zucchini.
Adding in potatoes and/or sweet potatoes will make it more filling, perfect when you aren't eating any grains.
SAUSAGE AND APPLE WHOLE30 SHEET PAN DINNER
I love the contrasting taste of spicy sausage and sweet apples, so good! I add in sweet potatoes to make it go further; remember, I have lots of mouths to feed.
For this sheet pan, I add lots of vegetables and sweet apples. I use carrots, brussels sprouts, and onions.
I saute the vegetables first to lock in the flavor and to add crispiness, but you don't have to. Top off with fresh rosemary and the juice from a lemon.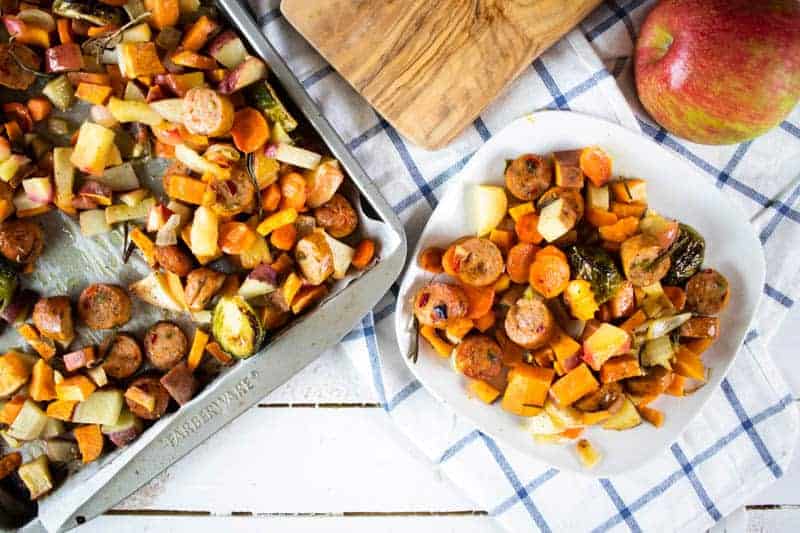 WHOLE 30 MEAL PREP IDEAS
Sheet pan recipes make the best meal prep too! You can make a few different sheets at one time and separate them into storage containers. Each sheet pan can make 3-4 lunches, depending on how much you eat.
Make a few at a time, and you can have a month's worth of whole 30 lunches prepared!
WHAT IS WHOLE30?
Whole30 is a dietary change intended to be kept for 30 days. While on the whole30, no sugars, processed foods, grains, or dairy intake are allowed. Basically, meats and vegetables will be the main source of food.
LIKE MORE WHOE30 RECIPES?
Sausage and Apple Whole30 Sheet Pan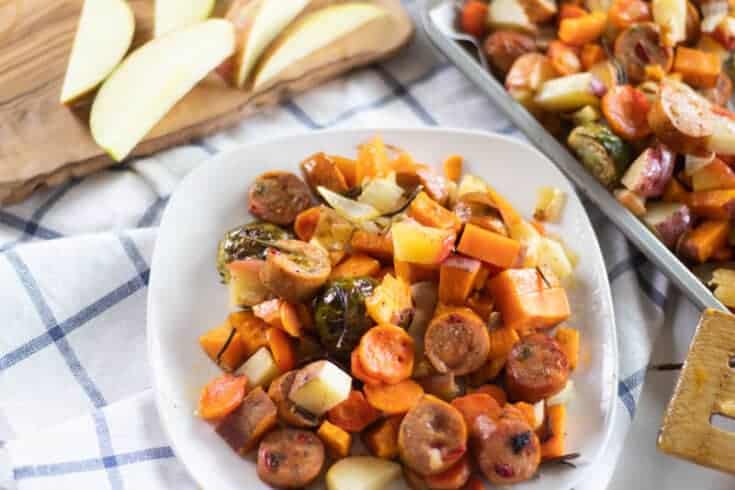 Ingredients
1 lb polish sausage (whole 30 approved) 
2 sweet potatoes, diced 
2 red potatoes, diced
1 cup carrots, peeled and sliced 
1 cup brussel sprouts, cut in half
1 onion, diced 
1 large honey crisp apple, diced 
1/4 cup avocado oil, plus 1 tbsp for cooking
2 tablespoon fresh rosemary 
1 lemon 
Instructions
Preheat oven to 400 degrees.
Add one tablespoon of avocado oil to the skillet over medium heat.
Add in carrots, brussel sprouts, and onions. Cook for 5-10 minutes stirring often.
Line a baking dish with parchment paper. Place the sausage, apples, and potatoes on the baking sheet.
Pour the sauteed vegetables over the sausage, apples, and potatoes.
Toss with 1/4 cup of avocado oil. Sprinkle with salt, pepper, and fresh rosemary. Squeeze the juice of one lemon over top.
Bake in oven for 25-35 minutes or until potatoes are fork-tender.