This broccoli and beef Chinese stir fry is so simple it can be enjoyed on any night of the week. With this delicious recipe, you can still enjoy Chinese cuisine without breaking clean eating habits. It is whole 30 and paleo-approved, gluten-free, dairy-free, and refined sugar-free.
I love making a stir fry for lunch or dinner! I can pack them full of vegetables and make them in one dish, two must-have requirements for this busy mama! They are easy to make, and I can whip them up super quick, two more must-haves. 😉
I am not much of a meal planner and usually start thinking about dinner when my stomach starts growling. With no time to bake, I go straight to the skillet. As long as I have some defrosted meat and some vegetables, I can make a stir fry for dinner. Served with cauliflower rice or steamed quinoa, this makes the perfect dinner or lunch.
This recipe was inspired by one of my favorite Chinese dishes. My husband went as far as saying this was his favorite meal ever. Obviously, it has become part of our regular menu rotation, and I couldn't wait to share it with you!
This post contains affiliate links, which means I make a small commission at no extra cost to you. Get my full disclosure HERE.
PALEO + WHOLE 30 BROCCOLI AND BEEF CHINESE STIR FRY
INGREDIENTS
2 tablespoon avocado oil
2 pounds steak, sliced
1 tablespoon salt
1 tablespoon garlic powder
1/2 tablespoon black pepper
1 teaspoon red hot pepper flakes
1 onion, sliced
4 cups broccoli
1/2 cup sliced almonds
3/4 cup coconut aminos (This is the kind that I use and love!)
INSTRUCTIONS
Heat the avocado oil in a large skillet over medium heat. I prefer to use a cast-iron skillet, but any skillet will do.
Once the skillet is hot, you can add the sliced steak.
Sprinkle with salt, garlic powder, black pepper, and red hot pepper flakes.
Add in one medium-size onion cut into slices.
When the meat is mostly browned, add in the broccoli.
Stir well and leave over medium heat for about 5 minutes or until broccoli is hot. I don't like my broccoli to be overcooked and prefer it a little crunchy. Allow it to cook until the broccoli has the desired texture.
Add in sliced almonds and coconut aminos.
Stir well and serve.
SERVING SUGGESTIONS
This dish is delicious served by itself, but if you are anything like me, you like to stretch meals. I made this recipe with two pounds of meat because we have a large family, and I love leftovers. I always pack my husband's lunch for work, and I love being able to pack him leftovers from the dinner the night before.
To make this meal stretch further, I like to serve it with rice or quinoa. If you are on the paleo or whole 30diet, you can serve this with cauliflower rice.
WHY DO WE USE COCONUT AMINOS IN REPLACE OF SOY SAUCE?
I know what you are thinking because I thought it too; how can you eat a Chinese dish without soy sauce? Soy sauce is what gives the Chinese dish that unique flavor.
Don't get me wrong, I love soy sauce, but as usual, I got reading the labels. And with that, soy sauce is no longer something I keep in my home. In comes the most delicious substitute ever….coconut aminos!
Coconut aminos is a delicious sauce made from the sap of a coconut. It resembles soy sauce and tastes similar. It is salty, slightly sweet, and rich in flavor. Coconut aminos are the perfect addition to any Chinese or rice dish.
5 BENEFITS OF COCONUT AMINOS
Like all coconut products, coconut aminos are amazing for heart health.
Coconut aminos is low on the glycemic index chart, which ranks the carbohydrate in foods according to how they affect blood glucose levels.
It is packed with minerals, contains a significant source of vitamin C, and high in B vitamins.
Eating a diet of coconut-based products can reduce the risk of diabetes. On the flip side, eating a diet high in soy products can lead to diabetes.
Coconut is high in antioxidants making this a superfood that can help to boost the immune system naturally.
WHAT IS WRONG WITH SOY SAUCE?
If you are alive and breathing, you have probably heard of GMO'S, am I right? If not, head to your pantry or fridge and start reading your labels. Most likely, something will say GMO-free. This is not because most things are GMO-free, but actually, because most distributors are aware that people want GMO-free food. Even if a product is made out of things that do not have the option to be GMO, they will be sure to let you know it is GMO-free.
"GMO" stands for Genetically Modified Organism. 93% of soybeans are genetically modified. So most likely, if you have a food item with soy in it, it will indeed contain GMOs. Unless you are buying organic soy sauce, it too will be genetically modified.
Aside from the GMOs, soy also contains isoflavones, which act like estrogen in the body. This can affect men, women, and children negatively.
Soy contains high levels of goitrogens, which can lead to hypothyroid problems.
Most soy sauces contain gluten, whereas coconut aminos are gluten-free.
WHY COOK THIS IN A CAST IRON SKILLET?
Cast iron skillets cook the meat evenly, are nonstick, and leave traces of iron in your food. If you are looking for a nonstick skillet, cast iron is the healthiest option. Many non-stick skillets are made out of toxic material that can get into your food.
Find my favorite cast iron skillet HERE.
MORE CAST IRON SKILLET RECIPES YOU MAY ENJOY
WHOLE30 RECIPES
PIN IT FOR LATER

Yield: 6 people
Paleo + Whole 30 Broccoli and Beef Chinese Stir Fry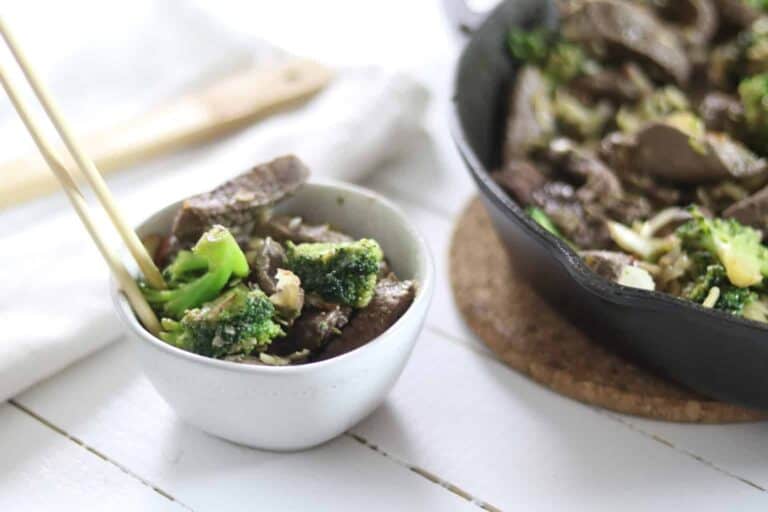 This broccoli and beef Chinese stir fry is so simple it can be enjoyed on any night of the week.  With this delicious recipe, you can still enjoy Chinese cuisine without breaking the clean eating habits.  It is whole 30 and paleo-approved, gluten-free, dairy-free, and refined sugar-free.
Ingredients
2 tbsp avocado oil
2 lbs steak, sliced
1 tbsp salt
1 tbsp garlic powder
1/2 tbsp black pepper
1 tsp red hot pepper flakes
1 onion, sliced
4 cups broccoli, fresh or frozen
1/2 cup sliced almonds
3/4 cups coconut aminos
Instructions
Heat the avocado oil in a large skillet over medium heat.
Once the skillet is hot you can add the sliced steak.
Sprinkle with salt, garlic powder, black pepper, and red hot pepper flakes.
Add in the slices of one medium-size onion.
When the meat is close to being done add in the broccoli. Stir well and cook over medium heat. Allow it to cook until the broccoli has the desired texture.
Add in almonds and coconut aminos. Stir well and serve