Chicken soup is a classic comfort food that needs to be added to the menu more often. This whole30 creamy chicken soup is delicious, healthy, and can keep in the freezer for easy meal prep.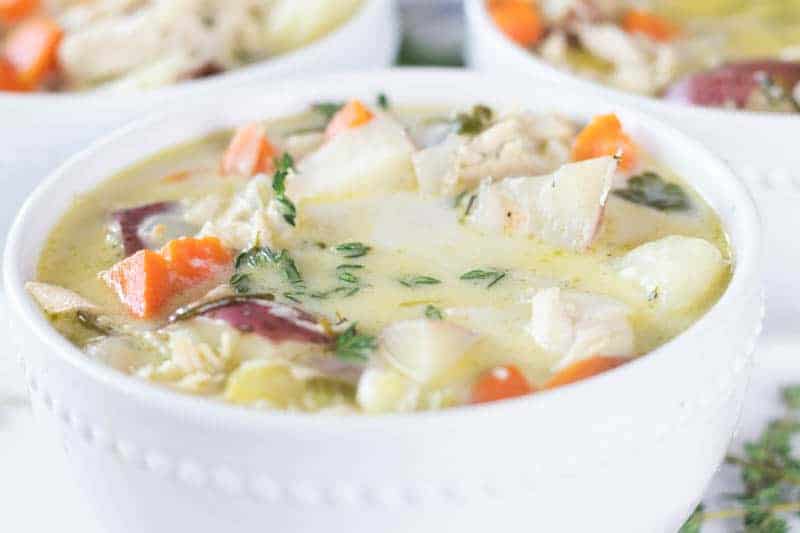 I love serving soup for my family. This whole30 creamy chicken soup is one of my kid's favorite! Soup is also one of the easiest dinners to prepare and serve. On soup nights, I scoop it into bowls and throw in a spoon. Done.
There is no cutting up meat, and dicing vegetables for the baby or separating food that touched other food, and taking orders. Not to mention clean up! You know the feeling, right?
Anytime I can make a healthy meal all in one pot, I am a happy woman!
PIN IT FOR LATER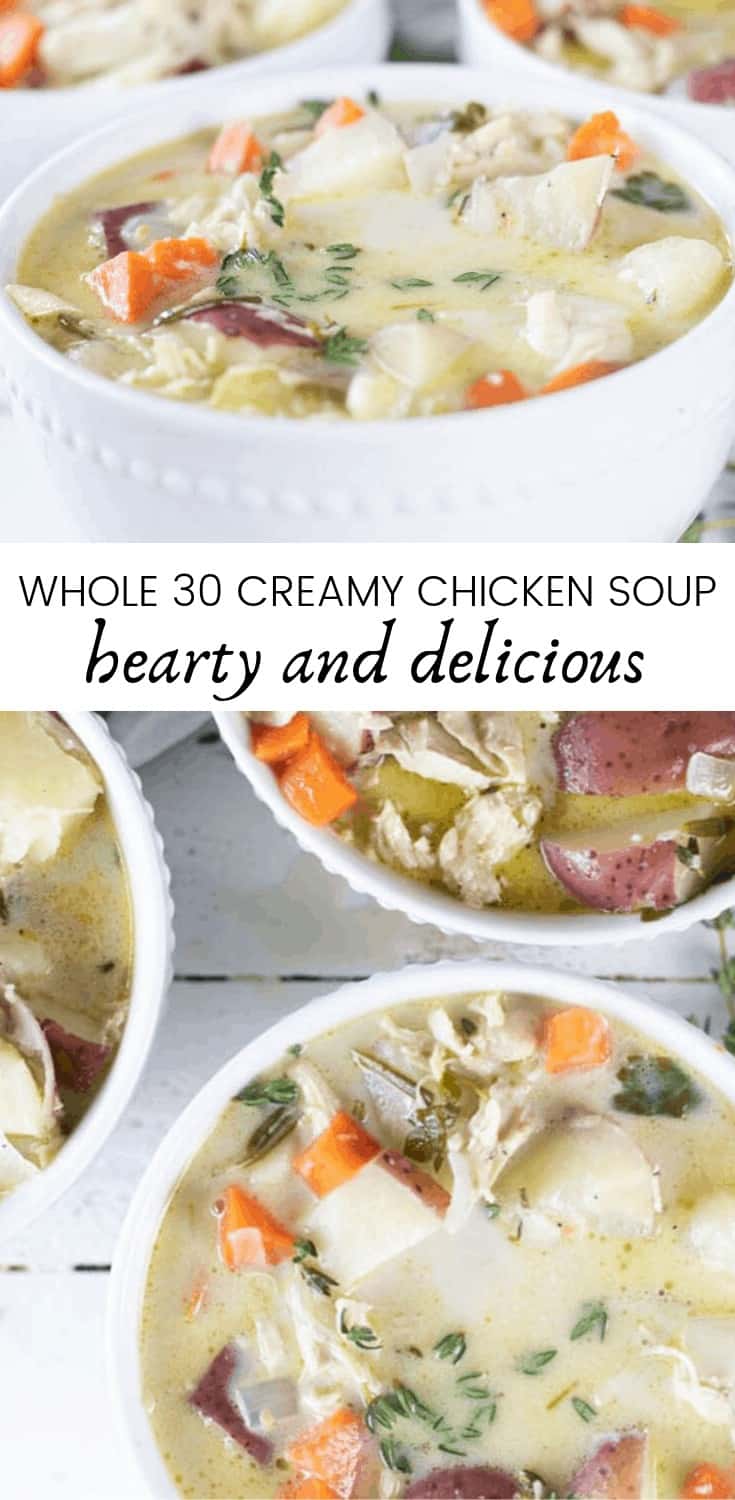 WHAT IS THE WHOLE 30?
If you are brand new to whole30, you may be wondering what the heck I am talking about! Whole30, in a nutshell, is eating whole real foods for 30 days. My husband and I have done the whole30 a few times and are amping up for another round.
Now, since we do not have our kids do the Whole30 with us, it means I have to cook double the meals. To make it easier, I will cook up a bunch of vegetables and meat, and my husband and I will eat that throughout the week. Every once in a while, though, I get fancy and creative and come up with new recipes.
You can google "whole 30 approved food lists" to get an official cheat sheet, but in a pinch, just think REAL food. If it comes in a package, it is probably out. With the whole30 becoming more popular, a lot of compliant foods will be labeled whole30 approved. That makes shopping easier!
WHOLE30 APPROVED MEALS
I shared a WHAT WE EAT IN A WEEK WHOLE 30 EDITION on youtube to give you an idea of what the diet looks like. Eating whole30 is different from paleo because it doesn't allow any sweets of any kind. You can make paleo desserts by substituting gluten-free flours and natural sweeteners; these are not allowed on whole30.
This was the toughest part for me but got easier with time. In fact, this diet is supposed to help you with cravings.
Whole30 approved meals will be loaded with vegetables, unprocessed meats, and healthy fats. All grains are out, but you can have potatoes and sweet potatoes to get your starch fill.
TASTY WHOLE30 CHICKEN SOUP

I try to incorporate soup into our weekly menu plan, sometimes multiple times a week, to get more bone broth into our diets. Bone broth is so good for you, especially when you aren't feeling well.
Bone broth can be made in an instant pot or on the stove. All you need is bones and water. It is one of the easiest things to make, yet the best for you.
This recipe can be made with chicken broth, but I highly recommend making homemade bone broth for added nutrition.
Of course, you will need chicken for this recipe. You can use any cut you prefer; I like to use bone-in chicken. Bone-in chicken is dark meat. It has more flavor, and then you have more bones to make another batch of chicken broth with it.
WHOLE 30 APPROVED SOUPS
This post contains affiliate links, which means I make a small commission at no extra cost to you. Get my full disclosure here.
Many soup recipes will have flour or some type of grain to thicken in. Because grains are not whole 30 approved, you will need to leave them out. You can use arrowroot powder instead. Arrowroot powder can be used to thicken soups, broths, and sauces, and it is whole 30 approved!
The other thing you will have to check is your spices. Several spices contain sugar, dyes, MSG, and gluten. All of which can not be consumed on the whole30 diet. You can easily make your own spice blends to avoid these and still have a bold soup.
Healthy fats are encouraged while on the whole30 diet, but remember, no dairy! This means you will want to avoid butter. You will also want to stay away from vegetable oils. Stick to coconut oil or ghee; both are whole 30 approved.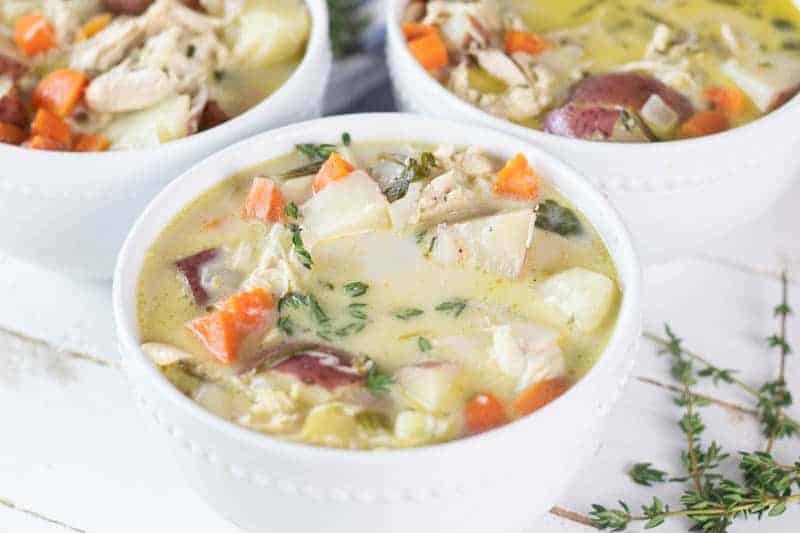 HOW TO MAKE CREAMY CHICKEN SOUP WHOLE 30
This tasty whole 30 chicken soup is so simple to make! It is as easy as chopping a few vegetables, shredding some chicken, and boiling some broth.
I use full-fat coconut milk to give it a creamy texture and to add more flavor. Canned coconut milk is best, as it has fewer ingredients and no sugar. For this soup, unsweetened coconut milk is best! The first time I made this, I kept the coconut milk a secret from my family, not knowing how they would feel about it.
My husband noted that the soup was delicious but couldn't pinpoint the new flavor. After I was certain he liked it, I told him it was coconut milk. It sounds weird, but it is so good!
Cooking with fresh herbs will make anyone feel fancy, and any dish tastes amazing. I am adding parsley, thyme, and sage. If you don't have any fresh, you can use dried herbs. Some will go in the soup, and then I will use some to garnish.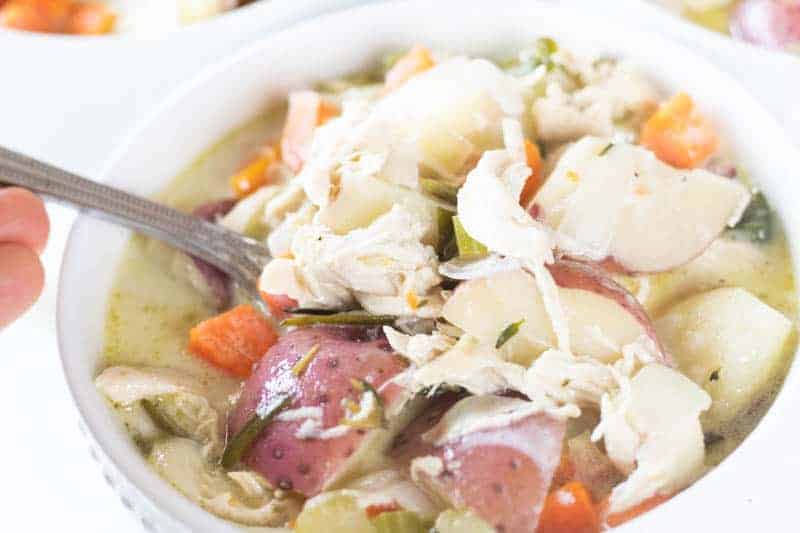 HOW TO FREEZE SOUP?
If you have all the mess out, why not make a double batch or triple? I love to make extra and freeze it!
After the soup is completely cooled, you can pour it into a half-gallon mason jar or freezer ziplock bag. Be sure to leave room for expansion. It can last for 6 months in a freezer and up to one year in a deep freezer.
If using ziplock bags, don't stack them until they are completely frozen to avoid the bags sticking together.
MORE WHOLE30 APPROVED RECIPES:
Yield: 6
Whole 30 Creamy Chicken Soup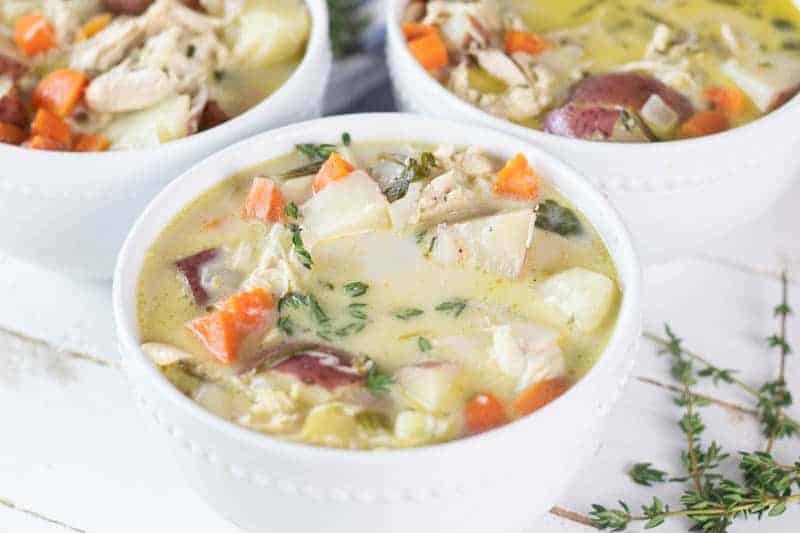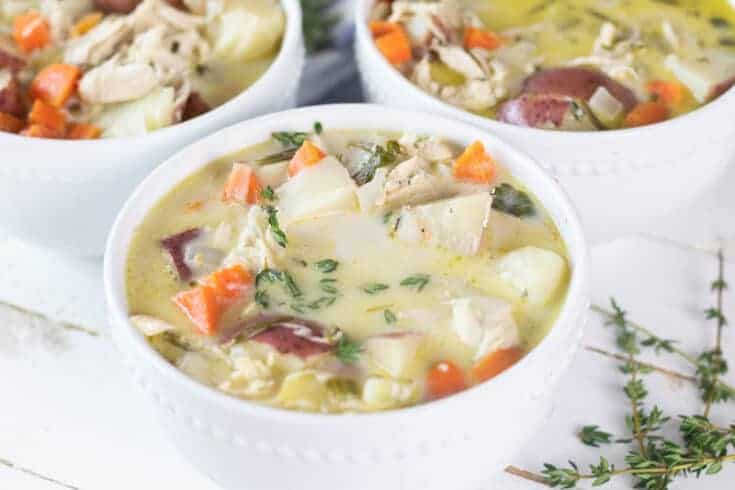 Creamy chicken whole 30 soup that is hearty and delicious.
Ingredients
4 cups shredded chicken 
1 cup carrots, peeled and diced 
2 celery stalks, diced 
6 garlic cloves, minced 
1 onion, diced 
8 small red potatoes, diced 
6 cups bone broth 
1 cup coconut milk 
1 tablespoon fresh rosemary, chopped
1 tablespoon fresh thyme, chopped
1 tablespoon fresh parsley, chopped 
salt and pepper to taste 
1 cup frozen cauliflower rice
2 tablespoons avocado oil, for cooking
Instructions
Add avocado oil to large sauce pan and place over medium heat.
Add carrots, celery, and onions: cook for 5 minutes. Add in minced garlic and cook an additional 3 minutes. Stir often.
Pour in bone broth.
Add in all other ingredients except coconut milk, and bring to a boil.
Boil for 20 minutes or until potatoes are soft.
Add coconut milk and garnish with fresh herbs.