I was certainly surprised when I first heard about onion oil. Images of food, curries, and spicy aromas entered my mind, and I wondered how on earth does that work?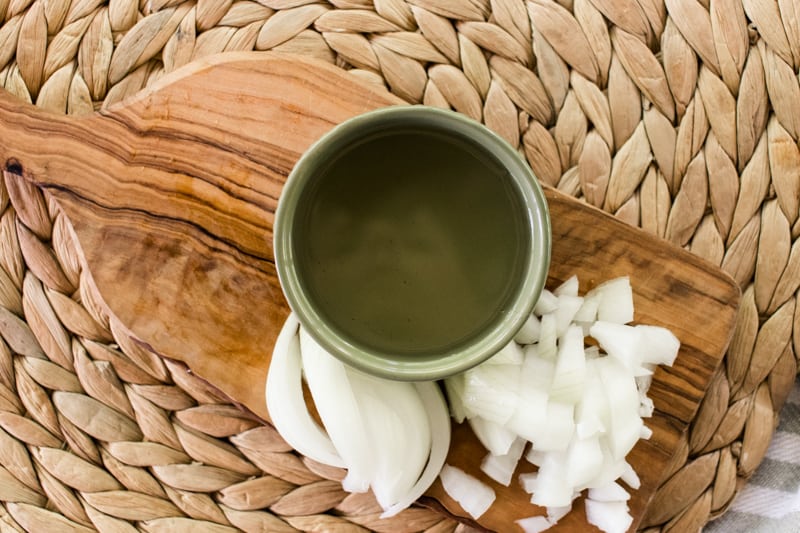 Would I end up smelling like a restaurant? Well, I'm so glad I pushed through my doubts, as I found that onion oil really is amazing for my hair!
I was clueless and somewhat resistant to try it initially. But as it turns out, there are a number of onion oil uses, with its main use being hair care.
Coming from Ayurvedic practice, onion oil is jam-packed full of nutrients and goodness, which promotes healthy hair growth.
And these same nutrients are also fantastic for our skin and body.
Onion oil can be used on bald patches on the scalp, on dry skin, or wherever hair is damaged due to too much heat treatment or hair dyes.
In this post, I'll share how to make onion oil for optimal hair growth and skin benefits, plus how to use it for the best results.
Benefits of onion oil
Onions are rich in nutrients such as folate, vitamin b6, vitamin c and many others, which makes them a nourishing treatment for strengthening the hair from the root, meaning faster, more luscious hair growth.
It also has anti-inflammatory and anti-bacterial properties, helping maintain the health of the scalp.
This, in turn, can reduce dryness, dandruff, and premature greying of the hair.
Onion oil benefits for the skin involve it being a great moisturizer, helping to soften and smooth fine lines and wrinkles and reduce the appearance of sun and age spots.
It's great to use on sensitive skin and may even help reduce early signs of aging.
Onion oil has tremendous health benefits for the body too. For example, it can help maintain bone density which naturally declines as we age.
It's also fantastic for digestion, similarly to ginger and peppermint in aiding the transit of food through the system.
Onion oil may even help you fall asleep! Though there is little research to verify this, onions do contain L-tryptophan, which is an amino acid known to help with sleep.
Onion benefits for hair
The best benefits of onion oil for hair are that it helps promote healthy, strong hair growth.
Whether there is a lack of hair due to using too many chemicals over the years or hair loss from fragile split ends – onion oil is simply fantastic to nourish the scalp and promote new cell formation leading to new healthy hair.
You'll really see a difference in your hair after the first use. Expect to see shiny, thicker, voluminous locks in no time!
Being rich in sulfur and potassium, too, onion oil helps prevent split ends by improving the quality and strength of the hair shaft from within.
It can help hair grow quicker too. I like to use it as a conditioner for my hair, and I've certainly noticed a difference in how thick and strong my hair feels since using it.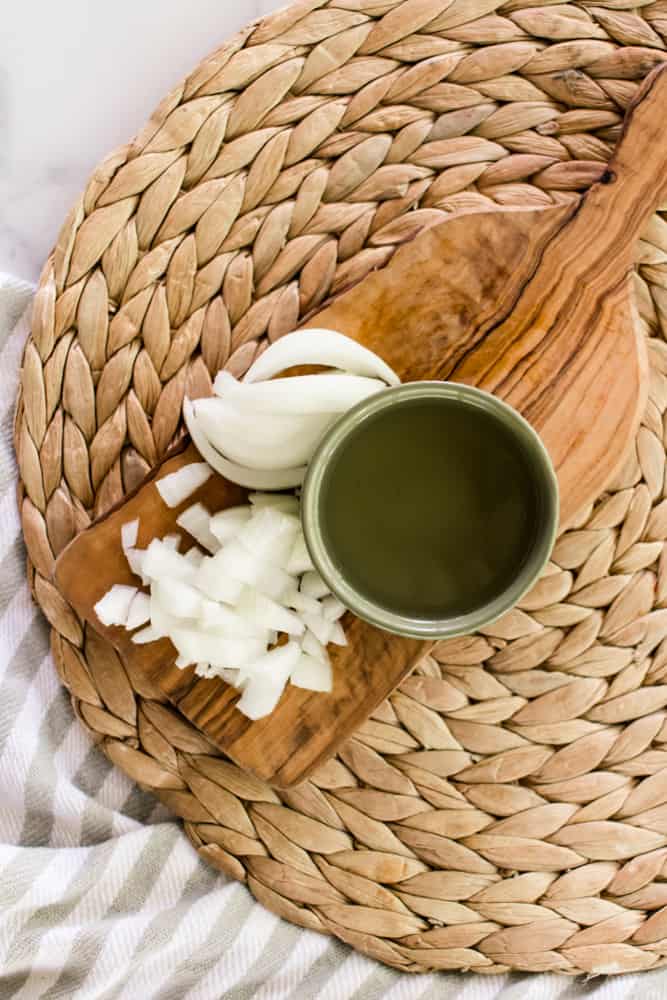 How to make onion oil
It's really fascinating when you find out how onion oil is made. Essentially, you need to get the juice out of the onion and mix it with a carrier oil.
Here is the recipe I use:
1/2 onion
1 cup coconut oil
Dice the onion and then blend in a food processor until smooth.
Transfer the onion paste to a saucepan and stir in coconut oil.
Bring to a boil, then reduce heat to a simmer for 15 minutes.
Once it is done simmering, remove the pot from the heat to cool before straining the oil into a jar.
Store in an airtight container for maximum shelf-life.
Does onion oil smell
Being that onion oil contains pure onion juice, it does tend to have a pungent oniony smell which some people won't like.
But I personally find that the benefits of onion oil far outweigh the rather unpleasant smell!
Plus, the smell washes out once the hair is washed thoroughly.
And there are some essential oils that I recommend using to counteract the onion smell, such as rosemary, cedarwood and lavender.
This post contains affiliate links, which means I make a small commission at no extra cost to you. As an Amazon Associate, I earn from qualifying purchases. Get my full disclosure here.
Best natural onion oil
The best natural onion oil comes from making it at home from scratch (make sure you check out my recipe in this post here).
But if you don't fancy making a DIY version yourself for whatever reason, there are options available that are ready to use straight from the bottle.
My recommendations are either the Wow Onion Hair Oil or the Luxura Organic Onion Oil, both of which contain natural ingredients.
Because it's difficult to find pure onion oil (I wonder why?!), most of those oils will come blended with other carrier oils. I have used the Luxura oil, and if you are looking for an onion oil with little to no scent, that is the one to go for.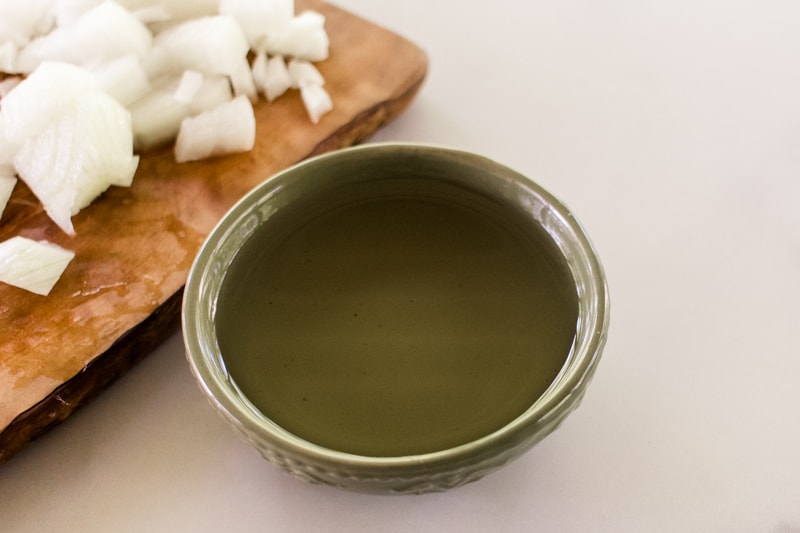 Can you leave onion oil in your hair
You can leave onion oil in as a treatment for up to 30 minutes but always wash it off afterward. And use it only on dry, clean hair for best results.
Onion oil shelf life
If kept in an airtight bottle, onion oil can last for around 2 years, but I advise using it within the first 3-6 months if possible, so as to avoid the oil from spoiling (and smelling even worse!)
I hope you try and enjoy the many onion oil uses.
Let me know what you think by posting a comment below on this post. And if you're looking for more great natural tips, tricks, and recipes, check out one of these posts below!
Yield: 1 jar
How to make Onion Oil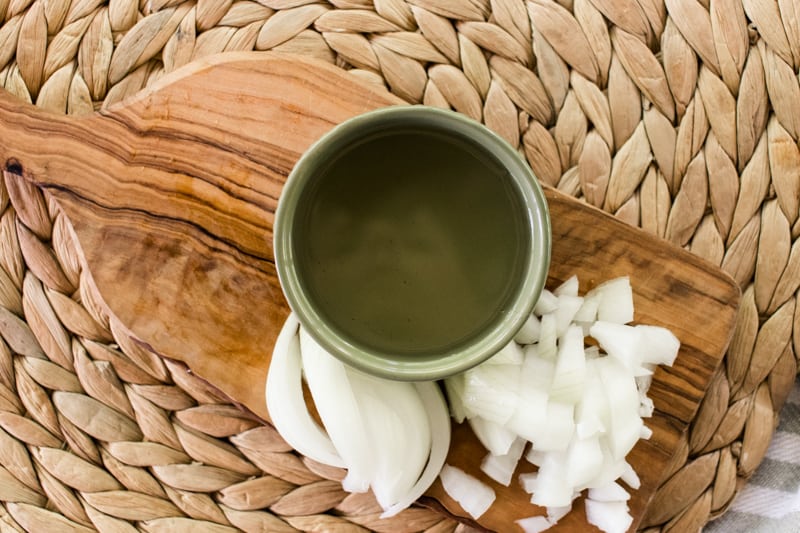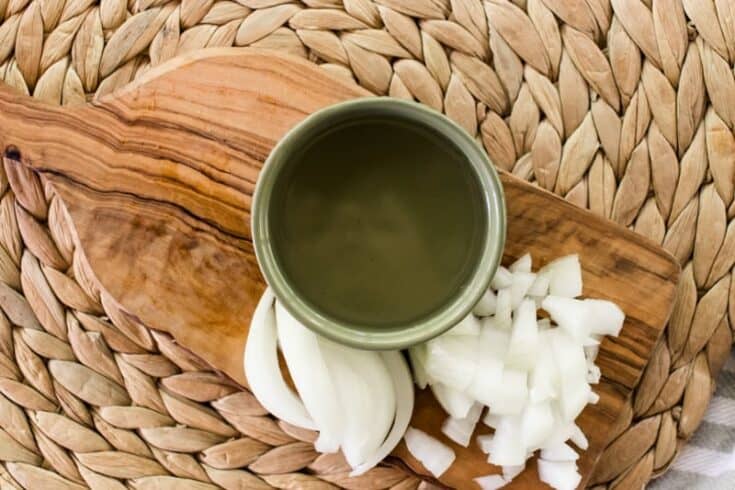 Onion oil has many incredible benefits for the hair, including helping with hair growth and strengthening the hair follicles.
Additional Time
30 minutes
Materials
1/2 an onion, diced
1 cup of coconut oil
Instructions
Blend onion in a food processor until smooth.
Transfer to a saucepan with the coconut oil and bring to a boil.
Once at a boil, reduce heat to a simmer for 15 minutes.
Remove pot from the heat to cool.
Use a strainer to transfer the oil to an airtight storage container.