A smelly closet is never good! Take inspiration from the ideas in this post to eliminate that musty smell using natural methods. They really work!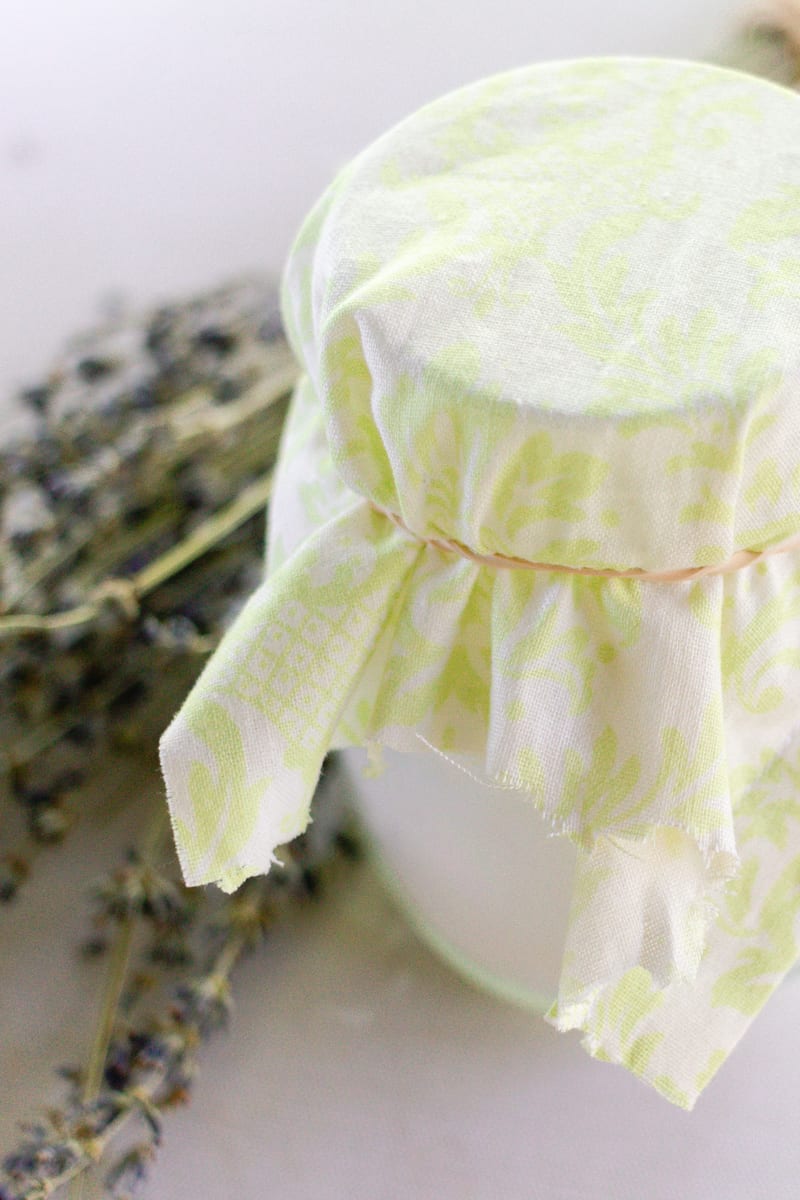 We've all been there.
You open the door to your closet, and instead of being greeted by a beautiful, breezy scent like the ones you see splashed all over social media feeds…
Well, nope. Not quite.
You get greeted by a stinking stench – am I right?!
Yuck! But equally – welcome to the real world. You're probably asking, 'Why does my closet smell musty' and looking for answers.
Honestly, and with every ounce of empathy – closets are notorious for harboring bad smells.
We all store various items in closets, from clothing, shoes, bags, towels, kid's toys, and maybe even food items from time to time.
So, it happens. Try not to be disheartened.
A closet is a necessary space saver and 'sorter outer' of any home item, and for our own peace and clarity of thought – we need to tidy stuff away!
Go ahead and read on to discover how to keep your closet smelling fresh and clean.
I'm sharing several options in this post for DIY closet fresheners so you can take your pick and see what works best for you and your home.
Enjoy!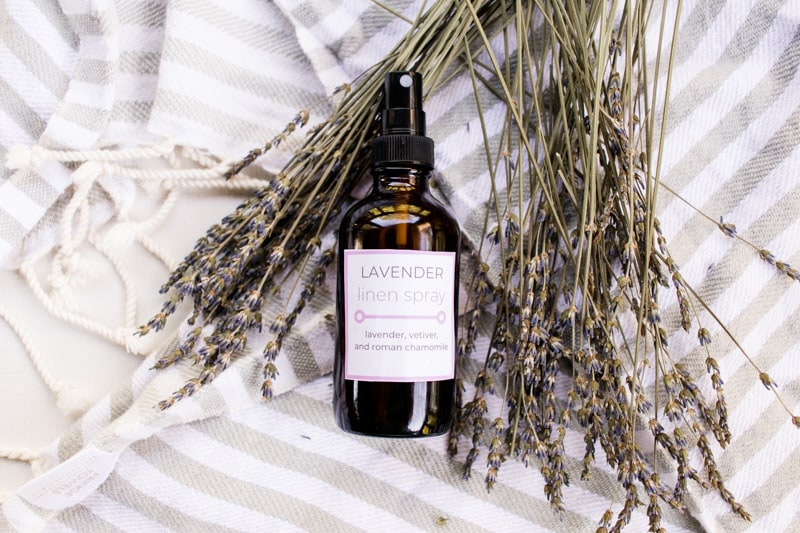 Closet freshener spray
If you're wondering how to keep clothes from smelling musty in the closet, then try making a simple air freshener spray and spritz it lightly.
You can spray it in your dresser drawer directly on any garments, socks, sweaters, and anything else you'd like to freshen up.
This spray works great on couches and other fabrics, too, but always do a patch test first to be safe, particularly on delicate fabrics.
I enjoy making my 'fresh linen blend' linen spray, which contains:
6 drops of clementine essential oil
4 drops of sandalwood essential oil
6 drops of Douglas fir essential oil
Add the essential oils to a 4 oz spray bottle and top off with unscented witch hazel. You can dilute the solution if you want to by topping it off with water to the rim.
Ideally, you would use a fine trigger mist for linens, as you don't want to soak your clothes. And the last thing you want is to create dampness in the closet.
For this application, lightly mist into the air around the corners of the closet.
And a spray like this is also great for freshening up the clothes you want to wear.
Rather than sticking clothes back in the washer, you can simply mist the spray over them, and if they need an iron, that can be done too. Or use a wrinkle-release spray to straighten out your clothes!
A great time saver!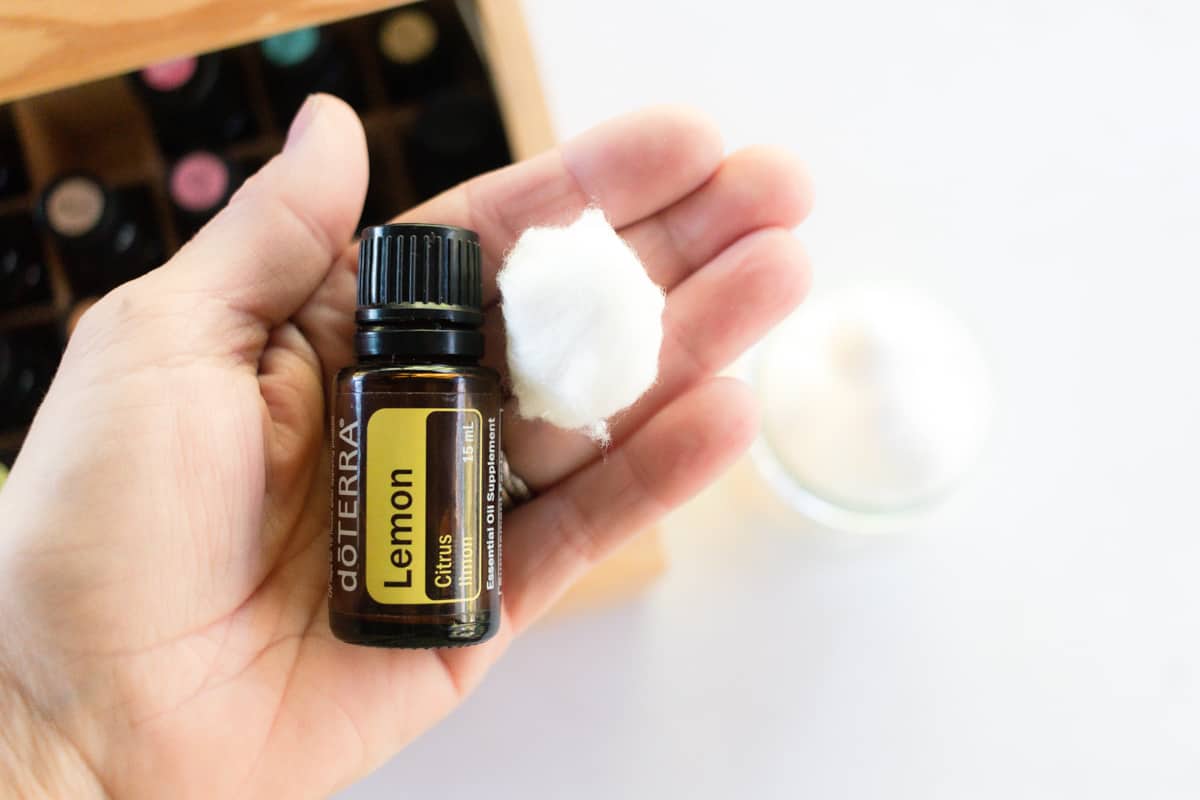 Cotton balls
Next up, cotton balls! You simply add whatever essential oils you like to cotton balls and place them in your closet.
I find cotton balls work incredibly well at the back of the closet on a shelf, so they don't get moved around when you open the door and the smell can spread better (if that makes sense!)
What I do is place 4-5 cotton balls with a few drops of essential oil in a basket and pop the whole basket in the closet or my dresser drawer.
So, when I open the door, I'm greeted by a gorgeous, natural scent!
It's best to top up the essential oil on these balls every 4-5 days for the best results. And don't oversoak the balls – you only need 3-4 drops per ball at any time.
Take care when using cotton balls if you've got animals or children around. Always ensure they are safely in the closet, away from little hands and paws!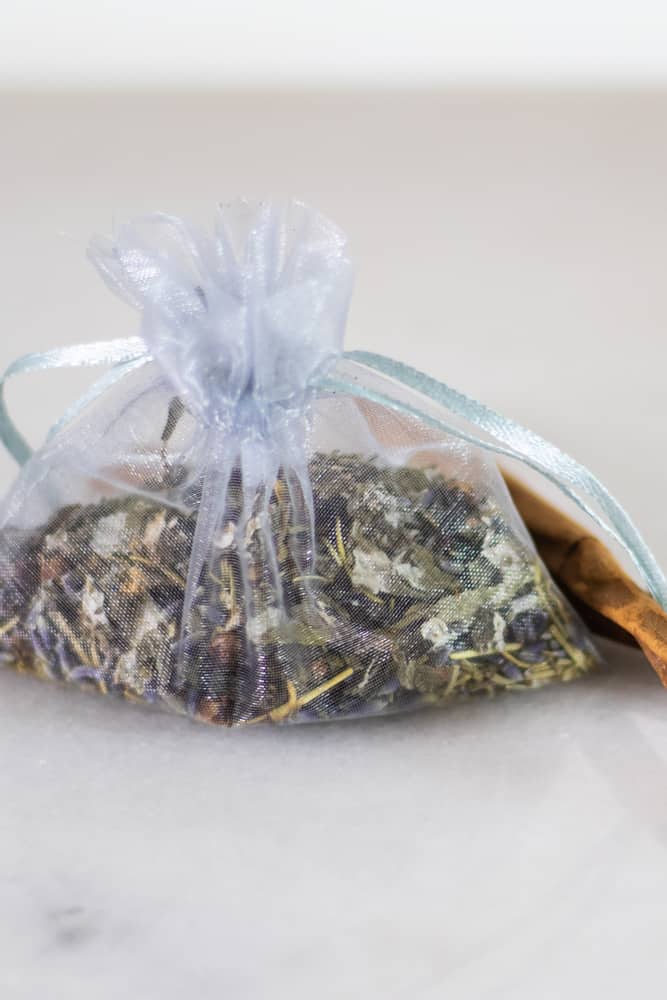 Potpourri sachets
Potpourri sachets remind me of my grandparents' generation in a wonderfully nostalgic way.
I love sachets like these filled with dried flowers and whatever else I can squeeze in them. I've been making my own potpourri for quite a few years now.
I make potpourri by grabbing some small breathable bags (you can make your own with old muslin cloth and some thread) and choosing whatever dried sprigs of lavender or rosemary I can find.
I've also used thyme before and other woody-stemmed herbs as I find 'softer' herbs such as fennel don't work as well (they go a bit mushy if used fresh)
Close the bag up tight and place it in the back corner of your closet, away from the door. The scent, in theory, will last for up to a month.
This also works really nicely in dresser drawers or other enclosed spaces around the home. Plus, depending on the herbs you choose, they can help repel moths as well!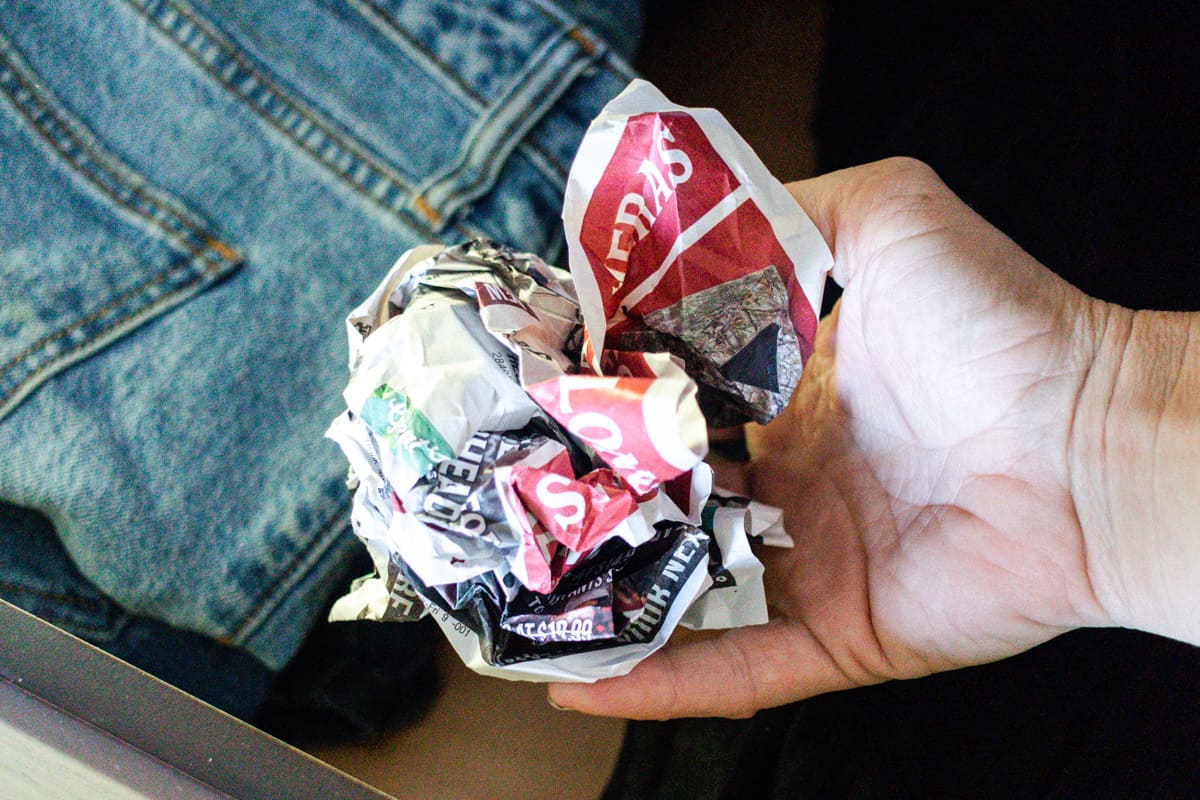 Newspapers (crumpled up)
You'll be surprised at this one, but there's a reason newspapers make great linings for pet bedding!
It's because the paper absorbs wetness and odor as well as anything. This makes newspaper the simplest answer for how to get rid of a musty smell in your closet.
I'll even stick some newspapers in my shoes to absorb the odor.
The great thing about newspaper is it's easily disposed of and breaks down into compost, so you don't need to feel guilty about using more!
For best odor-absorbing results, replace the newspaper once a week.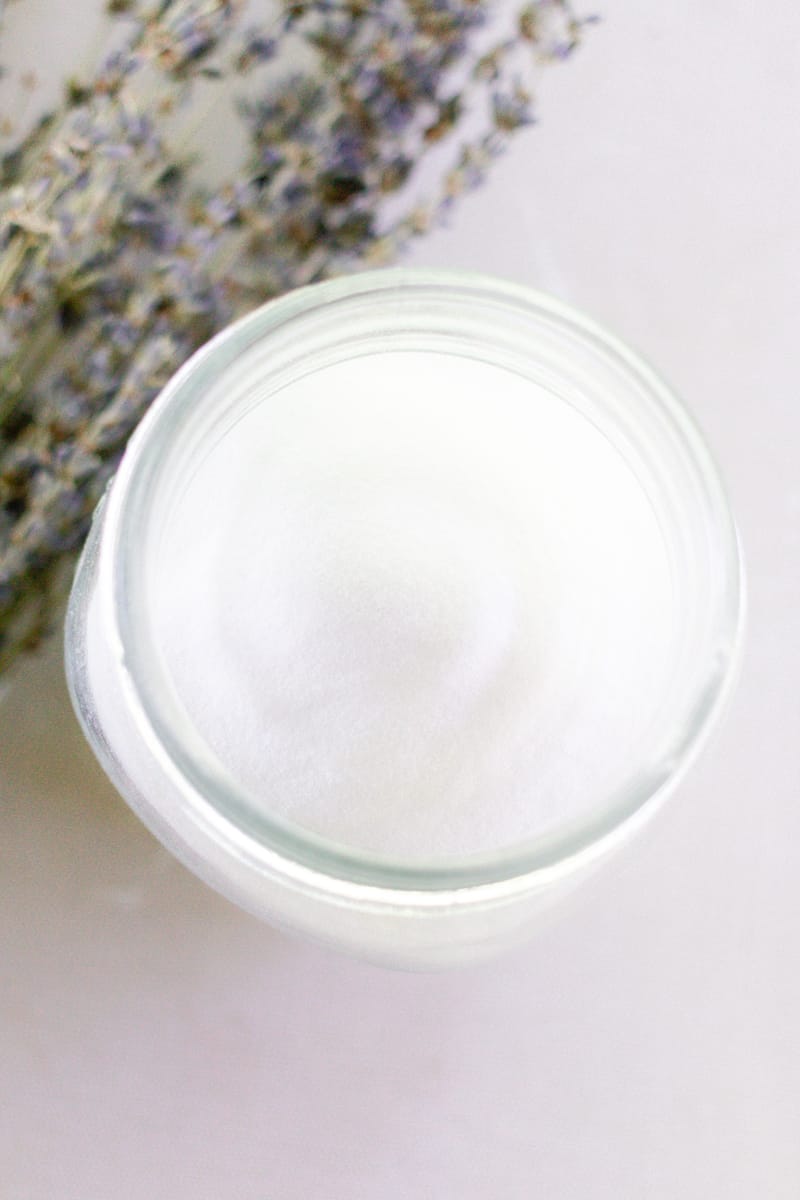 Baking Soda
Another fantastic answer for how to keep clothes smelling fresh in drawers is to use baking soda.
Baking soda is seriously one of my favorite things in the world. It can be used for so many needs in the home, and absorbing foul odors is one of them.
I like to make things a bit pretty if I can, so I pour baking soda into a bowl and put it at the back of the closet, again, so it doesn't spill everywhere when you open the door.
You can if you want the easier option, simply put a whole box of baking soda in the closet with the lid cracked like you would in a refrigerator.
Another idea is to fill a shallow mason jar with a breathable top and place that in the closet at the back.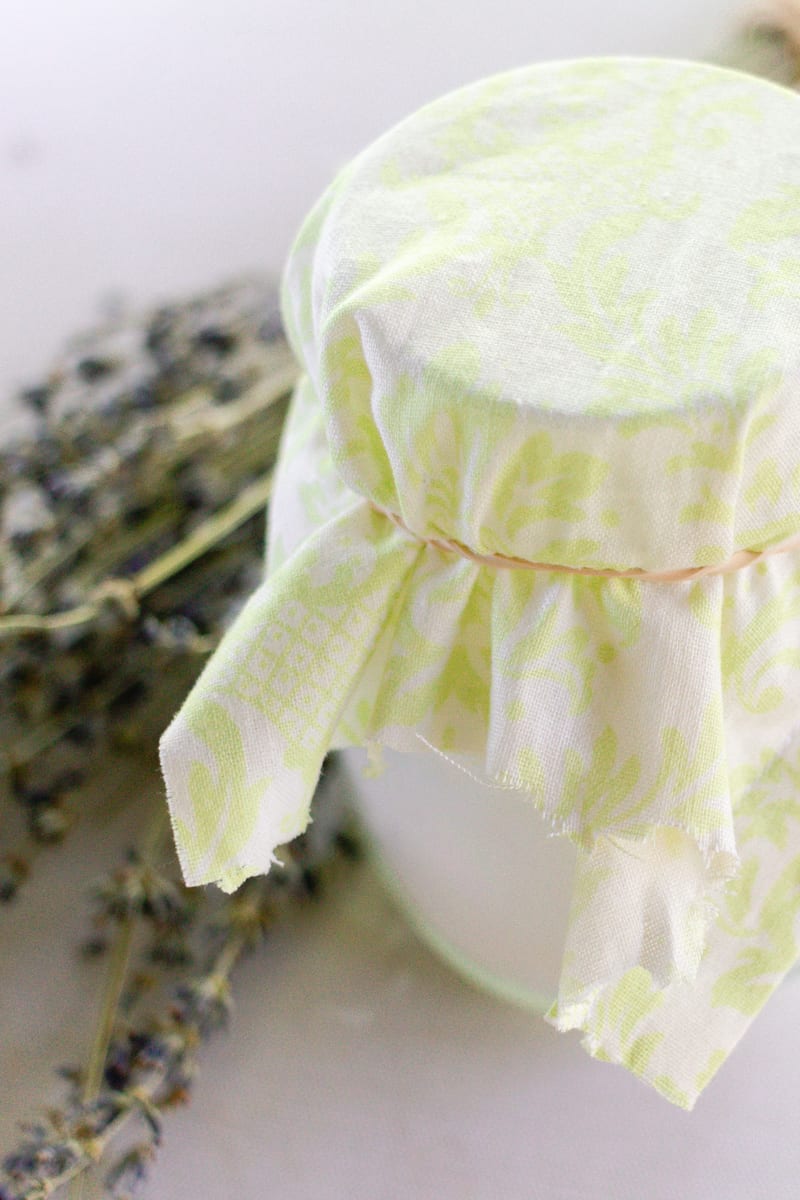 Why does my closet smell musty?
A common issue with a musty-smelling closet is damp clothes or even piles of dirty laundry.
My best tip would be to ensure your clothes are completely dry before hanging them up or folding them into your dresser.
Another culprit could be the washing machine itself. Did you know your washing machine should be cleaned from time to time?
I have a whole post on how to fix a mildewy-smelling washing machine right here!
How to keep closet smelling fresh?
With my top tips for keeping your closet and dresser drawers smelling fresh listed above, there are a few other things we could do to prevent smells in the first place.
Check for mold. Mold grows in damp, dark areas and even grows on our clothing. And unfortunately, closets provide the proper conditions.
Attack the problem with a mold spray, or call a professional to get rid of any mold in your home.
Reduce dampness. If you are concerned about damp clothes causing musty smells in the closet, consider running a dehumidifier. Just be sure your dehumidifier is safe to use in small areas.
Allow proper airflow. Sometimes it is as simple as leaving your closet door cracked. Having good airflow can be the easiest and most effective way to reduce musty closet smells.
A fresh-smelling closet
I hope you've enjoyed this collection of tips for how to keep clothes smelling fresh in the closet. Of course, it's not only useful for clothes but other items too.
Let me know what you do to keep your closet smelling fresh!
And for more great air fresheners and cleaning recipes, check out one of these below!
How to make an upholstery cleaner
Quick & easy bed bug spray
How to freshen a mattress