Learn how to make calming bath salts for kids with a few simple ingredients. Use this as part of your child's bedtime routine to calm, relax, and promote a better night's sleep.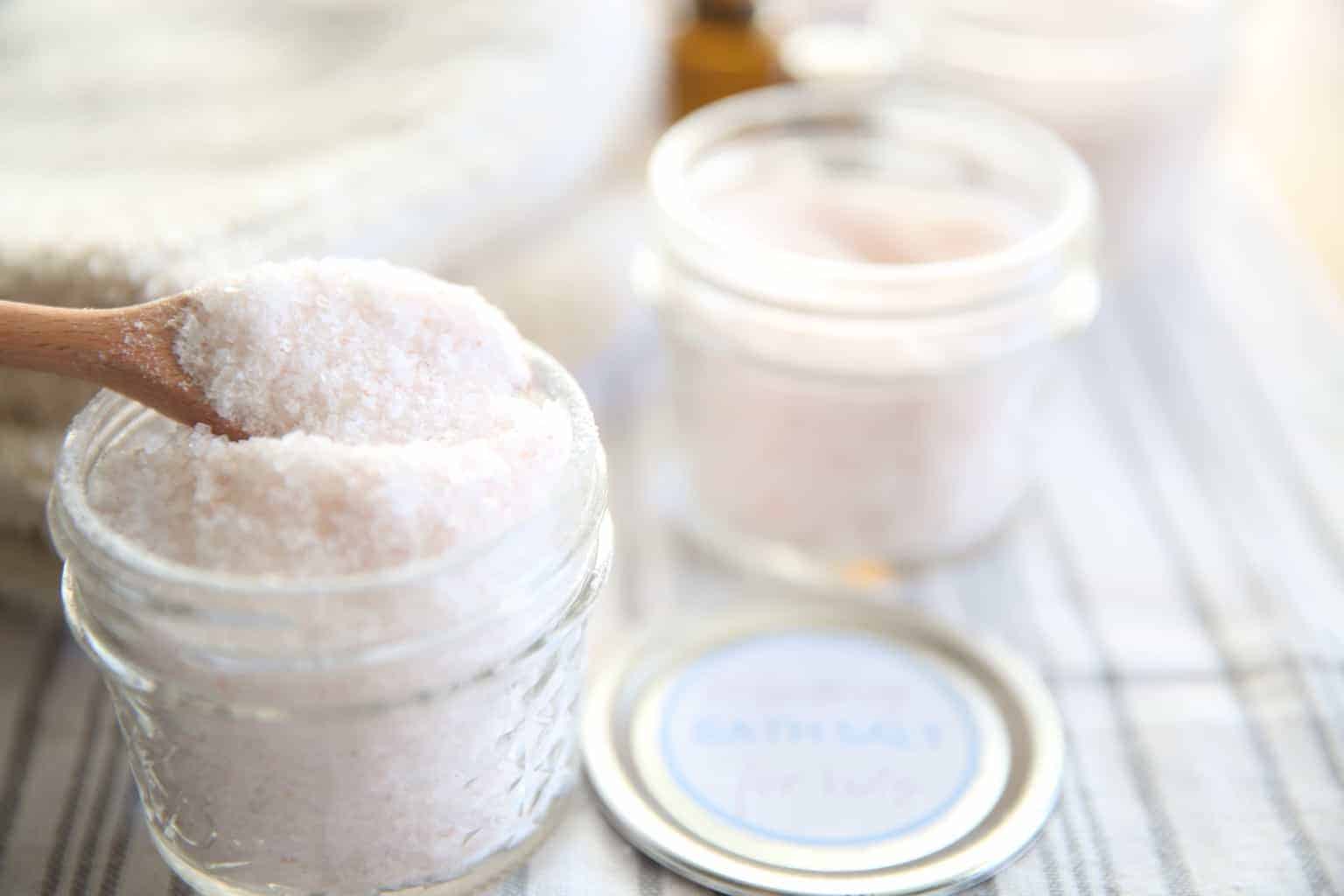 Get access to my online resource library for your free printable label.
It is funny to think back to our daily routine when I only had one child. My, have things changed since then! Certain things a mom of 4 just can't keep up with were the things that caused so much stress when I was a new mom. I would NEVER miss a nap time or tummy time. At every meal, the baby wore a bib and ate off a baby plate with a matching spoon. I don't even own a bib anymore!
One thing that didn't change much is our bedtime routine. Bedtime is pretty important to me, and I'm hardly ever late for it! Our bedtime routine is simple and to the point, but the kids know what to expect because it is consistent.
Essential oils play a big role in this. Each night I fill the diffusers with a calming oil or blend, we apply calming oils to the bottom of the feet (depending on everyone's health and mood), and if it is bath night, we will add these calming bath salts.
Do you have a particular bedtime routine? What are some things you do to help your child(ren) calm down before bed?
HOW TO USE YOUR CALMING BATH SALTS FOR KIDS
Add 1 tablespoon of calming bath salts to a warm bath. It is best to pour the bath salts underneath the running water when filling the tub so they will dissolve quickly in the water.
Epsom salt is great for soothing muscles, reducing inflammation, and detoxing the body. Adding essential oils adds aromatherapy benefits.
Mama, these bath salts can be for you too! A warm bath soak with essential oils is the ultimate relaxer after a long day.
RELAXING BATH SALTS
Bath salts can make a perfect stocking stuffer, birthday gift, or Mother's day gift! They are simple to make, practical, and loved by all. I mean, who doesn't like a warm relaxing bath?
When you use essential oils in the bathtub, you are reaping the benefits from the oils topically and aromatically. Essential oils can be helpful to help relax, clear the sinuses, soothe muscles, and so much more.
NOTE: Use the same recipe as above; just change the essential oils for each bath soak recipe.
CLEAR SINUSES
Use this blend whenever you are dealing with any respiratory issues. The essential oils in this blend are going to help open up airways and promote clear breathing.
10 drops peppermint essential oil
10 drops eucalyptus essential oil
5 drops lime essential oil
SOOTHE MUSCLES
Use this blend after a workout or a long day at work. Soaking in the salts and these essential oils will help soothe sore muscles, aches, and discomforts.
10 drops wintergreen essential oil
8 drops frankincense essential oil
5 drops copaiba essential oil
CLEAR THE MIND
Use this blend in the morning before a big test or presentation. The essential oils in this blend are stimulating for the brain, can help with aiding memory and brain fog.
6 drops peppermint essential oil
5 drops wild orange essential oil
4 drops rosemary essential oil
GROUND EMOTIONS
Use this blend to balance the mood and steady the emotions. The essential oils in this blend can help stabilize emotions and promote calmness.
10 drops sandalwood essential oil
8 drops lavender essential oil
5 drops blue tansy essential oil
STRESS RELIEVER
Use this blend after a long stressful day at work or school. The essential oils in this blend are very calming and relaxing. They can help calm the nervous system and support a healthy night's sleep.
10 drops lavender essential oil
5 drops vetiver essential oil
5 drops cedarwood essential oil
4 drops lemon essential oil
BATH SALTS AS GIFTS
Add a pretty label to the storage container and a ribbon around the lid to make these into a cute little gift. You can store them in a cute flip-top BPA free plastic container and gift it with a bath towel and a homemade lotion bar.
If you are making these for Christmas, use peppermint, Siberian fir, and eucalyptus essential oils to give it a nice Christmas scent.
This post contains affiliate links, which means I make a small commission at no extra cost to you. Get my full disclosure HERE.
CALMING BATH SALTS FOR KIDS INGREDIENTS
CALMING BATH SALTS FOR KIDS INSTRUCTIONS
Combine the salts and baking soda in a mixing bowl. Stir until mixed well.
Add in the essential oils and stir until well incorporated. You can use less or more essential oil, depending on preference. Remember, essential oils are very concentrated!
Make sure everything is well and dry before securing the lid.
Store in an airtight container. I put mine in a heavy-duty plastic container that is safe for essential oils.
More of My Favorite DIY's
Have you ever made bath salts? Did you add essential oils for the aromatherapy benefits? What were your favorite blends? Share your favorite recipes in the comments below!
PIN IT FOR LATER
Follow along with our oily house:
Thanks for stopping by our oily house!