Homemade hair toner is simple to make and perfect for those unwanted undertones that often come with dyed hair. Check out these three all-natural recipes to tone your hair at home.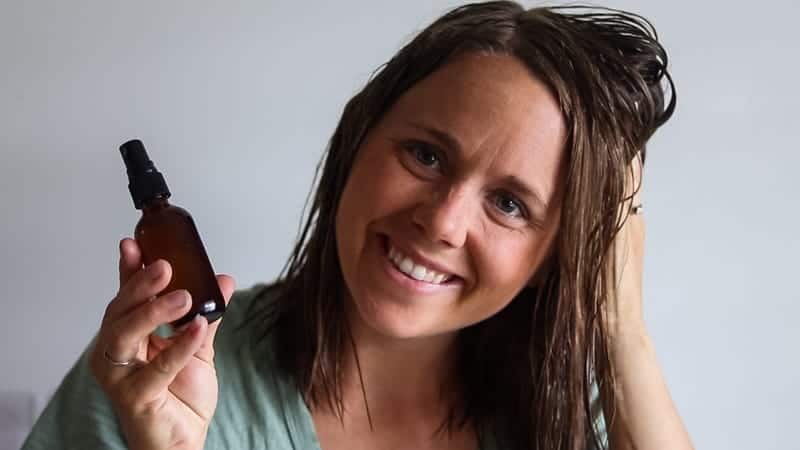 Homemade hair toner is easy to make and you probably have most of the ingredients needed to make it on hand already. Hair toner can be used to personalize your hair color or neutralize that unwanted undertone after getting your hair colored.
We have all been in the beauty chair at the salon when the foils are coming off and we shrink into the chair as the results peer back at us through the mirror. It may look way too bright, orange, brassy, or even dull.
More often than not, a little hair toner can solve that problem, or at least that is what your stylist assures you. 😉 For real, though, I have seen hair toner do some amazing things. Since making the switch to all-natural products, I do most of my hair care by myself at home. This DIY toner for hair can really come in handy!
PIN IT FOR LATER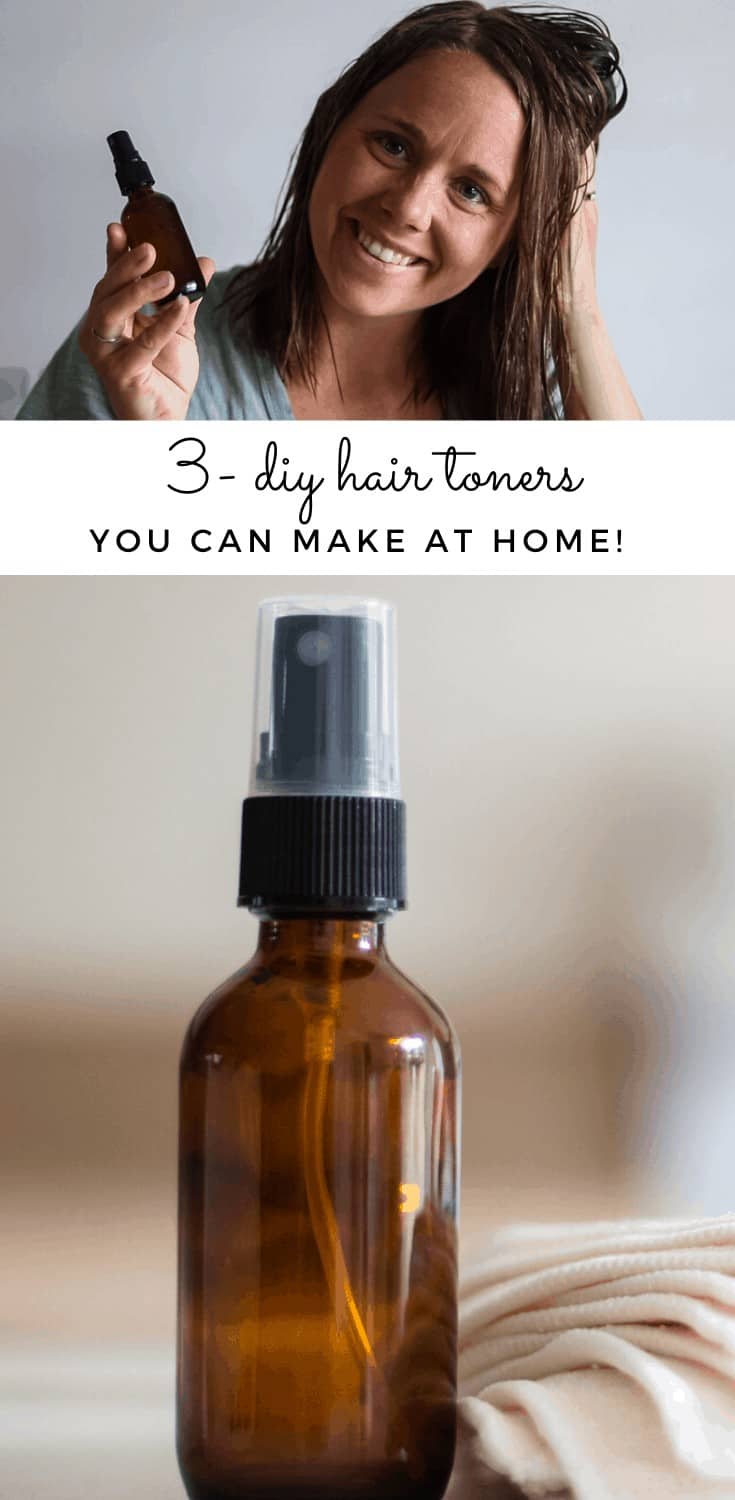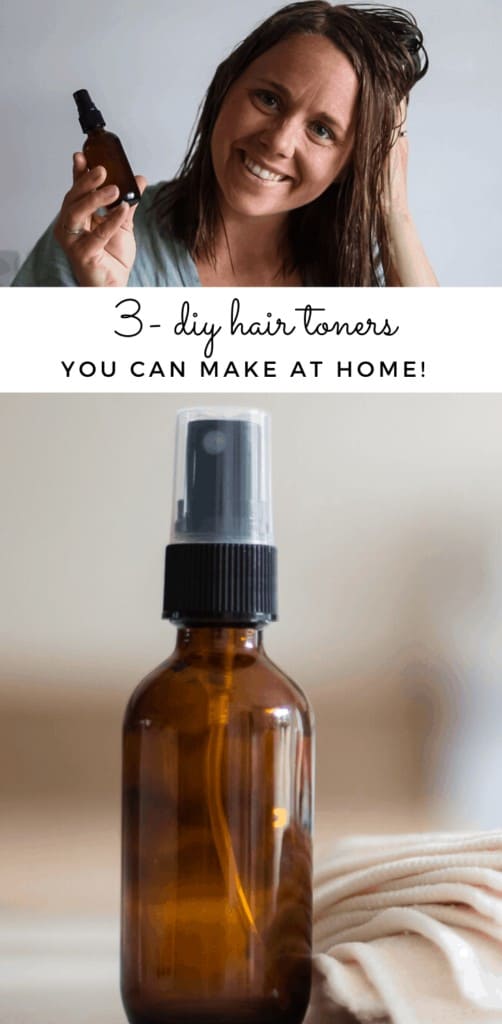 WHAT IS HAIR TONER?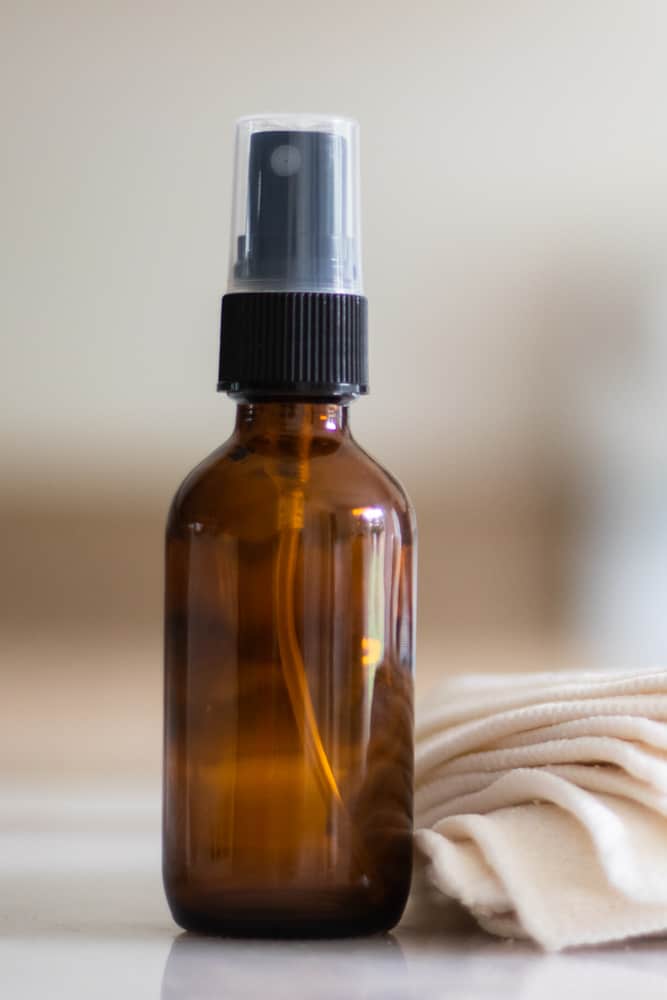 Anyone that regularly colors or highlights their hair is most likely familiar with hair toner. Hair toner is a product that is put on the hair after the coloring process to change the tone.
Hair toner won't completely change the color of your locks. However, it will change the undertone of your hair. It removes certain color pigments to change the color tone.
Hair toner is most often used on blonde hair to remove brassy or yellow tints. It works best and will show the most noticeable difference in lighter hair.
Hair toner will only work on colored or treated hair. If you have never had your hair colored, then hair toner will not change the color tone of your hair.
HOW TO MAKE HAIR TONER?
You can make several different forms of hair toner at home using different ingredients in your kitchen. I am going to share 3 different recipes with you.
Hair toner is not meant to be used daily. These DIY hair toners are made with baking soda, vinegar, and lemon juice. All of these ingredients can be damaging to the hair if used too often. It is best to use a toner every 6-8 weeks.
This post contains affiliate links, which means I make a small commission at no extra cost to you. Get my full disclosure HERE.
HOMEMADE BAKING SODA HAIR TONER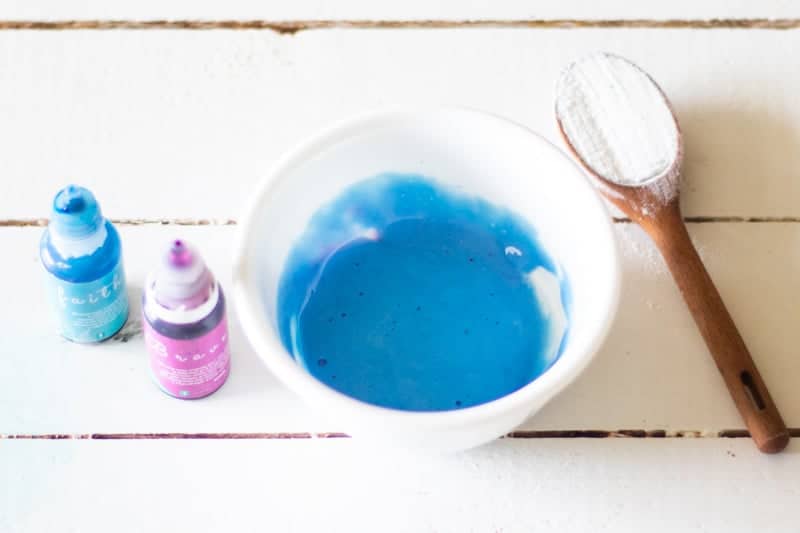 For this recipe, you will need a sulfate-free shampoo, baking soda, and food coloring. Because of the high pH level in the baking soda, this method shouldn't be used often as it can dry out the hair and cause breakage.
This recipe includes food dyes; I purchase a pack of skin-safe all-natural dyes when I made bath bombs and am using that in my hair toner as well.
This hair toner can help with a brassy hair tone.
WHAT YOU WILL NEED
Sulfate-free shampoo. (If you use a shampoo with sulfate, this recipe will not work, so be sure to check your labels.)
1 teaspoon of baking soda
INSTRUCTIONS
Squeeze a dash of shampoo into a small mixing bowl. Use approximately the amount you need to wash your hair normally.
Add in 2 drops of purple and blue food coloring. Stir to mix into the shampoo.
Sprinkle 1 teaspoon of baking soda into the mixture and stir well to combine.
Apply the shampoo to damp hair just as you would apply shampoo. Allow the mixture to sit for about 10 minutes and then rinse out.
Follow the treatment with conditioner and an extra rinse. Do your best to avoid getting the toner on the face, or it may stain.
HOMEMADE APPLE CIDER VINEGAR HAIR TONER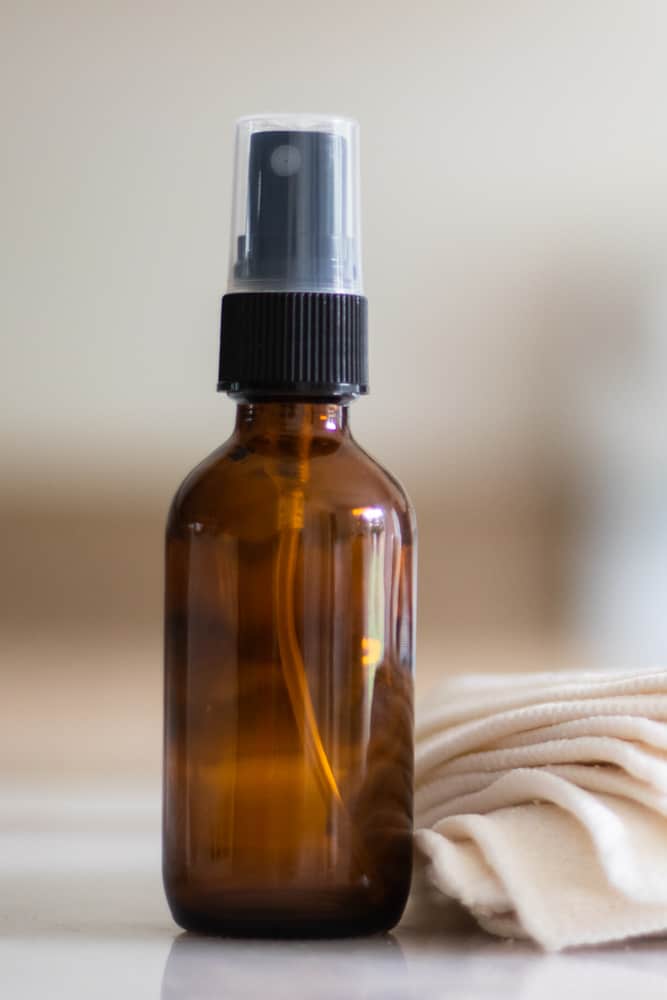 Apple cider vinegar can be used to help with yellow hair tones and be used to lighten the hair tone. ACV is slightly more alkaline than pure vinegar but is still considered acidic.
WHAT YOU WILL NEED
INSTRUCTIONS
Fill a spray bottle with equal parts of apple cider vinegar and water.
Secure lid and shake well to combine.
Generously spray the mixture on damp hair, being sure to cover all of it.
Allow the mixture to sit on the hair for about 15 minutes and then rinse with water.
You can use this hair toner as a rinse and wash your hair before using it, or if you can't stand the smell, you can wash your hair after. Just be sure to allow it to sit for at least 15 minutes before rinsing off.
DIY HAIR TONER WITH LEMON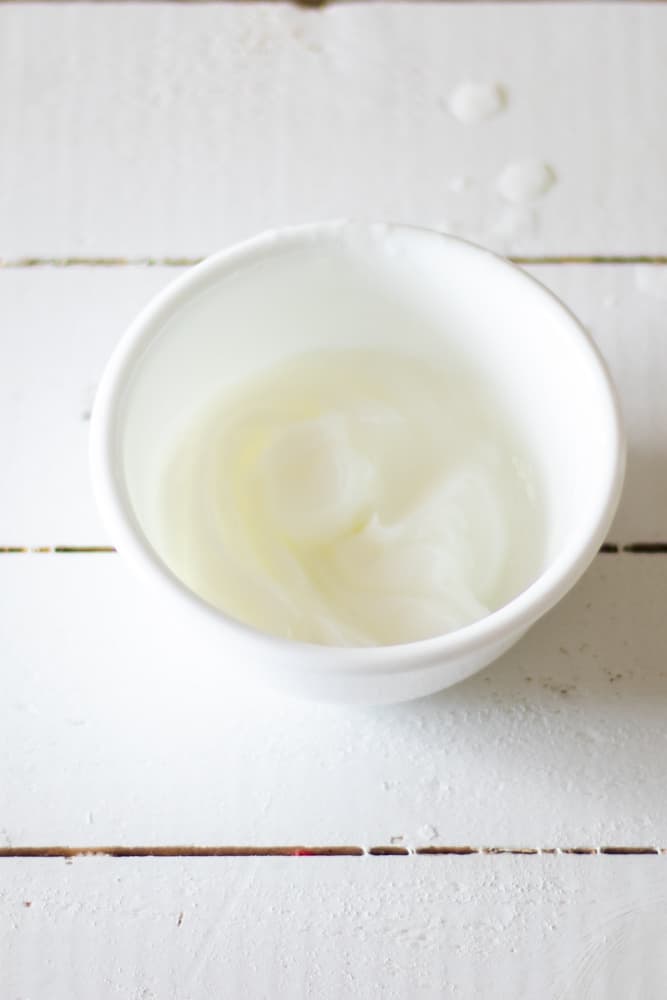 Lemon juice can work as a hair toner for light hair and can help to lighten hair naturally. This hair tone can also help to remove that unwanted purple/gray/silver-tone that may happen when dying hair.
We are mixing the lemon juice with conditioner to protect the hair and keep it moisturized while the lemon juice does the work.
If you don't have fresh lemons, you can use lemon juice. Each lemon makes about 3-5 tablespoons of lemon juice.
WHAT YOU WILL NEED
3 lemons
1/4 cup conditioner
Small bowl
Comb
INSTRUCTIONS
Add the conditioner into a small mixing bowl.
Slice the lemons in half and squeeze the juice of the lemons into the conditioner.
Stir well until the lemon juice is mixed into the conditioner.
Work the conditioner and lemon mixture into damp hair. Be sure to cover every area of the hair evenly.
Comb through the hair to make sure it is covering every piece of hair.
Allow the mixture to sit on the hair anywhere from 20 minutes to an hour. This will depend on the color or your hair or what color you are going for. The longer it sits, the lighter it will be.
Wash hair like normal.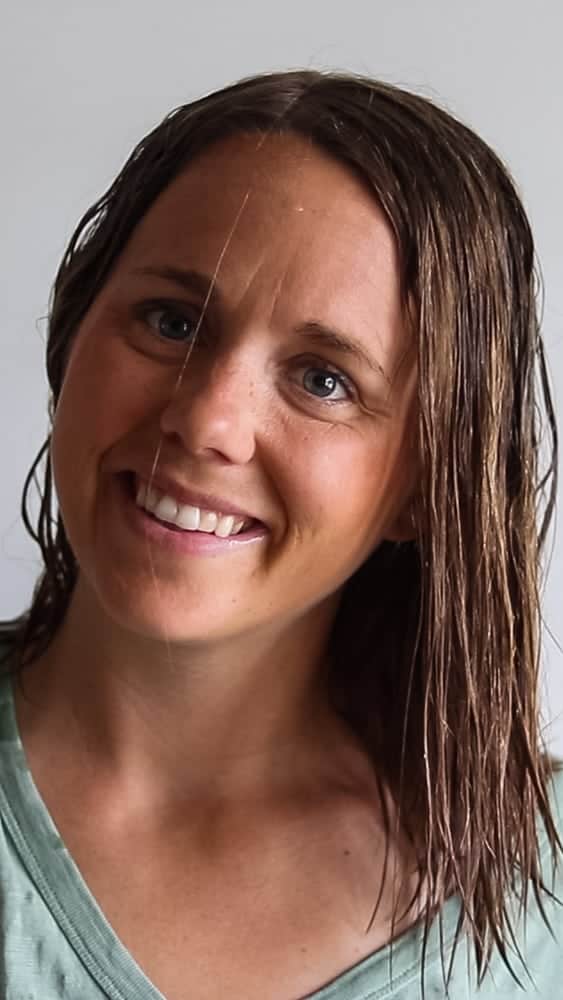 IN SUMMARY
Hair toner can be made at home to help change the undertone of your hair; it works best on lighter hair.
Hair toner should be applied to damp hair for best results.
Allow the hair toner to sit for the directed amount of time before rinsing out.
DIY hair toner should NOT be used daily, as it can damage hair if overused.