Learn how to make dry shampoo spray with this simple recipe that really works! Made in a spray bottle for easy application.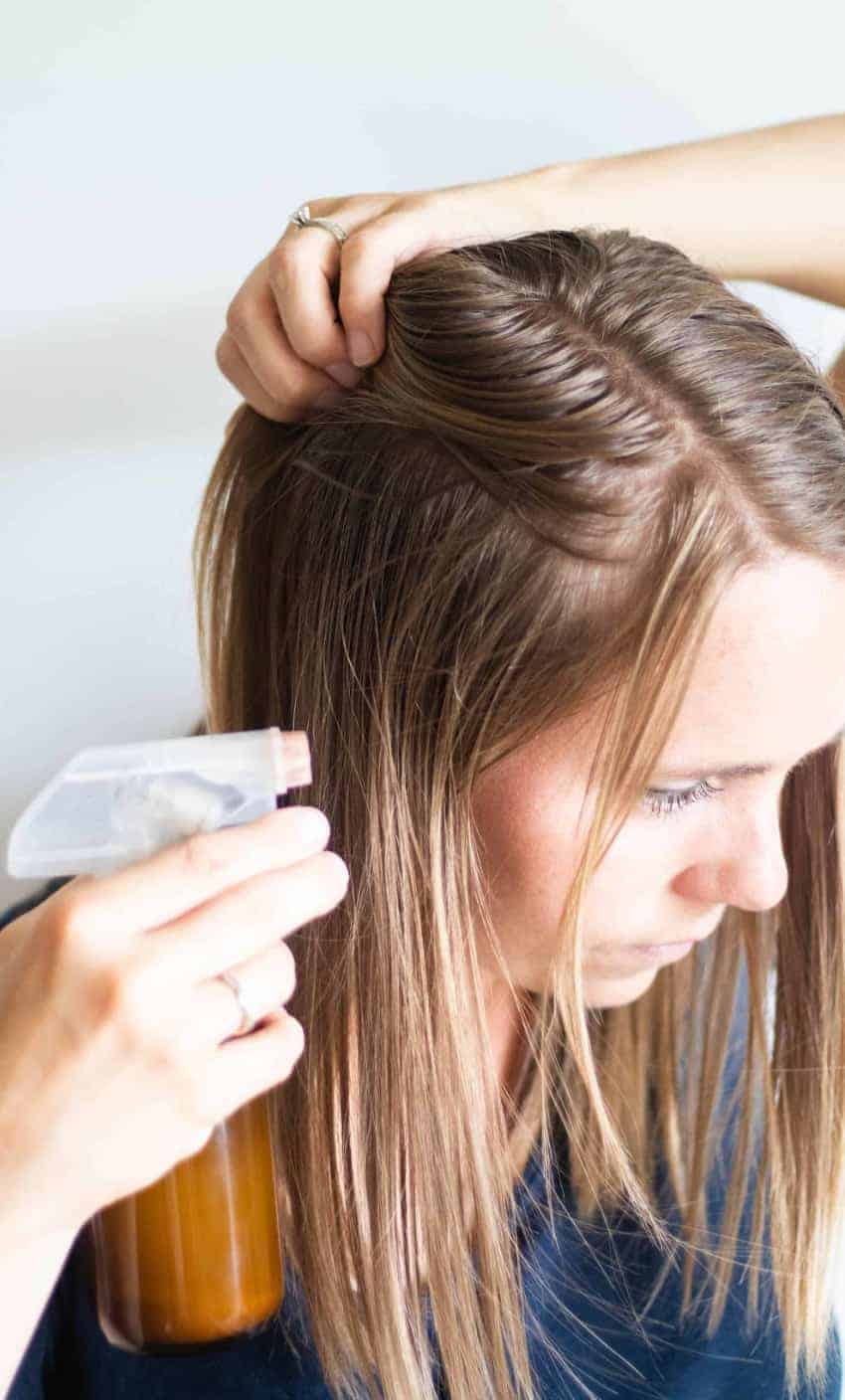 Overwashing your hair can strip it of the natural oils, leaving the hair tangled, brittle and dry. This can cause more split ends and damage to the hair, but we also don't want our hair to look greasy and dirty. And that is where this dry shampoo spray comes in!
Using dry shampoo will help to keep your hair looking clean in between washes and will be especially important as you "train" your hair to be washed less often. I may or may not use dry shampoo more than I should, but it works so well I can't help it. Sometimes (let's get real, most the time), washing my hair doesn't make it into the schedule.
If you regularly buy dry shampoo from the store, check out this all-natural recipe and ditch the conventional shampoos.
Revamp your daily routine with this FREE 3-day email course. Natural solutions, tips, and recipes straight to your inbox!
PIN IT FOR LATER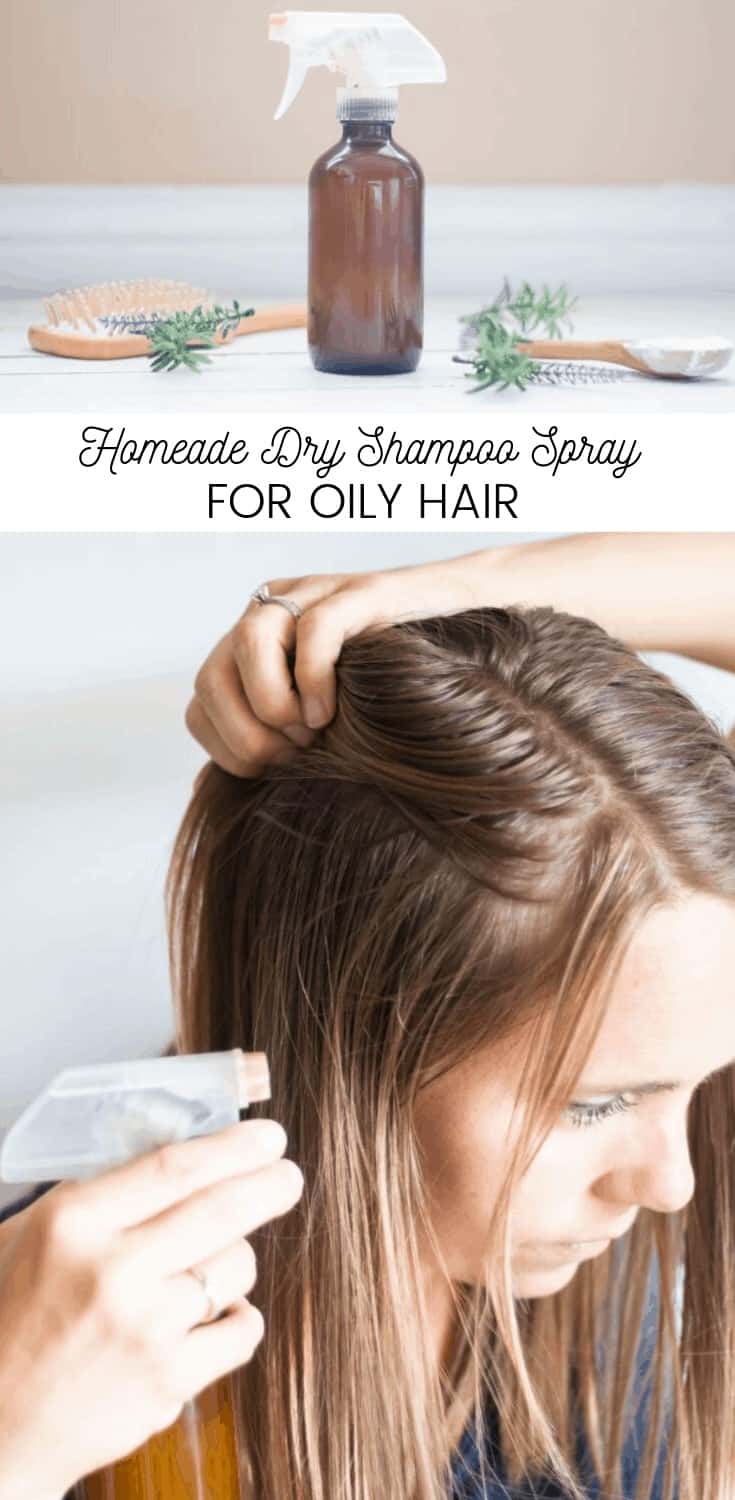 This post contains affiliate links, which means I make a small commission at no extra cost to you. Get my full disclosure HERE.
WHAT IS DRY SHAMPOO SPRAY?
Dry shampoo is made with either a starch or alcohol that is used to soak up extra oil or grease that is in the hair. You can find many options at the store for dry shampoo. It can be found in powder or spray form. You can check out my dry shampoo in powder form here.
As with many conventional products, the store-bought kind can be loaded with toxic ingredients and chemicals you will want to avoid. Thankfully, making your own is very simple.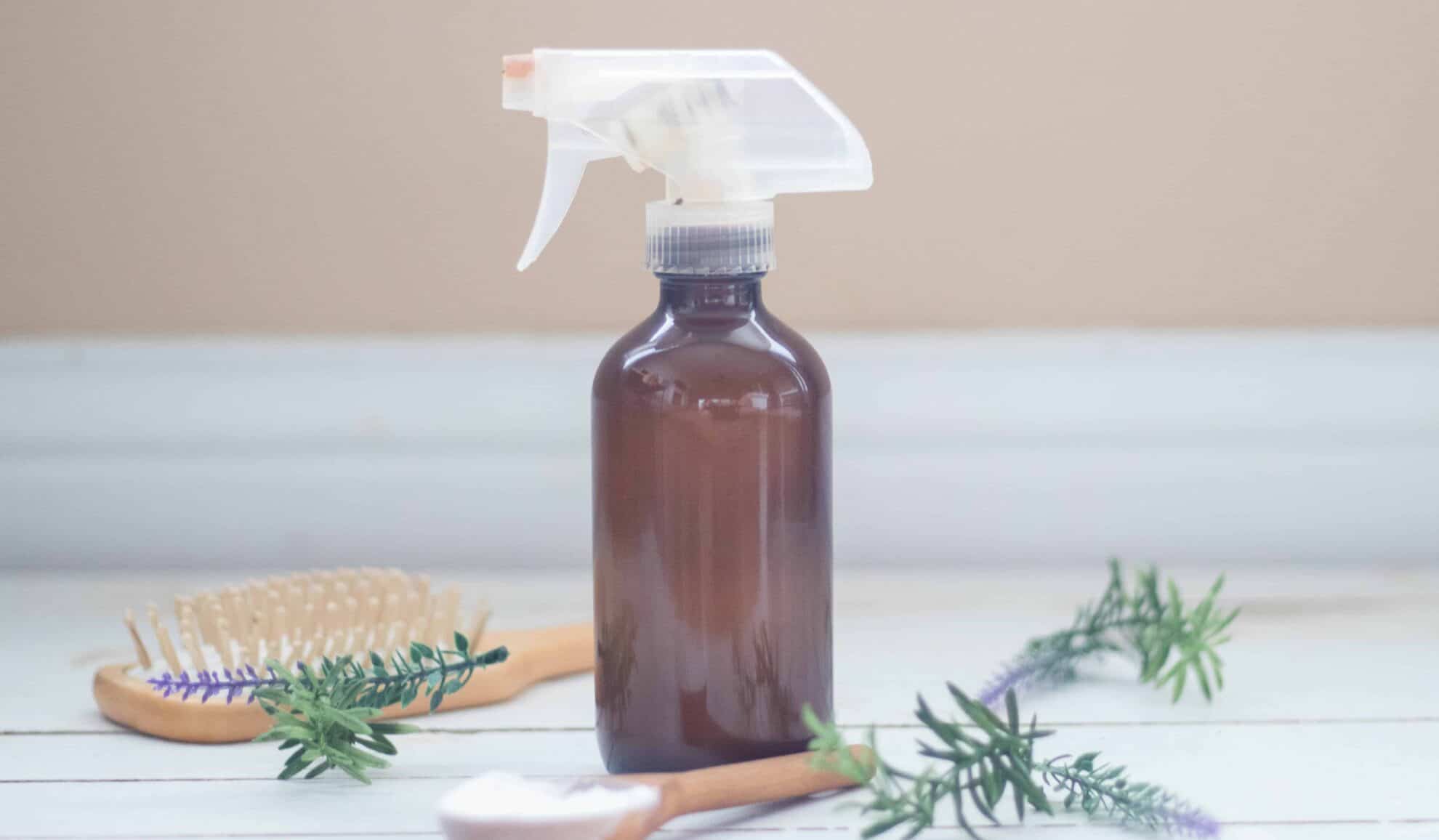 DOES DRY SHAMPOO SPRAY WORK?
Dry shampoo can work really well on almost all hair types. If you think you are overwashing your hair, dry shampoo can be your ticket to stop.
Every time you wash your hair, it strips it of the natural oils. Therefore, your scalp naturally produces more to keep your hair from drying out. So the more you wash, the more oils your head produces. As you wash less, it essentially trains your hair to produce fewer oils. In return, it leaves your hair less greasy longer.
In high school, I had to wash my hair daily in order for it to look clean. Now, I can wash it twice a week, and it never looks greasy. It took a few months to adjust, and dry shampoo helped me through the process.
Dry shampoo doesn't actually clean your hair, so washing is still a must. Wash your hair with a natural shampoo and conditioner as needed. Or try the no-shampoo method.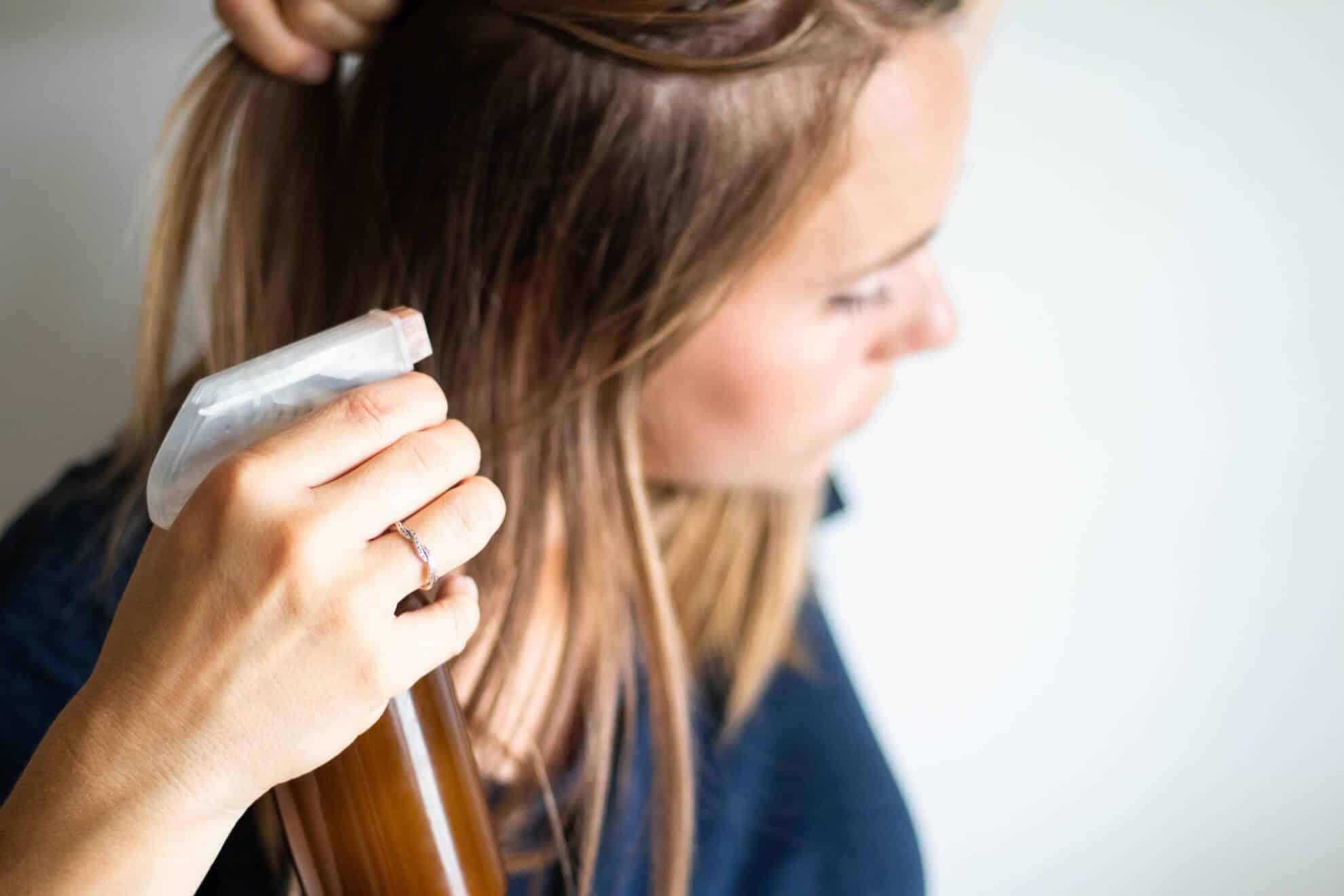 HOW TO MAKE DRY SHAMPOO SPRAY?
Making dry shampoo is actually very easy. I shared my dry shampoo recipe in powder form already, and now I am excited to share my spray recipe.
For this recipe, I am using an 8-ounce glass spray bottle. Because we are adding a little powder to the recipe, it is best to find a good quality spray bottle that is good for spraying high volume, such as this one HERE.
You will need some type of starch for this recipe. I use arrowroot powder, but you could also use cornstarch.
The base of the recipe is water and alcohol. Rubbing alcohol will work, but I prefer to use vodka in this recipe. Rubbing alcohol can damage hair if used too often.
INGREDIENTS FOR DRY SHAMPOO SPRAY
4 tablespoons arrowroot powder
4 tablespoons vodka
15-20 drops essential oils (see my favorites below)
Water
INSTRUCTIONS
Add the vodka, essential oils, and arrowroot powder into the spray bottle.
Top it off with water.
Shake well before each use.
HOW TO USE DRY SHAMPOO SPRAY?

Part hair into sections and spray each section with a few sprays of dry shampoo, making sure to go around the whole head. Let it sit on the hair for a couple of minutes to allow it to soak up any moisture.
Brush and style like normal.
BEST ESSENTIAL OILS FOR HAIR
When choosing an essential oil to add to your dry shampoo spray, you can do a single oil or a blend of oils. Below are a few essential oils that you may want to pick from because of the benefits they have for your hair.
Get the best essential oils for hair.
ROSEMARY
Rosemary is known for strengthening and lengthening hair. It has been shown to promote blood circulation in the scalp, in return, stimulating hair growth.
LAVENDER
Not only does lavender smell amazing, but it also has great properties for the hair. Similar to rosemary, it can promote hair growth. Lavender gives the hair a deep condition leaving it with a beautiful shine.
TEA TREE
Tea tree or melaleuca essential oil is known for its cleansing and purifying properties. Adding a few drops to your shampoo can help to keep the scalp healthy and reduce itchiness.
CEDARWOOD
Cedarwood can help with thinning hair because it can stimulate circulation and hair growth. Because of its woodsy smell, cedarwood is a great option for a manly scent. Paired with lemongrass is my husband's favorite!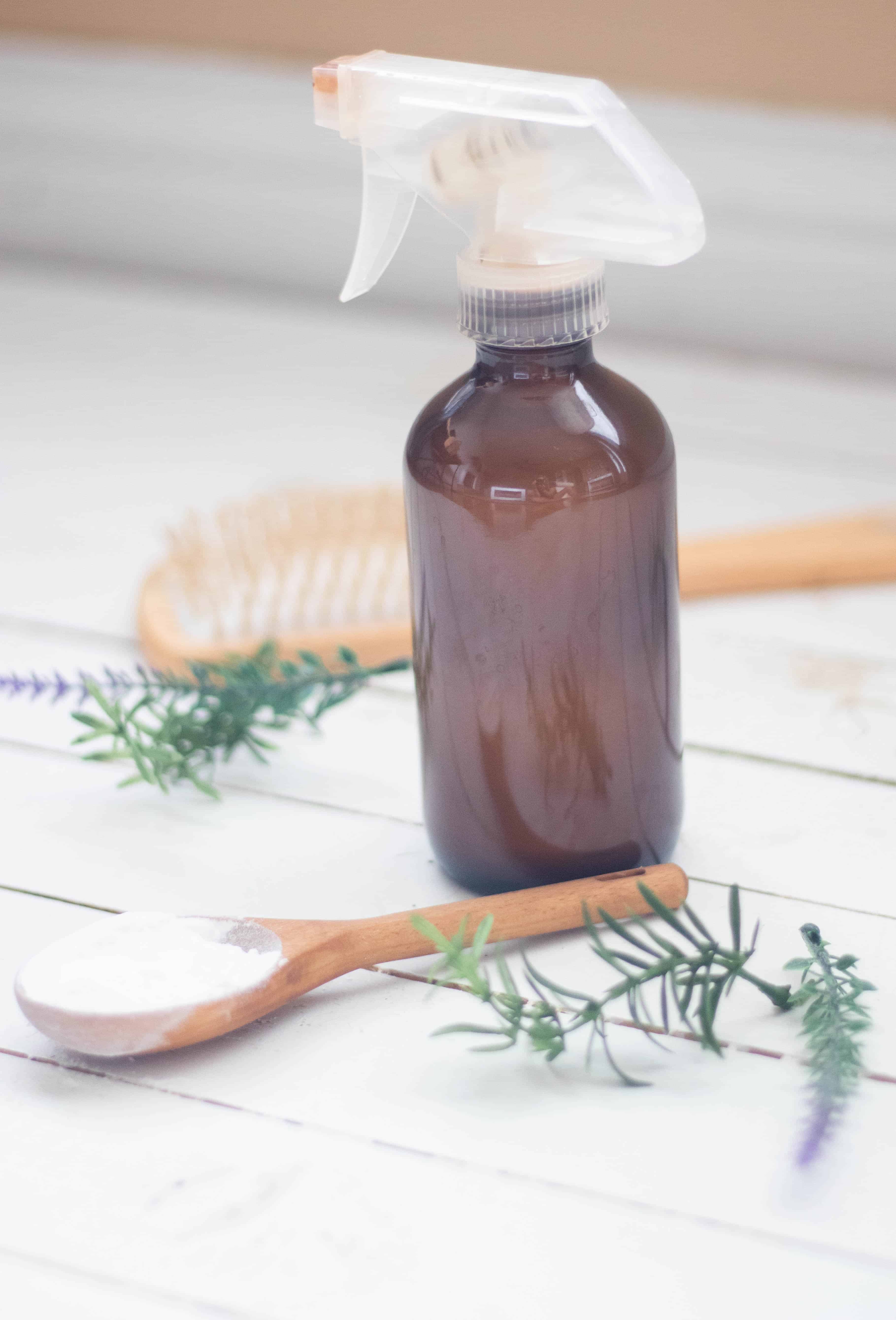 HOW OFTEN SHOULD I USE DRY SHAMPOO?
Dry shampoo can be very helpful for your hair as you transition out of overwashing it, but it isn't something you should use daily. Over time it can dry out the hair and clog hair follicles.
Many reports say not to use it two days in a row, but rather every other day. When I was in transition with my hair, I used it a few times a week. I use it way less often now. As with any hair product that is meant to be left in, it is best to use it twice a week or less.
Popular Hair Care DIYs
How to Make Dry Shampoo Spray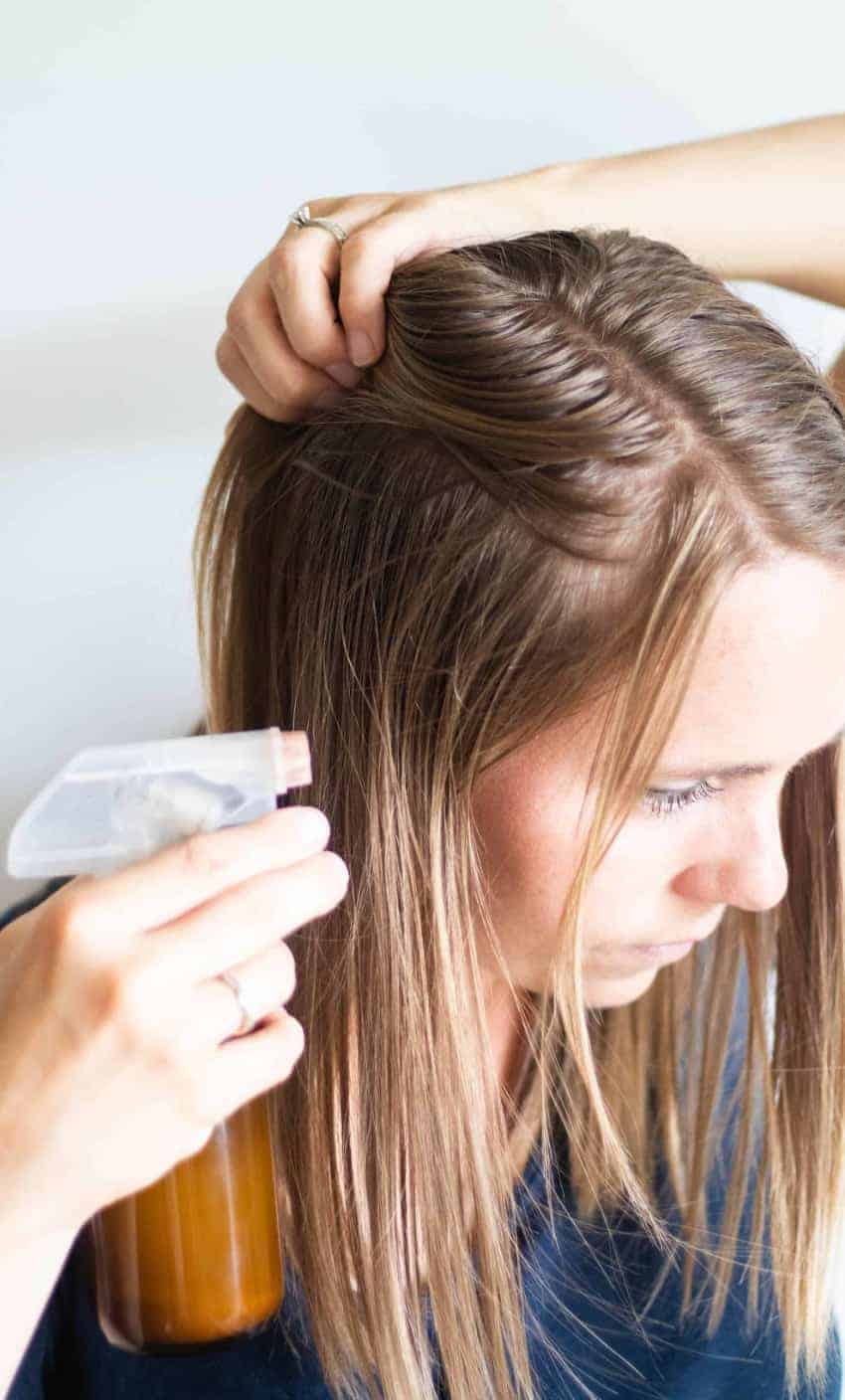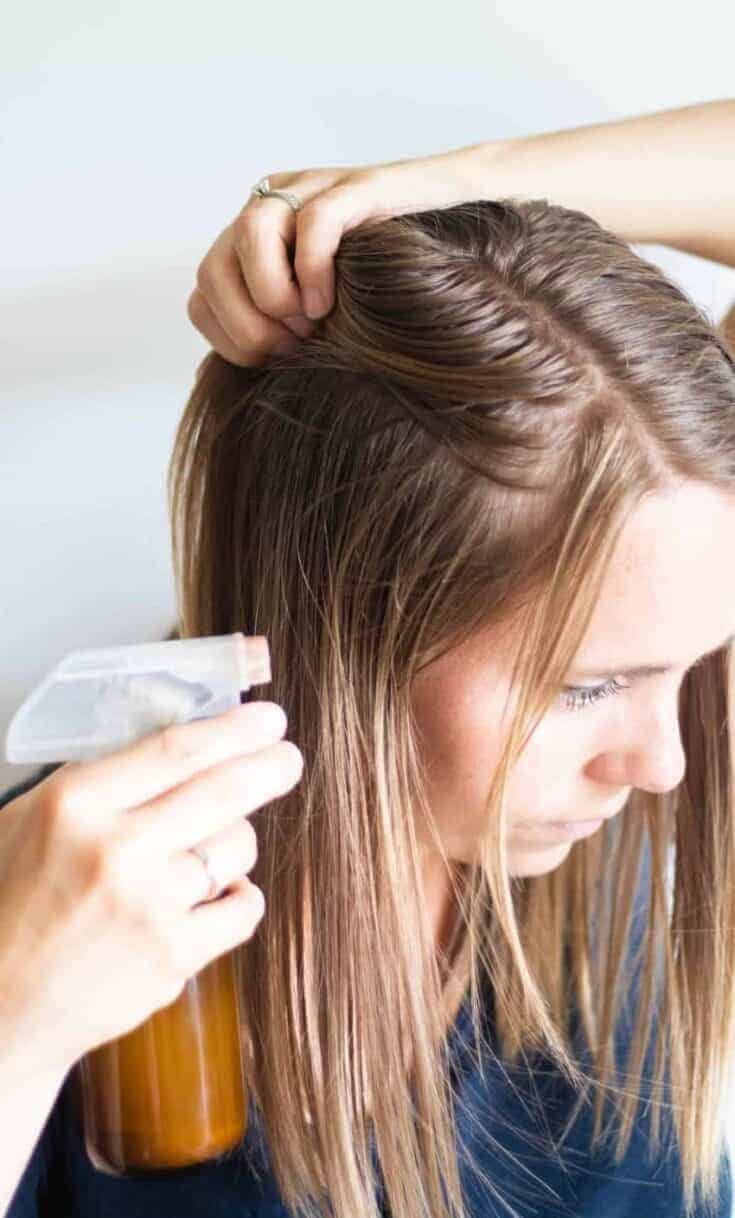 Ingredients
8-ounce glass spray bottle 
4 tablespoons arrowroot powder 
4 tablespoons vodka 
15-20 drops essential oils (see my favorites below) 
Instructions
Add the vodka, essential oils, and arrowroot powder into the spray bottle.

Top it off with water.

Shake well before each use.