Wouldn't we all love to iron less? Try making this wrinkle release spray and spritz it on garments at leisure. Perfect for busy families where the ironing pile never seems to end!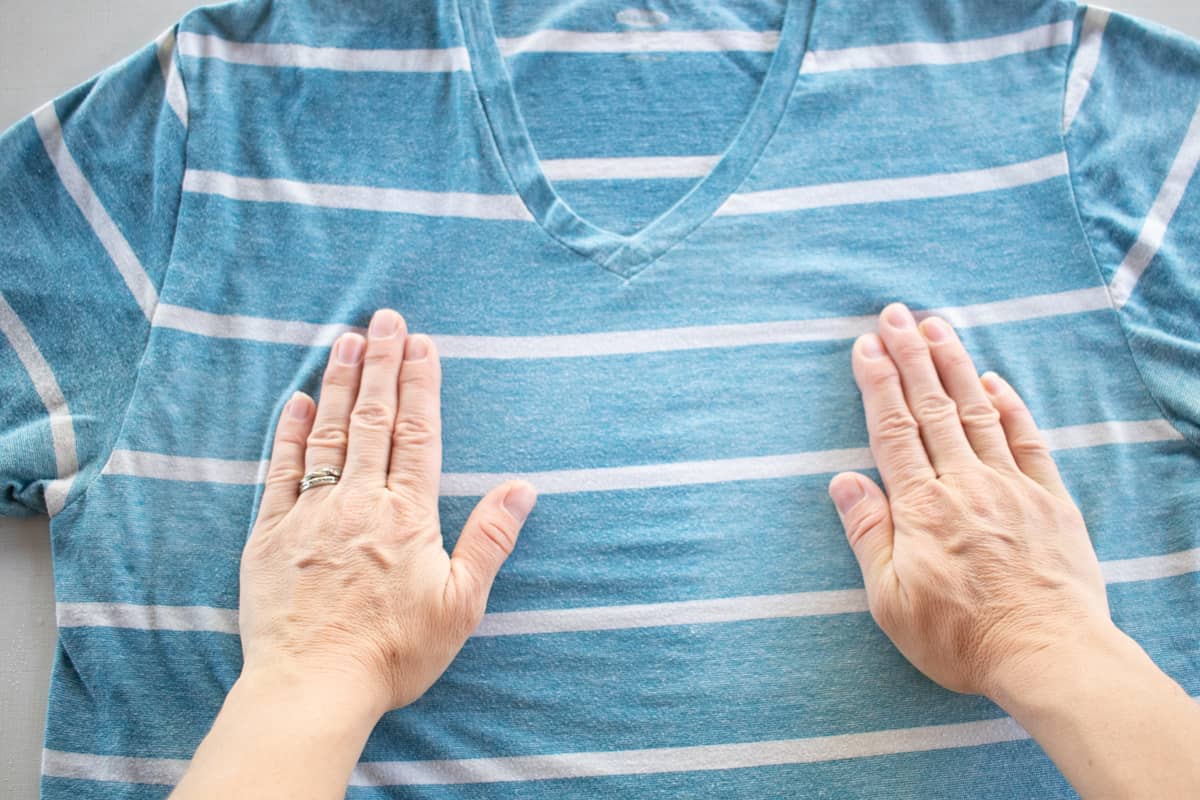 I don't know about you, but my time is limited. With kids, house chores, and whatever other chores come my way, ironing clothes is far down my list!
So the day I discovered homemade wrinkle remover was a happy day indeed.
It saved so much time ironing and even meant I didn't have to iron all our garments. I was in love!
And it's such an easy recipe too. I can't believe it didn't enter my life earlier.
I'm sharing my DIY wrinkle release spray recipe in this post for you to enjoy too. I hope it gives you relief from that huge ironing pile!
It works great on shirts, blouses, jumpers, and pants and saves time ironing plus gives better results when you do iron.
It's a win-win in my books!
what is a DIY wrinkle releaser?
A DIY wrinkle release spray is not for your face – contrary to mixed beliefs! It's a spray designed to smooth out wrinkles in clothes and fabrics instead.
Containing just three ingredients, this really is a great recipe and one you'll make for years to come.
It'll save time and patience when it comes to ironing clothes. It also gives far better smoothness of the fabric than if you didn't use a homemade wrinkle remover.
Now if you've never tried a wrinkle remover, you're in for a treat. You'll be amazed at how much of a difference it can make!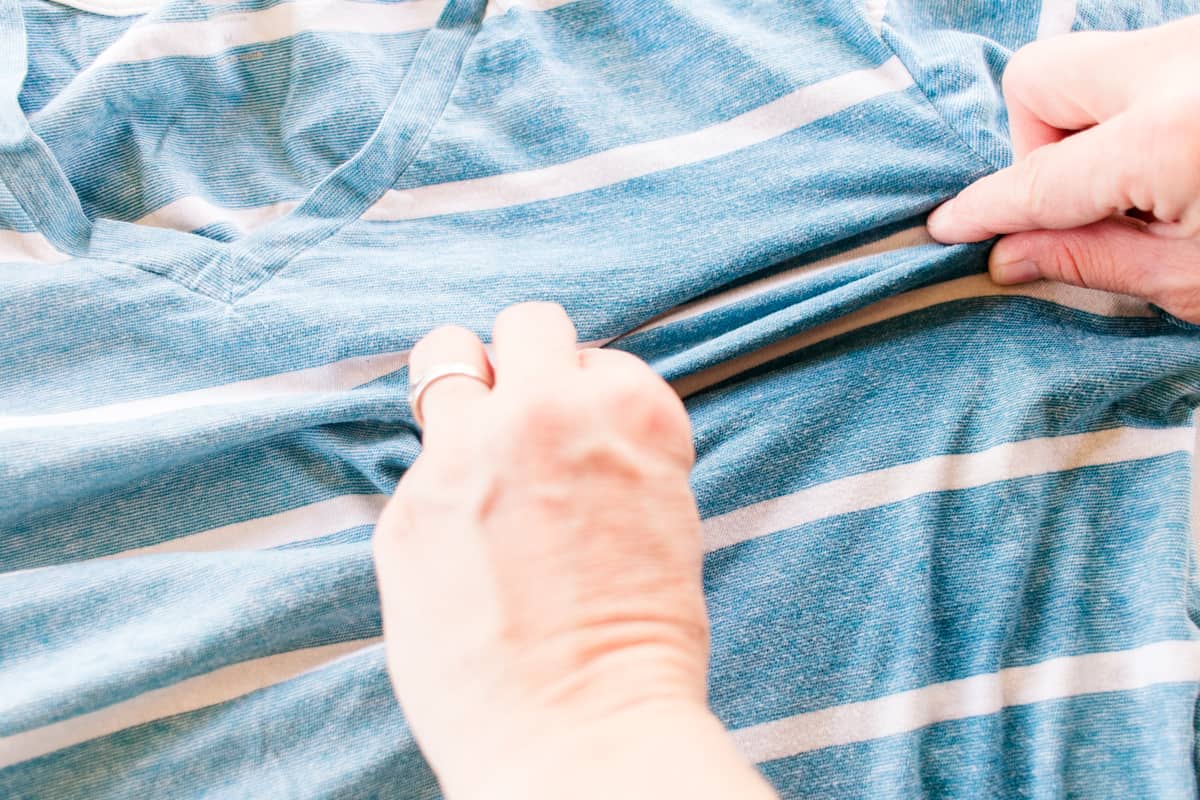 This post contains affiliate links, which means I make a small commission at no extra cost to you. Get my full disclosure HERE.
A little about the ingredients
Distilled water – is essentially purified water that has been through an extensive heat treatment to remove unnecessary particles and impurities. If it's not available, tap water will work in a pinch.
White vinegar – is an acidic, transparent liquid made as a by-product when distilling alcohol.
Rubbing alcohol – a commonly used cleaning agent which is otherwise known as Isopropyl alcohol (IPA)
how to make wrinkle-release spray
You will need a spray bottle to store and apply this wrinkle-release spray.
Ingredients:
Instructions:
Add the ingredients to a spray bottle and shake gently to mix.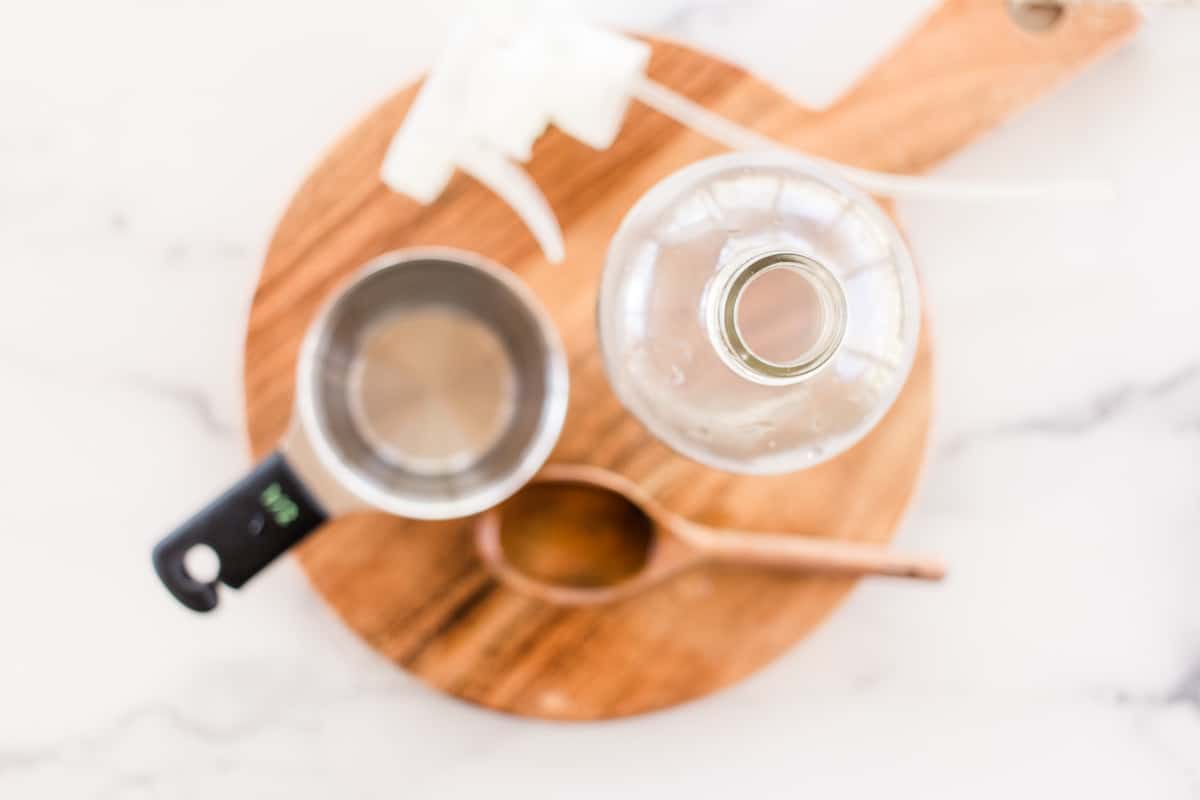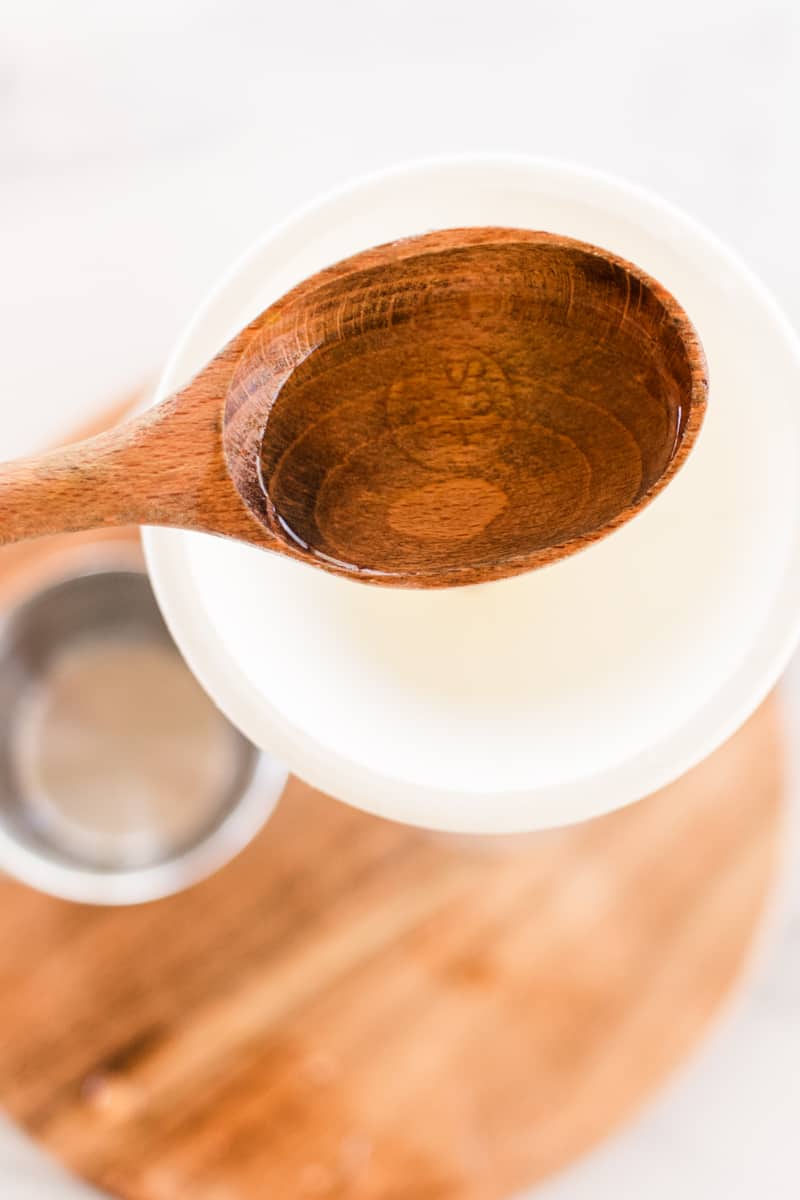 Lay out the article of clothing on a flat surface before lightly misting it with the product.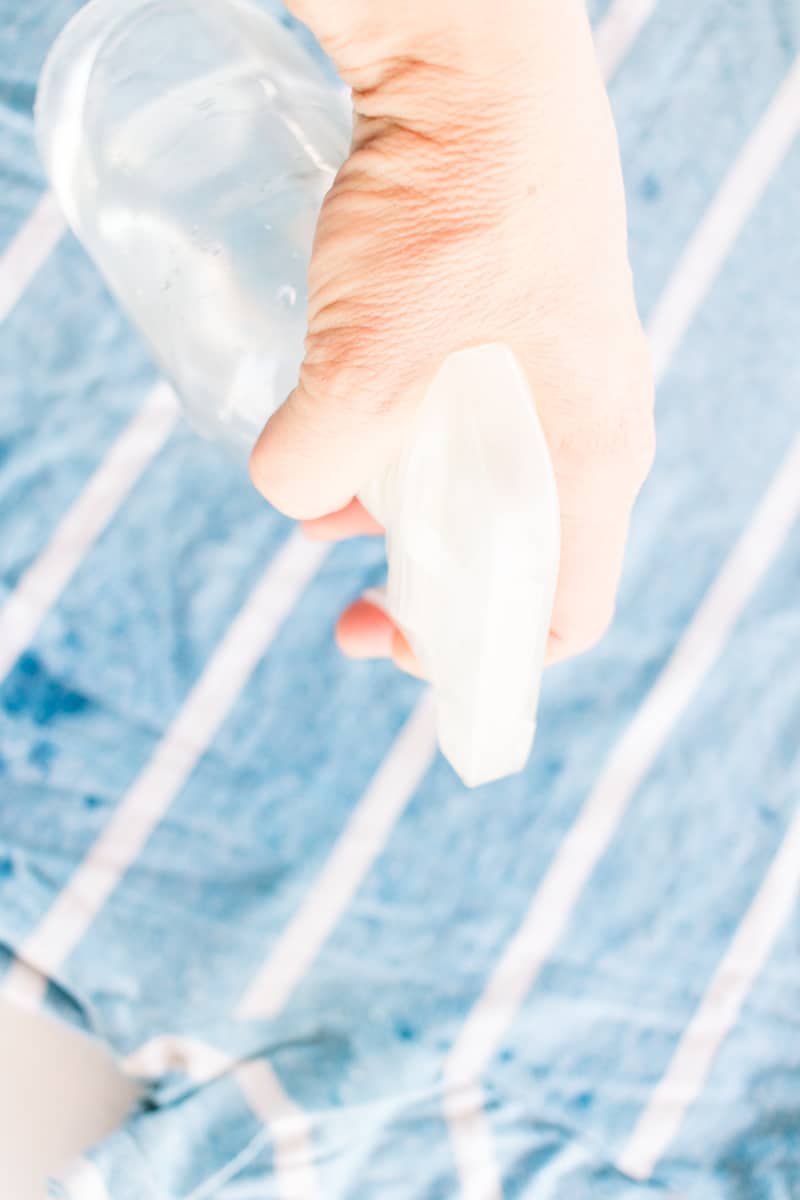 You can then gently pull at the wrinkles, straightening them out as needed.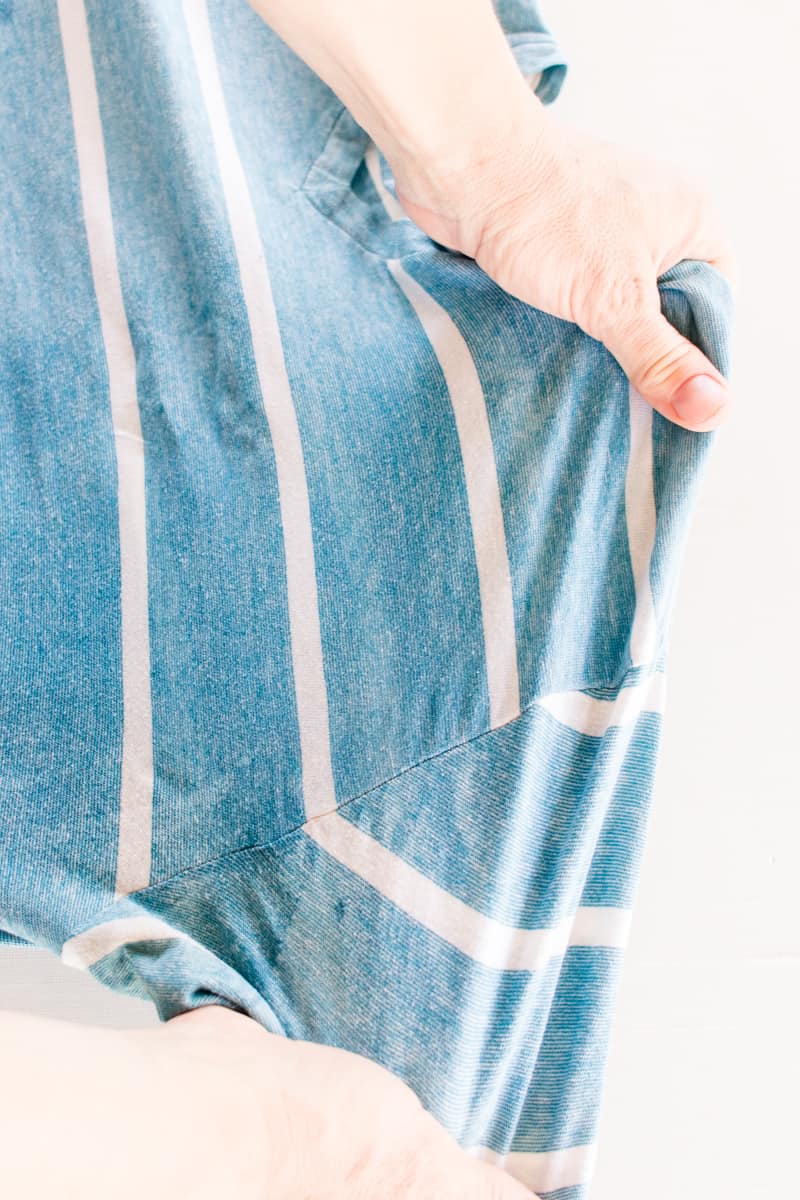 Allow the garment to dry thoroughly before wearing.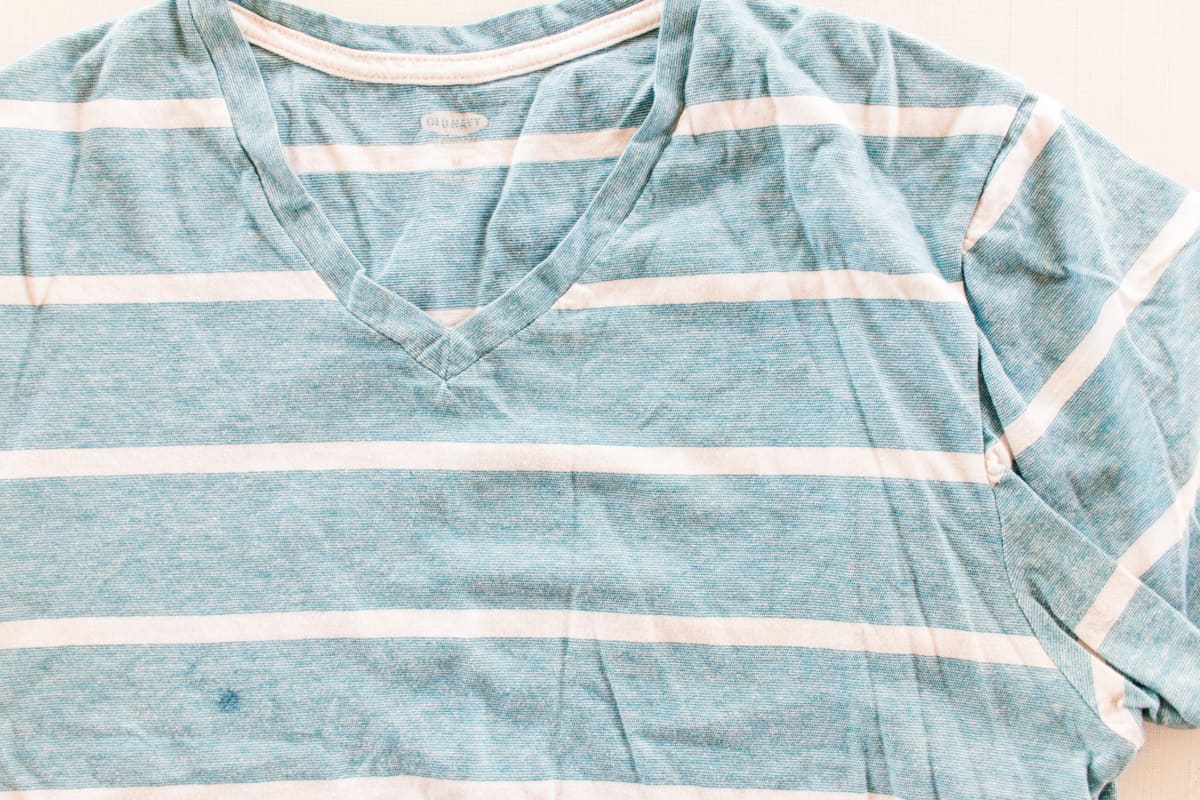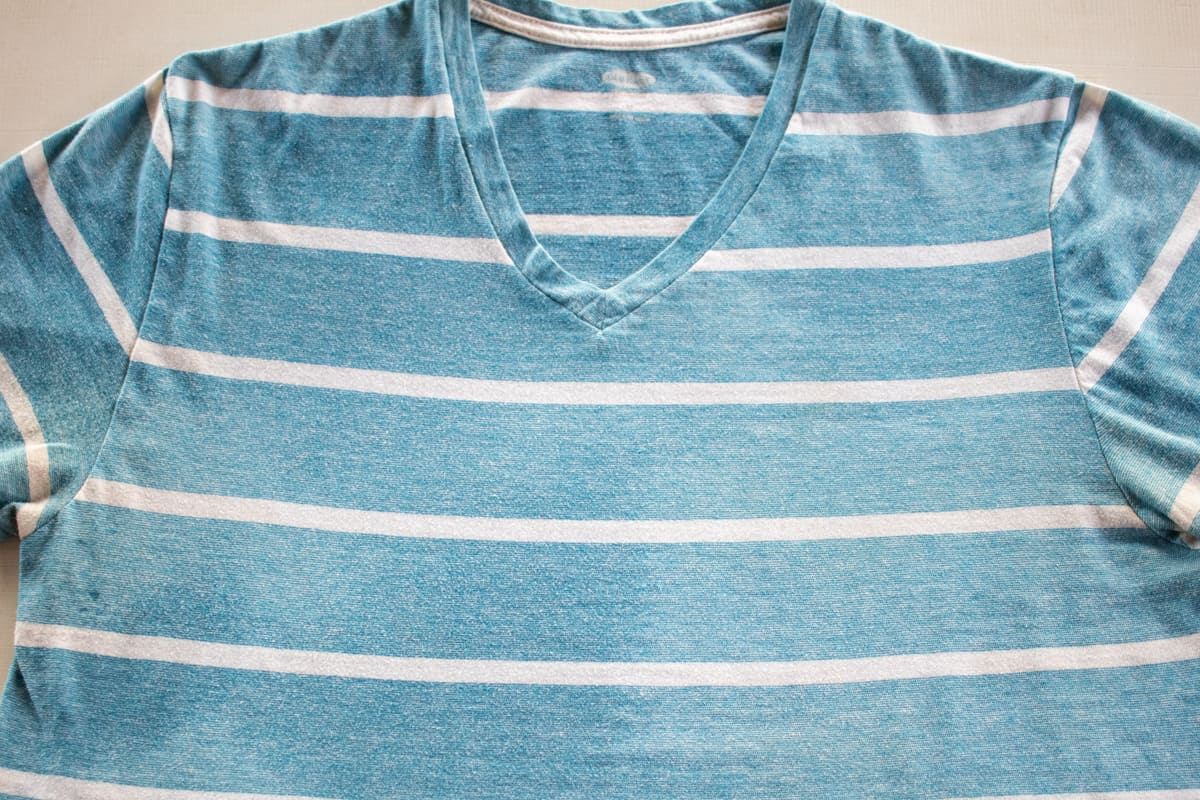 how to get rid of wrinkles without an iron
Wouldn't it be a dream never to have to iron anything again? Just me? I don't think so!
Saying that, many items can avoid ironing altogether simply by following these tips:
Run smaller wash loads. By cramming your washer with clothes, you not only risk breaking your machine, but you also crinkle clothes as there's no space for them to expand out.
So, ease up on the number of clothes in each wash. You'll find your clothes are naturally less wrinkled when the wash ends.
Take out your freshly washed clothes as soon as you can after the cycle ends. This means wrinkles are less likely to embed in the clothes, making for less tiresome ironing once they dry.
Add vinegar! When running a load in the washer, add a half cup of vinegar to the load, which helps flatten out wrinkles during the wet wash (your clothes won't smell of vinegar afterward, don't worry!)
Did you know that using wool dryer balls can also help eliminate wrinkles and static in your clothing? Plus, you can also add fragrance to them to keep your clothes smelling fresh!
benefits of DIY wrinkle release spray
I've found that using this spray on our clothes at home means I do less ironing. Far less, in fact! But I'm a huge advocate for using that half cup of vinegar in the washer too.
Or combined with fabric softener and you may never have to iron again!?
I find that if you hang clothes right, whether that be on the clothesline or a hanger, they simply don't crease as much.
Meaning the ironing pile is reduced to things that, you know, really do need it. Things like work shirts or dress pants, etc.
You also save money – as you don't need to use the machine dryer to loosen up wrinkles. This homemade wrinkle-release spray does the job for you!
And, of course, a huge benefit is this is a natural product, meaning there are no harsh chemicals or toxins in the bottle.
Nothing in this spray will harm you or your environment. Although saying that, please take care with delicate items such as silk, cashmere, or satin.
I personally wouldn't trust this wrinkle-release spray on delicate items unless I've done a patch test first.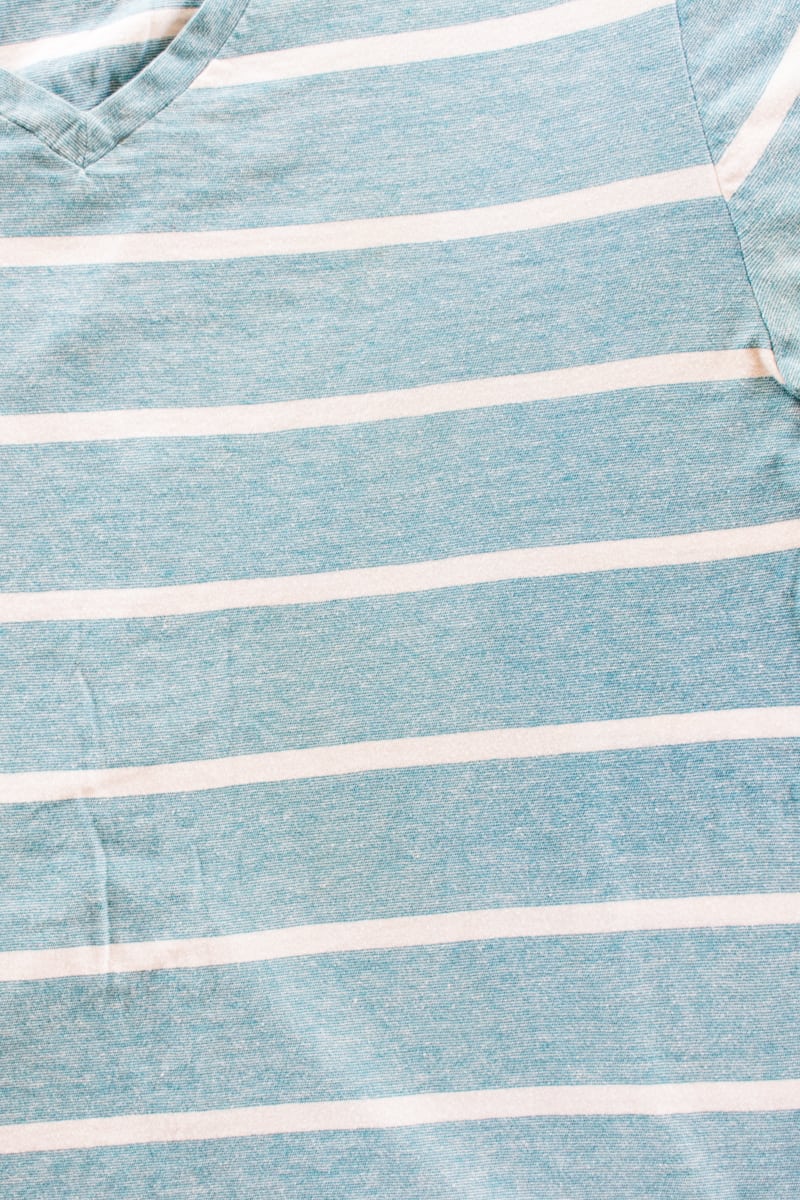 Tips
I've seen similar recipes to this where people add all sorts of other ingredients, such as fabric softeners or vegetable glycerin, to smooth out wrinkles.
I honestly say, don't do this!
The recipe works great, and you don't even need rubbing alcohol if you want to leave this out.
The reason this is in there is that it helps the wrinkle-release spray evaporate quicker, meaning the clothes dry that much quicker after using it.
A word of warning regarding the rubbing alcohol.
This can fade color on certain fabrics, so as I mentioned above, definitely do a patch test on delicate items, but also, try the spray on a small area of all clothes that you use it on the first time.
It's, for the most part, safe to use on cotton items, but I'm always super careful anyhow, so my advice is – to do a patch test!
It doesn't take much effort and a patch test is always a good idea to save any mishaps.
And Lastly, hang your clothing right away in the closet rather than let it sit in the laundry basket to reduce the chance of wrinkles in your clothing.
Plus, it will give the garments ample opportunity to dry out and smell fresh longer!
Wrapping up
Having a DIY wrinkle release spray on hand is a must for those last-minute, get out the door appointments.
And while you may not get those fine lines as you would with the trusty iron, you'll at least look neat and put together. Plus, it only takes maybe a minute to loosen those wrinkles out of your clothes.
I do hope you enjoyed this recipe! If you made it and loved it, leave a review, I love hearing from you!
And if you would like more cleaning or laundry recipes, check out one of these.
Yield: 8 oz
Wrinkle Release Spray for Clothes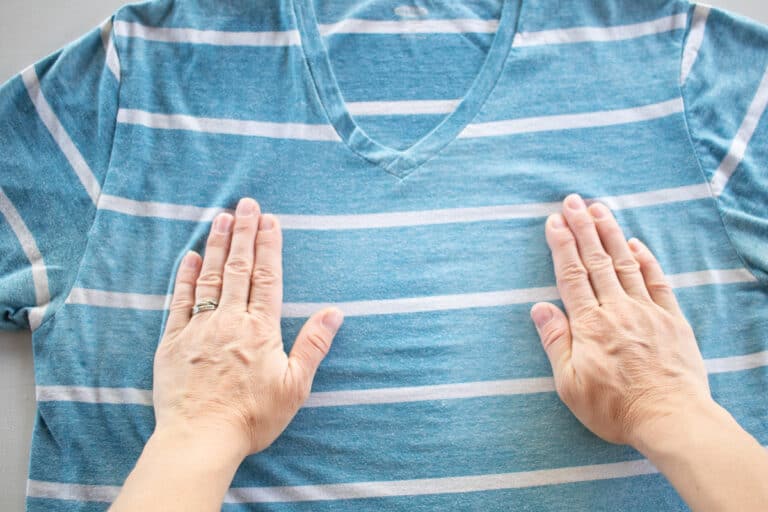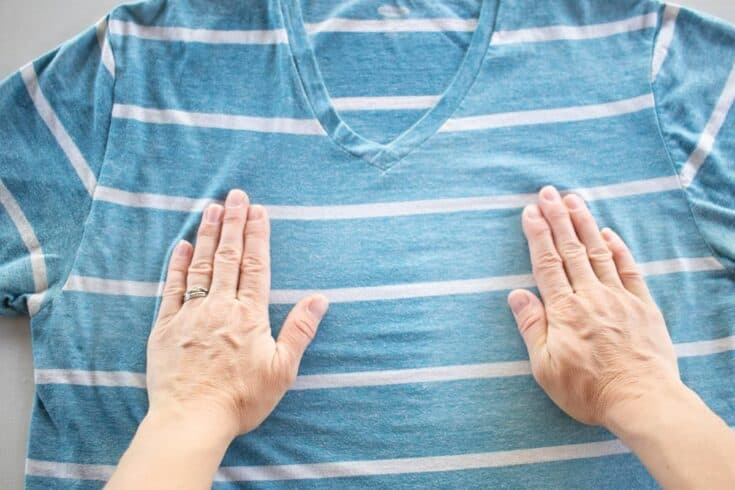 Reduce creases and ease ironing time with this super practical, easy-to-use wrinkle-release spray.
Materials
1/2 cup (4 oz) of distilled water
Tools
Instructions
Add the ingredients to a spray bottle and shake gently to mix.
Lay out the article of clothing on a flat surface before lightly misting it with the product.
You then gently pull at the wrinkles, straightening them out as needed. I like to slide my hands into the sleeves to pull apart the wrinkles.
Allow the garment to dry thoroughly before wearing.
Notes
The rubbing alcohol in the recipe aids in the drying process. However, it does not help to eliminate the wrinkles.
Rubbing alcohol may not be suitable for all types of clothing.