Are you looking for a natural alternative mouthwash? Homemade mouthwash freshens and deodorizes bad breath using natural, sustainable ingredients.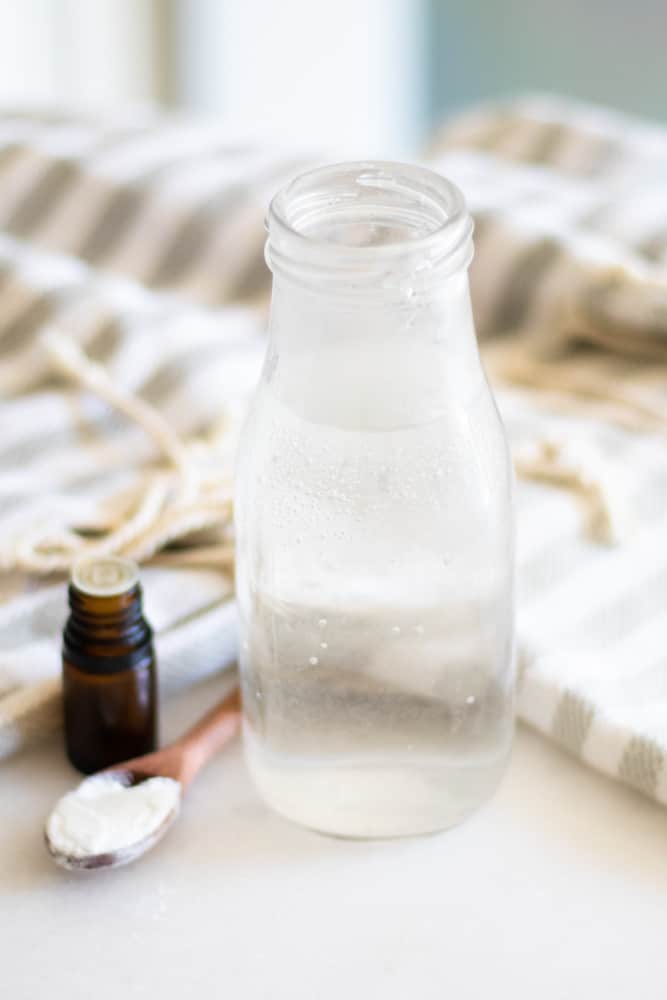 This homemade spearmint mouthwash will leave the breath fresh as well as cleanse and purify the mouth with its safe, natural ingredients. Mouthwash is simple to make, and once you start using it, you will never want to go back to conventional.
This mouthwash recipe uses essential oils, which are very potent. Before making mouthwash, make sure to check that the oils being used are pure, safe for internal use, and as always, check with a doctor before taking any essential oils internally, even if you're not going to be swallowing them.
Several essential oils make the list to help with dental needs. Clove and tea tree probably being the most common with many benefits for the mouth.
Today the focus is on fresh breath. How to achieve fresh breath, what is in conventional mouthwash such as listerine, and how to make your very own DIY mouthwash.
Some of my favorite essential oils to keep my breath fresh and my mouth cleansed include spearmint, peppermint, and wild orange.
Whether it's persistent bad breath or trying to recover from a garlic and onion-filled lunch, essential oils are a great way to scent the mouthwash not only to mask but destroy the bad breath.
PIN IT FOR LATER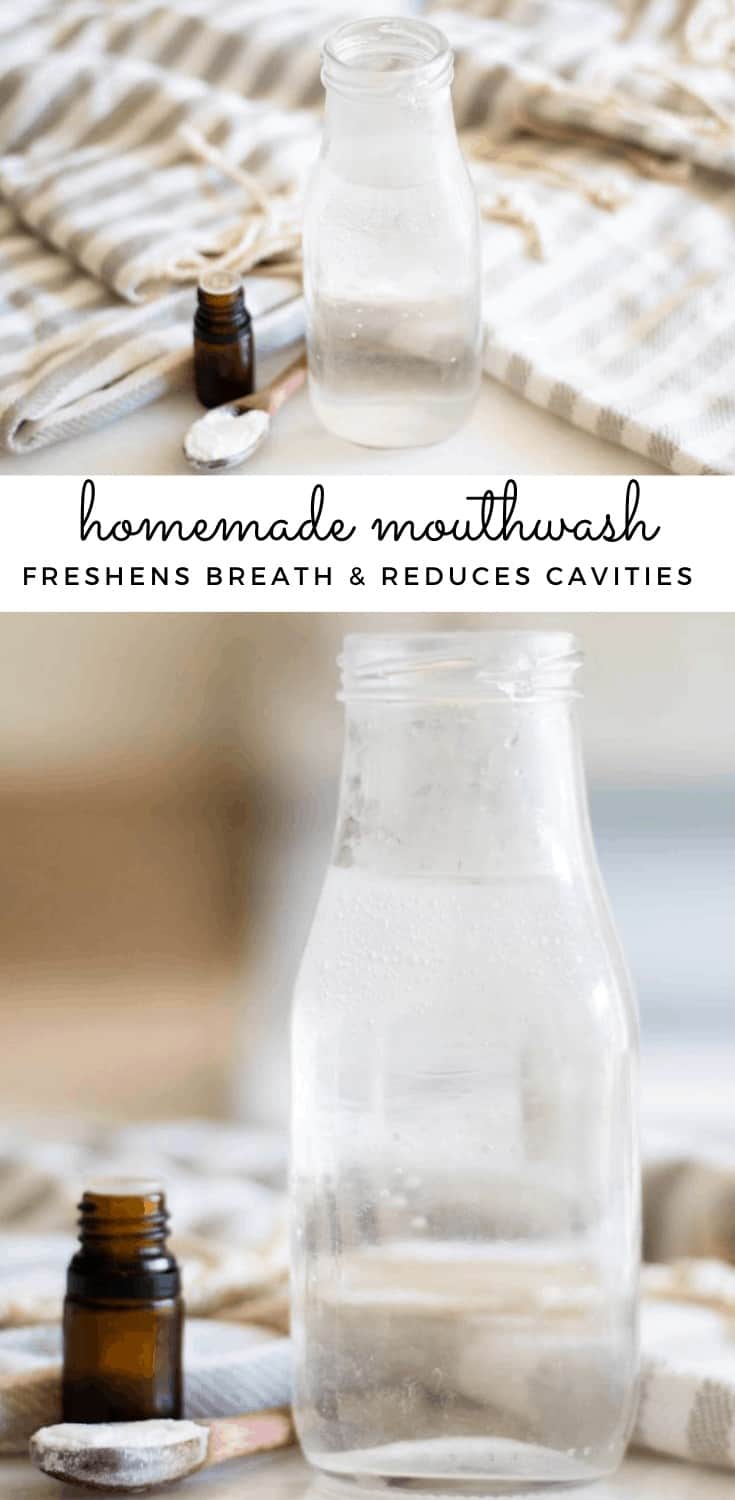 HOW TO MAKE MOUTHWASH
Thankfully, making mouthwash is quite simple, requiring only 3 ingredients: baking soda, essential oils and distilled water.
We will also be adding in pure trace minerals to protect your teeth and mouth even more. Though it's not required to make mouthwash, trace minerals are vital to the human body, though only needed in tiny doses. These minerals can be found in water, whole grains, fruits, vegetables and nuts, to name a few.
Is mouthwash bad for you
I like fresh breath as much as the next, but when I read the label on what is in mouthwash, it went straight in the trash. It is shocking what is in mouthwash these days. Just read the back label. Mouthwashes can contain high amounts of sodium, alcohol, quaternary ammonium compounds and cetylpyridinium chloride, with both the latter causing potential hazards to our health, according to research.
Your mouth is full of beneficial bacteria that our body needs. In fact, it is the body's first defense against illness. However, by overusing conventional mouthwash, you can kill the good bacteria in your mouth that you need for overall wellness.
What does mouthwash do
Mouthwash is meant to serve several purposes. It is used to prevent bad breath (its most common use), reduce plaque build-up, kill bad bacteria and improve overall hygiene. Many types of mouthwash contain alcohol, which in the short term can kill bad breath, but long term, the cons of swishing alcohol around the mouth can cause more harm than good.
Alcohol in mouthwash can lead to tooth decay, which is somewhat counterproductive to improving oral hygiene. If making mouthwash does not appeal or fit in the schedule, there are a number of safe, natural mouthwash alternatives; see the list at the end of this post.
Essential oils in mouthwash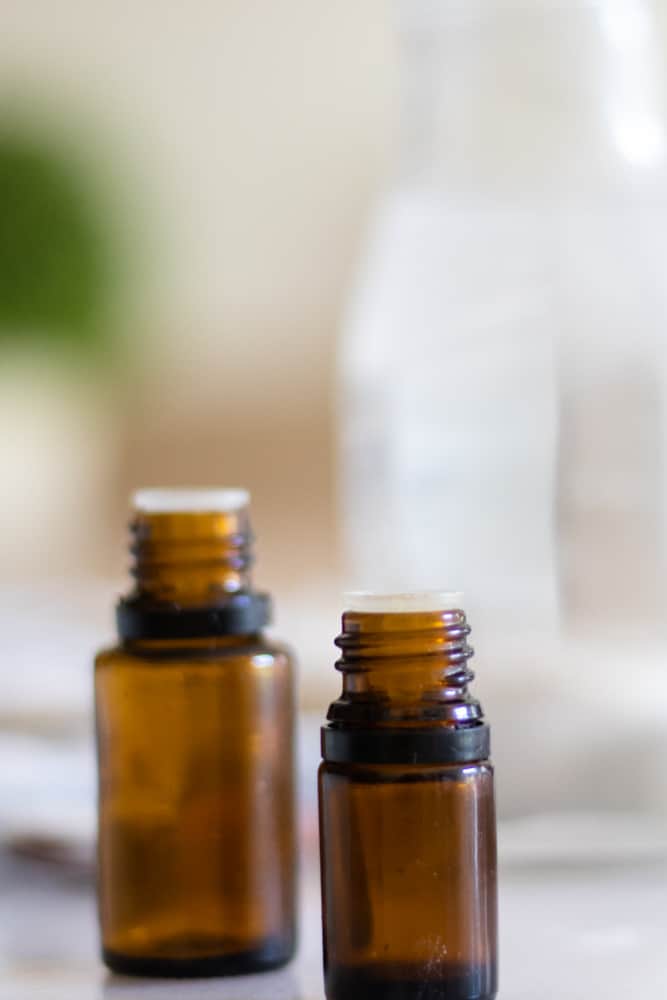 Of course, the mint oils are the first ones we think of when it comes to mouthwash. That crisp fresh taste is great for freshening the breath. But many other essential oils, not just mint, can be used in your mouthwash.
Please note: do NOT ingest the mouthwash; just swish it around in the mouth and spit it out. Some essential oils are safe for internal use, but not all.
COOL MINT ESSENTIAL OILS FOR MOUTHWASH
Choosing the mint for mouthwash comes down to preference. My kids think peppermint is too "spicy," so they prefer the milder flavor of spearmint. As a result, I flavored my homemade toothpaste and breath spray with that, rather than peppermint.
Any one of these oils, peppermint or spearmint, makes great options for the mouthwash.
CINNAMON AND CLOVE FOR MOUTHWASH
Cinnamon and clove essential oil have tremendous benefits for the mouth and teeth. They can help to keep the mouth clean and may protect against cavities.
Cinnamon alone is a great flavor for mouthwash, but it is also a hot oil and must be diluted properly before use.
It's ok to include 1-2 drops of each of these oils in the mouthwash, but it should be kept out of reach of children if doing so.
Cinnamon and clove work really well diluted in coconut oil, such as in these oil pulling pods. Oil pulling is a great, natural way to kill bacteria and improve breath.
CITRUS ESSENTIAL OILS FOR MOUTHWASH
Citrus fruits and juices can have negative effects on your teeth because of their high acidity level. However, citrus essential oils do not have that same effect. While in fact, citrus essential oils can actually benefit the teeth and mouth.
Lemon, wild orange and lime essential oil all have powerful cleansing and purifying properties. They can be used in your homemade mouthwash or breath spray. Overall, citrus oils make a great more mild-flavored mouthwash for teenagers and young adults.
There even is some evidence that lemon essential oil may even help whiten teeth?!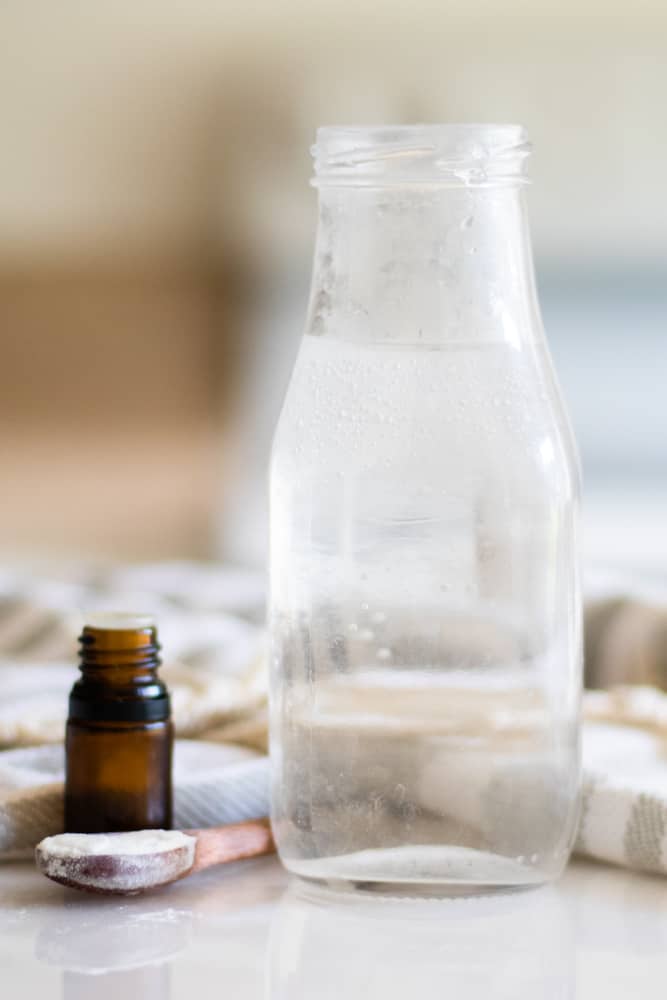 What is in mouthwash | bonus ingredients
MINERAL DROPS FOR HOMEMADE MOUTHWASH
Mineral drops contain trace minerals that are vital for our health and wellness. Unfortunately, it is common to be low in certain trace minerals, and taking a supplement can help. For example, my holistic doctor suggested mineral drops for a couple of my kids after bloodwork showed we were low in them.
You can mix them into foods, drinks, smoothies, or take them plain. I add them into our mouthwash to help with teeth remineralizing. Trace minerals can help with the development of the teeth and bones as it allows the absorption of calcium in the body.
You can make this mouthwash without mineral drops, but I find the benefits to be worth adding them in. Trace minerals can even be added to toothpaste!
Bentonite clay is another great alternative to drops since it contains many trace minerals that are good for the teeth.
Follow the instructions on the label for correct dosages.
BAKING SODA FOR TEETH
Baking soda can be used to help whiten teeth. I use it in my homemade toothpaste and definitely noticed a difference when I started brushing with it. The added baking soda can also help to mix the essential oils and water by working as a natural emulsifier.
It is best to shake the mouthwash well before each use to ensure that everything is well combined.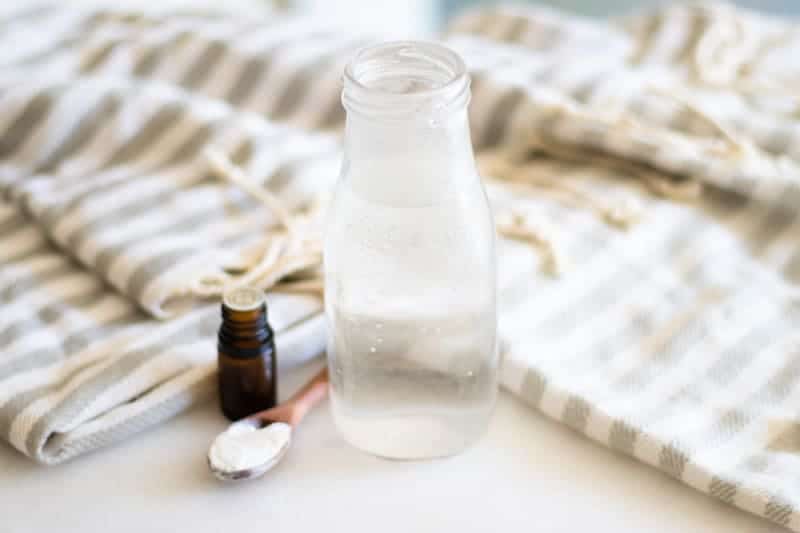 HOMEMADE MOUTHWASH RECIPE
This post contains affiliate links, which means I make a small commission at no extra cost to you. Get my full disclosure HERE.
INGREDIENTS & SUPPLIES
1 cup of filtered water (I use the Berkey filter in my home.)
1 teaspoon baking soda
5 drops of pure essential oil (I use spearmint)
10 drops of mineral drops, optional
INSTRUCTIONS
Add baking soda, spearmint and mineral drops to the mouthwash container.
Top off with water.
Secure lid and shake well.
Swish about 2 tablespoons around in your mouth for 15 seconds and then spit out.
Shake the bottle before each use.
How often should you use mouthwash
It is recommended to rinse your mouth with mouthwash after flossing and brushing teeth, or twice daily. Mouthwash is not meant to replace brushing or flossing the teeth. Using mouthwash after brushing is an excellent way to clean all areas of the mouth, i.e., the roof, tongue, areas that may not get brushed.
Best natural mouthwash
DIYing is not for everyone. Below I share the top 5 natural types of mouthwash for restoring and maintaining optimal oral hygiene.
Dr. Brite natural whitening mouthwash
Yield: 1 bottle
Homemade Mouthwash with Spearmint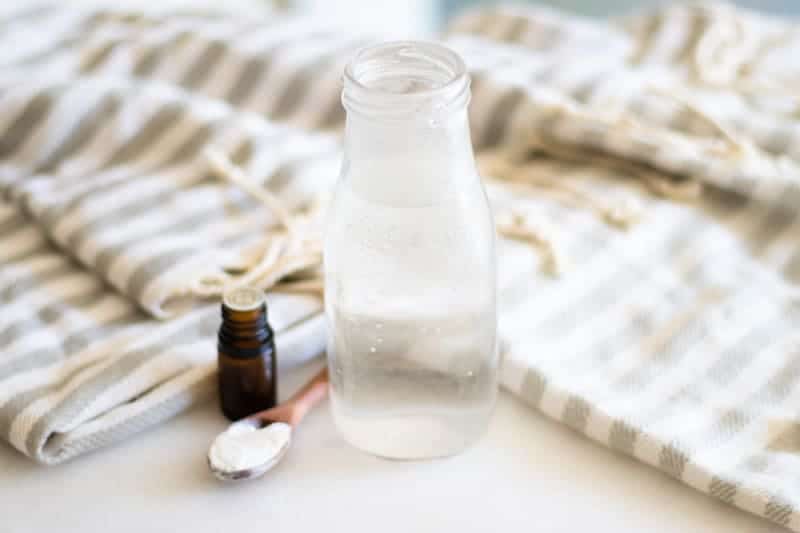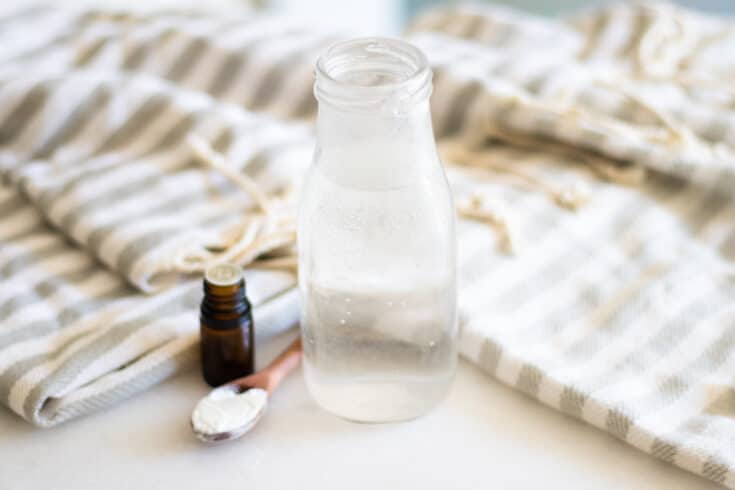 Using mouthwash will leave your breath smelling fresh and clean.
Additional Time
3 minutes
Ingredients
Instructions
Add baking soda, essential oils, and mineral drops to the bottle.
Top off with water.
Secure lid and shake well.
Swish about 2 tablespoons around in your mouth for 15 seconds, then spit and rinse.
Notes
Consult your doctor before using essential oils.
Not for children under 13.