Oil pulling with coconut oil for teeth has been shown to reduce bad breath, lessen plaque buildup and even whiten teeth.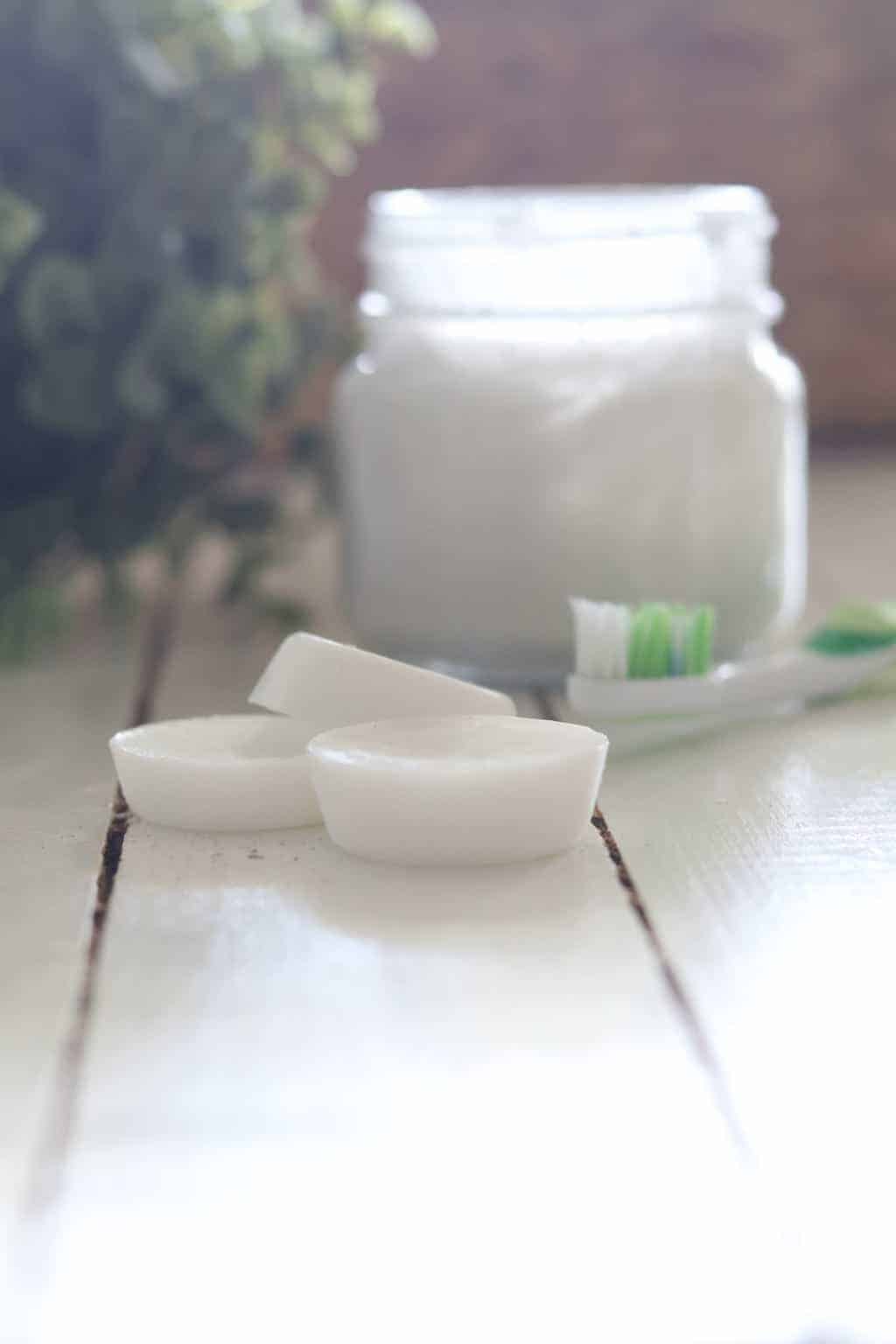 Have you heard of oil pulling? It is becoming quite the hype these days, and for a good reason. I have been oil pulling with coconut oil for quite some time now, and though it's been a struggle to stay consistent with it, I have been noticing some great results.
The hardest part about oil pulling is not being able to talk for 20 minutes. I have tried doing it in the morning while making breakfast, in the middle of the day while it's quiet, and even late in the evening, but always without fail, something comes up, and I am cut short.
Oh well, I occasionally make it to the 20-minute mark, but most often am cut short, but even so, it still seems to be working great!
Quickly after getting into coconut oil pulling, I began making coconut oil melts and keeping them in my refrigerator. They work great for oil pulling, are convenient, and I can mix in any extras I want.
Regardless of your schedule, these coconut oil pods can be taken whenever convenient, late in the evening after the kids are in bed, while taking a shower, driving to work, or getting ready in the morning.
Find a time and try to get this into your regular routine. Once you get into the habit, it won't be hard to stay consistent with it.
PIN IT FOR LATER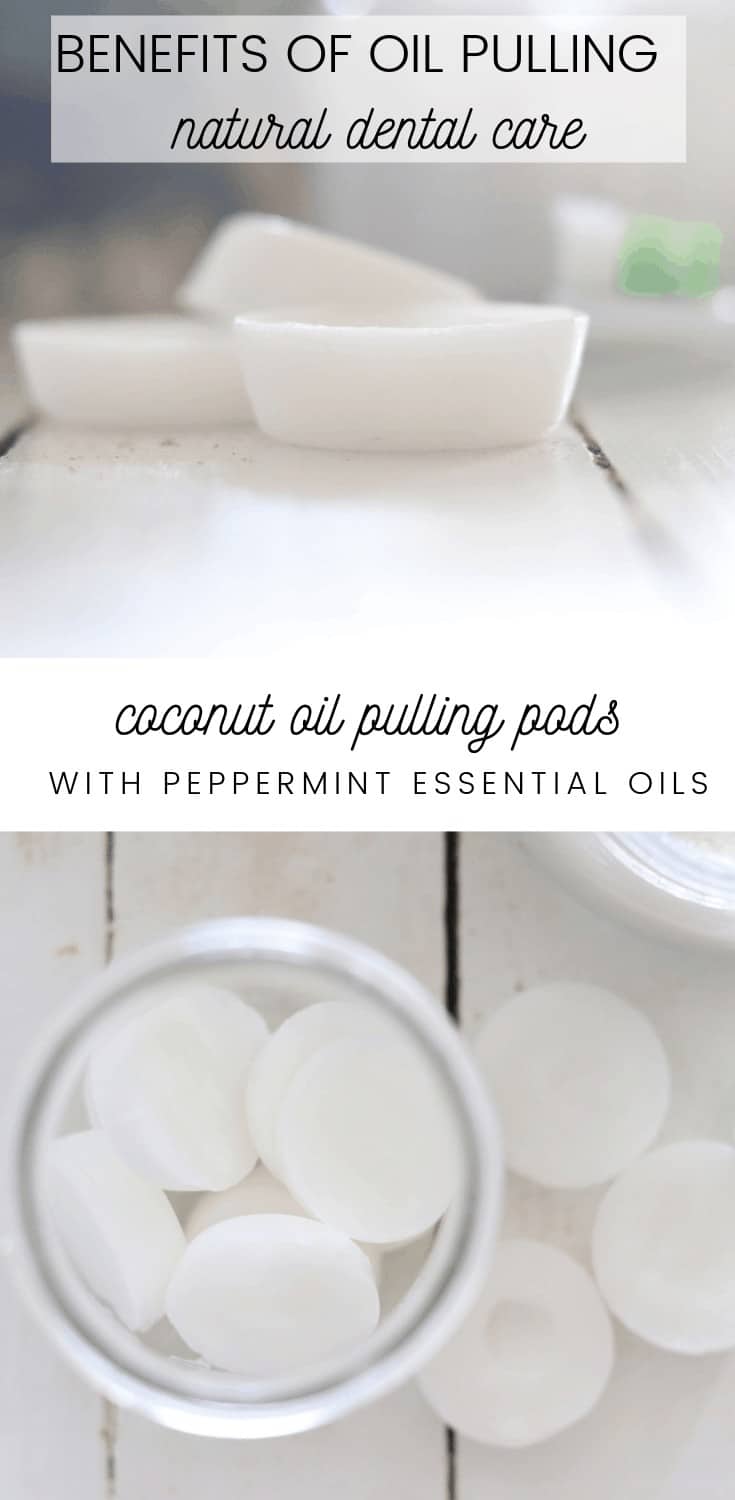 WHAT IS OIL PULLING?
Believe it or not, oil pulling has been around for many years. It was actually an ancient practice used to promote oral hygiene.
Oil pulling is swishing oil around the mouth and through your teeth to kill harmful bacteria in the mouth. As you swish it around in the mouth, the oil gets between each tooth, on the gums, and all the areas of the mouth.
How do I oil pull with coconut oil?
Oil pulling is incredibly simple, which is why I can't believe it took me so long to incorporate it into my regular routine.
Add about one tablespoon of oil to your mouth, then swish it around for 20 minutes, and then spit it out. That's it. Nothing fancy and definitely nothing pretty. 😉
Best oils for oil pulling
This post contains affiliate links, which means I make a small commission at no extra cost to you. Get my full disclosure HERE.
Quite a few oils will work for oil pulling, but coconut oil is the most common for oil pulling. For one, people choose coconut oil for the taste, and two, because of its added benefits. Get my favorite coconut oil to use HERE.
Coconut oil is not for everyone, whether it is allergies or the taste; try any of these oils listed below as an alternative:
Sesame oil
Sunflower oil
Almond oil
Avocado oil
Olive oil
Benefits of oil pulling with coconut oil

Not only does coconut oil taste way better than swishing olive oil around in your mouth for 20 minutes, but it also has a lot of added benefits.
The lauric acid found in coconut oil can attack bad bacteria in the mouth.
Coconut oil has antiviral, antibacterial, and anti-fungal properties.
It can reduce plaque buildup, prevent tooth decay and fight gum disease.
Coconut oil can reduce the bacteria in the mouth that causes bad breath.
With its anti-inflammatory properties, coconut oil can also reduce gingivitis.
There have been claims that oil pulling with coconut oil can help whiten teeth. I have found little research to support this, but I have noticed my teeth whitening after using my homemade toothpaste, but it may have to do with the baking soda.
HOW OFTEN SHOULD I OIL PULL WITH ESSENTIAL OILS?
It is suggested to oil pull once a day. If you can't remember or don't have time, strive for 2-3 times a week. It is best to oil pull and then brush your teeth. Spit the oil out when done, do not swallow.
I love adding a few essential oils into my coconut oil before oil pulling for added benefits. Several essential oils are great for dental health and help with freshening the breath! Make sure the essential oils are safe for internal use.
Coconut oil pulling recipe

OK, so sharing this recipe almost seems silly, but I use them, so I am sharing anyway. Oil pulling with coconut oil is so simple and only requires putting oil in your mouth, but I can be lazy, especially when it comes to self-care for ME. I'll do anything for my kids, but I seem to forget about myself a lot.
I started making these coconut oil melts, so all I have to do is grab one out and throw it into my mouth. Something about them being pre-measured with the essential oils in them makes me more likely to do it.
INGREDIENTS
INSTRUCTIONS
Melt the coconut oil in a small saucepan, remove from heat.
Allow the oil to cool for 10 minutes, then stir in essential oils.
Use a 1 tbsp measuring spoon to transfer the oil into the silicone molds.
Place the molds in the fridge overnight to harden.
Transfer and store in a mason jar in the fridge or in a cool, dry place.
Melt one pod into your mouth, swish it around for 15-20 minutes, and spit the oil out.
Brush teeth with natural toothpaste, and you're done. Simple!
More popular posts:
Essential Oils for Natural Dental Health
Homemade deodorant without baking soda
Yield: 8 melts
Coconut Oil Pulling Melts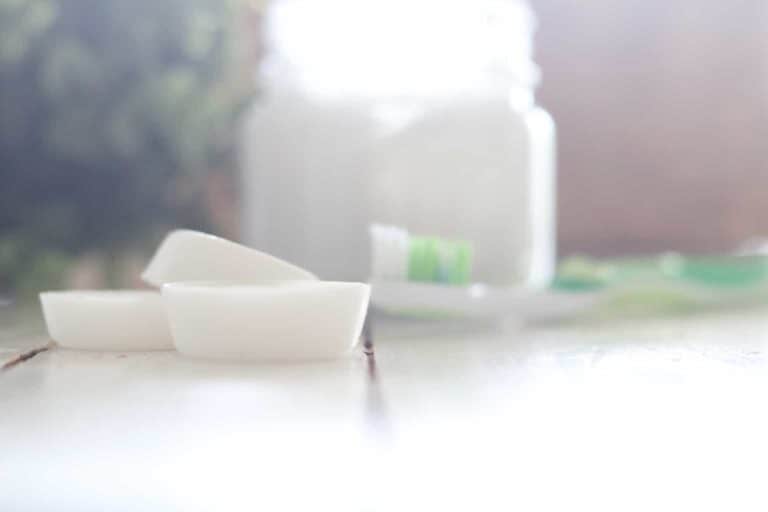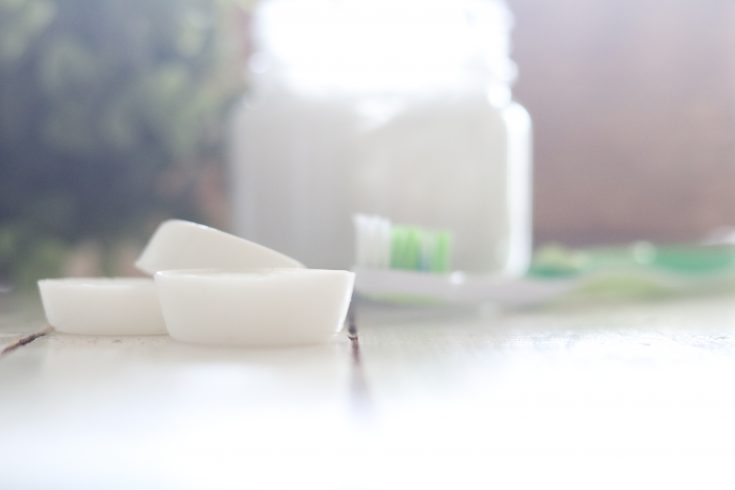 Improve overall oral hygiene with these coconut oil pulling melts.
Ingredients
1/2 cup coconut oil 
15-20 drops of spearmint essential oil
Silicone molds
Instructions
Melt the coconut oil in a small saucepan over low heat.
Remove from heat, let cool for about 10 minutes, then stir in essential oils.
Use a 1 tbsp measuring spoon to transfer the oil into the silicone molds.
Place the molds in the fridge for at least an hour or overnight.
Once hardened, transfer to a mason jar and store in the refrigerator or a cool, dark place.
Use daily by melting one coconut oil melt in the mouth, swish it around for 15-20 minutes, and spit the oil out.
Brush teeth like normal.