Learn how to make the best essential oil blends for men with these masculine scents of tried and approved recipes.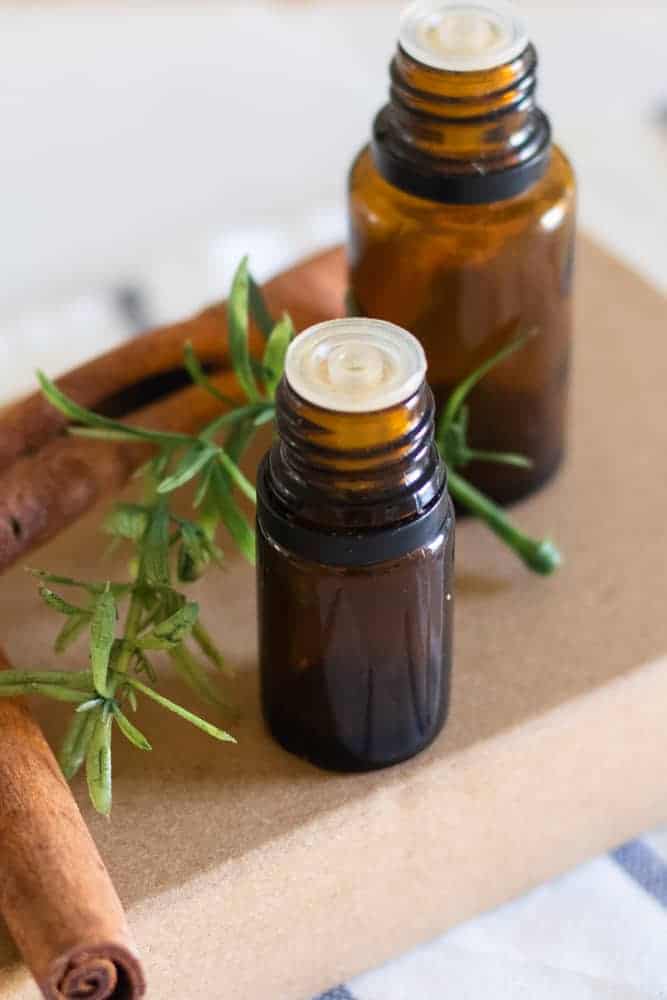 I love making DIY products for gifts. From Christmas to Mother's Day, homemade presents make the best gifts! For the past 3 years, I have made my husband a Father's Day gift basket with homemade goods.
I fill it with aftershave, beard oil, beard conditioning balm, and cologne. All of these products are things he uses every single day. When it comes to scenting them, I want to use essential oils that smell "manly."
I have come up with blends that are tried and true that I know your man will love too! This post is filled with masculine scents using essential oils.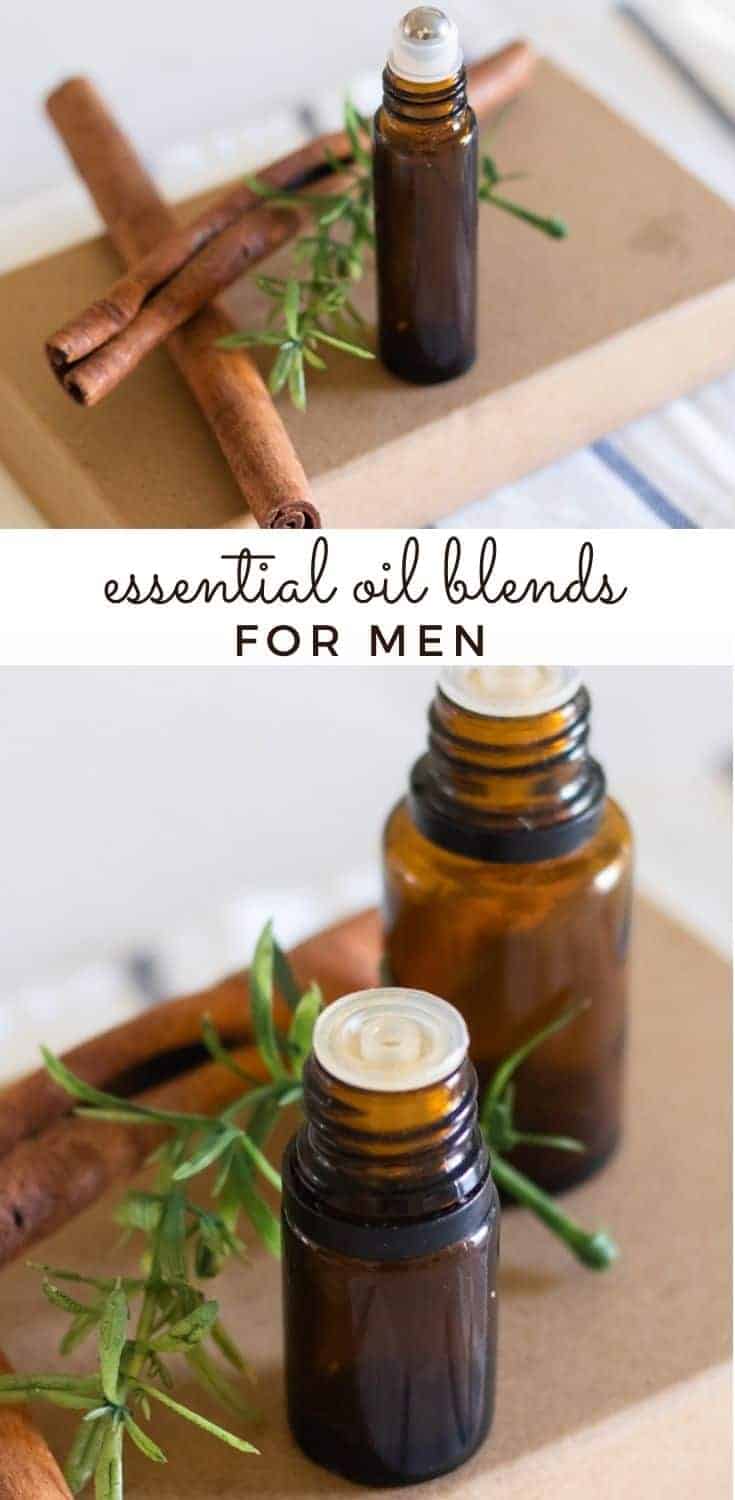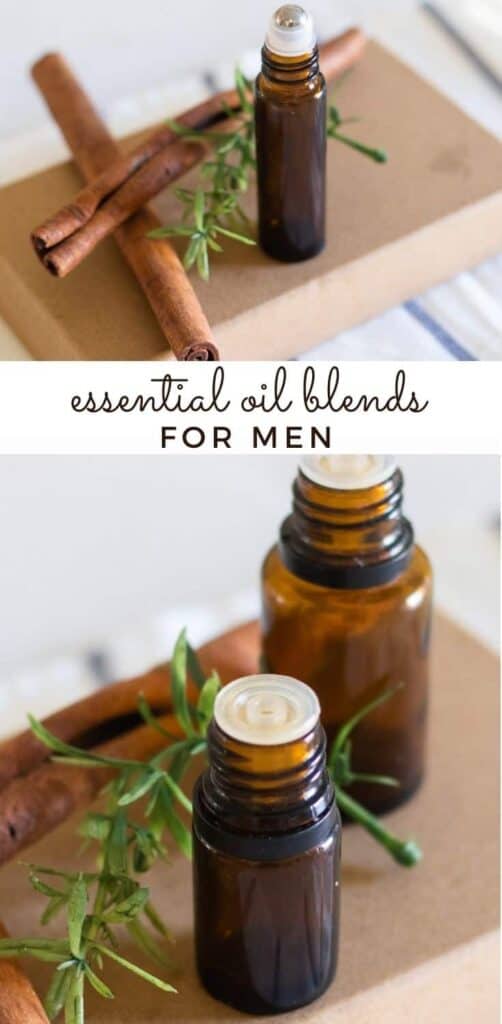 MASCULINE SCENTS ESSENTIAL OILS
When it comes to masculine scents, I stick to mostly woodsy and earthy essential oils. These oils pair well with spicy, minty, and citrus oils. So depending on what kind of scent you are going for, you can pair them accordingly.
WOODSY ESSENTIAL OILS FOR MEN
Arborvitae
Black spruce
Cedarwood
Copaiba
Cypress
Douglas fir
Myrrh
Sandalwood
Siberian Fir (Douglas fir, White fir)
Vetiver
EARTHY ESSENTIAL OILS FOR MEN
Citronella
Eucalyptus
Frankincense
Spikenard
Tea tree (Melaleuca)
SPICY ESSENTIAL OILS FOR MEN
Black pepper
Cardamon
Cassia
Celery seed
Cinnamon bark
Clove
Coriander
Ginger
MINTY ESSENTIAL OILS FOR MEN
Peppermint
Spearmint
Wintergreen
CITRUS ESSENTIAL OILS FOR MEN
Bergamot
Grapefruit
Green mandarin
Juniper berry
Lemon
Lemongrass
Lime
Petitgrain
Tangerine
Wild orange
ESSENTIAL OIL BLENDS FOR MEN
Blending essential oils is so fun! You can make any combination that you wish and customize it for your preference. When blending essential oils, it is best to start with a base and then add to it.
For example, if you want to make a woodsy blend, pick an essential oil from the woodsy category that you like. Then pick an essential oil from a category that blends well with woodsy oils, such as earthy, minty, spicy, or citrus.
Add in one drop of essential oil at a time and smell it until you get the scent you are going for. Other essential oil groups to try are herbal and floral oils.
MANLY ESSENTIAL OIL BLENDS
CITRUS SPICE
Bergamot
Siberian fir
Clove lemon
FOR THE OFFICE
Sandalwood
Frankincense
Wild Orange
NIGHTLIFE
Cardamon
Ylang ylang
Vetiver
Lemon
OUTDOOR
Basil
Cedarwood
Lemongrass
Helichrysum
LEMON CEDAR
FLORAL MINT
Rosemary
Lavender
Thyme
Peppermint
FRESH AND CLEAN
Eucalyptus
Sandalwood
Tea tree (or melaleuca)
CITRUS BLEND
Wild orange
Lemon
Bergamot
EARTHY BLEND
Frankincense
Sandalwood
Vetiver
WOODSY BLEND
Cedarwood
Lemongrass
Sandalwood
This post contains affiliate links, which means I make a small commission at no extra cost to you. Get my full disclosure HERE.
Find any of the oils for these blends HERE.
BLENDING ESSENTIAL OILS FOR MEN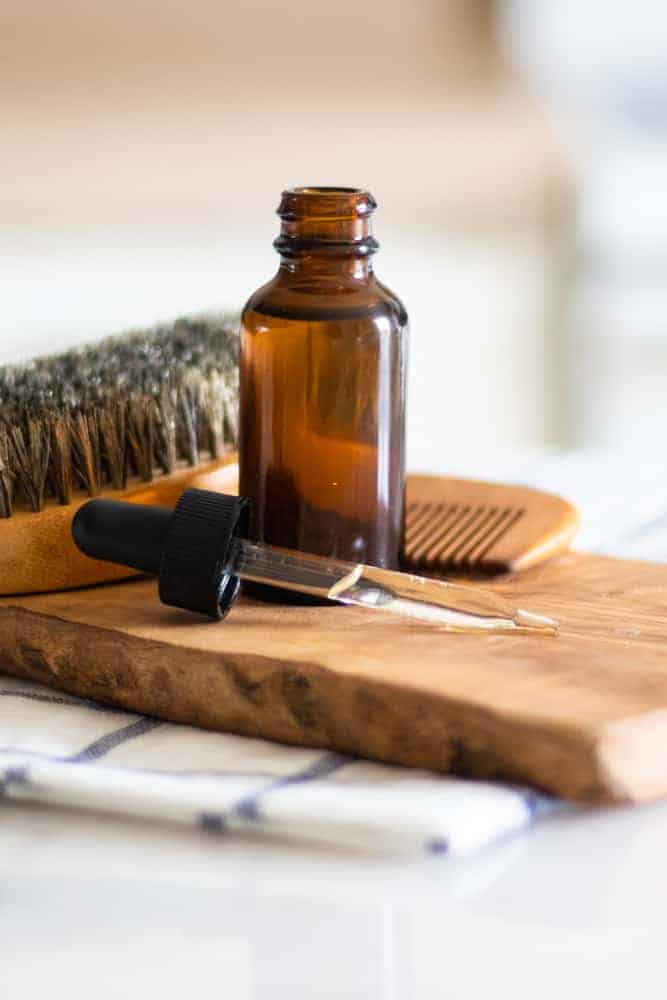 When blending essential oils, it is important to note that essential oils are very concentrated. It won't take a lot of oil to get a certain scent, and quickly, it can become overpowering.
If you ever need to get less than a drop into a blend, you can use the toothpick drop. Do this by putting the tip of a toothpick into an essential oil bottle, just enough to get it wet, and then swirl it into the blend you are creating.
This is a great trick if you are trying to get a hint of a scent into a particular blend.
HOW MANY DROPS OF ESSENTIAL OILS SHOULD I USE?
As mentioned above, essential oils are very concentrated, and you don't need a lot of drops to get the benefits from the oils. It is important to dilute essential oils before using them.
For a 2 oz spray bottle: 15-20 drops
For a 10 mL roller bottle: 12-15 Drops
For a 2 oz dropper bottle: 10 drops
For a diffuser: 6-8 drops
It depends on what you are making to determine how many drops of essential oils you will need. Below are links to exact recipes that include the number of essential oil drops you will need:
ESSENTIAL OIL BLENDS FOR MEN'S SKINCARE
I love making my own skincare to cut down on toxins in my home. It is so simple to make lotions, body washes, and scrubs. And the best part, you can customize and scent them however you want!
For my husband, I like to stick to woodsy and earthy aromas. He likes the way they smell and I love that he isn't putting harmful ingredients full of synthetics on his body.
Essential oils such as frankincense, sandalwood, and tea tree have wonderful benefits for the skin and have a great aroma for men.
Frankincense- clears skin from skin imperfections and may reduce signs of anti-aging
Sandalwood- Sooth irritated skin and reduces acne, can brighten skin
Tea tree- cleanse and purifies the skin, use as a spot treatment on pimples
CAN ESSENTIAL OILS BE USED FOR HAIR CARE?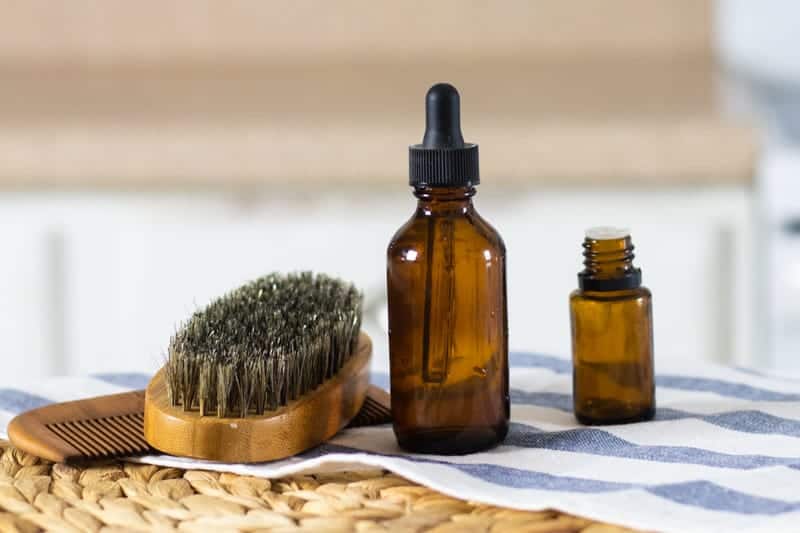 Essential oils can help strengthen and lengthen the hair. They can help with hair loss and promote healthy-looking hair. Essential oils can be added to shampoos, conditioners and be used on men's beards.
Cedarwood, lavender, peppermint, and rosemary are some of the best essential oils to use in your hair. These essential oils can be used to make beard shampoos and beard oils.
Cedarwood- stimulates hair follicles and increases circulation to the scalp making it a top oil for hair loss prevention.
Lavender- produces more hair follicles to help thicken and strengthen hair.
Peppermint- promotes hair growth and thickness.
Rosemary- helps to thicken and grow hair; helps with dry hair as well as overly oily hair and can help prevent split ends.
ESSENTIAL OIL DIFFUSER BLENDS FOR MEN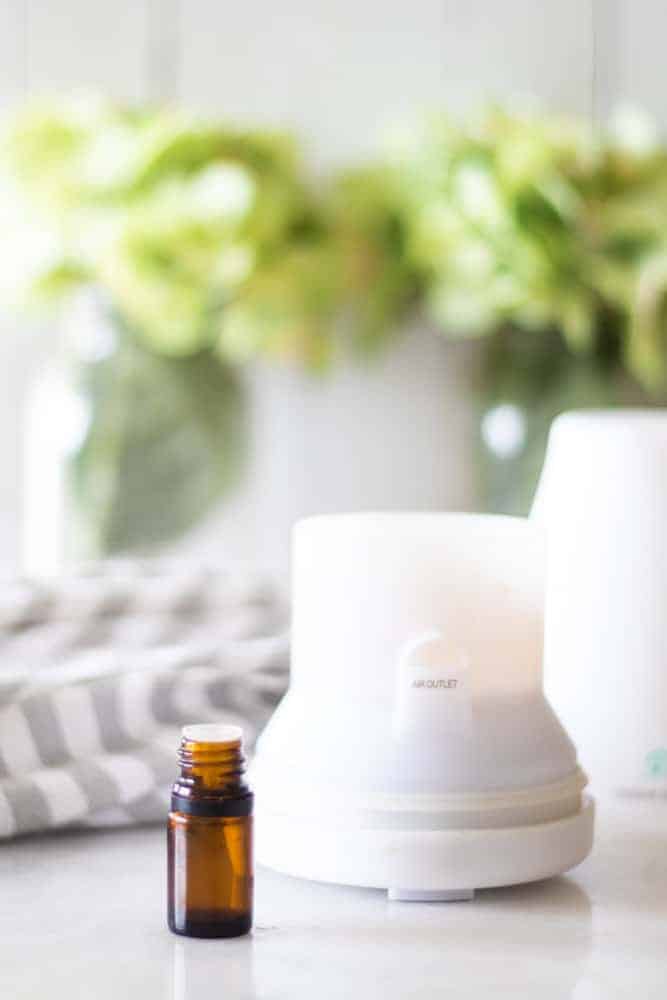 Diffusing essential oils can help cleanse the air, promote a positive mood, and even help with sleep. Essential oils are tiny aromatic compounds, and when diffused into the air, you breathe them in and reap the benefits.
Everyone's sense of smell is different and one scent that you may love, someone else may despise. Below are a few essential oil diffuser blends that have a manly aroma.
OUT OF THE WOODS
3 drops cedarwood
2 drops of Siberian Fir
2 drops rosemary
1 drop vetiver
PEACE AND CALMING
3 drops Frankincense
3 drops sandalwood
2 drops chamomile
RECHARGED
3 drops lemon
3 drops bergamot
2 drops arborvitae
FEEL GOOD
2 drops cypress
2 drops bergamot
2 drops frankincense
2 drops fir oil (white, Douglas, or Siberian)
BALANCE
2 drops Lime
2 drops frankincense
2 drops bergamot
2 drops of black spruce
Find any of the oils for these blends HERE.