Tallow has some incredible benefits for the skin, making this homemade tallow body butter the perfect addition to your natural skin care routine. It is made with 3 natural ingredients that are great not only for the skin but also, for your health.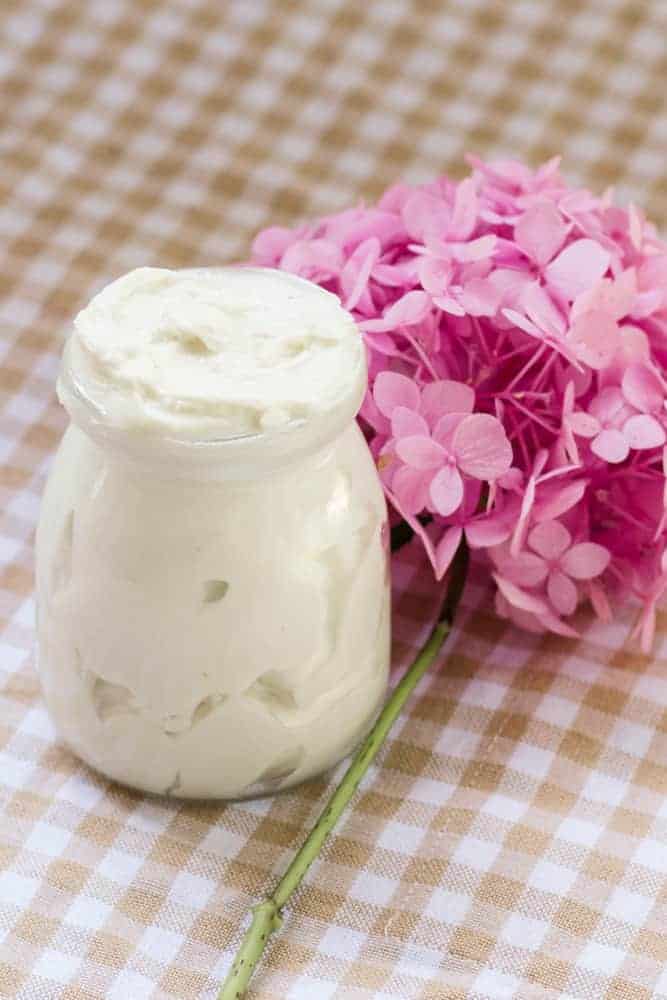 What is Tallow?
Tallow is rendered fat. It can be from any animal, but usually, the term tallow refers to rendered beef fat.
The cleanest and highest quality tallow comes from the fat around the animal's organs. Another name for this type of fat is leaf fat.
Like other saturated fats, tallow is solid at cooler temperatures and becomes a liquid in warmer temperatures.
I love using grass-fed beef tallow in my skin care routine. Tallow makes beautiful soap bars and moisturizing body butters.
But even on its own, tallow can be applied directly to the body to nourish the skin.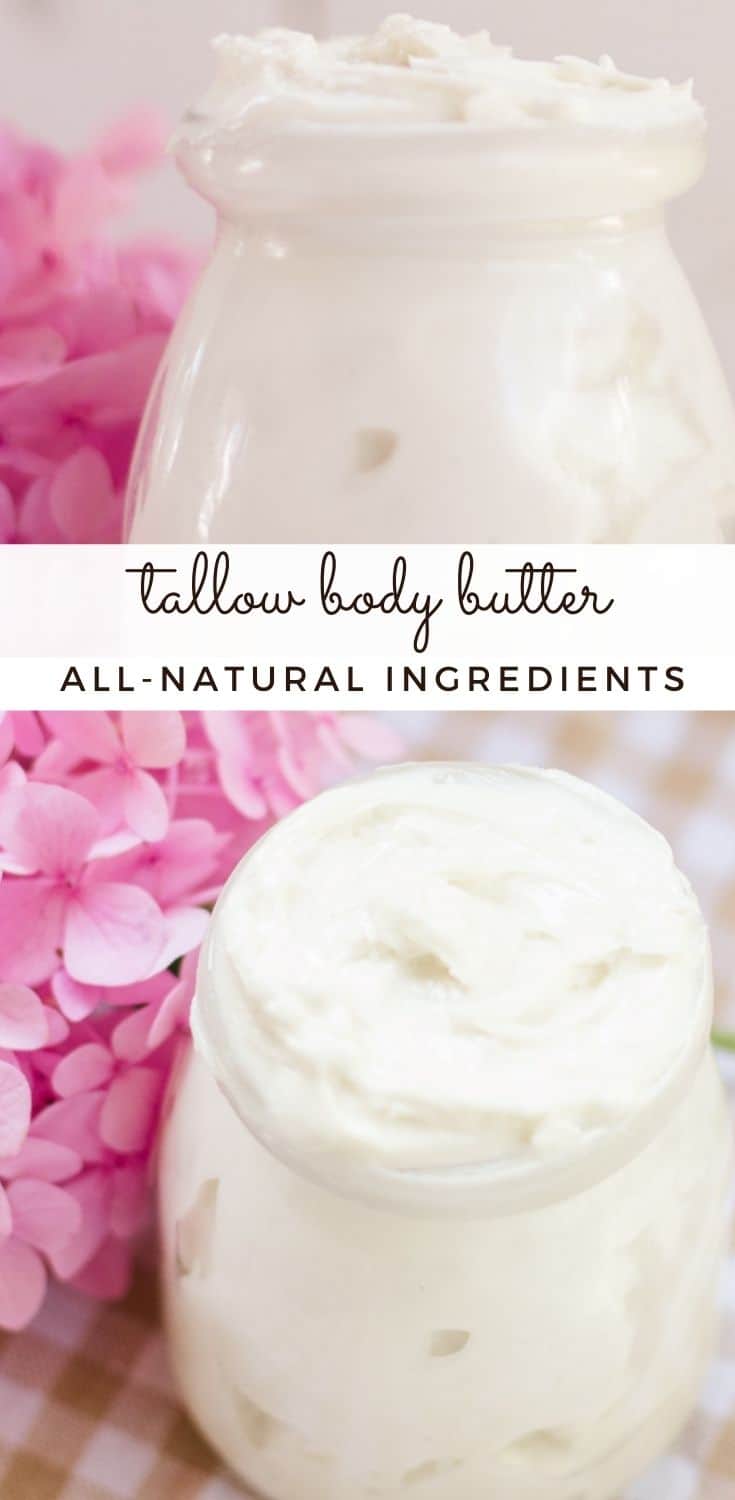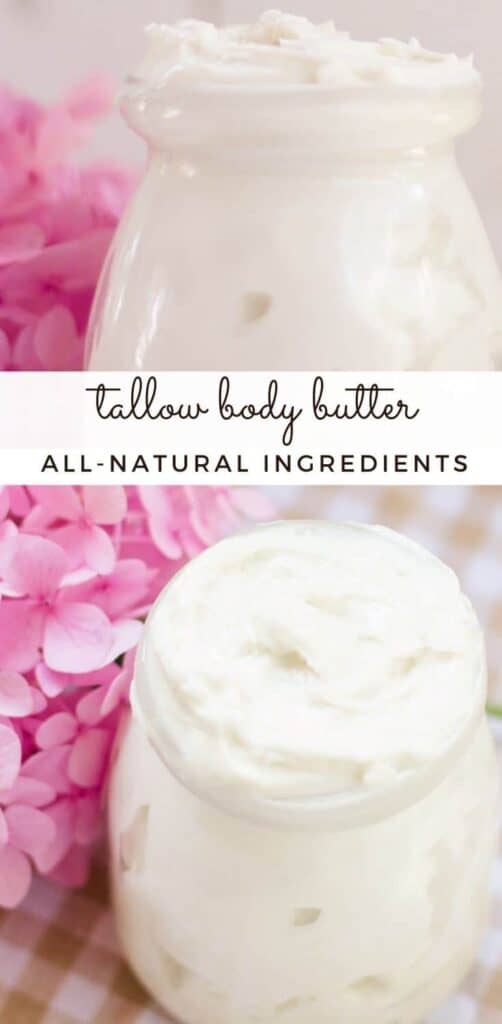 What Kind of Tallow is Best?
Tallow from organically raised grass-fed cows will be the best tallow to use. This type of tallow has the most benefits for cooking, eating and the skin.
How to Render Beef Tallow?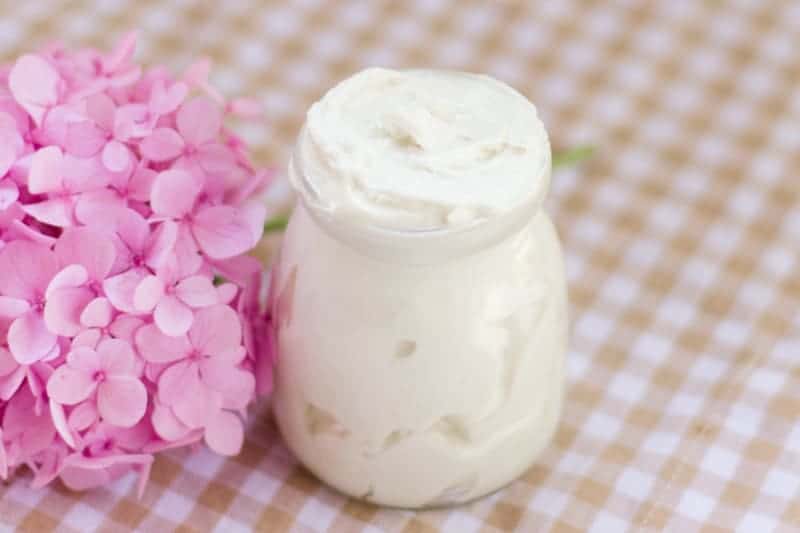 You can render your own beef tallow by cooking trimmed beef fat to use later in the kitchen or for making soaps and body butters.
Trim fat off of meat.
Place the trimmed fat in a saucepan and turn the heat on low.
Allow it to simmer for several hours, stirring every half hour.
Strain the tallow off of the meat.
Place in the refrigerator.
Is Tallow Good for the Skin?
Tallow is a popular cooking fat and is known for its many benefits for the body. Tallow is becoming more popular in the skin care line and can be found in shampoos, candles, soaps, balms, and lotions.
Tallow has some amazing benefits when used on the skin as it is very nourishing and moisturizing. As much as we love cooking with beef tallow, I often save a little back to make skincare products.
Tallow is a good source of vitamins A, D, K, E, & B12, along with several other minerals. It has natural anti-inflammatory properties, can help repair damaged skin, and improves skin flexibility.
In addition, tallow can help reduce anti-aging signs by smoothing fine lines, wrinkles, and crow feet.
Benefits of Beef Tallow for Skin
High in vitamins A, D, K, E, & B12
Contains healthy fats to nourish the skin
Good source of antioxidants
Repairs damaged skin
Restore vibrancy in skin
Very moisturizing for dry skin
Mimics natural skin oils
Doesn't clog pores
Good for all skin types
Reduces signs of aging
Antibacterial
Improves skin imperfections
Good source of omegas
Tallow Body Butter Ingredients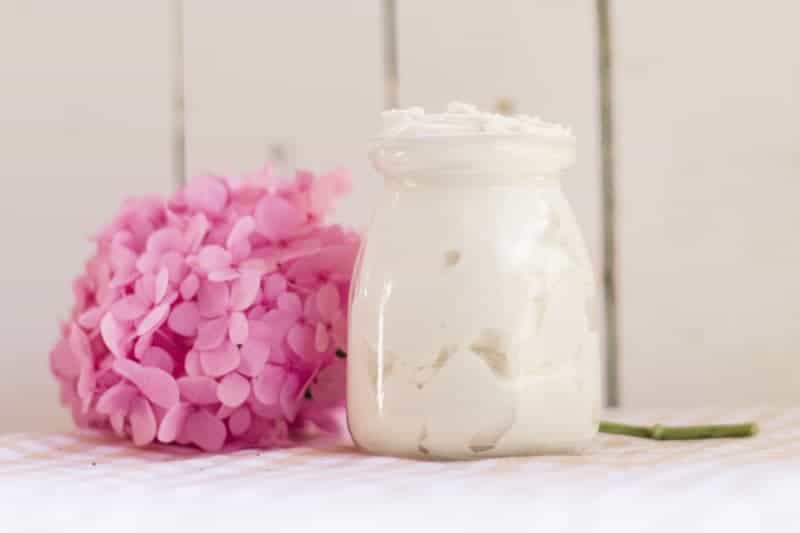 This post contains affiliate links, which means I make a small commission at no extra cost to you. Get my full disclosure HERE.
How to Make Tallow Body Butter
Add tallow and shea butter into a double boiler. If you don't have a double boiler you can make your own by placing a glass bowl over a pot of water and bringing it to a boil.
Melt over low to medium-low heat.
Once melted, remove the ingredients from the heat and allow them to cool slightly. About 10-15 minutes.
Stir in the avocado oil and essential oils.
Transfer to the refrigerator so it can set up.
For best results, use daily.
For a whipped body butter, remove the body butter from the fridge just before it fully sets up. You should be able to press your thumb into it and it holds the indent.
Whip with a handheld mixer until it is a fluffy, creamy consistency.
How to Store Homemade Tallow Body Butter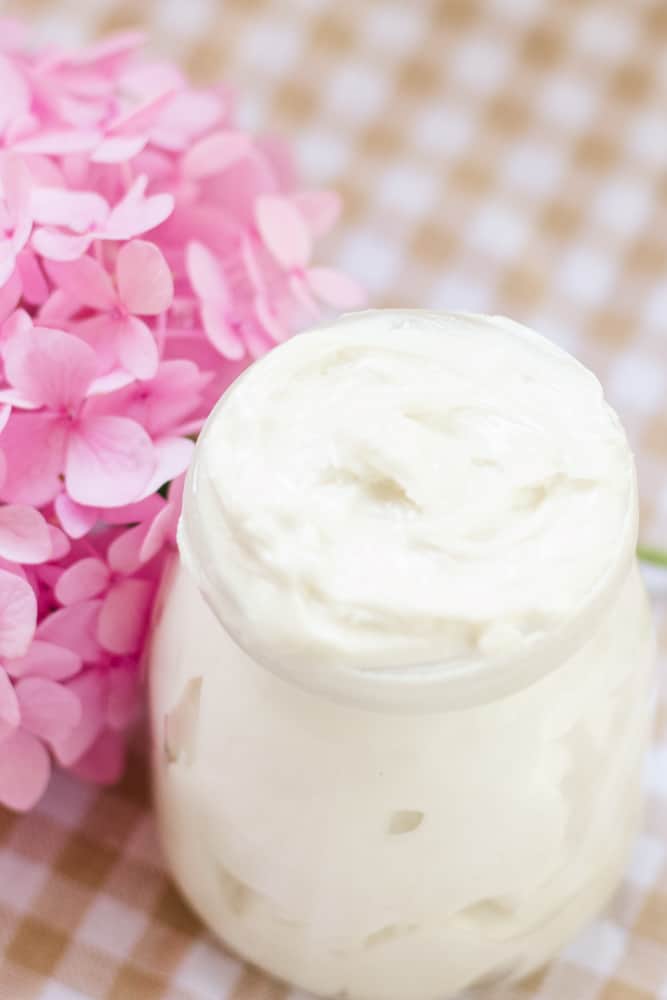 My favorite way to store all my natural skincare is in mason jars. Mason jars work great for DIY products because they are glass and they have an airtight lid.
It is always best to use glass when storing products made with essential oils as they can break down plastic over time.
This body butter will last up to 6 months if stored in an airtight container. Be sure to store your body butter out of direct sunlight and high temperatures.
If your house is over 80 degrees, you may want to keep the body butter in the refrigerator to ensure it doesn't melt.
Best Essential Oils for Tallow Body Butter
Several essential oils can be helpful for skin irritations, anti-aging, and reducing scars. Adding essential oils into your tallow body butter can boost those benefits and give it a beautiful aroma!
You can choose several essential oils to make a customized blend or use a single essential oil.
Lavender
Frankincense
Tea tree
Roman chamomile
Peppermint
Rose
Jasmine
Clay sage
To make a soothing body butter for sore joints and muscles, use a blend of peppermint and frankincense. Peppermint essential oil is very cooling and frankincense oil can reduce inflammation.
For a calming body butter, use a blend of floral essential oils. Floral essential oils can help calm the nervous system and reduce feelings of anxiousness and stress.
For an uplifting and energizing body balm use a blend of citrus essential oils.
Want to Learn More About Essential Oils?
Take my free masterclass, where you'll learn everything you need to know about oils!
How to Use Tallow Body Butter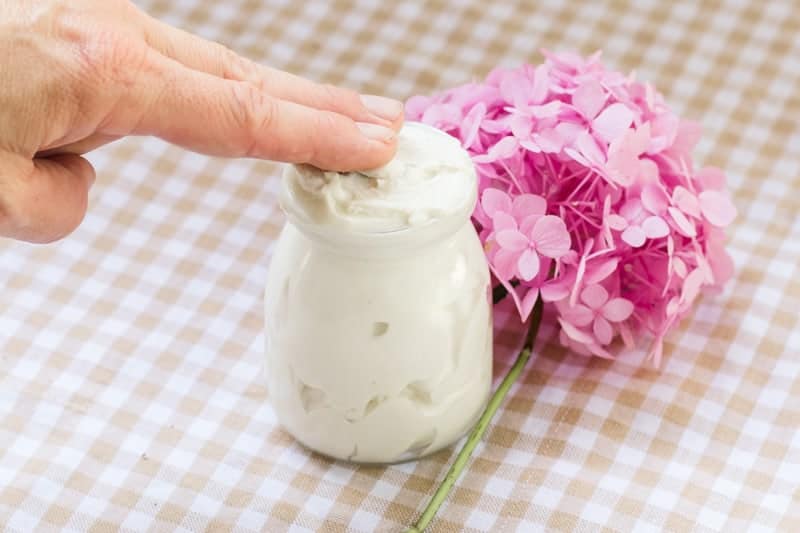 Tallow body butter can be used just like regular lotion or night cream. For best results, use daily on the skin.
For really dry skin or damaged cracked skin, apply the tallow butter to the area before bed and allow it to soak in overnight. I like doing this, especially for my feet.
Yield: 1 Jar
Moisturizing Tallow Body Butter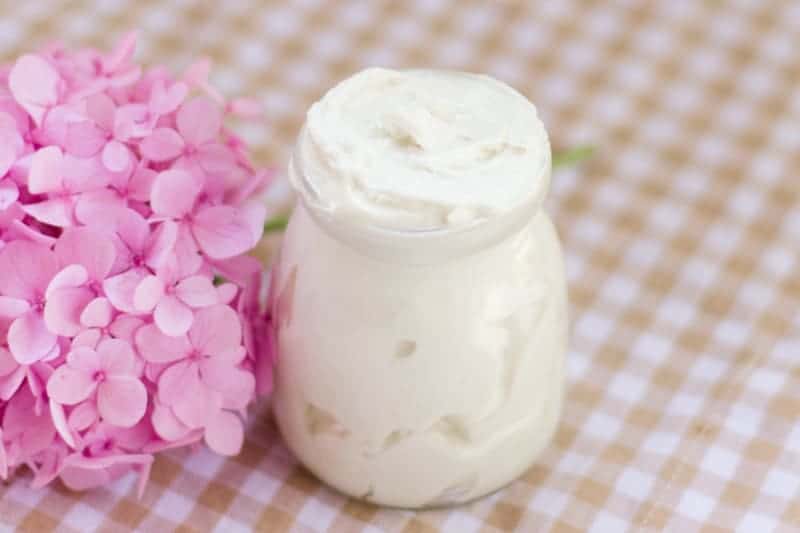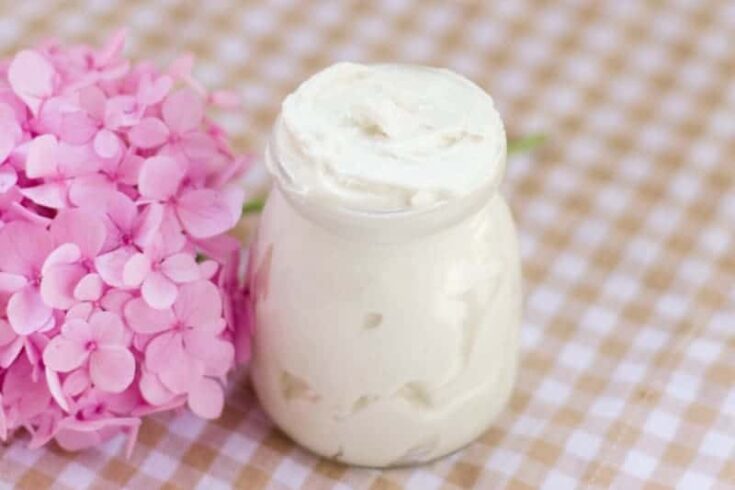 A moisturizing tallow body butter using all-natural ingredients great for all skin types.
Additional Time
10 minutes
Instructions
Melt tallow and shea butter in a double boiler over low to medium-low heat.
Once melted, remove from heat, and allow it to cool slightly.
Stir in avocado oil and essential oils.
Place in the fridge to allow the ingredients to set up.
Use like normal. For best results, use daily.
Notes
For a whipped body butter, remove the butter from the fridge just before it has set up. You should be able to press your thumb into it and it should hold the indent.
Use a handheld mixer and whip until it has a fluffy, creamy consistency.
Store in a glass airtight container.
Resources
https://www.stylecraze.com/articles/tallow-for-skin-care/