Realize the art of self-care through this heavenly coconut milk bath recipe. Transform a bath into a rejuvenating escape for mind and body, leaving your skin glowing like new!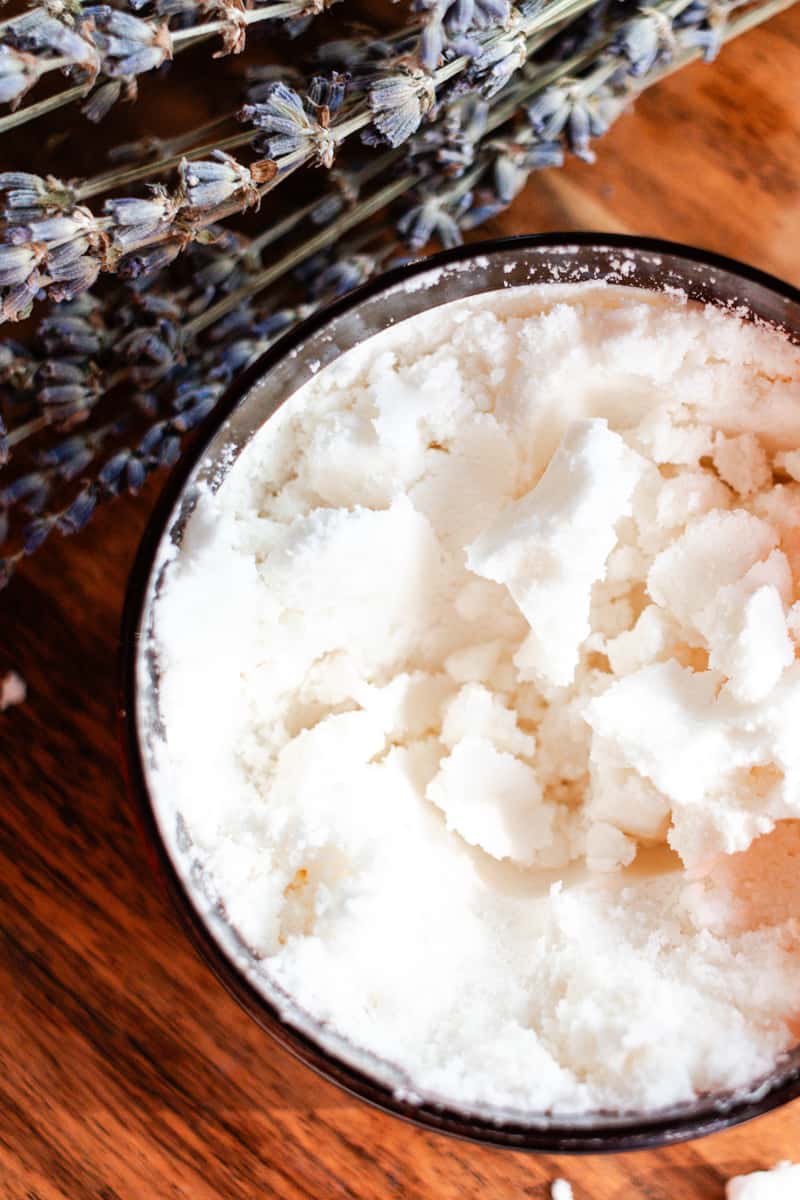 This one's for those days when you dream of lying on a magical beach in the middle of nowhere, with turquoise waters lapping at your toes and the sun beating down on your face.
So, I guess that's every day!? And why not!
This nourishing coconut milk bath recipe is simply delicious – in the bathing sense (not the edible sense.)
Plus, not only does it smell divine – it's wonderful for your skin too. And your mind! Bringing a surefire smile to anyone who bathes in it.
You'll find my coconut milk bath recipe here in this post. Read on and enjoy!
Why you'll love this recipe
It melts away stress: A coconut milk bath soak is your number one go-to stress buster if you ask me! You just cannot feel stressed when immersed in coconut baths' coconutty goodness!
It's budget-friendly: Compared to a bottle of luxurious bath soak in the store which can cost $$$, this is far less costly – and way better for your skin too.
It smells amazing: You get that lush tropical vibe from the coconut, and I also include a couple of essential oils to boost the fragrance, helping you relax and unwind.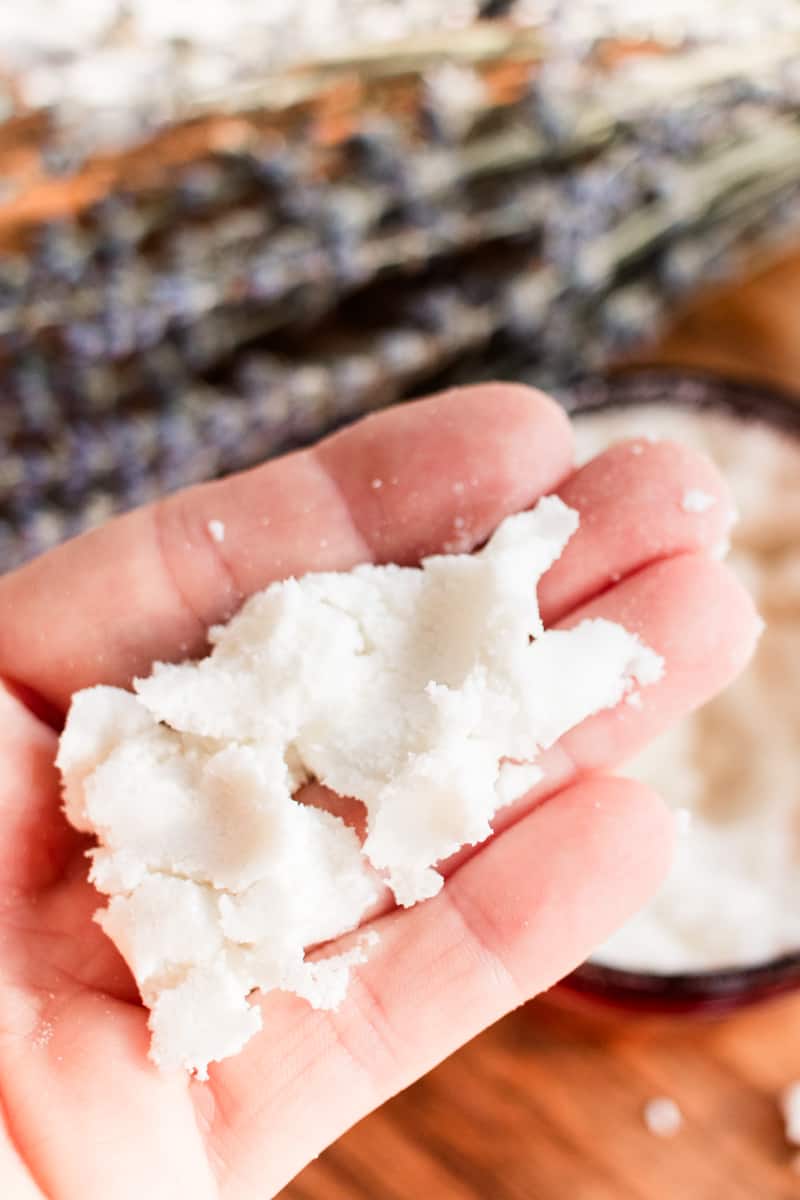 What about the ingredients?
I love all the coconut milk bath benefits, I admit! I have used coconut oil for bath recipes in the past and loved it!
This recipe has two kinds of coconut products: coconut oil and coconut powder.
With both of these, there's the moisturization factor. Coconut contains healthy fats and vitamins, deeply moisturizing the skin, leaving it soft and silky.
Also, as coconut powder is used in this recipe, it acts as a mild exfoliant. This is great for sloughing off dry bits and revealing fresh, new skin underneath.
Add to this the fact that coconut is one of nature's best anti-inflammatories, and you could walk out of the bath with calmer-looking skin – it's great for reducing any areas of redness.
Now, for the oils.
Calendula oil is renowned as a skin savior, helping quickly heal skin cracks and minor wounds. It's an antioxidant, so it protects the skin from oxidative stress. Plus, it's naturally very soothing to the skin.
Lastly, lavender oil is one of the best relaxation oils, fantastic to reduce stress and worry and help with a good night's sleep!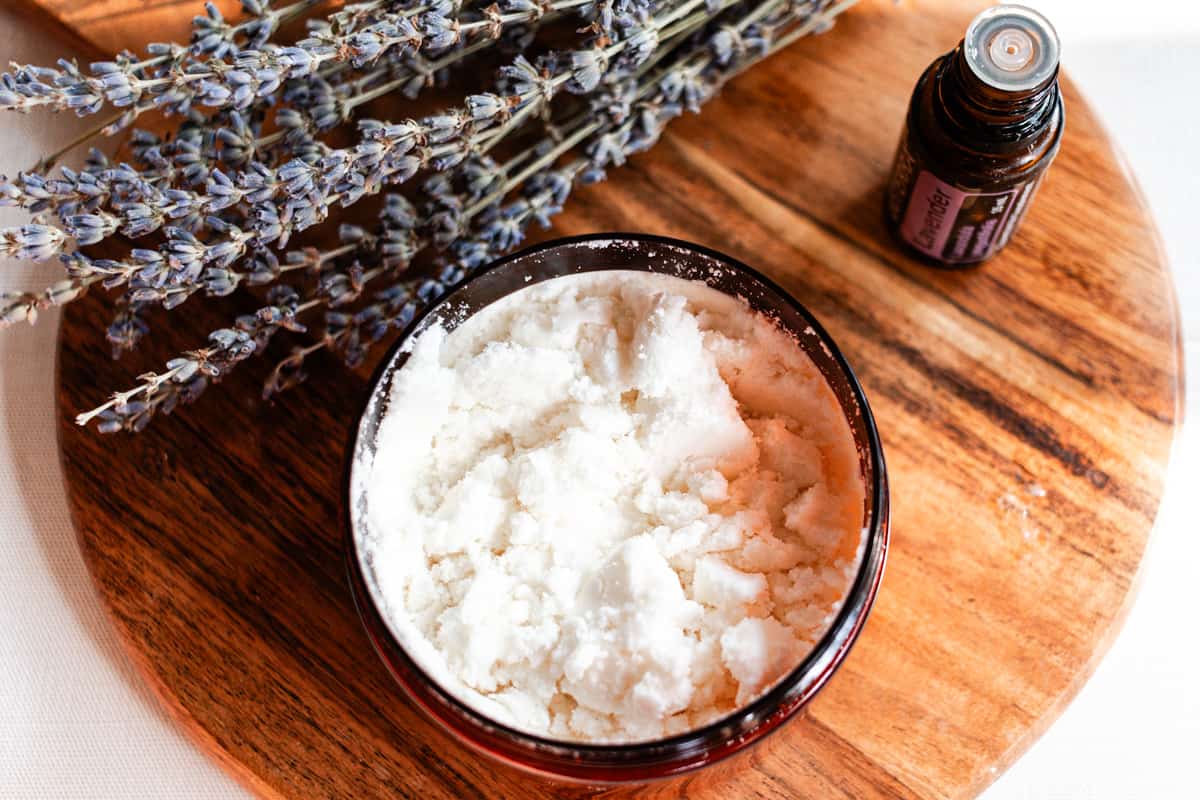 This post contains affiliate links, which means I make a small commission at no extra cost to you. Get my full disclosure HERE.
Coconut milk bath recipe
The ingredients:
The instructions:
Step 1: Add the coconut milk powder to an 8-ounce airtight container.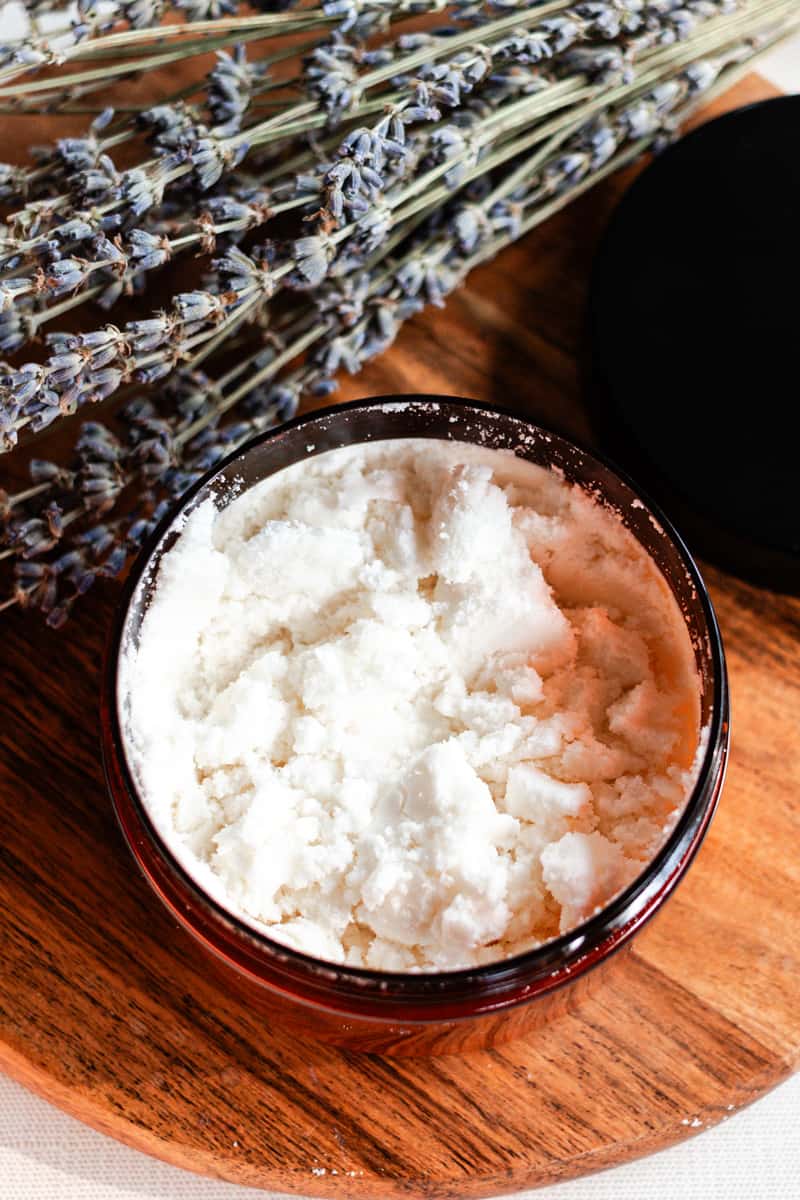 Step 2: Pour in fractionated coconut oil and calendula oil.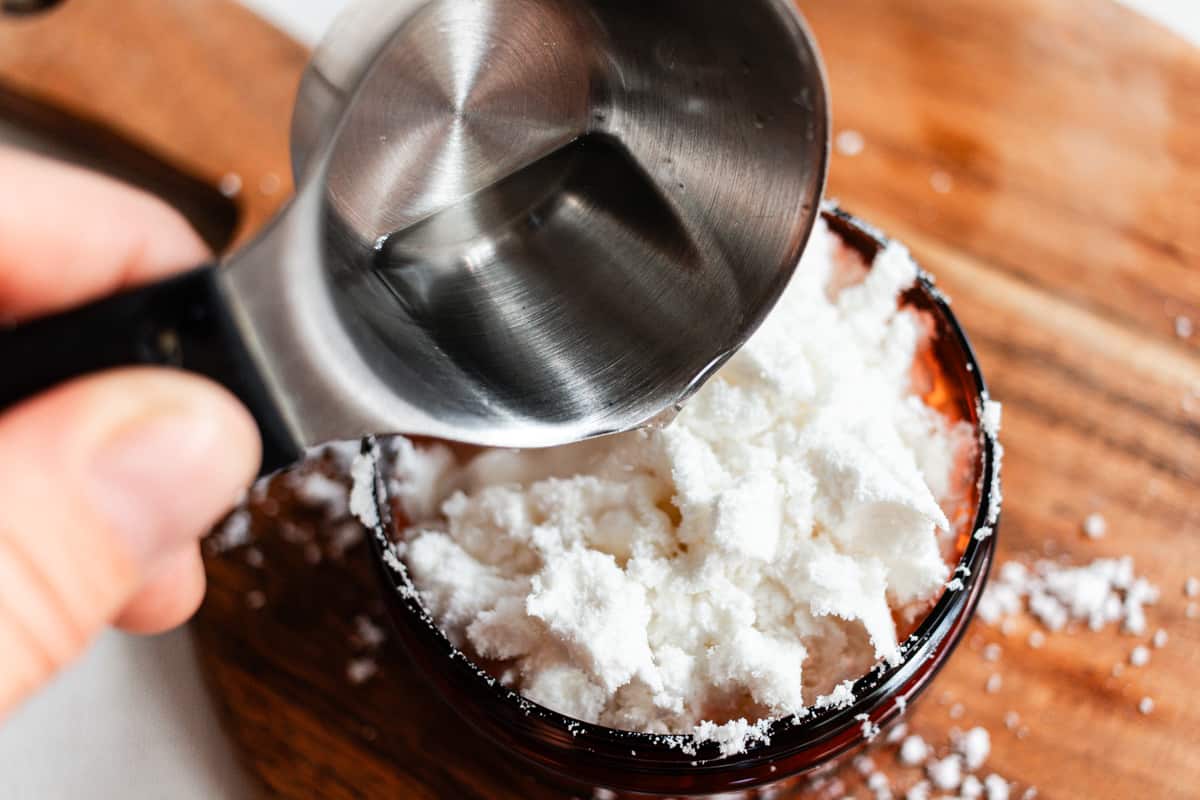 Step 3: Add in the lavender oil.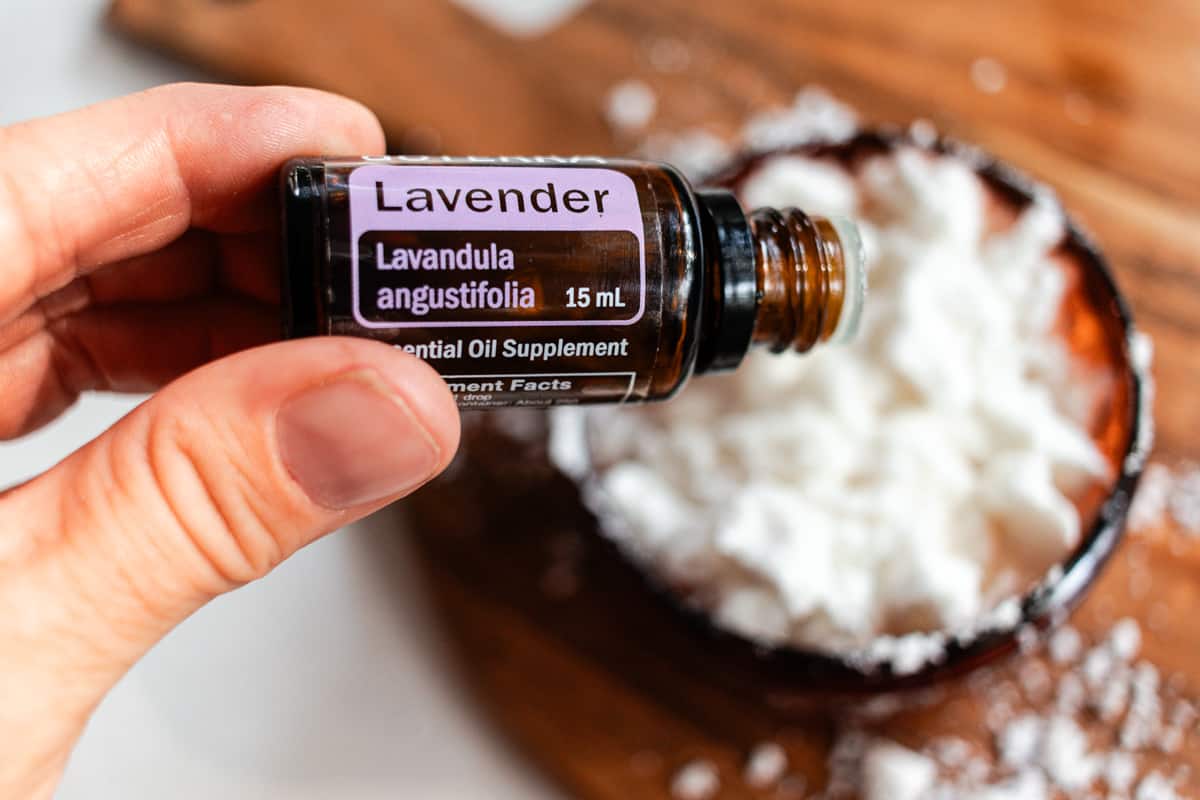 Step 4: Stir well to combine.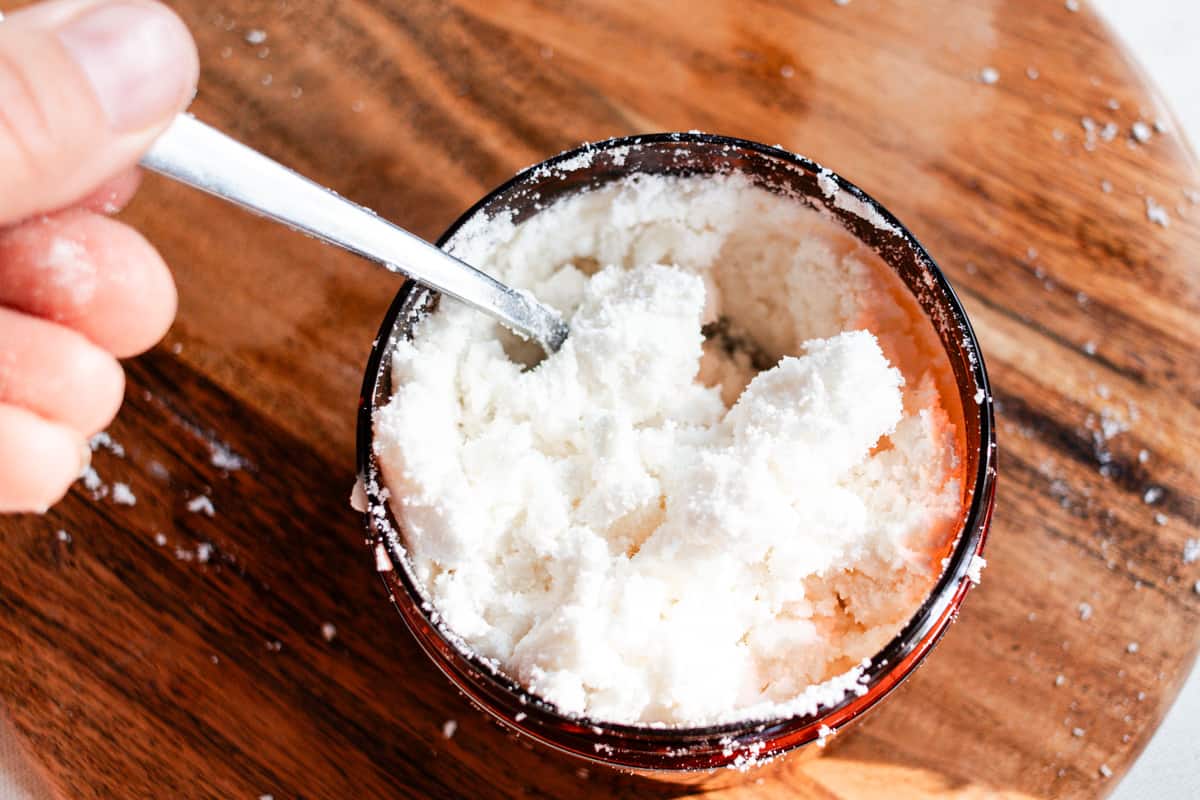 How to use coconut bath soak
It's fun and easy, this one!
You add the desired amount of coconut bath soak to your bathtub under running water ( I like to use about half a cup, but you can adjust the amounts for your preference and tub size), then disperse it with your fingers.
Mixing with the warm water will take a moment – that's normal as it's a milk substance. 
Then, shut the door, put on some relaxing music, or light some candles and soak for up to half an hour.
Once you're done, rinse off well and pat yourself dry to keep those wonderful coconut fats moisturizing your skin!
This bath soak works best in the evening when you're almost ready to go to bed. It'll help you wind down and switch off after a long day. You'll probably sleep great too, which is a bonus!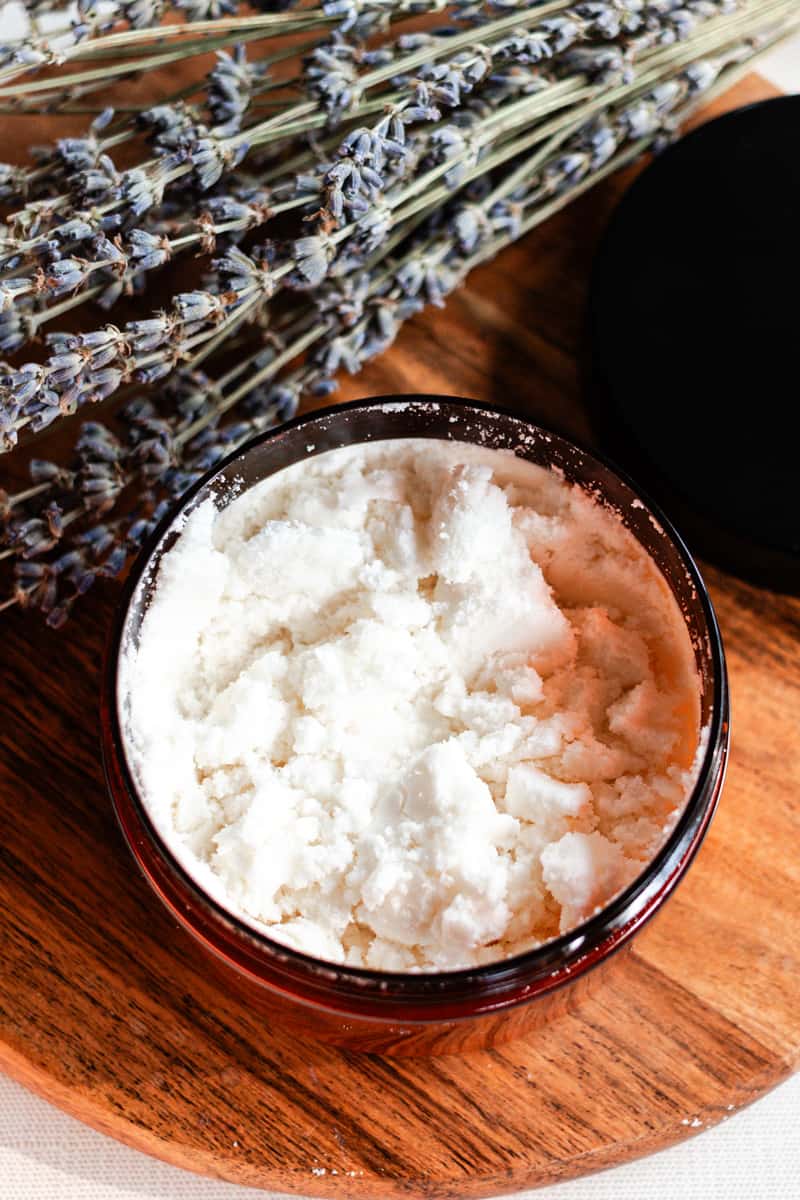 Tips
Add on's
You can add whatever flower petals you like to this bath soak to make it feel more luxurious.
Rose petals, lavender buds, and rosemary sprigs would all work nicely – just remember to remove them before you let the water out, or else they might block the pipes.
Also, dried flowers would work well, but remove them before you release the water! For more inspiration, check out my herbal bath tea or rose bath salts.
Or, if you are looking for exfoliating properties, consider adding epsom salts to the water or trying out an oatmeal milk bath.
Storage
You can store this bath soak for up to a week, after which I'd recommend disposing of it and making a fresh batch.
It's best to store it in an airtight bottle with a screw-top lid, and it can be kept in the fridge to help it stay fresher for longer.
FAQs
Can I put coconut milk in my bath?
Yes, you can. By this question, I'm presuming we're talking about straight-up coconut milk, say from a can or bottle.
I like to use coconut oil and coconut powder to make 'coconut milk' because I find it's more moisturizing and makes the bath water feel much more special.
What is a coconut milk bath soak?
It blends coconut oil, coconut powder, and essential oils, transforming your bathing experience into a tropical spa.
Your skin will feel moisturized and renewed after just 30 minutes of soaking in a coconut milk bath!
In fact, you can use any milk in a bath recipe! Why not try making this milk bath recipe too?
Why take a coconut milk bath?
Coconut milk baths contain moisturizing properties that are great for dry skin.
Adding coconut to your bath has been shown to provide anti-inflammatory properties and soothe a number of skin conditions.
Who is this bath not for?
Anyone with coconut allergies should avoid using this recipe.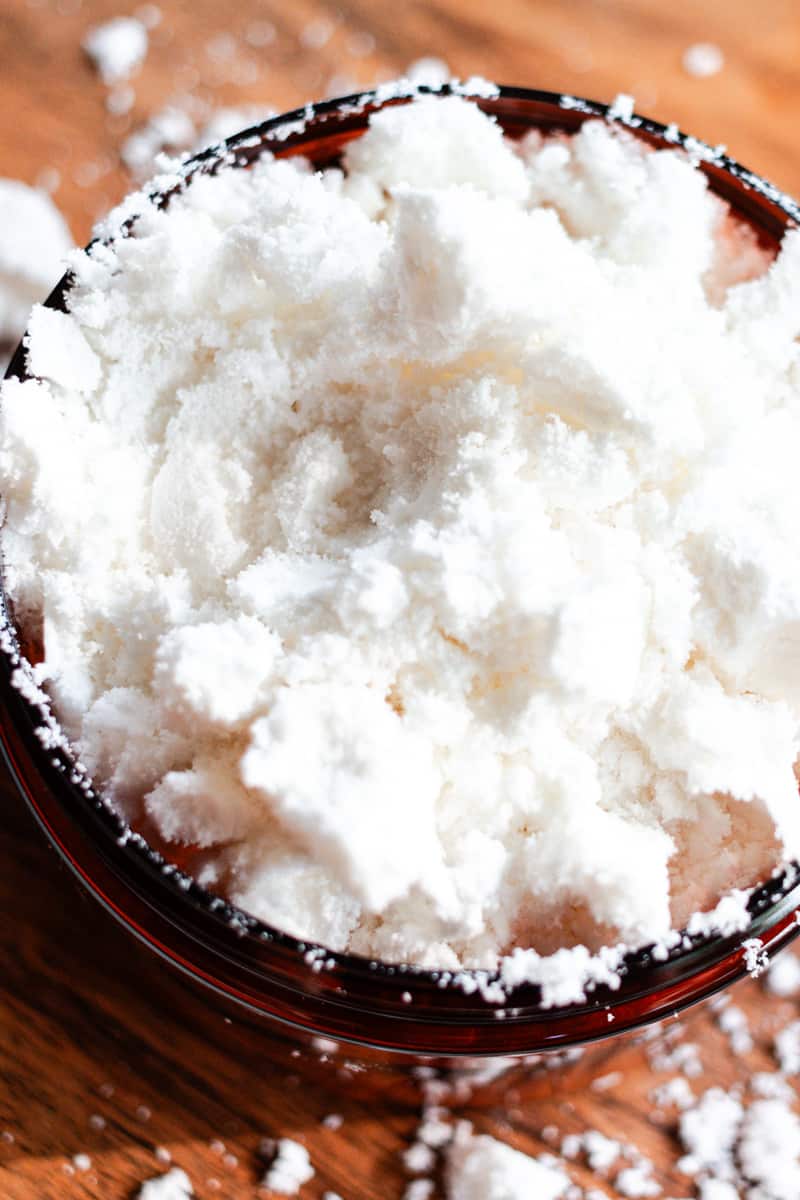 To finish
That's all there is to my coconut milk bath recipe. I'm sure you'll love it as much as we do!
Drop a comment below if you have any questions or want to tell me how you feel about this coconut milk bath soak.
Did your coconut bathing experience transport you away to a tropical beach, I wonder?
And if you are looking for more great bath recipes, consider reading one of these next!
Coconut Milk Bath Recipe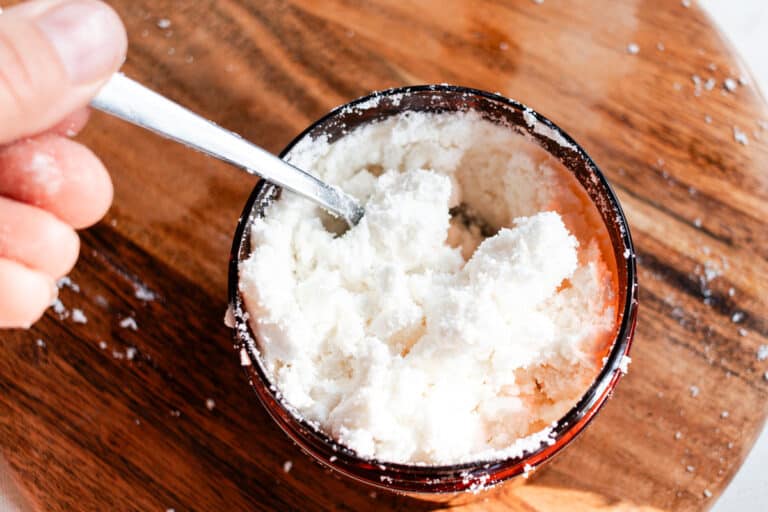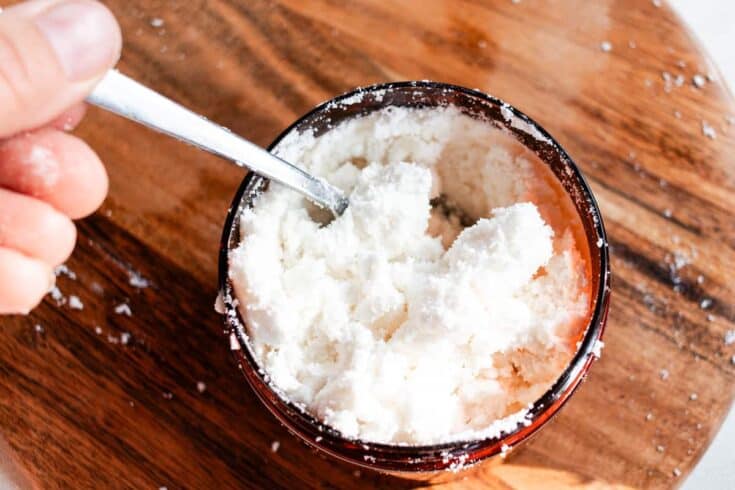 Immerse yourself in the dreamy world of a coconut milk bath. This recipe offers relaxation, nourishment, and a touch of paradise in every soak!
Tools
Instructions
Add the coconut milk powder to an 8-ounce airtight container.
Pour in fractionated coconut oil and calendula oil.
Add in the lavender oil.
Stir well to combine.
Notes
How to use: You add the desired amount of coconut bath soak to your bathtub under running water (I use about a half a cup), then disperse it throughout the bath with your fingers. Soak for up to 30 mins.
If you don't have calendula oil, you can leave it out.
Store extras for up to one week.