This simple milk bath recipe is the ultimate relaxer after a long day. Learn all about milk bath benefits as well as how to do a milk bath properly. Plus, my favorite essential oil blends for a bath soak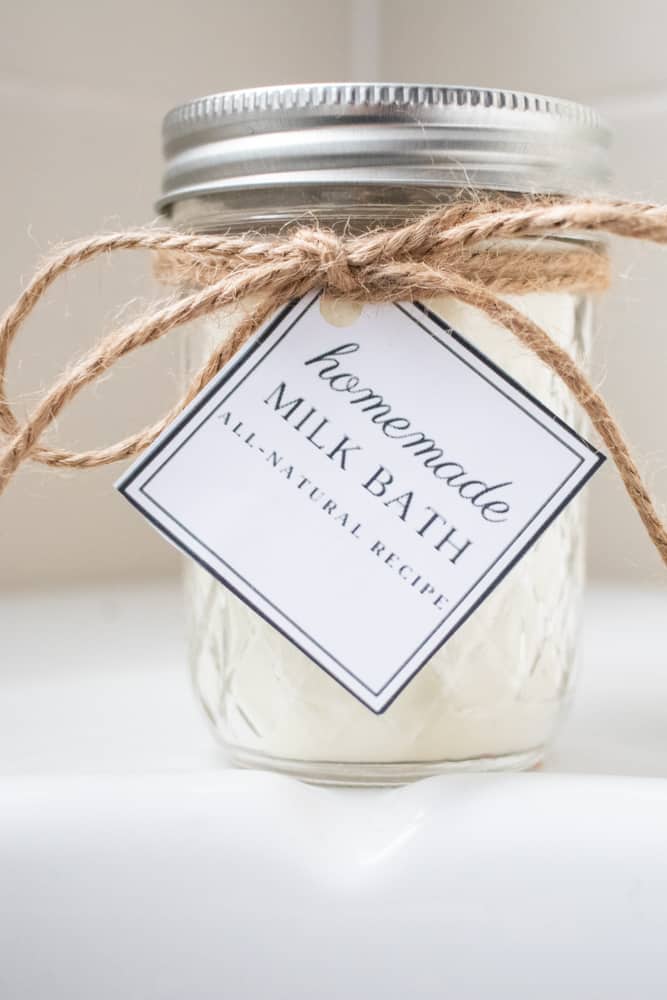 DIY MILK BATH
OK, so I have to be honest, I was drawn to the idea of taking a milk bath because of some maternity pictures I saw. This mother-to-be was planning a home water birth and so it was fitting. The pictures were gorgeous and had me immediately intrigued. So I decided to come up with my own milk bath recipe.
Like most things in my home, I decided to DIY it, so I would know exactly what was in it and so I could make it the way I wanted. I can be a little picky about my essential oils and scents, just saying!
If you haven't tried a milk bath yet, you are going to need to change your evening plans and do this ASAP! It is so relaxing and has so many great benefits for your skin.
Grab your free printable label for your milk bath jar.
PIN IT FOR LATER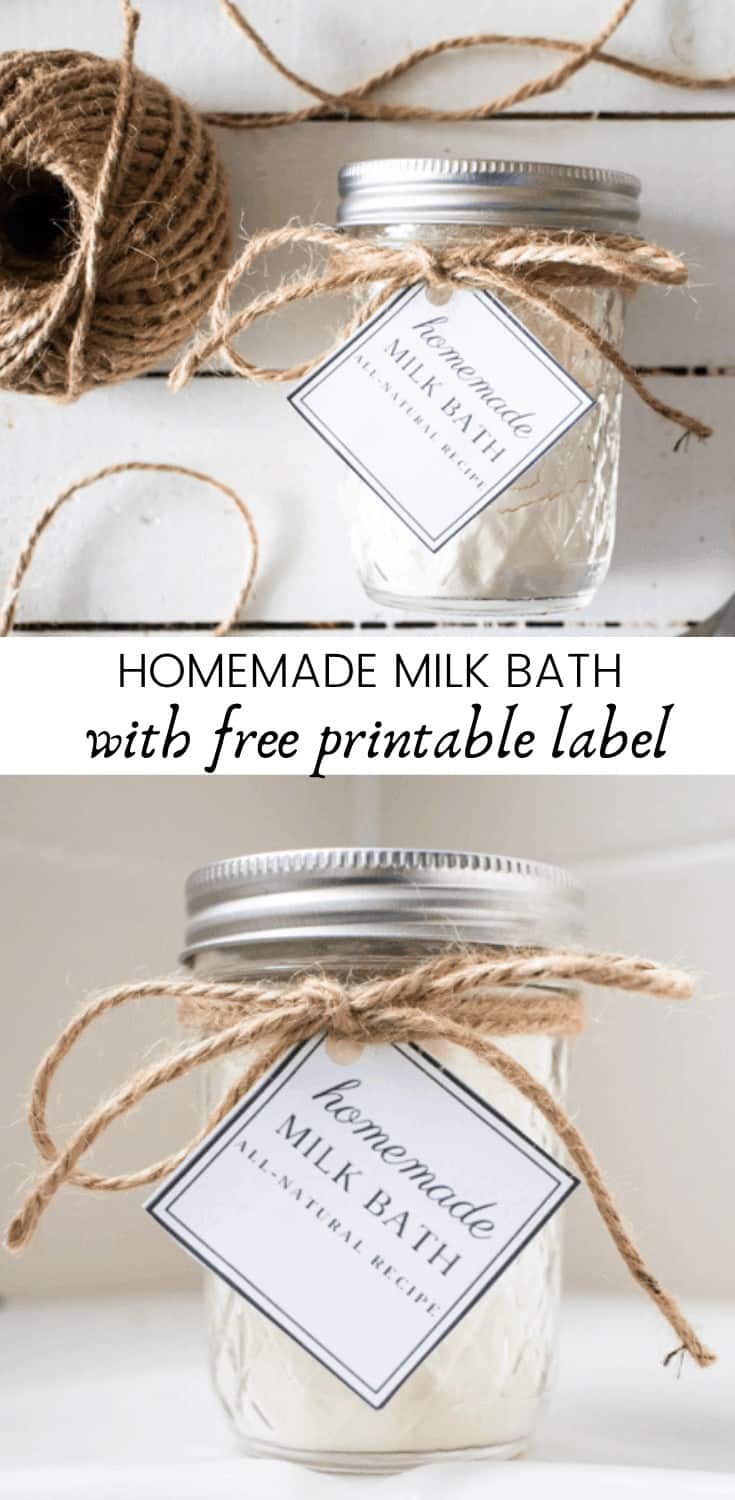 WHAT IS THE BEST MILK BATH RECIPE?
You can use regular cow's milk or powder milk for a milk bath recipe. It is best to use whole milk, 2% or skim milk will not work with this recipe as neither contains enough fat. The more fat, the better! You can also use goat's milk if you prefer.
A milk bath can be done with just milk. Or you can add in a few extra ingredients to make it even more soothing for the skin. I like to add in lavender essential oil and baking soda.
This post contains affiliate links, which means I make a small commission at no extra cost to you. Get my full disclosure HERE.
MILK BATH INGREDIENTS
2 cups powdered whole milk
1/2 cup baking soda
10 drops lavender essential oil
OPTIONAL 1/4 cup Epsom salt
WHAT ARE THE BENEFITS OF A MILK BATH?

Milk baths are made with ingredients that can help soothe skin irritations and leave your skin soft and smooth. A warm bath alone can be relaxing, but try taking a milk bath with essential oils, and it really is the ultimate relaxer.
SOOTHES SKIN
The protein and fat found in milk can soothe skin irritations and leave skin extra soft. Milk bath soaks can be especially good for someone with dry, flaky skin.
And while this milk bath is perfect for the whole body, if you are trying to soften dried or calloused skin on the feet, you may benefit from a foot soak first.
RELIEVE STRESS
Taking a warm milk bath with essential oils can be very relaxing and help calm the nervous system. Try taking a milk bath after a long day of work or before going to bed to promote a healthy night's sleep.
REDUCE SKIN BLEMISHES
The proteins, vitamins A and D, and amino acids found in milk can do wonders for the skin when you soak in it.
HELPS WITH ECZEMA AND PSORIASIS
A lot of times, skin conditions like eczema and psoriasis can flare up due to environmental causes, food or seasonal allergies, or even weather changes. It can be hard to pinpoint the exact reason for these rashes and it is common for them to come and go for what seems like no apparent reason.
If you are having a flare-up, milk baths may help to relieve the itchiness and bumps. As always, consult with your doctor before trying any home remedies.
RELIEVES SUNBURNS
Have you ever heard the phrase; drinking milk after eating spicy food brings relief. I totally remember this as a kid when I got into some really HOT salsa. Water only makes it worse, but milk will do the trick.
Same for sunburned skin. A milk bath can relieve the pain and cool the skin. If you don't have time for a bath soak, you can even do cold compresses of milk on the sore area for quick relief. It sounds weird, but if you are sunkissed, I bet you will try. 😉
HOW TO DO A MILK BATH?

Fill the tub with warm water. Add in milk and additional ingredients if desired. Stir the water with your hands or feet to mix the milk and water together. Soak for at least 15 minutes or longer for best results.
Rinse off with warm water. Take up to one milk bath per week for soft, healthy skin.
MORE RELAXING BATH IDEAS
BATH SALTS
Salts can be added to a warm bath to help with skin irritations, muscle aches and to detox the body. The minerals found in salts will absorb through the skin and get into your body to help with these things.
Check out my fizzing bath salt recipe and my calming bath salts.
BATH BOMBS
Bath bombs are super relaxing and so fun to make. My kids absolutely love taking a bath with a bath bomb, though I try to save them for myself. Check out my DIY bath bomb for a video tutorial and several different recipes to try.
SHOWER MELTS
If bathtime isn't feasible for you, don't worry, you can still relax in the shower with shower melts. Simply place a melt on the floor of the shower away from the stream of water. As the water hits the melt, it will release the essential oils into the air and steam of the shower. Inhale and reap the benefits!
OATMEAL BATH
Oatmeal baths can be very soothing for skin irritations and rashes. I can remember taking several of these as a kid and have already used this home remedy a few times myself on my kids.
Not only can they help with skin rashes, but oatmeal baths can be very relaxing too!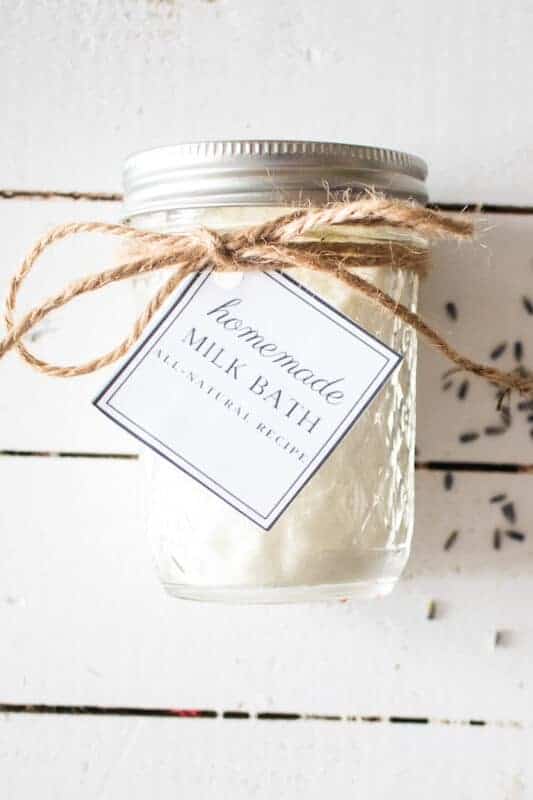 WHAT ESSENTIAL OILS CAN I USE IN A MILK BATH RECIPE?
I love using relaxing aromas like lavender or Roman chamomile, but you can also use more soothing oils like peppermint or bergamot. This really depends on preference or a particular ailment.
If I were taking a milk bath while I had a cold, I would drop in some essential oils that can help open my airways, like eucalyptus or Siberian fir. Or use minty essential oils for muscle tension or discomforts.
RELAX
Lavender + Roman Chamomile + Geranium
UPLIFT
Grapefruit + Wild Orange + Lemon
SOOTHING
Peppermint + Bergamont + Wintergreen
RESPIRATORY
Eucalyptus + Siberian Fir + Lime
Milk Bath Recipe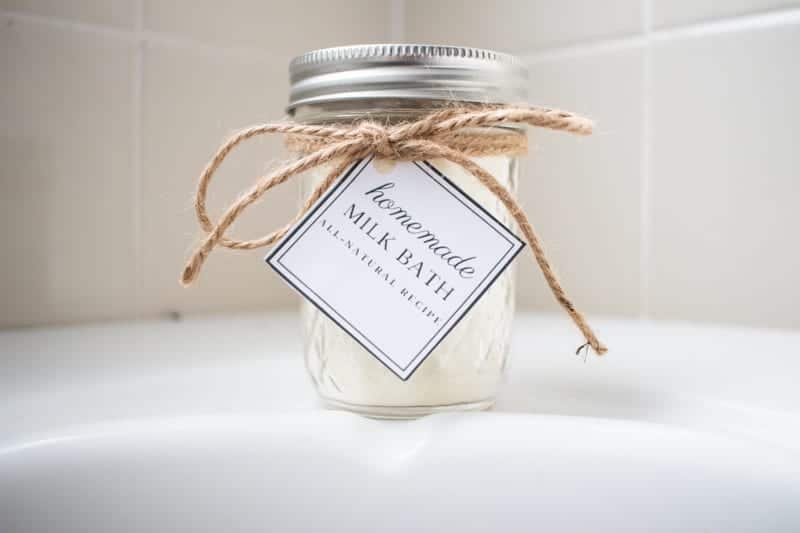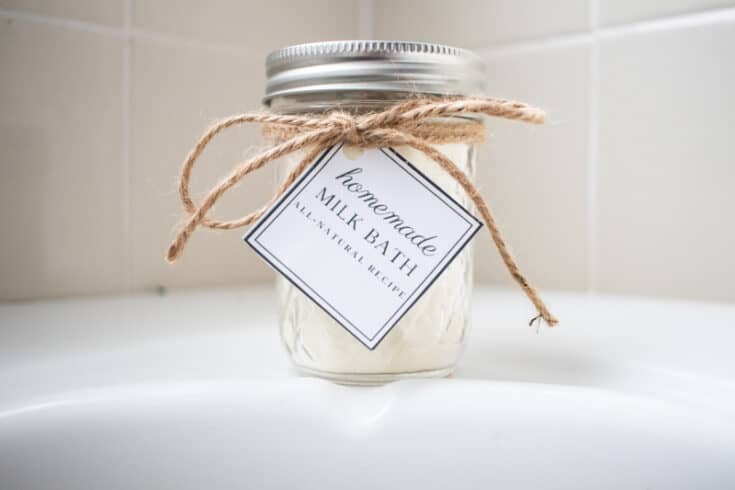 Materials
2 cups powdered whole milk 
1/2 cup baking soda
10 drops lavender essential oil
1/4 cup Epsom Salt (optional)
Instructions
Add all of the ingredients into a bowl, except the essential oil. Stir to combine.
Drop-in essential oils and mix with dry ingredients.
Pour 1/4 to 1/2 cup of the mixture into a warm bath. Soak and enjoy it!
Store leftovers in an airtight container.