Easy and all-natural poison ivy spray with jewelweed and essential oils. Stop the itch fast!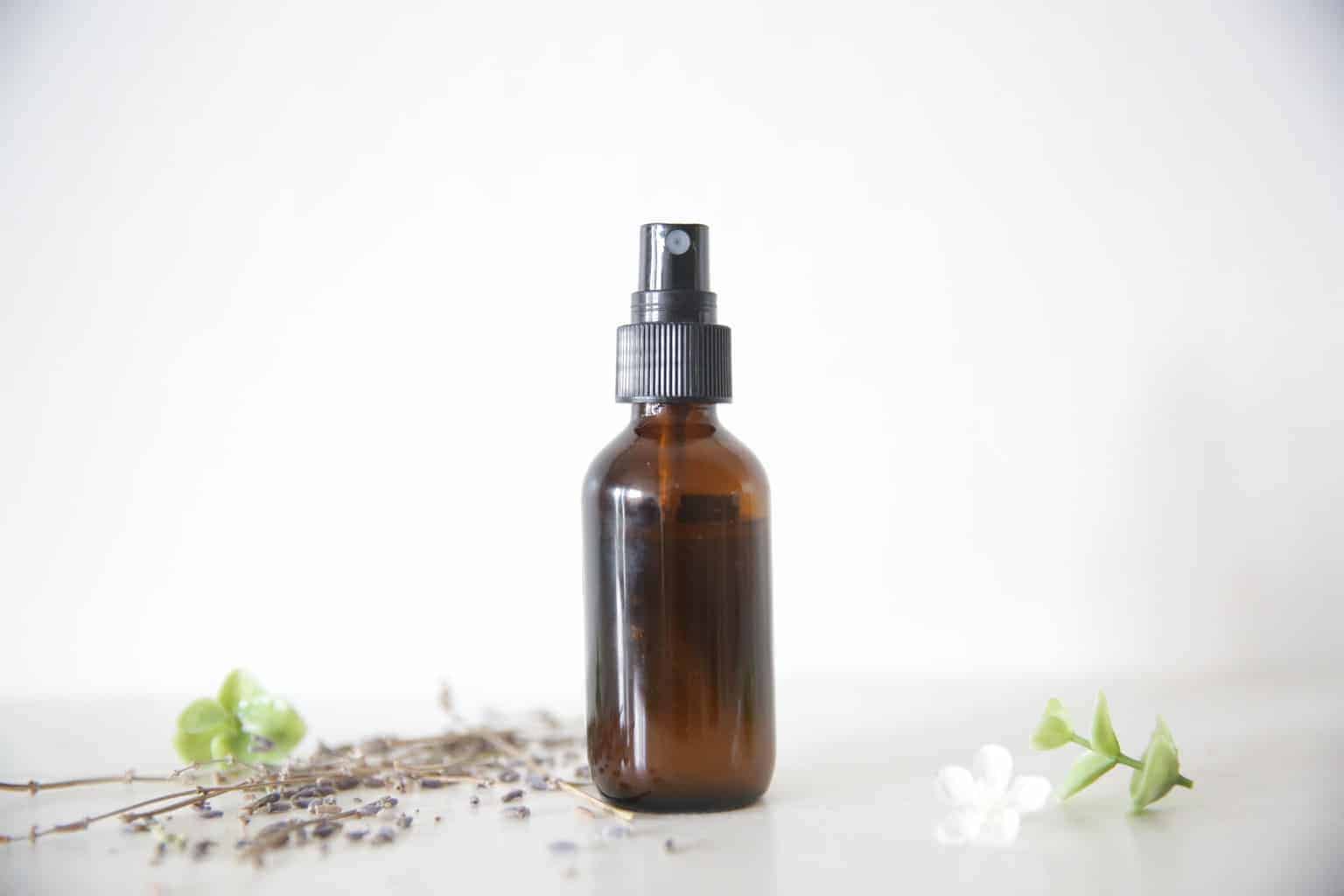 Did you know that 85% of people are allergic to poison ivy? If you are one of the lucky ones that don't react to the plant, you have no idea how itchy and irritating it can be!
Below I share several home remedies that can help relieve poison ivy rash itch and also ways to help with prevention.
THE BEST WAY TO KEEP POISON IVY FROM SPREADING IS NOT TO SCRATCH IT
I haven't dealt with poison ivy in a long time until a couple of weeks ago.
My parents have a farm that we go to almost every weekend! A creek runs through the property and we spend most of our time there swimming.
Well, unbeknownst to me, at the swimming hole, the creek bank is covered in poison ivy! I found out the hard way that my 4-year-old is allergic to it.
The next morning he had a line of three dots on his knee. After looking at it, I realized what it was but didn't do or think much about it.
A couple of days later, the poor kid had poison ivy over both his legs and some on his stomach. I immediately began researching how to get rid of poison ivy and started treating him right away.
POISON IVY PREVENTION
WASH IT OFF
Take a shower and wash your whole body well, getting any poisonous oils off the skin. The oil in the plant is what causes the rash.
Wash bedding, towels, and clothes. When you scratch the rash open, the oils can get on clothes and sheets and spread to other body parts.
Wash the skin to prevent it from spreading. Take a daily shower or bath to soothe the skin and prevent the rash from spreading.
You can find soaps made for poison ivy, or you can make your own.
HOMEMADE POISON IVY SOAP
Add 1/4 cup castile soap, 5 drops of lavender and 5 drops of roman chamomile in an 8-ounce foaming soap dispenser, and top it off with water.
DO NOT SCRATCH IT
I read a billion articles that swear touching and scratching doesn't cause it to spread, but I just don't believe it! The science behind it made sense, but it just didn't play out that way.
The rash can only come from the oils on the plant itself. However, when it is scratched open, it irritates the rash.
My son got way worse before getting better and it kept spreading. I blame it on the fact that he wouldn't leave it alone. It's hard to tell a 4-year-old not to scratch something that is so itchy. In hindsight, I should have had him wear long pants to deter him from scratching it.
DRY IT OUT
Drying the rash out will help it to heal quicker. I believe this is why scratching it makes it worse.
ESSENTIAL OIL TINCTURE
You can make a tincture with vodka, jewelweed, and several essential oils. Spray this on the poison ivy rash often. It will help it to dry up quickly, the bumps go down, and the rash will start to fade away.
POISON IVY SPRAY INGREDIENTS
Jewel Weed
Vodka/Rubbing Alcohol

Geranium essential oil

Roman chamomile essential oil

Lavender essential oil
Frankincense essential oil

DoTERRA Purify essential oil blend
SPRAY INSTRUCTIONS
Add Jewelweed ( fresh blooming jewelweed is the best) to a mason jar and cover with vodka or rubbing alcohol.

Let sit in the dark for 2 weeks.

Strain and store in glass mason jars.

I like to have this on hand!
Add 3-5 drops of each essential oil to the tincture.
Spray on poison ivy rash or on the skin that was exposed to poison ivy.
JEWELWEED
It is best to use local jewelweed because it is an antidote to poison ivy and they usually grow close together. Local jewelweed will be the correct antidote for that strand of poison ivy.
Jewelweed can be found on sunny creek banks or near bodies of water. Lots of times, it grows right next to poison ivy. You can collect it between June-August when it is blooming and make tinctures to have on hand during the summer months when poison ivy is a threat.
If you DO NOT have a jewelweed tincture already made up and you need to treat poison ivy right away, you can omit that part of the recipe. Add your essential oils to straight vodka or rubbing alcohol. The alcohol is great at drying the skin out and the oils will treat the rash.
OUR STORY
I saw results right away when I started using the spray on my son! I plan to PREVENT the rest of summer by keeping him out of poison ivy as much as possible, making him wear long pants, giving him a bath with the roman chamomile and lavender soap after being exposed, and spraying the tincture on his legs.
PIN IT FOR LATER
This post contains affiliate links, which means I make a small commission at no extra cost to you. Get my full disclosure here.
Have you tried any home remedies for poison ivy? What worked for you?
Shop the supplies: