Are you eager to try out wool dryer balls? Discover the incredible benefits that make them a laundry room essential right here in this post! Save money, save electricity, and save on your ironing pile!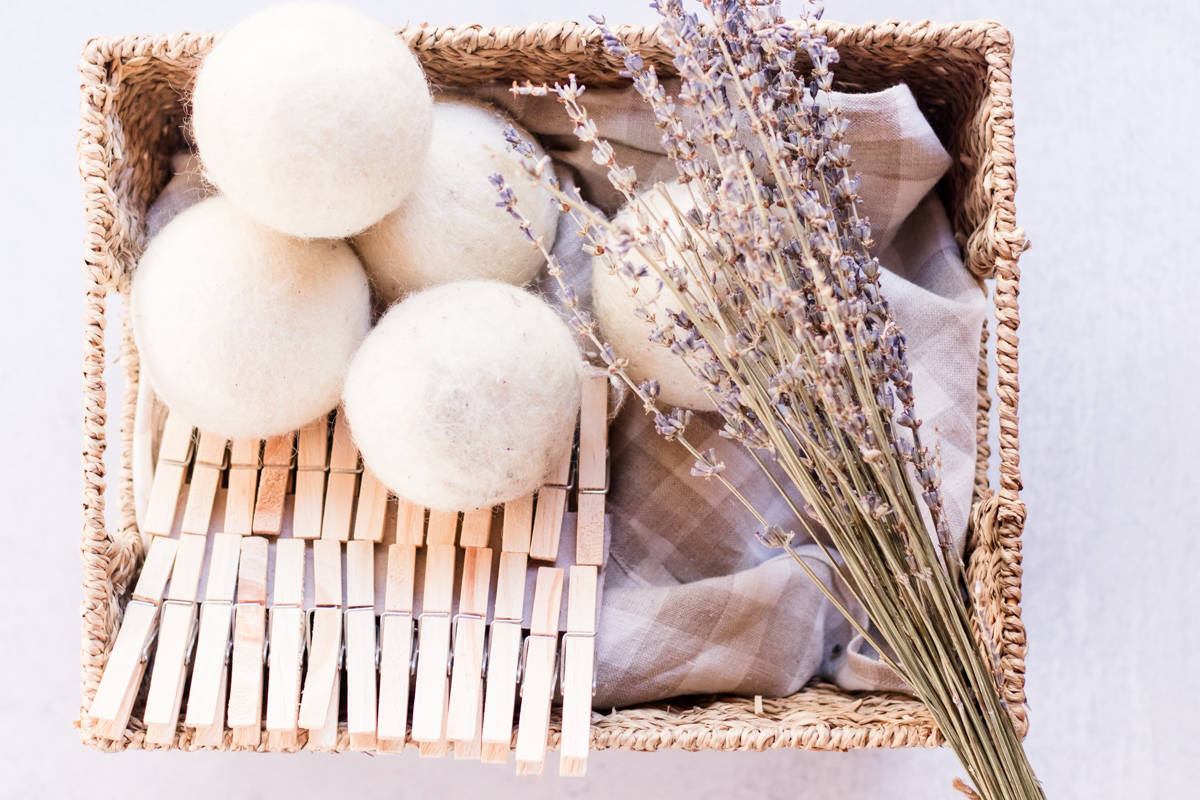 Have you tried wool dryer balls yet?
Perhaps you've heard of them or seen them in magazines or ads on socials, yet have not taken the plunge and tried them out yourself.
I confess – I was a little unsure the first time I popped some wool dryer balls in my dryer.
Would they survive the cycle (the heat?!)
Could they really help reduce my ironing load?
Would my clothes smell nicer and look better?
Well, let me tell you, after using wool dryer balls for several years now, I can honestly say I am more than happy with the results!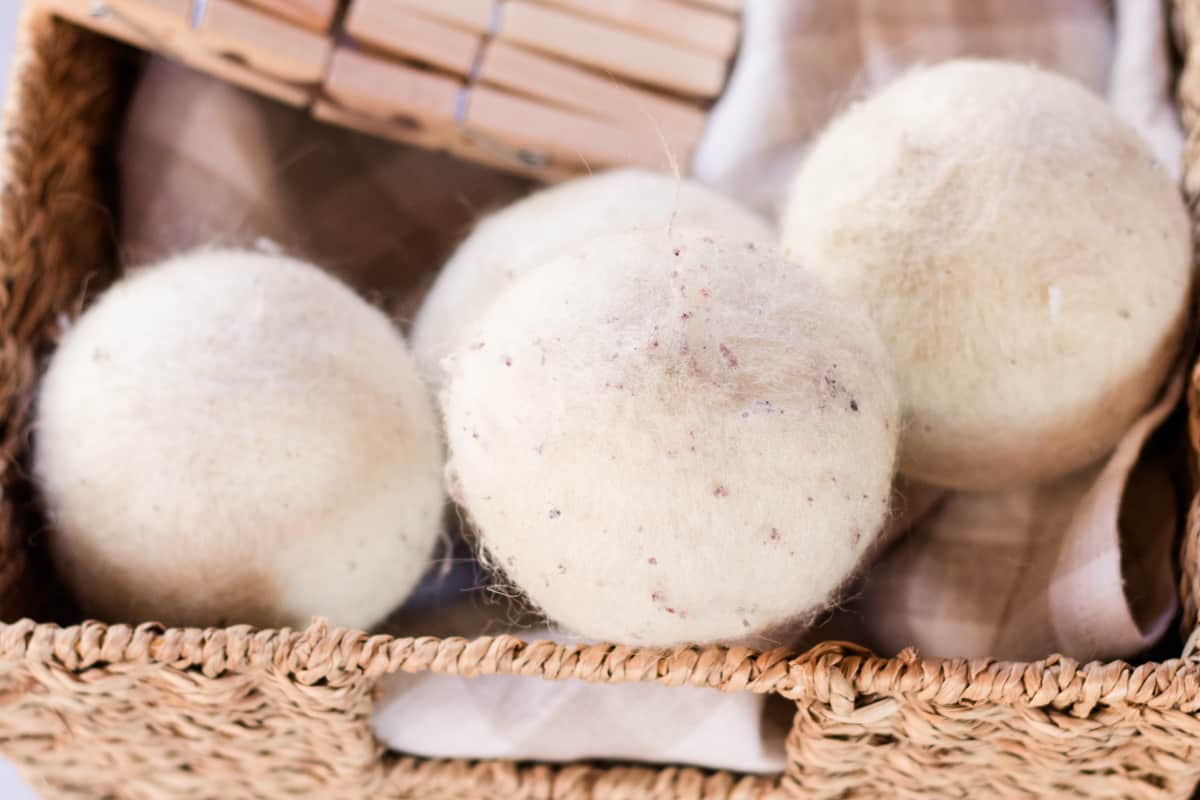 Top 10 benefits of wool dryer balls
#1 Bye Bye Wrinkles
Oh, the wrinkles on clothes after a drying cycle. After all, that ironing pile isn't going to iron itself (wishful thinking?)
And that right there is one of the best things about wool dryer balls if you ask me. As a busy mom to my beautiful family, I sure have a heck of an ironing pile that never, ever seems to end.
Yet my wool dryer balls help keep the load at a manageable level.
According to Maytag, they work like magic to release creases in your clothes while in the dryer.
The understanding is that the balls bounce around during the drying cycle, smoothing the clothes out as they go.
Trust me, there's a glorious satisfaction when you open the dryer and see not only dry clothes but crease-free clothes, too!
Of course, should your clothes end up in the clothes basket for days, you may need to enlist the help of a wrinkle-release spray.
#2 Much kinder to the planet
Another great thing about wool dryer balls is they save on plastic waste by eliminating the need for dryer sheets.
Think about it. Dryer sheets are for one-time use only, and then they end up in your trash bin. Plus, there is all the one-time-use packaging they come in.
On the other hand, wool dryer balls are reusable hundreds if not thousands of times. They are 100% natural in origin, so no more worrying about chemicals building up in your dryer or clothing from those dryer sheets, which there are many, according to this article.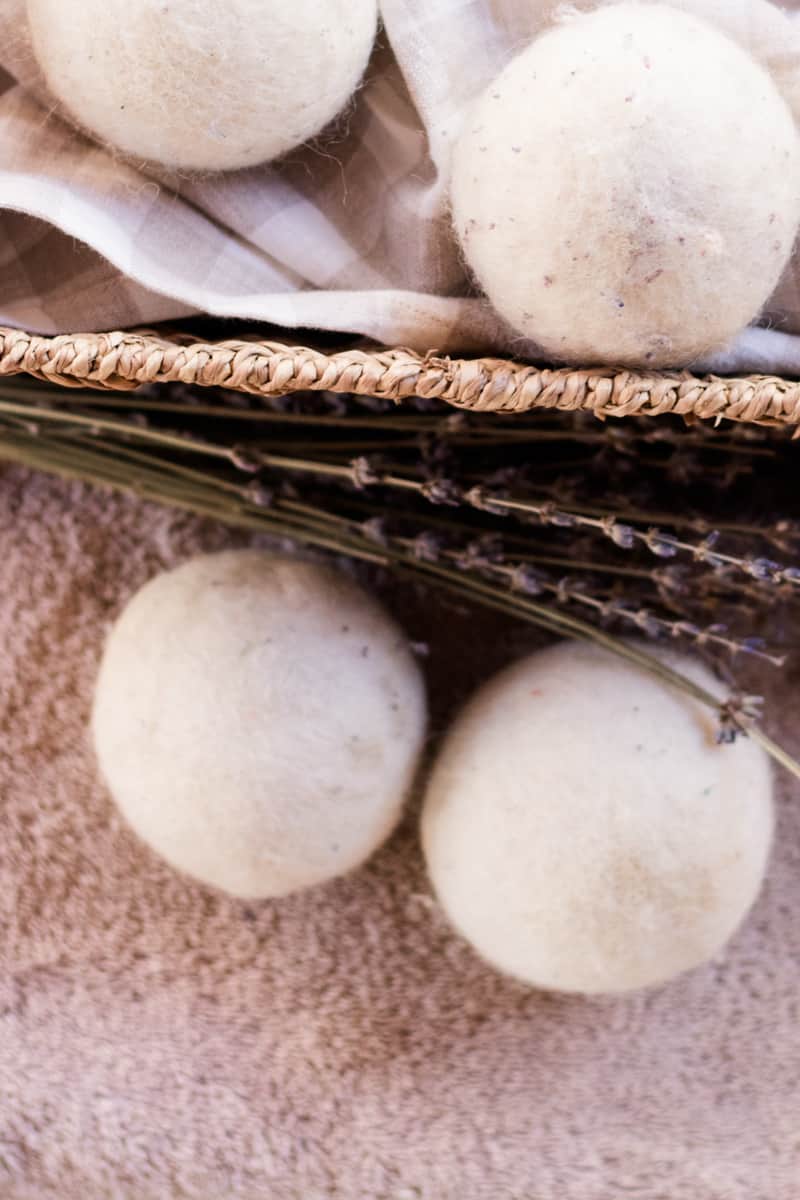 #3 Speedy drying time
We've all been there. We want more than anything for the dryer cycle to end so we can go out and do what we need to do!
Enter: Wool dryer balls!
One of the many benefits of wool dryer balls is they improve the efficiency of your dryer by helping separate out your clothes, speeding up the drying process.
In fact, some studies agree that drying time may be reduced by up to 50% in some cases, which saves on cost and time!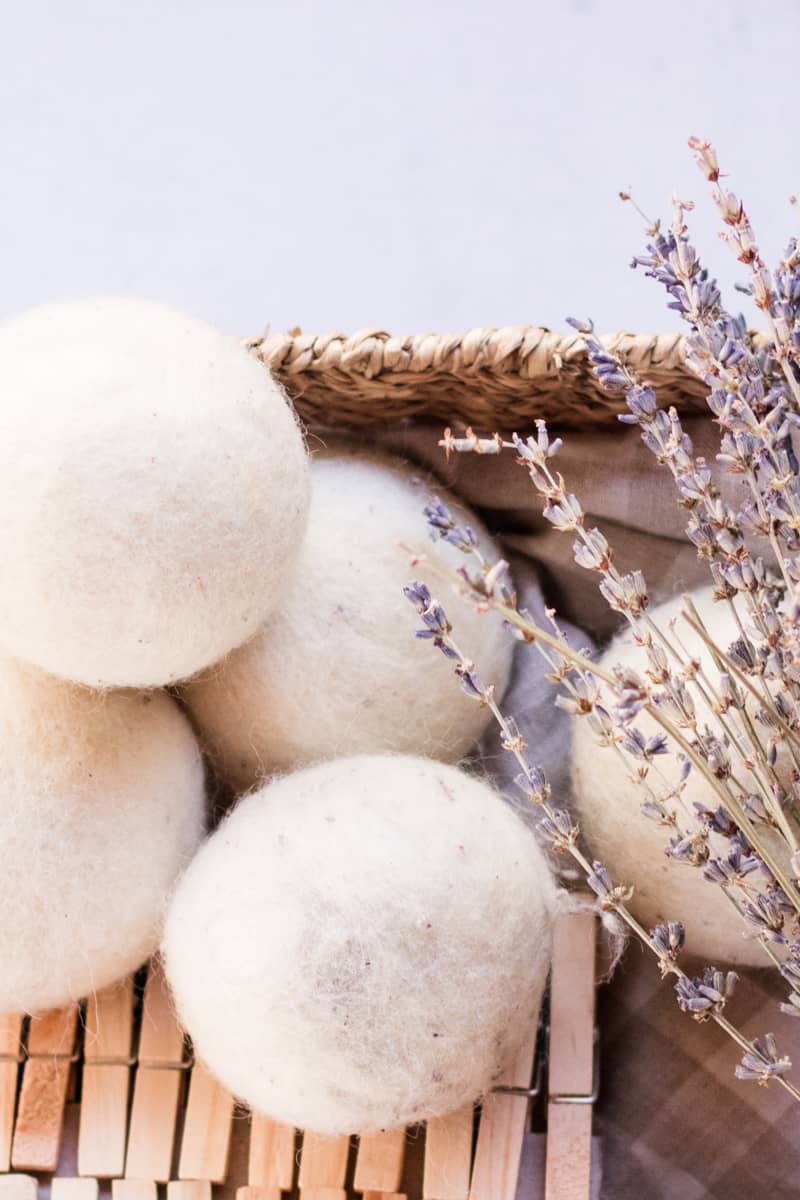 #4 Wonderfully scented clothes
Do you ever find that wonderful, fresh laundry scent just disappears when using the dryer on your clothes?
If yes, you need to try fragrant wool dryer balls!
It's easy to fragrance the balls yourself with natural herbs from your garden or the store. You can also add a few drops of essential oils of choice to your dryer balls periodically.
The fact is that dryer balls are so easy to add scent to, leaving clothes smelling gorgeous, too!
A word of caution: Some essential oils have a low flash point that could potentially become a fire hazard and should not be used on your dryer balls.
Of course, you could also add some laundry scent boosters to your load!
#5 Softens clothes
Whenever I get asked the question, "What do wool dryer balls actually do?" I focus on three main things in particular.
These are:
Enhanced drying time
Reduced ironing pile
Softer clothes
That third point is super important in my home; what with having young children, I'm eager to care for their delicate skin and keep them healthy by wearing soft, non-synthetic clothes.
Which is why having soft clothes matters to me so much. No one likes a scratchy sweater or crispy, harsh jeans on their skin, am I right? Least of all the kids!
So, opt for the cozy option. A softened sweater. A silky soft blanket. A fleecy soft cardigan.
You get the drift. And wool dryer balls will get you there. And if that's not enough, consider adding a natural fabric softener to your next load!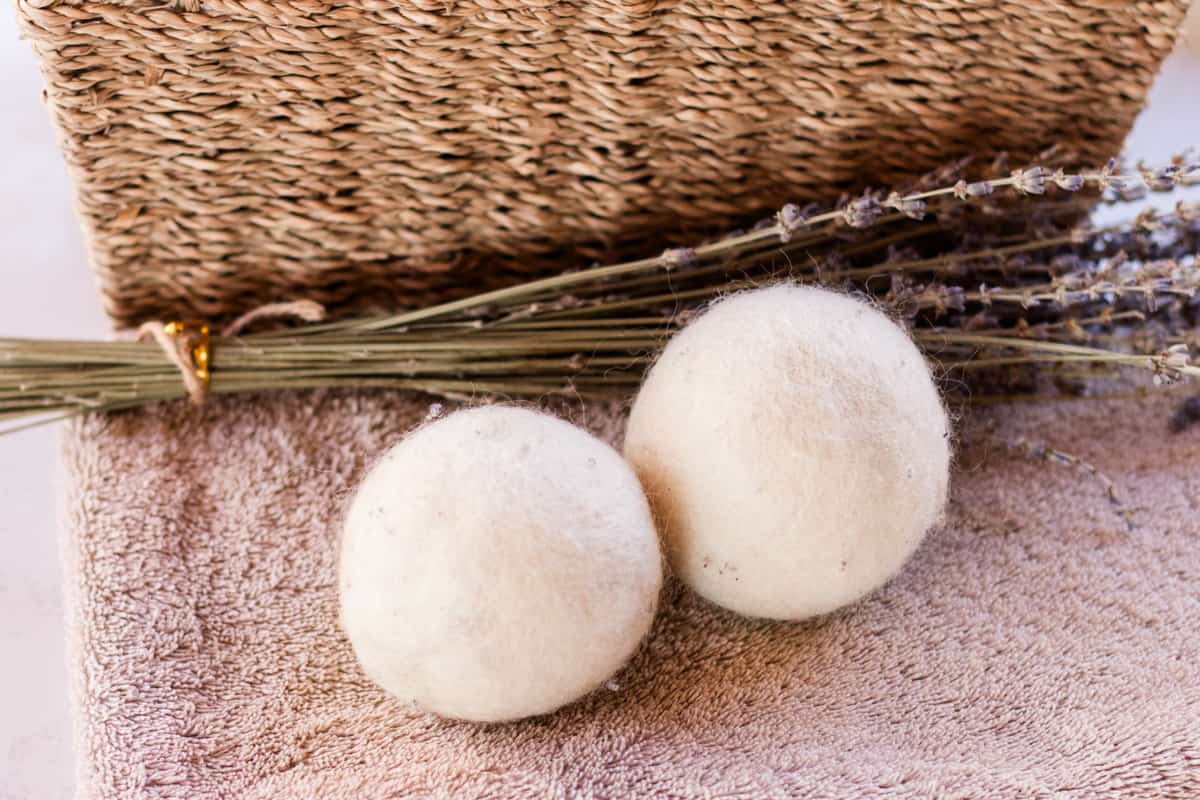 #6 No more static
That feeling of static shock you get when you pull your clothes out of the dryer? Or when it sticks to your skin in the most uncomfortable places?
Yet, thanks to wool dryer balls, that's definitely a thing of the past.
Look at it this way: if you're still after an answer to the question: Why use wool dryer balls, then perhaps reducing static on your clothes is worth it.
Please note that most of the claims of reduced static are based on personal experiences, with no studies backing them up.
#7 Budget-friendly
I seriously love this feature about dryer balls. You literally pay once for them, and yet you get to use them again and again.
Compared to costly dryer sheets, which add a substantial sum to your weekly grocery bill, wool dryer balls are far more economical.
The catch is – you've got to use them. Otherwise, it beats the object of buying reusable dryer balls in the first place…
I will say this, though. I've had a batch of dryer balls on the go for years. And I've used them from memory in nearly every drying session – so when I say they last, they really do last!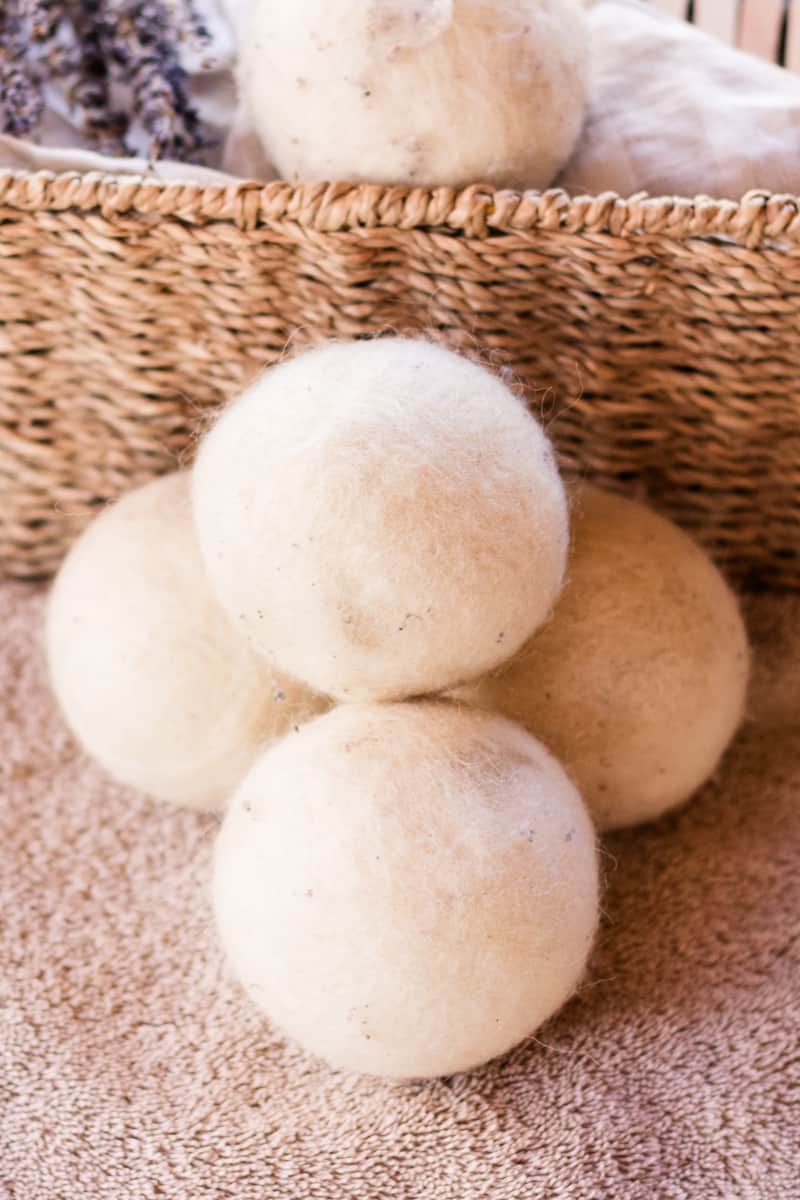 #8 Reduce the amount of lint
There's nothing quite so frustrating as shaking out an old sweater and seeing lint fly everywhere.
The good news is that dryer balls can help reduce lint buildup by creating space between clothing items in the dryer.
This increased airflow allows the fabric fibers to separate and prevents the formation of excess lint.
Additionally, the gentle bouncing motion of the dryer balls helps to loosen and release any existing lint from the clothing, further reducing the buildup!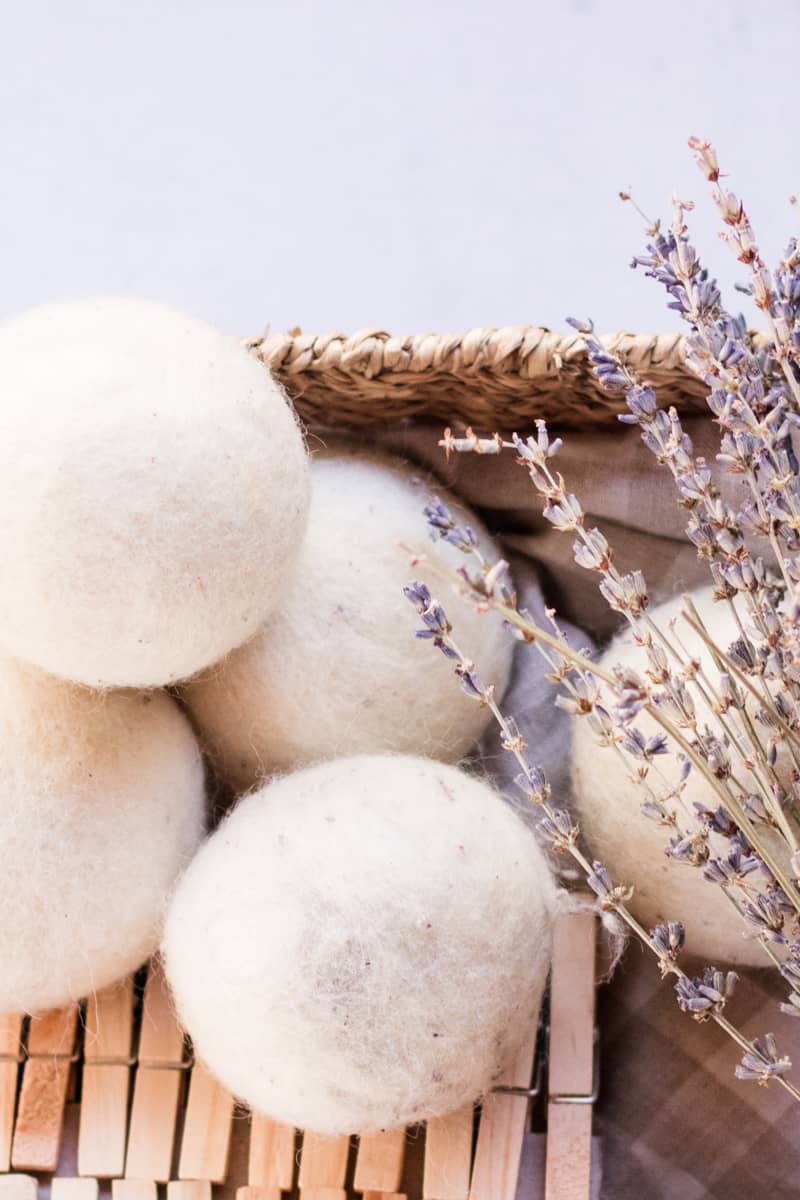 #9 Hypoallergenic
This point needs to be explained further.
Essentially, there are different types of dryer balls you can buy.
Some are made from plastic, which I have never used. Others are made from synthetic rubber or alternative manmade materials and come with all sorts of elaborate surface features, such as soft spikes or little bumps. (which I have never used either)
My recommendation would be to keep your life simple (and healthy) and buy 100% wool dryer balls instead.
My vote will always be wool dryer balls because they're natural, biodegradable, and hypoallergenic, which means they're far less likely to trigger an allergic reaction.
#10 Energy cost savings
The last benefit I'll share is how much money you can save on your energy bills when using wool dryer balls.
The reason for this is super simple – wool dryer balls shorten the drying cycle time, reducing the time the machine runs.
And when you add up the minutes saved over the course of one year, it adds up to a substantial amount of money!
Money saved is money earned, as the saying goes…
Extra things to know
All dryer balls will add some noise to your dryer, yet the advantage of wool dryer balls is that they're way quieter than plastic or rubber.
You need to look after your dryer balls! Don't leave them in the dryer after a cycle. Instead, bring them out and let them breathe. They also need a wash occasionally to stay fresh and to function optimally.
To finish
I'm sure you see how wool dryer balls have enormous benefits and will improve your laundry routine immensely.
They're an inexpensive, natural, non-toxic alternative to fabric softeners and dryer sheets while reducing your drying time, limiting energy costs, and eliminating wrinkles and static cling on your clothes.
I admit I'm a bit of a laundry geek. I actually clean my washing machine and make my own laundry soap, but hey, if it saves me money and I can reduce waste in the process, I consider that a win!
Thanks for reading. I do know a lot of the benefits listed above only have anecdotal evidence, so my best advice for you is to try it for yourself!
And finally, if you are interested in some of my other laundry-related posts, consider reading one of these next!