Cozy up with this delicious paleo peppermint hot chocolate on a cold night: dairy-free, gluten-free, and refined sugar-free hot cocoa.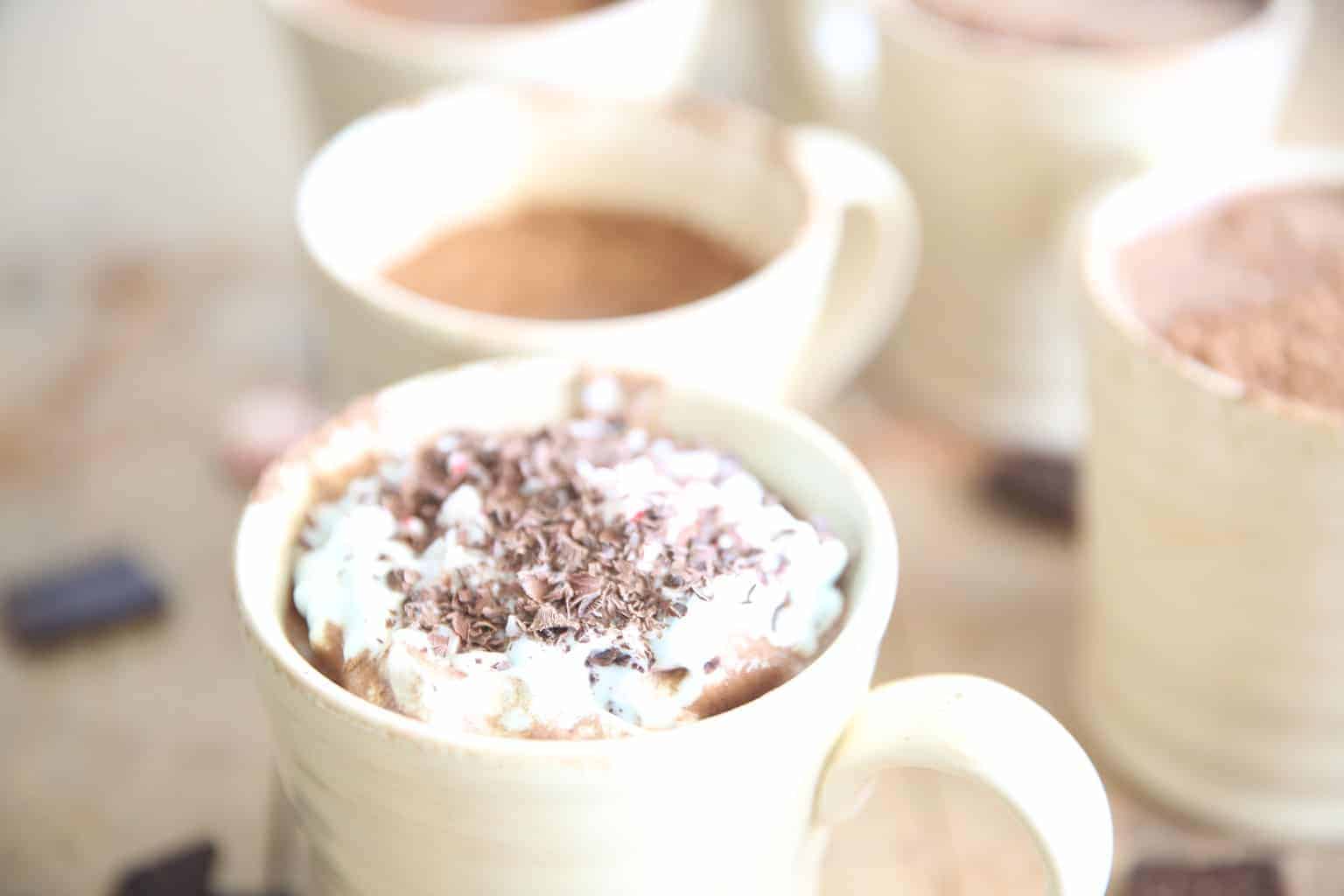 One of my favorite childhood memories is drinking hot cocoa after coming inside from playing in the snow. Usually cuddled up on the couch watching a Christmas movie. Ok, now, this is making me want snow, like right now.
I have already started this same tradition with my kiddos. Therefore it is a given that we will watch Christmas movies and drink a lot of hot cocoa this winter season.

COOKING WITH ESSENTIAL OILS
Most often, I share natural remedies or DIY home products, but I like throwing in a cooking recipe now and then. Essential oils can be used for culinary purposes and add a burst of flavor to any dish.
There are a few things to know before you start using essential oils in your kitchen.
Not all essential oils are safe for internal use. Be sure to be using a brand that bottles high-quality, pure, organic oils that are free from any adders or fillers. Learn more about the oils I use here.
A little goes a long way. Essential oils are very concentrated, and in most cases, 1 drop is plenty per meal.
One drop of essential oil can be substituted for 1 tablespoon of dried herb in most recipes.
If you need less than one drop, you can use the "toothpick drop" method.
ABOUT THE INGREDIENTS PALEO PEPPERMINT HOT CHOCOLATE
ALMOND MILK
This plant-based milk has a creamy texture and nutty flavor, a great option for anyone that has a dairy allergy.
Almonds are high in protein, contain healthy fat, fiber, and vitamin E. They are known to lower blood sugar, blood pressure, and cholesterol levels.
COCONUT MILK
Coconut milk comes from the white flesh of mature coconuts. It has a really thick consistency and a rich, creamy texture.
Similar to almond milk, coconut milk also contains healthy fats and is loaded with vitamins. Coconut milk has a significant source of protein, fiber, vitamin C, folate, iron, magnesium, and potassium.
REGULAR MILK
With all these new dairy-free "milks" on the market, I feel like regular ol' cows milk got the boot. My son has a casein allergy, which is the protein found in milk, so we stock the dairy-free options in our house. However, the rest of us tolerate dairy just fine. I believe if you are using the right source, cow's milk is very healthy for you.
We live a couple of miles from a local dairy farmer and get all of our milk from him. It is raw, fresh, and organic. The cows are grass-fed. I mainly make yogurt or kefir with it, but we do enjoy it plain from time to time.
Clean raw milk from grass-fed cows is full of healthy amino acids and beneficial enzymes. You can find raw milk farmers in your area using this website.
Pasteurization destroys all the probiotics and enzymes in raw milk, making it much more difficult to digest and tolerate. If raw milk isn't available in your area, stick to one of the dairy-free options.
COCONUT SUGAR
Coconut sugar is a palm sugar produced from the sap of the flower bud stem of the coconut palm. It has a lower glycemic index than regular table sugar, making it a healthier option.
Coconut sugar contains vitamins, minerals, iron, and zinc. It also contains inulin, which has the ability to stimulate the growth of good bacteria in the intestines. This can help boost the immune system.
Although coconut sugar has a lot of benefits for the body, it is still sugar. Sugars should be limited because too much of any type of sugar can affect weight gain, inflammation in the body, yeast overgrowth, and cravings.
PEPPERMINT ESSENTIAL OIL
If you are a mint chocolate lover, this essential oil is going to be your favorite in the kitchen. Though I am not using it as much now because I am nursing. Peppermint can affect milk supply; therefore, stay away from it while breastfeeding.
Peppermint can alleviate stomach upset and improve respiratory and digestive function when taken internally. Add 1 drop to warm tea, desserts, or a side dish for a bold minty flavor.
PALEO PEPPERMINT HOT CHOCOLATE INGREDIENTS
1 cup unsweetened almond milk (you can use coconut milk or regular milk if desired)
one tablespoon coconut sugar
1 tablespoon cocoa powder
1/8 teaspoon vanilla
1 drop of peppermint essential oil (optional but highly recommended)
PALEO PEPPERMINT HOT CHOCOLATE INSTRUCTIONS
Add all ingredients (except peppermint essential oil) to a medium-size saucepan. Heat over low to medium heat, stirring often.
When the desired temperature is met, remove it from the heat.
Pour into a mug and add peppermint essential oil. Stir well.
Serve hot.
NOTE: One drop may be too strong depending on how minty you like it; use the toothpick drop if you want less. Place the tip of a toothpick in the peppermint essential oil bottle to get a little oil on it. Swirl the toothpick into the hot chocolate to give it flavor without overpowering it.
OTHER PALEO RECIPES YOU MAY ENJOY
PIN IT FOR LATER
Yield: 1 person
PALEO PEPPERMINT HOT CHOCOLATE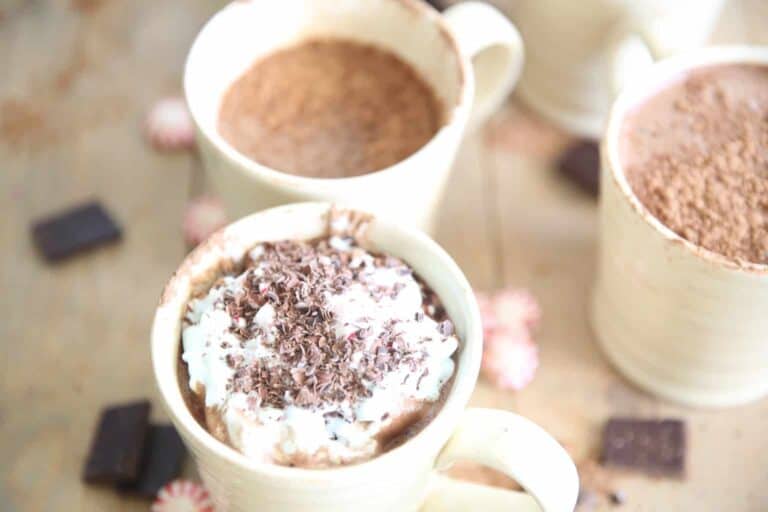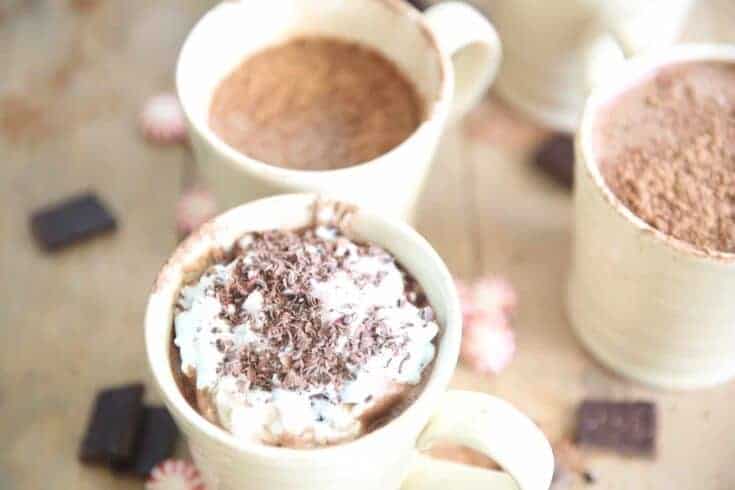 Ingredients
1 cup unsweetened almond milk
1 tbsp coconut sugar
1 tbsp cocoa powder
1/8 tsp vanilla
1 drop peppermint essential oil (can use the toothpick drop if one drop is too much)
Instructions
Add all ingredients (except peppermint essential oil) to a medium-size saucepan. Heat over low to medium heat, stirring often.
When desired temperature is met, remove from the heat.
Pour into a mug and add peppermint essential oil. Stir well.
Serve hot.