Paleo bacon avocado fries are an easy appetizer perfect for New Year's Eve, Christmas, or any other holiday. This whole30 approved appetizer is crispy with a spicy kick for the best flavor. You're going to love these paleo-approved, whole30 compliant, healthy bacon-wrapped avocado fries.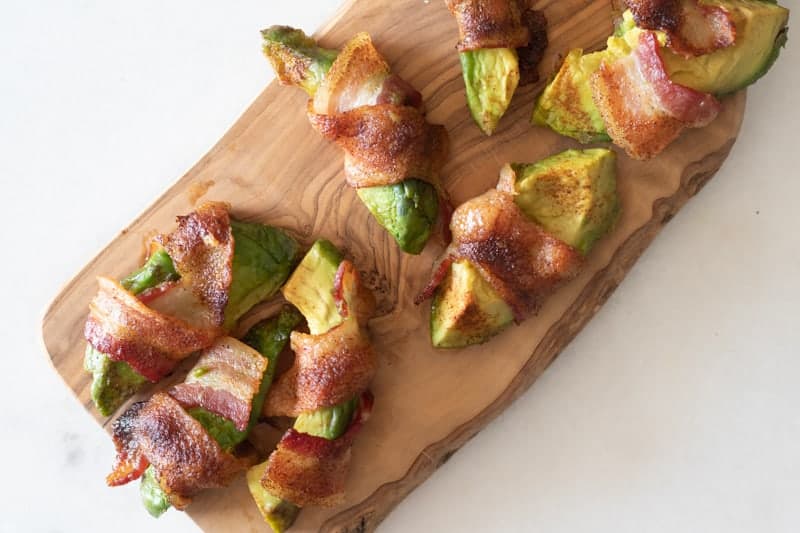 PALEO BACON AVOCADO FRIES
These bacon avocado fries are a must-have appetizer for any and all occasions! How can you go wrong with anything wrapped in bacon? Ya can't! Having a healthy appetizer that is easy to make, and delicious is a win-win for this mama!
Bacon is such a comfort food that adds so much flavor to every dish. Paired with avocados, it is one of the most delicious flavor combinations. I love that it is a healthy snack that is filling too.
I am a big fan of avocados, and I love to serve them with most of our meals. They are loaded with health benefits, and they are so easy to prepare. AKA cut them open, and they are ready to go. I decided to jazz our favorite food up by wrapping them in bacon. This healthy appetizer will quickly become a family favorite.
PIN IT FOR LATER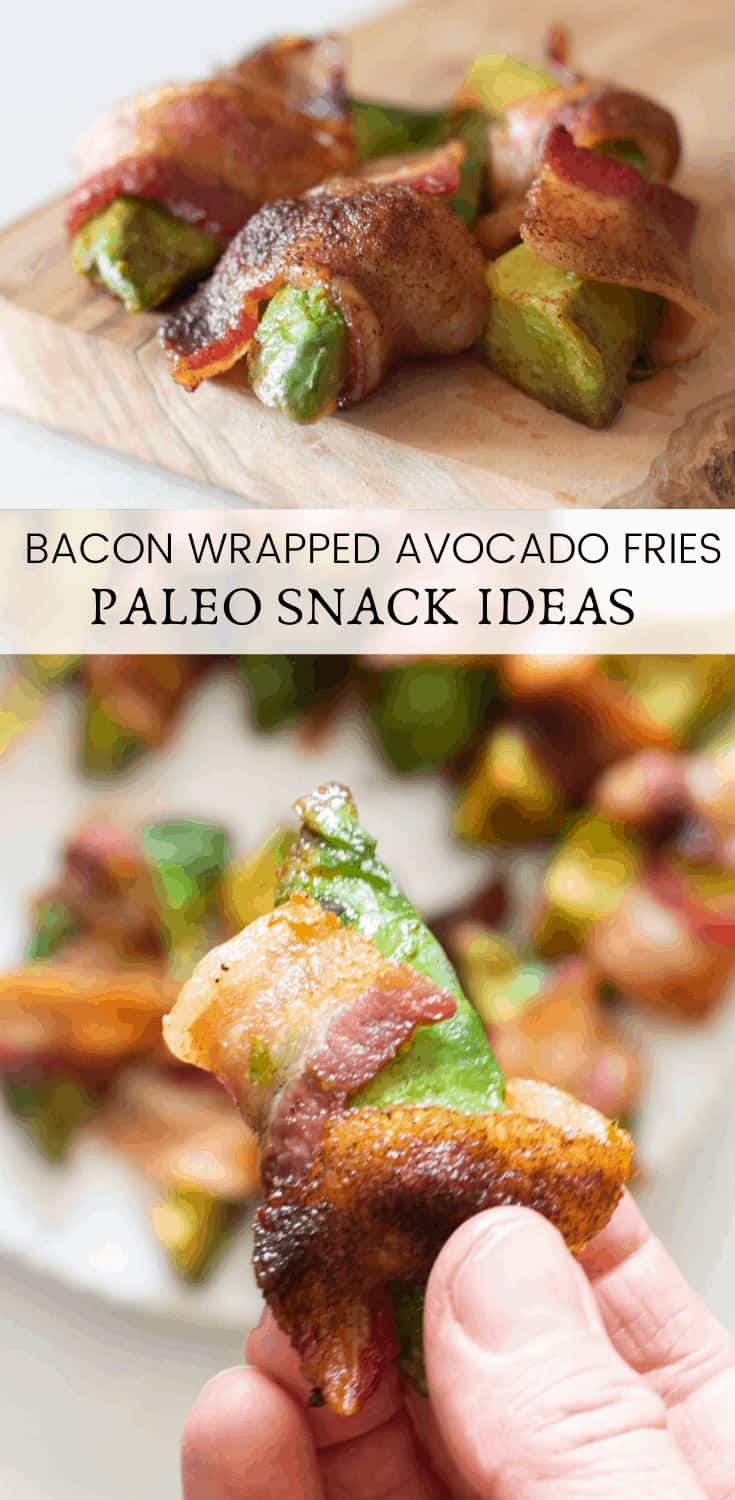 HEALTHY PALEO SNACKS
The paleo diet consists of healthy fats, oils, organic meats, and lots of fresh fruits and vegetables. It is a diet that is dairy and gluten-free, refined sugar-free, and allows no processed foods. It is very similar to the whole30 diet, except you can create gluten-free desserts using natural sugars like honey, coconut sugar, and maple syrup.
Finding paleo-approved snacks and whole30 compliant snacks are a must, as you don't want to feel hungry when on the diet. I love high-protein snacks because they can keep you full longer and give you a boost of energy. These healthy bacon avocado fries are just the thing for a quick, easy, and healthy paleo-approved snack.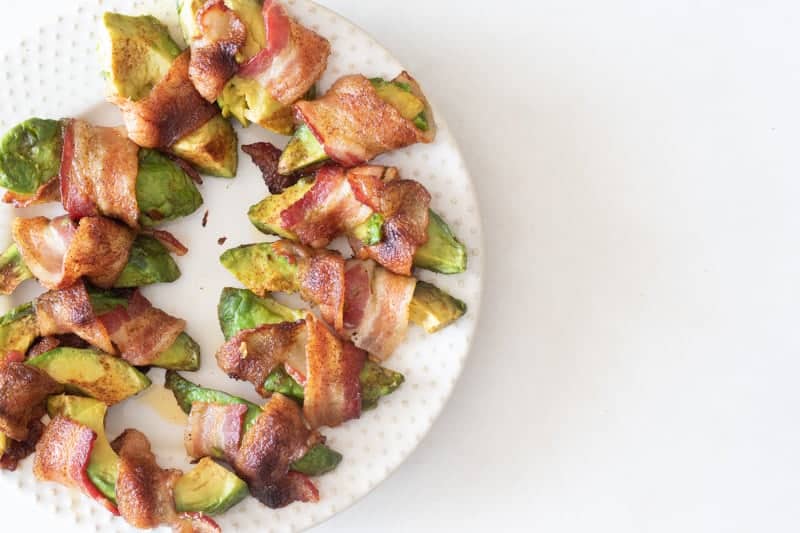 PALEO SNACK IDEAS
Anytime I can incorporate a vegetable or something green into a snack is a plus. My kids think these avocado fries are delicious and request them for snacktime often!
More paleo snack ideas:
Chicken Strips with Avocado Dipping Sauce
Meatballs with Cranberry Chili Sauce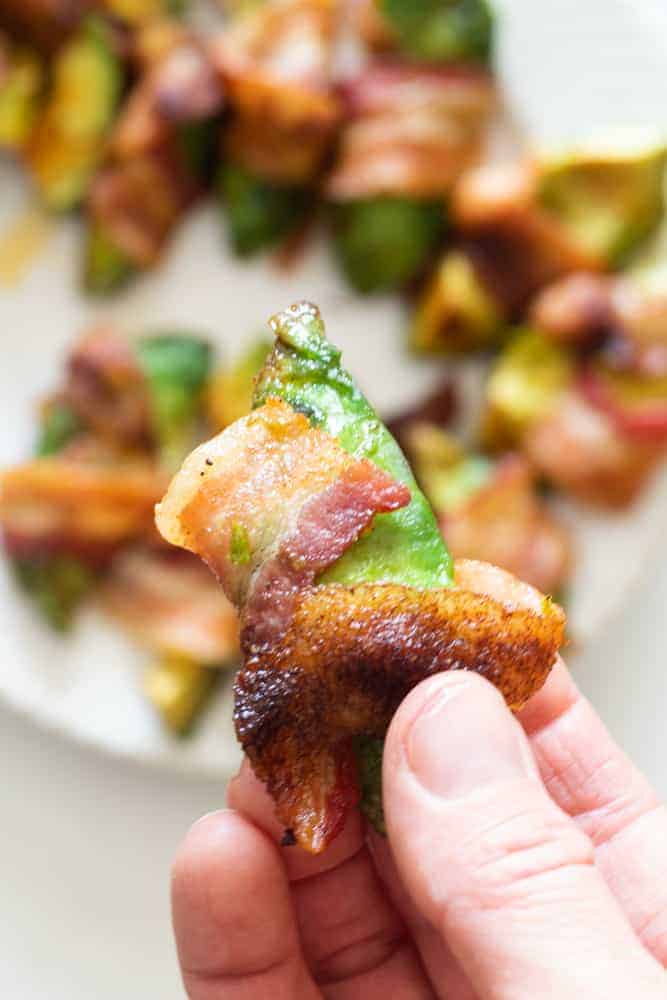 BACON AVOCADO FRIES RECIPE
INGREDIENTS
Large avocados, ripe
Bacon
Paprika
Garlic salt
Cumin
INSTRUCTIONS
Preheat the oven to 425 degrees and line a baking sheet with parchment paper.
Cut avocados into slices lengthwise and sprinkle with spices.
Wrap each avocado slice with one strip of bacon and place it on the baking sheet.
Bake for 25-30 minutes or until the bacon is crispy.
RECIPE NOTES
Serve immediately with a side of paleo spicy dip. Find the recipe below.
You can use precooked bacon if you prefer; however, I have not been able to find a brand that I love with clean ingredients. If you decide to use precooked, you can cut the cooking time down to 5-10 minutes or until bacon is crispy.
Leave out the paprika for a more mild flavor.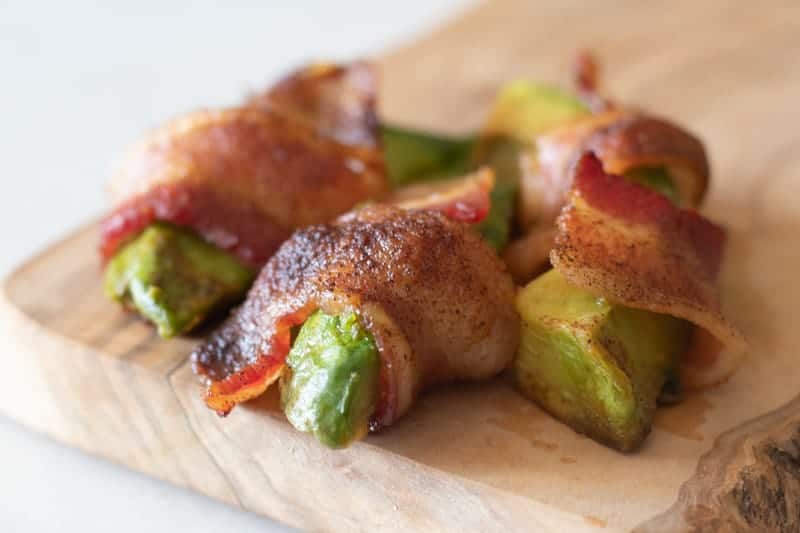 PALEO SPICY DIP
These avocado fries are delicious to eat plain, but you can really jazz this appetizer up by making this super simple paleo-approved dipping sauce. All you need to make it is avocado mayonnaise (homemade mayonnaise recipe below) and hot sauce.
Put 1/2 of a cup of mayonnaise in a small bowl and add 1 teaspoon of hot sauce. Stir until well combined. You can adjust the amount of hot sauce to fit your level of spiciness.
This makes the most delicious dip for the bacon-wrapped avocado fries!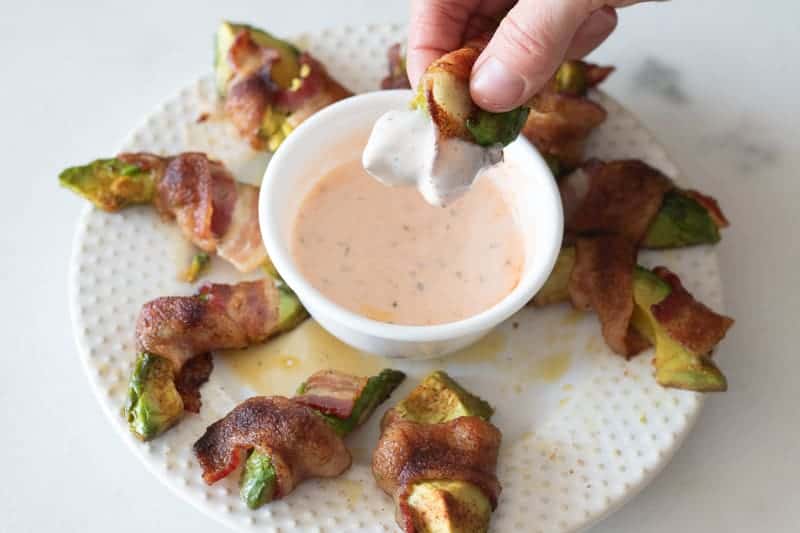 HOW TO MAKE HOMEMADE MAYO
INGREDIENTS
1 cup avocado oil
1 egg
2 teaspoons vinegar (or lemon juice)
1/2 teaspoon salt
INSTRUCTIONS
Add all the ingredients to a wide-mouth mason jar.
Blend with an immersion blender. Start at the bottom, and as you see the liquid turning creamy and white, work the blender upward towards the top. This takes about 3 minutes total.
This post contains affiliate links, which means I make a small commission at no extra cost to you. Get my full disclosure HERE.
This is the immersion blender I have.
HOW LONG DO BACON WRAPPED AVOCADO FRIES LAST?
Anything that is made with avocados is best to eat right away, as the avocados will brown quickly. These are most delicious straight out of the oven while the avocado is fresh and the bacon is crispy.
WHAT KIND OF BACON IS BEST?
The kind of bacon you use is really important. Be sure to watch your labels and look for things like nitrate-free and sugar-free. I have found a few different brands that are healthy at our local supermarket. Applegate has a whole30 compliant bacon that is very delicious and easy to find. I have seen it at Walmart, Kroger, Fresh Thyme, and Whole Foods.
Pederson's Farms also has healthy bacon that is uncured and free of added sugar.
HEALTH BENEFITS OF AVOCADOS
Eating an avocado a day will keep the doctor away. I know you have heard that saying, but for real, eating one a day is a great goal!
Avocados are loaded with health benefits and are becoming very popular in the healthy food world. The green fruit is creamy, has a light flavor, and is rich in vitamins.
Avocados are a great source of vitamins C, E, K, and B-6, as well as riboflavin, niacin, folate, pantothenic acid, magnesium, and potassium. They are considered a healthy fat and can be paired with almost anything! Have you ever tried sliced avocados on pizza? Don't judge until you try!
Paleo Bacon Avocado Fries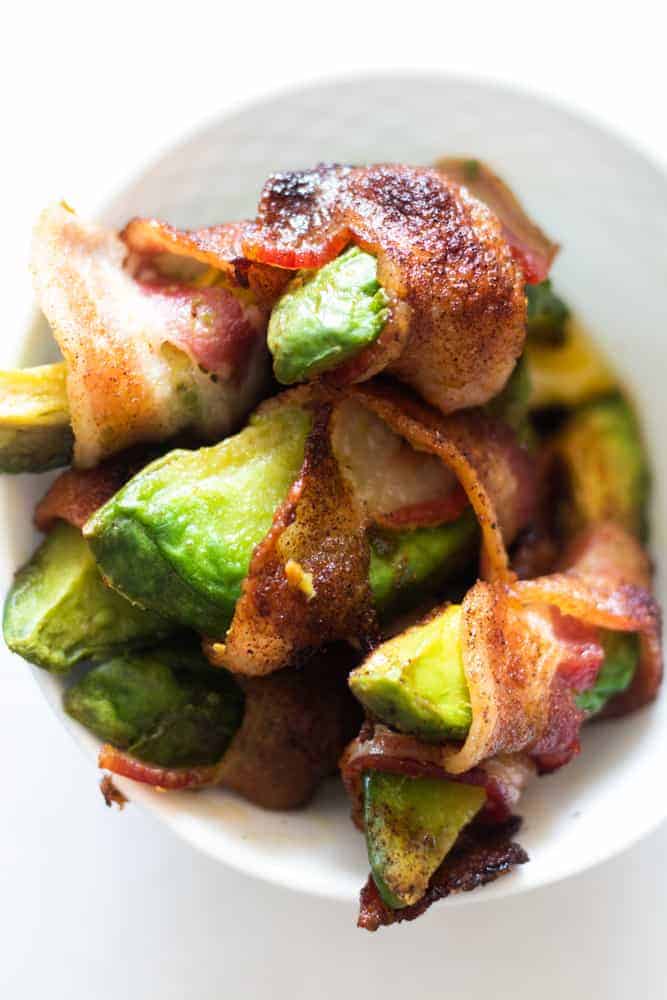 Ingredients
2 large avocados 
1 pack of bacon
1/2 teaspoon paprika 
1/2 teaspoon garlic salt
1/4 teaspoon cumin
Instructions
Preheat the oven to 425 degrees and line a baking sheet with parchment paper.

Cut avocados into slices and sprinkle with spices.

Wrap each avocado slice with one strip of bacon and place it on the baking sheet.

Bake for 25-30 minutes or until the bacon is crispy.