This paleo apple pie crumble is delicious, made with nourishing ingredients, and won't compromise your diet.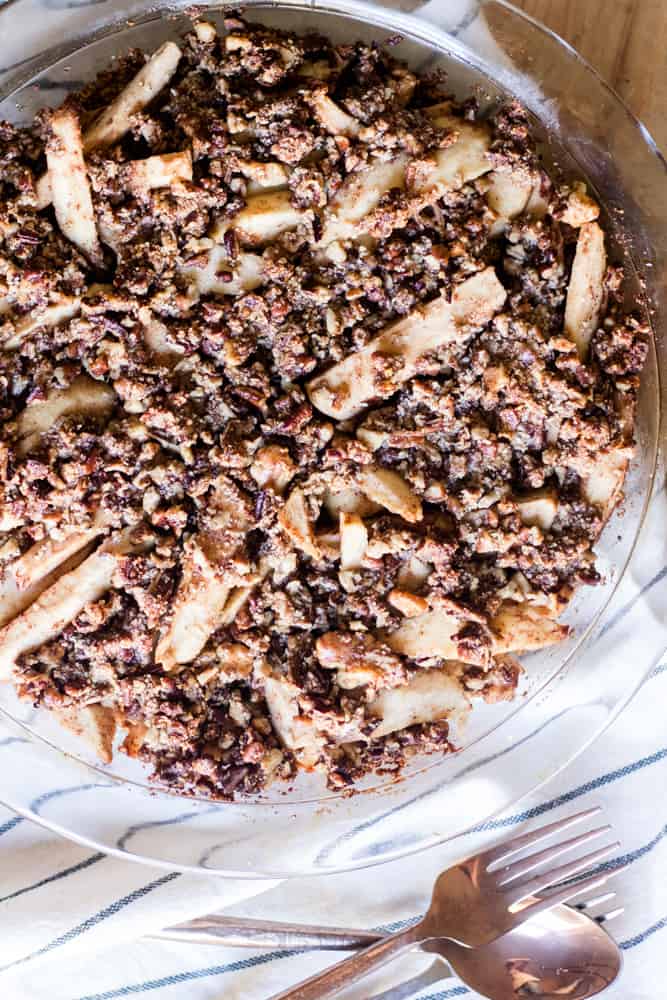 We love a good dessert over here during the winter months and with the fast-approaching holidays, I wanted to make an apple pie, which is a holiday staple in our home, but make it paleo-approved. Made from scratch with freshly picked apples and a warm homemade crust, this paleo apple pie is great on its own or served with a scoop of coconut ice cream.
Homemade Paleo Apple Pie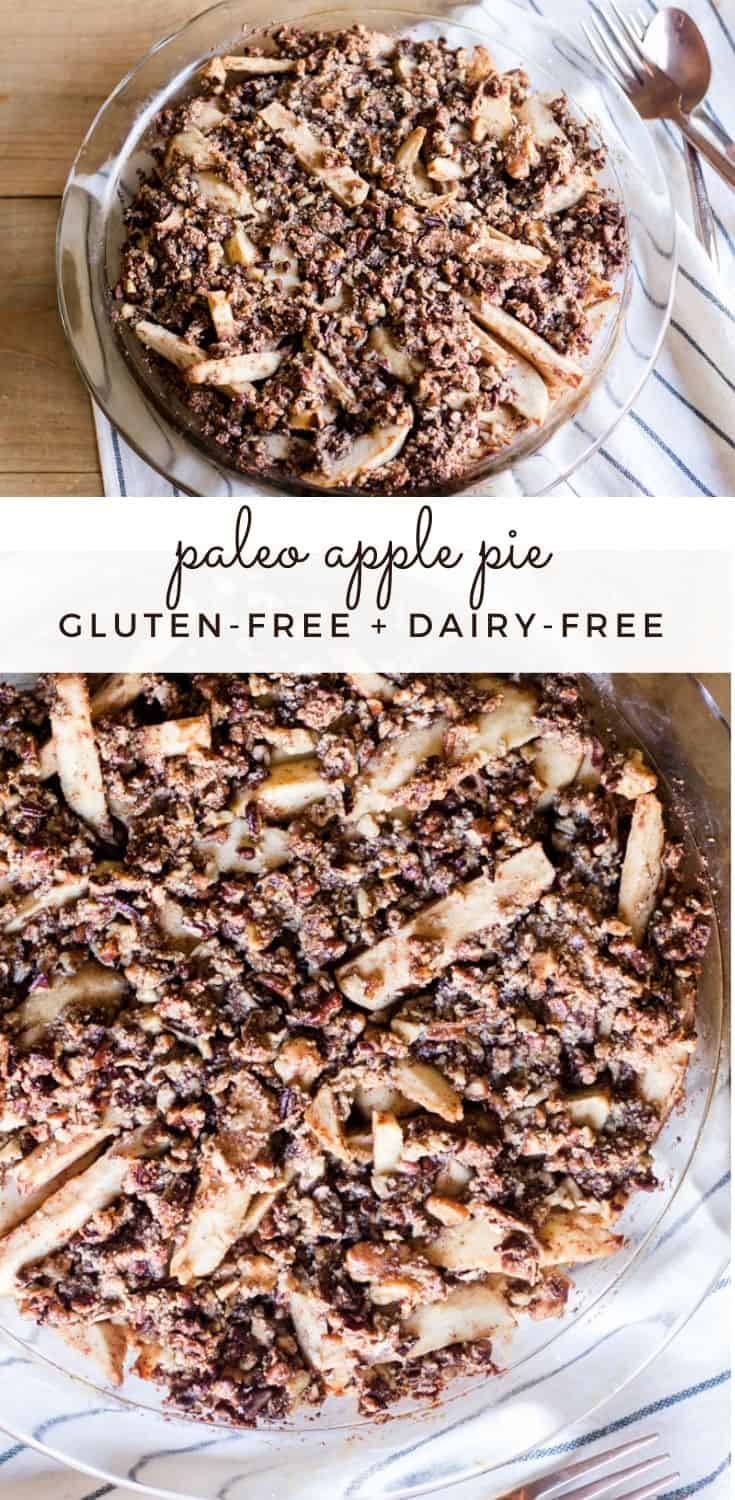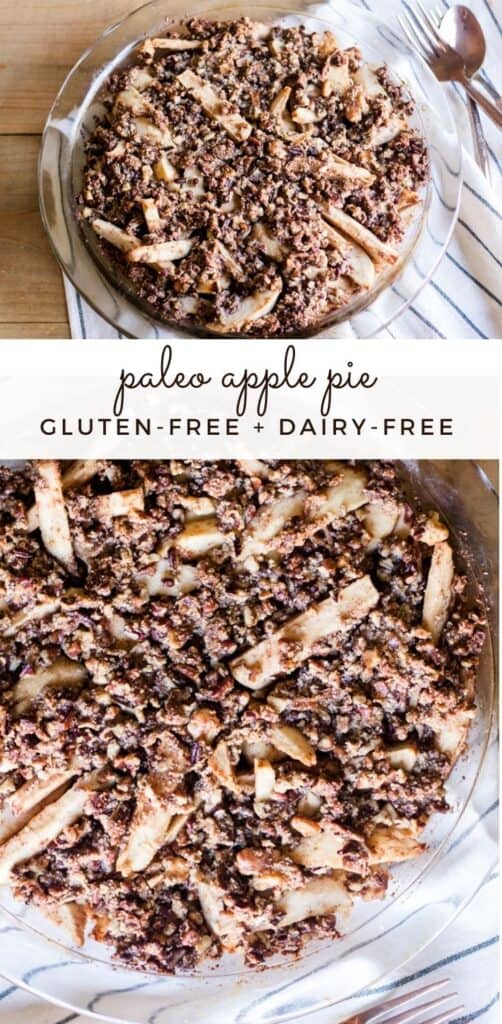 Seriously though, does anything give a more cozy home feeling than sweet apple pie baking in the oven?
I am so excited to show you how to make the best apple pie from scratch that is refined sugar-free, dairy-free, gluten-free, and still 100% delicious.
Almond Flour Apple Pie
To make this pie paleo-approved, grains are out, so that means regular flour is out. So instead, I decided to go with almond flour for this crust. It most closely resembles regular flour but is not nearly as dense as coconut flour.
Now, the hardest part of the pie to make is the crust; this is why most often, we use a premade pie shell.
I have yet to find a premade paleo pie crust option, so making my own is the only way to go.
Almond Flour Pie Crust
After a few trial and error attempts, I was able to find the perfect balance of almond flour, monk fruit, sea salt, ghee, eggs and vanilla extract to make the gluten-free pie crust.
In a large bowl, mix all ingredients until the almond flour is thoroughly mixed in and not dry or crumbly. Then, shape the dough around the edge of the pie pan and poke with a fork before baking.
Paleo Apple Pie Filling
There are two parts to every pie, and both are equally as important; the pie crust and pie filling.
Apples are already sweet on their own, so I used just a touch of sweetener along with cinnamon to give it the flavor I was looking for.
When making a paleo apple pie, you won't want to use sugar; instead, use monk fruit. Monk fruit is a natural sweetener that comes from the green melon-like fruit.
Paleo Apple Pie Crumble Topping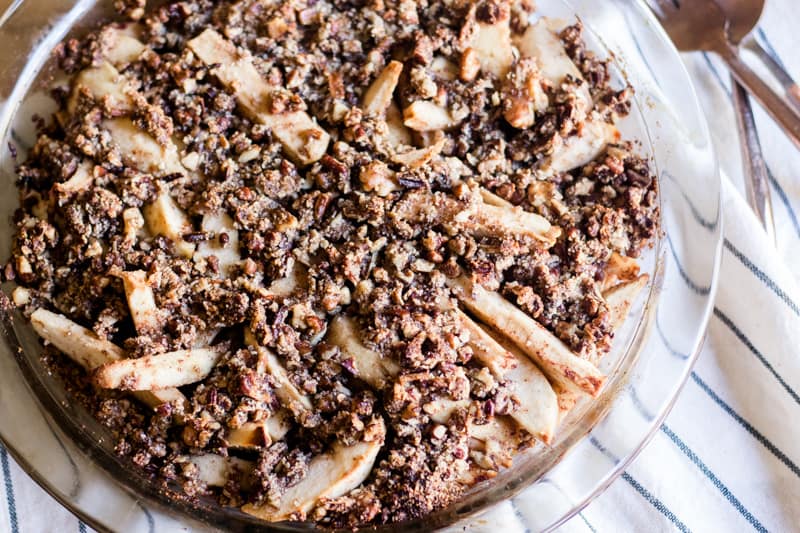 Now that the pie crust and filling have been made, add the filling to the dish and bake. While the pie is baking, put together the crumble topping that will go over the filling for the last 20 minutes of baking.
The crumble is made with almond flour, chopped pecans, maple syrup, cinnamon, and coconut oil. It makes the best crumble for the perfect paleo apple pie.
Best Apple Pie Toppings
Apple pie pairs perfectly with whipped cream, but unless you are making your own, it will quickly turn your healthy dessert into a non-paleo treat.
Instead, try topping your pie with coconut cream. Making your own is easy and delicious. All you need is a can of full-fat coconut milk and a little honey or maple syrup.
Using a handheld mixer, whip the coconut cream with the sweetener of choice until stiff peaks form. Add a dollop on top of your warm pie and enjoy!
What Apples are Best for Apple Pie?
Hands down, fresh apples picked straight from the tree are always the best option. However, since it isn't always apple season, but it is always a good time to make apple pie, picking fresh apples might not be an option.
Granny Smith or green apples are some of the best apples to use in apple pies. They hold their shape well when baked and they give the pie a sweet yet tart flavor.
Other great options are gala apples, Honeycrisp, pink ladies, and golden delicious. No matter what you choose, you really can't go wrong with any apples for your pie.
Best Tips for Making Paleo Apple Pie Crumble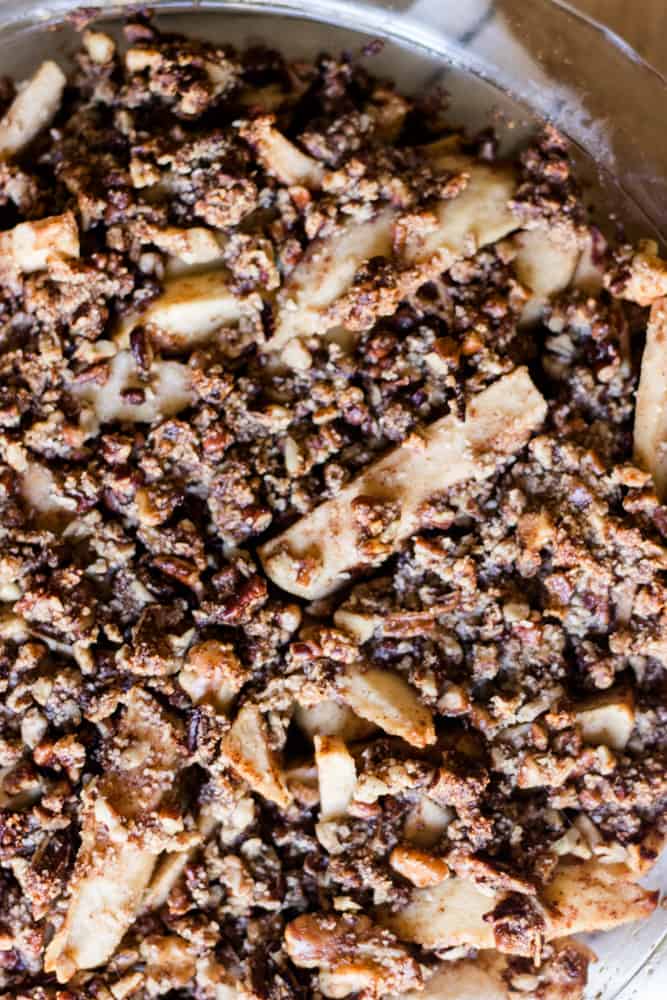 Use almond flour instead of coconut flour. Coconut flour is a great option for paleo baking, but because it is dense it doesn't make the best fluffy pie crust you may be used to.
Monk fruit is one of the best substitutes for refined sugar but you can also use honey or pure maple syrup in this recipe. The maple syrup pairs really well with apples and makes a delicious pie. Trust me I have tried all the options!
If you have the time, slice the apples and let them soak in the filling overnight before baking. The sweetener will help draw out the liquids of the apples making the best moist apple pie.
If cutting the apples ahead of time, make sure they are immersed in liquid so they don't brown before baking.
Don't cook your apples before baking the pie, this will make the apples soggy.
Easy Paleo Dessets
If you liked this dessert or you simply love healthy desserts like me, be sure to check out these other paleo dessert recipes:
Pumpkin Muffins with Cinnamon Crumble
Paleo Chocolate Peanut Butter Fudge
Yield: 6
Paleo Apple Pie Crumble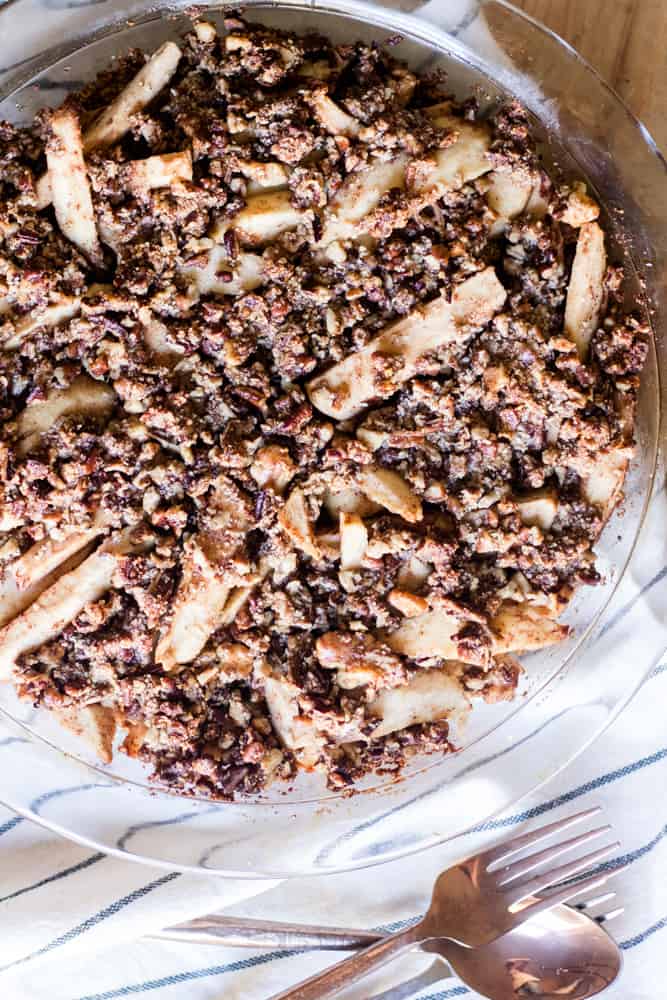 This paleo apple pie crumble is delicious and made with nourishing ingredients. Learn how to make the ultimate holiday dessert without compromising your diet.
Additional Time
10 minutes
Total Time
1 hour
20 minutes
Ingredients
For the Crust
1 cup almond flour
2 tablespoons coconut oil, melted
1 egg
1 teaspoon cinnamon
1/4 teaspoon salt
For the Filling
6-8 apples (peeled and sliced)
1/2 cup monk fruit 
1 tablespoon arrowroot powder (to thicken) 
1 teaspoon cinnamon
2 tablespoons ghee (melted)
For the Topping
1/4 cup monk fruit or maple syrup
1/2 cup blanched almond flour
1 teaspoon cinnamon
1/3 cup ghee or coconut oil (solid) 
1 cup chopped pecans
For the Coconut Cream
1 can full fat coconut milk
1 teaspoon maple syrup
Instructions
For the Crust
Prepare a 9" pie pan and preheat the oven to 375 degrees.
Add all the ingredients to a medium-size mixing bowl and stir together until well combined.
Evenly press and form the crust to the pie pan.
Bake pie crust for 10 minutes until the bottom is set. Remove from oven.
For the Filling
Add all the ingredients to the medium-size bowl and toss until the apples are evenly coated.
Add the filling to the pie crust.
Bake for 30 minutes.
For the Topping
Add all ingredients to the bowl and press together until its a crumbly consistency.
Sprinkle over top the pie filling and bake for an additional 20 minutes.
For the Coconut Cream
Place a can of full-fat coconut milk in the refrigerator the night before you plan to make it.
Scrape the cream, hardened substances off the top of the can into a mixing bowl.
Whip with a hand mixer for two minutes or until stiff peaks form.
Notes
Top with coconut cream if desired.