Cutout sugar cookies are a must for Christmas time! Christmas sugar cookies are soft, delicious, healthy, and perfect to decorate with the kids. This recipe makes Christmas cookies that are gluten-free, dairy-free and paleo-approved.

EASY PALEO CHRISTMAS SUGAR COOKIES
My kids love to help out in the kitchen, and baking is one of their favorite things to do. Well, licking the bowl and spoons is the favorite thing. With 4 kids on deck, baking something EASY is a must! And with all the tasting, baking something healthy is too!
We love a good fudgy brownie or a cranberry cookie, but the kids are always intrigued by the sugar cookies. I mean, how can a regular ol' cookie compete with a Christmas-shaped cutout cookie that is decorated with red and green icing?
I wanted to come up with a paleo sugar cookie with a healthy coconut cream icing so the kids could enjoy decorating cookies this year without indulging in all the sugar and dyes. After a few rounds in the kitchen, we came up with something I know you will love!
PIN IT FOR LATER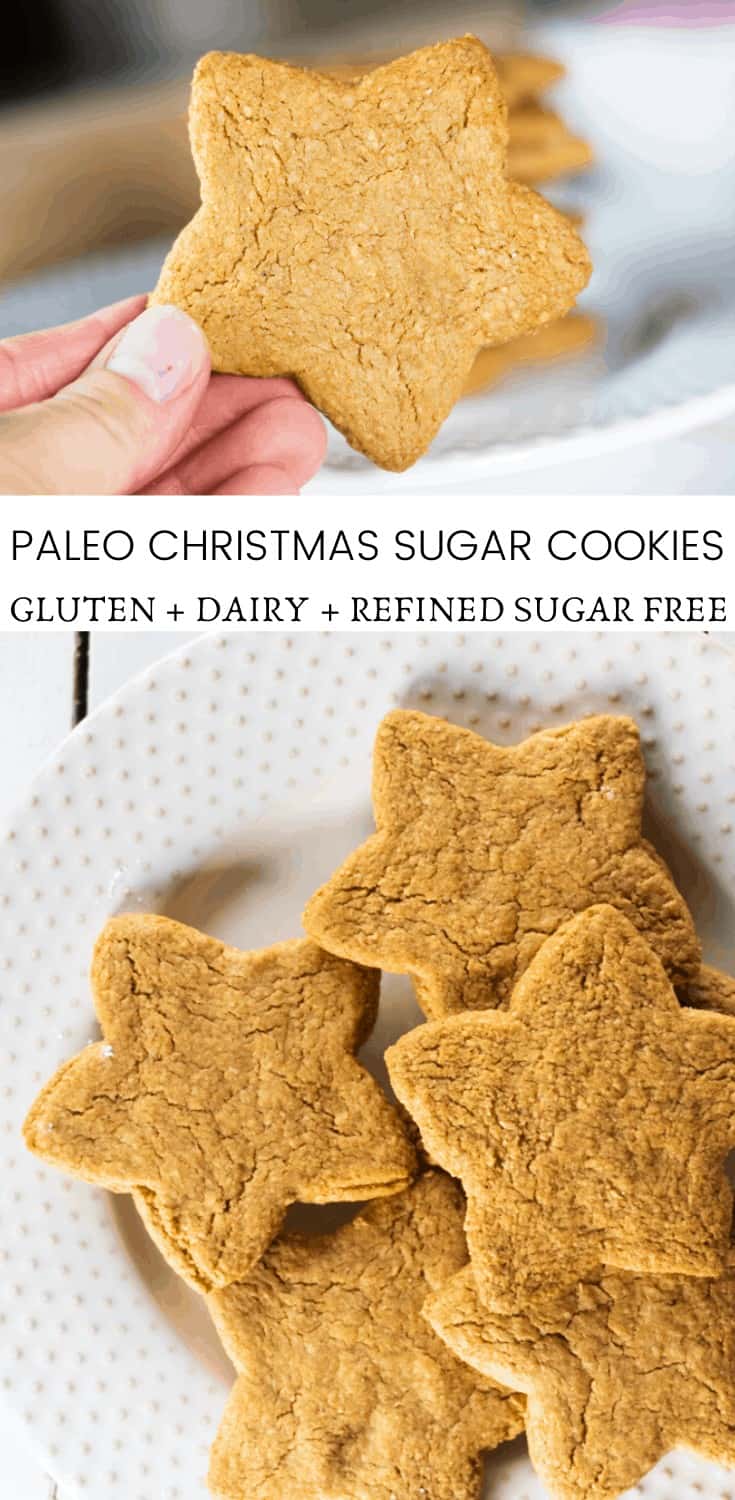 BEST PALEO CHRISTMAS COOKIES
We have a tradition in our home to bake Christmas cookies on the day we put the tree up, the day we take it down, and a few days in between. Did I mention that my kids love to bake?
With so many Christmas cookies to be made, it is important for me to use clean ingredients that are not loaded with refined sugars and dyes.

PALEO SUGAR COOKIES INGREDIENTS
For this recipe, we will be using basic ingredients that you most likely have on hand, especially if you are into paleo baking. The most important thing to remember about paleo baking is that you will need to avoid refined sugars, dairy, and regular flour. Don't worry; it is easier than you think!
There are several nut flours like coconut and almond that can be used in place of wheat flours. Coconut oil or ghee can be used instead of butter, and coconut milk can be used to replace dairy milk.
This post contains affiliate links, which means I make a small commission at no extra cost to you. Get my full disclosure HERE.
For this recipe, you will need:
Eggs
Vanilla
Baking soda
Salt
If you decide to make the coconut cream icing for decorating, you will need:
Natural food dyes (See recipes below.)
HOW TO MAKE GRAIN-FREE SUGAR COOKIES
Making grain-free Christmas cookies is simple, especially now that gluten-free flours are easy to find. I am using a combination of almond flour and coconut flour. You can use coconut sugar to make this paleo, but if you are not paleo and just want a healthier cookie, you can use organic sugar. Using organic sugar will ensure that it is not a genetically modified organism.
Melt the coconut oil in a small saucepan and then pour it into a medium-size mixing bowl.
Cream together the oil and the sugar using a handheld mixer.
Add in the rest of the wet ingredients and mix until well combined.
Mix together dry ingredients in a separate bowl.
Slowly add the dry ingredients into the sugar and oil mixture.
Knead gently and chill for one hour.
Sprinkle the counter with flour or tapioca starch and roll out.
Cut into desired shapes using a cooking cutter.
Place on a baking dish and bake for 8-10 minutes.
PALEO SUGAR COOKIE ICING
A Christmas sugar cookie has to be topped with icing, am I right? Decorating them is half the fun! I love to make an easy coconut cream whipped cream to dip fruit in, top hot chocolate with, or use as icing.
It is so simple to make; this paleo sugar cookie icing has one ingredient: coconut cream. Coconut cream can be bought on its own, or you can find it on the top of chilled full-fat coconut milk.
The night before you plan to make coconut cream frosting, put a can of full-fat coconut milk in the fridge to make scraping the cream off the top easier.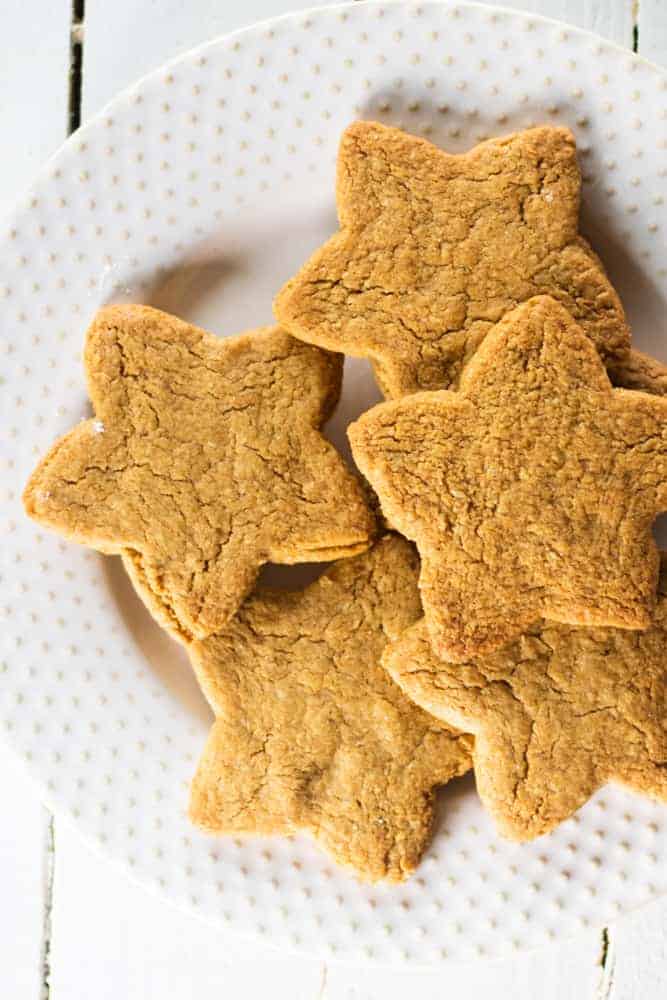 HOW TO MAKE COCONUT CREAM FROSTING
INGREDIENTS
Coconut cream
Pure Maple syrup (optional)
Vanilla Extract (optional)
Natural food dyes (optional)
INSTRUCTIONS
Add coconut cream to a large mixing bowl.
Mix with a stand-up mixer or a hand help mixer for several minutes or until stiff peaks form.
Add in maple syrup, vanilla, and food dye if using and continue to mix until well combined.
HOW TO MAKE ALL-NATURAL FOOD DYES
You can find all-natural food dyes that are made with real food, or you can make your own. For this recipe, I used red and green food coloring to keep things festive.
ALL-NATURAL RED FOOD DYE
There are several ways you can make red food dye out of red fruits and vegetables. Because I had leftover cranberry sauce in my refrigerator from Thanksgiving, I used that.
Cranberries are very colorful, and you only need a little to make the white coconut cream red. You can also blend in freeze-dried strawberries, beet juice, or hibiscus flowers.
I had made healthy cranberry sauce with fresh cranberries, organic apple juice, honey, and wild orange essential oil. I added about one tablespoon of the liquid to the coconut cream and blended it with a handheld mixer.
ALL-NATURAL GREEN FOOD DYE
I used spinach for this because I had some on hand and because spinach has a very mild flavor. Have you ever added a handful of spinach to a smoothie? You can't even tell it is in there, but the whole smoothie turns green. Hence, spinach makes the perfect all-natural food coloring.
Add a handful of fresh spinach to a small saucepan of water. Use just enough water to cover the spinach.
Bring to a boil and cook for about 5 minutes. Strain off most of the water, only leaving about a tablespoon.
Pour spinach and water into a food processor and blend until smooth — strain spinach out if needed.
Add a small amount of the green liquid to the coconut cream until the desired color is reached.
BEST PALEO SUGAR COOKIES
These paleo Christmas sugar cookies are so delicious you won't even realize that you are eating a healthy cookie! Enjoy making these this Christmas season, and be to try out my newest paleo dessert, apple pie crumble.
Paleo Christmas Sugar Cookies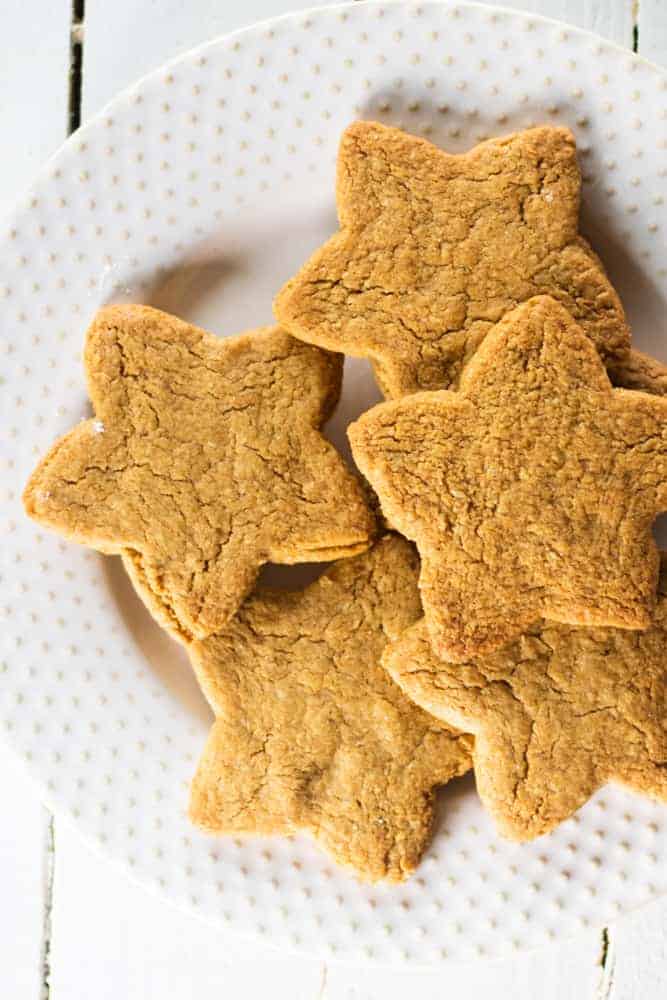 Prep Time
1 hour
10 minutes
Total Time
1 hour
20 minutes
Ingredients
1/3 cup coconut oil, melted
1/2 cup coconut sugar
3 tablespoons maple syrup 
1 egg
1 teaspoon vanilla 
1 1/2 cup almond flour 
1/4 cup coconut flour 
1 teaspoon baking soda 
1/4 teaspoon salt 
FOR THE ICING
1/2 cup coconut cream 
1 teaspoon vanilla 
1 teaspoon maple syrup 
Natural food coloring 
Instructions
Melt the coconut oil in a small saucepan and pour into a medium-size mixing bowl.

Cream together the oil and coconut sugar using a handheld mixer.

Add maple syrup, egg, and vanilla. Mix until well combined.

Add dry ingredients to a separate bowl and stir together.

Slowly add the dry ingredients into the sugar and oil mixture. Mix until dough forms.

Knead gently a few times. Wrap the dough in plastic wrap and chill for 1 hour.

Sprinkle the counter with coconut flour or tapioca starch. Roll out until it is about 1/4 inch thick.
Cut into desired shapes using cookie cutters.

Place cookies on a baking dish about 2 inches apart.
Bake in a preheated 375°F oven for 8-10 minutes or until golden brown.