Simple shower melts recipe made with ingredients found in your kitchen. Infused with essential oils, this is a great way to receive aromatherapy benefits without taking any extra time out of your busy day.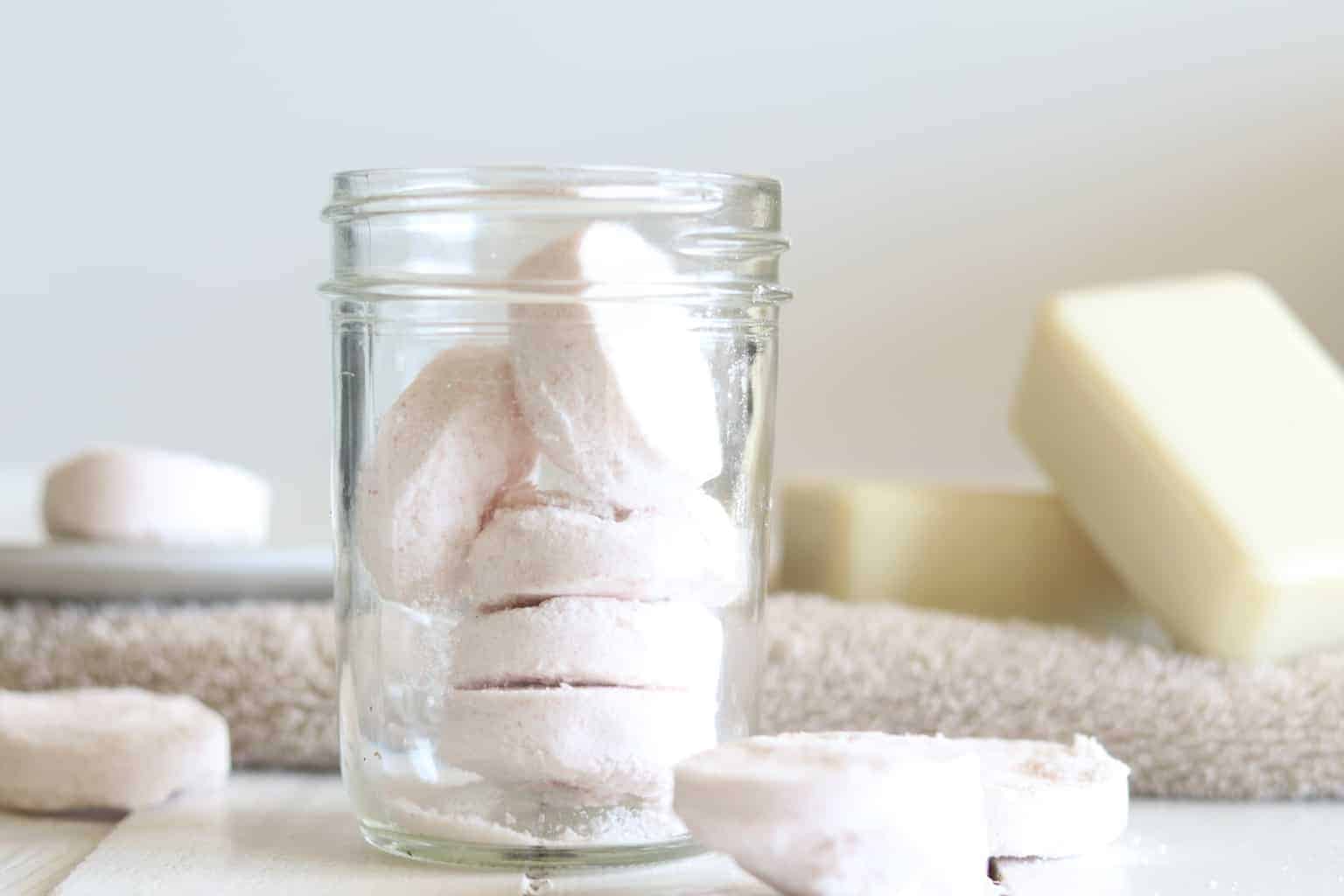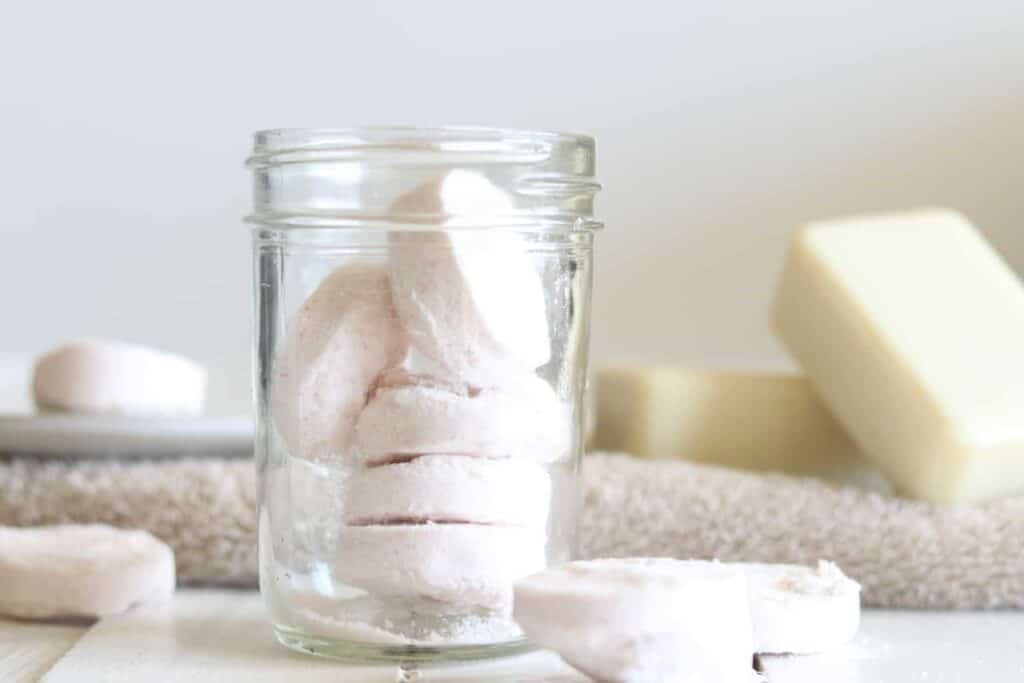 My ultra-relaxing night would be a long hot bath with salts, oils, and candles. Of course, the kids would all be sound asleep, and I would have a good book in hand. Ok, let's get real, that happens once a year if that!
If you don't have time for a bath, these homemade shower melts for the shower are the next best thing. Using essential oils in your shower will give off all the same benefits of aromatherapy as a bath bomb but can be squeezed into your busy daily schedule.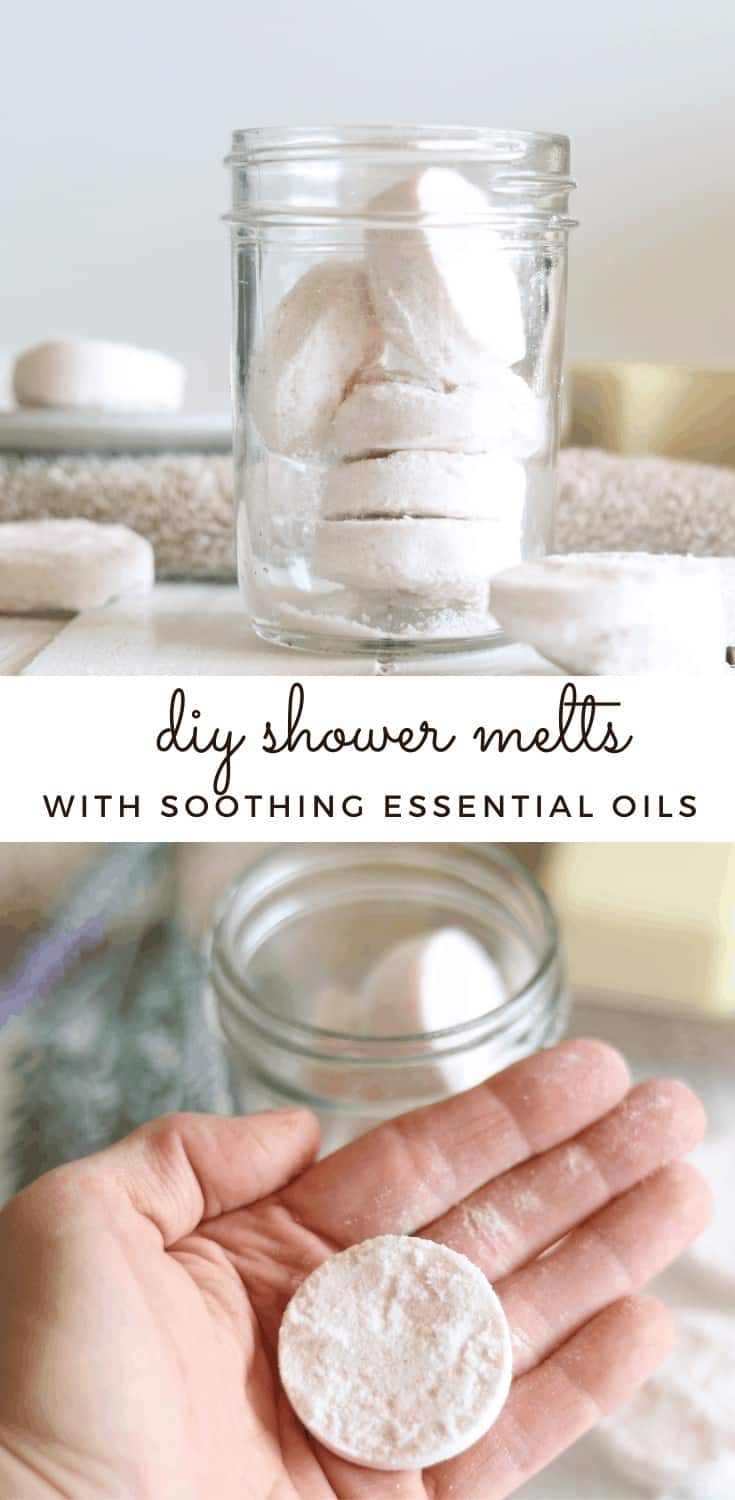 BENEFITS OF ESSENTIAL OIL SHOWER MELT
Aromatherapy is the use of aromatic plant extracts and essential oils in a massage or bath. Sounds fancy, right? Making a batch of essential oil shower melts makes it easy to experience the benefits of aromatherapy as often as you need it.
Depending on the blend of essential oils you choose, your shower melts can:
Boost energy
Promote healthy breathing
Boost the immune system
Help with Seasonal Threats
Relax and calm the body
Destress the mind
Reduce anxious feelings
Promote a healthy night sleep
Uplift the mood
Help with focus and concentration.
HOW TO MAKE ESSENTIAL OIL SHOWER MELTS
This recipe will make 15-20 shower melts, depending on the mold you use. For the best results, use within one month. If you don't use them within a month (which you will), you can add 1-2 drops of essential oil on top of the shower melt before use.
ESSENTIAL OIL SHOWER MELT INGREDIENTS
1 cup baking soda
1/2 cup sea salt or Epsom salt
20-25 drops essential oils (check out my favorite blends below)
Water (about 2-3 teaspoons)
SHOWER MELT RECIPE
Combine baking soda and salt into a glass bowl.
Add water slowly, start with about 2 teaspoons, stir well. You will know you have the right amount of water when you can squeeze the mixture together, and it just starts to hold together. It should be slightly damp.
Add 15-20 drops of essential oils of choice and stir well.
Pour into silicon molds and press the mixture in hard to make sure there are no air bubbles and it is packed tight.
Let the mixture completely dry; this takes about 48 hours.
Pop the essential oil shower melts out of the mold and store in an airtight container.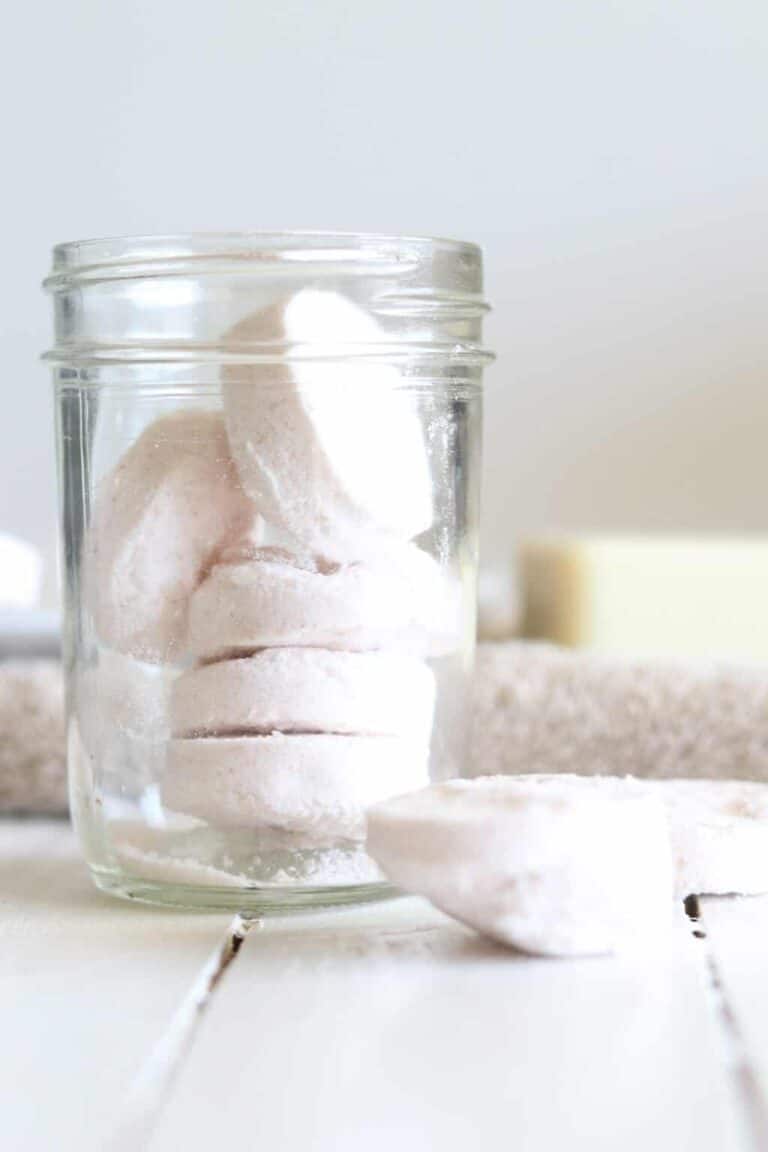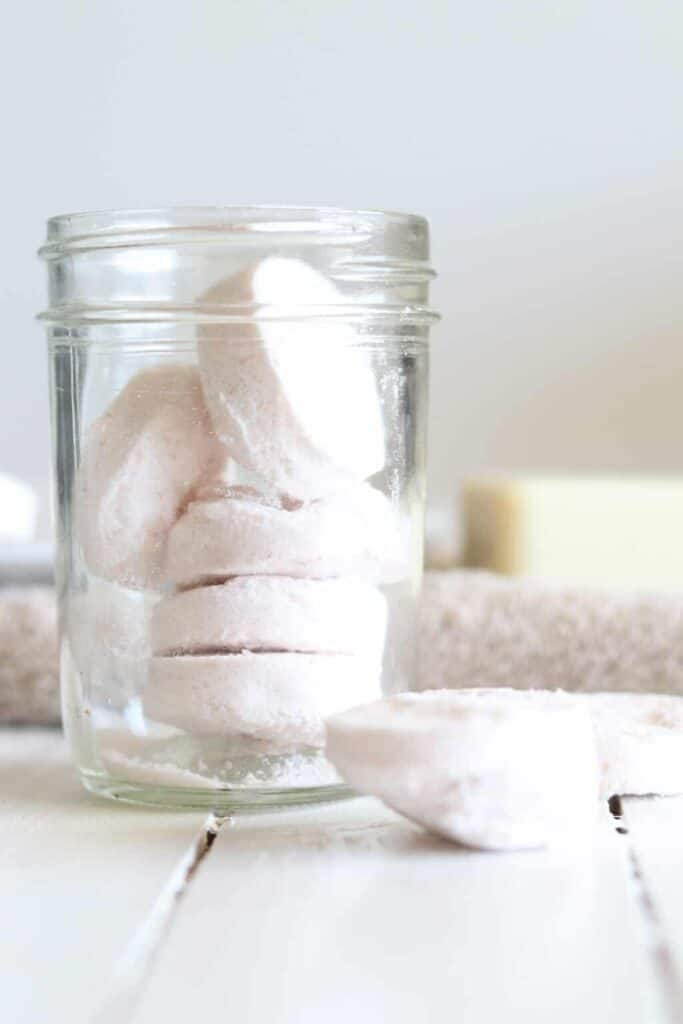 HOW TO USE ESSENTIAL OIL SHOWER MELTS
Place one essential oil melt on the floor of the shower away from the stream of water. If you place it directly under the water, it will fizz way too fast. As the water hits the melt, it will release the essential oils into the air and steam of the shower. Inhale and reap the benefits!
I store mine in a glass mason jar under my vanity.
MY FAVORITE ESSENTIAL OIL BLENDS FOR SHOWER MELTS

Calming and Relaxing
Use this melt at nighttime before going to bed to help relax and calm the body and to promote a healthy night's sleep.
8 drops lavender essential oil
6 drops frankincense essential oil
4 drops roman chamomile essential oil
2 drop vetiver essential oil
Uplifting and Invigorating
Use this melt in the morning to uplift the mood and for a natural energy boost.
8 drops wild orange essential oil
6 drops lemon essential oil
4 drops tangerine essential oil
2 drop grapefruit essential oil
Anxious and Worried
Use this melt when stressed and having anxious feelings; these oils can help ground the emotions and relax the mind.
8 drops bergamot essential oil
6 drops patchouli essential oil
4 drops ylang ylang essential oil
2 drop juniper berry essential oil
Congested and Stuffy
A steamy shower with essential oils can promote clear and easy breathing; use this melt when congested and stuffy. Or try out these simple to make shower vapor disks.
8 drops eucalyptus essential oil
6 drops peppermint essential oil
4 drops lime essential oil
2 drop cardamom essential oil
Focus and Energy
Use this melt before heading off to work or school to stimulate the brain, aid memory, and promote healthy brain function.
8 drops peppermint essential oil
6 drops rosemary essential oil
4 drops lime essential oil
2 drop sandalwood essential oil
Sick and Tired
Use this melt when you aren't feeling well to boost the immune system.
8 drops wild orange essential oil
5 drops clove essential oil
3 drops cinnamon essential oil
3 drops rosemary essential oil
2 drops eucalyptus essential oil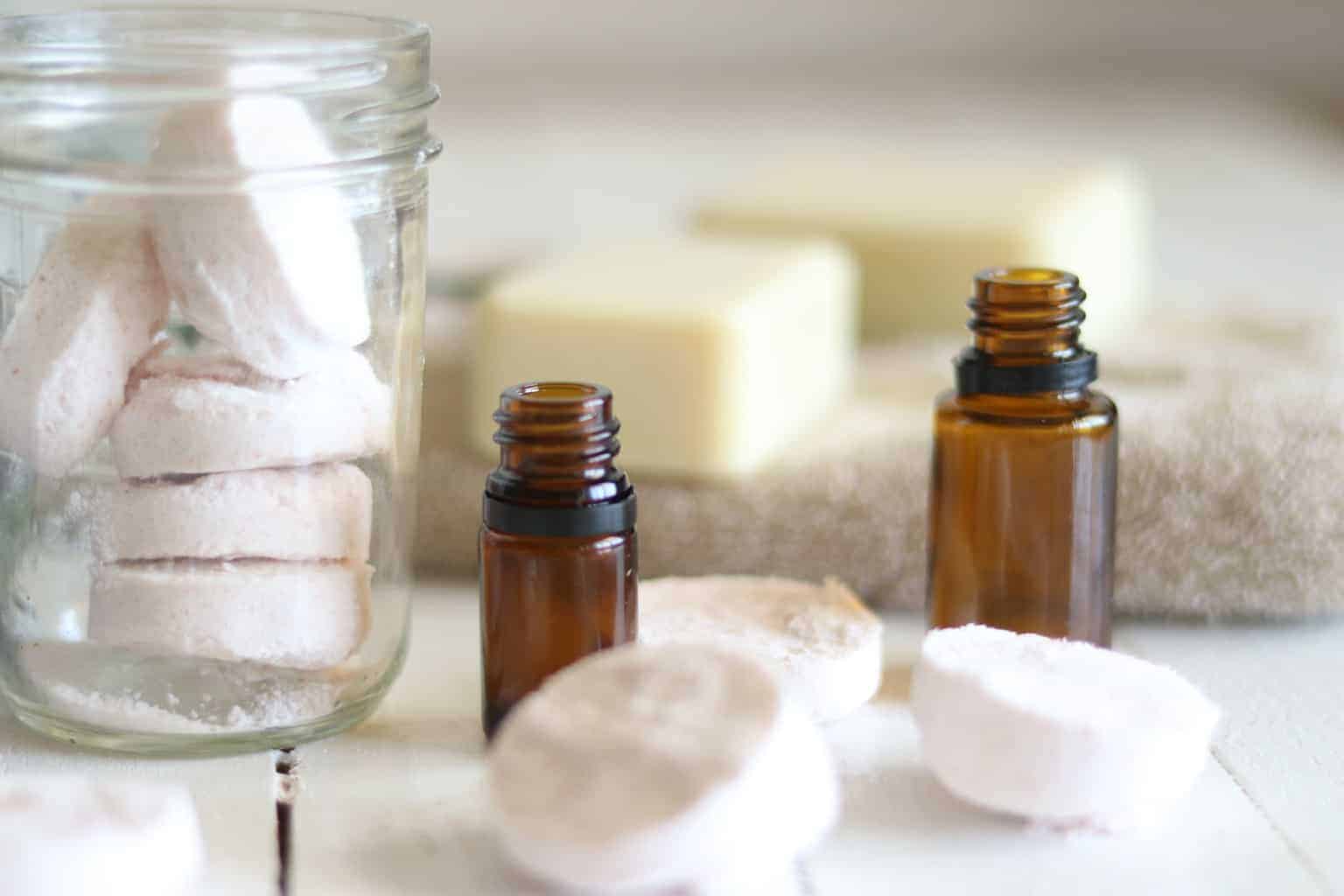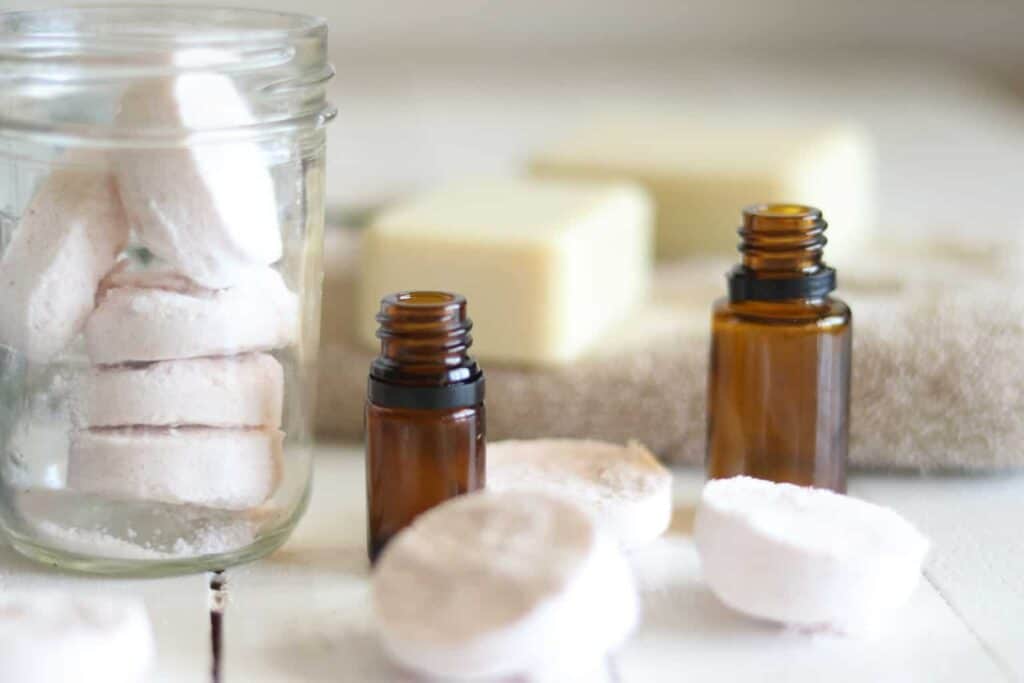 This post contains affiliate links, which means I make a small commission at no extra cost to you. Get my full disclosure HERE.
FUN ESSENTIAL OIL SHOWER MELT BLENDS FOR KIDS
Essential oil shower melts are easy enough to make that the kids can help out. You can get creative and buy different shape molds to make them in, and they can choose the scent they like. My kids really enjoy making these and using them.
You can also add food coloring to your shower melts to make them even more fun and exciting; here are some natural food dye options:
Watkins All Natural Food Dyes
or
Learn how to make your own HERE.
PLAYTIME
This shower melt is loaded with citrus oils, which can naturally uplift the mood and boost the immune system. Use this melt in the morning before sending them off to school.
4 drops wild orange essential oil
3 drops lemon essential oil
2 drops lime essential oil
2 drops bergamot essential oil
SLEEPYTIME
This shower melt has all the calming essential oils. Use this melt as part of the bedtime routine to promote a healthy night's sleep.
4 drops lavender essential oil
3 drops frankincense essential oil
2 drops roman chamomile essential oil
FOCUS TIME
This shower melt has essential oils to help stimulate the brain, aid memory, and help your child focus and concentrate.
4 drops frankincense essential oil
3 drops lemon essential oil
2 drops rosemary essential oil
I hope this post was helpful and you enjoy making these essential oil shower melts. I know we love them, and I hope you do too!
Have you tried essential oil shower melts before? What are your favorite essential oil blends to use?
More of My Favorite Recipes:
Yield: 15-20
Shower Melts Recipe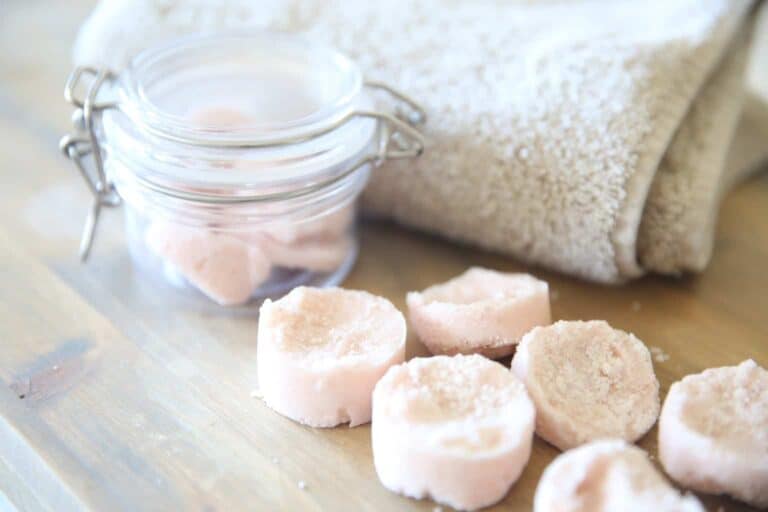 A very simple and effective aromatherapy shower melt made with natural ingredients and infused with essential oils.
Total Time
2 days
12 minutes
Materials
1 cup baking soda
½ cup of sea salt or epsom salt
20-25 drops of essential oils (see blends above)
2-3 tsp of water
Tools
Silicone molds
Glass mixing bowl
Instructions
Combine baking soda and salt in a bowl, mix well.
Slowly add 2 tsp of water and stir well.
Add enough water to get a slightly damp consistency.
The mixture should be just damp enough to hold together when squeezed in your hand.
Add Essential oil blend of choice.
Pack the mixture firmly into the molds.
Allow to dry for 48 hours before removing from molds and storing in an airtight container.