What are bath truffles? Bath truffles are the ultimate in cute adorableness when it comes to bath time. They bring a smile to my face simply looking at them – they're that cute!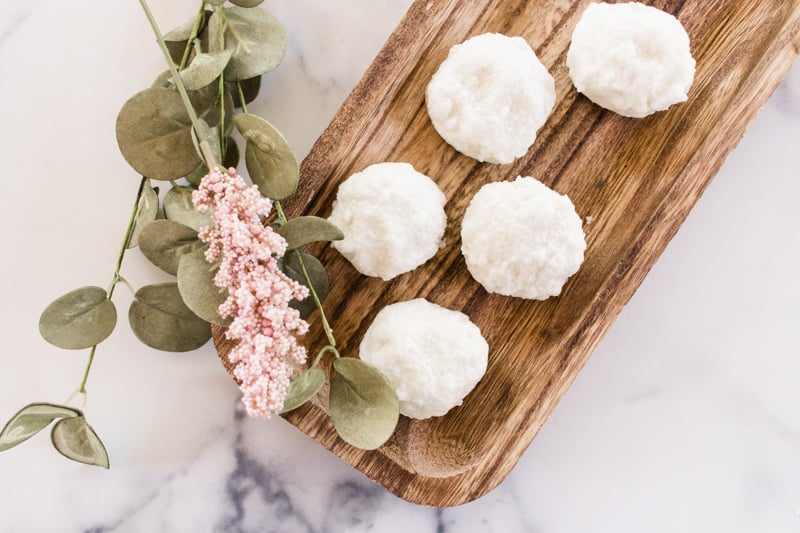 But what is a bath truffle?
A bath truffle works similarly to a bath bomb in that you pop them in your bath water.
And to add to their punch – they're packed full of moisturizing oils and butters to smooth the skin and relax the body.
You only need one truffle per bath, and you're guaranteed to step out with super soft skin and smelling lush.
In this post, I'll share a lovely recipe for how to make bath truffles at home using natural, moisturizing ingredients.
The great thing about this recipe is you get numerous bath truffles from the same batch, so you can gift them to your friends or store them away for future use!
The choice is yours.
Moisturizing bath soak
I've tried so many bath soaks in my time – bubble baths, lotions and bath bombs, but by far, my new favorite bath item is the bath truffle.
I love how dainty and delightful they are to look at, first off. They usually come decorated with flowers, herbs, and sometimes a touch of glitter.
They're so feminine!
Yet by far, the best thing is how moisturizing they are.
In such a small package, they really do leave your skin feeling softer and nourished – plus, the recipe I share below contains essential oils, so you'll not only smell amazing but feel phenomenal as well.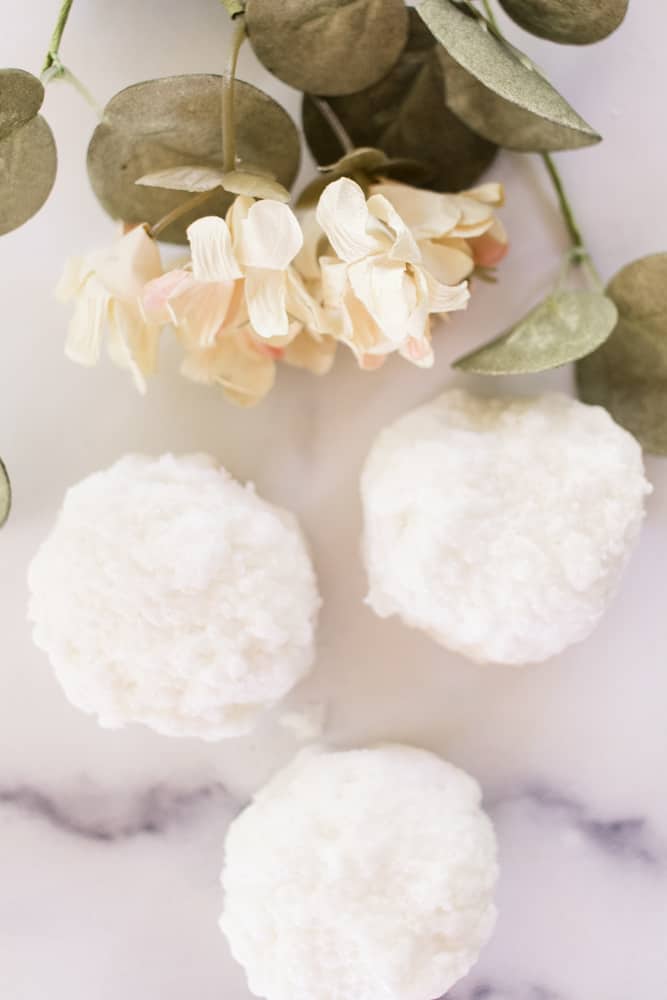 The moisturizing ingredients are where the bath truffle vs. bath bomb question comes in.
Bath bombs tend to be bigger in size, frequently colored using synthetic materials, and they fizz a lot more when you pop them in the bath.
Bath bombs don't tend to be that moisturizing either – certainly less so than a bath truffle.
In contrast, a bath truffle contains more natural ingredients and melts away in the bath, dissolving slowly, leaving a milky consistency to soak away the stresses of the day.
how to use a bath truffle
You use a bath truffle in the exact same way as you would a bath bomb. Simply run your bath and drop a truffle in under running water or once the tub is ready.
It will soon start to dissolve and release its moisturizing goodness, along with making your bath water look and smell extraordinary.
What makes the truffle fizz?
It's the combination of citric acid and baking soda which makes bath truffles fizz when they immerse in water.
But the fizz isn't as powerful as a bath bomb. Nor is it intended to be!
If you like, however, you can crumble the truffle under running water to get more of a bubble bath to max out the fizz.
My preference with bath truffles is to let them dissolve slowly by popping them into the bath as they come – enjoying the release of the shea butter and essential oils.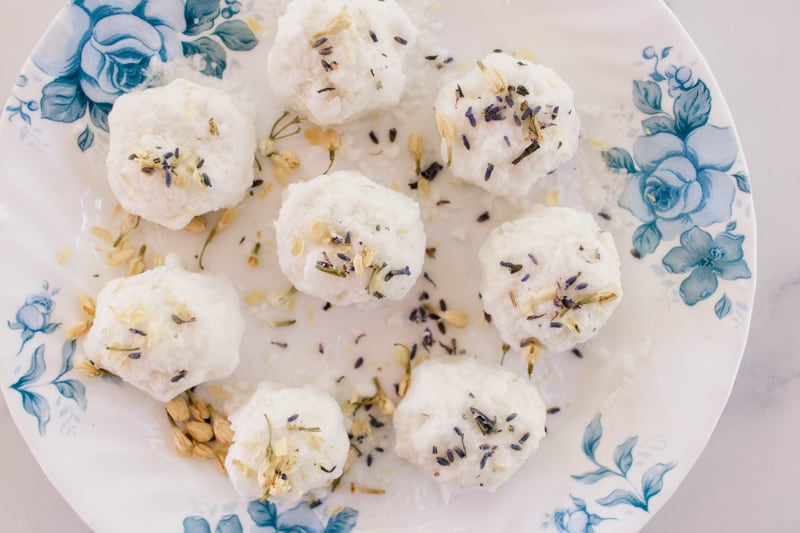 This post contains affiliate links, which means I make a small commission at no extra cost to you. Get my full disclosure HERE.
Bath truffle recipe
Here is the recipe to make homemade bath truffles. Enjoy! See the printable recipe card below for exact measurements.
Ingredients:
Shea butter
Coconut oil
Baking soda
Citric acid
Vegetable glycerin
Lime essential oil
Eucalyptus essential oil
Rosemary essential oil
Instructions:
Melt down the shea butter and coconut oil.
Combine the dry ingredients in a mixing bowl.
Add the melted butter and oil, vegetable glycerine, and essential oils.
Whisk ingredients until they hold together.
Shape the truffles into small balls and place them on a sheet of parchment paper to dry thoroughly.
Garnish with dried herbs or flower petals to give as gifts to your loved ones. You can also press the truffles into silicone molds to cure, which provides them with more of a set shape.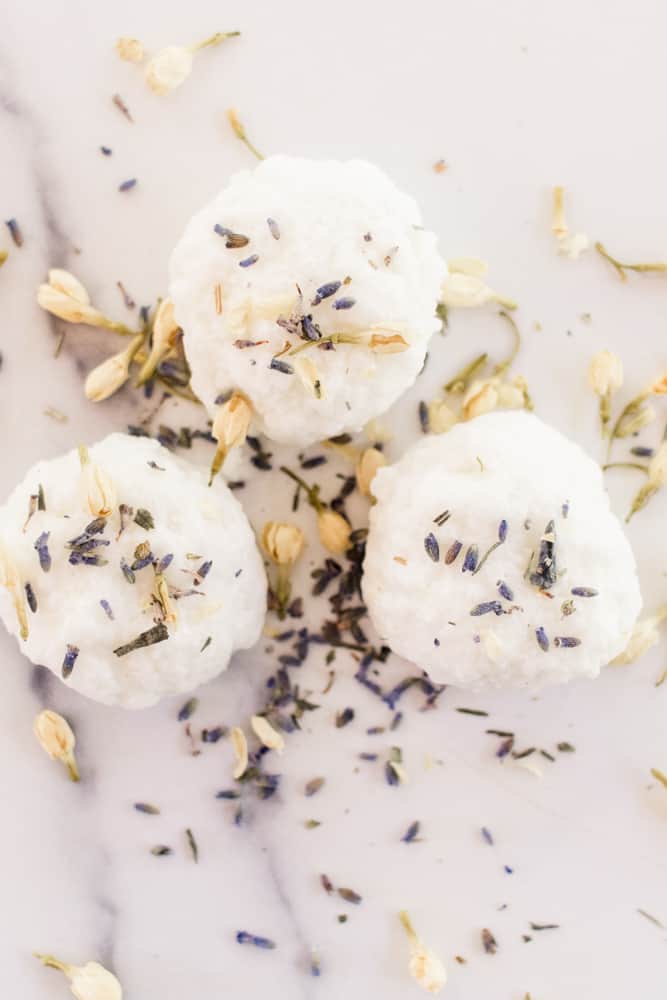 Are bath truffles safe for kids?
The bath truffle recipe I've shared contains only natural ingredients, which should be fine for kids to bathe in.
I would recommend keeping them out of reach of little hands; however, they look tasty but certainly aren't good to eat!
Why you'll love this recipe
The scent (as well as other benefits too)
Using essential oils in bath products is always a good idea if you ask me! Yes, the scents you can create are amazing.
But studies also show that essential oils have a profound impact on your well-being.
Eucalyptus oil, as an example, is a great immune system booster and can help reduce head discomforts as well as other discomforts in the body.
Rosemary oil is a great relaxant, calming the body and mind and soothing away stress and frustration.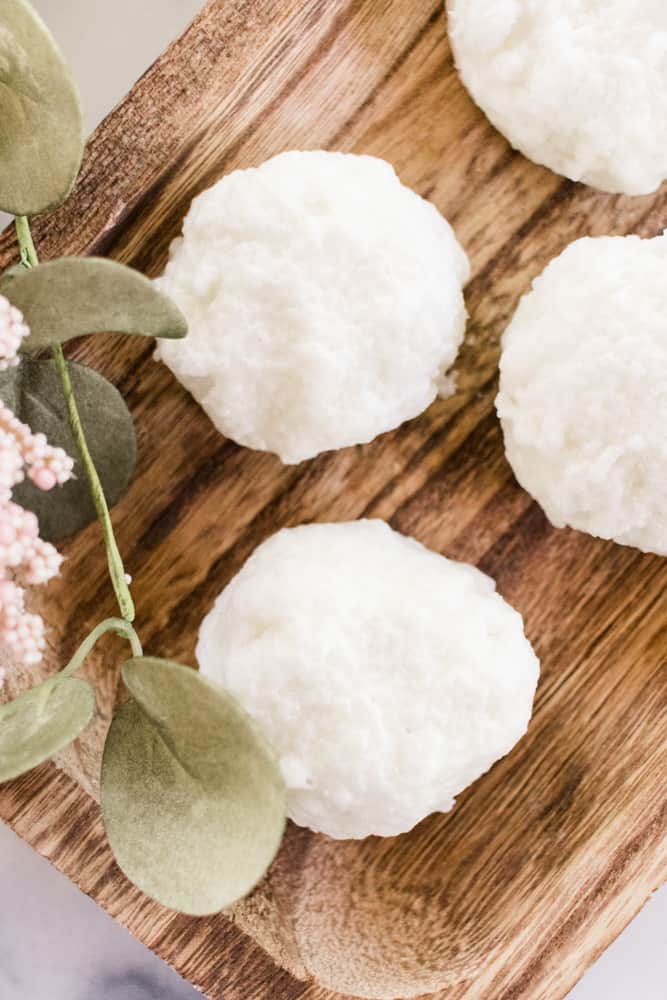 The moisturizing ingredients.
This bath truffle recipe contains equal parts coconut oil and shea butter – both well-known for their deeply moisturizing properties. You'll have glowing, smooth, healthy-looking skin in no time!
If you have sensitivities to coconut oil, try these coconut oil-free bath bombs.
They make great gifts.
I love this about bath truffles – you can get really creative with them and give them away as gifts.
By adding all sorts of natural decorations, such as dried rose petals, lavender buds, or tree leaves – anything you find while out and about – you can give truffles your personal touch.
Great for that special someone's birthday you've got coming up soon!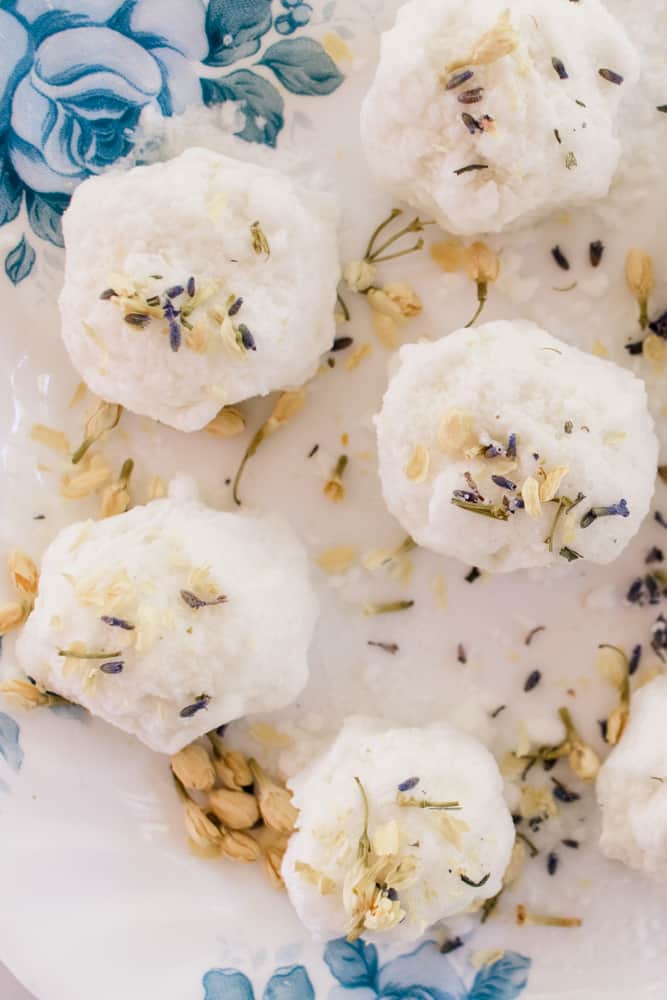 Tips
Do make sure you leave the truffles to dry properly, ideally for 48 hours or more, before using them. They tend to crumble and lose their shape if they're handled too early.
Don't make the truffles too big, either. They are not bath bombs! Think of them like a discreet, lady-like version. Dainty is good!
Lastly – experiment with different scent recipes. I have some great essential oil suggestions here that you could try out.
Lavender – is soothing, calming, and smells beautiful
Wild orange – refreshing and a great pick-me-up after a long day.
Spearmint – is great for sore muscles with its cooling and relaxing properties.
I hope you love this recipe as much as I do! Let me know in the comments.
A few more great bath DIYs I think you'll enjoy.
Yield: 10-12
Moisturizing Bath Truffles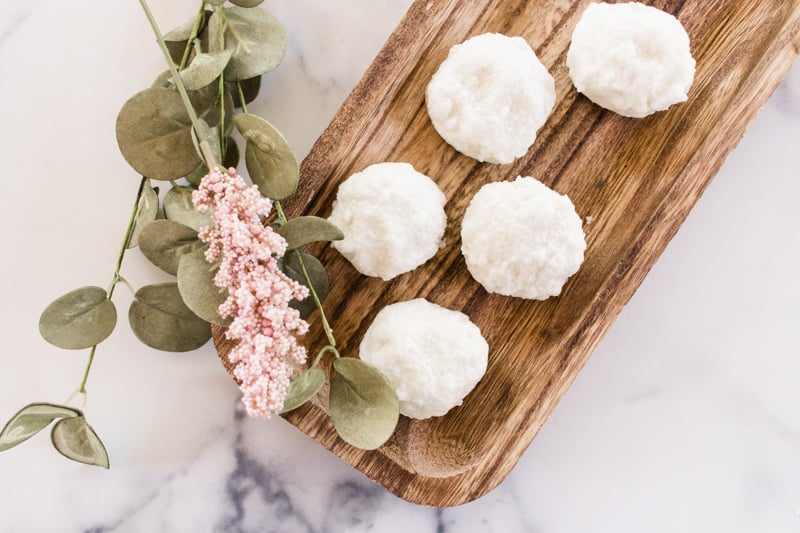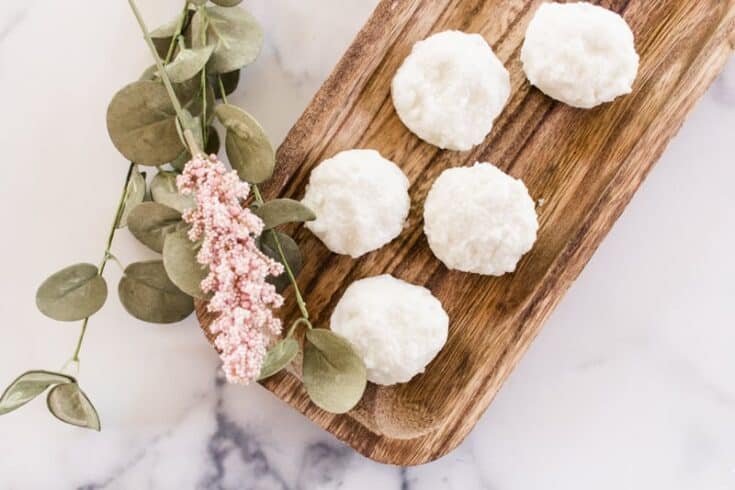 These moisturizing bath truffles make a great gift or keep them for yourself for the ultimate relaxing evening.
Tools
Instructions
Melt shea butter and coconut oil in a small saucepan over low heat.
Combine dry ingredients in a separate bowl.
Add the melted ingredients, vegetable glycerin and essential oils to the dry ingredients and whisk together well.
Once the ingredients can keep their shape, form the truffles into small balls about 2" in diameter.
Place them on parchment paper to dry thoroughly.
Notes
The truffles may stick to a plate while they are drying. If you don't have parchment paper, use a spatula to break the truffles free.
After they are dried, store them in an airtight container.