Cooking with essential oils; All you need to know about essential oils in the kitchen. My tips on how to substitute herbs for oils and several recipes to try.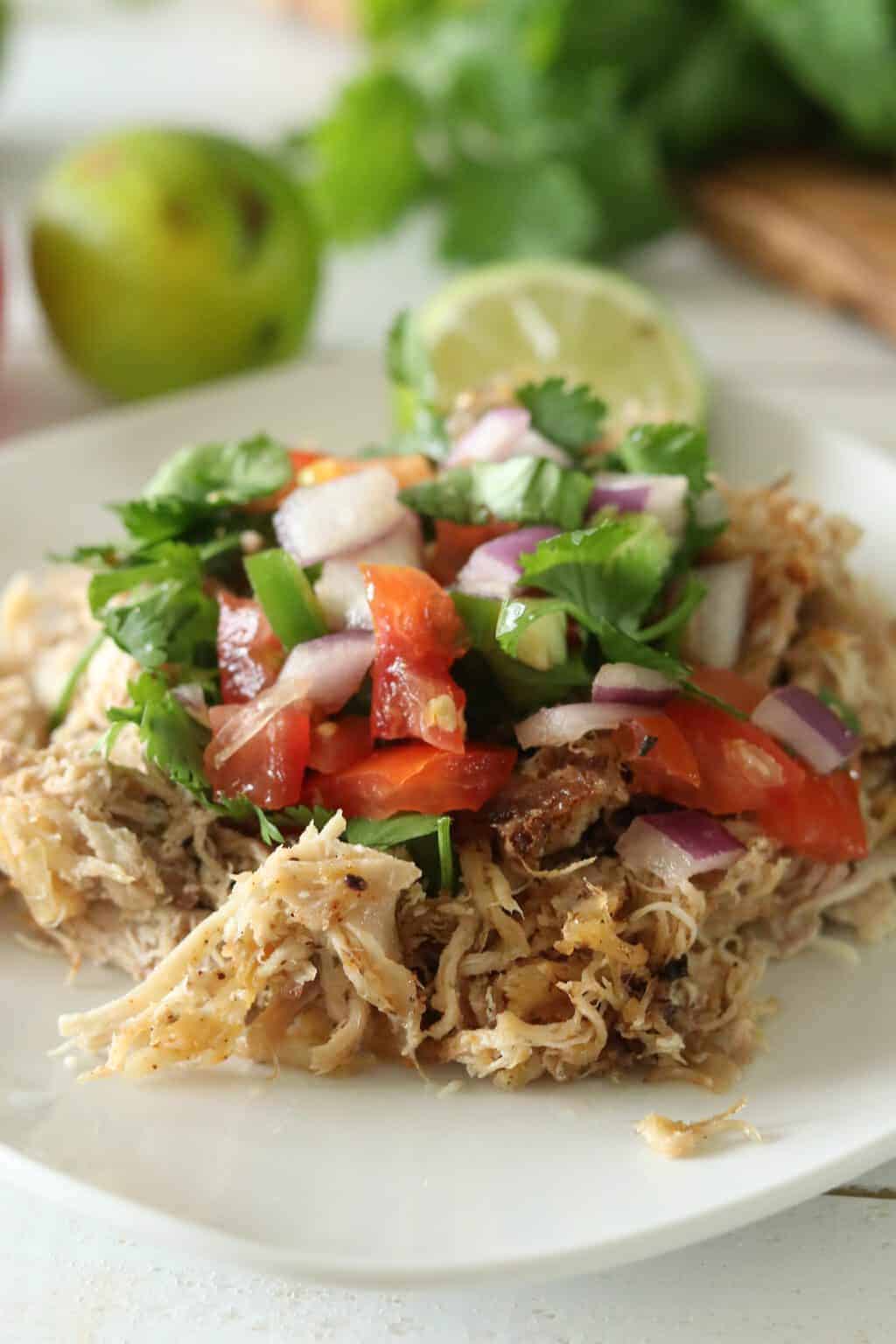 Most nights, I stick to the basics: roasted chicken with sweet potatoes or soup in the instant pot. Sometimes I like to get fancy. Anytime I break out the essential oils, I feel fancy.
The first time I used essential oils in the kitchen, I was making pumpkin bread, and halfway through I realized I was out of cinnamon. I had cinnamon essential oil, so why not try it? It tasted delicious. From then on, I began incorporating more essential oils into my cooking.
Most herbs that I use in the kitchen are available in an essential oil form. The main difference between the two is the potency. Because essential oils are so concentrated, a little goes a long way in the kitchen.
Grab my "Cooking with Essential Oils" ebook for more tips and recipes.
PIN IT FOR LATER
This post may contain affiliate links, which means I make a small commission at no extra cost to you. Get my full disclosure HERE.
ARE ALL ESSENTIAL OILS SAFE FOR COOKING?
Not all essential oils are created equal; that is a huge factor. You can find essential oils in the dollar section at Target, or you can find the same oil on amazon for $50.
You want to pay close attention to how the essential oil is sourced, the quality, and its purity. The FDA doesn't have regulations on essential oils, so you can't trust the bottle. Just because an essential oil bottle says it is "pure essential oil" does not mean it is necessarily 100% pure.
It is important to use essential oils that are: pure, organic, and properly sourced. It is also important to note that not all essential oils are recommended for internal use. Check your labels! I use doTERRA essential oils. I know doTERRA oils can be safe for internal use if the bottle has "supplement facts" on it. You can learn more about using essential oils internally HERE and about the oils I use HERE.
WHAT CAUTIONS SHOULD I TAKE WHEN COOKING WITH ESSENTIAL OILS?
Some essential oils are hot oils and shouldn't be ingested by themselves. Not that you are planning to chug a bottle of oregano oil or eat clove buds. But if you are planning to cook with these oils, be sure to really stir the oils into the ingredients before consuming them, so you don't get any of the plain oils on the skin or mouth.
You will want to use peppermint essential oil with caution if you are a nursing mama like me! Peppermint is known to reduce milk supply, and some women are more sensitive than others. Moms have noticed a difference in milk supply from peppermint candies, so imagine what pure essential oil can do?
5 TIPS FOR COOKING WITH ESSENTIAL OILS
#1 One tablespoon of dried spice is equal to 1 drop of essential oil.
Essential oils are very potent and concentrated. One tablespoon of a dry herb doesn't mean one tablespoon of essential oil. That would ruin a whole dish!
When a recipe calls for one tablespoon of a specific spice, you can substitute it for one drop of essential oil. If a recipe calls for the zest of a lime or lemon, you can substitute 6-8 drops of the respective essential oil.
#2 If you need less than a drop, put a toothpick into the essential oil and then swirl it around in your dish.
Again, a little goes a long way! What if the recipe calls for less than a tablespoon? How can I use half of a drop? You can do this by using the toothpick drop.
Insert a toothpick into an essential oil bottle to get the tip wet. Then swirl that end into the dish you are making. Always start with less and add more to taste.
#3 It is best to add the essential oil right before serving or in a cold dish.
Essential oils have therapeutic properties that can benefit our overall health, immune system, and skin. Heating the essential oils up can break down these benefits. Though you will still get the flavor, you will miss out on some of the benefits.
Try adding the essential oils at the end or use them in drinks or salad dressings.
#4 Only cook in glass or stainless steel; essential oils can break down plastic.
It is always best to use glass or stainless steel when using essential oils. Essential oils can break down plastic over time and pull the toxins out; this can make your food unhealthy!
If you like adding citrus essential oils to your drinking water, it may be best to invest in a stainless steel tumbler to make it easier on the go.
#5 When essential oils are kept in a cool dark place, they will last longer.
Store your essential oil bottles in a cool dark place to keep them potent longer. If you use them often in your kitchen, it would be best to keep them in the cabinets or pantry instead of on the window sill.
Using an amber color bottle protects your essential oil from sunlight.
WHICH ESSENTIAL OILS ARE BEST IN THE KITCHEN?
My all-time favorite is lemon! I love adding it to my smoothies, chicken, and drinking water. It adds such a fun and refreshing flavor.
Here are a few of my other favorites:
Salad Dressings: Lemon, coriander, rosemary
Meats: Rosemary, thyme, oregano, black pepper
Desserts: Lemon, peppermint, wild orange
Herbal Teas: Lavender, roman chamomile, cardamon, lemon, melissa, peppermint
Refreshing drinks: Lemon, lime, grapefruit, bergamot, peppermint
Flavored Honey: Cinnamon, clove, lavender, chamomile
Everything Italian: Oregano, marjoram, thyme, basil
Asian flavor: Lemongrass, coriander, ginger
Mexican: Cilantro and lime.
Get your essential oils here.
COOKING WITH ESSENTIAL OILS: FAVORITE RECIPES
I love making essential oil-infused smoothies. Adding citrus oils to berry smoothies or peppermint to chocolate smoothies are my favorite.
Anytime I make guacamole or any Mexican dish, I like to add a drop or two of lime and cilantro essential oil. This adds so much flavor and is perfect if you don't have fresh limes on hand.
Check out my essential oil-infused seasoning salts! I love adding these to all my dishes for extra flavor and benefits.
oil infused recipes
Check out my favorite ways to incorporate essential oils into the kitchen with these simple and delicious recipes!