Learn how to make your own seasoned salt with essential oils. I have several variations for any meal, all of which are delicious and simple to make.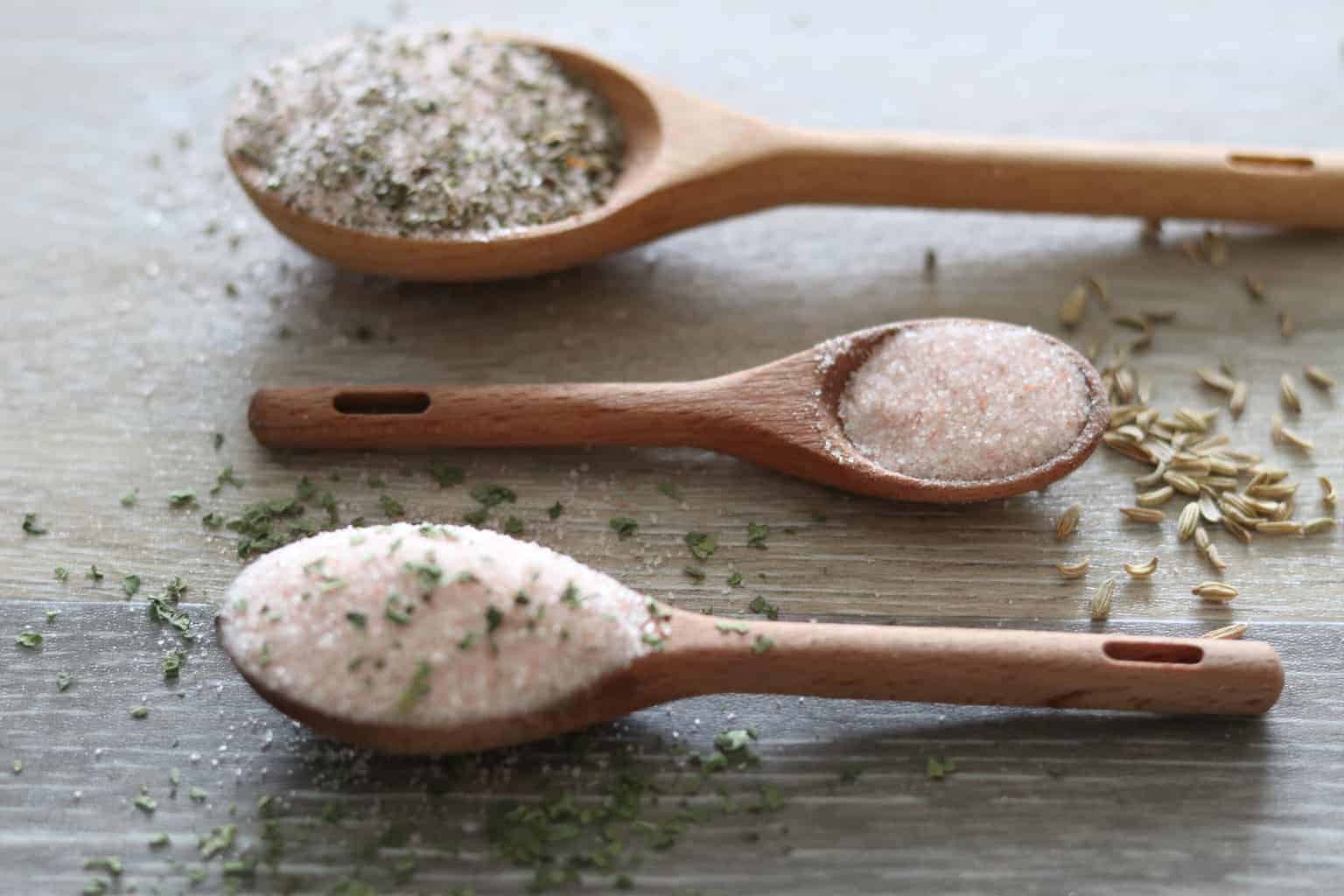 Grab my "Cooking with Essential Oils" ebook and my favorite oil-infused recipes.
I love creating healthy recipes in my kitchen for my family to enjoy. We stick to a pretty basic diet high in protein, vegetables, and fruits. To add flavor, I like to use a lot of seasonings. Unfortunately, these can be loaded with unhealthy ingredients. I am not sure why they have to add artificial flavors and colors to spices, but they do.
Making your own can be simple, and then you know exactly what is in them. Today, I want to share a little secret ingredient that I like to add to my homemade seasonings…essential oils! With essential oils, you can make several different flavoring salts to add to any and every meal.
FIRST, LETS TALK ABOUT SALT!
This post contains affiliate links, which means I make a small commission at no extra cost to you. Get my full disclosure HERE.
Salt can be a confusing topic; some say it is healthy, others say to avoid it. But we all know that salt is delicious and is a crucial spice to have in the kitchen. Am I right? I have a "salty" tooth and would choose a salty treat over ice-cream any day of the week. The type of salt you are cooking with is crucial!
TABLE SALT
Table salt is the most popular salt and can be found in almost all processed foods, restaurants, and kitchens. It is harvested from underground salt deposits. It is highly processed, refined, and finely ground. During the process, almost all the nutrients are lost, and an anti-clumping agent is added.
This is the salt that gives all salts a bad rep!
SEA SALT
Sea salt is harvested from evaporated ocean water (or salt lakes) and more coarse than table salt. There is very little processing involved in harvesting this type of salt, leaving it unrefined and packed full of trace minerals. Adding natural salt to your diet can help you to stay hydrated. It has benefits for your heart, balances electrolytes, and supports a healthy nervous system.
PINK HIMALAYAN SALT
Harvested from the pink Himalayan mountains, this salt is known to be the purest form of salt in the World. It is rich in minerals and contains 84 trace minerals. This salt has a beautiful pink color but can vary from light to dark pink.
It is high in magnesium, can balance the body's pH levels, and regulate blood sugar levels.
HOW TO MAKE YOUR OWN SEASONED SALTS WITH ESSENTIAL OILS
Pick the flavor you want to make, and in a small bowl, mix together all the ingredients. Store in an airtight container.
Remember, essential oils are very potent, and a little can season a lot. Start with a small amount and add more to taste.
Whenever possible, add the seasoning salt at the end of cooking to preserve the essential oils' therapeutic benefits.
ITALIAN SEASONING SALT
Use this blend anytime you are making an Italian dish. Sprinkle it into your favorite pasta, sauces, noodles, or stews.
2 tablespoons sea salt
1/2 teaspoon dried rosemary
1 drop rosemary
1 drop basil
1 drop thyme
1 drop oregano
MEXICAN SEASONING SALT
Use this blend to spice up any Mexican-style dish. With the added cilantro and lime essential oil, this seasoning salt can add a burst of flavor to fajitas, tacos, burritos, chicken, or steak.
2 tablespoons salt
1/2 teaspoon dried cilantro
1 drop cilantro essential oil
2-4 drops lime essential oil
ROSEMARY LEMON SEASONING SALT
This delicious seasoning salt can add flavor to any meat, vegetable main dish, or side dish. The simple taste of rosemary and lemon makes a perfect finishing salt.
2 tablespoons salt
1/2 teaspoon dried rosemary
1 drop rosemary essential oil
1-3 drops lemon essential oil
SWEET AND SALTY SEASONING
This salt has a sweet twist to it and can be added to any baked good that calls for salts. Sprinkle on cinnamon toast or on top of baked sweet potatoes.
1 tablespoon salt
1/2 teaspoon coconut sugar
1 drop cinnamon essential oil
1-3 drops wild orange essential oil
CHILI LIME SEASONING SALT
This one is my personal favorite! It has a slightly hot spicy taste to it with the cayenne pepper, but the lime adds a sweet citrus twist. Sprinkle this on meats or vegetables to add flavor.
2 tablespoons salt
1/2 teaspoon cayenne pepper
1-3 drops lime essential oil
NOW LET'S DISCUSS THE BENEFITS OF THE ESSENTIAL OILS
BASIL- This essential oil is very calming and can help calm the body when used internally. It also has immune-boosting properties.
OREGANO- Oregano is one of my favorite essential oils to use when someone in my family isn't feeling well. It is a powerful natural antibiotic and can be very soothing to the throat, digestive system, and respiratory system.
ROSEMARY- Rosemary essential oil has amazing properties for the skin and hair when used topically or taken internally.
THYME- Thyme is one of my favorite essential oils to use when someone in my family has a dry cough or congestion. When taken internally, it can benefit the respiratory system, increase circulation, promote healthy skin, hair, and teeth.
CILANTRO- Cilantro promotes healthy digestion and acts as a powerful cleanser and detoxifier for the body.
CINNAMON- Cinnamon can naturally reduce inflammation in the body, improve blood circulation, boost brain function, and is a good source of antioxidants.
LIME, LEMON, AND WILD ORANGE- When citrus essential oils are taken internally, they can allow your body to detox gently. They can give the body a natural boost of energy and promote a healthy immune response.
Get my free ebook to learn how to use essential oils in the kitchen and get my favorite recipes! Have you ever cooked with essential oils? Which season salt recipe are you most excited to try?
PIN IT FOR LATER
Follow along with our oily house:
Thanks for stopping by our oily house!