LEARN HOW TO COOK WITH ESSENTIAL OILS WITH THIS DELICIOUS LEMON ROSEMARY CHICKEN DINNER. BEST ESSENTIAL OIS FOR THE KITCHEN.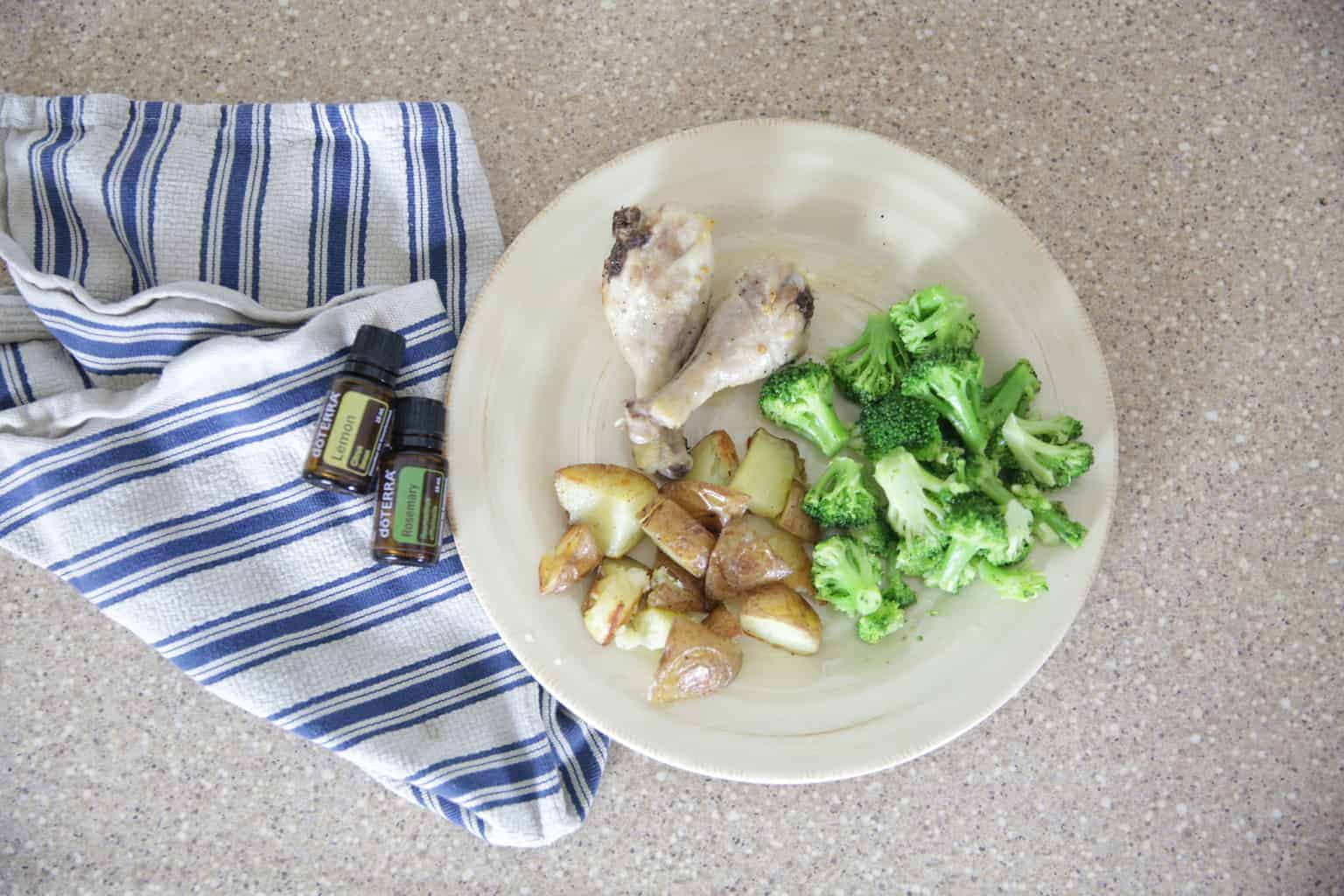 I love using essential oils in my kitchen!  They add so much flavor to dishes and they are loaded with health benefits.  Today, I am sharing a simple chicken dinner recipe that my family loves using rosemary and lemon essential oil.
Sometimes I get fancy in the kitchen and come up with new, fun, delicious recipes; but lets get real usually I am boring. We mainly stick to meat and vegetables over here.  So on a typical night you are going to find chicken or beef paired with some veggies.  I always feel a little fancy when I add in a drop or two of an essential oil!
LEMON ROSEMARY CHICKEN DINNER VIDEO 
LEMON ROSEMARY CHICKEN DINNER 
CHICKEN
Ingredients:
10 chicken drum sticks
4 tbs melted butter
4 cloves of garlic (minced)
2 drops rosemary essential oil
2 drops lemon essential oil
salt and pepper to taste
Instructions:
Mix garlic and essential oils in the melted butter.
Toss chicken in butter mixture.
Add salt and pepper to taste.
Pour into baking dish and bake at 400 degrees for one hour.
ROASTED ROSEMARY POTATOES 
Ingredients:
8-10 red potatoes
3 tbs coconut oil
2 drops rosemary essential oil
salt and pepper
Instructions:
Dice potatoes and place in a prepared baking dish.
Pour coconut oil over potatoes.
Add two drops of rosemary essential oil, sprinkle with salt and pepper, and mix well.
Bake at 400 degrees for one hour.
LEMON PEPPER BROCCOLI 
Ingredients:
1 bag frozen broccoli
3 tbs coconut oil or butter
2 drops lemon essential oil
Pepper
Instructions:
Pour broccoli in a baking dish and dot with oil or butter.
Add two drops lemon essential oil, sprinkle with pepper, and bake at 40o degrees for 15 minutes.
MY FAVORITE ESSENTIAL OILS TO COOK WITH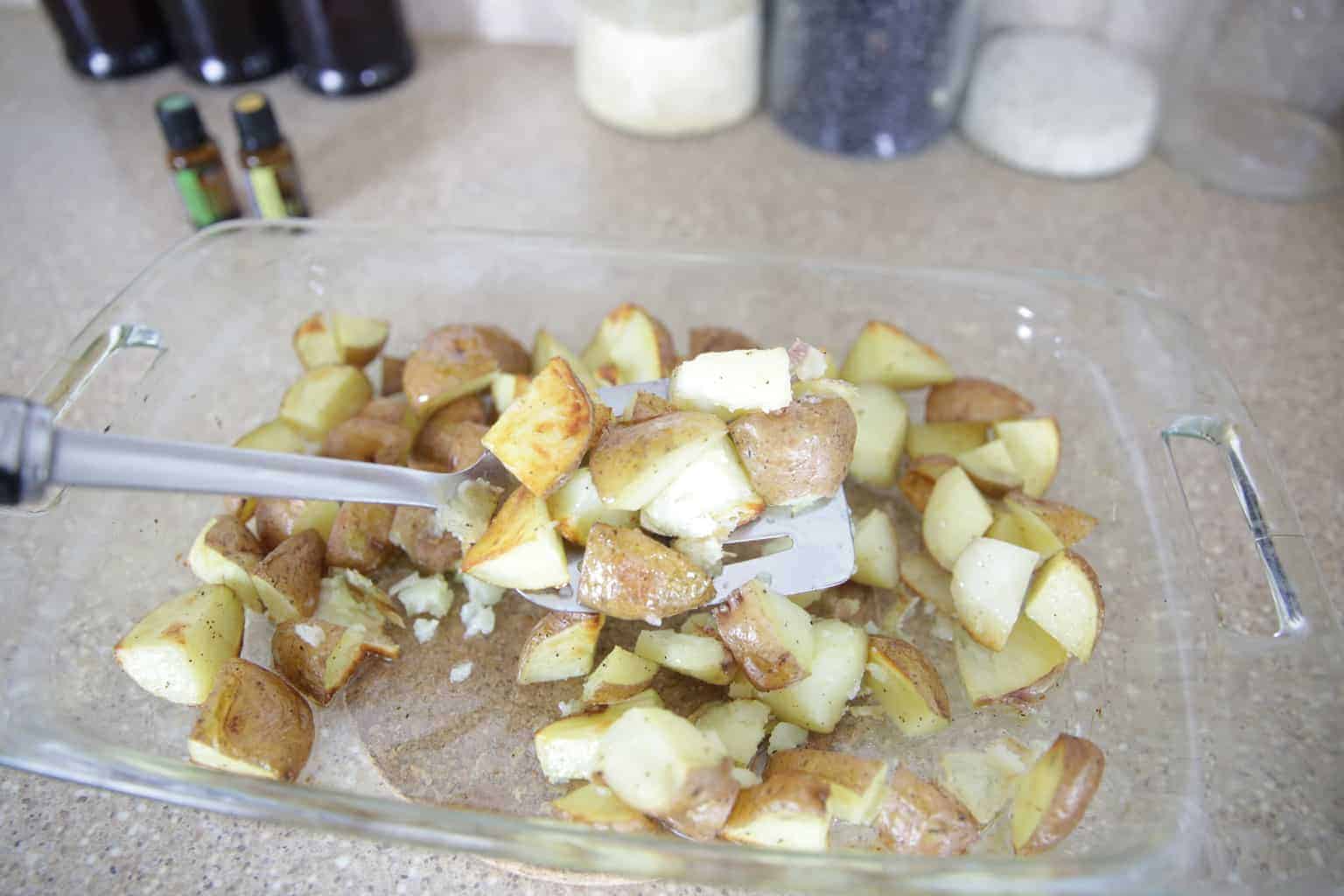 Rosemary
I am sure you have used dried rosemary in the kitchen, am I right?  Rosemary is loaded with health benefits and flavor.  Rosemary is full of antioxidants, great for digestion, and it can help with brain fog.
I like to add 1-2 drops in the chicken cavity when I am making a whole chicken or toss a drop or two onto potatoes.
Lemon
Lemon essential oil naturally detoxes the body and aids in digestion.  Add it to meat, veggies, main dish, desserts, or put a drop under the tongue to detox and cleanse the body.
My favorite way to ingest lemon is by adding a drop to my water.  Add 1-2 drops per 8 ounce of water.
Wild Orange
Cold pressed from the peel, Wild Orange has an energizing aroma and multiple health benefits.  Wild orange has  stimulating and purifying qualities, and supports healthy immune system function.  It is very cleansing for the body and can be used as a gentle detox.
Ok I am going to share my, not so healthy, favorite way to use wild orange.  Melt a bag of chocolate chips and add 1 drop of wild orange.  Mix it together and use it as a dip for pretzels or fresh fruit.  Try it.  Then thank me. Haha!
Peppermint
Another favorite in the kitchen is peppermint.  Though I am not using it as much now because I am nursing. Peppermint can effect milk supply, therefore stay away from it while breastfeeding.
Peppermint can alleviate stomach upset and improve respiratory and digestive function when taken internally.  Add 1 drop to warm tea, desserts, or a side dish for a bold minty flavor.  Any mint chocolate lovers?  Use the recipe I shared above but sway out wild orange for peppermint.  It is also delicious in brownies!
Marjoram 
Marjoram us another spice you are familiar with and probably use it often.  You can use 1-2 drops of marjoram instead of the spice for added health benefits.  Marjoram is helpful at lowing blood pressure when taken internally and can aid digestion.
If one drop is to strong you can do the "toothopick" drop.  Put the tip of a toothpick into the top if the oil bottle and then swirl the toothpick around in the food you are seasoning.
Cinnamon 
This one is a powerful immune booster and taste delicious.  Cinnamon essential oil can be safe for internal use if you are using a pure, high quality essential oils.  Check the testing, sourcing, and that it is a organic therapeutic grade before ingesting ANY essential oil.  Adding this oil to a main dish, dessert, or drink can add a burst of flavor.
Cinnamon is a hot oil and needs to be diluted or capsuled before taken internally.  Learn more about cinnamon essential oil HERE.
Black Pepper 
Black Pepper is a well known cooking spice that enhances the flavor of foods, but its health benefits are just as good as the added flavor.
This essential oil is high in monoterpenes and sesquiterpenes, and loaded with antioxidants.  Black Pepper promotes healthy circulation, aids in digestion, and respiratory function.  Similar to cinnamon, black pepper is also a hot oil and needs to be diluted or capsuled when taken internally.
Cardamon 
Cardamon is a flavorful distinctive spice used all around the world to flavor food.  With so may health benefits you are going to want to add this one to your cooking recipes.
It does wonders for the digestive system and can ease upset stomach.  Cardamon is also a very relaxing oil with soothing and calming properties.
Lime 
Lime essential oil comes from the peel of the fruit and is delicious.  As most citrus essential oils, lime can gently detox the body, aid in digestion, and improve respiratory function.
Hands down this oil is the one I use most in the kitchen.  I love adding a drop to my water or homemade guacamole.  We eat a ton of avocados over here and adding a dash or salt and one drop of lime essential oil makes the perfect, and simple guacamole.
Turmeric 
Stem distilled from the root this essential oil is known as, liquid gold. It has amazing benefits for your body and deserves entire post on its own.  (coming soon!)  Like the spice, it has delicious flavor but having the oil makes getting the daily dose easier.
Add a drip of turmeric essential oil to all your main dishes or side dishes and reap the benefits.
Hope you enjoy this simple healthy dinner infused with essential oils!  What are some of your favorite oily recipes?
PIN IT FOR LATER
Follow along with our oily house:
Thanks for stopping by our oily house!