Removing nail polish naturally is made easy with these all-natural nail polish remover recipes and hacks.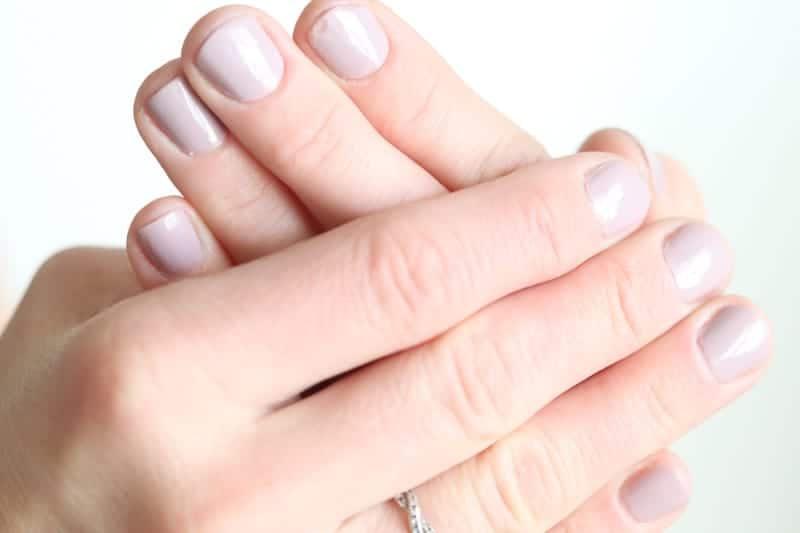 My daughter loves to have what we call "in-home spa nights." These usually include a bubble bath, painting nails, and lots of lotion. If not done right, spa night can also include a lot of toxins entering her little body.
I don't particularly like that most conventional products from the store are made with such harsh ingredients, but super thankful that making your own is quite easy. We have not made our own nail polish yet, though it is on my "someday soon" to-do list.
But when it comes to removing nail polish, I have found a few natural ingredients that do the trick!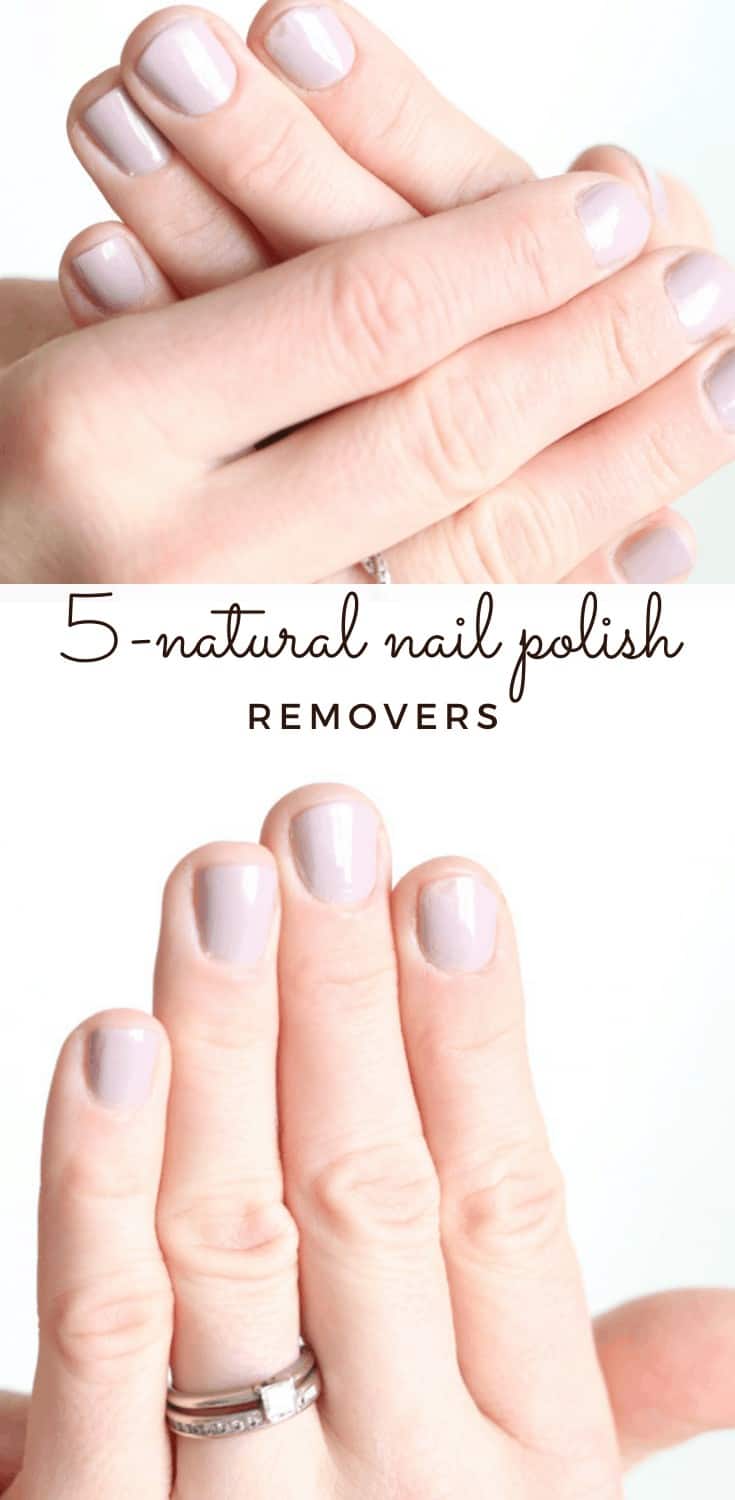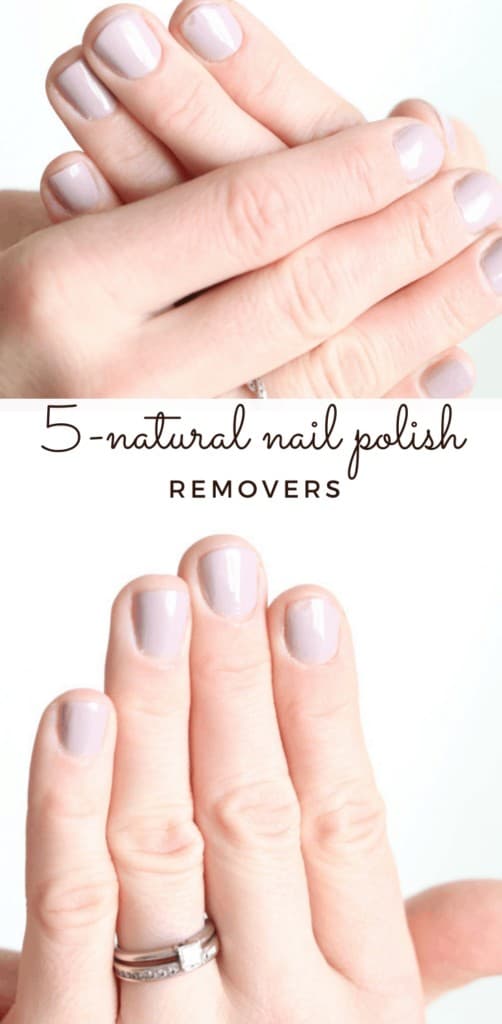 HOW TO REMOVE NAIL POLISH NATURALLY?
Several things around your home can be used to remove nail polish without conventional remover's harsh chemicals. Things like vinegar, essential oils, or toothpaste can be used to take nail polish off.
These natural solutions will help to remove toxins from entering your body and come in handy when you find yourself out of nail polish remover.
REMOVING NAIL POLISH WITH VINEGAR
A simple vinegar soak is a great way to remove nail polish without remover. Add 1/2 of a cup of warm water and 2 tablespoons of white distilled vinegar to a small bowl. Soak your fingernails in the solution for about 10 minutes. Wipe nail polish off with a cotton ball or cloth.
REMOVING NAIL POLISH WITH ESSENTIAL OILS
Lemongrass essential oil can be used as an effective nail polish remover. Add 1-2 drops of lemongrass essential oil straight to the fingernail and rub with a cotton ball. Repeat until the nail polish is removed.
Or make a reusable homemade nail polish remover spray by adding 5 drops of lemongrass, 5 drops of lemon, and 5 drops of grapefruit essential oil to a 2-ounce spray bottle. Fill the rest of the bottle with alcohol. Spray onto the nail and wipe clean with a cotton ball.
REMOVING NAIL POLISH WITH TOOTHPASTE
This is a hack I found out about when I was in high school before a cheerleading competition. We weren't supposed to have our nails painted for the competition and I somehow missed the memo.
We didn't have nail polish remover, so someone suggested using toothpaste; apparently, they have been in this predicament before too.
Toothpaste contains ethyl acetate, which is also found in nail polish and can effectively remove the polish. Add a small amount to the nail, scrub with a toothbrush and it will come off.
Little side note, if the fact that toothpaste and nail polish remover share ingredients alarms you as it does me, you can make your own all-natural toothpaste for a safer option.
REMOVING NAIL POLISH WITH LEMON
The citric acid found in lemons can help to break down and remove nail polish. To make the job easier, soak your fingernails in a bowl of warm water for a few minutes before removing the polish.
Take a slice of a fresh lemon and rub it onto the nail, squeezing a little of the juice out. Wipe clean with a cotton ball.
REMOVING NAIL POLISH WITH RUBBING ALCOHOL
Rubbing alcohol can be used to remove nail polish when you don't have any remover available. Though this isn't the best option since it can dry out the nail and surrounding skin, it will work fine in a pinch.
Soak a cotton ball in rubbing alcohol and wipe it on the nail to remove the polish.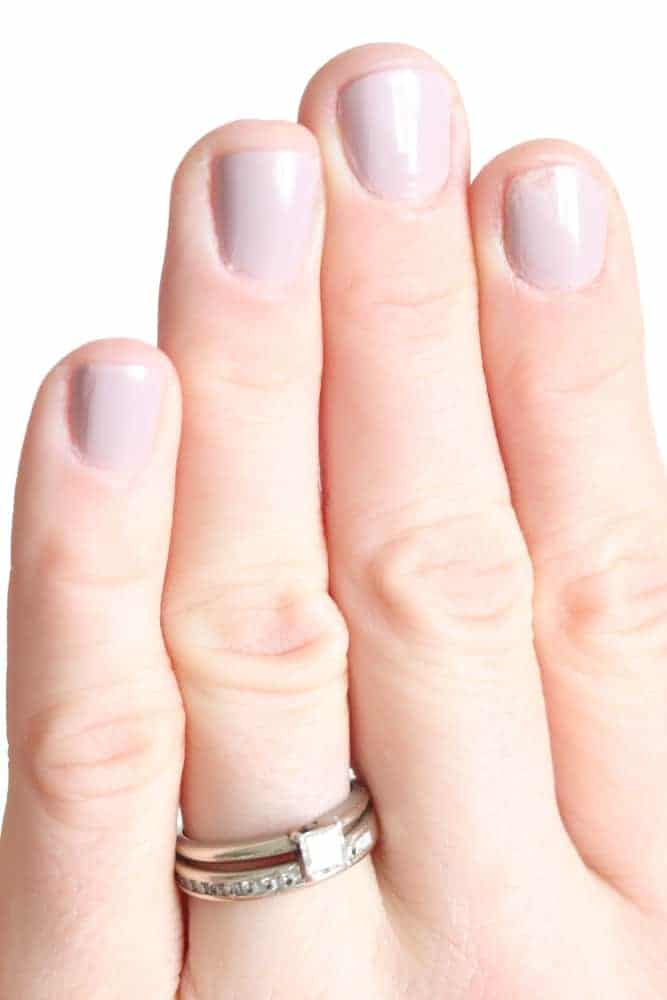 KEEPING NAILS HEALTHY
Whether you are using a traditional nail polish remover or a more natural option, it is best to wash your hands when you are done and follow up with a moisturizer or a nail soak to rehydrate the skin around the nail.
Then you can apply an essential oil roller bottle for healthy nails to keep the nails strong and healthy.
TIPS FOR NATURAL NAIL POLISH REMOVER
Removing nail polish without nail polish remover can be done, but it will be harder. You may need to put a little elbow into it or go over the same nail multiple times to get the polish off.
If you are having a hard time removing the polish, try soaking your fingernails in warm to hot soapy water for a few minutes and then try again. Soaking the nails first will soften the polish and make removal easier.
Try using a nail filer instead of the cotton ball to get the nail polish off. After the nails have soaked in warm water and you put the desired remover onto the nail, file the nail and wipe clean with a cotton ball.
REMOVING NAIL POLISH WITHOUT NAIL POLISH REMOVER
If you ever find yourself needing to remove nail polish and you don't have any polish remover in the house, any alcohol-based product will be your best bet.
Products like hairspray, spray deodorants, perfumes, or body mist might do the trick. Try soaking a cotton ball in the solution and rubbing it on the nail.
Other options to try:
Nail polish: Paint fresh polish over your already painted nail and wipe clean with a cotton ball. Make sure the new nail polish is still wet before wiping it off.
Spray deodorant: Spray on the nail and wipe off with a cotton ball. You may need to repeat this a couple of times to get all the polish off.
Hairspray: Just like the deodorant, spray the hairspray on the nail and wipe the polish off with a cotton ball.
Hydrogen peroxide: Mix one part hydrogen peroxide and one part water in a small bowl and soak fingernails in the bowl. Wipe off the polish with a cotton ball.
DOES NAIL POLISH REMOVER DAMAGE NAILS?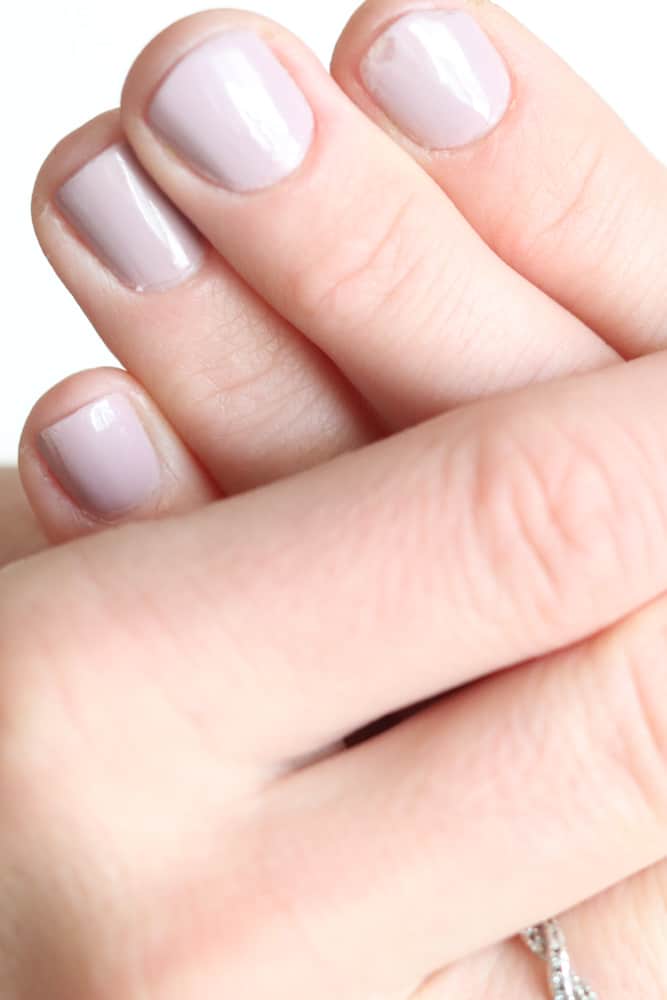 Nail polish remover is very drying and can make nails brittle. However, if you aren't using it often, it shouldn't cause any issues.
Switching to a natural option is a great way to keep your nails healthy, moisturized, and strong.
How To Remove Nail Polish Naturally
Vinegar
Lemongrass essential oils
Toothpaste
Fresh lemons or lemon juice
Alcohol-based products such as hairsprays, deodorants, or perfumes
More of My Favorite Recipes