Learn how to make an essential oil roller bottle for healthy fingernails. Best essential oils for cuticles and strengthening fingernails.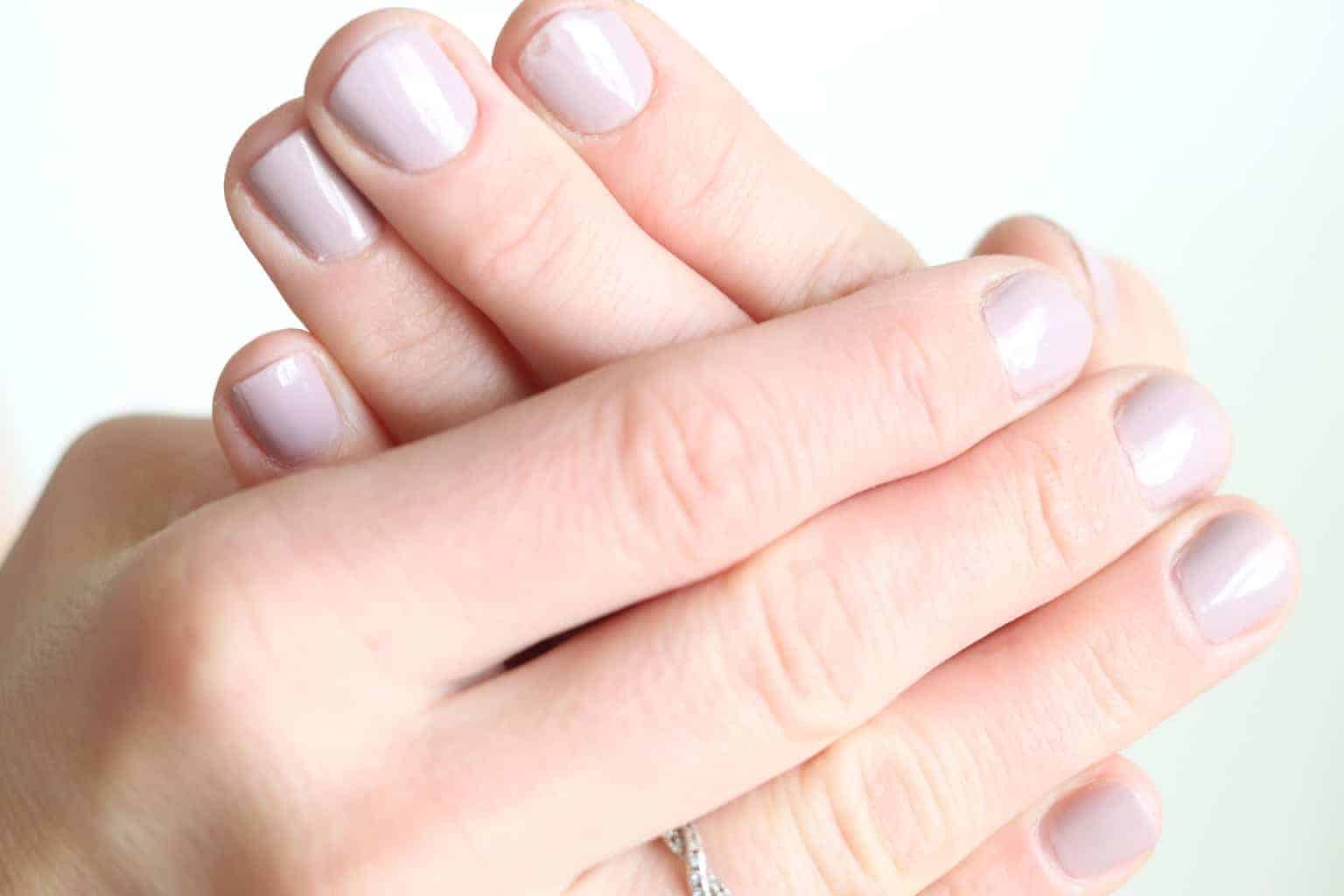 My hands look more like a man who does manual labor than a women's hands. As a blogger, I spend lots of time typing, but as a mother (of 3 boys!), I also spend a lot of time in the dirt. I garden, do dishes, cook, and clean. All these things can be brutal on the ol' fingernails.
Having pretty nails is something I dream about, but it isn't really a reality. My daughter loves to paint my nails (she is only 6), and most of the time, I let her. Other than that, my nails don't see much attention. I really hate when they are painted because it chips so fast and ends up looking worse than before.
However, I do think it is reasonable to have clean, nicely shaped nails with healthy cuticles. Bring on the essential oil roller bottle for healthy fingernails! Using this roller bottle is a simple way to make my nails healthier with little effort.
This post contains affiliate links, which means I make a small commission at no extra cost to you. Get my full disclosure HERE.
HOW TO MAKE AN ESSENTIAL OIL ROLLER BOTTLE FOR HEALTHY FINGERNAILS?
10 drops lavender essential oil
10 drops myrrh essential oil
6 drops lemon essential oil
Fractionated coconut oil
Add all the essential oils into a 10mL glass roller bottle and then top off with a carrier oil. Shake well before applying. Apply directly on nails and around them. You can do this once or twice daily.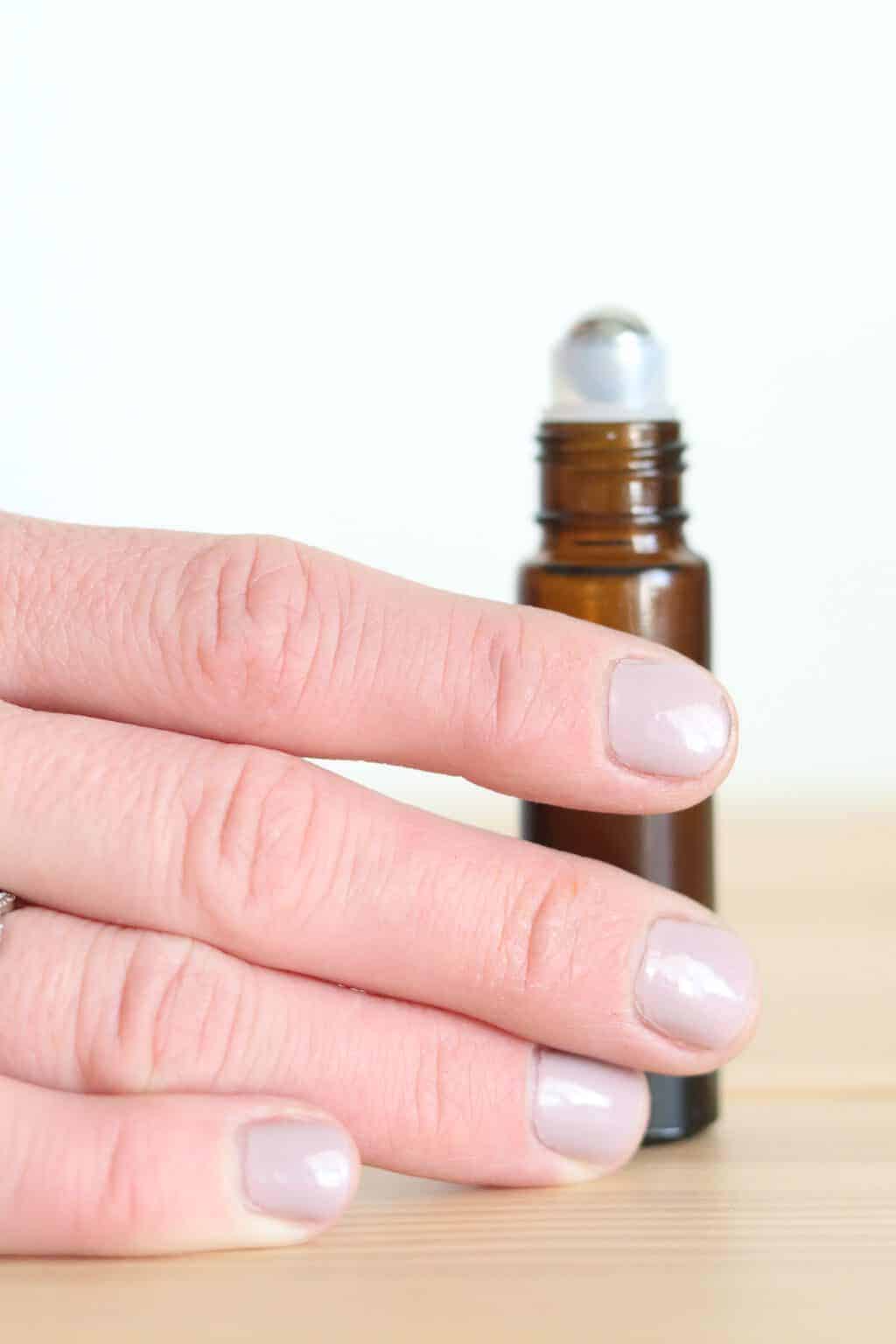 SHOP THIS POST
Get your essential oils HERE.
Get my favorite roller bottles HERE.
Get my favorite fractionated coconut oil HERE.
BEST ESSENTIAL OILS FOR HEALTHY FINGERNAILS

LAVENDER ESSENTIAL OIL
Lavender is a soothing oil that is great for damaged skin.
It can calm and soothe cracked cuticles by keeping them moisturized.
Lavender can help to strengthen dry and brittle nails.
MYRRH ESSENTIAL OIL
Myrrh essential oil is the top essential oil to promote longer nails.
It is very moisturizing, as it can strengthen and thicken the nail.
Because of its moisturizing properties, myrrh is also helpful at healing dry and cracked cuticles.
If you are using myrrh undiluted, be sure to only apply up to 3 times a week. Over-applying myrrh will cause yellow nails.
LEMON ESSENTIAL OIL
Lemon is another excellent oil to use on fingernails to promote healthy, long, and strong nails.
Lemon has cleansing and purifying properties to keep nails bright with a natural-looking shine.
When used daily, lemon oil can help to brighten yellow-colored nails.
Other essential oils you can add for healthy nails are melaleuca, frankincense, rosemary, and cypress.
WHICH CARRIER OILS ARE BEST FOR NAIL HEALTH?
Several different carrier oils can be used to strengthen nails and cuticles. I used fractionated coconut oil because it is very moisturizing and it has anti-bacterial properties. This makes the roller bottle helpful if you are dealing with any type of nail infection. Coconut oil is also an anti-fungal, and when used on fungal nails, it can help to kill it.
You can also use grapeseed oil, olive oil, avocado oil, jojoba oil, or almond oil. All of these oils are very moisturizing and can promote healthy nails.
HOMEMADE NAIL SERUM FOR HEALTHY FINGERNAILS

If you'd rather make a serum instead of the roller bottle, you can! You will need all the same ingredients, but this time we can make it in a 1-ounce glass dropper bottle. Because it is a larger container, you will want to add in more oils. Double or triple the essential oil amount and then top off with carrier oil of choice.
To apply the serum, add one drop onto the nail and one drop around the nail. Allow it to sit for 15 seconds and then massage it into the skin.
You can do this once or twice daily.
Or try out my nail-strengthening serum here.
OTHER TIPS FOR HEALTHY NATURAL NAILS
Don't cut or pick at cuticles. The best thing to do to your cuticles is to leave them alone. The more you mess with them, the more red and ragged they will look.
Avoid fake nails and tips as much as possible. Though they look pretty, they cause a lot of damage when they come off and can leave nails soft and brittle.
Make professional manicures for special occasions only. Getting your nails done professionally can expose you to germs that can cause nail infections.
Avoid toxic polishes and nail polish remover. Most nail polish removers contain acetone, which can dry out nails, making them brittle.
Over-washing hands can be another cause of dry, brittle nails.
Keep nails moisturized. Use the essential oil roller bottle or serum a few times a week or as needed. Rub coconut oil into nails and cuticles if you need a deep moisturizing treatment.
Avoid biting and chewing on fingernails. If you need to cut your fingernails, do it with a nail clipper.
Use a natural nail soak once or twice a week to help strengthen nails.
NATURAL PRODUCTS FOR AT HOME MANICURES

Earlier I mentioned my daughter likes to paint my nails. The sweet girl has 3 brothers, and most days, she is pushing around trucks in the mud with them. Thankfully, she is very girly too! She loves to dress up, go shopping, and she loves to paint nails.
She likes to paint her own as well as mine. I found some all-natural fingernail polish that I let her use, and we also use natural fingernail polish remover. Here are a few of our favorites:
NON-TOXIC Water-Based Kid Nail Polish
All-Natural Peel Off Nail Polish
Natural Fingernail Polish Remover
MORE ROLLER BOTTLE RECIPES YOU MAY ENJOY
PIN IT FOR LATER